Alice Springs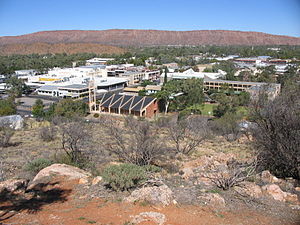 Alice Springs
is the heart of Central Australia and consists of cavernous gorges, boundless desert landscapes, remote
Aboriginal communities
and a charming pioneering history. It embodies the hardy outback of the
Northern Territory
's
Red Centre
, and is a travel hub for sights and hikes in the region, such as
Uluru
(formerly known as Ayers Rock),
Kata Tjuta
(formerly known as the Olgas) and
Kings Canyon
. Since the start of the tourist boom in the early 1980s, the population has substantially grown to about 28,000. Although surface water is a scarce commodity in the region, there's plenty underground! It is a great town and well worth a visit.
Understand
Alice Springs is 1500 km from the nearest major city, being Darwin to the north or Adelaide to the south. As a result, the people that inhabit the town are often quite ingenious when it comes to making things last!
Also, due to this distance, you may find that some things can cost more than in the cities, such as fruit and veg, and some clothing (if you forgot to pack your singlet or jacket!). Over all, however, the town isn't too expensive when it comes to the necessary requirements and it is much cheaper than smaller outback towns, making it an ideal place to stock up before heading to more remote areas.
Something else to remember is that hotels in Alice Springs are rated slightly different to those in European or American countries - as hotels are rated on their facilities rather than the actual rooms. The reason for that is due to the distance that Alice Springs is from anywhere and the difficulties involved in getting building materials. Mind you, the star ratings reflect the quality of the establishment.
History
Indigenous history
The Arrernte (pronounced Arrenda) Aboriginal people have made their home in the Central Australian desert in and around Alice Springs for more than 50,000 years. The Aboriginal name for Alice Springs is Mparntwe. Three major groups Western, Eastern and Central Arrernte people live in Central Australia, their traditional land including the area of Alice Springs and East/West MacDonnell Ranges. They are also referred to as Aranda, Arrarnta, Arunta, and other similar spellings.
Arrernte country is rich with mountain ranges, waterholes, and gorges; as a result the Arrernte people set aside 'conservation areas' in which various species are protected. According to the Arrernte traditional stories, in the desert surrounding Alice Springs, the landscape was shaped by caterpillars, wild dogs, travelling boys, sisters, euros (Kangaroo-like creatures) and other ancestral figures.
There are many sites of traditional importance in and around Alice Springs, such as Anthwerrke (Emily Gap), Akeyulerre (Billy Goat Hill), Ntaripe (Heavitree Gap), Atnelkentyarliweke (Anzac Hill), and Alhekulyele (Mt. Gillen). Many Arrernte people also live in communities outside of Alice Springs.
Pronunciation of these Arrernte words can be very difficult. The reason for that is that Arrernte, and indeed every indigenous language of Australia, was not written. When Europeans arrived with their missions to convert people to Christianity, they felt the need to have the language written, and using their own languages put the written form to the language. As a result of the missionaries being mostly German, they used their own language to develop the Arrernte written language.
Don't worry if you can't pronounce it; everyone in town knows the places by their European names.
Modern history
In 1862, John McDouall Stuart led an expedition into Central Australia and the area where Alice Springs is located. Until the 1930s, however, the town was known as Stuart. The Overland Telegraph Line linking Adelaide to Darwin and Great Britain was completed in 1872. It traced Stuart's route and opened up the interior for permanent settlement. It wasn't until alluvial gold was discovered at Arltunga, 100 km east of Alice Springs, in 1887 that any significant settlement occurred.
The telegraph station was sited near what was thought to be a permanent waterhole in the normally dry Todd River and was optimistically named Alice Springs after the wife of the former Postmaster General of South Australia, Sir Charles Todd. The Todd River was named after Sir Charles himself. The original mode of transportation in the outback were camel trains, operated by immigrants from Pathan tribes in the North-West frontier of the then British India and Pakistan who were misnamed 'Afghan' Camellers.
Cattle stations opened up the interior of Australia, with stations the size of small European countries running mostly cattle. Camels were (and still are) farmed in Central Australia - and the exporting of camels to the Middle East is a fast developing industry. This is because the Australian Camels are a purebred of camel, and often free from the diseases which can be prevalent in the Middle Eastern countries.
During the
Pacific War
, Alice Springs was an important location for the northern defence of Australia, and was a staging point for the allies movements to defeat the Japanese Imperial forces. Alice Springs' importance grew when it was established that coastal shipments to Darwin were no longer safe. Lots of relics from World War II are still in use today in Alice Springs, primarily the Alice Springs Airport, which was constructed as a result of the War.
After the conclusion of the war, there was still a large American influence in the town, and as a result, a number of covert locations were set up in and around Alice Springs to monitor world events. One of these was a Seismic Vault, which was a bunker of sorts, dug into a mound, and which held instruments such as seismographs and other instruments to detect the ground movements of possible nuclear testing in the (at the time) USSR. One of these bunkers was 'discovered' and is now heritage listed.
The Joint Defence Space Research Facility, or as it's locally known, "Pine Gap", began operations in 1970. The facility is the only area in Australia with Prohibited airspace - so forget about seeing it up close. You may, however, see it on approach or departure from Alice Springs Airport.
Tourism
Tourism is a major industry in Alice Springs, with well developed facilities for travellers. Visit the
Alice Springs Visitor Centre
at 60 Gregory Terrace, at the south end of Todd Mall, for visitor guides, maps, tour and accommodation bookings, and suggested itineraries. You can even download or view the latest Visitor Guide for Central Australia on their website.
Climate
Geography
Alice Springs is to the north of the imposing McDonnell Ranges, with all transport links to the south using "Heavitree Gap" - a distinctive narrow gap in the range where the railway, highway and Todd River run through without any climb required. Heavitree Gap was named by William Mills, a surveyor of the Overland Telegraph line. He named it in honour of his former school in Devon (UK).
The roads around Alice Springs are generally flat and tend to skirt a lot of the hills, some of which are sacred sites to the local Indigenous people.
Get in
By plane
Alice Springs AirportThe airport doesn't have air bridges, so that passengers need to use stairs to get in/out of planes. Qantas has connecting flights to Darwin, Sydney, Melbourne, Brisbane, Adelaide, Cairns and Perth.
There is a daily flight to Uluru also, so if you're just flying in to see the rock, you don't have to stop off at Alice you can fly direct to Ayers Rock Airport).
Hire cars are available at the airport. Flights in summer cost can cost as little as $200 from major cities like Melbourne or Sydney.
By train
The Ghan
is a private all-sleeper tourist train covering the vast distance from
Adelaide
to
Darwin
stopping in Alice Springs. Very luxurious, but expect to pay a steep premium over even business class air fares.
By car
Alice Springs is 17 hours drive from
Darwin
, and 18 hours drive from
Adelaide
. The
Stuart Highway
from
Adelaide
is well-maintained and goes right through
Coober Pedy
, an underground town famous also for being the opal capital of the world (and therefore well worth stopping off for a visit on the way). It continues through
Tennant Creek
and
Katherine
all the way up to Darwin.
If you are driving on the main sealed routes from other Australian Capital cities, you will likely not be driving on remote roads, and provided you do not take side trips, there will likely be passing traffic. It is worthwhile reading the safety tips for
Driving in Australia
and always carrying water and ensuring you know the location and opening hours of your fuel and food stops. Mobile phone reception is limited to a few of the larger townships along the Stuart Highway, so be prepared to go for long distances without coverage.
Read the rental car conditions carefully. Rental cars in Alice Springs may not offer unlimited free kilometres and do not cover you if you take your vehicle on unsealed roads. Rental cars hired outside of the Northern Territory may not be able to be driven into it. Driving after dark outside of the city limits may be prohibited. Rental companies in AC do not offer hand-controls for the handicapped.
The
official visitor information centre
has access to unlimited kilometre rates, so it's worth getting in touch with them if you are going to clock up the km on the car!
By bus
Greyhound
ply the route to Alice Springs from the north and the south.
Get around
There are a couple of
public bus lines
bringing you around town. Other than that, you can get around by foot or bike, drive or take a taxi.
See
Alice Springs has quite a few interesting things to see; one of them happens every night. If you don't get out of town and watch a
sunset
, even just sitting off the main highway, you've missed something special. Other than that:
Events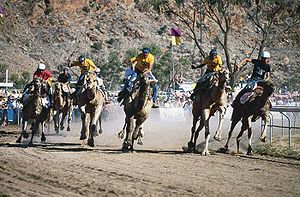 For a detailed and up-to-date calendar of events in Alice Springs, go to the Alice Springs Town Council
website.
Nature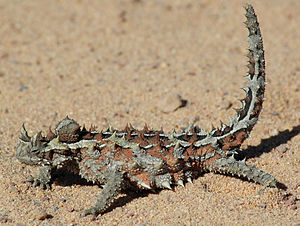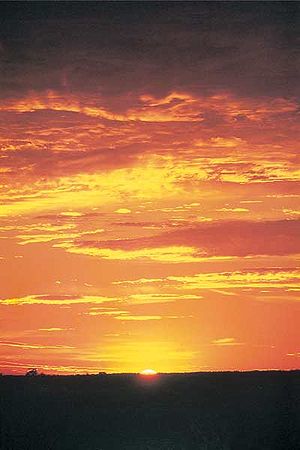 Reptile CentreExamples of the local reptiles and one NT croc specially imported, on display by the guy the locals call when something with fangs is in the kitchen.

StargazingAlice Springs is in the middle of the largest land area without lights on earth, so the view of the Milky Way is unmatched unless you're on a dark boat in the middle of the ocean. Anyone from the city stopping on the road just out of town at night and tipping their head back is likely to fall over from the sheer shock of all those stars. as a result astronomy is popular in town.

address: Larapinta Drive

Truly memorable in its examples of local flora and fauna. They give a number of interesting lectures, such as Aboriginal use of local plants for food. The nocturnal exhibit is excellent, a very low-light building with offset day and night schedule to induce the nocturnal critters to come out during the day so people can see them. The best time to go to the park is early morning, before it gets hot; you can spend a full day walking the trails, going to the birds of prey exhibition where they fly the local aerial predators overhead, and getting the bushfoods and medicine tour.

address: Tuncks Road

A desert botanical garden. Doesn't bloom much, but if you happen to get here after a rain, it's a really nice spot. Bring your sunscreen. There's a biography at Dymock's on the life of the lady it's named after, Olive Pink.
History
Old Timer's Museum - located at the Old Timer's Retirement Village, off the South Stuart Highway leading into town from the airport before you get to the Gap. Really cool history of the outback, with a big collection of amazing stuff from the first white folks to hop a camel for the middle of nowhere. Definitely worth a visit.

The Residency

phone: +61 8 8953 6380

address: Parsons St

Built in 1927 as the residence of the Government Representative to Central Australia, the house was the centre of government and social activity right up to the early 1970s. Visited by foreign dignitaries, government officials, and even royalty, the Residency operates as a museum house where people immerse themselves in the early administrative history of the town and region. Speak with one of the friendly volunteers who are on hand to answer your questions. Located on the corner of Parsons and Hartley Streets. Entry is by gold-coin donation, and opening hours are M-F 10AM-2PM. Its generally closed over the very quiet summer months, December til late March.

National Pioneer Womens Hall of Fame

phone: +61 8 8952 9006

address: 2 Stuart Terrace, Old Alice Springs Gaol

Hundreds of women are recognized for their special contributions to Australia's heritage. Exhibitions include the 'Ordinary Women, Extraordinary Lives - Women First in Their Field', the Signature Quilt - 'Women at the Heart' and 'Women's Work of yesteryear'. The Old Gaol buildings are open for visitors to look through and gaol stories are told in a complementary booklet. The museum is devoted to the women who picked up stakes, hauled a whole house in a wagon out to the hottest, most dangerous place they could find, plunked themselves down where you couldn't see another house for a thousand miles in any direction and said, "This looks like a nice spot to live." Amazing stories. There is plenty to see and do for all ages with a gift shop, toilets and access for people with disabilities available.
Hartley Street School

Alice Springs Telegraph Station Historical Reserve

address: Stuart Highway

Where it all began, this is the original telegraph station, with some exhibits about its history. The area around has walking trails through lovely serene desert scenery, including the actual Alice "springs". The reserve is free if you don't want to access the historical buildings.

Old Ghan Heritage Railway and Museum

phone: +61 8 8952 7161

address: 1 Norris Bell Drive

Next to (or part of, but with a separate entrance fee) the Road Transport Hall of Fame, this is a museum about Australia's wildest train line, The Ghan. Old equipment, photos and videos plus several carriages to explore.

address: 1 Norris Bell Drive

Huge collection of trucks (with a few buses, cars and motorcycles), some historically-relevant to central Australia. Also a genuine hall of fame with hundreds of bios of notable truckies (Australian slang for truck drivers).

Adelaide HouseThe first stone building in Alice, on the Todd Mall and well worth a visit if only for the absolutely amazing early air-conditioning system. Really cool display of old communications technology, like the bike-powered communications radio. Run by a couple old women who serve tea - an excellent place to have a sit-down. Nice and quiet.

Anzac HillHill with good views and some history of Alice Springs.
Aviation
Royal Flying Doctor ServiceWith School of the Air - a museum and cafe. Famous!

Aviation Museum - a number of older planes, showing the history of aviation in a town which relies on it to survive.
Do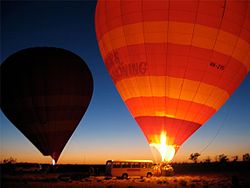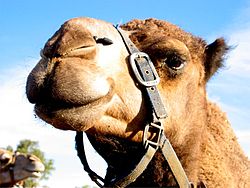 Adventure
Pyndan Camel Tracks – Take a one-hour or half day journey aboard a "ship of the desert", through the scenic Ilparpa Valley, located in the famous MacDonnell Ranges. Owner and cameleer Marcus has been working with camels since 1982 and his camels are well trained. Pyndan Camel Tracks is the only camel-riding experience based out of Alice Springs, and he also offers a free shuttle service from most hotels and the Alice Springs Visitor Information Centre to help people get to his property.
Outback Ballooning - Take a balloon ride and see the sunrise. Alice Springs has ideal weather for ballooning and the tour operators run almost every day of the year.
Quads & Motorcycles - Some tour groups do quadding through the spinifex, and Harley rides through remote Central Australia - lovely day trips.
Cycle hire - You can hire a bicycle and tour around town the healthy way. Just remember your water!
Golf Course - For the incurable golfer, the golf course is rated one of the best desert golf courses. There are a lot of golfers here so it must be good. There's also a clubhouse with drinks & snacks.

phone: +61 8 8952 4977

address: Pioneer Park Racecourse, Stuart Hwy, Connellan

The local racetrack with pretty much guaranteed lovely weather.
Rugby League - Sport is part of life in Australia - what better way to spend a Saturday afternoon in Winter then at the Rugby League? Matches are held at Anzac Oval from March and finalise in the Grand Final usually held on the first Saturday of September. League was founded in Alice Springs in 1963, and to this day, two of the foundation teams, Wests and United still play, as well as Memo and Vikings. It is a good strong competition and makes for a wonderful day out!
History and Culture
Wildlife
address: Stuart Wells via Alice Springs

Say hello to one of their friendly camels, take a short ride around the enclosure or browse through the interesting assortment of souvenirs and local Aboriginal art on display in their shop. Sit back, relax and enjoy the view while enjoying a cold drink and something to eat.
Gem fossicking
North of Alice - The area stretching north of Alice Springs is known for its serene beauty and as a setting for gem fossicking, bush walking, bush camping and four-wheel-driving. A few hours north are gem fields with Garnet, Zircon, Tourmaline, Apatite and various kinds of Quartz. Contact the Gem Tree for details. Garnet is the easiest to go for on your first try, as the garnet chips are easy to find on the surface and require no digging or special equipment. You do need a permit though .
Work
Because of the large tourism industry and the small population Alice Springs is an easy place for anyone to find work. Many companies will employ travellers, and wages are comparable to, if not higher than, other parts of Australia.
The big thing to be aware of is that long term accommodation is very scarce, and backpackers/travellers are usually at the bottom of the list for long term accommodation. Renting is very expensive, as there is a high demand for housing in the town, and house shares are not common. If you are looking to stay for 6 months or more, you will probably need to rent a house. It's easiest to find rental accommodation in December/ January and June/ July as people tend to leave during these periods.
During the off tourist season (October - March/April) the hostels will do a good deal on long stay accommodation, but during the busy time (April–October) they will charge their normal rates.

Buy
Alice Springs Markets, Todd Mall, 08 8952 9299. Fresh food, jewellery, books, clothing, art, hand-made crafts and other neat merchandise. A market that takes place along the Todd Mall in the centre of town, with local vendors setting up stalls along the mall. The Todd Mall Markets are held on alternate Sundays.
Heavitree Gap Markets, held on the opposite Sundays to the Todd Mall markets, this has a less formal, car-boot sale atmosphere. Just on the other side of Heavitree Gap from the town, it's about 30 mins walk from the town centre, or 5 or 6 minutes drive.
Saturday Morning Lawn Sales - Friday's Centralian Advocate will have a listing of lawn sales in the back; getting a group together with a car and a map and driving around town at 6:30AM on a Saturday morning equipped with coffee, cash and a big trunk to put your stuff in while watching the sun rise is a real pleasure.
Eat
Despite its small size, Alice has a good and varied restaurant scene.
Fast food
There are a fair few options here in Alice Springs for tucker (dinner). McDonald's, KFC, Hungry Jacks (Burger King), and Red Rooster (Australian made KFC) are the main take away chains, but there are also your small family take aways, such as Big Al's, East Side Fish and Chips and Scoff.
Additionally, there are some great Pizza Shops in town, La Casalinga is a great feed. It's on Gregory Terrace, and it's got a really nice old school atmosphere about it. Has not changed for 20 years, and won't in the near future!
Vegetarian and vegan food
Ling's Supermarket In shop 8 & 9 113 Todd St has a huge range of Asian food available including: noodles, (white, red and black) rice, sauces, kimchi, dried, fresh and frozen products. They have an interesting range of authentic Asian Cooking gear and health products to see and you will find a quality vegetarian range to choose from. Open seven days with very helpful staff Phone 0417962121 Fax 08 89533678 e-mail lings.supermarket@gmail.com
The Tea Shrine is on 113 Todd Street - right next to the Greyhound station, and serves a large variety of teas both hot and cold, and some excellent light Asian-style vegetarian meals. The Korean iced tea is really, really good - don't leave without trying it! Open 9 am - 4 pm, Monday - Saturday, closed Sunday.
Drinks and light meals, cafe style
Town and Country is a pub on the Todd Mall. They serve light meals, and it's usually got quite a nice atmosphere about it.

address: Tuncks Road

Solid cafe set amidst the trees and birds.

address: 76 Todd St

The first burrito joint in town, it does a reasonable job from a friendly, hole-in-the-wall outlet.
Sit-down meals
On the Todd Mall:
Oscar's is near the movie theatre, and has an ever-changing fusion cuisine Mediterranean menu and a nice wine list.
Sporties has a long history in Alice; it used to be the little casual place owned by and attached to the only 5-star place in town, Puccini's. But Puccini's closed and transferred some of their menu to Sporties, so as rough and tumble as they look, their food is amazing. "I've never had a bad meal at Sporties" is a common saying amongst locals. Very good service - surprisingly quick.
The Thai Room is down an alley off the Todd Mall. It has home-style Thai food, from paw-paw salad to beef salad to the best Tom Yum ever and pad Thai. Excellent food, not too pricey, and if you ask for it spicy they will accommodate you. Open for lunch and dinners most days.
Red Ochre Grill is attached to the Aurora Hotel on the Todd Mall, and serves an ever-changing menu of various local things. Tries to use a lot of indigenous ingredients in their menu, and in 2009-2010 did a revamp of the menu to introduce many new dishes. The ribs come highly recommended.
Other locations around town:
Overlander's Steakhouse is the classic outback steak restaurant. Excellent beef, but they do nice chicken and barramundi too; home of the "Drover's Blowout" where you try a little crocodile, kangaroo, emu, camel etc. An Amazing wine cellar with some of the best Australian wines available in the cellar. They do the "Tourist Humiliation Routine" for tours, where you participate in some traditional Australian songs with the Wobble Boards ala Rolf Harris and Home Amongst the Gum Trees.
Hanuman, in the Crowne Plaza Hotel. Indian and Thai and it's yummy but expensive. Nice place, good wine. Service can be spotty.
Hong Kong Restaurant next to Yeperenye Shopping Centre on Hartley Street, is one of the best Asian restaurants in town. Delicious food, relatively inexpensive food, with a large upstairs restaurant and an exstensive take-away menu. Been in Alice Springs for many years.
La Casalinga, across from Mbantua Gallery,near The Diplomat has truly excellent pizza; they have the old-fashioned pizza bar atmosphere, with dark wood paneling and cold beer. Good steak and lasagna, too.
Casa Nostra, across the river via the causeway from the Todd Tavern. Excellent fresh pizza and some lovely pasta. More of a romantic atmosphere, old-style Italian. BYO.
Drink
Alice Springs, like most of the Northern Territory, has tough liquor laws. It is illegal to drink in public places (parks, streets, etc). The Telegraph Station to the north of the town permits drinking and a lot of families go there for a BBQ and a relax. Regardless of how sorry you may feel, don't purchase alcohol on behalf of people you don't know - if they can't buy it themselves, then there's a reason for that.
Todd Mall is the main street (partly pedestrian only). You will find a couple of options here to get a drink. Starting at the end near Anzac Oval, The Todd Tavern has a bar meant for working blokes and a restaurant with good pub grub. Town & Country and Sporties both have bars and serious addictions to sport of all sorts.
Outside the Todd Mall
Almost all the hotels have bars.
Almost all the bars that aren't in hotels have live music some time or another - check the Advocate (local newspaper) for the "Gig Guide" to see what's playing where.
Non-bar drinking: There are liquor stores in town - Northside Foodland, Coles, Woolies and a few others. These have a decent selection of beer, wine and hard stuff. Bottle Shops, as they are known as, open at 2PM on week days until 9PM, and from 10AM to 9PM on Saturdays. No takeout liquor is available on Sundays (except at the 2 drive-thru bottle shops in town.)
The Casino - Lasseters - has a couple bars, including one devoted to
*not* gambling called
the Juicy Rump
. Nice place – tasty food, good beer.
BojanglesProbably the most popular joint for a beer. Every night people coming or leaving for a tour have some fun here. At the weekend it can get a little bit rowdy. There's a live webcast of the place online, and the local radio station (96.9 Sun FM) broadcasts live from Bo's most nights - and your friends and family from home can go on the internet and buy you a drink voucher!

The Gillen Club - Although it's not in the CBD, it's a very nice club to visit. Good food! Especially fun on a Saturday night during the Football season when the teams based at the club have had a good win!
Sleep
Hostels
Alice Springs YHANear Todd St in a former cinema. Clean, has a pool but no aircon in the rooms.

address: 6 Khalick Street

address: 4 Mueller St
Hotels
phone: +61 8 8951 4545

address: 34 Stott Terrace

address: 25-27 Undoolya Rd

phone: +61 8 8953 8033

address: Corner of South Terrace and Strehlow Street

The All Seasons Oasis

address: 10 Gap Rd

address: 46 Stephens Rd

It has a nice quiet location and a really good view of the ranges, and underwent an extensive overhaul in 2010.
Diplomat Alice Springs, Hartley Street, +61 8 8952 8977, fax: +61 8 8953 0225

phone: +61 8 8952 5977

address: 74 Barrett Drive

Individual cabins with some kitchen facilities and basic resort facilities. 10 minute walk to town.

address: 15 Railway Trace

Best Western Elkira Court Motel

address: 65 Bath Street

phone: +61 8 8953 8033

address: Corner of South Terrace and Strehlow Street

phone: +61 8 8950 6666

address: 11 Leichhardt Terrace

Pleasant hotel that opens onto Todd Mall at the rear.
B&Bs
address: 51 Dixon Rd

Nthaba Cottage B & B

phone: +61 8 8952 9003

address: 83 Cromwell Drive

The Gallery Bed & Breakfast

address: 16 Range Cres
Stay safe

Alice Springs suffers from a relatively high crime rate. Socio-economic tensions which stem from Australia's colonial history have led to the development of impoverished Indigenous communities, known as 'camps', in and around the town, and alcohol-fuelled violence remains a significant problem in the community. Exercise extreme caution when walking around after 10pm, as large groups of inebriated Indigenous youths are notorious for causing trouble in the city. Todd Street is nauseatingly well-policed, so problems in the CBD are less of an issue than they were previously.
From time to time you may be asked for money or other items while in Alice Springs. According to Lhere Artepe Aboriginal Corporation, the organisation which represents the Native Title Holders of Alice Springs, this is not acceptable behaviour, and giving handouts only encourages a begging culture when there is no need for it to exist. Don't give money, cigarettes or food to those who ask. There is a chance that you will get yelled at and cursed at for not giving a handout but ignore this and keep walking. They will have forgotten you in 30 seconds anyway.

Go next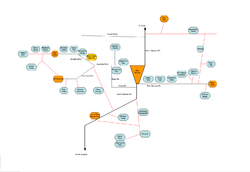 There are four main roads leaving Alice Springs: the Stuart Highway, which runs north to Darwin and south to Port Augusta; Larapinta Drive which runs West and splits off to the Namatjira road; and the Ross Highway, which runs East. The Stuart Highway (highway 87) is sealed all the way; this means it's got tarmac and is passable using a normal car. Larapinta Drive and Ross Highway are sealed for a couple hundred kilometres in each direction, but after that they convert to dirt roads which you will need a 4x4 vehicle to access.
There is a web of dirt trails - sometimes called unsealed roads - which surrounds Alice Springs, and some of the nicest places within a few hours drive will require a four-wheel drive vehicle (4x4) to get to. There are two ways to go south. The first is the Stuart Highway, which is sealed and frequently travelled. The second is a dirt track which leads off the Stuart Highway; it's called the Old South Road. A dirt track connects the Old South Road to the modern Stuart Highway, from a point north of the Aboriginal community of Titjikala.
On the side of the old South Road, you will see a narrow track that follows the road - this is the track of the Finke Desert Race which is held every year on the Queens Birthday Long Weekend in June. Best to just view the track though and not drive on it as it is VERY tough going, even at low speeds. If you are game and drive on it, have a think about how the competitors race along it at speeds in excess of 150 km/h on race weekend.
Around Alice Springs
Further south
Further north
To the west