Amsterdam/Canal District
The
Canal District
(Dutch:
Grachtengordel
) is the famous 17th-century district surrounding the
Binnenstad
of
Amsterdam
. The whole district is designated as a
UNESCO World Heritage Site
for its unique cultural and historical value, and its property values are among the highest of the country.
This article also deals with the
Leidseplein
and the
Rembrandtplein
, the two prime nightlife spots of the city. The
Weteringschans
is also included.
Get in
By tram

The most convenient way to get into the Canal District is by tram. From Central Station, the most important tram lines are 1, 2 and 5 which go right through the middle of the Canal District, cutting the western and the southern side of it in half. Notable stops include Koningsplein, Keizersgracht, Prinsengracht and Leidseplein). The Rembrandtplein can be reached with tram lines 4, 9 and 14.
The other lines only cross either the western side or the southern side of the district. Tram lines 13 and 17 head for the western side, with the stop Westerkerk as the most notable one as the Anne Frank House is nearby. Trams 16, 24 and 25 go through the southern side of the Canal District with the stops Keizersgracht and Weteringscircuit. East of it is tram line 4 that continues to Keizersgracht, Prinsengracht and Frederikplein after having served the Rembrandtplein.

See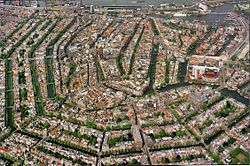 Architecture
As the name implies, the main attraction of the Canal District are the canals and the rich architectural heritage of this area. Built in the 17th century, the merchant-based oligarchy that ruled the trading city of Amsterdam built canal houses and mansions in the most prestigious locations, especially along the main canals. The city office for architectural heritage BMA has a chronological list of the most important ones:
Singel 140-142, De Dolphijn (circa 1600).
Oudezijds Voorburgwal 14, Wapen van Riga (1605).
Oudezijds Voorburgwal 57, De Gecroonde Raep (1615), in Baroque Amsterdam Renaissance style.
Herengracht 170-172, Bartolotti House (circa 1617).
Keizersgracht 123, House with the Heads (1622).
Herengracht 168 (1638).
Rokin 145 (1643).
Kloveniersburgwal 29, Trip House (1662).
Oudezijds Voorburgwal 187 (1663).
Singel 104-106 (1743).
Singel 36, Zeevrugt (1763).

Magere BrugThe Magere Brug, literally "Skinny Bridge", is a bridge that spans the Amstel River and connects the Kerkstraat with the Nieuwe Kerkstraat. It an iconic bridge that consists of nine arches and a drawbridge that is still operated by hand. The current bridge is made of white-painted wood, but it has been rebuilt several times and historically it has also been in concrete. The first bridge here was built in 1691, but the current one dates from 1934. It is one of the most photographed bridges of Amsterdam, especially at night because of the 1200 tiny lights that make it look like a picture-perfect postcard.
Museums
Churches
phone: +31 20 624 77 66

Built in 1620-1631, located on Westermarkt near the Anne Frank House. You can climb the tower (with guide only) every half hour, M-Sa €6. The tower is also open in the winter by group appointment (maximum 10 people) for €70/hr. In good weather you can see all of Amsterdam, and as far as the coast. Free organ concert held every Friday at 13:00.
Monuments
phone: +31 20 551 2512

address: Westermarkt

The Homomonument is a memorial to gays and lesbians murdered in World War II, a call for vigilance against homophobia, and an inspiration for gays and lesbians the world over. It consists of three equilateral triangles made of pink granite that are connected by an inlaid band of pink bricks. These three triangles represent the past, present and future.

RembrandtpleinThis public square features a larger-than-life statue of Rembrandt on a pedestal overlooking life-size statues of the people like those featured in the Night Watch. The monument makes an interesting photo opportunity.
Do
Buy
BloemenmarktThe world's only floating flower market, open daily on the Singel between Koningsplein and Muntplein. It is very touristy, but you could do worse than buying your tulips here. Make sure you buy pre-approved bulbs if taking them to the U.S. or Canada. They will have the holographic licence and export tag on the bag.

The Nine StreetsNine narrow streets enclosed between the main canals from the Prinsengracht to the Singel, south-west of Dam Square. The northernmost street is Reestraat and to the south is the Runstraat. The streetnames are marked with a sign of the Nine Streets, and some shops have a flyer of this area. You can find a lot of boutiques, specialist shops, galleries and restaurants here.

De Beeldenwinkel Sculpture Gallery

address: Berenstraat 29

This is a gallery for sculpture lovers, with bronze statues, pottery, abstract sculpture, raku-fired statues and marble figures sculpture to suit every budget and taste.
Eat
Most foreigners grab a restaurant in the area around the
Leidsestraat
. While there are some good restaurants in that area, be wary as there are a lot of overpriced tourist traps as well.
Budget
phone: +31 20 528 9797

address: Berenstraat 38

Amazing variety of both sweet and savory pancakes. Quaint atmosphere and the street side tables are great to watch people. The only downfall is that street side tables attract too many tourists asking for directions.

phone: +31 20 625-1333

address: Prinsengracht 191

Large selection of sweet or savory pancakes.
Mid-range
phone: +31-20-6270251

address: Leidsekruisstraat 28

Dutch restaurant with an extensive menu of hearty home cooked dishes like herrings, pea soup and hutspot. Unlike most restaurants in this area, this one gets local diners too, and if it gets crowded enough you may have to share tables. Pancakes served only until 5 PM.

address: Reestraat 28-32

They specialise in fish dishes, but they also have a wide variety of meat and vegetarian meals to choose from. With bar.

Letting

address: Prinsenstraat 3

Indian-owned breakfast, brunch and lunch spot. Letting offers a range of soups, sandwiches and scones, and it's on a street which is packed with an ever-changing line-up of fun boutiques.

Holtkamp

address: Vijzelgracht 15

Best pastry cafe in Amsterdam. Much better than the Zeitan, which as many recommend. Do try the "holdkampf" with fillings! The Sachertorte is famous as a favorite of the former Queen Beatrix.

phone: +31 20 624 00 95

address: Korte Leidsedwarsstraat 26, 1017 RC Amsterdam

Uruguayan Steakhouse with well-grilled steaks
Splurge
address: Korte Leidsedwarsstraat 15

Indian restaurant, Muslim (halal) / Hindu (no beef). Good quality dishes from different regions of India.

La Margarita

phone: +31 20 623 07 07

address: Reguliersdwarsstraat 49

This Caribbean restaurant offers a huge range of plates, including three different vegetarian options. Every dish comes with ample sides of white rice, black beans, plantains, and vegetables. In addition to having great food, the restaurant is decked out with a range of fantastic and magic-realist art. If you like your food hot, be sure to ask for the special home-made hot sauce. Reservations accepted.
Drink
Nightclubs in Amsterdam are centered around two squares,
Leidseplein
and
Rembrandtplein
. Close to the latter is the
Reguliersdwarsstraat
, the gay street of Amsterdam. In between these squares are plenty of smaller bars and pubs that are also fun at daytime.
Bars and pubs
phone: +31 20 421 20 57

address: Herengracht 90

Excellent biercafe serving only Dutch beers and liqueurs, including jenever. Around 30 beers on tap, 17 or so which change regularly, and over 100 bottled. Very friendly bartenders who know beer well and give great recommendations. Try the €8 sampler, which gives you 12cl samples of 3 beers with a glass of water and some crackers.

phone: +31 20 422 32 85

address: Leidseplein 24

One of the many Irish pubs in the city. People from all over the world meet here and watch football, rugby and typical Irish sports like hurling and Gaelic football while drinking a pint of Guinness.

Feijoa

phone: +31 6 53 726 137

address: Vijzelstraat 39

Cocktail bar with a lovely atmosphere, pleasant music and friendly staff, including one of the Netherlands leading cocktail barmen. Will make any cocktail you ask for.

Hard Rock Cafe

phone: +31 20 523 76 25

address: Max Euweplein 61

This is close to, or right next to the Holland Casino also close to the Leidseplein. Great service, great food, and plenty of drinks.

address: Amstel 100

The oldest Irish bar in Amsterdam, Mulligans has live music most nights. This is where the traditional music crowd gathers.

phone: +31 20 620 47 54

address: Rembrandtplein 27-29

A friendly spot for coffee, a beer, or something stronger. You may at first only notice the outside seating and the enclosed terrace, but there is also an elegant, (usually) quieter indoor area. Food, too, but you don't see many eaters.

phone: +31 6 245 541 62

address: Korte Leidsedwarsstraat 82-84

If you like whisky, this small, laid-back and friendly cafe is the ideal place to visit. Many unusual whiskies from independent bottlers and closed distilleries are available. The menu stretches along one wall and is about 2 meters in height, the cafe having had 1001 whiskies available since they opened. Just be warned the stairs to the toilets are pretty steep!

phone: +31 6 4076 2392

address: Amstel 14, 1017 AA Amsterdam
Nightclubs
Coffeeshops
Betty Too

address: Reguliersdwarsstraat 29

Absolute gem, cozy and friendly place with moderate prizes and interesting, international crowd.

address: Leidseplein 13-17

This is the original shop that used to be a police department. Now it turned into a chain of touristy coffeeshops, bars, hotels and even an energy drink.

Global Chillage

address: Kerkstraat 51

Good produce and nice tunes but uncomfortable seating.

Grey Area

address: Oude Leliestraat 2

Tiny, but famous for their outstanding weed, especially "American" strains.

The Otherside

address: Reguliersdwarsstraat 6

Gay coffeeshop.
Sleep
Budget
Mid-range
Splurge
phone: +31 20 5563000

address: Leidsekade 97

Listed as an Art Nouveau monument, the hotel is right in the heart of Leidseplein Square. Both Café Americain and Bar Americain are in the hotel, famous for celebrity and VIP spotting.

phone: +31 20 555 02 22

address: Herengracht 341

Four star hotel on one of the main canals. Writers that stayed here left signed copies of their books in the hotel's library.

phone: +31 20 523 52 35

address: Prinsengracht 315-331

25 restored 17th and 18th century canal houses overlooking two of the city's most picturesque canals, Prinsengracht and Keizersgracht, and made famous in Ocean's 12.
Connect
CoffeeCompany
offers free Wi-Fi at Leidsegracht, the walking street from the
Binnenstad
to Leidseplein.