Amsterdam/Oost
Oost
is a borough of
Amsterdam
. It lies between the Amstel River in the west and the IJ in the east. It should not be regarded as a homogeneous area, as there are many different neighbourhoods with their own cultures and identities. The main area is around the Oosterpark. The Eastern Docklands and IJburg are also lively upper middle class areas and their modern architecture show a completely different side of Amsterdam.
Understand
Directly south of the
Plantage
is the
Oosterpark
, the first large park financed by the municipality of Amsterdam as it dates from 1891. The Vondelpark is older and larger, but that initially was a private project. Activities can be undertaken in and around the park, and you can visit the nearby Tropenmuseum. South of the Oosterpark are some ethnically mixed working-class neighbourhoods that originate from the late 19th century. The ethnic make-up of the area is best reflected in the local markets. The
Dappermarkt
, a designated market street since 1910, has products for sale that primarily aim to a Dutch Antillean, Moroccan, Surinamese and Turkish clientele. The Indische Buurt is another working-class neighbourhood with a large immigrant population, as can be seen at the street market along the Javastraat.
The
Eastern Docklands
(
Oostelijk Havengebied
) date from the nineteenth century, and as the name suggests, used to be a port that served the growing trade with the Dutch East Indies. In the first half of the twentieth century, this area was in full development as warehouses were constructed to facilitate the trade with the colonies. After the Great Depression, World War II and the subsequent decolonisation, the area fell in decay. It was only in the 1990s that this area was reconstructed and turned into an upper-class residential area modeled after the
Docklands
in London. There are some truly stunning examples of modern architecture to be found here. Following this project,
IJburg
is a new middle-class neighbourhood on artificial islands reclaimed from the IJ in the 2000s. More islands are being reclaimed to build the Amsterdam of the future.
Further south is the Amsterdam Amstel railway station, an emerging business district. In 1994 the Rembrandt Tower was completed, with 135 metres the tallest skyscraper of Amsterdam and the first in a series of towers named after famous Dutch painters. In 2001, the tower was accompanied by the Breitner Tower and the Mondriaan Tower, both in the same area. East of these lies the
Watergraafsmeer
, formerly a polder that has been incorporated in Amsterdam in 1921. It was home to Stadium De Meer, the home of Ajax football club until its destruction in 1996. It is a green neighbourhood with many trees and sport facilities, as it used to be a popular getaway for affluent citizens of Amsterdam. Now it is becoming Amsterdam's knowledge centre due to the development of the Amsterdam Science Park. This science complex is home to the Amsterdam Internet Exchange (AMS-IX), the second largest Internet exchange point in the world.
Get in

You can reach most of the district easily by public transport. For IJburg, take tram 26 from Amsterdam Centraal. You can also get on bus 66 from Amsterdam Bijlmer-ArenA to Vennepluimstraat.
You can also reach IJburg by car. Take Amsterdam's city ring A10 exit S114 (Zeeburg/IJburg), take highway A1 exit 3 (Muiden) or take Piet Heintunnel from the centre of Amsterdam. And you can reach IJburg by bike. Take one of the two bridges: the Nesciobrug or the Enneüs Heermabrug.
Tram "9" will get you to Watergraafsmeer. The stops "Pretoriusstraat", "Hogeweg", and "Hugo de Vrieslaan" are in the heart of the neighbourhood.

Get around
By public transit
Metro
Metro lines
51
,
53
and
54
follow the Amstel River along the western part of Oost. If you're coming from Centraal Station, you can just hop on any train as they are all going in the same direction (at least until 2017, when the Noord/Zuidlijn is completed). the first useful stop is
Weesperplein
, which technically is just over the edge in
Plantage
, but only is a short walk to the Oosterpark. The metro lines then head southwards passing Wibautstraat, Amsterdam Amstel station, Spaklerweg and Overamstel, before heading to the
Zuid
.
Tram
Tram line
26
travels to IJburg from the centre. This is the only tram in Amsterdam on which you can bring your bicycle. The tram runs 10 times per hour during rush hour.
A plethora of tram lines connect the rest of Oost with other districts in the city. Tram 9 starts at Amsterdam Centraal and passes by Dam Square in the
Binnenstad
. From there, it continues its way right through Oost. The stop
Eerste van Swindenstraat
is close to the Oosterpark, the Tropenmuseum and the Dappermarkt.
By bus
There are plenty of bus connections to Oost, but it is better to take the metro or tram as they are less confusing. Bus line 357 from Central Station follows tram line 9 through the Linnaeusstraat and the Middenweg. It goes right through the middle of the district. An important stop is the
Eerste van Swindenstraat
close to the Oosterpark, but you might as well take the tram.
By bicycle
Most locals get around by bicycle, and so should you. Most arterial roads have bicycle paths attached to them. IJburg is hard to access by bike, because it is an island. It is connected to the city centre by the Piet Hein Tunnel, but it is not allowed to traverse it by bicycle. You can take tram 26 to IJburg as you are allowed to bring bicycles on board for exactly this reason. If you're coming from
Plantage
, you can cycle through the Zeeburgerdijk and cross the water using the bridges of the Zuiderzeeweg.
See
The
architecture
at IJburg is worth seeing. The first island you reach by tram is Steigereiland. At Steigereiland-Zuid many residents got the chance to design their houses themselves. Steigereiland-Noord is all about water and air, with a basin full of floating homes. Haveneiland is the main island, and called after its harbour. Many buildings here are modern interpretations of the old city centre. Blijburg Beach is on the main island.
IJburg consists of several islands connected by bridges, with a harbour and a beach. The first house at IJburg was built in 2002. The islands have a population of 15,000 and it's still growing. The two main islands are Steigereiland (Pier Island) and Haveneiland (Harbour Island). Amongst the attractions are modern architecture, the waterfront, nature, good restaurants, entertainment venues and hip shops.
Museums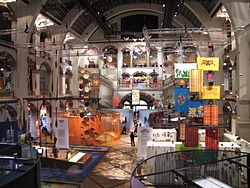 phone: +31 20 568-8200

address: Linnaeusstraat 2

Ethnographic and cultural museum about Africa, Asia and South America. Includes an excellent cafe which sells food from around the world.

address: Zeeburgerkade 10
Parks
OosterparkClose to Plantage, this park holds several multicultural festivals throughout the year.

DiemerparkThis is a large park, a little like a dune park.

FlevoparkThe Flevopark is in the Indische Buurt, at the Eastern end of the Insulindeweg, next to the Jewish cemetery, the Flevobad swimming pool, and the Nieuwe Diep inlet. There are two cafés open in spring/summer/autumn time and one festival each year.

FrankendaelFrankendael is a house built in 1733 in Watergraafsmeer. The house is surrounded by a pleasant park. Take tram 9, get off at the stop "Hugo de Vrieslaan".
Do
Going out at Blijburg beach, harbour club The Lighthouse, cool restaurant and bar N.A.P. or Dok48. Enjoying the water, the architecture, the nice shops and restaurants.
phone: +31 20 788-2150

address: Piet Heinkade 3

World class jazz and improvised music venue, five minutes by foot from Centraal Station.

Blijburg BeachThis temporary artificial beach is only open in summers. Oddly enough it's surrounded by construction sites and modern architecture in IJburg, the newest neighborhood of Amsterdam.

phone: +31 20 788-2000

address: Piet Heinkade 1

Modern music concerts and classical music with a twist. A free concert is given every second Tuesday of the month at 12:30.
Buy
Street markets
Dappermarkt

phone: +31 20 694-7495

address: Dapperstraat

In the east, behind the zoo, and was voted best market in the Netherlands.
IJburg
IJburg has a lot of interesting shops, especially about design, home decoration and boutiques.
Bij'tij

address: Krijn Taconiskade 126

Boutique.

phone: +31 20 416-6617

address: IJburglaan 1153

For kids's clothing.

Design020

address: Pedro de Medinalaan 89

A large interior design centre that is an architectural highlight by itself. Plenty of interesting interior shops like Kartell and Kasstoor, and also don't miss the café as it has a roof terrace with a great view on the water. Free parking.

phone: +31 20 662-5007

address: IJburglaan 1273-1275

For kids's clothing.

Frontrow

address: IJburglaan 1277

Boutique.

Ien Lifestyleshop

address: Diemerparklaan 52

Boutique.

IJgenwijs

address: IJburglaan 1285

Nice shop for presents and home decoration. It is about to close.

Sevenlands

address: IJburglaan 1359

Boutique.

SUBURB Denim

address: IJburglaan 1499

Boutique.

Tjikky+Ko

address: Krijn Taconiskade 128P

For kids's clothing.
Eat
IJburg is a favourite among Amsterdam's locals. There are some special food shops and deli shops in IJburg and it further has about 25 restaurants and lunchrooms.
Deli shops
Boerenjongens Eetwinkel

phone: +31 20 416-7059

address: Talbotstraat 3

A deli shop annex lunch room with products from the region.

IJsburg

address: Pampuslaan 41

Ice cream shop.

phone: +31 20 416-6609

address: IJburglaan 1501

Mediterranean deli annex restaurant.
Budget
phone: +31 20 665-0956

address: Linnaeusstraat 29

Oktoberfest-style biergarten, so expect long tables and a wide variety of bottled beers available. It has a nice atmosphere during warm summer evenings. Try the Hamburger Deluxe or chicken menus. And come early, as it is often crowded. Reservations cannot be made, but you can wait outside with a beer until seating is available.

phone: +31 20 416-0677

address: IJburglaan 1289

Italian restaurant.
Mid-range
phone: +31 20 519-1200

address: 2F, Mövenpick Hotel, Piet Heinkade 11

Eastern and Western fusion meals with both à la carte and (on high occupied days o­nly) a live cooking theme buffet. The restaurant has a view o­n the river IJ. Open 7 days per week for lunch and dinner.
Splurge
Drink
Cafes
phone: +31 20 416-0330

address: Muiderlaan 1001

phone: +31 20 330-6817

address: Krijn Taconiskade 328

Espressofabriek

phone: +31 20 774-7965

address: IJburglaan 1489

Coffee bar

The Lighthouse

phone: +31 20 750-8395

address: Krijn Taconiskade 432

phone: +31 20 416-4000

address: Krijn Taconiskade 124

A harbour-side cafe and restaurant with a view of the marina. You can just stop by for a cup of coffee, have breakfast, lunch or dinner. Stylish interior.

phone: +31 20 811 0381

address: Piet Heinkade 4, 1019 BR Amsterdam

With over 500 bottled beers and 20 craft beers on draft, the biggest craft beer bar in Amsterdam
Nightclubs
Sleep
Budget
Camping Zeeburg

phone: +31 20 694-4430

address: Zuider IJdijk 20

This campground is near the city. It has camping cabins, wagonettes, tent sites and RV sites. A good store, free wifi and restaurant/bar round out the amenities. A good, clean and cheap place to stay if you do not mind walking to the bathroom and paying €.80 for a hot shower.

phone: +31 20 551-3190

address: Timorplein 21

This 480 bed hostel is located to the east of the city centre in a typical Amsterdam neighbourhood. Amsterdam's historic centre is less than 15 minutes away by bike or tram. The hostel is in the same building as Studio K, a budget diner and movie theatre. Children under 12 must stay in private rooms and everyone under 18 must be accompanied by an adult.

phone: +31 207085600

address: Mauritskade 57, 1092 AD, Amsterdam, Netherlands

This former university building which can host up to 564 guests in twin and quadruple rooms. It has spacious social areas with creative design touches all over the building. The old lecture rooms and hall have been turned into bars and a relaxation room. This place is excellent value for groups and budget travellers, with quadruple rooms for €60 or single (bunk) beds in shared rooms for €15. Bathrooms are en-suite. If you're under 18 and travelling without an adult, you'll need written consent from your parents and you'll need to book a private room.
Mid-range