Ankara
Ankara
is
Turkey
's capital, and its second city in size after
Istanbul
. Literally and figuratively, it is at the heart of Turkey and of
Central Anatolia
, the surrounding region. The population is around 4.5 million.
Ankara is the administrative hub of Turkey and a huge university town, so it has a large population of government workers and university students. As the national capital Ankara is home to a large population of foreign diplomats and embassy staff, it offers goods and services that might be more difficult to find in other Turkish cities — for example you will have no problem ordering a cappuccino or a hamburger.
Ankara is a sprawling, modern city which can appear as little more than a dull, concrete jungle at first glance — most non-local Turks view Ankara as a depressive and grey city with nothing in offer other than the boring world of politics. Consequently, many tourists tend to use it merely as a transit point for getting to places like Konya or Cappadocia. However, Ankara does have a lot to offer for those prepared to look a bit deeper — as the proud capital of the Turkish Republic, it is easy to trace the steps of the early republican years here, whether it be in the shape of the fine buildings of the first national architecture movement or the 1940s monuments following the totalitarian aesthetics of the era. Local museums abound with some of the best pieces of art in the country, ancient and modern. And since it originally lies on the mostly barren Central Anatolian steppelands, Ankara vigorously pursued a policy of tree planting, which resulted in many parks and forestlands around the city, which add to its charms.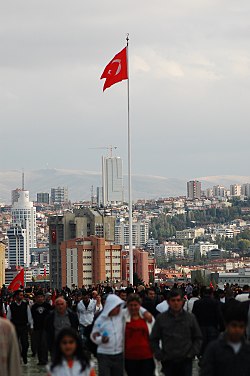 Understand
Like most Turks, the locals are generally friendly and helpful to tourists. Ankara has a large university student population and many young people can communicate in English, but it's still a good idea to have a
Turkish phrasebook
or dictionary on hand.
Apart from the old town in and around the citadel near Ulus, and unplanned shanty town neighbourhoods here and there built hastily by new immigrants from countryside since the 1960s, most of Ankara, which was a provincial town of 20,000 people in the early days of the Republic, is a purpose-built capital due to its strategic location at the heart of the country, although the history of settlement in the vicinity is millennia old.
While the biggest claim to fame of the town used to be the long-haired local breed of goats named after the former name of the city (
Angora
), out of which high quality mohair textiles were produced, today the few places where you can spot them in the city is the lawns in some parks or at the sides of clover-leaf interchanges on the highways—in the form of cute sculptures.
Orientation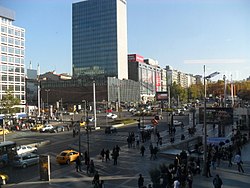 The "downtown" area of this large city is around
Kızılay Square
(
Kızılay Meydanı
, named after the headquarters of the Red Crescent, the Turkish equivalent of the Red Cross, now replaced by a modern shopping mall) which has a fair number of transportation links to almost anywhere in the city. To the north, Kızılay Square is connected by a wide avenue, Atatürk Boulevard, to the squares of
Sıhhiye
(Ottoman Turkish for "sanitary works" as this has been the site of the building of the Ministry of Health since the foundation of the republic), marked by an unmissable Hittite monument in the middle of its roundabout, and
Ulus
("nation", the site of the major institutions of the early years of the republic, such as the old parliament), which has a large equestrian monument of Kemal Atatürk, the founder of the republic, at its side. Ulus, the adjoining
Hisar
district around the hilltop citadel, and
Hamamönü
just south of it down the hill form the old town of Ankara.
To the immediate south of Kızılay lies the upmarket districts of
Kavaklıdere
,
Gaziosmanpaşa
and
Çankaya
. The city's most expensive hotels and restaurants are found in this region, as are most of the embassies and consular services.
Southwest of Kızılay, past the aptly named
Bakanlıklar
("ministries") district, İsmet İnönü Boulevard (named after the second Turkish president) leads into the area collectively known as
Eskişehir Yolu
(literally "the road to
Eskişehir
"), which is lined by most of Ankara's large and afforested university campuses and the buildings of the administrative institutions, including the National Parliament. The area becomes exurbs several tens of kilometres out of the city, which eventually give way to the wide open steppe.
Climate
As any other part of the Anatolian highland, the winters are cold and usually snowy. Temperature is regularly below the freezing point during this season, but it rarely drops below -15°C. Thanks to the low levels of relative humidity, the hot and dry summers are more comfortable than coastal regions of Turkey. Average daily temperatures in midsummer are around 30°C. Daily temperatures can reach 35°C and above, but is not common and usually last no more than a few days. Summer nights are cool, though, so be sure to bring at least a cardigan with you to wear outdoors. Spring and autumn are the wettest seasons, but with an annual precipitation of 415 mm (i.e. a semi-arid climate), you are unlikely to get much wet during your trip to Ankara, anyway.
Get in
By plane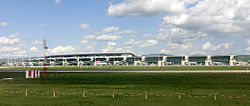 Ankara Esenboğa AirportThe only civilian airport in Ankara. There are few international flights: apart from Turkish Airlines (THY), only Lufthansa, Austrian Airlines and British Airways offer direct flights to their respective European hubs. Iran Air also has two weekly flights to Tehran. For other carriers flying into Turkey, a flight into Istanbul is necessary, followed by an air transfer to Ankara by Turkish Airlines or Anadolu Jet (a low cost brand of Turkish Airlines). - EasyJet also offers discount flights to and from Istanbul Sabiha Gökçen Airport (SAW) and Basel-Mulhouse-Freiburg in the summer months (until October 25) and to and from Istanbul and London Luton airport all year round for fares as low as £22.
The only means of public transport are public busses numbered 442 (4 TL with one pass cards). It starts from the airport and follows a main artery to Ankara, passing through almost all central points, including train station, Kızılay, AŞTİ (intercity bus terminal). You can expect it to be rather crowded and as they don't have separate sections for luggage, you might get exhausted at the end of the journey. One common way to travel to and from airports in Turkey is HAVAS but recently their services were temporarily suspended due to some legal issues with Ankara Metropolitan Municipality. Until the issues are solved, there won't be any HAVAS service. Until then Ankara Metropolitan Municipality started their own shuttle service called
Belko Air
. They follow a similar route to the public transport, from airport it takes you to train station, Kizilay, and AŞTİ. You can put your luggage in luggage compartment. It costs you 11 TL. You can take a
taxi
as well but that would cost you around 100-140 TL one way, metered.
By train
Ankara is the eastern terminus of the Turkish high-speed rail system (
YHT
), with frequent fast trains to
Konya
, and via
Eskişehir
to
Istanbul
. Trains to Eskişehir and Konya take 90 minutes and those stations are within 3-5 km of their town centres, so they are easy day trips. Trains to Istanbul take 4½ hours; they also stop at Pendik, 25 km east of city centre and convenient for Istanbul Sabiha Gokcen airport (10 km, taxi or bus).
Since July 2019 there's also an overnight service between
Istanbul
and Ankara. The train leaves Istanbul Halkali nightly at 22:00, picking up at Söğütlüçeşme, Bostanci and Pendik plus nine other intermediate stations, reaching Sincan then Ankara before 07:00. The return service has similar times, taking about nine hours altogether, and there are both seats and sleepers plus a dining car.
To
Izmir
, the Izmir Mavi leaves Ankara at 19:00 and takes 14 hrs overnight via Eskişehir and
Kütahya
; the return departs Izmir Basmane station at 18:00.
Destinations east of Ankara are served by slow overnight trains. The main services are to
Diyarbakir
and Kurtalan (the
Guney Kurtalan Express
), to
Erzurum
and
Kars
(the
Dogu Express
), and to Tatvan (the
Vangölü Express
), thence by dolmus to
Van
. From Van a train runs once a week to
Tabriz
and
Tehran
in Iran.
For times and reservations (strongly recommended) see TCDD Turkish Republic State Railways
website
.
A high-speed line is under construction from Ankara eastwards, and the first section to Kayseri and Sivas might open by 2020. The railway from Turkey to Georgia and Azerbaijan only carries freight, but passenger trains are expected to start early in 2020. International trains to Syria and Iraq are all suspended indefinitely.
By bus
If you are travelling from places other than Istanbul, you will find buses fast, inexpensive, and modern. Watch out for the drivers spraying your hands with lemon cologne if you do not like it.
Get around
The city has a dense public bus network, a two-line subway called
Ankara Metrosu
and a single line suburban railway called
Ankara Banliyö Treni
.
For tourists, Ankara's public transit system, particularly the public bus network, can be difficult to figure out, because maps are rare and all information is in Turkish. Nor is there any access provided for disabled travellers in any form of public transport. Buses and metros tend to be very crowded during rush hours, especially on Mondays and Fridays.
If you know the city well, public transportation, especially the metro, is an ideal, easy, quick and cheap way to get around particularly for longer distances. For shorter distances taxis are an easy, quick and cheap way to get around.
By bus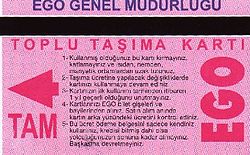 There are two types of public buses in Ankara; those run by the Ankara Municipality named
Ankara Belediye Otobüsleri
(
EGO
) and those run by a private corporation named
Ankara Özel Halk Otobüsleri
(
ÖHO
). You can differentiate these two types by their colours.
EGO
-run buses are white and blue while
ÖHO
-run buses are blue. Both types of these public buses use the same bus network and bus stops.
Ankara Municipal Buses
The Ankara Municipal Buses, named
Ankara Belediye Otobüsleri
(
EGO
), consists of an extensive and dense bus network, and is owned and operated by the Ankara Municipality.
Payment system for municipal buses is based on
multi-use magnetic cards
which are also used for the metro; starting from the smallest available which is the 1-unit card which costs 1.65 TL, 2-unit cards which cost 3.30 TL, 3-unit cards which cost 4.95 TL, 5-unit cards which cost 8.25 TL, 10-unit cards which cost 16.50 TL and 20-unit cards which cost 33.00 TL. A free transfer with the magnetic cards is possible within a duration of 45 minutes between the bus lines and metro lines. The magnetic cards cannot be purchased in buses and have to be purchased beforehand at kiosks and metro stations.
No stops and maps are displayed in the buses and bus stops nor announced by voice in the buses. However all current bus information is available online at the
EGO English website
. In addition, apps for smartphones are available with the same functionality.
Ankara Non-Municipal Public Buses
The Ankara Non-Municipal Public Buses,
Ankara Özel Halk Otobüsleri
(
ÖHO
), consists of an extensive and dense bus network, operated by a private corporation.
Payment system for non-municipal buses is with cash. The ticket, which is only a one-way ticket, is purchased in buses at a cost of 2.75 TL.
Unfortunately, no stops and maps are displayed in the buses and bus stops nor announced by voice in the buses.
By Metro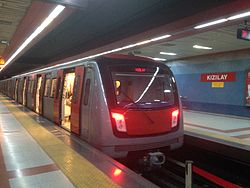 The Ankara Metro, named
Ankara Metrosu
, consists of two metro lines, which are called
Ankaray

and
Ankara Metro

which is owned and operated by the Ankara Municipality .
The west-east light-rail line named
Ankaray
and the north-south heavy-rail
Ankara Metro
line are both mostly underground lines and intersect at Kızılay station.
The
Ankaray
line runs between AŞTİ (Ankara Şehirlerarası Terminal İşletmesi - Ankara Intercity Bus Terminal) and Dikimevi. The line is 8.7 km long (8.0 km underground and 0.7 km surface railway) and has 11 stations
The
Ankara Metro
line, runs between Kızılay, the city center, to Batıkent in the northwest. The line is 14.7 km long (6.5 km underground, 4.5 km surface, and 3.7 km elevated railway) and has 12 stations.
Payment
for the subway is based on multi-use magnetic cards which is also used for the municipal buses; starting from the smallest available which is the 1-unit card which costs 1.65 TL, 2-unit cards which cost 3.30 TL, 3-unit cards which cost 4.95 TL, 5-unit cards which cost 8.25 TL, 10-unit cards which cost 16.50 TL and 20-unit cards which cost 33.00 TL. A free transfer with the magnetic cards is possible within a duration of 45 minutes between the bus lines and metro lines. The magnetic cards can be purchased at kiosks and metro stations.
All stations are announced both on a display and by voice in the metros.
By Suburban Railway
Ankara Suburban Railway (
Ankara Banliyö Treni)
consists of a single line, between Sincan and Eryaman in the west, through the city center, to Kayaş in the east. Trains run every 15 mins between about 06:00 and 22:00 . The line is 37.0 km long, all of it above ground, and has 24 stations. There's nothing of visitor interest near the outlying stations, but Eryaman is an interchange with YHT trains to Konya, Eskişehir and Istanbul Pendik.
Buy tickets in cash at any station. A one-way ticket costs 1.70 TL and a return ticket costs 3.00 TL.
The entire line was closed for over a year due to construction at Ankara station and surrounding tracks, but it re-opened in April 2018. It's owned and operated by Turkish State Railways.
By taxi
Taxis are numerous in Ankara and are recognizable by their yellow color and word
Taksi
on top of the car. All licensed taxis have the letter T in their license plates.
The fare shown on the meter reads according to distance traveled. The ride will start at 2.20 TL, and the rate is 1.90 TL per kilometre. The rates for day and night are same. Tipping is not done other than rounding the fare to the next 50 kurus or 1 TL.
Occasionally, some taxi drivers will refuse to start the meter and try to negotiate a fixed price, especially with tourists. But most taxi drivers will start taximeters at all times. You should avoid these cabs and simply take another one as you will almost certainly end paying too much. Many taxi drivers, even though very few of them speak a foreign language, will understand your requested destination and instructions. Tell them then to put the taximeter on. Taxi drivers do normally work with the taximeter, so they will not be surprised at all when you ask them to put it on. Emphasize to the taxi driver that you will pay for the meter price before getting in.
Always try to stop a taxi that is passing by on the road or find a legitimate taxi stop.
If you are not familiar with the city and see that you are a tourist, the taxi driver may drive a detour in order to charge you more. Insist on going to the destination that you want, and have a map to show them your destination, to avoid a detour.
All taxis are required to have the designated license plate with the letter T apart from their yellow colouring.
Be careful about what notes you hand them for payment; some taxi drivers have tried to pretend that the 50 TL note that was handed was just a 5 TL note. Occasionally taxi drivers may actually also rip notes you give them, and tell you it is no good, in order to make you hand them a 50 TL note. So, make sure the notes are not ripped, and is actually the right one before you hand them over. Do not buy their quick-sell tricks and also do not allow them to round the price up to the higher denomination.
See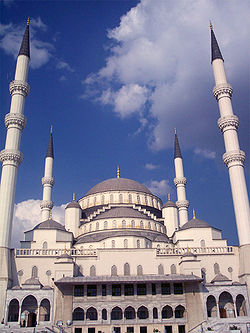 Holy Places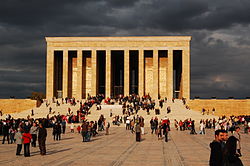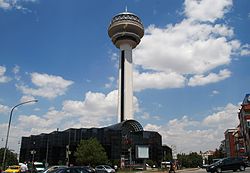 Museums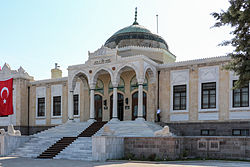 Museum of Anatolian Civilizations

phone: +90 312 3243160

address: Gözcü Sokak 2

Display of the artefacts remained from the pre-Greek and -Roman Asia Minor/Anatolian civilizations — the best bits of sculptures and reliefs of the ancient Near East are all here. The oldest artefacts in display date back to the Paleolithic. This museum is one of the best in Turkey and by itself makes Ankara certainly worthwhile to visit.

phone: +90 (312) 2248550

address: Etimesgut, Doğanbey Mh. or Fatih Sultan Mehmet Bulvarı (İstanbul Yolu)

Various aircraft, aviation items, missiles, and whatnot are in the exhibition, as are MiGs from the other side of Iron Curtain.
Roman Road of AnkaraThis is an ancient Roman road
Archaeological remains
Temple of Augustus and Rome

address: Sarıbağ Sk

The remains of a temple constructed between 25 BC - 20 BC after the Roman conquest of central Anatolia. and created the formation of the Roman province of Galatia, with Ancyra (modern Ankara) as its administrative capital. The temple, on the ancient Acropolis of Ancyra, was enlarged by the Romans in the 2nd century. In the 5th century it was converted into a church by the Byzantines. Its remains, some sturdy rock-cut walls decorated by ancient motifs, lie just next to the mosque and tomb of Hacı Bayram Veli, marking this site as a sacred one.

Column of JulianA Roman column erected in 362 CE to commemorate the visit of Emperor Julian (r. 355–363) to Ancyra.

Roman Bath

address: Çankırı Cd

Excavated ruins accessible to the public. Typical features of a classical Roman bath complex: a frigidarium (cold room), a tepidarium (warm room) and a caldarium (hot room). The baths were built during the reign of the Roman emperor Caracalla in the early 3rd century AD to honor Asclepios, the God of Medicine. Today, only the basement and first floors remain.
Landmarks
Atatürk's Tomb (Mausoleum) and Museum

phone: +90 312 2317975

address: Anıt Caddesi Tandoğan

There is a museum housing a superior wax statue of Atatürk; writings, letters and items belonging to Atatürk, as well as an exhibition of photographs recordings of important moments of his life
Atakule TowerA 125 m-high communications and observation tower in the Çankaya district. The highest structure of the city, with a shopping mall located under the tower. (Atakule shopping mall, where very few shops are left open, will close in autumn 2019 as it will be transformed to a hotel.)
Victory Monument

address: Ulus square

Erected in 1927, the monument is made of marble and bronze, and features an equestrian statue of Mustafa Kemal Atatürk. Since it was erected a year before the "alphabet reform", it is one of the very few republican monuments in Turkey that has an inscription written in Ottoman Turkish, using the Arabic script.
Monument to a Secure, Confident Future

address: Güven Park

Built in 1935 and bears Atatürk's advice to his people: "Turk! Be proud, work hard, and believe in yourself." Features the statues of two gun-holding men with a rough look, presumably representing the Turkish police and the Turkish army, all perfectly fitting the totalitarian art style fashionable during the years the monument was erected.
Hatti Monument

address: Sıhhiye Square

Built in the 1970s, this impressive monument symbolizes the Hatti gods and commemorates Anatolia. It features the statues of a deer and two oxen, similar to those found in innumerable archaeological sites throughout Central Anatolia, all surrounded by a stylized Hittite sun disc.

Do
Ankara offers a good selection of cinemas both in Kavaklıdere and Çankaya and several concert halls for classical music and opera. Many universities promote concerts and spring festivals but these are sometimes open to their students only. Folk and traditional music is very alive, from small bars and restaurants to big concert halls where you can find local stars like Musa Eroğlu.
Parks and gardens
Depending on your interests, you can find trekking in local parks and in the surroundings, visiting the museums or hunting for the Ottoman or Selçuk remains in the ancient castle. Upscale shopping centers like Armada along the Eskisehir road also offer cinemas and quality restaurants.
Adile Nasit Park

address: Kuzgun Sokak, Ayrancı

Atatürk Forest Farm and Zoo

address: Alparslan Türkeş Caddesi (Çiftlik Cd.) No:150

This is an expansive recreational farming area, which houses a zoo, several small agricultural farms, greenhouses, restaurants, a dairy farm and a brewery. It was started by Kemal Atatürk, who wanted to prove that the neglected steppes around Ankara could be converted into a lush, fertile agricultural land.
Buy
Ankara's Castle (Kale) has been a trade centre for centuries, and its sellers of carpets, leather and antiquities are slowly moving upmarket hoping to attract the tourist trade. It's still a delicious place for walking and browsing, and there are family firms where you can buy, for a price, excellent carpets and kilims. Walking down from the castle you can walk through the covered market, an iron structure reminiscent of places like Les Halles in Paris, where you can buy very cheap and excellent produce. Ankara has a number of large shopping malls each of them offering fashion stores (including Zara, Mango, Harvey Nichols, Marks and Spencer), technology retailers (like Media Markt and Electro World) supermarkets (like Carrefoursa and Tesco/Kipa). Many of the new malls are located on the Eskişehir Yolu, including Armada, Cepa, Kentpark and Gordion.
Malls
Armada Tower Ankara Shopping Mall

Atakule Mall

Karum Shopping center

address: Iran Street (Caddesi)
Eat
Ankara is best known with its "döner kebap". In order to pick a good döner restaurant (there are many) you should take a look at the döner round. it should be rectangular and the cuts must be flat and separated.
Like many other capitals, Ankara is where you can eat the best and the freshest fish of the country all around the year (not the cheapest, though). Around Sakarya str., there are various types of fish restaurants, from fast food to stylish ones and it can be a good opportunity to also try rakı, which is known as a companion of fish. But fish restaurants abound in the city; in Çankaya there are at least two excellent ones, "Akdeniz Akdeniz" and "Lazoli" featuring the first Mediterranean and the second Black Sea cuisine. "Ege", located close to Tunali street, is another excellent choice for fish and raki. The restaurant has also a variety of wines. If you want to listen good Turkish classical music while you eat and drink raki, then "Sudem" should be seen. It is located on Olgunlar Street.
There are also plenty of cheaper restaurant options in Kızılay and Maltepe, selling fast food or kebaps, döner, lahmacun. In Çankaya, Tunali, GOP region you may find various types of Turkish cuisine and luxurious restaurants where prices go higher.
Besides many classic iskender kebab restaurants there are also many restaurant featuring the traditional cuisine of a specific city, catering to the community of more affluent immigrants: from the spicy Urfa to the variety of vegetables coming with Adana kebab. Uludag Kebabcisi on Denizciler Caddesi in Ulus has been around for about sixty years and is a top of the line restaurant mainly serving Iskender kebap.
Finally, as the national capital, Ankara has a large population of diplomats, and hence there are a number of "international" restaurants in Kavaklıdere and Çankaya (also where the majority of diplomatic missions are located). Prices tend to be on the steep side.
Hacı Arif Bey

address: Güniz sokak 48/1

Kebaps and South Anatolian cuisine is a well managed and delicious restaurant for savoring Gaziantep cuisine. A wealth of options are available and prices are not very high.

SushicoJapanese and Thai food. Sushico's GOP restaurant especially has a very good garden.
address: Uğur Mumcu Cad

Good option for Chinese and Thai cookings. Quick China's branch on the Park Avenue "Park caddesi" is also very good, particularly for a Sunday brunch.
Drink
Papsi bar

address: Tunalı Hilmi Cd

A good choice to take a cold beer in a friendly atmosphere for years

"Kitir" and "Random" bars

address: Tunali

Two other popular bars

Corvus

address: Bestekar Street

offering rock music.

phone: +90 312 424 0 144

address: Kavaklıdere Mh., Olgunlar Cd No:18, 06420 Ankara
There are many bars and places to drink on that street which is parallel to Bestekar. The Edge, Twister, Hayyami (wine bar) are nice places.
Sakal on Kennedy Street is a unique place with electronic, reggae or retro (offering different kinds of music). On the same street Mono is pleasant place to drink. Tunus Street, parallel to Bestekar is another street where you may find many pubs like Retrox, Flat, James Cook and Zodiac. If Performance Hall, Manhattan, Overall and Siyah-Beyaz are places where you can drink and dance till 4 am with live rock music. There normally are rock cover bands and a huge crowd, especially on Friday and Saturday nights in these places.
"Sakarya" is full of the cheapest solutions. Among the best places in Sakarya, one should note "Net", which is a good choice not only take a glass of beer or raki, but also to eat. "Buyuk Ekspres" is also a nice old bar of the town. Also Eski-Yeni, Pasaj and Telwe are nice bars where you may find rock or alternative live music styles with cheaper drink prices compared to Tunali, Çankaya region.
"Park Avenue" -in Konutkent district- is the new street for classy bars, cafes and night clubs. You may also find second branch of Kitir, Random & Crossroads in "Park Avenue". Istanbul's fashionable night club Sortie has also opened in this avenue and is a nice place to drink any kind of drinks and listen to latest club mixes. Narquilla is a great place to have your nargile while drinking beer and enjoying nice food.
Also, there are meyhanes (tavern) in which fixed menus are served with drinks and classic Turkish music played. There are bars and restaurants also in the historic core of Ankara, close to citadel. You definitely have to go and return by taxi though.
Don't expect a lively gay life of Istanbul in Ankara. No-one comes to Ankara for its amazing gay life, however you can still enjoy your time while you are here. It has only one gay bar-club (Sixties) and this is open only on Wednesday, Friday and Saturday nights. It gets pretty crowded after 00:00 and plays Turkish and Western pop music. In addition to that, though it is not a gay bar, Eski-Yeni Bar in Sakarya Caddesi (street) seems to attract a gay-lesbian crowd especially in its bottom floor. Kaos GL and Pembe Hayat, the leading queer organizations in Ankara, hold activities throughout the year.
Sleep
Budget
Cheap hotels?

address: Sanayi Caddesi
Splurge
Ankara PalasA historic hotel completed in 1927.

Sheraton Hotelthe most visible and glitzy hotel in Ankara.

Hilton

Radisson

Swissotel

Ramada

address: Tunalı Hilmi street

recent entrants, and offer very new-looking rooms

King Hotel

Hotel Midas

address: Tunus Caddesi

Hotel Gold

address: Tunus Caddesi

Angora House boutique hotelA charming place in an Ottoman era house.

address: Mevlana Bulvarı No: 2, 06330, Akköprü

Next door to the 30 ha shopping center Ankamall.
Stay safe
Ankara is probably one of the safest big cities you will ever visit. Most people, including single female travellers, would very rarely encounter problems walking along the streets alone at night. Street crime is extremely rare, even late at night. However, "little crime" does not mean "no crime", and common sense should still be applied as anywhere in the world. Petty crime such as pickpocketing can occur, however, especially in crowded areas. Therefore, one should always take care of their belongings and keep bags closed.
The biggest danger for travellers is the road traffic, because there is little respect for pedestrians. Every road should be crossed carefully and very quickly. Even if pedestrian traffic lights show green, it is absolutely essential to have a watchful eye. At crosswalks definitely look out before crossing the street.
Another danger for pedestrians, are the sidewalks because they are often in a very poor condition. Because of the poor or irregular renovation of sidewalks, many of them have loose paving stones and holes in the asphalt. The risk of tripping and hurting oneself should not be underestimated.
Ankara Police Department has a "tourism police" section with staff multilingual in English, German, French, and Arabic.
Tourism Police

phone: +90 312 384-0811, +90 312 384-0606, +90 312 6350-6353

address: Emniyet Turizm Şube Müdürlüğü, İskitler
Cope
Embassies
Ankara is the national capital and most countries have an embassy (or equivalent consular service). These are useful if you need consular assistance from your own country, or need to obtain visas to other countries. The embassies are generally located in the suburbs just to the south of the city centre, such as Kavaklıdere, Gaziosmanpaşa and Çankaya.
Go next
BeypazarıThis is famous with its traditional houses, mineral water, bazaar, and of course bakery which is called Beypazari Kurusu. It is a quite a lot for a small Anatolian town which make them tourism attraction of the area. You must spare a weekend. You will not regret it.

Gordion

address: Yassihoyuk,

This is one of the most important ancient cities in Turkey and is from Ankara in. The city had been home for Hittites, Phyrigians, Persians, Greeks, and Romans since 3000 B.C. The remnants of the city are displayed in Gordion Museum and Anatolian Civilizations Museum in Ulus.

KızılcahamamThis is a town with many thermal springs, surrounded by forests—a welcome retreat from the arid landscapes around Ankara.

Boğazkaleis the hub for visiting ancient Hattuşaş, the capital of Hittites.

Gavurkale and Kulhoyuk

address: Haymana town

rock friezes and Hittite burial grounds

Soguksu National Park

Ankara is a reasonably convenient place to base yourself if you want to travel around Anatolia, Cappadocia or the Black Sea coast and a growing number of tour operators and related service industries are catering to tourists. There is accommodation here at all levels, with prices pegged below those of Istanbul or the south coast, and the new bus station (AŞTİ) is probably the most useful transport hub in Turkey with services to just about anywhere that's feasible (Lebanon is only 16 hours away, if you're feeling adventurous).