Annapurna Sanctuary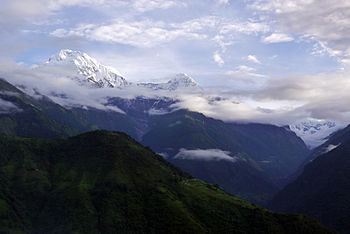 The
Annapurna Sanctuary trek
is in
Nepal
.
For information on preparing for this trek, including when to go, what to bring, what permits are required, and safety precautions including altitude sickness, and water contamination, see Trekking in Nepal
.
Understand
The Annapurna Sanctuary Trek is a trek in the
Annapurna
region which commonly starts or finishes in either
Phedi
or
Nayapul
and reaches the Annapurna Base Camp. Phedi is situated at a distance of 165 Kilometers ( via Baglung Highway ) from the capital city, Kathmandu. A total of 5 to 7 days is necessary for the whole trek to finish.
Get in
Travelers can take a bus to either
Phedi
or
Nayapul
from Pokhara. It takes around 2 hours to Nayapul by bus and costs around N₨.110-200. There are several bus stations in
Pokhara
from which you can begin your journey.The bus to Nayapul is usually taken from the Baglung bus station which lies north of the Phewa Lake. The walk to the bus station takes about 45 minutes from the lakeside.
Taxi service charges on the route from Pokhara to Nayapul costs around N₨1500 for 1½ hrs, however on the way back Nayapul-Pokhara, it's possible to arrange it for as little as ₨300. Taxi Service from Pokhara to Phedi costs around ₨.700 to 1000 which takes around 20 mins ; Taxi Service from Pokhara to
Dhampus
costs around ₨.2000.
It's also possible to catch a jeep from
Kimche
to Pokhara at ₨700/per person but the connection is infrequent and may delay at times.
Itinerary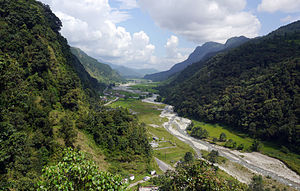 There are a myriad of trails that traverse the Annapurna and lead to
Chomrong
from where there is only one path up to Annapurna Base Camp.
Start your trek by following the jeep track down until you spot a swingbridge to your left, there is a foot path leading to it and you cross the river here. Turn left as you come of the bridge and pick up the track along the Modi Khola for about half an hour before you come to the outskirts of
Birethanti
and an ACAP check point where you have to get your Conservation permit checked. You can now see another swingbridge that you have to cross. Directly opposite the swingbridge is the TIMS office where you can either buy TIMS certificate or just check it if you have it already.
Birethanti has a number of lodges although if you have just started your hike you may wish to walk on to
Tikhedunga
.
Keep the river to your left hand side as you follow the start of a jeep track, and the destruction of the trail, for an hour or so before it peters out at the small hamlet of Baajgara where there are two tea shops. The trail keeps following the river, make sure the river is always to your left, and eventually you arrive in
Hile
where there are four lodges. The lodge owners here like to make out you are already in Tikhedunga in order to catch some of their customers. In fact Tikhedunga and its myriad of lodges is another fifteen minutes down the track.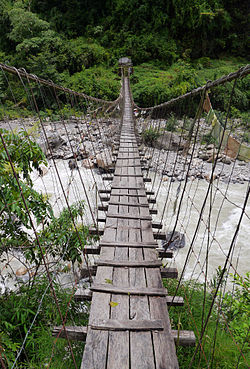 Tadapani to Chomrong via Ghandruk
Chomrong to Annapurna Base Camp
Chomrong to Landruk
Ghandruk to Landruk
Landruk to Phedi
If you do not want to go to Landruk then you can go from Chomrong via Syauli Bazar to Birethani/Nayapul. From Kimche it is a dirt road with traffic (jeeps).
If you come from Poon Hill:
Ghorephani to Tadapani (3h) (or continue to Chomrong)
Tadapani to Chomrong (4h); bridges to cross river in:
# Gurjung
# Jhindu (very steep stairs up to Jhindu and Chomrong)
ABC to Jhindu can be done in 1 day. Hotspring in Jhindu: ₨50. In Chomrong, ask for the shortest way to Jhindu to avoid 100 steps.
Timetables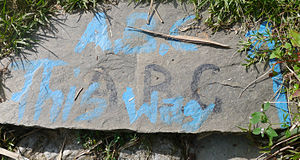 Sleep
Sinuwa
:
Hotel Hill Top

phone: +977 974 6041595

Sinuwa Lodge

phone: +977 974 6041611

Sinuwa Guest House

phone: +977 974 6028007
Bamboo
:
Bamboo Guest House

phone: +977 984 6290080

Green View

phone: +977 984 6257879

Bamboo Lodge

phone: +977 984 6257488

Trekking Guest House

phone: +977 974 6065966

Buddha Guest House

phone: +977 974 6015194
Dovan
:
Annapurna Approach

phone: +977 975 6000321

Hotel

phone: +977 984 6303417

Dovan Guest House

phone: +977 974 6041130
Himalaya:
Himalaya Guest House

phone: +977 974 6027283

Himalaya Hotel

phone: +977 974 6046109
Deurali
:
Deurali Guest House

phone: +977 974 6005200

Sangrila Guest House

phone: +977 974 6041597

Panorama Guest House

phone: +977 974 60228014

Dream Lodge

phone: +977 974 6045694
MBC:
Fishtail Guesthouse

phone: +977 984 6037924

Shankar Guest House

phone: +977 984 6293225

Gunung Co-operative

phone: +977 984 6513606

Machhapuchhre Guest House

phone: +977 984 6303435

Gangapurna View Lodge

phone: +977 984 6396621
ABC:
Hotel Paradise Garden

phone: +977 994 610003

Hotel Snow Land Lodge

phone: +977 994 610002

Annapurna Guest House

phone: +977 994 610001

Annapurna Sanctuary Lodge

phone: +977 994 610000
Stay healthy
There are official safe drinking water stations located at Landruk, Ghandruk, Jhinu and Chomrong. Past Chomrong, plastic water bottles are not permitted to be sold so trekkers will have to supply their own containers to be refilled. Lodges offer boiled or reverse osmosis water for around Rs. 130 per litre and untreated water for free.

Stay safe
Above Deurali, snow may be present as early as mid-November. Foot traffic quickly compacts the snow into ice making the trail treacherous, especially travelling downhill. Trekking poles and micro crampons can make the going considerably easier and some trekkers resort to wearing socks on the exterior of their boots or wrapping them in rope for extra traction.
The trail is exposed to avalanche danger where it crosses several slide paths, trekkers should practice appropriate
Snow safety
as conditions warrant.
Go next
See also