Antwerp
Antwerp
(
Dutch
:
Antwerpen
,
French
:
Anvers
) is a large city and the capital of the
eponymous province
in the region of
Flanders
in
Belgium
. At a population of just over half a million people, it is the second largest city in Belgium (after
Brussels
), and it has a major European port. Due to its long and culturally rich history, the city of Antwerp houses many interesting historical buildings from different historical periods, as well as a lot of interesting museums. Antwerp is also known as the global diamond trade hub - more than 70% of all diamonds are traded in Antwerp.
Antwerp has grown to become a trendy city, attracting many Flemish and foreign artists, writers, intellectuals, and actors. This is reflected in the city's many trendy bars and shops. Antwerp is a city with many faces. While it may not be as historically preserved as
Bruges
or
Ghent
, it is a very dynamic city, offering a perfect mix of history and present-day modern life. The overwhelming friendliness of the people of Antwerp and their innate penchant for good food and good living, combined with their low stress lifestyle, makes it a desirable and relaxing place to visit.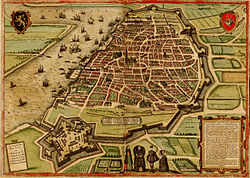 Understand
The origins of the name of Antwerp comes from "aan de werpe", which is Dutch for "at the throw", referring to where the river throws its sand. The name also has a funny anecdote saying it comes from "Hand werpen", which translated is "throwing hands". In the city flag, the castle "het Steen" and the hand of Antwerp are shown.
In the 16th century, Antwerp was one of the most important financial centers of the world, where traders from all over Europe and Asia sold and bought their goods. After the siege of Antwerp in 1585 by the Spanish, this role as a financial center was taken over by Amsterdam. Nevertheless, since the 19th century and especially the 20th century, Antwerp has made a serious economic comeback.

Get in
By plane
Antwerp AirportA small airport catering mostly to business travellers, as due to the length its runway it can only be served by small aircraft. There are regular flights to business destinations such as London or Geneva, some holiday flights, as well as sizeable unscheduled traffic (mainly private and chartered business jets). The flip side of the small size of the airport is that both arrival and departure procedures are very quick compared to large hubs. There is a regular bus from the airport to the centre and a taxi costs around €10.

Brussels Airport (BRU

)
Since the completion of the Diabolo rail link, hourly direct trains linking Antwerpen Centraal station with this airport have been introduced, and travel time was cut back to 25 minutes (45 minutes on weekends and public holidays). Single adult tickets are €11,30.
There is also a direct bus between Brussels Airport and Antwerp which costs €10 and has two stops in Antwerp at Hotel Crowne Plaza and in the city center, in front of Central Station. A schedule can be found here
Thalys and regular train tickets are not interchangeable!
The regular intercity and the Thalys are run by different companies, but their trains tend to leave from the same platform. Do not jump on a Thalys train with a regular intercity ticket or vice versa. Your wallet won't like the fine.
Amsterdam Airport Schiphol (AMS

) has a high-speed train station on the Amsterdam-Brussels line directly underneath the terminal, which allows for two different railway connections to Antwerp:
There is a regular intercity train Amsterdam - Brussels that connects Schiphol Airport directly with Antwerpen Centraal station in approximately 1 hr 50 mi. You can buy tickets with credit card at the automatic ticket booths in the Schiphol arrival hall. Payment with cash is also possible at the counter. Or you can book through Belgian Railways (SNCB/NMBS) or NS International. A single ticket costs about €25.
Second option is the bright red high-speed Thalys train Amsterdam - Paris, which stops at Schiphol and Antwerpen Centraal station, in about half the time it takes the regular train, but at double the price. Contrary to regular trains, reservations on Thalys are required. Best reserve your seat a week or so beforehand, since buying a ticket on the spot will turn out to be even more expensive. The Thalys journey from Schiphol to Antwerpen Centraal can also be booked as a part of a SkyTeam flight (IATA code for Antwerpen Centraal is ZWE

), usually costing less than when booking the flight and the Thalys ride separately.

KLM also maintains a direct shuttle bus connection between Antwerpen Centraal and Schiphol Airport, which can be booked as a KLM flight segment under the code KL320/KL321. The bus takes 2.5 h to get between Antwerp and Schiphol, but there is usually no difference in price between flight tickets using the bus and the Thalys, so book carefully.
By train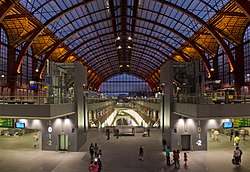 Belgium has an extensive rail network, and for intercity travel within Belgium, trains are always the best option. Tickets can be bought on the website of the Belgian railways and at the ticket counters in most stations. There are good train connections to and from Brussels Airport and Schiphol airport in Amsterdam. To plan your trip, you can consult the website of
NMBS
for national and international travels. If you cross multiple borders, it is often possible to book your entire trip at once through
Deutsche Bahn
.

Antwerp-Central is a major stop on the Paris-Amsterdam high-speed line. International trains from France and the Netherlands stop in Antwerp-Central station only, and not in Antwerp-Berchem anymore. The same train services that call at Schiphol Airport also call at Amsterdam Centraal and Rotterdam Centraal. Tickets for train journeys originating from the Netherlands are bookable through Belgian Railways (SNCB/NMBS), Thalys, or NS International but remember that some tickets (especially Thalys tickets) are valid only on specific trains. Passengers coming from the UK via Eurostar can transfer at Bruxelles Midi to any regular SNCB-operated train bound for Antwerp provided that at the time of booking, Antwerp was selected as the final destination. Through Brussels-South railway station, there are also high-speed connections to other destinations in France with TGV, or destinations in Germany with ICE. Real-time information on rail traffic, delays, disruptions, arrivals and departures at every Belgian station can be easily found on RailTime. If you have a mobile internet connection available, the BeTrains app can also be of use.


By bus

Several bus operators offer long-distance connections to Antwerp:


Get around
Public transportation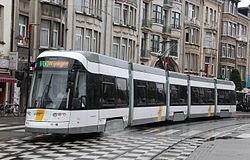 The public transportation company
De Lijn
has a dense network of buses, trams, and pre-metro (underground tram) connections in the city and wide area around it. You can buy cards of €14 (10 fares) at fixed points in town or buy them inside buses. If you don't have a card you pay more inside the bus (€3 per fare). For one fare, you can ride up to an hour within the entire city center limits. If you want to travel out of the city center you have to pay more for the extra zones travelled.
The central bus station is the
Franklin Roosevelt plaats
, near the central train station. Most buses leave from there or from the train station. Maps of the bus/tram network in the entire region can be found in PDF format
here
.
Taxi and cars
Taxis are available, but they can be quite expensive. They await customers at specific locations around town (waving your hand will seldom work) like the
Groenplaats
or the railway station. You can recognize these places by an orange TAXI sign. The prices are fixed in the taximeter.
Driving in Antwerp is not as difficult as many big cities in the world, but crossroads can seem very chaotic for foreigners. There are few free parking spaces, but many spaces where you have to pay (on the street or in underground car parks). The underground car parks are well-signposted. The prices are typically €2 per hour.
There are many one-way roads, that can make it difficult to get to a specific place. Try to park your car as close as possible and go on foot.
Antwerp has introduced a Low Emission Zone, which applies to domestic and foreign registered cars. The latter have to jump through hoops to demonstrate their emission status. The zone seems to be inside but excluding the ring-road, but the official map is dreadful, so beware.
By bicycle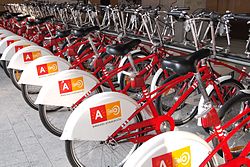 The city has many special areas for cyclists, and cycling is easy and comfortable in Antwerp. Most one-way roads can be accessed both ways. Make sure to lock your bike to a fixed object, however, or it will be stolen! Around town there are a few places that are specially prepared for hosting bicycles for free, like at the
Groenplaats
.
Antwerp's bike-sharing scheme is called
Velo
. You can get a day pass for these bikes in the Central Station and pick up your bike at more than 80 places in Antwerp. The first 15 minutes are free, then the price gradually increases. Bicycles can also be rented at several places in town like Ligfiets, Windroos, Fietsdokter (verschransingsstraat), or Fietshaven (government initiative, under the central station).
On foot
Most things to see are near or within the
Boulevards
, the half-moon of avenues where there were once 16th-century city walls. This old town center, with a diameter of about 1.5 km, can be walked, and there is also excellent public transport. The centre is densely signposted to aid those discovering it on foot .
By horse tram
Horse tram (
paardentram
) leaves from the Grote Markt every hour. It is an approximately 40-minute/2.5-km ride through the city.
See
Antwerp City Card With the Antwerp City Card you can visit all museums and three monumental churches over a 48-hour period. It also features a 25% discount on attractions, sightseeing and bicycle rentals. In the free guide you find vouchers that you can use to enjoy benefits on typical Antwerp and Belgian products including chocolate and chips. Price: €28.
Centre

City Hall/Old Market SquareThis is the historical center of town. The market square is surrounded by the typical medieval guild houses you find in most Flemish historical towns. The city hall is designed in special architectural style with a combination between Gothic and early Renaissance, and is a . This style is almost exclusively found in this region of Europe.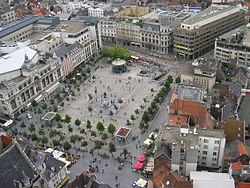 Diamond DistrictThis is south and southwest of the central station. You will find countless jewellery shops, as well as the Antwerp Diamond Exchange, one of the most important financial centres of the world's diamond industry. The district is interesting from an ethnic and cultural perspective, for at least 50% of the diamond industry is in the hands of the city's Jews. Antwerp has a large population of Jews (about 50,000 people), a lot of them Orthodox.

The hidden street VlaeykensgangConnects Hoogstraat, Oude Koornmarkt and Pelgrimsstraat. It is a real street, but only accessible through unassuming medieval front doors in the streets. The medieval equivalent of a gated community. It now houses nice, informal restaurants and chic, discrete houses. A must see!

Jewish QuarterOne of the main Jewish centers in the world, with the beautiful 'Van Den Nest' and 'Bouwmeester' synagogues. Contact the Jewish community for a guide.

Antwerp RuienYou can take a guided tour of the underground city of Antwerp.

Red light districtLike cities such as Amsterdam and Hamburg, Antwerp has a red light district. If you want to visit, consider going during the day. When Villa Tinto set up, Antwerp's little red light district became Europe's most High Tech Brothel. If you intend to be a patron of the district, be wary of women who beckon you to their kamers and invite you in without discussing a price. In many cases, these women will charge a greatly inflated rate once they have you inside their kamer. Even if you have no intention of partaking in the festivities, it is worthwhile just to see the spectacle that the district is. 200 women all in their own window dressed for action. It is also worth being wary of beggars in the Red Light District. While few of these are particularly hostile, they can be bothersome and should be ignored. There is very little illegal activity as there is a constant police presence, which you can expect to see.
Museums and galleries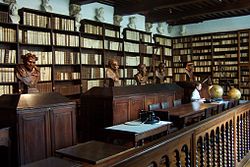 phone: +32 3 221 1450 or +32 3 221 1451

address: Vrijdagmarkt 22

The home of 16th-century bookbinder and printer Christoffel Plantin. Regarded as one of the finest museums dedicated to printing in the world. Its extensive collections of important books and printing presses along with its role in spearheading the technology of printing have seen it added to the UNESCO World Heritage List.

VleeshuisLiterally, the "Meat house". It was built as the guild hall for the butchers. Every day tonnes of meat changed owners here. The building is famous for the original masonry made to resemble stacks of bacon (switching between white stones and red bricks). It now houses a museum, of which the main part comprises a musical instrument collection, including some examples of old harpsichords built by the local Ruckers family.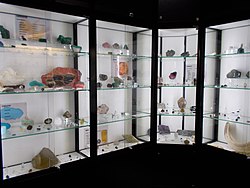 phone: +32 3 658 62 83

address: Frans de l'Arbrelaan 12

Museum for mineralogy, paleontology and gemology. Largest collection of fluorescent minerals in Europe. Permanent collections of systematic minerals and fossils. Entry fee of €4, but free for children, students and teachers. Guided tours are free and highly recommended. Only open on Saturday afternoon.

phone: +32 3 338 44 00

address: Hanzestedenplaats 1

Large museum that tells about Antwerp in the world. You can visit the building for free, with an very wide view across Antwerp on the rooftop. The viewing platform on the roof is accessible without a museum ticket.

Red Star Line Museum

phone: +32 3 298 27 70

address: Montevideostraat 3

This museum opened in 2013 and displays the history of the Red Star Line, a Belgian navigation company offering connections between Antwerp and New York. This enabled large-scale emigration to the United States. The museum collection is based on the stories of people who travelled on this line, including Albert Einstein and Irving Berlin.

address: Eikelstraat 25

ECK is an art space for contemporary visual arts, based in an old bottling factory. Its shows are mostly experimental, but always intriguing.
Churches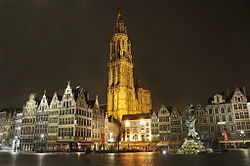 Cathedral of Our LadyOne of the most impressive and largest Gothic cathedrals in Northern Europe, built in 1351 it stands over 400 ft tall. It also houses some of Rubens' most famous paintings.

Saint Paul's ChurchA beautiful mixed gothic and baroque church formerly part of a nunnery. Noted for its Calvary monument. It is a short distance north of the Grote Maarkt on Zwartzustersstraat.

Carolus Borromeus ChurchUnlike the cathedral, this is a Baroque church. With a safe and minimal exterior, you would not know the beautiful decorations (done by Rubens' studio) are inside. It is on the picturesque square Conscienceplein.
Animal interest
Antwerp ZooOne of the oldest zoos in the world, with over 4000 animals and lots of 19th-century design and architecture.
Other buildings of note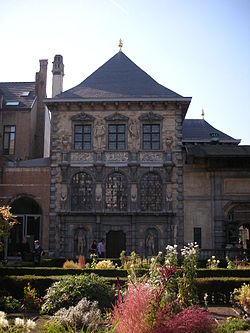 The Begijnhof (beguinage)A sort of medieval monastery for women. The well-kept gardens are great photo opportunities.

BoerentorenNow called KBC Tower after the company that owns it, this 97-m skyscraper in the historical center of town is said to be the oldest one on the European continent. It was built between 1929 and 1932. It is at the end of the Meir shopping street. The tower is renowned for its typical art-deco sculptures. It is not a skyscraper on the same scale as some that were erected in North America; for example the Empire State Building in New York, built at the same time, is 381m.

Bourla theatre19th century neo-classicist theatre building. Charming from the outside and even nicer if you manage to get in for a theater show or a concert. It houses a spectacular pastry salon inside the large cupola above the theater. Great place to have tea with cake or waffles, of course.

Central StationEven if not arriving or leaving by train the station is well worth a visit. Platforms are on three levels, all constructed beneath the very impressive original structure.

Het Steen

address: Steenplein 1

This is a rather small medieval castle on the banks of the river Schelde. It used to function as a city fortification and now houses a naval museum (open air only, inside closed). It is the starting point of the Wandelterrassen, a scenic boardwalk with a cafe/restaurant at either end.

phone: +32 3 201 1555

address: Wapper 9-11

The house of painter Peter Paul Rubens is now a museum of his life and artwork. Multiple of Rubens his paintings and artworks and his contemporaries are installed in the rooms, as well as furniture of his period. Paintings include his early Adam and Eve (c. 1600) and a self portrait made when he was about fifty.
South of Antwerp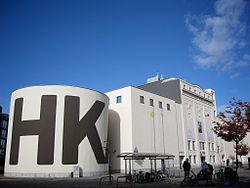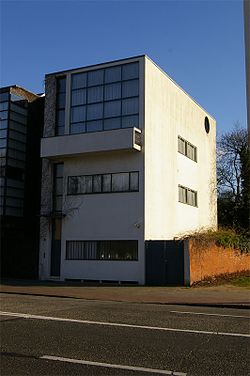 Since the restoration a couple of years ago, the south of the city is known as the trendy part.
The centre of this piece of the city is a huge square called
de gedempte zuiderdokken
which simply means, 'the filled-up southern docks'. In the 1960s, this was an abandoned trade dock. They filled up the dock in an attempt to expand the city. The high crime rate in the region made it a very cheap place to live. This was a blessing for the local art world, which started to flourish, making the region trendy and safe over the years. Today, it is known as a "yuppie stronghold".
phone: +32 3 260 99 99

address: Leuvenstraat 32

Museum of contemporary art.

phone: +32 3 242 93 00

address: Waalsekaai 47

Renovated in 2004.

Koninklijk Museum voor Schone Kunsten

phone: +32 3 238 7809

address: Leopold de Waelplaats

Koninklijk Museum voor Schone Kunsten boasts of an excellent collection of paintings from the 15th century up to the 20th century. The museum's permanent collection has masters such as Peter Paul Rubens, Brueghel, Van Eyck, Anthony Van Dyck, Jacob Jordaens, and James Ensor. Closed for heavy reconstruction work as of Nov 2018. Some of the collection will be temporarily displayed at other museums in Antwerp and nearby cities on a rotating basis during construction.

phone: +32 3 248 7077

It is on the "kaaien" and is a center for intercultural art.

Het MuntpleinA place where graffiti artists can make artwork without being chased by police. There are often very nice creations. Graffiti contests occur on a regular basis.

Palace of JusticeThere are actually two of these. The old one is a 19th-century red brick building on the Britselei. The new one is a dominant, modern, white building in the south of Antwerp (Bolivarplaats). You can hardly miss it once you're there. The architect of this building was Richard Rogers, who also built the Centre Pompidou in Paris and the Millennium Dome in London.

Zurenborg neighborhoodA little off the beaten track. This neighborhood in the south east of Antwerp (near the railway station Antwerpen-Berchem, look for 'Cogels-Osylei' on the map) is known for its eclectic, sometimes rather bizarre 19th century architecture. Consider taking a tram or bicycle to get there.

Middelheim ParkThe center of Antwerp is not very big, and once you cross the ring road, you will mainly see suburbs. There are some nice parks outside the ring road: the Middelheim Park is one of them. It houses a permanent open-air exhibition of modern sculpture, including work by famous artists such as Rodin, Hans Arp, Henry Moore, and many others.

Maison GuietteDesigned by Le Corbusier in 1926, this is one of 17 of his creations worldwide to be inscribed on the UNESCO World Heritage List.
Do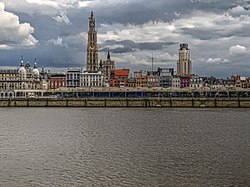 Guided tours and cruises
Port of AntwerpTake a boat tour of the second largest port in Europe and 5th largest in the world. There are various companies offering tours of differing price and length.

Ghostly Nighttime Tour,Take the ghost tour and learn about the dark history of Antwerp.

Jan Plezier BoottochtenThemed cruises including the pancake cruise (pancake boat), the spareribs cruise and the shrimp cruise.
Festivals
Buy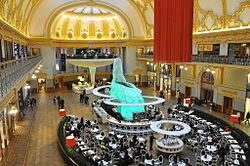 The main shopping area is the Meir, a street that stretches out from the Keyserlei (close to the central station) to the Groenplaats. It is one of the most famous shopping streets in Belgium. Don't forget to visit the mall Stadsfeestzaal (between Meir and Hopland), which was beautifully restored and reopened in 2007 after it was partially destroyed by a fire ten years earlier. You will see a lot of gold on the ceiling, and all sorts of stores. The streets Hopland and Schuttershofstraat are the shopping terrain of the rich and famous with exclusive fashion shops like Cartier, Hermes, Scapa, Armani, etc. The Huidevettersstraat, Nationalestraat, and Kammenstraat (all close to the Meir) are also very interesting shopping streets to visit.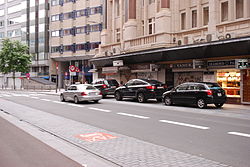 Purchasing a diamond at one of the many tourist jewelry shops around the Central station can be an unpleasant experience. Like any big diamond city in world, there are many tourist trap diamond shops around the actual diamond district centre, though it is fair to say that if you are prepared to bargain you can purchase jewellery here for significantly less than in countries such as the UK. Wealthy diamond buyers should do their investigative shopping online prior to visiting Antwerp. For tips on buying diamond rings, see Diamond rings in Antwerp. If you're less wealthy and someone asks you to bring back some diamonds from Antwerp, buy diamond-shaped chocolate pralines at e.g. Burie (Korte Gasthuisstraat 3), Château Blanc (Torfbrug 1) or Del Rey (Appelmansstraat 5).
Trendy shopping can be done in the Kammenstraat and surroundings. In this area, you will also find the Fashion Museum and many shops of famous Antwerp fashion designers, such as Walter van Beirendonck and Dries van Noten.
The Kloosterstraat has many antique shops, with often bizarre items for sale.
Chinatown can be found about 300m north of the Central Station (see also Eat). A lot of Japanese, Korean, and Chinese products can be found here.
Weekend Markets take place on the Theaterplein Square (follow Wapper or Meistraat south from the Meir) in front of the Stadsschouwburg theatre. The markets are very popular with stalls offering everything from food (fruit and veg, meat, fish, nuts, cheese ethnic specialities) to household goods to bicycles to antiques to clothes. Sunday tends to see a lot more stalls compared to Saturday. Take a break from browsing at the stall at the centre of the square, where you can buy a cheese roll with a glass of chilled cava to wash it down, most convivial!
At Ploegstraat 25 you can find a "give-away shop", where you can bring and take stuff as you please without any monetary interaction. Open M-F 14:00-18:00.
Learn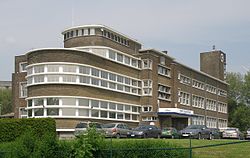 Antwerp has several colleges and a university.
Due to very strict language requirements imposed by the Flemish government, all Bachelor courses are offered in Dutch only (except for the Maritime Academy which enjoys a special international status). However, the University of Antwerp offers 9 fully English-taught Master programmes, 7 advanced Master programmes, and 7 postgraduate degrees, in topics ranging from Linguistics and Computer Science to Marine Transport .
Antwerp hosts over 30000 students, and therefore boasts a vibrant student life that also has many traditional aspects. Well-connected in the center of Europe, offering a varied city day- and nightlife, and having a very reasonable cost of living compared to the surrounding capitals, it's a popular destination for Erasmus students. Current and prospective Erasmus students should get in touch with ESN Antwerp , part of the global Erasmus Student Network and very active in organizing activities to help international students find their way around.
Eat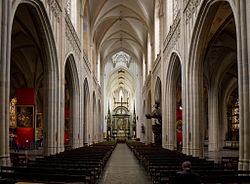 Antwerpse handjes — Little biscuits or chocolates in the shape of a hand. Invented by a Jewish baker in 1932.
Any time
As with most Flemish towns, you can find many frietkoten in the city. These are places of which the Belgians are really proud of. Here you can buy the famous Belgian fries and other fried food for a reasonable price.
Pitta/Shoarma — These shops are often open through the day and are the last ones to close.
Broodje/Boterkoken (sandwiches) are local and inexpensive. Try one with crevettes and sause andalouse (€3.50 for a double one) at Diksmuise Boterkoeken, in the basement of the ugly shopping center (Schoenmarkt)
Lunch
People often go eat a "smos", a sandwich with several layers of garniture in it. The name refers to the mess you make when trying to eat it. You can find them in several stores like Panos or Foodmaker. The most famous "smoskes" according to students are found at "Jean-Pierre". You can find it opposite to the university (Grote Kauwenberg 41).
Dinner
phone: +32 477 292 554

address: Amerikalei 2

Fresh authentic thai food in an old mansion on Amerikalei.

phone: +32 3 226 21 90

address: Desguinlei 196

Thai haute cuisine
De Keyserlei (the street that runs west from Central Station) is a street with a varied choice of restaurants. The side streets on the north side of De Keyserlei offer even more options, with Lebanese, South-African, Mexican, Italian and Vietnamese (to name but a few) restaurants all rubbing shoulders with each other. With so many restaurants in a small area the prices tend to be pretty competitive.
Chinatown takes up a couple of streets on the north side of Koningin-Astrid-plein (the large square to the north of Central Station). Look for the 2 lions guarding the entrance to Van Wesenbekestraat. Japanese, Korean, Vietnamese, Thai and Nepalese restaurants are here as well as lots of Chinese options.

phone: +32 3 226 7450

address: Jan Blomstraat 8

A cheap Italian restaurant. It is popular among students, because of their 20% discount. A second "Da Giovanni" is on the Keyserlei, near the central station.

phone: +32 3 231 9964

address: Van Cuyckstraat 2

Known for its lively South American atmosphere, caipirinha cocktails, and tasteful Brazilian Mexican kitchen.
Try one of the Indian restaurants on Lange Herentalsestraat
The Hilton Hotel has a restaurant overlooking the Groenplaats.

phone: +32 3 289 09 09

address: Oude Koornmarkt 25

The oldest restaurant in Antwerp, specializing in seafood, especially mussels. Very popular with locals, but few tourists, so you know it's good. Mains starting at €20.

phone: +32 3 232 16 32

address: Graanmarkt 7

A "Havanna style" restaurant in an old theatre. They serve a mix of Belgian and French style food. Not cheap, but excellent value for money

phone: +32 3 226 00 52

address: Lange Herentalsestraat 23

Serves only vegetarian Indian cuisine, including a buffet with a daily changing menu.

phone: +3 234 35 35

address: Lange Kievitstraat 52,

Traditional Yiddish cuisine, focusing on kosher Yiddish dishes based on simple ingredients.
Drink
Wherever you are in Antwerp, you will always be near a pub or another drinking facility. Not surprising in the city that has the most pubs per capita in the world. The pubs do not have a closing hour.
Drinks originating here are De Koninck (commonly called "Bolleke") beer, and Elixir d'Anvers – a liquor based on plants.
Den Engel — Most famous traditional cafe in Antwerp. Situated at Grote Markt.
De Vagant — A famous Belgian cafe serving about 300 kinds of Jenever.
De Muze — A jazz café in Melkmarkt. Relaxed atmosphere and live (jazz) music played on a regular basis. Beyond typical Belgian beers, coffee lovers can enjoy a true Italian Espresso or, if willing to drink something bigger, a "Koffie Verkeerd".
Caffénation — Most friendly bar in Antwerp. They have very nice specialized coffee creations and a cozy outdoor with lots of green. Good music. Say hi from "TheKitt" for a special, double shot cappuccino.

Kulminator

address: Vleminckveld 32

Kind of off the beaten path, this bar has a neat hole in the wall atmosphere and an amazing selection of beer, (around 700 beers, with 200-300 aged over 10 years) ranging from expensive to about average. All in all, a great time, and a great value.
Paeters Vaetje, (in the Cathedral Square). Here you can order more than one hundred different kinds of beer. In summertime, you can also sit outside.

phone: +32 3 234 0809

address: Pelgrimsstraat 15

A cafe in an old underground storage place right next to the vlaaikesgang with medieval finishes.
Kassa4, in the student neighborhood, on the Ossenmarkt. Very popular student pub with a good choice of alternative music. Can be very crowded at times.
Den Hovenier — Typical Antwerp pub near the Sint-Jacob Church.
Café Beveren, near the river. Enjoy the automatic Decap Organ.
Stanny — Non-smoking café close to the station of Antwerp-Berchem.
Copa Cava — a cava bar on the vlasmarkt, with a cosy atmosphere and which serves relatively cheap and exclusive cava from Barcelona.
La Treille — intimate wine bar and shop at Haarstraat 23, close to the Grote Markt, serves and sells authentic wines (straight form the vineyard) out of Italy, Belgium and France.
t Vervolg — between the "groenplaats" and the "Grote Markt", very friendly prices mixed with house & RnB always ensures there's something going on Monday through Saturday evening.

SIPSA cocktail bar.

Witzli-Poetzli (Blauwmoezelstraat 8 | Meir From 10:00 daily) The Witzli-Poetzli is a very small café in the center of city center. It is next to our great cathedral. In the summer there's a unique terras in the shadow of the cathedral. In the winter it is a cosy place where people come to drink coffee and read a newspaper.

Café Den JokerKleine Markt 16. The one and only comedy bar in Antwerp. A lot of Belgian stand-up comedians started their career in this small bar. Comedy organized weekly. Also improvisation sessions and quizzes. Often in Dutch.
Clubs
NoxxThe most famous and exclusive club of Antwerp with the biggest names in the DJ world performing. You can find it close to the Kinepolis Antwerp ('Metropolis'), just outside the center of Antwerp.

Café d'AnversThe most infamous club in Antwerp. In the middle of the red light district. Known for its progressive music.

Café LocalIn 't Zuid. Free entrance on Thursdays.
Sleep
Budget
Hotels
ibis budget Antwerpen Centraal Station

phone: +32 3 202 50 20

address: Lange Kievitstraat 145, 2018 Antwerpen

phone: +32 3 237 07 89

address: Amerikalei 115, 2000 Antwerpen

Run by a friendly couple, it offers a combination of lush, authentically historic interiors with a budget price (and standards).
Other accommodation options
address: Zurenborg, Draakstraat 32

Bed and breakfast, guesthouse in cozy neighborhood of Antwerp. Rooms available for two. Apartments and studios available for short term staying visitors, expats, or students.

Camping Vogelzang

address: Vogelzanglaan 7-9

10 minutes by tram from the heart of the city and good for low-budget travelers.

ScoutelA scouting youth hostel that is open to everyone and offers affordable accommodations in the center of the city, just around the corner of the central train station.

address: Huikstraat 25

A self-contained apartment for up to 3 guests in a quiet part of the historic city center, a 5-minute walk from the main square. The owner Nadine gladly provides directions and tourist advice. Minimum stay of 2 nights.
Mid-range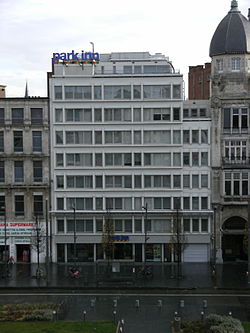 phone: +32 3 227 31 30

address: Korte Herentalsestraat 5 2018 Antwerp Belgium
Chain hotels
phone: +32 3 231 07 26

address: Kempischdok-Westkaai 84-90 2000 Antwerpen

The name is absolutely correct - the Best Western is in the docklands area. The hotel could use an update to contemporary standards, but can be cheaper than more central hotels.

Crowne Plaza AntwerpenIt can be inexpensive for a hotel of its class, but it comes at the expense of the less-than-handy location and rather aged decor in the cheapest rooms. On the flip side, the large pool with artsy decorations and forest vistas is a treat.

Holiday Inn Express Antwerpen City North

address: Italiëlei 2, 2000 Antwerpen

The hotel faces one of the port basins in the docklands area in the north of Antwerp, offering a view of the Museum aan de Stroom from some of its rooms. Despite the modern facade, the hotel was built to the brand's previous standards, so it may not be comparable to newer HIExpress properties in terms of furniture and fitouts, but all hotels in the chain it offers free breakfast and WiFi included in the room rate.

phone: +32 3 2318830

While the room rates tend to be low, the breakfast in the hotel tends not to be, but there are plenty of cafes in the immediate area and a market on the Theaterplein square in front of the hotel Saturday and Sunday mornings. If you're a very light sleeper try to get a room on the side that doesn't face onto the Theaterplein as the market traders start setting up pretty early!

Ibis Styles Antwerpen City Centre

phone: +32 33 69 59 99

address: Koningin Astridplein 43

This hotel offers a great location next to the Antwerp Centraal railway station.

Quality Hotel Antwerpen Centrum Opera

phone: +32 32 32 76 75

address: Molenbergstraat 9

This hotel is on a side street, a reasonable distance from the central train station. It may not be easy to find, so look for the huge sign atop the corner building.

address: Luithagen - Haven 6

This is an old-style low-rise suburban Novotel, complete with a garden with an outdoor pool. The good news is that it was completely renovated, so expect reasonably fresh, nice appointments and features such as the inBalance gym and a game station for kids. The location is north of the docklands, which makes it a reasonable choice pretty much only for those arriving by car.

Park Inn by Radisson Antwerpen

phone: +32 3 202 31 70

address: Koningin Astridplein 2018 Antwerp

Some rooms feature Nespresso machines. The heated pool and fitness centre at the Radisson Blu Astrid, 100 metres away, can be used free of charge.

address: Desguinlei 94

The Ramada Plaza is a glazed highrise tower overlooking a park, with 210 elegantly appointed rooms, geared towards business travellers. It is in the very south of the city, right next to the Berchem motorway junction. While the location is remote, there is a tram station next to the hotel.

Scandic Antwerpen

address: Luitenant Lippenslaan 66, Borgerhout

If you are looking for minimalistic Scandinavian design, this is not the place - the Scandic Antwerpen looks every bit like a 1990s Hilton inside, a bunch of which the chain once operated. It is in Borgerhout, right outside Antwerp's motorway ringroad, which is convenient for those arriving by car and not for others.

address: Plantin en Moretuslei 136

The Tryp is a bit farther from the city's main attractions than some other hotels, but it compensates for that with attractive pricing and artsy decor, including renderings of traditional Dutch paintings as headboards.
Independent and boutique hotels
address: Lange Gasthuisstraat 45

A former hospital that advertises itself as a conference center, but also offers accommodation.
Splurge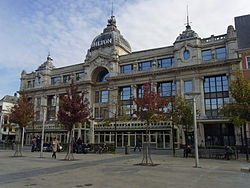 Hotel Firean

Hilton Antwerp

address: Groenplaats 32

The Hilton is in a 1885 listed building that was originally the Grand Bazar du Bon Marché department store. The hotel has a restaurant and a rootfop cafe overlooking the Groenplaats.

HotelO Antwerpen Kathedral

HotelO Antwerpen - Sud

Hotel Julien

phone: +32 3 203 1234

address: Quinten Matsijslei 25

4-star hotel overlooking the city park. 5 minutes' walk from diamond district and central station.

Lindner Hotel & City Lounge Antwerpen

address: Lange Kievitstraat 125

This hotel belonging to a German upscale chain is hidden in a tower in a modern mixed development behind the Centraal station, and affords nice views of the city from its upper-floor lounges and gym, as well as comfortable rooms outfitted in a subdued, modern fashion.

Maison d'Anvers
phone: +32 3 202 31 70

address: Koningin Astridplein 7

Some might say that the biggest benefit of staying at the Astrid is not having to look at its peculiar postmodern facade. More tangible benefits include splendid location on the Astridplein just by the Antwerpen Centraal and large rooms with modern comforts.

Hotel Rubens-Grote Markt

Hotel 't Sandt

Hotel De Witte Lelie
Connect
Some cafés have free wireless internet, but don't write it on the door for whatever reason. Others will charge for Internet access.
McDonald's has free internet.
Poolplanet — Six computers, €1 for half an hour. Printing is possible.
Many hotels, including the Radisson, have free or included Internet. If you come in from the street with a laptop, they may let you use it for the price of a few drinks at their bar. The Fon initiative has also some members living in and around Antwerp providing often free connectivity.
If you're a student or member of a university, college or research institute elsewhere in the world, you can probably connect for free to the eduroam Wi-Fi network for higher education , in and near most buildings of the University of Antwerp or any of the colleges. Ask IT services at your home institution whether it's part of eduroam, and if so, ask them for a manual to set up your machine for connections elsewhere.
Stay safe

Most parts of Antwerp are safe, but some neighborhoods are to be avoided in the evening, especially the area around De Coninckplein and the neighborhoods of Borgerhout, Seefhoek and the Schipperskwartier. Still, these neighbourhoods have a very lively atmosphere and so are definitely worth a visit during the day.
Moreover, it is of utmost importance to lock your bike properly if left outside on the street throughout the city. If you need police assistance, the direct police number is 101. If you need a nonurgent police inquiry or the most nearby police station you can dial 0800/12312 for free. Most police officers in Antwerp are friendly and professional.
Like most of the rest of Europe, the number for emergencies (ambulance, police and fire) is 112.

Go next
Antwerp is a key railway hub on the high-speed line from
the Netherlands
to
France
, so you can get relatively quickly and easily not only around Belgium, but also to its two neighbours.
Belgium
Getting around Belgium is relatively easy from Antwerp, as the country is small and featuring one of the densest railway networks in the world. Some of the more popular destinations that can be visited on a day trip from Antwerp are:
Netherlands
France
Lille — Lille is in the North of France just off the Belgian border. It is famous among others for having the largest bookstore in Europe ("Le furet du Nord"). The train ride is pretty long (sometimes over two hours) making it less easy for a day trip. The Dutch (Flemish) name is Rijsel and the town is not to be confused with another Flemish town called "Lille" in Dutch!
Paris — With the Thalys, you can be there in about two hours.