Aosta
Aosta
(
French
:
Aoste
) is the capital of
Italian
autonomous region of
Aosta Valley
. The town is in a small valley with houses going up the slopes of the surrounding mountains.
Understand
The Roman colony of
Augusta Praetoria Salassorum
was founded by the general Marcus Terentius Varro, who conquered it from the Salassi tribe in 25 BC. The colony housed 3,000 retired veterans. After 11 BC Augusta Praetoria became the capital of the Alpes Graies ("Grey Alps") province of the
Roman Empire
. Its position, at the confluence of two rivers, at the end of the Great and the Little St Bernard passes, gave it considerable military importance, and its layout was that of a Roman military camp.
After the fall of the Western Roman Empire, the city was ruled successively by the Burgundians, the Ostrogoths, the Byzantines and the Lombards (who had annexed it to their Italian kingdom but were later expelled by the Frankish Empire under Pepin the Short). Pepin's son, Charlemagne made Aosta an important post on the
Via Francigena
, leading from
Aachen
to
Italy
. Later it belonged to the kingdom of Savoy.
Get in
By plane:
the nearest commercial airport is
Turin
TRN, with flights across Europe and within Italy. Aosta can also be reached from the Milan / Bergamo airports, and from Geneva GVA via the Mont Blanc Tunnel. Aosta's own airport handles private aviation but is too small and hemmed in by mountains for regular flights.
By train:
Trains run hourly to Ivrea, 80 mins. These connect immediately with trains to Turin Porta Susa and may be shown on timetables and displays as through trains, but usually it's a change. For Milan and elsewhere in Italy, take the train towards Turin but change at Chivasso. Aosta is now the terminus of the line up the valley - trains no longer run further up to Pré-Saint-Didier. is just south of town centre.
By bus:
three Savda buses per day link Aosta with Turin Porta Susa and Porta Nuova, taking two hours. Two of them extend west to Pré-Saint-Didier and Courmayeur.
By car:
The main road up the valley is Autoroute A5 (toll) from Turin, with a crosslink to A4 from Milan. It bypasses town to the south and continues west up the valley (mostly in tunnel) to Pré-Saint-Didier (turn-off for Little St Bernard pass, summer only, via La Thuile to Bourg-Saint-Maurice in France) and Courmayeur, where it enters the Mont Blanc tunnel to Chamonix in France.
The old valley road SS26 skirts Aosta to the north, with SS27 branching north to climb the Great Saint Bernard pass and tunnel (open year-round) to Martigny in Switzerland.
Get around

Aosta is a small town and, for the tourist, everything can be easily visited on foot.
The bottom for Pila ski resort is at Charvensod, 500 m south of Aosta railway station. A shuttle bus hairpins up the hill in the evenings when the cable-car isn't running.

See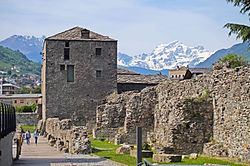 Via Sant' Anselmo is Aosta's pleasant traffic-free main street, stretching from the Augustus Arch and river bridge at its east end, through the great Roman gateway of Porta Praetoria midway, Town Hall in Piazza Emile Chanoux, to end in the west at Piazza della Repubblica. All the main sights are along or just off this stretch.
Collegiata dei Santi Pietro e Orso at 14 Via Sant'Orso is a charming church, part of a still-functioning monastery. It dates to 10th century but is mostly 15th. There are notable frescoes and Gothic choir stalls, and a Romanesque cloister fronted by a later loggia.
Basilica di San Lorenzo at 12 Via Sant'Orso is now an art space.
Roman amphitheatre

address: Via Porta Praetoria

Roman ruins are dotted all over town and are mostly free to access. The Amphitheatre has a small charge. It often hosts outdoor performances.
Do
Ski: Pila is a small family-oriented ski resort just south of Aosta, you can drive up or take the cable-car from Charvensod. Pistes run from 2700 m down to 1765 m. Wooded and mostly intermediate / red standard, great views, but also a good choice for poor-viz days. It's often included on the lift passes of other nearby resorts, such as La Thuile and Courmayeur.
Mountain trekking, Alpinism, Rafting, traditional woodworks
Saint Ursus' Fair (Fiera di Sant'Orso) is held in town centre end of January, every year since 1000 AD. Dates for 2020 are not yet announced.
Buy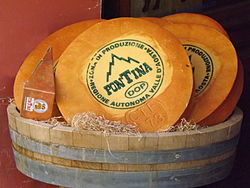 Aosta is a good place to stock up on local food products and wines.
address: Via Paravera 4

Large supermarket, with a good selection of local foods, wines and spirits.
Eat
It can be difficult finding a good restaurant open between 2 pm and 7 pm in Aosta. If you want to eat early, it'll be pizza, kebabs or similar fast food.
All restaurants offer a fixed price menu (menu turistico / menu a prezzo fisso) which is not very exciting but is good if you're watching the euros. Keep your receipt, the police sometimes check.
Lots of local specialities - look for the word "Valdostana" or "Valdôtaine" in the names of dishes. Carbonade is ground beef meat roasted in red wine. Fontina cheese is made locally. Tegole are sweet thin biscuits.
address: Rue Croix-de-Ville 24

Good pizza, local beer and friendly service.

address: Rue Guillaume Mallet 5-7

Small restaurant, nice ambiance, local specialities.

Moderno

address: Via Édouard Aubert 21

Pizza & pasta favourites.

address: via Édouard Aubert 58

Traditional Valdostan specialties.
Not that you'll admit to wanting a change from Italian, but there are two Japanese eateries in town. These are Oishi Sushi at 74 Via Edouard Aubert, and I-Sushi at 45 Via B. Festaz.
Drink
Notable local wines include the white
Blanc de Morgex et La Salle
.
Genepy
is a strong olive-coloured liqueur, herbal and sweeter than absinthe, usually drunk neat.
Old Distillery Pub

address: 7 Via Pres Fossees

English pub with range of beers and food.
Bar Haiti is north side of the centre near the hospital, at 1 Corso Saint Martin de Corleans.
Sleep
Le Reve Charmant is a small chalet B&B at Via Vaudan Marchè 6, west end of the pedestrianised centre.
address: 50 Rue Édouard Aubert

Good central location, friendly staff speak English and French.
phone: +39 0165 235278

address: 15 Strada Porossan

Farmhouse-chalet going on palatial film-set, this luxury hotel is in the hills looking over the "thousand lights" of the town below.
Go next