Apeldoorn
Apeldoorn
is a city with a royal touch, famous for its palace and beautiful gardens. It lies on the edge of National Park the
Veluwe
, and is an excellent base to explore this regions lush natural surroundings.
Understand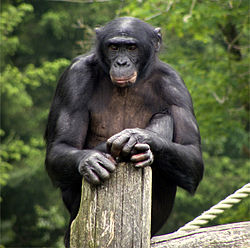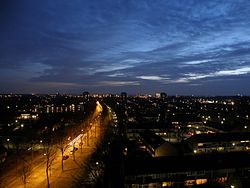 With a population nearing 160,000, Apeldoorn is the 12th largest city of the
Netherlands
and plays a significant role in the regional economy and infrastructure. Billed as a post-World War II
groeistad
(a city designated by the government to grow significantly), much of the city is modern residential areas and business districts. Previous to the war, Apeldoorn was only a large village; thus much of its history, sights and attractions are concentrated in the north west quarter of the city, the original core. This area is home to the famous 17th century palace
Het Loo
, beautiful parks with stately villa neighbourhoods, the ape zoo
Apenheul
and the eastern flank of the forestry area known as the
Veluwe
. The city centre offers a relatively generic range of shopping opportunities, but has plenty of good places to eat. The northern end of the city centre has some picturesque art nouveau architecture and the nightlife and entertainment venues of Apeldoorn.
Apeldoorn is known for its spacious, green, family atmosphere and is at its best during the summer months.
Get in
By plane
Schiphol Airport
(
AMS
) near Amsterdam is the nearest and largest airport. From there, directly under the arrivals area, regular trains can be boarded that take just over an hour to reach Apeldoorn. By car, the journey takes fractionally longer and will involve navigating the ring roads around Amsterdam before hitting the A1.
Eindhoven Airport (EIN) caters to low-cost airlines, and though the train journey to Apeldoorn from Eindhoven is roughly doubled (see below), the journey by car (if hiring) via the A50 motorway is straightforward and under 1.5 hours.
Teuge Airport (No IATA Code, but ICAO Code is EHTE) is a small general aviation airfield northeast of Apeldoorn.

By car
The A1 (running from east to west) and the A50 (running north to south) meet at Apeldoorn, making the city particularly well connected by road. Smaller provincial roads lead to all nearby destinations.

By train
Direct intercity services connect Apeldoorn to both Amsterdam and Schiphol Airport. In both cases the journey will take roughly one hour.
Apeldoorn is situated on the main line between Berlin and Amsterdam. Twice hourly international trains in both directions can be boarded and used for national and cross border travel purposes. For international tickets, book online at the NS international website.
From Eindhoven, you should head to Utrecht, changing there for either a direct train to Apeldoorn, or depending on the schedule you may find it quicker to head to Amersfoort from Utrecht, changing again for more frequent services to Apeldoorn. This journey is likely to take around 2 hours.
Alight at Apeldoorn for the regional Apeldoorn-Zutphen route that stops at various smaller settlements in the picturesque countryside, terminating at the historic town of Zutphen. During the summer, a steam locomotive is operated from Apeldoorn central station, running to Dieren some 20 km to the south.

Get around

The local bus service is an efficient way to get around. All local buses meet at the railway station where you can switch buses at :16 and :46. During day time additional services run at :01 and :31 on most lines. Regional buses also run from the station out of town; however, they can be used for local transport also. Just remember that connection times will be slightly worse at the bus station for the regional lines. During tourist season an extra bus service (line 16) departs from the station towards major tourist attractions, all located in the western part of Apeldoorn.
You can rent a bicycle at the railway station.

See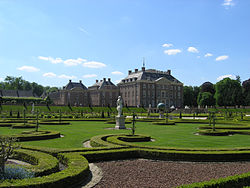 phone: +31 55 357-5757

address: J.C. Wilslaan 21

A zoo specialising in monkeys and great apes. Some of the species are free to roam amongst the visitors, and the design of the park is renowned for its excellent animal habitats.

Centraal Beheer buildingFor Architecture/urban enthusiasts, the original Structuralist "Centraal Beheer" building by Herman Herzberger is located 5minutes walk west from the central train station. Just a little further down the road, a more recent project of his has been realised ("De witte wolken"), and may be interesting for comparison. Yet further still, and slightly to the north, the large "Walterboschcomplex" tax offices (by acclaimed architects Neutelings-Riedijk) can be viewed, representing some of the Netherlands' finest modern office architecture.

phone: +31 55 577-2400

address: Koninklijk Park 1, entrance through Amersfoortseweg

Just northwest of the city is the 17th century Paleis Het Loo, where William and Mary (King and Queen of England) used to live. A complete tour through the palace takes about 3 hours. Be sure to include a visit to its famed palace gardens, said to rival those of Versailles.

phone: +31 55-5191665

address: Radioweg 1 7348 BG Radio Kootwijk

address: P-plaats Hoog Buurloseweg 7348 BB Radio Kootwijk
Do
Rent yourself a
bike
and discover the forests just outside town (approx. 20 minutes by bike from the city center). See:
Apeldoorn Cycle Route - Het Loo Palace and the Royal Forest
.
Jazz in the woodsOne of the largest festivities in town. Every year on the last Friday evening and Saturday in may, the city center is one big party with live music and entertainment.

phone: +31 55 355-3265

address: Amersfoortseweg 35

A popular family theme park. Great for a day out with the children.

OmnisportcentrumRegular national and international sport events centered around cycling, athletics, volleyball and tennis.

Orpheus TheaterFor world class theater, musicals, cabaret and ballet.

SkydivingTeuge Airport is situated on the outskirts of the city and enjoys a direct bus link (15mins) with Apeldoorn central station. It is one of the best places in the Netherlands to learn to skydive/parachute jump. Flying lessons and helicopter/airplane chartering is also available.

Veluwsche Stoomtrein Maatschappij

phone: +31 555 061 989

address: Rijnstraat 68, NL-7332 AX Apeldoorn

Heritage rail line of 22 kilometers. The trains go from Apeldoorn to Dieren. For the driving days, refer to their website
Buy
The city's main shopping area is formed by the "Hoofdstraat" and adjacent streets. Being a regional shopping destination, Apeldoorn boasts a wide range of typical brand name shops and places to eat. The Oranjerie, a modern mall, takes centre stage in Apeldoorn's retail proffer. The city is also home to a range of more unique shops (antique, bric-a-brac, art, organic), mainly located on the Asselsestraat and a few of the smaller offshoots from the high street. As of 2015, some gross retail stores opened as part of the Omnisport complex (located towards the eastern fringe of the city). These include electronics giant MediaMarkt and various sports related stores.

Eat
Apeldoorn offers a wide range of good places to eat out, catering for all budgets. The main concentration is found in the city centre, but some of the priciest places are dotted around the outskirts of town. Here is a tiny selection:
Budget
Apeldoorn also has 3 McDonald's, 3 Subways, 2 New York Pizza takeaways, a KFC, Domino's, Burger King and scores of Dutch "snackbars" (specializing in fries), if
fast food
is required.
Tevfiks place

phone: +31 55-522 55 90

address: Tevfiks Place Nieuwstraat 68 7311 BT Apeldoorn

Turkish Kebab restaurant. Nearly all the neighbours are Kebab restaurants too, and price wars occur regularly, so take your pick!
Mid-range
Indiaas Restaurant Apeldoorn: India Palace. Van Kinsbergenstraat 7, 7311 BL Apeldoorn, Netherlands +3155 - 785 01 78 Nice Indian Food. Open every day from 17.00 - 23.00. Extra care for vegetarians.

address: Hoofdstraat 1595, 7311 AW Apeldoorn, Netherlands +

Great Indian food in a small but cosy location. Closed Mondays.

phone: +31 55 576 729

address: Brinklaan 32, 7311 LB Apeldoorn, Netherlands

All you can eat asian buffet. 3rd prize 2011 best national wok restaurant. 2 hour all inclusive buffet: €26,90 per person. €20,90 without drinks.

address: Paslaan

address: 1 Raadhuisplein
Splurge
address: Hotel Gastronomique de Echoput Amersfoortseweg 86 7346 AA Hoog Soeren

High end, Michelin star, out of town location (only reachable by car or intercity bus). Prices range from €30-€45 for a main course, or up to €72 for a 5 course meal. Specialises in Wild, fresh from the surrounding forest.
Drink
The main nightlife in Apeldoorn is focussed in the
Caterplein
square. Many bars and restaurants, as well as the new (2012) cinema complex, can be found here. A slightly quieter area can be found a few blocks away at the
Leienplein
. Also en route between the two squares are plenty of places to eat and drink. Here is a small selection of some of the most well known watering holes:
Finnegan's Irish Pub

phone: +31 55 576 8630

address: Hoofdstraat 176, 7311 BD Apeldoorn, Netherlands

Located in the middle of the nightlife area.

Café Kierewiet

address: Hoofdstraat 192 7311 BE Apeldoorn, Netherlands

Good Dutch pub in the heart of Apeldoorns' nightlife area.

Het Nieuws van Apeldoorn

phone: +31 55 522 0566

address: Leienplein 12, 7311 EE Apeldoorn, Netherlands

Located at the 'Leienplein', a nice secondary area for nightlife in Apeldoorn.
Sleep
Apeldoorn and the surrounding area plays host to the highest concentration of campsites and bungalow/greenparks in the country. The city itself boast quite a wide range of relatively expensive hotels and B&Bs. Check the plentiful local
AirBnB
listings or
couch-surfing
community for budget and backpacking opportunities.
phone: +31 55-5791255

address: 556 Loolaan

phone: +31 55 355 31 18

address: Asselsestraat 330

hostel - very nice surroundings near some of the cities "must - sees" and yet easy to get to the centre of town

phone: +31 55 541 4455

address: Van Golsteinlaan 20, 7339 GT Apeldoorn, Netherlands

Located just off the A1 motorway. High end accommodation, restaurant and business facilities.
Go next
The city lies on the eastern fringe of the
Veluwe
, the country's largest and most unspoilt area of natural beauty. It has forests that are home to deer, wild boar and other wild animals, as well as large desert-like sandy areas. Seasonal wild is prepared at various local restaurants, some of which have earned Michelin stars. The
Kröller-Müller Museum
, with its impressive collection of Vincent van Gogh paintings, is located in the
Hoge Veluwe National Park
.
The picturesque old cities of
Deventer
and
Zutphen
are just 15 km from Apeldoorn and are easily reachable by road or public transport.