Apulia
Apulia
(
Italian
:
Puglia
) is a region of
Southern Italy
. It has 4 million inhabitants and is the easternmost region of the country, reaching a distance of only 72 km (45 miles) from Cape Otranto in the coasts of
Albania
.
Provinces
The region is divided into six provinces:
Cities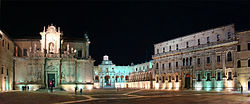 — (capital) the largest city on the Adriatic Sea with an enchanting old town, Romanesque churches and many elegant buildings
— in the Alta Murgia National Park, famous for its Romanesque cathedral, prehistoric sites and its typical bread
— elegant seafront on the Adriatic Sea, Roman age remains and two castles situated in front of the sea
— main centre of the plain of Tavoliere delle Puglie (Table of the Apulias), ancient Swabian imperial town
— called the "Florence of the South" for its magnificent baroque churches and buildings, it also has Roman theater and amphitheater
— main centre of Itria Valley with an old town characterised by typical white houses
— beautiful medieval port town on the Adriatic coast
— magic locality known as the "white town" for the color of its historical centre's houses
— ancient Greek city with a relevant National Archaeological Museum (MArTA) and many sights of different ages
Other destinations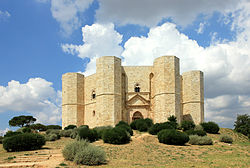 — (literally "beautiful tree"), magic village known in the world for its famous "trulli" (UNESCO World Heritage)
— with the medieval fortress of Castel del Monte, built by Emperor Frederick II (UNESCO World Heritage)
— (meaning "beautiful city"), a fascinating old town situated on an island and sandy beach resorts
— characteristic village situated on the Gargano promontory, with the Longobard Sanctuary of San Michele (UNESCO World Heritage)
— the easternmost town of Italy and one of its most beautiful villages
— one of Italy's most beautiful villages, in the heart of Salento
— stunning archipelago in the Adriatic Sea
Understand
Apulia is sometimes referred to as "the heel of Italy", in reference to the country's boot-like shape.

Talk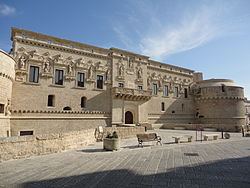 Italian is the only language you will find useful to know for easily discovering Apulia, especially since the knowledge of English is frequently a bit inadequate.
In the central-northern area of Apulia people speak also local varieties of the Neapolitan language. In Salento, the Salentino (
Salentìnu
) dialect of the Sicilian language is spoken. Neither of these are officially recognised languages, so visitors will not find any bilingual sign, though some restaurants and diners have names in these languages. Trying to understand the speech of local people, especially the elderly ones, may be fun and will give you the possibility to fully appreciate the identity of this region.
The Italian Constitution recognises three linguistic minorities in the region: Griko (a variant of Greek language) spoken by 10,000 people in nine towns south of Lecce; Arbëresh (Albanian) in three scattered towns; and Franco-Provençal, which is spoken by less than 1,000 people in two small mountain villages (Faeto and Celle San Vito) between Foggia and
Irpinia
. Each of these languages is the result of medieval settlements and they are now used by municipalities mainly for local events or tourist brochures.
Get in
By plane
Bari Palese international airport has flights to international destinations including the UK, Belgium and Germany and flights to Italian destinations including Milan and Rome.
From Brindisi Airport, there are flights to Switzerland and the UK as well as Italian destinations.
From the UK,
Ryanair
flies to
Bari
and
Brindisi
from Stansted in
London
and
Manchester
.
British Airways also flies to Bari with a summer schedule.
By train
Train from
Rome
can take about 6 hours and is usually very packed. Don't forget to validate your ticket!
By car
The region is served by two "autostrade" (toll motorways):
— Adriatic Motorway, links Bologna to Taranto passing through the major towns of northern and central Apulia
For more info you can check the site of
Autostrade per l'Italia
.
By bus
Autolinee Marino
is a bus company who offers efficient and affordable links from the mayor cities of Apulia to different destinations in Italy and Europe, such as
Frankfurt
,
Grenoble
,
Lyon
,
Munich
,
Stuttgart
,
Zurich
and others.
Marozzi
is a daily bus service speedily linking Apulia with
Irpinia
,
Campania
and
Rome
.
Miccolis
lines provide connections from many towns of the region to nearby
Basilicata
. This company also performs useful urban and intercity services.
By boat
There are many ferry companies providing service several times daily from Greece (
Cephalonia
,
Corfu
,
Igoumenitsa
,
Patras
,
Zante
) to
Bari
and
Brindisi
.
Get around
By rail
Ferrovie del sud est
offers train and bus service in the region.
By car
Strade statali
(trunk roads) can be used for reaching internal destinations or the surrounding regions:
— Salentina, links Taranto to Lecce

— Salentina di Gallipoli, links Lecce to Gallipoli

— Jonica, links Reggio di Calabria to Taranto along the Ionic coast

— dei Trulli, links Casamassima to Taranto through the Itria Valley and the towns of Alberobello and Locorotondo

— Salentina Meridionale, links Gallipoli to the southernmost tip of Apulia
See
There are many things worth seeing in Puglia, especially the Trulli in
Alberobello
and other places, the cathedral of
Trani
, the old town in
Bari
, and the beaches of
Monopoli
.
Forests and mountains cover
Gargano
("the spir of Italy") and
Daunian Apennines
, on the border with
Irpinia
. Other popular tourist sights are the
Castellana Grotte
, the
Castel del Monte
, the castle of Frederick II,
Polignano a Mare
,
Ascoli Satriano
,
Conversano
,
Martina Franca
, and
Ostuni
, the "white city".
Santa Maria al Bagno
is a small fishing village, district of Nardò, on the coastline of the Gulf of Taranto, on the west coast of the Ionian Sea. It has beautiful unspoilt beaches all along the coast. Santa Maria al Bagno is approximately 45 min travelling time by car from
Brindisi
and 1h 30 min from Bari.
Do
Take a bike tour along the coast. Apulia has an extensive network of small country lanes making it ideal for biking.
Festivals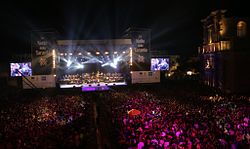 Some annual events are really not to be missed, the most relevant ones are:
phone: +39 0836 439008

A large itinerant festival of popular Salento music (Pizzica and Taranta) that takes place in the first half of August, culminating in a final open-air concert in the municipality of Melpignano, province of Lecce. The night of the great concert (concertone) has each year a different national-famous music director and involves more than 100.000 spectators.
A large number of minor local festivals (
sagre
) take place in every area of the region, especially during the summer season, representing a truly immersive way to discover local food and music.
Eat
Traditional Apulian produce are
orecchiette
(a type of pasta),
caciocavallo
(a sheep cheese) and
prosciutto di Faeto
("Faeto's ham").
There are a number of lovely places to eat in Casalini near
Cisternino
, which are reasonably priced compared to the tourist city of
Ostuni
.
Stay safe
The region is definitely a safe place to visit. Pickpocketing can be a minor risk in cities such
Bari
,
Foggia
and
Taranto
.
Go next
Ariano Irpino
(named as
Ariano in Apulia
until 1930) is a characteristic town located astride Apennines along the statal road SS90 connecting Apulia to
Naples
, the ancient Kingdom's capital. Ariano Irpino was a relevant city in the Middle Age within the
Duchy of Apulia
: there King Roger II convened the Assizes of Ariano in 1140 and minted ducats. Today Ariano Irpino preserves the Norman Castle where King Roger II lived in; the castle, sorrounded by a wide public park, still overlooks the mountain pass between Apulia and Campania with very panoramic views. Within the castle is housed a Norman Museum with other museums and churches (particularly the Romanic Cathedral) being scattered in the town, where both local art and cuisine mingle Apulian and Campanian elements.