Arad (Romania)
Arad
is an industrial city of some 160,000 population at the western edge of Romania, close to the border with Hungary. It is a regional transportation hub and a convenient place to stop over on a journey between those countries. There is an intact Vauban-style fortress and an interesting old town with a great number of historic buildings. Most of them date from the
Habsburg era
, ranging from Baroque to Art Nouveau. While some have been recently renovated, others are left in a state of dilapidation.
The city's cultural life is marked by a Philharmonic Orchestra, several theatres and a museum complex. The latter is particularly interesting for history buffs, as it showcases evidence from various eras of human history that have been discovered in this area. The Arad county
wine
route starts a few kilometer east of the city.
Get in
By plane
The nearest commercial airport is
Timisoara
(Traian Vuia TSR) 40 km south, with 6 or 7 flights a day to Bucharest, and other European destinations.
Budapest (Ferihegy BUD) airport 230 km north-west has extensive connections.
Arad AirportHas only an occasional holiday charter flight.
By bus
Arad is on the main highway E68 between Budapest and Bucharest. There are buses every hour or two to Timisoara (60-90 min); change there for Bucharest. Buses run every 30 min to Budapest, the fastest in only two hours.
For Transylvania, four or five buses run daily to Deva (3 hr), Sibiu (5 hr) and Brasov (8 hr). There are four buses to Cluj Napoca (4-6 hr).
The bus station is in the Atrium Centre on Aurel Vlaicu Bvd, 200 m west of the railway station and 2 km north of city centre.
By train
There are five direct trains a day to
Budapest
Keleti, taking 4 hr 30 min, fare 100 lei. (This includes an hour waiting at the border; there's also a one-hour time switch between Romania and Hungary.) The last direct train is at 15:30, but there's a 17:00 indirect route taking six hours. The 01:00 train is a through-service to Vienna.
There are only two direct services to
Bucharest
, both overnight, 11 hr. The best daytime connection is via the midday train to
Timișoara
.
For Transylvania, take the mid-afternoon train running through Deva (3 hr) and
Sibiu
(6 hr) to
Brasov
(10 hr).
There are two direct trains to
Iași
(one daytime 14 hrs, one overnight 17 hr) via
Cluj Napoca
. There's one other direct and two indirect services to Cluj Napoca (5-6 hr).
All passenger trains are run by
CFR Calatori
. (
Gara Arad
) is 2 km north of the city centre at Piața Gării 8-9. The interior is modernised; few facilities within but lots of fast food places, small supermarkets, currency exchange etc just outside on the main boulevard.
Get around
Most sights, eating and accommodation are a short walk from City Hall. Buses and trams run along the main strip here, Bulevard Revolutiei. At its north end this curves west into Calea Aurel Vlaicu, with the bus & railway stations. Taxis and car hire are readily available.

See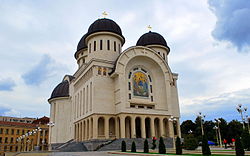 Holy Trinity Orthodox Cathedral

address: Bulevardul Revolutiei

Built in 1992-2006, the interior was re-plastered & repainted in 2018, with wooden scaffolding filling the northern part near the iconostasis. The murals at the southern part, by the entrance, look very fresh.

Lutheran Church

address: Bd. Revoluției 61

Built in 1906 from red bricks (hence the nickname), Gothic Revival style.

Administrative Palace

address: Bd. Revoluției 75

Impressive city hall, built in 1876 in Renaissance Revival style.

Neumann Palace

address: Bd. Revoluției 78/str. Horia

Representative building created for a very rich industrialist in 1891–92, eclectic style. Today it houses a number of shops as well as the private Vasile Goldiș University. The former ballroom was converted into an auditorium for 200 students.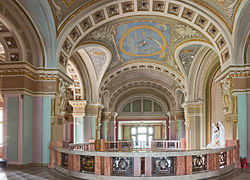 address: Piaţa George Enescu 1

Imposing cultural complex, dating from 1911-13, in an eclectic style mix of neoclassical, Gothic and Renaissance elements. The museum has three divisions: fine arts, natural sciences, and archaeology/history. The philharmonic orchestra (filarmonia) has regular concerts: the box office is in the Ioan Slavici Theatre.
Just east of the Palace is the Mures river, with a promenade for strolling, and a children's play-park.

Moise Nicoară National CollegeStately school building, built from 1869–1873 with Renaissance and Baroque elements. It was thoroughly refurbished after 2010 and made one of Romania's best equipped schools.

St. Anthony of Padova ChurchRoman Catholic cathedral built in 1904 in neo-Renaissance style.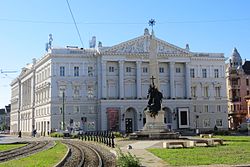 Ioan Slavici Classical TheatreElegant neoclassical theatre building, completed in 1874.

Avram Iancu squareThe city's main square, with a central green space and monument to the Unknown Soldier. Surrounding buildings include the theatre to the north and the Art-Nouveau Nádasdy House to the west.

House with locked logOne of the oldest secular buildings in the city, built for a Viennese merchant in 1815. The building's distinctive mark, a brass-coated log, was modeled after the famous "Stock-im-Eisen" in central Vienna and used by travelling journeymen to leave a mark of their guild. After being stolen (and recovered) in 1994, the log was moved to the Museum of Art, to protect it from other thieves.

SynagogueReformed synagogue, built from 1828–1834, neoclassical style with Greek and Tuscan elements.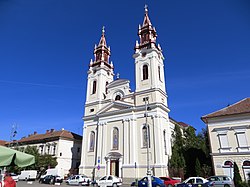 Serbian Orthodox Saint Peter and Paul ChurchBaroque church, built around 1700 (the city's oldest church that has survived in its original form), with a high steeple.

Cathedral of the Nativity of John the BaptistOld Romanian Orthodox cathedral, built from 1862–65 in Baroque revival style.

Three blocks west of Piața Avram Iancu, Reconciliation Park (Parcul Reconcilierii) with the

Statue of LibertyA monument to the "13 Martyrs of Arad", rebel generals who were executed by Austrian forces after the failed Hungarian Revolution of 1849.

Art Nouveau architecture (or Secession style, as it was called in Austro-Hungary): several highly decorative examples of this early 20th-century style, similar to those found in Budapest or other cities of the former Danube Monarchy, with their elaborate floral or geometric ornamentation. However, most of them are in a rather sad state of preservation. Notable instances include (Str. Goldiș Vasile 1-3), (Str. Horia 3-5/Str. Episcopiei 2), (Str. General Vasile Milea 19).

Trajan BridgeIron bridge over the Mureș river, dating from 1910–13, carrying road and tramway. Rehabilitated in 2010 for the bridge's 100th anniversary.

East of the river, the is an 18th-century Vauban-style fortification on the site of an earlier Ottoman fort. But it's a military base and closed to the public; you can't even see much of the exterior among the tangled shrubs.

Ruins of the Franciscan ChurchCannot be visited regularly, as it is in the citadel and therefore part of the restricted military area.
Eat
String of cafes, restaurants and bars on Bvd Revolutiei just south of City Hall.

Sleep
Budget
phone: +40 257 279 199

address: 175 Calea Radnei

2 star.

phone: +40 257 280 894

address: 9 Bvd Decebal

Central, with restaurant, cleaning variable.

Ardealul

phone: +40 257 280 840

address: 98 Bvd Revoluţiei

Nice old building, needs a makeover.

phone: +40 723 319 313

address: 8 Str. Nicolae Ştefu

Good value for 2-star.

Pensiunea Mioriţa

phone: +40 257 368 132

address: 127 Calea Radnei

Small clean place.
Mid-range
phone: +40 257 256 636

address: 8 Str Horia

3-star, reliable chain choice. The building is set back from the street so it's quiet although central. Big comfy rooms, good breakfast. Mezzanine lift so you always need to go half a flight of stairs to get in, same again to get out.

phone: +40 257 287 777

address: 47 Calea Romanilor

3-star.

phone: +40 257 285 499

address: 1 Str. Capitan Ignat

Central, with adjacent restaurant.

phone: +40 257 256 011, +40 257 256 110

address: 2C Calea Victoriei

Central, near railway station, clean, has own restaurant.

Parc

phone: +40 257 280 820

address: 25 Bvd General Dragalina

3-star in ugly 1970s block overlooking river, lukewarm guest reviews.

phone: +40 257 278 804

address: 164 Calea Timisorii

Edge of town, handy if travelling by car.
Splurge
phone: +40 372 578 800

address: Revolutiei Boulevard 79-81

With nightclub, spa & bowling.

phone: +40 257 213 163

address: Strada Ion Rațiu 13

On central grid 1 km from riverfront.
Go next
The main options are to go west towards Budapest, or south via Timișoara towards Bucharest, or east into Transylvania.