Arlington (Virginia)
Arlington
(along with the cities of
Falls Church
to the west and
Alexandria
to the south) forms part of the urban conglomeration around
Washington, D.C.
- inside the beltway. In
Northern Virginia
, and directly across the Potomac River from D.C. proper, Arlington is one of America's mostly densely populated regions. It has a land area 26 square miles and a population of 230,000. Despite its density, Arlington mixes the best of both big city and suburban environments. Like the greater Washington area, Arlington has grown over the last several decades in part due to growth of the Federal government.
Districts
Arlington is broadly divided into North Arlington and South Arlington, separated by Arlington Boulevard (US-50). You can often tell what section a location is in by its address. Locations in North and South Arlington will often have, respectively, a "North" or "South" (or "N" or "S") before the street name (e.g. 1234 S Example St, Arlington, VA). Within each the visitor can find several commercial districts of interest.
Parkland lines the Potomac along almost Arlington's entire riverfront, though there are few amenities or facilities for visitors. The parks and overlooks are accessible by driving along the George Washington Memorial Parkway or walking along the Potomac Heritage Trail and Mount Vernon Trail in their respective sections.
Understand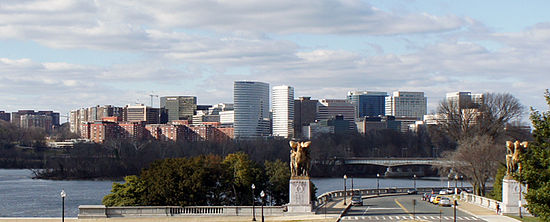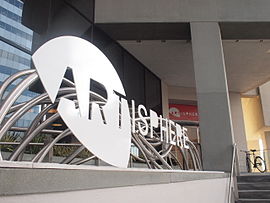 Arlington and "Old Town" Alexandria form part of the original "ten miles square" which the U.S. Constitution dedicated as the
District of Columbia
, the nation's capital. It was one of the District's original two counties; Alexandra County was the part on the Virginia side of the Potomac River, and Washington County (present day Washington, D.C.) was the part on the Maryland side. The law creating the District prohibited building government buildings on the Virginia side, leaving it to be used for gambling and other vices. In 1846, as a result of issues relating to congressional representation, worries by Arlington residents that D.C would ban slavery, and an economic downturn as a result of the fact that Federal government offices were located on the northern side of the Potomac River, the U.S. Congress returned Arlington and Alexandra to Virginia.
While no longer part of the capital proper, Arlington's proximity to it has made it home to various national monuments and federal installations. Most travelers to Arlington will visit both
Washington, D.C.
and Arlington, and the two cities are seamlessly linked together by the Metro system.
Whatever your purpose in coming to Arlington, you'll find the area a friendly and convenient place to visit and explore.
When to visit
Most tourists come to the D.C. area during spring and summer weekends. If you want to avoid the crowds, consider visiting between November and March. Hotels are generally more expensive during the week due to business travel. One of the busiest times to visit the Washington area is during the National Cherry Blossom Festival in early April. The springtime cherry blossoms are a must-see, but hotel rooms fill up quickly.
Get in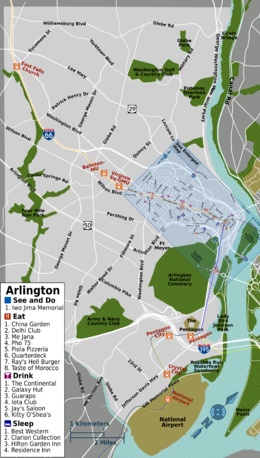 By plane
Ronald Reagan Washington National AirportThe airport is served by most major domestic airlines. Just across the river from Washington on the George Washington Memorial Parkway, it is served by its own Metro station on the Blue and Yellow Lines, DCA is by far the most convenient airport for visiting the area. As the most common landing path follows the Potomac River, flying right past the National Mall, it is also the most scenic. Due to restrictions, however, the majority of flights are under 1,500 miles long.

Dulles International Airport (IAD) is in Dulles, Loudoun County approximately 15 miles (a 45 minute drive during rush hour) outside of Arlington. Metrobus 5A, operates between the airport, the Rosslyn Metro Station (Blue, Orange, and Silver Lines) in North Arlington, and L'Enfant Plaza (Metro Green, Yellow, Blue, Orange, and Silver Lines) in Washington D.C. It generally departs from curb 2E outside Door 4 from the main terminal every 40 minutes on weekdays and hourly (though not on the hour) on weekends, taking 40–50 minutes to Rosslyn. The fare is $7.50 one-way (no change given). Alternatively, the Silver Line Express bus connects Dulles Airport with the Wiehle-Reston stop on the Silver Line, which operates every 15-20 minutes and costs $5 each way.
By bus
see also:
bus travel in the USA
By train
The closest intercity train station is Union Station in Washington, DC, located 10–15 minutes away by taxi or about 30 minutes by Metro. One of the busiest passenger rail terminals in the U.S., Union Station is serviced by Amtrak, VRE, and MARC. For southbound trips, Amtrak and VRE serve the smaller Alexandria Station, 3 miles south near the King Street Metrorail station on the western edge Old Town Alexandria.
Both VRE lines serve Crystal City, a surface station on Crystal Drive about one block from the Crystal City Metro station at the north end of Crystal City Water Park.
The Washington Metrorail has 11 stations in Arlington. The Orange and Silver Line stops are East Falls Church, Ballston-MU, Virginia Square-GMU, Clarendon, Court House, and Rosslyn. The Yellow Line serves Pentagon, Pentagon City, Crystal City, and Reagan National Airport. All Yellow Line stations in Arlington are also served by the Blue Line, which continues from Pentagon to Arlington Cemetery and Rosslyn into Washington. Be aware that the Metro closes at 11 PM Sunday nights, 11:30 PM Monday-Thursday nights, and 1 AM on Friday and Saturday nights. The time of the last train is posted in each station. Metro buses operate longer hours, but on a greatly reduced schedule outside of rush hour.
By car
Highways entering Arlington include I-395 from the Southwest, I-66 and US-50 from the West, George Washington Memorial Parkway from the Northwest and South, and US-1 from the South. All connect to the Washington beltway (I-495). In addition, there are five bridges that cross the Potomac River to DC: Chain, Key, Roosevelt, Memorial, and 14th Street.
Get around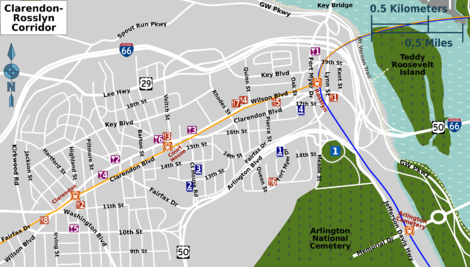 If you plan to stick to the urban areas, park your car and only travel on foot and public transport. Arlington has an
excellent public transportation system
, which includes 4 Metrorail lines, a public bikeshare program, and 2 bus systems. Driving an automobile can bring more troubles than it is worth, as many of Arlington's attractions suffer from a dearth of parking spaces, and the area is notorious for expensive parking tickets.
Most destinations in suburban Arlington are accessible by bus, but a car is viable option.
The Washington Metropolitan Area Transit Authority (WMATA) is the regional transit operator. Its contactless smart card, the
SmarTrip
, costs $2. The SmarTrip is rechargeable and, if registered, has its value protected if lost or stolen and can be refilled online. The SmarTrip and its Baltimore-area counterpart, the Maryland Transit Administration's
CharmCard
, are accepted on Metrorail and all regional bus operators. For more information on riding the Metrorail and other DC-area public transportation, including buying a SmarTrip card, see
Washington D.C.#By public transportation
.
By train
Washington DC Metrorail. The Orange, Silver, Blue, and Yellow lines of the Metrorail serve the major commercial districts in Arlington as well as most major attractions in Washington, D.C. Fares start at $2.00 and are based on distance and time of day.
By bus
All the public bus systems serving Arlington accept WMATA's SmarTrip card, which allows free bus-to-bus transfers (excepting certain express commuter routes) and a $0.50 rail-to-bus and bus-to-rail discount.
Metrobus. Metrobus operates throughout the Washington area, and for longer hours than the rail system it complements. You must have exact change for the fare of $2.00, or use a SmarTrip card. Buses can also accommodate up to two bicycles, at no additional charge. An easy Metro bus for tourists and locals alike is the Bus #38B, which begins at Farragut Square in downtown Washington and takes you through Georgetown, Rosslyn, Courthouse, Clarendon, Virginia Square and Ballston. Other buses of potential interest include the Pike Ride routes along Columbia Pike (mainly Metrobus 16), and the 23A/B/T, connecting Crystal City and Shirlington.
Arlington Transit Buses (ART). Arlington operates its own independent bus system, filling in some gaps in Metrobus coverage. Arlington uses natural gas powered buses painted distinctive green. Like Metrobus, the fare is $2.00 and buses can also carry bicycles. Children under 5 ride free.
DC Circulator operates distinctive red and yellow buses every 10 minutes or so between the Rosslyn and Dupont Circle Metro Stations via Georgetown. This bus is free.
By car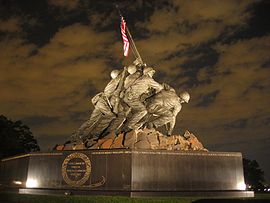 By taxi
Seven taxi companies are licensed to operate in Arlington. Arlington taxis are available at taxi stands around the city, by phoning the taxi company directly, and by mobile app. It is possible to hail cabs on the street in certain areas at certain times of the day; for example, on weekend evenings in Clarendon. All taxis are metered;
fares
are $3 plus $2.16/mile and $0.36/minute. A $1 surcharge is charged for each additional passenger age 12 and over.
By transportation network company
Uber and Lyft are very popular in Arlington.
By Zipcar
Zipcar
operates short term car rental service throughout Arlington.
Driving your own car
For information on parking, see
Parking In Arlington County
. If you decide to drive your own car in Arlington, first check with your hotel about parking arrangements. Some hotels offer free parking and others charge per day.
Arlington provides a list of
public parking garages
.
Many parking garages operate 24-hours and offer discounted rates on weekends and evenings.
Parking meter fares
vary and are as high as $1.75/hour. On-street metered parking is possible in business districts; rates and restrictions vary. Many meters accept credit cards.
Parking in residential districts is restricted to residents during weekday working hours. Arlington's parking regulations are strictly enforced and improperly parked cars will be ticketed.
By foot
Arlington's wide sidewalks, well-labeled intersections, and modern transportation system make it ideal for walking. Arlington's transportation systems and sidewalks are also fully accessible to the disabled. You can easily walk over the Key Bridge into Georgetown from Rosslyn— but watch for aggressive drivers, even in marked crosswalks.
By bicycle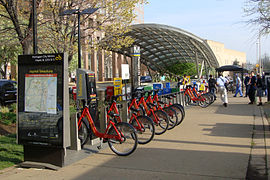 Many major roads feature dedicated bike lanes. You can cross any of the bridges into Washington using your bike, but be aware that the Teddy Roosevelt Bridge has a very narrow path with barely any protection from the interstate right next to you. The Mount Vernon trail, which runs along the Potomac River all the way to Alexandria, makes for a beautiful ride.
Note that people aged 14 and under are required to wear helmets, and it's probably a good idea for adults as well.
Capital Bikeshare
has many bike stations in Arlington, mostly within a few blocks of Metro stations.
The
Bike Arlington
website has a network of dedicated bicycle/pedestrian paths that crisscross the city. The paths are well labeled and patrolled regularly for safety. They also offer beautiful scenery and the chance to ride your bike or walk without interruption from motorized vehicles.
See
Many people come to Arlington as part of a trip to
Washington, D.C.
Still, Arlington itself is home to several destinations.
Work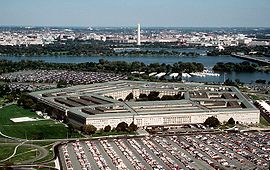 The prospects for employment in Arlington are excellent. The bedrock of Arlington's economy remains the Federal government, the military, and companies that directly do business with the government. The process to start a career with the government is considerably longer than the typical entry process in the private sector. Those seeking Federal government employment in Washington, D.C. or elsewhere can generally apply from their current location, anywhere in the U.S. Note that the Arlington rental housing market is generally very strong and rents are generally just as high as those in Washington, D.C.
Buy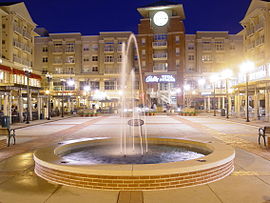 Arlington's main
shopping districts
are along the Rosslyn-Ballston corridor and in the Pentagon City-Crystal City area. Arlington has just about every type of shop an upscale urban area would have.
Eat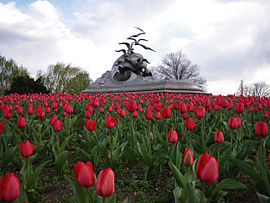 You won't go hungry in Arlington. Arlington has over 1,000 restaurants to fit every budget and taste. Arlington's diverse, well educated population has led to a plethora of ethnic restaurants.
The
Clarendon
neighborhood probably has the largest concentration of restaurants. Within a few blocks of the metro station you can find all types of restaurants—from hole in the wall establishments to pubs to casual dining restaurants.
For a slightly less crowded area, try the
Shirlington
neighborhood, which has about two dozen restaurants ranging from Thai to contemporary American. Note that Shirlington is not served by a Metro rail line.
Crystal City
has many fine restaurants for every budget. Some choices include Hamburger Hamlet, Bailey's, and Tapas. Make sure to venture west of Jefferson Davis Avenue on 23rd street to get a few smaller but equally as good choices. Some shopping malls, such as The Underground, also have full-service restaurants, as well as food courts.
Drink
In Arlington, the drinks can get pricey, but the bars are plentiful. Ballston Quarter has several pubs, while the Clarendon-to-Courthouse corridor has enough watering holes for a bar crawl. The entire area also has a high density of coffee houses.

Sleep

Many people visiting Washington, D.C. choose to stay in Arlington. Arlington hotels located along the Metro lines are just as convenient— indeed, sometimes more convenient— than hotels in Washington proper, and often more reasonable in price. If you are staying in Arlington primarily to see Washington sights such as the Smithsonian, it would be more convenient to leave your car parked at your hotel and ride the Metro to Washington.

Stay safe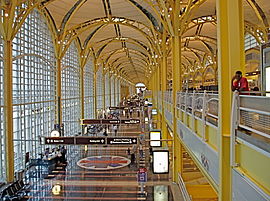 Arlington is a very safe city with considerably less crime than its neighbor, Washington, D.C. While you are unlikely to be the victim of a crime here, you should take normal precautions that you would in any urban area, such as keeping your car and hotel room locked at all times. If you have a problem, dial 911 to contact the Arlington Police.
Go next