Atlanta/Decatur
Decatur
is a city that, despite being somewhat isolated from the rest of Atlanta, is so close to Georgia's state capital as to not really be separate. While Atlanta is an international city with corporate headquarters, world class convention facilities, and a fast pace, Decatur has retained a small city feel and a slightly slower pace. However, Decatur is closer to Atlanta's business, retail and cultural destinations than many of Atlanta's neighborhoods, so it can easily be mistaken for an in-town neighborhood of Atlanta.
Understand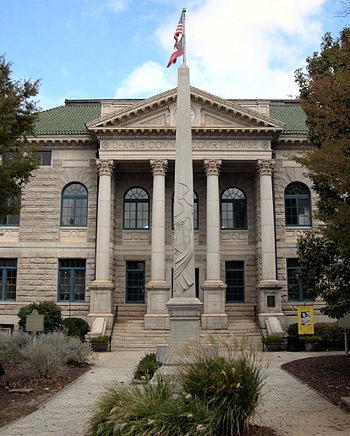 Decatur is the county seat of DeKalb County. This historic city was founded in 1823 - before neighboring Atlanta. It has beautiful homes, historic places of worship and several institutions of higher learning. Centered on the historic Decatur Courthouse, Decatur has become a hot destination for college students and young professionals who want hip bars, great restaurants, and walkable neighborhoods, as well as for families who are drawn to the excellent independent school district. In addition to the single-family homes in old neighborhoods surrounding the central business district, in recent years there have been several mid-rise condominium developments in the downtown area, breathing new life into the downtown community.
While it may appear to be a typical southern city, Decatur marches to the beat of a different drummer. It declined to become a railroad transportation hub for the southeast in the 19th century, resulting in the founding of Atlanta to its west. Both delegates from DeKalb County voted against secession in 1861. Decatur is one of the few parts of the sprawling Atlanta area that blends a small-town feel with an open-minded, freewheeling, artsy sensibility.
Decatur remains notable for its diversity. Founded by Scottish, Irish, and English immigrants, the city remains majority Caucasian, but there is also a substantial African-American population, a lesbian community and recent Ethiopian immigrants. North of the city is a Greek-American community, and northeast of the city (around Church St., Scott Blvd./Lawrenceville Hwy. and DeKalb Industrial Blvd.) is a thriving Indian community with restaurants and retail outlets.
Decatur is also notable for its location east of Atlanta's
midtown
district, and it is surrounded by the city of Atlanta on its south and west sides. Atlanta and Decatur are Georgia's only county seats inside the "Perimeter" interstate (I-285) that encircles the metro area.
Read
Clarke, Caroline McKinney. The Story of Decatur, 1823-1899, DeKalb Historical Society (1996).
Gay, Mary. Life in Dixie During the War, Mercer University Press (2001). A first person account of the Civil War in Georgia - including Decatur - by a Decatur resident living in the city during the war.
Mason, Herman, Jr. African-American Life in DeKalb County, GA, 1823-1970 (Images of America), Arcadia Publishing (1998).
Price, Vivian. Historic DeKalb County: An Illustrated History (Georgia Heritage Series), Historical Publishing Network (2007). A coffee table book covering 184 years of DeKalb County's history.
Tourism
Get in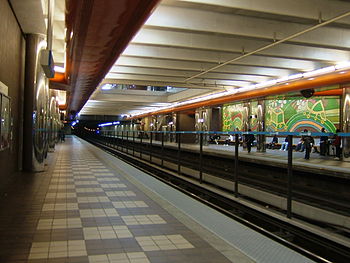 By transit
Downtown Decatur is on the east-west MARTA Blue rail line to . The station is directly behind the courthouse (under Decatur Square) and has two access points. Exit east (Church St.) for the pedestrian and taxi entrance to the station; exit west (Commerce) to transfer to MARTA buses. The city of Decatur includes two additional MARTA rail stations: and . Avondale Station is located at the southern end of the Decatur Heights neighborhood, and not the City of Avondale Estates. Average time from Decatur Station to Five Points Station is 13 minutes. There are connecting MARTA buses to neighborhoods in and around Decatur.
By car
Decatur is accessible from Atlanta via
Ponce de Leon Avenue
, which is a direct route, but is a slow-moving surface street with many lights. It is also accessible from the Perimeter (I-285) via several exits, and indirectly via I-20. However, parking is limited in downtown Decatur. Street parking is free after 6PM Monday–Saturday and all day Sunday. The city website lists
off-street parking lot locations
.
By bike
Decatur is also accessible via the
PATH walk/bike trail
. The trail runs from Atlanta to Stone Mountain through the city of Decatur.
Get around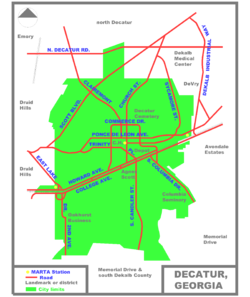 Downtown Decatur is highly walkable, but like all of metro Atlanta, public transportation is limited and you will likely have an easier time getting around by car. MARTA buses leave from each of the three Decatur rail stations to various points in the county.
Decatur participates in
Zipcar
, a national program where environmentally-friendly cars are located throughout the downtown area that members may rent by the hour. Locations are posted at .
See
address: 3000 Ponce De Leon Ave

Although a grocery store is not high on most tourists' list of things to see, this international market is a spectacle that is worth the trip. The enormous store employs people from around the world (their name tags tell which languages they speak) and has nearly any type of meat, vegetable, fruit, spice, or otherwise edible item you could imagine. There is a cafeteria with low prices and international fare. Open 7 days a week.

address: 101 E. Court Sq

Step outside on the north side of the courthouse to view the "seated statues" and the south side to view the Confederate States obelisk. Walk down to West Trinity Place to see the History Center's historic complex of three antebellum structures.

Decatur CemeteryOne of the oldest operating cemeteries in Georgia. Check out the Civil War graves (to your left at you enter), sit in the pleasant gazebo, or take a stroll around the lake. Look out for the ducks, which are aggressive. Also check out the circa-1880 Fraser Building, at the Church Street entrance to the cemetery.

Emory UniversityCheck out the excellent Michael C. Carlos Museum, 571 South Kilgo Cir., +1 404 727-4282 . Walk around the English Renaissance Lullwater House and nearby Candler Lake (formerly Lullwater Lake). The Lullwater House, located at 1463 Clifton Rd. on Emory's campus, is the official residence of Emory University's president and is not open to the public. However, the tree-lined loop road around the house is open to staff, students and escorted visitors.

address: 141 E. College Ave

A private college for women 3/4 mile south of Decatur Square. Agnes Scott frequently hosts lectures, concerts, and other cultural events. A walk around the beautiful campus, which was featured in Scream 2, is also a pleasant way to spend an afternoon. Nearby Columbia Theological Seminary on Columbia Avenue also has a beautiful campus.
phone: +1 404 471-6266

address: 141 E. College Ave

Agnes Scott College. Visit the observatory (and planetarium) during one of their "Amateur Astronomy" open houses.

MAK Historic DistrictDecatur's oldest historic district is located immediately west of Agnes Scott College. Some of the oldest homes (on Adams Street) were developed from 1905 to 1912. Television shows October Road and Hollywood movie Stomp the Yard were filmed on location in the MAK Historic District.
The historic Druid Hills neighborhood is located west of the city. This upper-class enclave includes several mansions owned by the Candler family of Coca- Cola fame, historic churches, a picturesque country club and provided the setting for the movie Driving Miss Daisy.
phone: +1 404 688-3353

address: 327 Saint Paul Ave

Offers walking tours of the Druid Hills neighborhood.
Check out some of the historic mansions built by the Candler family. Visit the circa 1917 Callanwolde Fine Arts Center at 980 Briarcliff Rd. (built by Charles Howard Candler); attend the circa 1916 St. John Chrysostom Melkite Church at 1428 Ponce de Leon Ave. (built for Lucy Candler in the style of a Roman villa - the peristyle court is now the sanctuary); and drive by the circa 1920 Asa Candler Mansion at Emory's Briarcliff campus, 1256 Briarcliff Rd.
In addition to the tree-lined estate homes in this affluent neighborhood is historic Olmsted Linear Park. The park consists of 50 acres broken up into six segments along Ponce de Leon Ave. The neighborhood and park were designed by Frederick Law Olmsted Sr. in the 1890s. The park is being restored based on Olmsted's original plans.
Original Waffle House & Museum

address: 2719 East College Ave

Visit a re-creation of the first Waffle House, which opened in Avondale Estates in 1955. The museum includes a 13-stool diner, vintage equipment, displays of old uniforms, exhibits of memorabilia and a jukebox. Open by appointment during the week, with limited weekend hours.
Do
Music venues
Listen to a hot local act at neighborhood institution Eddie's Attic,directly south of the square. Bands usually play an all-ages and an adults-only show. Eddie's Attic is located at 515 N. McDonough (on the second floor of the former Belk's Department Store).

Java MonkeyOn Church Street directly east of the square, has live music or an open mic every night of the week. (Sit outside for the music.)
Theatre and performing arts
Galleries, arts & crafts
address: 335 W. Ponce de Leon Ave

Jewelry and hand painted crafts.

address: 141 E. College Ave

Gallery at Agnes Scott College.

address: 427 Church Street

Antiques, folk art, jewelry, and fine craft from the world over.

Predicate Gallery

address: 121 Church St

Studio and meeting space.

Sycamore Place Gallery & Studios

address: 120 Sycamore Place

Twelve artist studios and gallery space.

address: 415 Church Street

Recently relocated to Downtown Decatur.
Recreation
Bike, run, or walk: The tree-lined streets can make for a great run or bike ride, but central and northern metro Atlanta has steep, hilly terrain. Also, while there are several nice bike paths, many routes are limited to very narrow sidewalks along very dangerous roads.
Festivals
Decatur
events
and festivals are scheduled through-out the year. Phone +1 404 371-9583 for information.
AJC Decatur Book FestivalBook sales, readings by authors (books and poetry), lectures and other activities. One of Decatur's major festivals - held in late summer each year, usually over Labor Day weekend, with venues all around downtown. Reported to be the largest book festival between Washington DC and Miami, typically drawing over 200 authors and 50,000 festival goers.

Decatur Arts FestivalAnnual event held since the 1990s over Memorial Day weekend in late spring by the Decatur Arts Alliance that has arts and crafts exhibits. Another of Decatur's major festivals - Ponce de Leon Avenue is closed for this event.

Great Decatur Beer Tasting FestivalA maximum of 5,000 people may sample hundreds of local, national and international beers for a set admission fee on the downtown Square. Proceeds benefit community organizations - over $500,000 in grants have been distributed to local organizations since 1999. Held in October of each year, usually on the third Saturday.

Beach Party - One of Decatur's major annual events - held in midsummer. Ponce de Leon Avenue is closed and tons of sand is dumped on it. Food and drink vendors, as well as a bandstand, supplement the building of sandcastles. Includes a children's play area.

Bar-B-Que, Blues and Bluegrass FestivalAnother, somewhat smaller, festival held annually in late summer in the Oakhurst section of south Decatur. Features local blues and bluegrass as well as local food and drink. Proceeds benefit community organizations.

Wine Tasting Festival - A maximum of 1,500 people may sample over a hundred wines from around the world. Held in downtown Decatur in late fall of each year, usually the first Saturday in November.
Learn
Buy
Decatur does not have a shopping mall or a large retail shopping center. However, Decatur is not short on trendy boutiques. Most are located on or around Ponce de Leon.
Bookstores
Decatur may have more used bookstores than any other community in metro Atlanta. Bookstores selling new books are also listed.
address: 407 W. Ponce de Leon Ave

New books, large mystery section. Opened in 2008.

Book Nook

address: 3073 North Druid Hills Rd

Large used bookstore which also has comic books, rock-related literature, CDs, LPs, DVDs, VHS and cassettes. Book Nook first opened in 1973.

phone: +1 404 486-0307

address: 2076 North Decatur Rd

Over 50,000 books.

address: 133 East Court

Square (next to Starbucks). Specializing in children's books & gifts.
Clothing
Decatur has an eclectic mix of small clothing and accessory stores, from classic casual to artsy and eclectic.
address: 246 W. Ponce de Leon Ave

Men's and women's clothing store.

Carpe le Scarpe

address: 415 Church St

Functional but funky small shoe store.
Classy Fashion, 410-A Church St., +1 404 373-3937.
Fabutique, 335-D W. Ponce de Leon Ave., +1 404 377-6363.
Kaleidoscope Boutique, 252 W Ponce de Leon Ave., +1 404 378-1214.

Lily Moon

address: 308 Ponce De Leon Pl

Part vintage and part new clothing store.

address: 652 East Lake Dr

Run/Walk shoe store.
Peggy's Boutique, 308 W. Ponce de Leon Ave., +1 404 370-9888. Women's clothing.

Squash Blossom

address: 427 Church St

Women's clothing store featuring natural fibers.
General
Decatur has pharmacies, jewelry stores and other retail establishments located throughout the city, but the following are notable:
address: 414 Church St

Fun stuff for kids.
Music
The music shops in Decatur have a good selection of used and new albums and CD's.
Book Nook

address: 3073 North Druid Hills Rd

See other listing.

Decatur CD356 W. Ponce de Leon Ave. Stocks alternative and rock music. Frequent in-store performances by musicians in town to perform at area venues.

phone: +1 404 329-0020

1.5 miles north of downtown Decatur (intersection of N. Decatur and Clairmont Rds). The oldest record shop, specializing in all types of music with great depth in jazz, classic and alternative rock, international music and alt country /bluegrass.
Eat

Decatur is known for its outstanding locally-owned restaurants, and patrons travel here from all over metro Atlanta. Despite the presence of Ted's Montana Grill & Ruby Tuesday's, the national chains are not prevalent here. There are over 70 restaurants and pubs—primarily clustered in the downtown area, Oakhurst and north of Decatur. There are also sandwich shops, pasta restaurants and local chain pizza joints that have great food, but they are not listed below.

Downtown (Ponce/Decatur Square)
The restaurants are located on or near picturesque Ponce De Leon Avenue and around the Decatur (courthouse) Square. Here are some of the better restaurants:


SW of Decatur Square
SE of Decatur Square
The restaurants are clustered north and south of the railroad tracks. The north side centers on Decatur's old train depot and old ice house, both renovated for adaptive reuse. The south side includes two developments - the larger East Decatur Station at East College Avenue & New Street, which houses restaurants, a pub, coffee house, live theatre, salon and church - and the smaller development at 313 East College Avenue, which contains a tavern and furniture store.

Oakhurst

The restaurants are located in Oakhurst Village historic buildings surrounded by the eclectic Oakhurst residential neighborhood.


N of Decatur Square
These restaurants are located in strip shopping centers clustered near the intersection of Clairmont Rd. & North Decatur Rd.


NE of Decatur Square

While several of the restaurants are excellent, most are located in older strip shopping centers near automobile dealerships and along highways.


Drink
Pubs & bars
Coffee houses
phone: +1 404-982-0790

address: 2094 N Decatur Rd

North Decatur & Clairemont; one of the better coffee houses with good indoor seating, but outdoor seating overlooks a strip center parking lot; wifi.

phone: +1 404-378-5002

address: 425 Church St

Across Church St. from Decatur Square; one of the better coffee houses and very popular. It also has a limited food menu and a large outdoor seating area; wifi.

phone: +1 404-687-1100

address: 419 W Ponce de Leon Ave

Decatur's newest coffee house - slick retro design.
Stay safe
Police
The Decatur Police Department protects the city of Decatur. The department headquarters is at 420 W. Trinity Place in downtown Decatur. The non-emergency number is +1 404 373-6551, but call 911 in an emergency.
* Outside of the city of Decatur in unincorporated DeKalb County, the
DeKalb County Police Department
has jurisdiction. The main department's non-emergency number is +1 404 294-2000, but call
911
in an emergency.
Areas to avoid
Visitors to Decatur should avoid neighborhoods immediately east and south of Memorial Drive. The primary DeKalb County jail and DeKalb County's new Juvenile Justice Center are located east of Memorial Drive (near I-285). MARTA's Kensington Station (E8), which is west of Memorial Drive, is within walking distance of these facilities. Areas immediately east and south of Memorial Drive, as well as the Kensington MARTA station, are not tourist-oriented and are best avoided even if MARTA has police patrolling their rail stations.
Cope
Internet access
FedEx Office (formerly Kinko's), 2088 N. Decatur Rd. # A, +1 404 321-3990. Provides computers for internet access (with charge), fax machines and copying services. This is a 24-hour location used extensively by Emory students.
Decatur Library, 215 Sycamore St., +1 404 370-3070. At the top of the curved stair on the second floor are computers with free internet access. Visitors are allowed to use the terminals for a short period of time, even if they do not have a library card - check with the staff member at the desk.
Wi-Fi:
Decatur Wi-Fi Access Program (WCG): Decatur began offering free Wi-Fi access to residents, students and visitors. The initial coverage area includes one square mile centered on Decatur Square, but the program is scheduled to expand.
In addition to coffee houses and restaurants listed elsewhere, free Wi-Fi is available at Krystal and McDonald's fast food restaurants.
Media
Decatur does not have its own daily newspaper, but aside from the Atlanta Journal-Constitution and other metro papers, the following publications are available in the city:
"Decatur Focus", the official publication of the City of Decatur is mailed monthly to residents and available around the city.
Decatur Living, a local magazine (published by a local REALTOR) mailed free to Decatur residents.
[http://www.neighbornewspapers.com DeKalb Neighbor, county newspaper covering local events, delivered free to DeKalb residents.
You can also stop by campuses to read student newspapers
The Profile, Agnes Scott College's student newspaper.
[http://www.emorywheel.com Emory Wheel, twice weekly, Emory University's student newspaper.
Sleep
Decatur
| name=Garden House Bed & Breakfast | alt= | url=http://www.gardenhousebedandbreakfastdecatur.com/ | email=
| address=135 Garden Lane | lat=33.782553 | long=-84.304044 | directions=
| phone=+1 404 377-3057 | tollfree= | fax=
| price= | checkin= | checkout=
| lastedit=2017-01-07
| content=In the Clairemont/Great Lakes neighborhood north of Decatur Square.
}}
| name=Courtyard Atlanta Decatur Downtown/Emory | alt= | url=http://www.courtyarddecatur.com/ | email=
| address=130 Clairemont Ave | lat=33.776810 | long=-84.296882 | directions=
| phone=+1 404 371-0204 | tollfree= | fax=
| price= | checkin= | checkout=
| lastedit=2017-01-07
| content=The best hotel in downtown Decatur; has an indoor pool; one block from Decatur Square and near MARTA's
Decatur Station
.
}}
| name=Super 8 Motel | alt= | url=https://www.wyndhamhotels.com/super-8/decatur-georgia/super-8-decatur-dntn-atlanta-area/overview | email=
| address=917 Church St | lat=33.780538 | long=-84.294594 | directions=
| phone=+1 404 378-3765 | tollfree= | fax=
| price= | checkin= | checkout=
| lastedit=2017-01-07
| content=An economy motel located a few blocks northeast of Decatur Square.
}}
Near Decatur
| name=Emory Conference Center Hotel | alt= | url=http://www.emoryconferencecenter.com/index.html | email=
| address=1615 Clifton Rd | lat= | long= | directions=north of Decatur on the Emory University campus
| phone=+1 404 712-6000 | tollfree= | fax=
| price= | checkin= | checkout=
| content= Good hotel, but not within walking distance of Decatur Square.
}}
| name=Holiday Inn Express Hotel & Suites | alt= | url=http://www.ichotelsgroup.com/h/d/ex/1/en/hd/atlde | email=
| address=2183 N. Decatur Rd | lat= | long= | directions=
| phone =+1 404 320-0888 | tollfree= | fax=
| price= | checkin= | checkout=
| content= 1.5 miles north of Decatur Square in a cluster of nondescript strip shopping centers.
}}
| name=Mileybright Farmhouse Bed & Breakfast | alt= | url=http://mileybright.com | email=
| address=3244 Covington Hwy | lat= | long= | directions=
| phone =+1 404 508-6060 | tollfree= | fax=
| price= | checkin= | checkout=
| content=In the historic planned community of Avondale Estates immediately SE of Decatur, this B&B was originally the country gentlemen's farmhouse of Judge John S. Candler.
}}
| name=University Inn at Emory | alt= | url=http://www.univinn.com | email=
| address=1767 N. Decatur Rd | lat= | long= | directions=in the Druid Hills neighborhood adjoining Emory University
| phone= | tollfree=+1-800-654-8591 | fax=
| price= | checkin= | checkout=
| content= Within walking distance of Emory University, but not Decatur Square.
}}
Go next
{{routebox
| image1=US 23.svg
| imagesize1=22
| directionl1=N
| majorl1=
Asheville
| minorl1=
Chamblee
| directionr1=S
| majorr1=
Macon
| minorr1=
Atlanta
| image2=US 29.svg
| imagesize2=22
| directionl2=N
| majorl2=
Athens
| minorl2=
Lilburn
| directionr2=S
| majorr2=
Auburn
| minorr2=
Atlanta
| image3=US 78.svg
| imagesize3=22
| directionl3=W
| majorl3=
Birmingham
| minorl3=
Atlanta
| directionr3=E
| majorr3=
Athens
| minorr3=
Stone Mountain
}}
{{geo|33.771389|-84.297778}}
{{isPartOf|Atlanta}}
{{usabledistrict}}