Atlanta/East
East Atlanta
is the gentrified district of
Atlanta
. It includes the growing communities of Inman Park, the popular dining and nightlife neighborhoods of Little Five Points, Virginia-Highland, and Poncey-Highland. The Centers for Disease Control and Prevention (CDC) and one of the top U.S. research universities, Emory University, are in this area.
Understand
Part of this district extends into DeKalb County, including the neighborhoods:
Druid Hills

East Lake

Candler Park

Edgewood

Kirkwood

East Atlanta
Other neighborhoods include:
Inman Parkincludes two national historic districts: the Inman Park Historic District, and the Inman Park-Moreland Historic District.
Little Five Pointsis an Inman Park neighborhood business district of Atlanta that caters to the alternative crowd and has become a hangout for hipsters, punks, goth high school students, and some individuals who defy description. It's also a great location for vintage-everything (clothing, record, book, etc.) shopping. The name Little Five Points refers to an intersection of five streets. This is not to be confused with Five Points in Downtown Atlanta.

Virginia-Highlandis an area east of Piedmont Park in the center of town known for its pubs and restaurants. Pedestrian-friendly sidewalks are busy until late at night. The name is derived from the intersection of Virginia Avenue and Highland Avenue.
Get in
MARTA Rail East-West Line stops in King Center (E2), Inman Park/Reynoldstown (E3), Edgewood/Candler Park Station (E4), and East Lake Station (E5). Interstate 20 is also close.
To park in Virginia-Highland on a Friday or Saturday night:
Near the corner of Virginia and Highland, find the parking lot entrance across from the fire station at the corner of N Highland and Los Angeles Ave. Parking there is free.
For parking farther south on N. Highland (near Hand in Hand), there are $5 lots near the CVS. Watch out for resident-only parking on the side streets; tow trucks really do tow cars who park in the resident-only areas.
See
Highland Avenue

Fernbank Museum of Natural History

phone: +1 404 929-6300

address: 767 Clifton Road, N.E.

Special features include displays of Argentinosaurus, the largest dinosaur ever unearthed, and Giganotosaurus, the largest meat-eater ever discovered, and an IMAX theater. The museum also offers Martinis & IMAX, one of Atlanta's most popular "after five" events available every Friday, January through November.

phone: +1 678-874-7102

address: 156 Heaton Park Drive NE

phone: +1 404-639-0830

address: 1600 Clifton Road NE

Official museum for the Center for Disease Control. The only part of the CDC open to the public. Check website for the security checkpoint requirements. Must have photo ID.

Jimmy Carter Presidential Library & Museum

phone: +1 404 865-7100

address: 441 Freedom Parkway

One of ten presidential libraries administered by the National Archives & Records Administration and the only one in the Southeast, includes photographs, historical memorabilia from his presidency, an exact replica of the Oval Office, a permanent exhibit of significant events during Carter's life and political career and the permanent home of the former president's Nobel Peace Price awarded in late 2002.

Atlanta Freemarket
Do
Bike or walk along the East-West Stone Mountain Trail - or the North-South Beltline Trail.
Walk from Virginia-Highland to Little Five Points. Approximately a 2-mile walk. Walk south down Highland Avenue from Virginia Avenue to North Avenue, turn left and walk one block to Moreland Avenue. Turn right on Moreland and walk through Little Five Points, and turn right on Euclid Avenue.

Van Michael Salon

address: 778 North Highland Ave

Get a haircut or color at the internationally renowned Van Michael Salon.
Walk down Moreland Avenue, McLendon Avenue, and Euclid Avenue on both sides.
Shop at the many boutiques and vintage clothing stores.
Relax in the bars with an alternative crowd.
Attend a live music performance.

East Lake Golf ClubEstablished in 1904

phone: +1 404 523-1477, +1 404 584-7450 (box office)

address: 1083 Austin Avenue NE

address: 1099 Euclid Ave NE

music venue
Events
Inman Park FestivalThe is one of the largest neighborhood festivals in Atlanta. It takes place every April and includes concerts, a parade, a street fair and a neighborhood tour of homes.
Buy
Virginia-Highland
has a mix of clothing and gift stores, many with Southern flair, mostly catering to the 20-30s-something woman.
address: 792 N Highland Ave NE

Hip clothing boutique.

Mitzi and Romano

address: 1038 N Highland Ave NE

Slightly more conservative clothing and accessories store carrying brands like Tessuto, For Joseph, Sharagano, and Easel.

Ten Thousand Villages

address: 1056 St Charles Ave NE

Nonprofit store that offers multicultural goods and handmade wares.

address: 428 Moreland Ave

Funky vintage clothing, new items from other stores that overstock, and second-hand goods.

address: 464 Moreland Avenue NE

A warehouse full of quirky gifts and funky fashions.

address: 466 Moreland Avenue NE

Large and varied selection of CDs, records, used CDs, comics, toys, posters and magazines.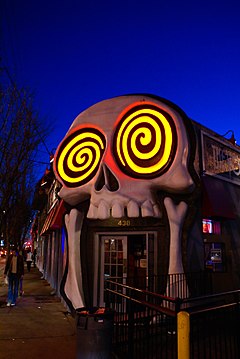 Eat
address: 573 North Highland Ave

Rustic cafe decorated like a European farmhouse serving earthy seasonal fare.

phone: +1 404 880-9559

address: 309 North Highland Ave

European-style pizza next to its sister restaurant, Sotto Sotto.

phone: +1 404 525-4444

address: 676 Highland Ave NE

Pizza and dive bar atmosphere. Lots of original pizzas, e.g. soul food and mac & cheese with bacon.

address: 99 Krog Street

address: 365 North Highland Ave

Vibrant locale in Poncey-Highland is one of the favorites for tapas in Atlanta.

address: 313 North Highland Ave

Basic pasta served in a sophisticated, simple setting is the trademark of this local favorite Italian restaurant.

phone: +1 404 223-0690

address: 573 Edgewood Ave SE

Known for its great breakfast options, the line is often out the door. Check the house rules before going!

address: 1314 Glenwood Ave

Hipsters and local families fill this casual Mexican restaurant.

address: 488 Flat Shoals Ave SE

A bar/grill that locals flock to for the burgers and beer.

Ann's Snack Bar

phone: +1 404-687-9207

address: 1615 Memorial Dr

A dive in an industrial part of East Atlanta where for 44 years the surly but likeable "Ms. Ann" served up her specialty, the enormous and messy "Ghetto Burger," which was rated the "Best Burger in America" by Raymond Sokolov in the Wall Street Journal. The building only seats 8 people, but a screened patio was added after the WSJ article caused a surge in popularity. It's common to have a 2-3 hour wait, but many people think it's worth it since the lines have been that long for years. Ms. Ann died in 2015, but the restaurant is still going thanks to her siblings who took over in the last few years and continue to enforce Ms. Ann's famous 8 rules, including "no cursing in the snack bar".

address: 997 Virginia Avenue NE

Classic Highlands bistro serves reliable American cuisine and is packed to capacity for its weekend brunches.

address: 1190 North Highland Ave

Modern American cuisine with Mediterranean influences. Charming restaurant has a large wine selection and a great patio.

address: 992 Virginia Ave

Quaint Italian restaurant in the heart of the highlands.

address: 1044 Greenwood Ave

Fun Nuevo Latino restaurant with a cozy neighborhood vibe located in an old house near the Highland bar scene.

address: 1394 North Highland Ave

European bakery and market is a prime destination for locals and offers gourmet sandwiches, freshly baked breads, artisan cheeses, beautiful desserts and baked goods, and gourmet prepared foods.

address: 1025 Virginia Ave

Extremely cute and charming gelateria where an Italian native makes homemade gelato, marzipan, and other goodies. A must-stop for gelato lovers.

phone: +1 404-873-BLUE

address: 828 North Highland Ave

An established blues club featuring live blues, and a selection of Chicago, Memphis, and New Orleans-style food.

phone: +1 404 688-1828

address: 438 Moreland Ave

Founded in 1992 by three siblings, the Vortex serves some of the best burgers in a pseudo biker-bar setting where rock and alternative music blasts and patrons enter through the facade of a giant human skull. (Note: must be 18 or older to enter due to smoking laws.)

phone: +1 404 523-0500

address: 484 Moreland Ave NE

Cheap pizza in a setting with wall mural art. Next to Criminal Records and Junkman's Daughter.

address: 351 Moreland Ave

Lively bar/restaurant with a large patio serving cocktails and Cajun-style fare.

address: 820 Ralph McGill Blvd.

Ultra-trendy Inman Park restaurant filled with fashionistas. Southwestern-inspired and meat-friendly American cuisine.

phone: +1 404 524-8280

address: 112 Krog St

Extremely popular restaurant tucked away in Inman Park serves contemporary continental fare.

phone: +1 404 523-1973

address: 377 Moreland Ave NE

Multiple locations in the city, but this location is inarguably the most popular. Diner with burgers, hot dogs, chicken, and claims to have the best ice cream in the world.

Rise-N-Dine

phone: +1 404-377-4407

address: 1565 North Decatur Rd

Not your parents' diner - breakfast includes sweet potato pancakes, goat cheese omelet, gourmet bacon, fresh OJ.

address: 749 Moreland Ave SE

Simple yet sleek Thai restaurant on the Southwest side of GA tech offers up flavorful Thai basics.
Drink
Virginia-Highland is a popular area for twenty- and thirty-somethings. Most of the bars are places to laze around with friends or to indulge in the laid-back singles scene rather than to dance the night away. Dress is casual and drinks flow by the pint.
phone: +1 404-892-2227

address: 502-A Amsterdam Ave NE

There's no thumping bass music or dirty videos on the TVs at this gay bar. It's a laid back and welcoming place where you can play a game of pool, chat with the bartenders or your friends, or watch a sports game on TV. Excellent beer selection including craft beers. Very popular for their Sunday brunch (11:30AM-3PM).

phone: +1 404 872-4403

address: 1492 Piedmont Ave NE, Suite F

This large yet cramped gay bar has a bit of everything. The inside has all wood flooring, with a creaky staircase connecting the middle of the floor to the upstairs, and you might get turned around trying to see how all the rooms connect together. Two bars downstairs and one upstairs let them serve plenty of people (although opening a tab at one bar doesn't let you use the others on the same tab). Outside there are large tables to lounge at, secluded booths for a quieter conversation, and a fire pit in winter. The Friday night drag show always draws a bit crowd, with the queens fighting for their small amount of space on the crowded dance floor.

Loca Lunais known for its Latin influenced house band, tropical decor and diverse Brazilian menu including 30 different tapas.

Smith's Olde BarAsmall but sizzling live music venue that features a songwriter showcase on Monday nights and performances by up-and-coming national acts.

phone: +1 404-815-1820

address: 870 N. Highland Ave

MetalsomeSing Karaoke with a live rock band backing you up.

address: 619 Edgewood Ave SE

Japanese style pub that offers selections of sake, beer, sushi, and yakitori (skewed chicken on a stick).

Velvet RoomAt the northeastern edge of Atlanta.

phone: +1 404-521-1122

address: 10 Flat Shoals Ave SE

Easily the comfiest coffeehouse in Atlanta. It sports a mix of hipster and modern decor, free internet, and late hours. If you want a quieter place for an intimate conversation or some great me-time to read your favorite book, come here.

address: 1245 Glenwood Ave SE

A bar/grill with a lot of space to spread out. It also has dart boards.

The EarlWhere post-punk locals gather for a good beer and burger and live indie music. Excellent Sunday menu deemed "Dunch".

Mary'sA gay-friendly neighborhood bar in East Atlanta.

address: 485 Flat Shoals Ave SE

Smaller setting with a good crowd of locals and visitors. Relatively inexpensive drinks with a hip atmosphere.

address: 552 Flat Shoals Ave SE

Excellent beer selection and quality bar-style food. Large, partially covered patio in front with two bocce courts behind the pub. Table games and arcade machines. Smoking is allowed, so Midway Pub is 18+.
9 Lives Saloon. Dive bar for rock/metal fans.

Krog BarHidden gem of a wine bar where conversation goes on into the night with great wine and tapas.

Star Community BarA neighborhood dive with nothing but Elvis and rock n' roll with three full-time bars and live alternative country and hard rock music.

Five SpotBlends soul, funk R&B, reggae and jazz in its warehouse style environment. Also has an art gallery that displays local talent.

The Corner TavernLaid back restaurant and bar with pool and darts.
North Highland Avenue
North Highland has many bars within just a few blocks; it's easy to walk between them, but as it's a residential area parking will be
very difficult
on Friday and Saturday nights.
Atkins Park Restaurant & Tavernis Atlanta's oldest continuously licensed tavern and showcases a Creole influenced menu.

Blind Willie'sis a blues joint with a full bar and musical performances by national and local acts.

Darkhorse TavernA popular, three-tiered club spot with an antique bar and live music.

address: 1026½ North Highland Avenue

Traditional New Orleans style vibe with a cozy atmosphere for good conversation.

phone: +1 404-872-1001

address: 752 North Highland Ave NE

A traditional British pub with typical pub fare and British ales.

Highland TapsKnown for its cozy feel as a neighborhood bar and grill and it's famous for its prime rib.

Limerick JunctionFeatures sing-alongs from Wednesday to Saturday, local folk musicians on Sundays and open mike nights on Tuesdays.

Manuel'sAn Atlanta Democratic Party institution where you're likely to find campaign staffers and off-duty cops knocking back stiff drinks under a portrait of JFK.

MJQ ConcoursePlays house, U.K. garage, hip hop and drum n' bass.

Moe's and Joe's

address: 1033 N Highland Ave NE

College bar crammed with Emory and Georgia Tech undergrads.

Neighbor's PubA popular sports hangout with 13 beers on tap and 15 bottled ales.

Pura VidaServes up great mojitos and draws a Latin crowd for music and tapas.

The Righteous RoomGreat jukebox and one of the best veggie burgers in town. Arrive early as seating fills up quickly.
Sleep