Atlanta/Five Points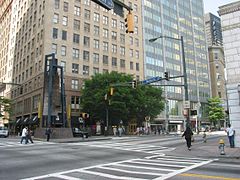 Five Points
is the central area and reference point of
Downtown
Atlanta
. The name refers to a point where five streets intersect, which are Marietta Street, Edgewood Avenue, Decatur Street, and two legs of Peachtree Street. It is also where the North-South Line and the East-West Line of the
MARTA Rail
intersect at
MARTA Five Points Station
.
Underground Atlanta
is located at the entrance of
Five Points Station
, and the
World of Coke
was formerly located there but was moved to the
Centennial Park
area.
Get in
Five Points StationIs served by four MARTA lines (red, blue, green and gold)
See
address: 50 Upper Alabama Ave

Housed entirely underground, this shopping and entertainment district is a bustling hub for retail activity during the day and clubbing at night, although it closes at 8PM Monday through Thursday and only stays open until 9PM on Fridays and Saturdays.

phone: +1 404 656-2844

address: 214 State Capitol

Native gold from Lumpkin County tops the dome of the Georgia State Capitol Building. This restored 1889 building houses a museum which collects, maintains and exhibits significant artifacts, including a priceless collection of Georgia's state flags.
The neon coke sign one block north of Underground Atlanta is worth looking at, and gives an update of time and temperature.

Flatiron Building

address: 84 Peachtree St

This 11 story building, squeezed into its small wedge of land, is Atlanta's oldest standing skyscraper, and a well known land mark in the area.
Do
Watch the Peach Drop at Underground Atlanta on New Year's Eve.
Take a guided history tour in Underground.
Go bar hopping in Kenny's Alley at Underground.
Attend a music festival at Underground.

Woodruff Park

address: 51 Peachtree Street

This park is home to one of the great symbols of Atlanta, Phoenix Rising from the Ashes by Gamba Quirino. The rebirth of the phoenix, emerging from destruction of fire, is symbolic of Atlanta's emergence after being razed by the Union Army during Sherman's March in the Civil War.
Theater
phone: +1 404 413-9TIX

address: 80 Forsyth St, NW

Georgia State University is the home of the 833-seat Rialto Center for the Arts. The venue is host to jazz music concerts and dance performances as well as performances by Georgia State's School of Music and the home of the Atlanta Film Festival.

phone: +1 404 577-5257

address: 84 Luckie St, NW

Theatrical Outfit entertains their audience by producing classic and contemporary theater with an emphasis on work indigenous to the culture of the American South. It's also certified as the first "green" theater in the country by the US Green Building Council.

address: 199 Armour Dr

A non-profit gallery and art space providing access to the arts for people with disabilities and those of low income.
Buy
African Pride, clothing, art, and charms store in Underground.
Best of Atlanta, souvenir store in Underground.
USA Boutique, Underground. Upscale urban clothing for men and women.
There are several street vendors outside the Five Points Station. However, purchasing expensive items such as jewelry should be avoided, as the products may possibly be an imitation of an expensive brand.
Eat
Irish Bred and Pub, Underground. Serves authentic Irish food to eat while drinking a pint of Guinness.
Jamaica Jamaica, Jamaican Cuisine in Underground.
Johnny Rockets, Underground. Burgers and fries (or onion rings) plus milkshakes.
Tringali's, Italian cuisine in Underground.
Budget
phone: +1 404 589-8889

address: 53 Broad Street, NW

A favorite among the locals and Georgia State college students who also rave about the Buns and the signature Pho dishes.

phone: +1 404 521-2596

address: 62 Broad Street, NW

Hole-in-the-wall lunchtime favorite pizzeria for pizza, calzones or lasagna. It's a little bit of "authentic" New York on beautiful Broad Street.
Mid-range
phone: +1 404 524-2489

address: 50 Hurt Plaza

Nouvelle Southern cuisine in a beautiful historic space, the City Grill has fine dining made with local and organic ingredients.

phone: +1 404 389-1000

address: 101 Marietta St

Upscale, casual restaurant in Centennial Tower. Traditional American fare with an Asian twist.
Splurge
Fogao Gaucho

phone: +1 404 477-1700

address: 84 Peachtree St

A Brazilian steakhouse in the historic Flatiron Building (older than New York's Flatiron Building!)

Trader Vic's

phone: +1 404 221-6339

address: 255 Courtland St, NE

This South Pacific-themed restaurant features Polynesian cuisine and Mai Tais.
Drink
Kenny's Alley in
Underground
offers a selection of bars, pubs, and nightclubs. Unlike the other nightlife districts of Atlanta, the bars at
Underground
remain open until 4AM What is also unique is that you may bring alcohol from bar to bar, and you only need to pay a single cover charge for the entire complex. If the bars are open that late it's a bit of a mystery how to access them. All of the entrances to Underground were already locked at 8:30PM tonight and the sign on the door stated that the mall closes at 8PM on weeknights and at 9PM on the weekends.
Banana Wind, home of the 32 oz. Cruzan Rum Bucket.
Motion, large and upscale nightclub playing Top 40, hip-hop, and R&B.

Red Cat Jazz Cafe

Sugar HillLive urban music.

Alley Cat

phone: +1 678 904-2514

address: 50 Upper Alabama St NW

A great venue at Underground Atlanta that features a rock n' roll atmosphere with sexily clad waitresses who perform dance routines at 1AM.
Irish Bred Pub

phone: +1 404 521-6161

address: 74 Upper Alabama St NW

Serves standard pub food with some Irish add-ons to the menu and the occasional sing-along show on weeknights.
address: 79 Poplar St

Downtown's true neighborhood bar, serving locals, workers and Georgia State University students in addition to out-of-town visitors.
Connect