Atlanta/Grant Park
Grant Park
is a historical district in southeast
Atlanta
. Besides the park itself, this area includes
Zoo Atlanta
and
Cyclorama
.
Get in
MARTA Bus #397 from King Memorial Station. By car, exit from I-20 at Blvd SE.

See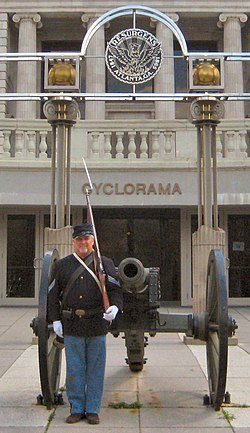 Atlanta Cyclorama & Civil War Museum

address: 800C Cherokee Ave. S.E.

Learn about Atlanta's Civil War History at this 100-year old attraction; home of the world's largest painting, which tells the history of the 1864 Battle of Atlanta through a massive circular painting and narrated dialogue. The painting is about 4-stories high and 358 feet in circumference, making it almost the same area as a football field. The name "cyclorama" comes from the display technique for this historical painting; as visitors watch from stadium seating the entire painting is rotated around them. The accompanying museum is also the home of the historic Civil War locomotive, "TEXAS" (hero of the "Great Train Race").
Do
phone: +1 404 688-2107

address: 48 Oakland Avenue

Historic graveyard (established 1850) which is the burial site of Margaret Mitchell, Bobby Jones, and many Civil War soldiers.

phone: +1 404 624-5822

This zoo specializes in primates and African animals but also has Giant Pandas, Bornean Sumatran orangutans, Asian small-clawed otters, and a childrens' zoo.
Eat
Daddy D'z: The Bar-B-Que Joynt

address: 264 Memorial Drive

Excellent Bar-B-Que in a small building with a lot of character.

address: 421 Memorial Dr SE

Hip breakfast restaurant, voted "best pancakes in world" by NY Times. Come early or be prepared to wait.
Sleep
Connect