Atlanta/Midtown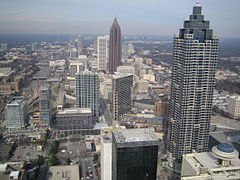 Midtown
is a major financial and residential district of
Atlanta
, and an area for dining and nightlife. In other words, it is an area to work, live, and play, with many sites and activities.
Understand
Midtown is a large area of Atlanta immediately north of
Downtown
. The skyscraper district aligns Peachtree Street. To the east of Peachtree Street is Piedmont Park, and to the west is Spring Street and West Peachtree Street. This area is rapidly growing with new high-rise apartments and condominiums, creating an urban living experience.
Get in


Midtown is where Interstate 75 and Interstate 85 join a single corridor of I-75/85, also known as the Downtown Connector. Midtown can also be accessed by MARTA trains and several bus routes. Both the red and gold lines (the North-South lines) of the MARTA rail stop at three stations in Midtown: North Avenue Station (N3), Midtown Station (N4), and Arts Center Station (N5). MARTA bus 110, "the Peach," runs North-South on Peachtree Street through the entire length of Midtown (connecting to Downtown to the South and Buckhead to the North), running approximately every 15 or 30 minutes depending on the time of day.
Atlantic Station is accessible by a free shuttle provided that departs from the MARTA Arts Center Station approximately every 5-15 minutes. The MARTA Bus Route #113 also serves Atlantic Station. By car, from Interstate 75/85 Northbound exit at 14th Street, from Interstate 75 Southbound exit at 16th Street, and from Interstate 85 Southbound exit at 17th Street.

See
phone: +1 404 876-5859

address: 1345 Piedmont Ave. NE

This peaceful oasis includes 30 acres of garden, an urban forest, wildflower trails, the Dorothy Chapman Fuqua Conservatory and a 10,000 square-foot Fuqua Orchid Center. The Garden also offers visitors a wealth of year-round special events, exhibits, and educational workshops.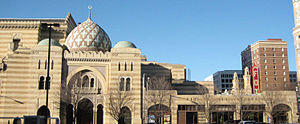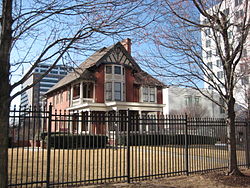 Do
phone: +1 404-873-3391

address: 1404 Spring St. NW

The Center for Puppetry Arts is the largest organization in North America dedicated to the art of puppetry. Located in Midtown, the center offers performances from the Family Series for everyone and New Directions for adults. An interactive museum, Puppets: The Power of Wonder, is the largest puppetry museum in the United States.

Georgia Institute of TechnologyVisit the Georgia Tech campus to watch the Yellow Jackets play a football or basketball game, attend a robotics competition, or check out the latest showing at the Ferst Center of the Arts.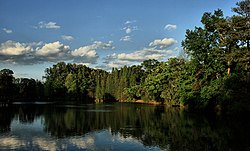 Piedmont ParkFounded in 1904 and comprising more than 180 acres, Piedmont Park is situated between 10th Street and Piedmont Avenue in Midtown. The park features woods, sports fields, Lake Clara Meed, picnic spots, walking and skating paths and annual events including the Atlanta Dogwood Festival and Bark in the Park.

phone: +1 404 874-5299

address: 499 Peachtree St, NE

They tout themselves as "a place out of time" which only begins to describe the atmosphere at the Shakespeare Tavern. Live music, hand-crafted period costumes, and outrageous sword fights sweep the visitor into the passion and poetry of the spoken word. An authentic British Pub Menu and a broad selection of British and Irish ales and premium brews will help keep your physical soul nourished as well.
Buy
Midtown
has stores catering to young urban professionals and to the gay crowd, including hip furniture stores and a few trendy clothing boutiques. The city has planned the "Midtown Mile," a mile-long retail shopping district on Peachtree Street, and retail shops are popping up all over midtown, seemingly on a weekly basis. A few notable stores are:
phone: +1 404 881-8223

address: 1114 W Peachtree St.

Adorable clothes for men and women at affordable prices.

phone: +1 404 541-2357

address: 860 Peachtree St, Ste F.

Unique gift shop carrying a mix of original artwork, home accessories, handbags, and handcrafted jewelry.
Eat
Budget
phone: +1 404-607-1622

address: 1811 Piedmont Ave

Tourist-favorite BBQ destination located toward the Midtown side of the industrial section of town between Midtown and Buckhead where heaping portions of cheap ribs and chicken are served up in a literal shack.

phone: +1 404 875-6634

address: 1049 Juniper St

Fun bar and grill blaring 80s music with energetic gay servers (though clientele is mixed) and juicy burgers.

phone: +1 404-881-1950

address: 129 North Ave NE

Their status as "best wings in Georgia" is debatable — they're definitely more "homestyle" than "gourmet", if that helps swing your vote — but they're probably the most well-known. Their new location (after a 2013 fire destroyed the old one) is brighter and more spacious, but retains the dive bar feel that makes J.R. Crickets so characterful. The traditional order used to be plain buffalo wings (hot, medium, or mild; get them "swimming" in extra sauce for $0.75). Thanks to a very quotable scene from the popular TV show Atlanta, the new popular order is "lemon pepper wet" (actually a questionable combination of buffalo sauce and lemon pepper seasoning).

Las Palmeras

phone: +1 404 872-0846

address: 368 5th St

Charming local Cuban favorite tucked away in a residential neighborhood.

phone: +1 404 522-5655

address: 768 Marietta St

Authentic Thai food in a classy setting.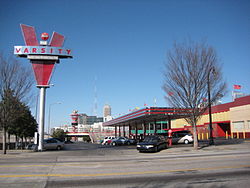 Mid-range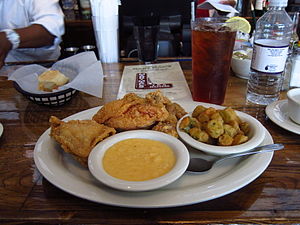 RA Sushi, 1080 Peachtree Street #8. A trendy, lounge-like sushi restaurant great for its inventive sushi rolls and cocktails. Has a great outdoor patio and excellent happy hour deals.

address: Peachtree and 3rd St

This little Italian restaurant just a few steps away from the Fox Theatre offers some of the best pastas and gourmet thin-crust pizzas in town.

address: 224 Ponce De Leon Ave NE

A landmark of old Atlanta cooking, this meat-and-three on Ponce has become an old Atlanta institution.

Flying Biscuit CafeServes breakfast all day everyday and famous for brunch. Great place for kosher and vegetarian eaters as they have no beef or pork products - just free-range chicken, "soysauge", and turkey bacon. Long waits on the weekend so get there early when they open at 7AM.

address: 817 West Peachtree Street

Nice burger and beer place with pub food and a good beer selection.

Pasta da Pulcinella

address: 1123 Peachtree Walk

Great little Italian restaurant.

address: 814 Juniper Street

Amazing brunch spot with some creative dishes and exceptionally friendly service. Cute, cozy spot as well.
Splurge
Drink
Midtown is the destination for trendsetters and fashionistas, though due to increasing pressures to keep the area more upscale and to reduce noise at night, the legislature has begun to enact ordinances which have had the result of pushing club activity downtown. Several bars and clubs are within hopping-distance of one another on Crescent Street, and others are scattered about the area.
Clubs
Ravine. Midtown's newest club which opened in 2018. Often hosts big name DJs such as Steve Aoki.

CompoundAn Atlanta hotspot and was voted by aolcityguide.com as the "Best Dance Club in Atlanta 2006," and "Best Conversation Bar" by cityguide.com.

CosmoLavaA three-level club with a VIP floor, a dancing floor and cocktail lounge floor, offering the most intimate spot to relax in town.

Leopard LoungeHere guests can enjoy the patio area for mingling with Atlanta's party crowd. Popular among the early 20s crowd.

OperaA unique club inside what used to be Atlanta's Opera house. The new and improved Opera boasts a $2 million renovation with bigger dance floors, second-floor opera boxes and a new DJ booth.

PrimalA large club with a variety of rooms, including a stage area for live music, the Guitar Bar, and the Sky Bar at the top.

Sutra LoungeSexual and seductive lounge for singles to mingle and flirt.
Gay and Lesbian
Midtown is arguably the heart of gay life in Atlanta, particularly centered around the corner of
10th
and
Piedmont/Juniper
.
phone: +1 404 892-5786

address: 227 10th St

Serves gay southern hospitality like no other with two levels serving food, DJs and drag shows.

Bulldog Bar

phone: +1 404 872-3025

address: 893 Peachtree St, NE

A Midtown institution that draws a largely African-American crowd.

Oscar's

phone: +1 404 874-7748

address: 1510 Piedmont Ave, NE

Glam Midtown bar offers a throwback to old Hollywood.
Sleep