Bahamas
The Bahamas
(officially named
The Commonwealth of The Bahamas
), or
The Bahama Islands
, is an archipelago consisting of many islands in the Atlantic Ocean east of
Florida
. The country is made up of about 2,000 islands if you include the cays, which are small islands that are formed on coral reefs. Not densely populated, the Bahamas is renowned for its natural beauty, unique culture, and is a popular tropical vacation destination.
Understand
The word
Bahamas
is of Spanish origin and means "Shallow Water".
History
Where did Columbus land?
When Christopher Columbus arrived in the West Indies in 1492, he landed on a Bahamian island he named San Salvador. The island now known as San Salvador (formerly called Watling Island) has long been thought to be the island where Columbus landed. But in truth, historians do not agree on the exact site of the landing. The possibility narrows between two islands: San Salvador and Samana Cay, about 80 miles southeast.
Arawak Indians inhabited the islands when Christopher Columbus first set foot in the New World on San Salvador Island in 1492; see
Voyages of Columbus
. British settlement of the islands began in 1647; the islands became a colony in 1783. The Bahamas were also infamous as a pirate nest with some even trying to form a pirate Republic. Since attaining independence from the UK in 1973, The Bahamas have prospered through tourism and international banking and investment management. Because of its geography, the country is a major transshipment point for illegal drugs, particularly shipments to the US, and its territory is used for smuggling illegal migrants into the US.
Culture
The official language spoken in the Bahamas is English. The populace is predictably friendly and more religious than one might expect: the Bahamas have one of the highest ratios of churches per capita in the world, with Baptists being the largest single group. Local newspapers will reveal religious references by elected officials in a manner that exceeds what would be found in the United States. This devotion does nothing to prohibit the activities of visitors nor is it intended to. There is a very "libertarian" attitude about personal morals.
Festivals
The biggest event in the Bahamian calendar is
Junkanoo
, a street carnival held on Boxing Day (December 26) and New Year's Day (January 1). Junkanoo groups "rush" through the streets of towns, especially
Nassau
, wearing spectacular yet disposable costumes of crepe paper and playing distinctive Junkanoo music, which combines African rhythms with loud brass and cowbells, fusing them together in a medley that veers on cacophony but is exceedingly dancable. The costumes, made from scratch every year, are disposed of on the streets as the party ends and make a great free souvenir to bring home!
Music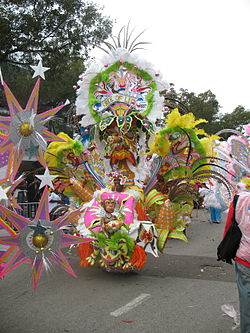 There are many types of music known in the Bahamian culture but the four most prevalent forms of music are Calypso, Soca, Junkanoo and Rake and scrape. The music of the Bahamas is associated primarily with junkanoo, a celebration which occurs on Boxing Day and again on New Year's Day. Parades and other celebrations mark the ceremony. Groups like The Baha Men, Ronnie Butler and Kirkland Bodie have gained massive popularity in Japan, the United States and elsewhere.
Calypso
Calypso is a style of Afro-Caribbean music that originated in Trinidad and Tobago during the early to mid 20th century. This form of music has spread through many parts of the Caribbean, mainly the Bahamas.
Soca
Soca is a form of music which involves dance and originated from calypso music. Originally it combined the melodic rhythmic sound of calypso with firm percussion and local chutney music. Soca music has grown in the last 20 years primarily by musicians from various Anglophone Caribbean countries including Trinidad, Guyana, Saint Vincent and the Grenadines, Barbados, Grenada, Saint Lucia, Antigua and Barbuda, United States Virgin Islands, The Bahamas, Dominica, Saint Kitts and Nevis, Jamaica and Belize.
Rake and scrape
Rake and scrape music comes from the musical traditions of the Turks and Caicos Islands, and is characterized by the use of a saw as the primary instrument. It was brought by immigrants from those islands from the 1920s to about the 1940s, who settled on Cat Island, and elsewhere. Rake and Scrape is traditionally used to accompany the Bahamian Quadrille and the heel-toe polka all relics of the initial mixture of Africa and Europe. Many of these Turks and Caicos Islanders became some of the most famous musicians in the Bahamas. Many eventually moved back to their homelands, bringing with them junkanoo. Turks and Caicos are now the second home for junkanoo.
Climate
Tropical marine; moderated by warm waters of Gulf Stream. Hurricanes and other tropical storms cause extensive flood and wind damage.
Can be cool if trade winds shift.
During summer months, temperature in the Bahamas rarely goes above 90°F (32°C). The normal climate during winter is mild with temperatures around 60°F (16°C). The Northern and Western islands, Grand Bahama Island, Great Abaco, Andros and Eleuthera are somewhat cooler than the southern islands. The Bahamas hurricane season runs between June and November and rain storms are expected during this period.
Geology
The Bahamas archipelago are in fact the tops of banks that were formed some time between 90,000 and 120 years ago from coral reef formation. The well known pink sand beaches of the Bahamas get their vibrant appearance from the fractured pieces of seashell combined with the sand.
The highest point in the Bahamas is Mount Alvernia on Cat Island, which is 63 meters (over 200 feet) high.
Wildlife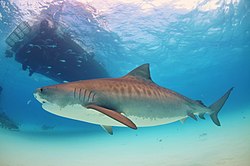 Wildlife in Bahamas contains various species. Many different breed of crabs can be found on the beaches. Hermit and Cardisoma guanhumi are two of the land crabs to be noted frequently in the island. The wild horses of Abaco are famous in The Bahamas.
During a tour of the Bahamas, tourists can come across various other species including the Bahamas Hutia, numerous frogs, rocky raccoon, snails such as Cerion, cicada, blind cave fish, ants and reptiles.
Bahamas wildlife features a wide range of amazing birds. Parrots and pigeons are two of the most common and popular birds found in The Bahamas.
The Bahamas is also home to numerous aquatic life. Sharks, manatees, dolphins, frogfish, angelfish, starfish and turtles can be viewed in the waters surrounding The Bahamas. Apart from numerous species of fish, tourists can spot several types of worms also.
Terrain
Long, flat coral formations with some low rounded hills. The highest point is Mount Alvernia (63 m), on
Cat Island
.
Grand Bahama Island
features breathtaking white sandy beaches, beautifully clear turquoise blue waters and plenty of lush, tropical foliage.
Electricity
Officially 120 V 60 Hz, which is identical to the U.S. and Canadian standard. Outlets are North American grounded outlets, identical to standard U.S. and Canadian wall outlets. Occasionally non-grounded outlets may be found, which do not accept the third, round pin present on grounded plugs, and require an adapter. Older North American outlets may not be polarized (with one slot wider than the other). Otherwise, adapters are available which accept a polarized plug and adapt it for use with a non-polarized outlet.
Government
The Bahamas is an independent member of the Commonwealth of Nations. The political and legal traditions of Bahamas closely follow the British ones, owing to their commonwealth membership.
The country has a parliamentary form of democracy and regular elections are held. The Bahamian senate consists of 16 members, who are appointed by the Governor-General. The Governor-General also appoints the Chief Justice on the advice of the Prime Minister. The Privy Council of the United Kingdom serves as the highest appellate court.
The local government districts in Bahamas elect local councils for town planning, business licenses, traffic issues and maintenance of government buildings. Lower level town councils are also accorded minor responsibilities in some large districts.
Islands
Cities
Other destinations
Several
cruise lines
operate private island retreats in the Bahamas.
Disney Cruise Line
owns Castaway Cay, Norwegian Cruise Line owns Great Stirrup Cay, Princess Cruise Line owns Little Stirrup Cay, Carnival Cruise Line owns Half Moon Cay, and Royal Caribbean owns Coco Cay. To visit these islands you usually have to be a passenger on the cruise line that owns the island.
Dolphin Encounters is an all natural seawater dolphin facility with Atlantic Bottlenose Dolphins and California Sea Lions located on Blue Lagoon Island (Salt Cay), a private island retreat and tourist attraction 5 km (three miles) from Nassau, Bahamas.
Get in
Entry requirements
Foreign nationals of the following countries/territories do
not
require a visa to visit the Bahamas:
American Samoa, Andorra, Anguilla, Antigua & Barbuda, Argentina, Armenia, Aruba, Australia, Austria, Azerbaijan, Azores, Bahrain, Bangladesh, Barbados, Belgium, Belize, Bermuda, Bolivia, Bosnia & Herzegovina, Botswana, Brazil, Brunei Darussalam, Bulgaria, Canada, Cape Verde, Cayman Islands, Chile, China, Colombia, Cook Islands, Costa Rica, Croatia, Curaçao, Cyprus, Czech Republic, Denmark, Dominica, Ecuador, El Salvador, Estonia, Eswatini, Falkland Islands, Fiji, Finland, France, French Guiana, French Polynesia, Gambia, Galapagos Islands, Georgia, Germany, Gibraltor, Greece, Greenland, Grenada, Guadeloupe, Guam, Guatemala, Guyana, Honduras, Hong Kong SAR (HKSAR passport or CI), Hungary, Iceland, Ireland, Israel, Italy, Jamaica, Japan, Kenya, Kiribati, Korea-South, Kuwait, Latvia, Lesotho, Liechtenstein, Lithuania, Luxembourg, Macau, Malawi, Malaysia, Maldives, Mali, Malta, Marshall Islands, Martinique, Mauritius, Mexico, Moldova, Monaco, Montserrat, Namibia, Nauru, Netherlands, Netherlands Antilles, New Caledonia, New Zealand, Nicaragua, Norfolk Islands, North Macedonia, Northern Mariana Islands, Norway, Oman, Panama, Papua New Guinea, Paraguay, Peru, Pitcairn, Poland, Portugal, Puerto Rico, Qatar, Reunion, Romania, Russia, Saint Barthelemy, Saint Helena, Saint Kitts & Nevis, Saint Lucia, Saint Martin, Saint Vincent & The Grenadines, Saint Marten, Saint Pierre & Miquelon, San Marino, Sao Tome & Principe, Seychelles, Sierra Leone, Singapore, Slovakia, Slovenia, Solomon Islands, South Africa, Spain, Sri Lanka, Suriname, Sweden, Switzerland, Tahiti, Tanzania, Tokelau, Trinidad & Tobago, Tonga, Turkey, Turks &Caicos, Tuvalu, Uganda, United Kingdom, United States Of America, Uruguay, Vanuatu, Vatican City, Venezuela, Virgin Islands (Us & Uk), Western Samoa, Zambia and Zimbabwe
Visitors do
not
need to complete the Customs form.
If you require a visa to enter the Bahamas, you might be able to apply for one at a British embassy, high commission or consulate in the country where you legally reside if there is no Bahamian diplomatic post. For example, the British embassies in Al Khobar, Amman, Belgrade, Budapest, Guatemala City, Helsinki, Jakarta, Jeddah, Kiev, Moscow, Phnom Penh, Prague, Pristina, Qatar, Rabat, Riga, Riyadh, Rome, Sofia, Tallinn, Tashkent, Vienna, Warsaw and Zagreb accept Bahamian visa applications (this list is
not
exhaustive). British diplomatic posts charge £50 to process a Bahamian visa application and an extra £70 if the authorities in the Bahamas require the visa application to be referred to them. The authorities in the Bahamas can also decide to charge an additional fee if they correspond with you directly.
Travellers returning to the United States from the Caribbean must display their passport to get back into the States. This applies to minor children as well as adults. US immigration pre-clearance facilities are available at Nassau and Freeport.
By plane
The largest airports in the Bahamas are at the capital
Nassau
, on New Providence, and
Freeport
, on Grand Bahama. Smaller airports are scattered throughout the other islands. The Bahamas has six international airports the largest being the Lynden Pindling International Airport on the west side of Nassau.
For those who own a pilot's license: as the first country to accept Light Sport Aircraft (LSA) Pilot license from the US, flying in on your own plane may be a great option. It would not only provide you with great scenery throughout your flight into the Bahamas, but also become the most convenient way to get around those islands. The same privileges and limitations as if you are flying in the US apply.
By boat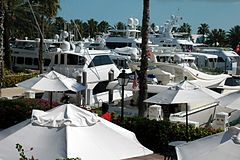 The Bahamas are a popular port of call for cruise ships plying the Caribbean. The capital,
Nassau
, on
New Providence Island
is one of the world's busiest cruise ship ports, and is well served by ships that originate from
Florida
.
Freeport
on
Grand Bahama Island
is a growing destination as well.
Most island groups have customs and immigration available for those arriving by yacht. The customs fee for a private yacht is $150 for 35' and under and $300 for over 35'.
Royal Caribbean has their own island in the Bahamas called Coco Cay. This island is leased by Royal Caribbean, rather than being fully owned such as Disney's ownership arrangement for Castaway Cay. It is strictly for Royal Caribbean cruisers. The island has 25 little shops for souvenirs and their own private beaches, as well as water games in the middle of the clear crystal blue ocean. They have a bbq and main picnic area with the cruise employees as well as the people that Royal Caribbean hire to live and work on the island. Royal Caribbean is busy all year round because of the hot climate in the Bahamas, that they have frequent travelers through all the months of the year.
Disney's Castaway Cay, formerly known as Gorda Cay, is a privately owned island near the island of Abaco, close to Sandy Point. This island differs from most of the leased cays in the fact that it is privately owned by The Walt Disney Company and has its own dock so that tendering is not necessary. Castaway Cay has separate areas for families, teens an adults. The island also contains a fiber optic network which connects to the ship.
Additionally, a regular passenger ferry operated by
Baleària Caribbean
runs daily between
Fort Lauderdale
,
Florida
and
Freeport
, in the
Bahamas
.
Get around
By plane
Bahamasair
offers a comprehensive network radiating out from
Nassau
and covering most population centers. However, fares are expensive, frequencies are low, planes are small and the airline is notorious for extensive delays, and many travellers in a hurry opt to charter planes instead.
By bus
Nassau/New Providence have a system of buses called
jitneys
, discussed in the
Nassau
article. Bus travel on the other islands (with the exception of Grand Bahama) is very limited.
By taxi
Taxis are very expensive. A short ride from the airport to Cable beach costs $18, to downtown is $26. Between Cable beach and downtown expect to pay $15-$20 with no room to negotiate.
By boat and yacht
Mail boats serve almost all populated islands in the Bahamas, and are amongst the cheapest way to reach many areas, though far from the fastest or most comfortable. The government has a mailboat schedule of mailboat routes online which may or may not reflect reality.
Windward Islands - , a yacht charter company, can take care of all charter requirements, from bareboat to crewed yacht in the Bahamas (starting Abaco).
Talk
English is the main and official language of the Bahamas. Tourist resorts may have staff who can speak other languages, including Spanish, French, German, and, less frequently, others.

See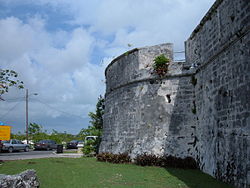 Lucayan National Park and Port Lucaya in Freeport
Dolphin Cay on Paradise Island
The Thunderball Grotto in Exuma
Flamingos, iguanas and other tropical wildlife.
Fort Fincastle, the Old Town and the Pirate museum in Nassau
Do

Diving: The "shallow seas" of the Bahamas lie over an extensive submerged limestone platform, with high points here and there just breaking the surface to form an archipelago. The climate is good for diving year-round, and hurricanes seldom strike. All the inhabited islands have local diving, and some have extensive inland cave systems. Nassau on New Providence is the base for liveaboard cruises.

Buy
Money

The local currency is the Bahamian dollar (B$), but it's tied to the US dollar at a 1:1 ratio and US dollars are accepted everywhere at par. There is thus no need for Americans to change money, and many tourist-oriented businesses will even give change back in US$. Keep an eye out for the famous (but now rare) three-dollar bill and 15-cent coin, both made to ease the 1966 transition from British pounds to dollars, $3 being roughly equivalent to £1 and $0.15 approximating a shilling.

Shopping
There is very little made in the Bahamas, but some luxury goods can be purchased at a bargain. Salespeople in the straw market have a very direct but often humorous manner of negotiating the price of a product. A sense of humor is greatly appreciated in this island nation.
Beware of purchasing Cuban cigars. The vast majority of "Cubans" for sale in the Bahamas are counterfeit. Only buy cigars from reputable and dedicated tobacconists, do not buy on the street, in the market, or from rinky-dink combination cigar/liquor shops. Real Cubans cost upwards of $30 per cigar. If the price is $10, it's 100% fauxhiba. If you do plan to buy cigars, some online research may assist you in identifying authentic Cubans.

Eat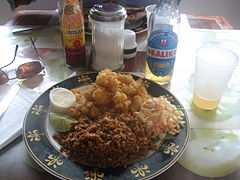 As you'd expect in an island nation, seafood is very popular. The national dish is
conch
(pronounced "conk" with a hard K), a type of mollusk, served deep-fried ("cracked") or raw with a twist of lemon, and as elsewhere in the Caribbean, the classic accompaniment is
peas and rice
.
Ordinary meals can be purchased for anywhere from $5-25 a plate. Authentic island food can be found at the
Fish Fry
, a collection of small open air restaurants where many locals hang out. Meals can be had for about $8. Sunday night the locals flock to this area for some authentic Bahamian nightlife. You can find fast-food chains such as KFC or McDonalds, especially in the downtown areas, but as it is a highly touristed country, you can find many nice restaurants serving many different cuisines. Most restaurants serve American or British food, though you can easily find the normal island flair, especially during the Fish Fry during June. A 15% service charge is added to the bill at most establishments; additional tips are optional.
Service is distinct from the American standard. There is a concentration on the customer at hand. You are expected to patiently wait your turn. At fast food restaurants the server will take care of only the first customer until they have left the service area. Don't expect to be in a hurry even at a fast food establishment.
Service in the Bahamas takes place at a relaxed pace. Travelers can expect a leisurely pace to their meal. Expect polite, if slow, service at most establishments.
Drink
Soda
Soda can be pretty pricy in the hotels, and you will find it only on a soda tap if you are in a good restaurant; otherwise, you will usually get it in a can. The cheapest way to get this would be to go to a local "Food Mart."
"Goombay Punch" is the local soda. It has a pineapple flavor and is what the locals call a "Sweet" soda versus a cola. It is sold in cans at all grocery stores and also available in almost every Bahamian eatery.
Non-alcoholic malt beverages are also very popular. The primary brand of choice is Vita-Malt.
Beer
Kalik
is the national beer of the Bahamas and is always served at "all-inclusive" resorts. There are three rather distinct types: "Kalik regular" which has 4% alcohol and a smooth refreshing taste, "Kalik Light" which has been often compared to a Budweiser is a light lager which delivers the same great taste as the regular kalik but with a lower alcohol content and less calories, "Kalik Gold" has 7% alcohol, though very potent it has an excellent taste, which gives you an extra feel of the island. Guinness is also very popular.
A new beer is available called
Sands
. It can be obtained at many resorts and in the local liquor stores. It is a similar style product to Kalik. Sands is now readily available in both regular and light.
Imported beer can be incredibly expensive in the hotels but is not overly priced in bars and liquor stores. Cases of beer are available in a variety of Duty Free liquor stores.
In Freeport, the Port Lucaya Marketplace and Marina has many bars offering two Kaliks (and some other brews) for $5.
The drinking age is 18, however it is weakly enforced and teenage drinking is common.
Hard liquors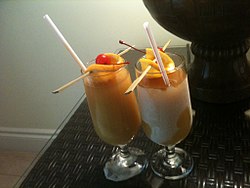 The Bahamas has a lot of liquor stores in relation to the population of the country. You can find liquors stores downtown, in the hotels, the port lucaya marketplace and as you continue to tour the island, if you may not be sure of exactly where one may be located please feel free to ask for assistance.
Rum
This the best choice of drinks in the Bahamas. It's as cheap as you can get ($2-$10 a bottle), tastes great, and it's made fresh by 3 different companies, the largest being the Bacardi Rum factory on
New Providence
south of Nassau, where you can take tours and get free drinks if you go on a 2-hour bus ride (Bacardi closed down!).
The Bahamas has its own native rum to offer with a variety of brands which include Ron Ricardo rum, Ole Nassau Rum and a very popular Fire in the Hole Rum, while this fire in the hole rum is gold in color it has a very distinct bottle label which is sure to be a good converstion piece in the home. The Ron Ricardo rums and Ole Nassau rums both come in a variety of flavours. Ron Ricardo has the best leading coconut rum which is used to make the ever so popular island drink "The Bahama Mamma". Other flavours include mango, pineapple and banana, a gold rum, light rum and one 151 rum. The Ole Nassau rum also offers all of the flavors to that of the Ron Ricardo. Its bottle label too is very unique and creative portraying a pirate ship along the Bahama Islands.
Sleep
Accommodation on the Bahamas is expensive, and there is virtually no backpacker/hostel-type lodging. The cheapest hotels start at around US$ 70, and most hotels cost US$200-300/night, with the very best resorts easily pushing up above US$500. Deals may be available in the summer off-season though.
Be aware the Bahamas charge a
Service Fee or Resort Fee
to every person staying overnight. Hotels collect the fee of
$18 per night per person
as well as a
$6 per person one time bellhop fee
. This is an addition to the rate of the room and is not optional and cannot be waived. Often tourists first hear about this when checking into their hotel for the first time.
The Bahamas Government levies a
Hotel Guest Tax
which is payable by each guest. This tax is
10%
of the hotel rate, it submitted monthly to the Bahamas Government by the hotel operator.
Hotels in the Bahamas may levy a number of
other charges
upon guests in addition to the standard bill, including; gratuities-maid/bellman), a hotel 'Levy' (Promotion Board), cable, telephone, water & sewerage, energy surcharge, pool/towels.
Most hotels and resorts in the Bahamas are located in
New Providence
(
Nassau
) and neighboring
Paradise Island
. The rest of the country remains rather off the beaten track for tourism, and places like
Eleuthera
, despite being 100 miles long, has only three hotels.
Learn
School attendance in Bahamas is required between the ages of 5 to 16. Out of the 210 primary schools run in the country, 158 are operated by the government. The remaining 52 schools are operated by private owners. Higher education is also offered by many non-Bahamian colleges in the country.
The College of the Bahamas is the main institution that offers post secondary education in the country with several schools including and undergraduate business school, an undergraduate social science. Other tertiary educational institutions in the country include Success Training College, Bahamas Technical and Vocational Institute and Nova Southeastern University. The University of the West Indies also has a campus in the Bahamas.
There are also some international universities that offer programs in the country such as the University of Miami's MBA programme.

Work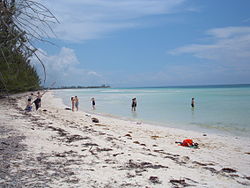 In most cases non-citizens may not work within The Bahamas. There are exceptions for those possessing skills not available from a Bahamian, as well as migrants of Creole descent who may or may not be in the Bahamas legally. The employer must show legitimate proof of strenuous searching for a suitable Bahamian prior to applying for a work permit for the foreign candidate. However any ordinary position that does not require any specialized skills will not readily qualify as an employment opportunity for a foreigner. Should a foreign national apply for a position as a maid or anything along that line of employment, they would definitely be denied the occupation. This line of employment shows no necessary skills that a Bahamian could not possess.
Tourism is the main industry followed by banking.
50 percent of the national GDP is generated by tourism.
Stay safe
By the middle of the year 2007, the country had already recorded 42 murders. The murder count for 2010 was 96. Police statistics will show that most murders are linked to domestic violence or gang related disputes, mostly fueled by competition in the illegal drug trade. In 2011 the Commissioner of the Royal Bahamas Police Force stated that the vast majority of murder victims in New Providence (Nassau), were already well known to police. A report done by an international body stated that The Bahamas ranks amongst the top for crimes committed against women. However, to maintain good local and international relations, the police have increased their presence and the judicial system vowed to bring about "swift justice".
Visitors should exercise caution and good judgment when visiting The Bahamas. Violent crime has increased in the recent past, and the American Embassy has received several reports of sexual assaults on American tourists, including teen-aged girls.

Firearms
It is illegal to import a firearm or ammunition into The Bahamas or to possess a firearm in the country without appropriate permission. Tourists who arrive by private boat are required to declare firearms to Bahamian Customs and leave firearms on the boat while in The Bahamas. Penalties for illegal possession of a firearm or ammunition are strict, and can involve heavy fines, lengthy prison terms, or both.

Penalties
Penalties for breaking the law can be more severe than in the United States for similar offenses. Persons violating Bahamian laws, even unknowingly, may be expelled, arrested, or imprisoned. Police enforcement is aggressive in tourist areas, as drug dealers are known to frequent areas where tourists congregate. Penalties for possession, use, or trafficking in illegal drugs in the Bahamas are strict, and convicted offenders can expect jail sentences and heavy fines.

Stay healthy
The adult
HIV/AIDS
prevalence rate has reached 3.0% or 1 in 33 adults.
Tap water
is generally potable, but bottled water is recommended for visitors.
Respect
Bahamians are good-natured but do not suffer fools gladly.