Bangkok/Phahonyothin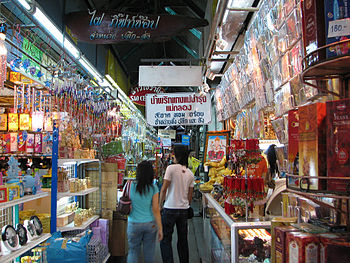 Phahonyothin
(Thai: พหลโยธิน) is centred around Phahonyothin Road, a major arterial road that starts at Victory Monument and runs parallel to and eventually merges with Viphavadi Rangsit Road in the north of
Bangkok
. Also spelled
Phaholyothin
,
Pahol Yothin
, and many other variations, it stretches northward all the way past the old Don Mueang Airport towards
Rangsit
,
Ayutthaya
, and (if you drive long enough)
Chiang Rai
. There are few sights that are actually worth it to come all the way up here for, but most tourists make a beeline for the Chatuchak Weekend Market.
Understand
Originally, Phahonyothin Road was named Prachathipatai Road (ถนนประชาธิปไตย) and it was just 22 kilometres, stretching from Victory Monument to Don Mueang Airport. Field Marshal Plaek Phibunsonhkhram extended the road north all the way north to
Sing Buri
, and renamed it Phahonyothin Road in honor of General Phraya Pholphayuhasena, the second Prime Minister of Thailand (commonly known as Phot Phahonyothin). Later it was extended even further, all the way to the Burmese border for a length of 1,005 kilometres! This article doesn't stretch that long, as it only covers that part of Phahonyothin Road that is actually within the Bangkok Metropolitan Administration. But even then, Phahonyothin is a vast district by any means, stretching 30 kilometres from north to south.
Until 2006, nearly all visitors to Thailand landed here at
Don Mueang Airport
. Don Mueang has been an important airline hub, and for a long time held the title of second busiest airport in Asia by passenger volume. The first commercial flights in Don Mueang Airport started in 1924; since then, the airport has been a commercial motor for the whole district, attracting many hotels and businesses. Because of this commercial activity, Bangkok mostly expanded northwards and Phahonyothin turned into one of the most developed suburbs of Bangkok. Many of Bangkok's residents live here and commute to downtown every day. Getting from the fringes to the southern part of Phahonyothin might take two hours or more, depending on traffic.
While the northern part is barely attended by foreign visitors, the southern part has some major highlights. Shopping is
the
main activity here; a visitor hasn't been to Bangkok without visiting the huge
Chatuchak Weekend Market
, the largest market in Southeast Asia with over 8,000 stalls. And while still off the beaten track to foreigners,
Soi Ari
turned into a hip artist-y neighbourhood with plenty of cheap dining options.
With the opening of Suvarnabhumi Airport in 2006, Don Mueang Airport closed down completely for one year. After a big renovation, it was reopened in 2007 for non-connecting domestic flights, but still few airlines make use of it. The economic engine that Don Mueang used to be suddenly stopped working. In a snap, five-star hotels turned into two-star hotels and airport-related businesses moved out of the far north. Luckily, 30 kilometres south, commercial activity is still alive and kicking.
Get in
Phahonyothin is a major arterial road, and as many Bangkokians that live here work in downtown, there are plenty of ways to get in.
By public transit
Skytrain
The Skytrain is an excellent way to get in and around Phahonyothin. The BTS
Sukhumvit Line
runs over Phahonyothin Road with the most important areas of the district covered. The line comes directly from
Siam Square
and
Sukhumvit
. If you're coming from
Silom
, you must transfer from the Silom Line onto the Sukhumvit Line at Siam BTS station.
The line passes
Sanam Pao
,
Ari
and
Saphan Khwai
, before reaching its final destination at
Mo Chit
, which is nearby the Chatuchak Weekend Market and the Northern Bus Terminal. At Mo Chit, the Skytrain intersects with MRT metro system Chatuchak Park, so you can easily continue your way from there to
Ratchadaphisek
.
Metro
The metro only covers a small part of Phahonyothin, but it actually gets higher up than the Skytrain. If you need to go to the far north, take the metro to Phahon Yothin MRT station and then continue your way by metered taxi or bus. The metro is also a more convenient way of getting to the Chatuchak Weekend Market. MRT station
Kamphaeng Phet
drops you right in front of the main entrance of Chatuchak, arguably the most interesting part of the market.
Chatuchak Park
MRT station also gets you there, but you still have to walk to the eastern entrance. The metro terminates at
Bang Sue
, an important train station that can be used if you're taking the train in northern or northeastern direction.
By bus
Phahonyothin stretches as far north as 30km, and the BTS and MRT systems don't even reach close to it. So you'll have to travel as the locals do — by bus. Going by taxi is also possible, but that costs a lot more. Keep in mind that bus travel in Phahonyothin is very troublesome, though. Getting from north to south can take you two hours or more, depending on traffic. The most important line is ordinary and air-conditioned
Bus 59
, which runs 24 hours a day. It starts at Sanam Luang in
Rattanakosin
and passes by Ratchdamnoen Klang Road (for
Khao San Road
) and Panfa Leelard pier, the western terminus of the Saen Saep Express Boat. It then continues through Lan Luang Road, Phetchaburi Road, and heads north along Phaya Thai Road, passing Victory Monument. From there, it goes all the way north along Phahonyothin Road passing the Chatuchak Weekend Market, Don Mueang Airport, and finally the Thammasat University campus in
Rangsit
.
By taxi
Going by metered taxi is the most comfortable (and expensive) way to get in and around the district. It can be used for both short and long distances. Always insist on the meter. If the driver refuses, get out and get another taxi, as there is always another one waiting for you. A ride from Sukhumvit or Silom to Chatuchak Weekend Market shouldn't cost you more than 100 baht. If you're heading up north to Don Mueang Airport, expect a price in the 200-300 baht range, depending on traffic.
By train
Bang Sue Train Station
is a worthy alternative for the busy and crowded Hualamphong Train Station, but can only be used if you're heading to the north or northeast of the country. You can reach it using the MRT metro system, of which Bang Sue is the last stop. You can also take the Skytrain to Mo Chit and continue by metered taxi.
See
Architecture
Elephant Building

phone: +66 2 937-3300

address: 369/38 Phahonyothin Soi 26

The Elephant Building is one of the quirkiest buildings of the world, and has even won awards for being one of the ugliest. This 32-floor high-rise is composed of three towers that are connected to each other on the upper floors. The shape clearly resembles a grey elephant, Thailand's national animal. It even has eyes, ears and tusks, so nothing is left to the imagination. The building is used for residential and commercial purposes, with a bank, a post office, an EFL school and various shops on the first couple of floors.
Museums
Bangkok Butterfly Garden and Insectarium

phone: +66 2 272-4359(-60)

address: Kamphaeng Phet 3 Rd

This insect garden is split in four main sections. The first section is an area with touch-screen computers that give an introduction to the garden. The second is a mini-theatre where a presentation is given on insects and the ecological system they are a part of. The third section is an exhibition room that shows the breeding of insects and butterfly embryos. And finally, the last section is a large cage that displays more than 500 butterflies of 20 different kinds. The garden simulates the insects' natural habitat with rocks, shady ferns, wild flowers and a waterfall.

Children's Discovery Museum

phone: +66 2 615-7333(-102)

address: 810 Kamphaeng Phet 4 Rd

Discovery and interactive museums are the new hype in Bangkok, and this Children's Museum is no exception. The construction was completed in 2001 and completed in time to celebrate the 60th birthday anniversary of HM Queen Sirikit. It is a large complex with eight galleries with 123 exhibits and activities, spread over three buildings and one outdoor space. The goal is to learn children in a fun way about human life, science, culture, society, nature and the environment, and there is an exhibition in honor of HM Queen Sirikit. While mostly catering to Thai families, foreigners can bring their children as well.

phone: +66 2 953-1005(-7)

address: 499/50 Viphavadi Rangsit Rd

Five floors house a collection of hundreds of pieces of painting and sculpture illustrating the development of Thai art since Western art concepts were introduced. There are also special collections on European Victorian era painters as well as Chinese and Japanese artwork.

Philatelic Museum

phone: +66 2 271-2439

address: 2F, Metropolitan Postal Bureau, 2 Phahonyothin Rd

This museum displays the history of the Thai postal service and the development of Thai stamps throughout history. The first Thai stamps were issued during the reign of King Rama V in the late nineteenth-century. Also on display are stamps from other countries that are a member of the Universal Postal Union. There is a library with books about stamps, and you can buy stamps at the ground floor of the building. Next to the museum is a room that looks and acts like a post office of the past. In front of the building you'll find Thai and foreign postal boxes from various periods.

Royal Thai Air Force Museum

phone: +66 2 534-1853

address: 171 Phahonyothin Rd

An oddball collection of planes and helicopters ranging from WW1 era biplanes to a JAS Gripen jet fighter with some being the last of their kind. You can get inside some exhibits. English signage has improved over the years and now narrates also RTAF history. There is a gift shop and a canteen serving very cheap Thai food.

The State Railway Hall of Fame

phone: +66 8 1615-5776

address: Kamphaeng Phet 3 Rd

This is a privately-run railway museum with steam engines, train models and miniature trains on display that show the history of Thai railways since the late nineteenth-century. The museum has been established by Sanpasiri Viryasiri in 1990, and is now managed by his son, Chulsiri Viryasiri. He runs it with full dedication and on purpose the whole project is solely paid for with donations. The future of the museum hangs in the balance, as the State Railway of Thailand is trying to reclaim the land in order to turn it into a public dog park.
Parks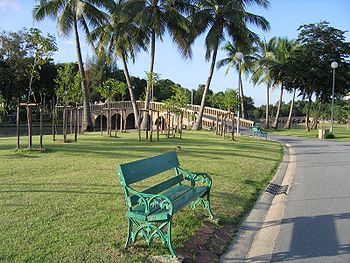 Chatuchak Park

phone: +66 2 272-4575

address: Phahonyothin Rd

Chatuchak Park is one of the older public parks in Bangkok, located on land that was donated by the State Railway of Thailand in 1975. The construction of the park took five years and was completed in 1980. The park basically is a long strip of green land right beside Phahonyothin Road. It is surrounded by an artificial lake that runs along the park with many bridges crossing it. There are nine pieces of ASEAN sculptures that enhance the character of the park.

Queen Sirikit Park

address: Kamphaeng Phet 2 Rd

This park was built to commemorate the 60th birthday anniversary of HM Queen Sirikit in 1992. A big pool in the park contains three fountains and a fine collection of both Thai and foreign lotuses.

Wachirabenchatat Park

address: Kamphaeng Phet 3 Rd

This large park used to be the golf course of the State Railway of Thailand. Bicycle rental, paid parking and eating possibilities are outside the northern entrance of the park. It has a large kids playgrounds in the middle, as well as a kids pool and sports facilities.
Do
phone: +66 2 421-6606

address: 234/2 Phahonyothin Rd

Another branch of the Major Cineplex line of cinemas. The ticket office is on the second floor, the movies play at the fifth and sixth floors. It is a large cinema with all the new Hollywood releases. Thai movies are also showed and are subtitled in English.
Learn
phone: +66 2 561-1404

address: 8/91 Ngam Wongwan Rd

Participants will get to learn and enjoy the cooking lessons with genuine and traditional Thai recipes which are properly and accurately transferred together with secrets, tips and tricks. Their van will pick you up from your hotel or location in Bangkok, because it's not easy to find. Instructors are fun and informative, and you get a souvenir printed photo (and one is even emailed to you). If you take the morning class, you still have the rest of the day for sightseeing.
Buy
Chatuchak Weekend Market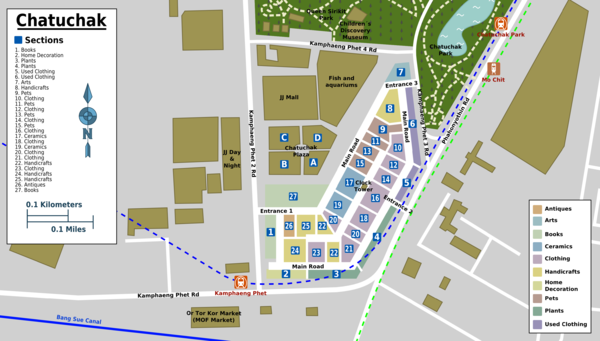 Northern Bangkok's biggest draw is the
Chatuchak Weekend Market
(จตุจักร, also "Jatujak" or even "JJ", Sa-Su 09:00-18:00, +66 2 272-4441), an incredibly vast, 35-acre indoor and outdoor market that has more than 8,000 vendors selling anything and everything under the sun. To put that number in perspective, if you browsed every stall one minute each, non-stop for eight hours on every Saturday and Sunday, it would take you around two months to visit them all! A good rule of thumb is to buy immediately if you spot something interesting, as you will never find that same stall again.
After World War II, the market was established around
Sanam Luang
in
Rattanakosin
, but when it got out of hand, it was moved to the north of Bangkok in 1978. Now it has 200,000 visitors a day who together spend around 30 million baht! Chatuchak has a fairly good mix of local residents and foreign tourists. It started out as a market for cheap bargains, but over the years has also become a haven for specialist shops that charge a little more.
Getting there is easy, just go to
Mo Chit
station by Skytrain or get off at
Kamphaeng Phet
station by metro (Chatuchak Park MRT station is also an option, but Kamphaeng Phet station immediately drops you off at the southwestern most interesting part of the market). The market is only opened on Saturdays and Sundays, and opens at 09:00, so get there early to beat the crowds and the heat. The market officially closes at 18:00, but slowly becomes less interesting after 16:00. Keep an eye on your belongings here as pickpockets work in the crowds, and avoid Chatuchak on rainy days as the roofs and drains here aren't quite up to a tropical downpour.
You can imagine that orientation here is a world of it its own; the only recognisable landmark is the
Clock Tower
in the middle of the complex, so you might want to meet there in case you get lost. In theory, the market is divided into 26 numbered sections depending on types of goods sold, but in practice you'll quickly get lost in its maze of 69 sois and dozens of other roads. For an extra detailed map of Chatuchak you can buy
Nancy Chandler's Map of Bangkok
at
Teak House Art
in section 2 to help you better navigate around the area.
Just describing what's on sale could fill a whole page. Giving an extensive description of all sections is nearly impossible, but a rough grouping into 10 categories can be made. These groupings should only be used as a rough guideline, as the goods sold overlap between sections and some sections are hard to even characterise at all; especially section 2 is a mixed bag with products as diverse as home decoration, used clothing, furniture, handicrafts and plants. The following grouping can be made:
Antiques (section 26)
Arts (section 7)
Books (section 1 and 27)
Ceramics (section 17 and 19)
Clothing (section 10, 12, 14, 16, 18, 20, 21 and 23)
Handicrafts (section 8, 22, 24 and 25)
Home decoration (section 2)
Pets (section 9, 11, 13 and 15)
Plants (section 3 and 4)
Used clothing (sections 5 and 6)
The
pets section
has a cute appearance with lots of puppies and bunnies on sale, but is particularly controversial, as many of these shops are a front for the trade of protected (and even endangered) animals under the counter. Most of these animals are smuggled in from other countries in the region, and Chatuchak serves as a hub for private animal collectors and others interested in exotic hornbills, snakes, turtles or anything else you could think of. These practices are not as visible as they used to be, following a number of crackdowns. A single crackdown in 2003 found 5,000 illegal exotic animals on sale at the market, though often only the deal is negotiated here with the handover done elsewhere. If you don't want to see crocodiles on sale in small cages or see live cockfights take place, you might want to skip the pets section.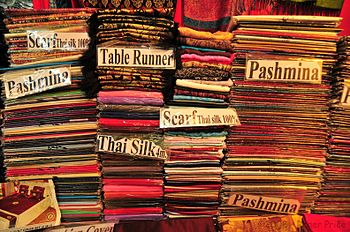 Chatuchak is especially a good place for buying all kinds of traditional Thai handicrafts, silk and antiques. A lot of these stores are congregated in the southwestern part with prices are much lower than in
Silom
.
Haggling
is expected for every small item you buy, but generally you won't get more than 150 baht off the price. Antiques shopping is fun, but pretty much all on sale are fakes, as genuine antiques require a permit to be taken out of the country.
The area around section 27 is good for daily necessities. There are toilets, a smoking area, several ATMs and you can change money there. Food stalls are abound, they are lined up along the western, southern and eastern side of the main road. Expect the usual Thai dishes such as pad thai and Isaan food.
Meanwhile, other entrepreneurs have tried to cash in on the hype and opened their own markets surrounding the Chatuchak Weekend Market:
Chatuchak PlazaThe two big downsides of the Chatuchak Weekend Market is that the heat is unbearable at times and that it's only opened in weekends. Chatuchak Plaza seeks to combat these complaints: it gives a similar experience as the Chatuchak Weekend Market, but is open every day of the week and is fully air-conditioned. It does a fairly good job, but when walking here you start to miss the chaos of the real thing.

JJ Day & Night

phone: +66 2 618-4442

address: Kamphaeng Phet 2 Rd

A fairly large shopping mall, JJ Day and Night really lacks character. The corridors are fairly small and there's a lot of budget clothing shopping to be done. A large share of the action happens outside.

phone: +66 2 618-3333

address: 588 Kamphaeng Phet 2 Rd

This large air-conditioned shopping mall is well-developed and looks professional. Each floor has different goods on sale: the ground floor has handicrafts, paintings and home decorations; the first floor has clothing, accessories and jewellery; and the second floor has health products and a large food court.

Or Tor Kor Market

address: Kamphaeng Phet Rd

Right next to Chatuchak, far fewer tourists make it to the best place in Bangkok to buy high-quality plants and food produce straight off the farm. Prices are a bit higher than at small neighbourhood markets, because Or Tor Kor is cleaner and its products are better quality. There's also a food market that is definitely worth a visit.
Eat
Northern Bangkok's hippest place to eat is the area around Phahonyothin Soi 7, better known as
Soi Ari
(or
Aree
). More restaurants can be found in the nearby Rama VI Soi 30, which is also known as
Soi Ari Samphan
. Many musicians and artists migrated into this neighbourhood and the bars and restaurants cater to this audience. Just off Ari BTS station, these busy streets are divided into their own sois, with Ari Soi 1 featuring a bustling market packed with food stalls and the trendier/more expensive joints around Soi 2 and 3.
Budget
There are a variety of street food vendors at Phahonyothin Soi 7 (Soi Ari). Just off the BTS and around the corner on Soi Ari are a multitude of street stalls selling some of Bangkok's best street food, from Chinese-style wonton noodles, Isaan specialities such as som tam, larb, gai yaang, as well as pad thai, Thai deserts and stands that can whip up basically the entire repertoire of Thai cuisine, all for around 20-30 baht per dish.
Banana Family Park/Coffee Garden

phone: +66 2 279-7838

address: 17/1 Ari Soi 1

The Banana Family Park! Woohoo! It sounds like a theme park for kids, but don't let the name misguide you. It is actually a complex with a cheap food court, gym, yoga classes, language schools, beauty salon, and evening seminars on Buddhism. This is one of the best vegetarian-only dining options in Bangkok, and it's unbelievably cheap too. Some of the food is pre-cooked and in bain-maries, some is cooked while you wait. At the previous location at Baan Suan Pai, there was Thai fruit ice cream, made from passion fruit, lemon grass, and lotus root. Maybe still the case here. You can relax with a hot cup of caffeine at the Coffee Garden that's part of the complex. Best to go at lunch time because dinner is just what's leftover from lunch.

Crispy Pork and Beef Noodle

address: Phahonyothin Rd

Two neighbouring, simple and locally very popular eateries, recently relocated from inside the Ari sois. They have dedicated lunch customers seven days a week. Mains just under 50 baht, they have very simple but delicious menus, but only in Thai. Pointing will do.

Deli House

address: Phahonyothin Soi 7

You might not expect it in this neighbourhood, but a bakery with fresh and delicious European-style pastries. They also have other European snacks, such as German sausages.

Jud Leeo

phone: +66 2 937-0197

address: 557 P-4 Phahonyothin Soi 19

Exceptional Thai curries and other dishes with a friendly, English speaking staff. Shady trees and a fairly subdued side soi make evening outside dining pleasant.

Khrob Khreung

phone: +66 2 278-3279

address: 5-7 Ari Samphan Soi 10

Famous for its kuay tiow yam bok rice noodles with fresh vegetables, topped with pork or shrimp (30 baht). Also serves up Thai-Chinese dim sum, muu stek pork satay with peanut sauce, and a wide range of other side dishes. No English sign or menu, but pointing should do the trick.

Pad Thai Aree

phone: +66 2 270-1654

This small, unassuming shophouse, was until recently on Soi 7 but has now moved to the other side of Phahonyothin due to construction of a new condominium in the area. It is owned by a friend of the royal family (note the picture of the princess on the wall) and serves up some delectable pad Thai (and many variations) at slightly more than street stall prices.

Pathe

phone: +66 2 938-4995

address: 1130/6-7 Phahonyothin Rd

Pathe is the Thai equivalent of a 1950s-era American-style diner. The atmosphere is great with a classic record player providing the music. There are pictures on the wall of music stars and performers of the 1950-70s. Serves up some tasty food as well.

Thanee Khao Moo Daeng

phone: +66 2 278-3987

address: 1161-3 Soi Phahonyothin 5 Alley Phahonyothin Rd

A no-frills eatery serving the classic Thai-Chinese dish Khao Moo Daeng, with some of the crispiest pork belly in Bangkok. A popular lunch spot for the local office workers, but does not see many tourists, so don't expect any English from the staff. That being said, their menu has pictures you can point to so staff know what you want.

Wake Up Cafe

address: Phahonyothin Soi 9

This is a surprising little oasis of greenery (outside) and clean white lines (inside). Mains around 50 baht, a fancy cup of coffee around the same amount.
Mid-range
Baan Mae Yui

phone: +66 2 619-9952

address: 53/1 Ari Samphan Soi 1

Tucked away in a quiet, narrow residential soi, this tiny gem has become a neighbourhood favourite. You may have to wait for a seat on weekends! It features a small menu of home-style Thai favourites, including some more old-fashioned dishes that are harder to find these days, and there's a daily specials menu. Dinner menu and Sunday lunch also features some quite good Western dishes, such as steaks, pastas, and roasts. The bakery products and homemade ice creams are worth bringing home.

Baan Puengchom

phone: +66 2 279-4204

address: 38/1 Phahonyothin Soi 7

In a big garden with some rabbits, it is possible to eat inside (with air-conditioning) or outside. It is often full, so if you don't make a reservation, you'll probably be eating outdoors. The surroundings couldn't be better, the food is fine, and prices are decent.

Bale

phone: +66 2 938-1518(-9)

address: 67/19 Lat Phrao Soi 35

Just inside the soi, this restaurant is a huge refurbished house and quite popular with young professionals. It features a full band with 8 violinists, wine glass chandelier, and several international beers.

Basilico

phone: +66 2 619-8188

address: Baan Yosawadi Bldg, 34 Phahonyothin Soi 7

The third branch of this Italian food franchise. It has especially enticing pizzas and a good selection of decently priced wines (glass and bottle) to help you get rid of that leftover Chang taste from the afternoon. Try the Rianata.

Lao Lao

phone: +66 2 271-4260

address: 1271/6-7 Phahonyothin Rd

Chinese-style seafood restaurant that is always bustling well into the wee hours of night. Not much on atmosphere or service, but the crowds can attest that the food is terrific and the price is right. English menus are available, but as it is a very local restaurant, it may be helpful to go with a Thai friend.

Pla Dip

phone: +66 2 279-8185

address: 1/1 Rama VI Soi 30

Surprisingly chic setting and menu, drawing in a constant crowd of Bangkok hipsters and "Indie" music fanatics, this restaurant cum bar features live bands on weekends. It is a happening bar with a creative menu focusing on fresh fish prepared in some creative fusion styles. A bit more of a splurge for this neighbourhood, with dishes running far into the triple digits.

Suan Kularb

phone: +66 2 617-0425

address: 162 Rama VI Soi 30

An Ari neighbourhood institution, hugely popular with both neighbourhood locals and downtown dwellers in the know. Features a surprisingly vast menu of Thai and Chinese dishes, priced at approximately 80-150 baht per dish (though seafood is remarkably more expensive). The staff is not always efficient, and speaks little English, but the menu is translated and has pictures.

T-House

phone: +66 2 270-1309

address: 33 Phahonyothin Soi 5

This is a nice Vietnamese restaurant. It shares an inside courtyard with Dragon Palace, the Chinese mid-range restaurant next-door. There are parking facilities, it is clean and has a good service. Try the Saigon crab soup.
Drink
Several bars aimed at young Thais have sprung up at the
Or Tor Kor
farmer's market area, near Chatuchak. A stone's throw from the Kamphaeng Phet MRT station (exit 1) are at least 20 small pubs, bars and restaurants that operate every day of the week.
Ari Bar

phone: +66 2 279-7560

address: 36/6 Phahonyothin Soi 7

This is a simple bar that caters to those living in the area. It is a bit quirky with eclectic music and drinks. The sign actually says "Aaari babar".

Cafe Dee Dee

phone: +66 2 278-4113

address: Ari Samphan Soi 2

This is the typical cutesy coffeehouse common in Bangkok. There's a homey atmosphere as the whole place is decorated with flowers. A nice place to stop in for some coffee or Thai tea. With a pie or sandwich.

Dbaa

address: Ari Soi 2

A hip bar in the Ari neighbourhood, popular among locals.

phone: +66 2 618-7191

address: Chit Chat Club, Chok Chai 4 Soi 58

Lesla is a growing community of lesbians in Bangkok that organises events to meet each other. Every Saturday night, a weekly get-together is held in the Chit Chat Club in the Lat Phrao neighbourhood.

phone: +66 2 944-5131(-2)

address: 51/199-200 Moo 1 Khwaeng

This is the second branch of this popular German microbrewery (the first branch is at Rama III Road near Silom). It is mostly popular among upper middle-class Thais. There's good food at reasonable prices, and a good stage show with many acts and fun music. It is a stretch to find it, as it is far off from Phahonyothin Road, but the trip is worth it. Most taxis will know this place, just ask for the "Rong Beer Yereman" (German Beer Hall) and they should understand. Reservations are recommended, especially on weekends.
Sleep
There are many accommodation options within a fifteen minute drive off the old Don Mueang airport.
Budget
phone: +66 2 932-9200

address: 8/137 Moo 3, Soi Sahakon 15, Lat Phrao Soi 71

This "hostel" is not really a hostel, more like a three-star hotel. It is unbelievably hard to find as it is deep in the sois of Lat Phrao, and about 16km from Victory Monument! So budget in some money for long taxi rides. The English skills of the staff are not that good, but no wonder, as this is far off in a quiet residential neighbourhood. At least they try all they can, and are very responsible and hospitable. You get a lot of service for your money: a huge room, that is very clean, a balcony, air-con, pool, fridge, cable TV, room service, and a cheap mini bar.

phone: +66 2 619-1164

address: 68/1 Soi Phahonyothin 6

An excellent guest house run by three friendly Thai pilots; one speaks fluent English from living in the US for two years. There are en suite rooms and dorm-type rooms. It has a great backpacker vibe and cheap beer, as well as free Wi-Fi, water, kitchen facilities, and warm water showers.
Mid-range
phone: +66 2 566-1020

address: 333 Chert Wudthakas Rd

This luxury hotel is beside Don Mueang Airport and even connected to its terminal buildings by an enclosed overhead walkway. Since the opening of Suvarnabhumi Airport, the quality has gone down steadily though. While still a good hotel, breakfast, service, and rooms are less impressive than before. Three restaurants closed down and there's only one left now, and breakfast is not included by default. There's still a good pool though.

phone: +66 2 270-3344

address: 244/2-18 Pradiphat Rd

Mystic Place is a super-kitschy hotel. Each of the guest rooms has been designed by a different interior designer. Expect a full dose of clashing colours, bright plastic furniture, and colourful mood lighting.

phone: +66 2 561-0022

address: 9/9 Viphavadi Rangsit Rd

A large and pleasant hotel. Rooms are spacious, comfortable and clean. Also has an elegant lobby, nice front gardens, and a large breakfast. It is mostly useful if you're taking off from Don Mueang Airport (or maybe if you want to stay closer to Ko Kret).
Splurge
Centara Grand at Central Plaza Ladprao Bangkok

phone: +66 2 541-1234

address: 1695 Phahonyothin Rd

Far from downtown, but at least close to a convention centre, shopping centre, and easily accessed from the expressway and metro. It is probably the best digs in this part of town.
Connect

Getting online in Phahonyothin is not as easy as in other districts. Luckily, there is a free Wi-Fi hotspot available near S&P at the ground floor of the Shinawatra Tower III (1011 Viphavadi Rangsit Rd, at Phahon Yothin MRT station).

Go next