Bangkok/Ramkhamhaeng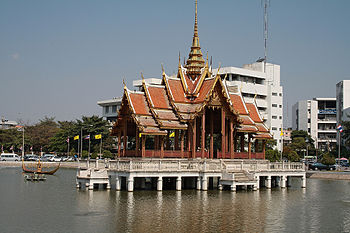 Ramkhamhaeng
(Thai: รามคำแหง) is a vast district that lies along Ramkhamhaeng Road, a major arterial road in east
Bangkok
. The area could be considered a suburb and is almost completely unknown to foreign travellers, with the notable exception of Suvarnabhumi Airport. Most venues cater to locals who have their own transport, so attractions are spread far out and it is hard to get around. Hua Mak and Bang Kapi in the southwest are the most interesting neighbourhoods, and also the easiest to navigate as the Saen Saep Express Boat runs right through them. These are lively areas with shopping malls and restaurants that cater to commuters and university students.
Understand
Eastern Bangkok is virtually synonymous with Ramkhamhaeng Road, a major traffic artery jammed every morning and evening with commuters working downtown. Rising property values in
Sukhumvit
has made this area more interesting to foreign expatriates in recent years, although seeing a
farang
is still a rare occurrence. With a total length of 18km, Ramkhamhaeng Road starts at Phetchaburi Road near
Sukhumvit
and ends in the far northeast at the junction with Suwinthawong Road (in the Min Buri neighbourhood).
The lower southwestern part is known as
Hua Mak
, a neighbourhood completely dominated by Ramkhamhaeng University. "RU", as it is commonly known, was opened in 1971 as Thailand's first open-admissions university. It has an astonishing number of students. Official statistics claim about half a million, almost all of them undergraduates. The university gives the neighbourhood its lively appearance, with many students shopping and dining at the Mall Ramkhamhaeng. Rajamangala Stadium is also be found here. Completed in 1998, it played an important role in the 1998 Asian Games and the 2007 AFC Asian Cup. It is home to Thailand's national football team.
The junction with Srinagarindra Road is known as Lam Sali intersection. Go north from here and you'll stumble upon Lat Phrao Road, which marks the beginning of a neighbourhood known as
Bang Kapi
. It is actually quite similar to Hua Mak, as everything still looks like a big grey mass of concrete, but students are outnumbered here by daily commuters. The Bangkapi Mall stole the hearts of the locals, and Thais flock to it in big numbers.
At the far eastern end of Ramkhamhaeng Road you can spot rice paddies and grazing goats and buffaloes. The road ends in
Min Buri
district which has a large Thai Muslim population with markets and mosques catering to their needs.
For foreigners, there is actually not that much to do. Attractions are few and far off, and the shopping malls are inferior to those in other districts. It can easily be skipped on any Bangkok itinerary, but then you miss out on seeing where and how most of the locals live.
You would almost forget that nearly all foreign visitors to Thailand land here at
Suvarnabhumi Airport
in the far east of the district. Development in eastern Bangkok has been relatively slow, but it is expected that the relatively recent construction of the airport will be the spur for more urban development in the area. Until now, this has at least been true for the hotel business, with many new hotels constructed at Lat Krabang Road trying to make a buck out of transferring passengers.
Get in
By boat
Bangkok and its traffic-congested commercial districts, including Ramkhamhaeng Road, are hard to navigate by car. Thus, the best way to get into the area is by boat. The
Saen Saep Express Boat
service runs on the canal of the same name, and you don't have to worry about getting stuck in traffic! The service runs about every 5-10 minutes and as the canal is exactly parallel to Ramkhamhaeng Road with many stops along that road.
It is a fast and inexpensive way of transport as a single trip costs about 10-20 baht, depending on distance travelled. The most important stops are
The Mall Ram
(in Hua Mak) and
The Mall Bangkapi
, both of which are served by the NIDA Line (that starts in Pratunam and goes all the way northeast to Wat Sriboonreung). The route is served by 100 boats of 40-50 seats, and operates from 05:30-20:30 daily. Most piers have English signs up, but be wary, as The Mall Ram does not have any sign at all, and from the boat it is not clear that you have reached the mall!
Be wary of sitting on the outer sides of the boat as polluted water from the canal sometimes spills over on board. If you sit at the gunwale, next to your seat may be a halyard used to raise the plastic sheet keeping the canal water and rain outside; it is
your
duty to raise and lower it. It is better to sit near the prow to avoid noxious fumes from the engine. Be careful when entering and exiting the boats as "safety first" does not seem to apply for the crew here. During rush hour, you might have to fight your way in the boat as too many people are trying to get on. Another minor annoyance is the noisy atmosphere during the ride. Don't expect a romantic experience.
By public transit
Opened in August 2010, the
Airport Rail Link
is an alternative way of getting in. The City Line of that service has a stop at
Ramkhamhaeng
, which is at the extreme southwest of the district at the beginning of Ramkhamhaeng Road. There is a direct service from Suvarnabhumi Airport in the east, as well as from Phaya Thai, Ratchaprarop and Makkasan stations in the west.
By bus
Getting to Ramkhamhaeng by bus is very troublesome, but at least its a cheap way of doing some exploring. Expect a
long
ride though, and ask a local where to get off as you easily get lost in traffic. An important route is
Bus 40
, that starts at
Hualamphong Train Station
and then passes Rama IV Road, Phaya Thai Road,
Siam Square
,
Sukhumvit
, Pridi Phanomyong Road, and Ramkhamhaeng Road with
The Mall Ramkhamhaeng
as its final destination.
By songthaew
There are Songthaews (the red covered pickup trucks that have two benches facing each other on the inside, holding 10-15 people) that run along Ramkhamhaeng Soi 24. This road goes around Ramkhamhaeng University and runs mostly parallel to the main Ramkhamhaeng road. They cost 7 baht to ride. You pay when you get out of the truck at the end.
Several of the routes start/end near the beginning of Soi 24 (down the road across from Big C), at least one route keeps going to Srinagardindra Road. There is one Songthaew route that does not go to the same start point, instead it goes south on Soi Thawon Thawat and east along Phatthanakan Road.
Get around
Getting around this vast district is sure to give you a headache. The locals use their own transport for attractions that lie too far off a boat pier or ARL station. Of course, metered taxis are abundant, but expect long rides and high fares (especially during rush hour). Buses are cheaper, but without a decent bus map, you are sure to get lost. Bus 58 and Bus 113 from Makkasan Station drive over Phetchaburi Road and then head for Ramkhamhaeng Road. Both are useful bus routes for getting around as they travel all along Ramkhamhaeng Road from Hua Mak in the southwest to Min Buri in the northeast (and back).

See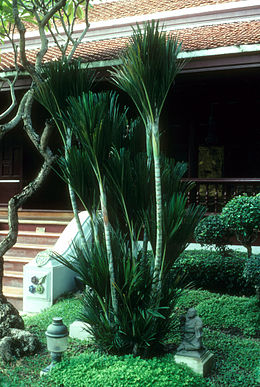 Museum of Buddhism Art

phone: +66 2 321-0048(-50)

address: 104 Phattanakan Soi 40

This museum features a large private collection of Buddha images. It's operated by the Foundation of Thai Arts Preservation. The exhibition focuses on the art of Buddha images in conjunction with Thai history. An international presentation comprising light, sound (chanting), and scent (incense) explains the information to the visitor in an air conditioned room. Besides Buddha images and artefacts of different periods, there is also an area allocated to be a shrine and a museum dedicated to the Goddess of Mercy and other major gods of various beliefs in Asia.

Prasart Museum

phone: +66 2 379-3601

address: 9 Soi Krungthep Kritha 8 Yaek 14

This eclectic museum sprawls across manicured gardens, pavilions, shrines, chapels, and even an exact replica of the teak Red Palace (built by King Rama I for his sister). On display are art and antiques from all eras of Thai history, as well books and manuscripts, and replicas of various prominent Thai architectural works. Mr. Prasart is usually around, and he and his staff will make sure you have a nice guided tour of the place.

phone: +66 2 328-1395

address: Udom Suk Rd

Built in 1987 to celebrate the 60th birthday of the former king, HM Bhumibol Adulyadej, this is the largest public park of Bangkok. It consists of six zones: the homage to His Majesty, the botanical garden, the Trapangkaew Reservoir, the Rommaniya Garden, the Sanam Rasdara and the Water Garden. It is very very deep down the sois of Sukhumvit, so its best to take a taxi to find it.

Wat Thep Lila

address: Ramkhamhaeng Soi 41

One of the few temples in the Ramkhamhaeng area, this is a local temple that shows how the local inhabitants practice Buddhism. It is a big compound, which is fairly lively with people praying and paying respect to the Buddha statues. It was built in 1842 during the reign of King Nangklao (King Rama III). At that time, the temple was known as Wat Tuek or Wat Tuek Khlong Ton. Saen Saep Canal was dug for transporting troops and weapons to Cambodia. During excavations Pang Lila, a 1.2 m tall Sukhothai-style walking Buddha image, was found here. The temple was renamed Wat Theplila during the reign of King Chulalongkorn.
Do
Buy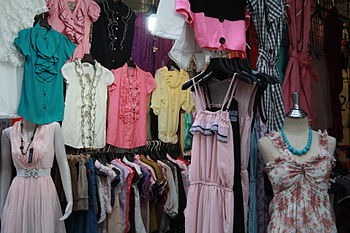 There are plenty of shopping malls in the area, and these are your best bet for getting daily necessities. If you want to buy cheap, there is an interesting
street market
running kilometres north along Ramkhamhaeng Road from The Mall Ramkhamhaeng 3. Many of the stalls only set up around 18:00, so the area is at its liveliest around 19:00. Expect endless stalls of clothes and accessories, mostly visited by local (female) commuters.
Eat
If you're looking for a quick snack, nearly all the sois of lower Ramkhamhaeng have carts serving simple street food for 50 baht or less. Aimed at the locals, prices at these street markets are remarkably cheaper than in common tourist spots. All three
The Mall
shopping centres have a big selection of chain restaurants in all shapes and sizes.
Chlorophyll Bar and Grill

phone: +66 8 707-0268

address: 82 Lat Phrao Soi 64

This Bali-inspired restaurant features outdoor dining in a quaint garden setting. They serve Thai and Japanese fare with an occasional musician at the weekends.

Min Buri Market

address: Sihaburanukit Soi 15/1

A local fresh market that has many stalls selling Thai Muslim food at street food prices either onto plates or as takeaway.

Na Phra Ram 9 Market

address: Ramkhamhaeng Rd

Just a simple street food market at the south end of Ramkhamhaeng Road. It seems to be at its best during evening commute time, when many locals are picking up snacks at the hawker stalls. You can get many varieties of satay, fish, rice, and many other things.

phone: +66 2 716-7999

address: Corporate Center 999 Bldg, 999/1-4 Rama IX Rd

A new community mall clustered with a selection of restaurants. You can enjoy Thai, Chinese, or Japanese food here, as well as steaks, pastas or American fast food. If you just want a drink, Starbucks is present alongside other coffee shops and tea houses.

Power Food Center

phone: +66 2 718-6000

address: GF, Central Power Center Huamark, 177 Ramkhamhaeng Rd

This is the food court of Central Power Center shopping mall, and it does a really good job at it. There are about a dozen separate counters for different kinds of food, including a Japanese, a Thai, and a European food counter and a beverages counter. It works with a coupon system, so first buy coupons at the booth. Then you can spend these at any of the counters surrounding the central seating area. Recommended for those on a budget.

phone: +66 2 377-7322

address: 3331/2 Ramkhamhaeng Rd

Touted as the largest halal restaurant in Thailand. They serve American steaks, European steaks, Italian food, Thai food, and (from 16:00 on) a Korean-style meat buffet.
Drink
There are plenty of coffee chains at the malls, including a
Starbucks
at The Mall Bangkapi. Some gay bars have congregated at
Ramkhamhaeng Soi 89/2
near Lam Sali intersection. They are popular among Ramkhamhaeng University students.
phone: +66 2 0220 8025

address: 1178 Pattanakarn Road, Kwaeng Suan Luang, Khet Suan Luang

Thailand's only pub that brews its own beer. It has a good atmosphere that's nice for watching sports, and is targeted at ex-pats and tourists. Happy hour every day at 16:00-19:00 and 11:00-01:00. "Quiz night" every Tuesday night at 20:00. Free WiFi. HAS MOVED. NO LONGER ON SUKHUMVIT ROAD
Sleep
The west end of Ramkhamhaeng Road has lately become more popular among expatriates, as accommodation is cheaper than in
Sukhumvit
and
Siam Square
, while the Saen Saep Express Boat brings you to those districts in around 20 minutes. But further off it is still a long taxi ride to the city centre.
Connect
Most hotels have free Wi-Fi, but check before booking. Getting online on the street is harder, but you can try the shopping malls. There's a
Starbucks
with paid Wi-Fi at
The Mall Bangkapi
. If you don't want to pay, there's free Wi-Fi at
Assumption University
in Ramkhamhaeng Soi 16 (Hua Mak). If you happen to be far out into the 'burbs,
Fashion Island
also has free Wi-Fi (but you need to register for a username and password).
Follow the instructions from the manual at their website
.
Go next
If you keep driving on Ramkhamhaeng Road and continue on Suwinthawong Road, eventually you will end up in
Chachoengsao
. Here you can find the large
Wat Sothon
with a busy market in front of it (especially fun in the morning). In the evening, the market magically disappears, leaving no trace of its existence.