Bangkok/Rattanakosin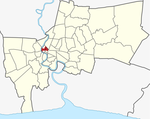 Rattanakosin
(Thai: รัตนโกสินทร์), also known as Rattanakosin Island, is the historic centre of
Bangkok
, where most of Bangkok's "must see" sights can be found, including the
Grand Palace
and
Wat Pho
. Rattanakosin was established in 1782 when King Rama I moved the Siamese capital across the river from
Thonburi
, starting a period in Thai history known as the Rattanakosin Period. Spending a few days in this remarkable district does not just show you dozens of traditional Buddhist temples, palaces, museums, parks and monuments, but also gives you a better understanding of the culture, history and religion of the Thai people.
Understand
History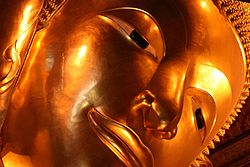 The Rattanakosin Kingdom was the fourth Thai Kingdom, after the
Sukhothai
,
Ayutthaya
and
Thonburi
Kingdoms. When the powerful Ayutthaya Kingdom was destroyed and burnt by Burmese armies in 1767, a short period of chaos and Burmese occupation ensued in the lands of Siam. The resistance was led by General Taksin, a capable military leader who defeated the Burmese in one year and established the new Siamese capital in Thonburi, across the Chao Phraya River from Rattanakosin. Instead of just re-conquering Siam, he also took hold of western Cambodia, almost the entire Malay peninsula, Lanna (modern
Northern Thailand
), and Laos.
Despite these successes, a number of issues arose. In 1779 King Taksin had proclaimed himself a
sotapanna
(or divine figure), striking against the powerful Buddhist monks. The state was in economic turmoil, with rampant corruption and famine. Many Chinese factions were discontented with the current leadership and King Taksin tried to restore order by using harsh punishments and purges. A popular general under King Taksin was General Phraya Chakri, who had successfully managed the invasion of Cambodia. While managing his armed forces in Cambodia, a rebellion throttled Thonburi, forcing King Taksin to step down. King Taksin was secretly executed. When Phraya Chakri came back from Cambodia, he was offered the throne, becoming King Rama I, the first King of the Chakri dynasty that started the Rattanakosin Period.
One of his first actions was to move the capital across the river, from Thonburi to Rattanakosin, as he believed that Rattanakosin had a more strategic location. He turned it into an artificial island with the Chao Phraya River in the west and man-made canals in the east. Chinese merchants were living in Rattanakosin at that time, but they were relocated outside of the new city walls to the area now known as
Yaowarat
. King Rama I restored the social and political system of the Ayutthaya Period, even imitating that city's layout and architecture in Rattanakosin — including the Grand Palace, which building plan closely resembled that of the Grand Palace in Ayutthaya. Even the bricks from the ruins in Ayutthaya were moved downstream to be incorporated into the new capital's grand scheme.
Orientation
As the district was the result of careful 18th century urban planning, orientation in Rattanakosin is fairly straightforward. Like Ayutthaya, the focal point of the area is
Sanam Luang
, a wide-open royal field and the site of many ceremonies and festivals associated with the royal family. Surrounding this field are Rattanakosin's prime sights, the most important of which is the
Grand Palace
. Just as in Ayutthaya, part of its compound is dedicated to a royal temple,
Wat Phra Kaeo
, the most sacred temple of Thailand, home to the Emerald Buddha. South of the Grand Palace is
Wat Pho
, the temple that houses a giant reclining Buddha statue. It's best to spend a full day taking in these shimmering beauties. The Chao Phraya River flows on the west side of the district, and most foreign visitors use the express boat to hop from place to place. It's also possible to walk between the sights, but carry a bottle of water and dress lightly for the weather.
Khao San Road
is in every way an integral part of Rattanakosin, but is separately covered as it turned into a laid-back hippy-style party area that is quite different from the grandeur of Rattanakosin proper. Walking from Khao San Rd to the Grand Palace takes about 20 minutes if you don't make any stops on the way.
Bangkok Tourist Information Office

phone: +66 2 225-7612(-4)

address: 17/1 Phra Athit Rd

It's a good idea to stop by the tourist office for some maps of the city. You can also get hotel and dining addresses here or ask any other questions you may have.
Get in
Getting into Rattanakosin used to be quite a hassle, as the Skytrain and MRT systems did not cover the area until 2019, when the MRT's
Sanam Chai Station
was opened. Other options are to either take a taxi, or use the boats.
By boat
The best way to get in Rattanakosin is by
Chao Phraya Express Boat
. Besides a relatively quick and convenient way of travel, it is also much more enjoyable than looking at cars stuck in traffic while inhaling exhaust gases. The wind from the river is a relaxed way to cool down from tropical temperatures, too.
If you're coming from the city centre, you can use the Skytrain to
Saphan Taksin
station and transfer onto the express boat. A single trip from Saphan Taksin to
Tha Chang
(near the Grand Palace) takes about 30 minutes and costs 15 baht. Other notable stops include
Tha Tien
(for Wat Pho),
Phra Arthit
(for
Khao San Road
) and
Thewet
(for
Dusit
). It is best to take the orange flag boats, as yellow flag boats miss out on many important stops.
From Tha Tien (Wat Pho), you can take a ferry shuttle to
Wat Arun
, across the river at the
Thonburi
side. Ferries leave every 10 minutes for just 3 baht. As many students from the universities live across the river in Thonburi, there are plenty of other commuter ferries that cross the river. Tha Chang has ferries to Wat Rakung and Wang Lang (Siriraj), Tha Phra Chan has ferries to Wang Lang (Siriraj), Thonburi Railway and Phra Pin Klao Bridge, and Thewet has a ferry to Wat Kharubodj.
Eastern Rattanakosin (roughly the area around the Golden Mount) is served by the Golden Mount Line of the
Saen Saep Express Boat
service. If you happen to be in that area, using the canal boat is the quickest way to get to
Siam Square
,
Sukhumvit
and
Ramkhamhaeng
. The stop closest to the Golden Mount is
Panfa Leelard
, from which there are direct services to
Pratunam
. There you could switch onto the NIDA Line, that runs from Pratunam all the way northeast to
Wat Sriboonreung
in Ramkhamhaeng. A single trip from Panfa Leelard to Pratunam takes about 20 minutes and costs 12 baht. On the trip, you will pass the stops
Talad Bobae
(for the garment market of the same name),
Sapan Charoenpol
,
Baan Krua Nua
(for Jim Thompson's House),
Sapan Hua Chang
(for Siam Square) and
Pratunam
(for Pratunam and Ratchaprasong).
By bus
While Rattanakosin is not as chaotic as other districts, bus travel is still not a good idea. However, as public transport options are limited, going by bus can be the fastest way to get to or from
Siam Square
or
Silom
(though this is heavily depending on traffic). The road around Sanam Luang is one of the city's bus hubs, but as it is a circular road, it is quite difficult to find out where the bus is going. It is better to get on the bus in front of Tha Chang Pier (near the Grand Palace).
Ordinary bus
47
starts at Tha Tien Pier (near Wat Pho) and then passes Tha Chang Pier, Ratchadamnoen Klang Road (for
Khao San Road
), Lan Luang Road, Chakkaphatdi Phong Road, Bamrung Muang Road and finally reaches MBK Center (for
Siam Square
). It then continues its way along Phaya Thai Road and Rama IV Road before reaching the intersection with
Silom Road
.
Another option is ordinary and air-conditioned bus
25
, which starts at Tha Chang and then continues to
Hualamphong Train Station
via Charoen Krung Road (in opposite direction it will skip Charoen Krung Road and take
Yaowarat Road
instead). Then it continues its way along Rama IV Road passing Queen Saovabha Institute Snake Farm and the
Silom Road
intersection. From there, it heads north through Ratchadamri Road to Ratchaprasong intersection (for
Siam Square
), from which it heads a long way east along Phloen Chit Road and
Sukhumvit Road
.
See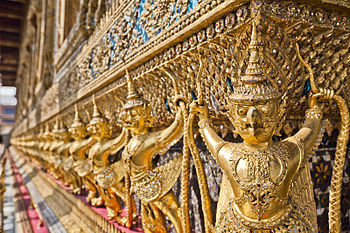 A trip to Bangkok is not complete without a visit to some of Rattanakosin's prime sights. Bangkok counts hundreds of Buddhist temples, known in Thai as "wats", with the most important ones in Rattanakosin. Temples are an essential part of the daily life of most Thais. Most of them have impressive architecture and much devotion has been given to the decoration. Every temple is unique — some of them are beautifully decorated with thousands of coloured glass pieces, while others portray massive Buddha statues of pure gold.
You could spend weeks visiting temples in Bangkok, but as most visitors only spend a couple of days in the city, it is important to choose the ones that are especially beautiful, sacred and culturally significant. The
Grand Palace
is not just a palace, but also includes
Wat Phra Kaew
, the royal temple and most sacred temple in Thailand. It is a must-see for every visitor of the city, and the palace grounds are so large that you have to spend at least a full morning walking through the complex. Beside the Grand Palace, most travellers visit
Wat Pho
, one of the largest reclining Buddha statues in the world, and
Wat Arun
, a large prang that is beautifully decorated with blue and white ceramics (it is at the
Thonburi
side of the river, but is easily visited using the ferry from Tha Tien Pier). These top three attractions are conveniently clustered right next to each other. Other prominent temples are
Wat Saket and the Golden Mount
, built on an artificial hill with a nice view over the city, and
Wat Suthat and the Giant Swing
at the eastern side of Rattanakosin.
Wat Ratchanaddaram
,
Wat Thep Thida Ram
,
Wat Ratchabophit
and
Wat Ratchapradit
could be considered off the beaten path and give a more authentic experience.
For all temples you must be dressed appropriately (no shorts, no flipflops, no sleeveless shirts) or risk being denied entry, although some places will offer rental parachute pants for a small (refundable) deposit. Trousers can be bought for 250-300 baht in front of the Palace; outside the Temple area, you get them for 100 baht. Tour guides offer their service and may include the trousers. The temples play an important role in Buddhist traditions. Monks wake up early in the morning and perform the daily alms ritual between 05:00 and 07:00 (called
tak bat
ตักบาตร). Monks line up in front of the temple accepting donations from the people, most of them food and daily necessities such as rice, soap, candles, soda cans and even toilet paper. By giving, Buddhists believe that these good deeds will bring luck later in life or in the life beyond. The best temple to experience the alms ceremony is
Wat Benchamabophit
in
Dusit
. At one of the Buddhist markets, you can buy a bucket filled with products to give to the monks (see
Buy
).
Whether you walk or take a tuk-tuk,
don't listen to anyone telling you the temples are closed
for a "Buddhist holiday", that they're only open in the afternoon because the monks are praying, or anything else along those lines. While it's true that opening times of temples and palaces can vary due to ceremonies and state occasions, you should always check it out yourself. These seemingly "helpful pedestrians" are in fact scammers, trying to get you into a full-day tuk-tuk ride around the city, where they'll try to trick you into buying gems, souvenirs and other junk.
It's worth giving the Grand Palace and Wat Pho together a full day since the heat and glare are very wearing and there is a lot to take in.
Grand Palace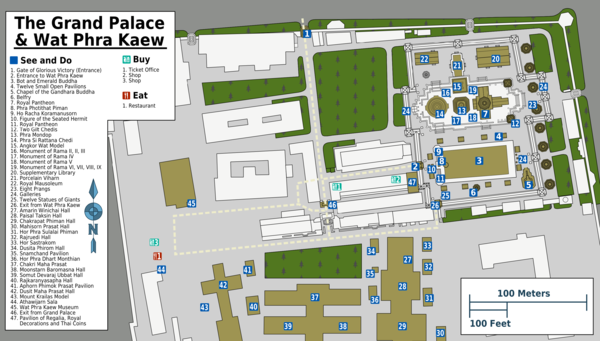 Bangkok's most popular tourist attraction, the
phone: +66 2 623-5500
, is the official residence of the King, and contains within its grounds
Wat Phra Kaew
(also known as the Temple of the Emerald Buddha). The palace was built when Bangkok was established by King Rama I, and has been expanded many times since. It covers a wide range of architectural styles, ranging from the pure Ayutthayan style of the temples to a blend of Thai and Western styles for later structures. While the King no longer lives here, a large part of the complex is used for royal residences and ceremonies and is off-limits to visitors.
Combined entry is a steep 500 baht, plus an optional 200 baht for a two-hour audio guide; Thais get in for free. Your ticket includes entry into the
Dusit Palace
in
Dusit
(valid for seven days). The Grand Palace is open
every day
from 08:30 to 16:30, with the last tickets sold at 15:30; it cannot be said enough, do
not
believe any scammers who attempt to convince you otherwise. It is best to attend the Grand Palace during weekdays, as some throne halls are closed in the weekends for ceremonial purposes. A strict
dress code
applies for visitors to the palace. Ladies must cover their upper arms and legs down to the thigh, while men must wear long trousers and at least a t-shirt. Sarongs can be borrowed for free at the entrance, but you must leave a 200 baht deposit. On some holidays the dressing room may be closed, in which case you can rent clothes across the street for a fee. Thais seem to follow even tighter dressing regulations, such as wearing black during royal funeral ceremonies, but they understand it when foreigners do not follow those.
It can get
very
crowded (and hot) once the tour buses start to roll in, so getting an early start is a good idea. There are free English tours four times a day, just look for the sign after you pass the ticket gate. The palace grounds can easily be explored on your own though. Visitors are corralled along a set route. First you'll walk through Wat Phra Kaeo with the palace buildings coming right after.
Wat Phra Kaew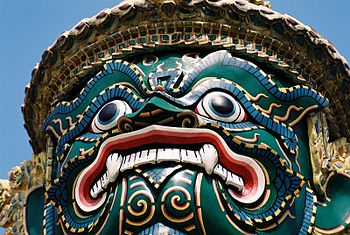 , formally
Wat Phra Si Rattana Satsadaram
(วัดพระศรีรัตนศาสดารามหรือวัดพระแก้ว), is the most sacred Buddhist temple of Thailand. While construction of the temple was completed in 1784, it has a sanitised appearance as if it was built only yesterday. The temple houses a diminutive jade statue, the
Emerald Buddha
(พระแก้วมรกต), of uncertain but long provenance and revered as the symbol of the Thai state. According to the legend, it was created in India in 43 BC after which it was taken to Sri Lanka, Cambodia and eventually Siam. Art historians, however, describe the statue as belonging to the Chiang Saen style of the 15th century, concluding it must have come from Lanna (current
Northern Thailand
). It was taken to
Luang Prabang
in the current state of
Laos
in 1552, and moved to
Vientiane
twelve years later. In 1779, in the Thonburi Period, General Chao Phraya Chakri captured Vientiane and returned the Emerald Buddha to Siam. When he was crowned as King Rama I, he moved the Emerald Buddha to its current location in Rattanakosin. Visitors line up around the building for a chance to walk by the Emerald Buddha with offerings of lilies and incense. You must take off your shoes before entering the bot, and taking pictures inside is not allowed; violators will have their photo equipment confiscated. Also show respect by sitting with your feet pointing away from the Buddha. The Buddha's clothing is changed three times a year depending on the season; you can see the other outfits in the Pavilion of Regalia, Royal Decorations and Thai Coins after the tour.
Continuing the tour, the temple consists of a series of courtyards full of chedis and buildings all in different sizes and colours. Some buildings are in gold, some are decorated with broken porcelain and there are smaller wats containing Buddhas of various poses and sizes. Also check out the enormous mural of the Ramayana that decorates the exterior wall. Other interesting structures include the group of eight prang towers, the Sri-Lankan style Phra Si Rattana Chedi, a model of Angkor Wat, the Royal Pantheon, among others.
The palace buildings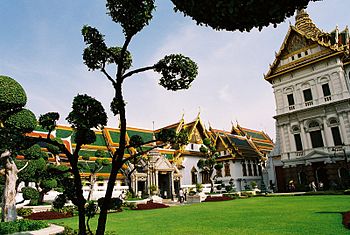 Leaving Wat Phra Kaew, on the right you'll see a Chinese gate that is adorned with beautiful small porcelain pieces. Move on and you'll be guided past the beautiful palace buildings. The first you'll see is the
Phra Maha Montien
(พระมหามณเฑียร) complex and its accompanying buildings. This has been the residence of Siam's kings before King Rama V decided to move to the Chitralada Palace in
Dusit
. The
Amarin Winichai Hall
(พระที่นั่งอมรินทรวินิจฉัย), the building's main audience hall, can be accessed by visitors on weekdays. It was used as an audience hall welcoming foreign guests. Inside is the boat-shaped
Busabok
, an open sided throne topped with a spired roof. It is often used for ceremonies, such as the King's annual birthday speech.
Next up is the
Chakri Maha Prasat Hall
(พระที่นั่งจักรีมหาปราสาท), a building constructed in the reign of King Rama V in 1876. It was used for receiving royal guests who were monarchs or heads of state. It is built in a distinctively European neo-classical style, but with a Thai roof somewhat incongruously plopped on top. This remarkable design is the result of a dispute between King Rama V and other members of the royal family. King Rama V wanted to give the building an entirely European look, while the other members wanted the building to have distinctively Siamese spires. While unusual, it is still one of the most distinctive and memorable palace buildings in the complex. It was formerly used as the elephant stables; the bronze elephants are supposed to be a reminder of that. The ashes of the kings of the Chakri dynasty are housed inside. At weekdays you can enter the building for the
weapons museum
. At noon, in front of the building is where the changing the guard ceremony ends. The guards don't mind when you take pictures with them, just don't take it too far and stay respectful. They will not move no matter what happens.
The final large structure is the
Dusit Maha Prasat Hall
(พระที่นั่งดุสิตมหาปราสาท). It is a typical Thai building constructed by King Rama I in 1790. Formerly named the Inthraphisek Maha Prasat Hall, this is the first throne hall that has been constructed within the Grand Palace. When a king, queen or other important member of the royal family dies, this palace is used for the lying-in-state; the body is kept here while waiting for an auspicious date for cremation. The inside is only opened on weekdays. It houses the
Phra Ratcha Banlang Pradap Muk
, a wooden throne beautifully decorated with mother-of-pearl inlaid work. The beautiful
Aphorn Phimok Prasat Pavilion
(พระที่นั่งอาภรณ์ภิโมกข์ปราสาท) next to the building served as the King's mounting platform and as a changing room for royal processions.
Next to the hall is a small
restaurant
where you can fresh up with a drink or have something to eat. If you're not thirsty or hungry, continue your way to the
Wat Phra Kaeo Museum
(พิพิธภัณฑ์วัดพระศรีรัตนศาสดาราม). Yes, we haven't had enough of Wat Phra Kaeo just yet. This museum was designed in the reign of King Rama V as the Royal Mint. Now it shows a treasure of artifacts that were rescued from the restoration of the Grand Palace in the 1980s. On the ground floor you can find the bones of the white elephants of former Kings. More artifacts can be found upstairs, the most interesting being the original costumes of the Emerald Buddha. Also upstairs are the two scale models of the complex. The first one shows the Grand Palace as initially built, while the other shows its current design.
Pavilion of Regalia, Royal Decorations and Thai Coins

phone: +66 2 225-0968

It houses an impressive array of gold jewellery, weaponry and coins, and gives some insight into the evolution of the dynasty and its elaborate royal ceremonies. A highlight is the seasonal "clothes" of the Emerald Buddha, ranging from a warm winter wrap to a minimalistic ensemble for summer. The pavilion is air conditioned.
Wat Pho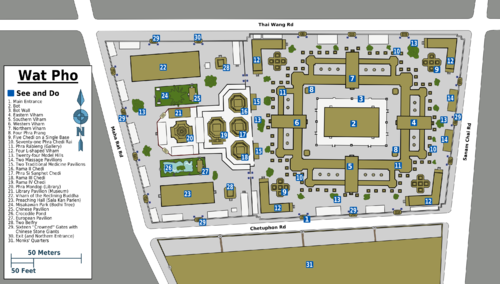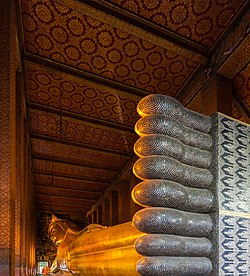 Wat Pho|alt=วัดโพธิ์
, popularly known as the
Temple of the Reclining Buddha
, is the largest temple of Bangkok, and probably the oldest too, as it pre-dates the founding of the capital by about 200 years. Most foreign travellers come for the much-needed picture of themselves with the enormous
Reclining Buddha
(พระพุทธไสยาสน์
Phra Buddhasaiyas
) - the largest reclining Buddha image in Thailand and possibly the largest in the world. The list of records doesn't end there; Wat Pho is home to more than one thousand Buddha images, more than any other temple in Thailand. The temple as it appears now dates from the late 18th century, right after the founding of Rattanakosin, when King Rama I almost completely rebuilt the complex. He renamed the temple
Wat Phra Chetuphon
(วัดพระเชตุพน), as Thais still call it today, but the new name never really caught on in the West. Another major revamp took place in 1832 when, in the reign of King Rama III, new chapels were added and walls and pillars were decorated with inscriptions about traditional medicine. Wat Pho is often cited as Thailand's first university as, even before the temple's founding, the site was a centre of education for traditional Thai medicine.
The Wat Pho complex is divided into two walled compounds with Chetuphon Road separating them. The southern compound,
Tukgawee
, is barely visited as it is a working Buddhist monastery with monks residing there. The northern compound can be divided into an eastern and western courtyard. Bus loads of tourists get in using the
north entrance
at Thai Wang Road, stand in line to get a quick peek of the Reclining Buddha, and then quickly head off again. That's a mistake. Better take the
south entrance
at Chetuphon Road, which actually is the main entrance. From there, you can start exploring the complex while missing out on most of the tourist crowds. The admission fee is 200 baht, and the temple is open 08:00-17:00. You can arrange an English-speaking personal guide that provides you with interesting information about the complex. This costs around 200-400 baht, depending on the size of your group (and your negotiating skills).
The main entrance is one of the 16 gates that surround the walled compound. These entrances are guarded by enormous Chinese stone giants. Most of these giants are "farang" - Westerners that wear wide-brimmed hats and hold a sword. You'll probably find these Westerners scarier than the guardian demons protecting Wat Phra Kaeo! When Siamese ships exported rice to China, they brought these statues back as ship's ballast. The entrance brings you into the
eastern courtyard
, which is dominated by the bot. To get to it, take a right from the entrance and then take a left before the southern viharn. At the entrance of the bot are lions that are Burmese in design. Inside the bot, on top of a big altar that contains the relics of King Rama I, is the main Buddha image, which is in Ayutthayan style. Four viharns and a total of 91 prangs and chedis surround the bot.
Moving on to the
western courtyard
, you'll quickly stumble upon the Reclining Buddha — gold plated, 46 m long, 15 m high, with inlaid mother-of-pearl soles. It is an impressive sight and definitely one you must see on your trip. The Reclining Buddha shows the passing of the Buddha into nirvana, the Buddha's final state of enlightenment before his death. At the back of the statue, you can buy a bag of 50-satang coins and plunk them one by one into the row of copper pots for good luck. Outside the building,
four chedis
commemorate the first four kings of the Chakri dynasty. The central chedi is the oldest one, it was erected by King Rama I to hold the remains of the Phra Si Sanphet, the most sacred Buddha figure of Ayutthaya. The chedis to the north and to the south house the remains of King Rama II and King Rama III respectively.
There are plenty of other sights and activities inside the large temple complex; above all, try a
massage
(as described in the
Do
section) or sign up for a five-day course in the massage school at the back (see the
Learn
section).
Other temples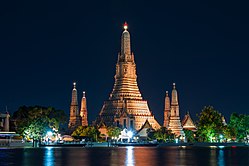 Wat Ratchabophit

phone: +66 2 221-1888

address: 2 Fuang Nakhon Rd

Built by King Rama V in 1869, it was created to keep up with the tradition that each newly-appointed monarch erected a temple to mark his reign. The temple is a mixture of local and Western styles, as the exterior of the chapel is in Thai style, but the interior copies the regal style of European monarchies. A major feature of this wat is the Royal Mausoleum on the west side of the temple grounds, which includes four white memorials in which the ashes of four Queens of King Rama V are interred. The one for Queen Savang Vadhana, grandmother of the current King, is the first on the left as you walk in eastward from the road.

Wat Ratchanaddaram

phone: +66 2 224-8807

address: 2 Maha Chai Rd

Wat Ratchanaddaram is a temple compound built by order of King Rama III in 1846. Its main structure, Loh Prasat (โลหะปราสาท, Thai for metal castle), is easily spotted as its spires are of black iron, not the usual glittery gold. It is in a highly unusual style: the wat itself is a five-storied gleaming white structure with rows of Buddhas and nice views from up top, very elegant, calm and relaxing after the crowds at the big temples. A good view of Bangkok is afforded from the top tier. The 37 metal spires signify the 37 virtues towards Enlightenment. At night, the square around it is beautifully illuminated. Also check out the Buddhist market at the rear of the complex.

Wat Ratchapradit

phone: +66 2 222-0855

address: Rachini Rd

This quiet and modest wat is a nice get-away from the busy street and annoying tuk-tuk drivers. This ground used to be a royal coffee plantation in the reign of King Rama III. With his personal donation, King Rama IV bought the plantation and had a small temple constructed there in 1864. His intention was to make it a Thammayut Sect temple, according to the customary practice of having three eminent temples in the capital city of the Kingdom (the others being Wat Mahathat and Wat Ratchaburana). A place of interest in the temple is the royal image hall (Phra Wihan Luang), which has mural paintings depicting royal ceremonies, including the "Legend of the Solar Eclipse" phenomenon that occurred during the reign of King Rama IV. There are some interesting artifacts in the temple, including some of King Rama IV's ashes that are now interred at the base of the Buddha. Also staged here are gifts King Rama IV got when he was installed as a monarch, such as French floor and ceiling lamps, English street lamps and a German clock that is still ticking today.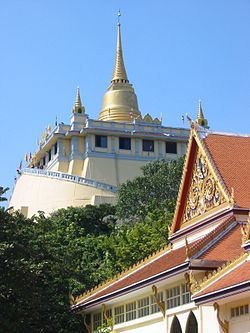 Wat Saket and the Golden Mount

phone: +66 2 233-4561

address: Boriphat Rd

Wat Saket was built outside of the former city walls in the late 18th-century in the reign of King Rama I. It served as the capital's crematorium, and throughout the next century became the dumping ground of over 60,000 plague victims who were too poor to afford a funeral. Wat Saket's major feature is the Golden Mount, an artificial hill dating from the early 19th-century. A huge chedi was built on top of the hill in the reign of King Rama III, but it collapsed during the construction process as the soil was too soft to support it. King Rama IV used a 1,000 teak logs to secure the mound and started construction on a more modest chedi that still exists today. Later, King Rama V chose the chedi as the place to inter relics of the Buddha that had been discovered among the ruins of Piprāwā, India and presented to him by the British Government. A spiral staircase of 318 steps leads from the ground to a terrace and shrine-room — the Buddha's relics are housed in a gold-leaf-covered shrine at the centre of this area. In the first week of November, the mount is illuminated with coloured lanterns and the compound turns into a large fun fair.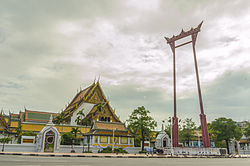 Wat Suthat and the Giant Swing

phone: +66 2 222-0280

address: 146 Bamrung Muang Rd

This wat is becoming more and more off the beaten path as it is quite hard to walk here from the Grand Palace. Wat Suthat is huge and actually one of the most important temples for the Thai people. It's large size was needed as it was constructed in the early 19th century to house the huge Phra Sri Sakyamuni Buddha image, brought all the way down from Sukhothai by boat. The outer wall of the cloister has more than 150 Buddha images lined up, and as they are being re-gilded, they are in various states of repair. Outside is an open courtyard with many Chinese statues. The Giant Swing (Sao Ching Cha) is a huge red frame on the plaza opposite the main entrance of Wat Suthat. The swing was used in an annual ceremony where teams of young men would try to swing high enough to retrieve a sack of gold that was tied to a pole about 25 metres high in the air. The ceremony has been banned since 1932, as many people got injured or died trying. The swing was fully renovated in 2007 and now looks as good as new.

Wat Thep Thida Ram

phone: +66 2 222-5067

address: Maha Chai Rd

The temple was built in 1836, during the reign of King Rama III. Like other temples from the third reign, it has a Thai layout, but is combined with a mixture of Chinese architectural styles. The gables are decorated with Chinese porcelain pieces and there are Chinese statues all over the complex. Unfortunately, the temple is in desperate need of renovation. Sunthon Phu, one of Thailand's greatest poets, resided in this temple during his monkhood in the early 1840s. The quarters where he spent three years of his life are preserved at the rear of the compound, and might be turned into a museum. In 1986, UNESCO declared Sunthon Phu one of the world's greatest poets.
Palaces
Front Palace

phone: +66 2 215-8173

address: Na Phra That Rd

Now the central building of the National Museum, the Front Palace used to be an enormous complex stretching from the Chao Phraya River across Sanam Luang to Lot Canal. It was built in the 18th-century, along with the Grand Palace. The Front Palace housed the heir to the throne, who was appointed by the King; usually a son or brother of the reigning monarch who bare the title "Second King" or "Vice-King". The title of Second King started in the Ayutthaya Period, but gained a significant amount of power during the Rattanakosin Period when the Second King even got its own private army and navy. This large amount of power often led to conflicts between the King and the Second King. The last to bare the title of Second King was Prince Vichaichan. In 1884, he got into a power struggle with King Rama V in an event known as the Front Palace crisis. King Rama V tried to modernise Siam in a rapid pace, and conservative forces and the nobility, including Prince Vichaichan, saw their power and influence being slowly eroded. When Prince Vichaichan got a letter threatening his life, he mobilised up to 600 of his private troops around his palace. The King also mobilised his troops, but this only underlined that the Second King's guards were more numerous and better equipped. After an explosion, a mysterious fire broke out in the Grand Palace, threatening Wat Phra Kaeo, and the Second King's troops got on their way to the Grand Palace to try and extinguish it; however this was blocked by the King's Royal Guards who feared that the fire was orchestrated by the Second King to take over the country. Afterwards King Rama V criticised the Second King for not moving all his troops to the Grand Palace, as an ancient custom dictated that the Second King's troops must actively protect the King and the Grand Palace in an emergency. King Rama V ordered his troops to surround the Front Palace, and Prince Vichaichan fled to the British embassy. After mediation, the powerful Western countries supported King Rama V, who abolished the title and introduced the Western-style "Crown Prince of Siam" for the heir apparent. Prince Vichaichan died one year later. The palace was turned into the National Museum's main building housing Thai art objects. Some walled remains of the old Front Palace complex can be found inside the Thammasat University complex.

phone: +66 2 623-6115-21

address: 31 Na Phra Lan Rd

Just outside of the Grand Palace, Wang Tha Phra Palace is now a part of Silpakorn University, where many artists started their career in the arts and humanities. In August 2010, Tha Phra Palace celebrated its 200th anniversary since its founding, and many home-grown artists were invited to make a painting about it. King Rama I built the palace for his nephew Prince Kasattiyanuchit, and since then, it has been a residence of many high-ranked princes, including King Rama III who lived here when he still was still known as Prince Krommuen Jesadabodin. The last prince to live here was Prince Naris, who moved out in 1934 when the palace was turned into an art school. The palace is a combination of Thai and European-style buildings. Just walking around the campus is a fun activity, as usually there are some art projects by students going on. 50 baht gets you into the library, which has plenty of English-language books about the Grand Palace, art, culture, religion, architecture and travel. Also in the Wang Tha Phra compound are the Silpa Bhirasri National Museum and the Art Centre Silpakorn University.
Museums
Corrections Museum

phone: +66 2 226-1706

address: 436 Maha Chai Rd

This used to be the location of the Bangkok Remand Prison, an old and overcrowded prison. Most of it has been torn down and turned into a public park, but three blocks, a cellblock, a side of the prison wall and two watchtowers were preserved and turned into a museum. This museum displays some of the most sadistic punishments imaginable, and these were actually carried out to offenders not that long ago. The museum can only be visited after making an appointment, but some punishment instruments can be seen from the public park outside, so you don't necessarily need to enter the museum.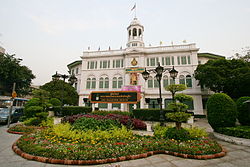 phone: +66 2 280-3413(-4)

address: 2 Lan Luang Rd

The building is designed by the French-Swiss architect Charles Beguelin in 1906 in a neo-classical style that popular with King Rama VI and King Rama VII. It was renovated by the King Prajadhipok Institute to serve as a museum exhibiting a rare collection of King Rama VII's personal belongings, including photographs, documents and his biography. King Rama VII ruled in a turbulent time of Thailand's history; he was the last King who enjoyed absolute monarchy, as well as the first King under a constitutional monarchy. Significant events and stories relating to King Rama VII are exhibited, including his succession to the throne, royal activities, political reform, promulgation of the constitution, royal utensils and memorabilia, as well as his life after abdication and death in the United Kingdom. The demolished Sala Chaloem Krung Theatre that used to stand in the nearby area is imitated with old films being projected.

phone: +66 2 225-2777

address: 4 Sanam Chai Rd

The renovated European-style mansion of the Ministry of Commerce of Thailand has been turned in good use. It now is the Museum of Siam, a permanent exhibition about the history of the Thai nation, its culture and its interaction with other nations and cultures. As with all the new museums in town, it's a so-called "discovery museum", in which visitors can play and interact with the objects shown. It is a lot fun, for children and adults alike, and informative at a superficial level. First you watch a subtitled short film about Thai-foreign interaction, with some Thai inside jokes about foreigners. Then you'll walk through several historically-themed rooms, starting in prehistory and ending in the modern age. Make sure your camera is charged and its memory unit empty, as there are many photo opportunities. You can sit in a tuk-tuk, prepare fake Thai food, bomb medieval armies, wear colonial-age clothing, present a news programme and sit in a 50s-style diner.

phone: +66 2 215-8173

address: 4 Na Phra That Rd

The National Museum took over the Front Palace grounds, a former royal palace built in the 18th century just like the Grand Palace. The grounds are attractive in parts, but a bit sprawling and difficult to navigate. The permanent exhibits are a mixed bag — there are some terrific new displays and dioramas on Thai history, but many other buildings are dusty collections of artifacts without much by way of explanation. A good way to cope with this is by taking the free guided tour in English (and German, French, Japanese), held on Wednesdays and Thursdays at 09:30. Allow a full afternoon to see this one as it is fairly large.

Silpa Bhirasri National Museum

phone: +66 2 223-6162

This museum is dedicated to the "father of modern art" of Thailand, the Italian professor Corrado Feroci. He founded Silpakorn University, the best art and humanities school of Thailand. Many of his works are on display throughout the city, including the Democracy Monument and the statues of King Taksin, King Rama I and King Rama VI. This museum is in the building where he lived and made his designs.
Art galleries
Art Centre Silpakorn University

phone: +66 2 623-6120(-1418)

address: 31 Na Phra Lan Rd

The exhibitions on show here are created by art students, teachers and university artists from Silpakorn University, the country's first art school. The exhibitions change often, and the only way to find out what's on is by walking in. Sometimes the art centre is closed when the building is used for university meetings and summits.

National Gallery

phone: +66 2 282-2639

address: Chao Fa Rd

Housed in the former Royal Thai Mint, it is fairly small and compact. Obviously a matter of taste, the permanent displays could be described as quite unimpressive, but the ever-changing modern art exhibitions can be considerably more appealing for foreigners. Oil paintings by the King are also exhibited here.

phone: +66 2 281-5360(-1)

address: 101 Ratchadamnoen Klang Rd

This privately funded gallery was established after the request of HM Queen Sirikit who wanted a permanent venue for the exhibition of Thai arts. The gallery has four floors of contemporary and modern arts, including paintings, sculptures, audiovisual arts and even furniture arts, most of them created by students. Many paintings use elements of traditional Thai life and religion and place them in a contemporary setting. Taking pictures without using the flash is allowed. There is also a reading room and a café.
Parks
Nagaraphirom Park

address: Maha Rat Rd

This park opened in December 2010 beside Tha Tien Pier and the Chao Phraya River. It is quite small, but the cool river breeze makes it a nice park for taking a well-deserved rest after strolling through Rattanakosin. There is not a lot of shade, so better avoid this park when the sun strength is at its highest. A short concrete promenade gives a stunning view of Wat Arun, which is right at the other side of the river. You can make beautiful pictures of the temple during sunrise or sunset, when it changes colours.

Rommaninat Park

phone: +66 2 221-5181

address: Soi Siriphat

This public park is built on the old prison grounds of the Bangkok Remand Prison near Wat Suthat. Three blocks, a cellblock, a side of the prison wall and two watchtowers were preserved and turned into a museum, the Corrections Museum, which is at the southeastern corner of the park. The park features many fountains, some basketball courts, a playground and a weight lifting area.

Sanam Luang

address: Ratchadamnoen Nai Rd

When Rattanakosin was established as Siam's capital, King Rama I designed this vast open field between the northern wall of the Grand Palace and the eastern wall of the former Wang Na Palace. At that time, the ground was a rice field sometimes used for royal crematoria. The ground was called "Thung Phra Men", which means crematorium ground in Thai. Considering that name was inauspicious, King Rama IV renamed the ground "Thong Sanam Luang", or the royal ground, and all rice farming there was ceased. Later, King Rama V had Wang Na's eastern wall demolished and enlarged Sanam Luang to its current size. The place has been used as the crematorium ground for kings, members of the royal family and nobility, in addition to being a royal sporting ground. 365 tamarind trees are placed around it. Sanam Luang is Bangkok's equivalent of a 'speaker's corner' where the people get together to talk politics. In recent history, the ground has been used for political rallies and demonstrations, such as the yellow and red shirt protests in the late 2000s. At December 5th, the birthday of HM King Bhumibol Adulyadej, literally a million people come here to celebrate his birthday. Every night, a flea market is held on the streets surrounding it.

Saranrom Park

address: Saranrom Rd

This park was created as a royal garden in the Saranrom Palace, built in 1866 by King Rama IV. He wanted to use it after he stepped down as a monarch, but died before it was completed. When King Rama V took over, he gave the palace to his younger brothers, and turned the park into a zoo. When he built the Dusit Palace in the early 20th century, he moved all the animals to the Dusit Zoo. The park then became a property of the Ministry of Foreign Affairs, before being turned into a public park in 1960. The basic layout still resembles its design by King Rama IV. It is a lush garden created around a lake, home to glasshouses, ancient trees and wooden pagodas. A great place to relax and escape the heat. After work, many locals run around the paths for exercise or do aerobics on (very) loud music. There's also a table tennis table and always someone who wants to play. At the south end of the park is a marble monument dedicated to HM Queen Sunantha Kumareerat and HRH Prince Kannaporn Phetcharat, who died in a boating accident during the reign of King Rama V.
Monuments
Bodhi Court

address: August 16 Rd

You might stumble across a tree on a pedestal when walking from Phra Chan Market to Thammasat University. Why is this tree placed on a pedestal and decorated with garlands? Well, the tree has been linked with Thailand's struggle for democracy and the role Thammasat University has played here. The Bodhi Court is the birthplace of the 8 October 1973 student movement that grew into mass demonstrations for democracy and a new constitution. The students protested against the military junta and insisted on the release of 13 people that had been arrested for demanding a national charter. The number of protesters swelled to the hundreds of thousands and were relocated to the university's football field. On 13 October 1973 this large group of people started to move onto the streets. The following day, the government violently suppressed this mass demonstration, a key event in Thai modern history and the reason why the October 14 Memorial was erected near Khao San Road. On 4 October 1976, the Bodhi Court was the stage of an open-air stage performance that mocked the political culture of that time. When these parodies took hold of the newspapers' headlines on 6 October, the military junta violently attacked the student groups for being defamatory to the royal family. In 1991, a military coup d'état followed and a constitution was drafted that basically maintained the status quo. Students again gathered at the Bodhi Court to protest against the junta. After the 1992 general elections, the opposition to the junta gathered at the Bodhi Court, starting demonstrations that would evolve into more than 200,000 participants. The junta again cracked down in an event known as the Black May Massacre, but eventually all protesters were freed and the junta stepped down in favour of democracy. An important tree, indeed.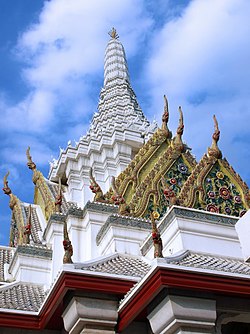 City Pillar Shrine

address: Lak Muang Rd

According to an old Thai tradition, a city pillar has to be built upon the establishment of a new city, to provide a home for guardian spirits. King Rama I had the Bangkok city pillar erected near Wat Phra Kaeo on April 21, 1782, an astrologically determined date for the auspicious founding of Bangkok. The city pillar includes the city's horoscope inside. Every town in Thailand has a similar city pillar shrine, so there are thousands of these all across the country. The original pillar was carved out of cassia wood, measuring 75 cm thick and 27 cm high. In the reign of King Rama IV, the old dilapidated pillar was replaced by a new one that measures 270 cm in height with a wide base of 175 cm. At that time it was placed in the prang-shaped shrine as seen today. Thonburi was merged into Bangkok in 1972, and its city pillar has been incorporated in the shrine. Hundreds of locals pray and place flowers here every day, as they believe the shrine has the power to bring good luck. Traditional dance ceremonies are often held, paid by wealthy families that saw their wishes granted.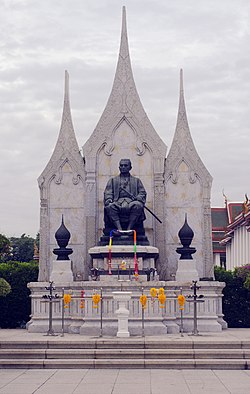 King Rama III Memorial

address: Ratchadamnoen Klang Rd

This monument dedicated to King Rama III was built by the Fine Arts Department in 1990. The bronze statue, half larger than life size, is seated on a throne. The surrounding area has been turned into a beautiful square decorated with beautiful plants, the Royal Reception Pavilion and three minor pavilions known as Sala Rai, as well as a nice view on Wat Ratchanaddaram. At night this square is beautifully illuminated.

Mae Toranee Statue

address: Ratchadamnoen Nai Rd

Mae Toranee is the earth goddess, a deity in Thai Buddhism that is shown wringing water from her ponytail. The statue shows a legend often drawn on the murals of temples. While the Buddha was meditating in a crucial stage of Enlightenment, the evil demon Mara sent out a bunch of earthly temptations and demons to divert him from his path. The Buddha was determined to continue and remained cross-legged. He pointed his right hand towards the ground, calling out the earth goddess. Mae Toranee obliged and wrung her hair, sending a massive gulf of water to wipe out Mara's demons.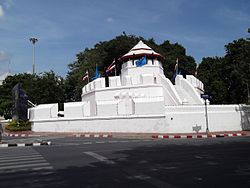 Mahakan Fort

address: Maha Chai Rd

Mahakan Fort is one of only two remaining forts of Rattanakosin's outer city walls, the other being Phra Sumen Fort near Khao San Road. Mahakan Fort is on the banks of Rop Muang Canal, and a part of the former ring of forts that defended Rattanakosin Island from invasions from the east. It was built during the reign of King Rama I. What makes this fort unique compared to Phra Sumen Fort is that a part of the old city wall is still intact; it runs about 200 metres south along Maha Chai Road. An almost a century old community lives in shanties between the old city wall and the canal, but the Bangkok Metropolitan Administration has been trying to turn it into a public park for tourists (as was done around Phra Sumen Fort). After a 14-year legal dispute, it seems like a compromise has been reached where some houses of the old community will stay and be turned into museums.

Monument to the Expeditionary Force

address: Na Phra That Rd

This is a monument to the Thai expeditionary force that fought in European battlefields during World War I. After war broke out in 1914, Thailand had remained neutral for about three years. When the United States declared war on Germany in April 1917, King Rama VI still waited on the sidelines. Thailand had good relations with Germany, although eventually King Rama VI joined the Allies by declaring war on Germany and sent a militia of 1,284 volunteers to Europe on 20 June 1918. King Rama IV said that joining the Allies "would be an excellent opportunity for us to gain equality with other nations". Thailand had lost land to France and the United Kingdom and had to accept the imposition of extraterritorial rights for the citizens of these nations. By joining the war with the Allies, he hoped that they would be more flexible in amending those treaties in future. The expeditionary force returned to Thailand on 21 September 1919 and the ashes of the dead veterans were taken to be enshrined here three days later. The names of 19 soldiers killed in the Western Front have been inscribed.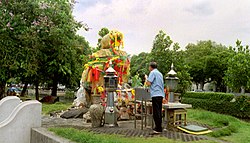 Pig Memorial

address: Atsadang Rd

Designed by Prince Naris, this golden pig statue was created in 1913 at the 50th birthday anniversary of Queen Phatcharinthra, one of King Rama V's wives, who was born in the Chinese year of the pig. In Thai it is also known as the Saha Chat Memorial (อนุสาวรีย์สำหรับผู้ที่เกิดในปีกุน), that means "the memorial of those born in the year of the pig". It refers to three royal donors that were born in the same year as her. Generally, the memorial is decorated with colourful garlands and flowers, and locals come here to pray and show respect.
Do
One of the best activities in Rattanakosin is simply to walk around and enjoy the historic sights the area has to offer. Every corner brings something new. The Grand Palace is a good place to start, from where you can explore the whole area on foot.
You can also hire a "Green Bangkok Bike" for free and cycle the
Rattanakosin Bicycle Route
. Rental places are scattered over the district, such as at the southwestern corner of Sanam Luang, at Tha Tien Pier and beside the tourist office under the Phra Pin Klao Bridge. Officials will take a digital photo of your passport, after which you can pick up the bike. You have till 17:00 to complete the route. Be
very
careful of traffic though, and do not leave the designated route (as it is the only route with roads that at least resemble bicycle paths).
National Theatre

phone: +66 2 224-1342

address: 2 Rachini Rd

You might want to attend the National Theatre, where you can watch a classical performance or traditional dance (such as a khon dance). Don't expect an English language production though, as most shows are set up for the locals. Don't forget to get your hand on the programme first, as it will give a synopsis of what the play is about. Also stand up when the national anthem begins.

Ratchadamnoen Stadium

phone: +66 2 281-4205

address: Ratchadamnoen Nok Rd

When the locals want entertainment, they head to the stadium for some Thai boxing. Or Muay Thai, as the Thais call it. It is very expensive though, expect to pay 1,000 baht for an outer-ring seat, 1,500 baht for a middle-ring seat and 2,000 baht for ringside seats. Thais chip in for 230 baht. A match includes eight fights with a maximum of five rounds each, so free some time in your schedule. The area around the stadium has some of the best places to get Isaan food, as television host Anthony Bourdain showed in an episode of his programme "No Reservations".

phone: +66 2 221-2974

address: 2 Sanam Chai Rd

A good way to combine relaxation and understanding Thai culture is by taking a traditional Thai massage inside the Wat Pho temple compound. Thai massage is considered a medical discipline in Thailand, used for the treatment of many kinds of illnesses. The massages are given in the dilapidated buildings at the east of the northern compound. Take a two-hour Thai massage for best results, or try a foot, oil or facial massage.
Learn
Being the historic centre of the city, Rattanakosin is great place to learn meditation, yoga or how to give a traditional Thai massage.
The International Buddhist Meditation Centre

phone: +66 2 623-5685

address: Wat Mahathat, 3 Maha Rat Rd

This old temple was built in the reign of King Rama I, right after the establishment of Rattanakosin as the new capital of Siam. Sandwiched between Maha Rat Road, Na Phra That Road and Silpakorn University, it houses the Maha Chulalongkorn Buddhist University, one of the two highest seats of Buddhist learning in Thailand. Most interesting for foreigners are the two or three-hour Buddhist meditation courses given three times a day. Attendance is free of charge, but donations are welcome. It is also possible to stay overnight and take the "intensive course". Those who follow it must observe the eight precepts and wear white clothes.

Wat Po Thai Traditional Massage School

phone: +66 2 622-3550

address: 392/25-28 Soi Pen Phat 1

Here you can learn how to give a traditional Thai massage. The basic course is quite comprehensive and lasts five days, so make sure you have some time on your hands. You can start with the course at the same day as you register. Just registering can be a pain though—you'll need a photocopy of your passport and two by two inch headshots (UK passport photos are not accepted as they are too small). Photos will also be rejected if you are wearing a skimpy top or do not look tidy. To be sure, go to a nearby Kodak shop and tell them the photos are for the Thai massage certificate (photo processing might take some hours). All else you need to bring is comfortable clothing and body jewellery must be taken off. The massage school puts foreigners in a separate English-speaking classroom where the instructors have a fair grasp of English. Prepare for an Asian style of teaching—they teach you what to do without often explaining the reasons why, however if you question them, they will tell you. It is best to study five days consecutively, but there is scope for having a break in the middle. Lunch is provided for 30 baht and is of good quality, but can be low on quantity if there are lots of students. The Thai massages are conducted with you wearing all your clothes. At 08:00 in the northeast corner of Wat Pho, the massage school teaches Thai yoga. This is free to attend, and you do not need to pay an entrance fee to get into the courtyard if you are a massage student.
Buy
Religious markets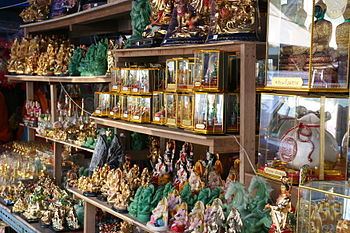 Rattanakosin is the best place in Bangkok for buying amulets and other religious paraphernalia. These markets are among the most authentic ones, as they are meant for faithful Buddhist locals instead of the tourist masses.
Amulet Market at Wat Mahathat

address: Maha Rat Rd

Right beside the Chao Phraya River is the amulet market, an indoor warren of alleys with dozens of vendors selling amulets, charms, talismans and other religious objects. They come in all shapes and sizes, and represent various Hindu or Buddhist deities. The amulets ward off evil spirits or bring good luck and fortune. Each amulet gives a specific kind of luck, so inquire with the vendor. You can get one for as cheap as 5 baht. Better looking ones cost around 20-100 baht, or as much as you want to spend on it. More amulets can be bought at the street market at Maha Rat Road, where many sellers line up along the pavement. There are also many traditional medicine shops along this road.

Amulet Market at Wat Ratchanaddaram

address: Maha Chai Rd

Probably the largest religious market of Bangkok with more than one hundred stalls selling everything a good Buddhist would need. You can find thousands of tiny Buddha images here, as well as Hindu figures, in all colours, shapes and sizes. Prices are generally higher than the Amulet Market at Wat Mahathat, but so is quality.

Bamrung Muang Stores

address: Bamrung Muang Rd

The road along Wat Suthat has plenty of stores selling religious items. Awesome human-sized Buddha images are on sale here, but don't even think about bringing those on the plane. You can also get item-filled buckets here to donate to monks. These buckets contain daily necessities monks might need, such as soap, toothpaste, candles, etc. Be careful when shopping here as the road is lacking a pavement in some areas.

Monk Bowl Village

address: Soi Ban Bat

During the alms ceremony in the morning, in which monks at their temple receive donations of the people, the monks usually carry big bowls for receiving the donations. These bowls are known as 'bat' and have been made by hand for centuries. As factories took over the production of these bowls, most of the communities that made a living of producing them have vanished. An exception is Ban Bat, or Monk Bowl Village, a small alley near the Golden Mount with a couple of families that still make a living with the handicraft of making these bowls. Don't think this is a very authentic experience though — locals don't buy these bowls and once an interested traveller walks in, hunting season has begun. Bowl producers will follow you even outside the compound. That's why a visit can only be recommended for those who are actually interested in buying a bowl (which costs a couple of thousand baht).
Street markets
With all the glitzy shopping malls in
Siam Square
, shopping in Rattanakosin is more traditional. Like in
Khao San Road
, street markets are virtually everywhere, but those in Rattanakosin are more authentic as they are set up for the locals. A
phrasebook
might come in handy. Expect all day markets to close in the early evenings.
phone: +66 2 628-1888

address: Bobae Tower, 488 Damrong Rak Rd

Bobae Market is very similar to the Pratunam Market — it's a huge garment market with wholesale prices. You must buy in bulk as that gives the best deals. And just like Pratunam, it has its own Saen Saep Express Boat pier, so it's easy to get to. The nearby Bobae Tower has 700 shops that sell the same clothes as on the market, but caters to those looking for single items. Prices are somewhat higher, but at least you are able to fit your buys in your suitcase. Not a lot of foreigners know about this place, though Russians seem to have found out about it (as the Russian signs indicate).

Carpentry and Wood Stores

address: Boriphat Rd

The northern end of Boriphat Road is lined up with carpentry and wood stores. These are very skilled workers, just take a look at the detailed patterns they create in the wooden doors. Taking one home is probably stretching your airline's 20 kg baggage limit though.

Khlong Lot Night Market

address: Rachini Rd

When dusk kicks in, the night market at Khlong Lot is set up. It starts around 18:00, but only gets interesting after 20:00. The market has been at the roads surrounding Sanam Luang for years, but was moved to its present location in 2010 when Sanam Luang was sealed off due to construction work. It's a bit like a flea market as locals put a blanket on the ground and wait for customers to buy their stuff. Expect toys, dolls, pets, shoes, bags, pants, mobile phone chargers, remotes, and other stuff. All the sellers have lamps placed besides their ware so it's easy to browse.

Lang Krasuang Market

address: Atsadang Rd

The name literally means "behind the Ministry" and refers to an area behind the Ministry of Defence on Atsadang Road, which runs along Lot Canal. On sale are military items such as uniforms, territorial defence student uniforms, shoes as well as travelling accessories like tents, sleeping bags and camping pots. There are shops selling musical instruments nearby.

Phra Chan Market

address: Phra Chan Rd

There is a small clothing market. Most t-shirts have a kind of postmodern pop-art style print on them, which are popular with the local art students. There is also women clothing, sneakers, accessories available and many other products. For food, there are simple lunch restaurants inside the pier building, where you can sit right beside the Chao Phraya River. A simple meal and water will cost you only 50 baht. These eateries are mostly used by locals, so bring a phrasebook. A small indoor shopping area can be reached from Maha Rat Road, where you can have American fried rice or get some iced chocolate.
Eat
Compared to the profusion of restaurants elsewhere in the city, it is difficult to find a decent place to eat after having visited the Grand Palace. There are some cafés at Na Phra Lan Road, but their dishes are tiny and overpriced. You can have simple rice or noodle dishes for 50 baht at the market at Tha Chang pier. The only good restaurant in the area,
Krua Khun Kung
, is hidden in a small alley beside the ATM machines. There are also some small eateries east of Khlong Lot catering to local workers having lunch. They have congregated around Tanao Road and Trok Nawa.
Elle Tha Pra Chan

phone: +66 2 623-5750

address: 172 Maha Rat Rd

A restaurant and bakery near the Grand Palace. It doesn't have an English sign on, but it's not that difficult to find. Menus are in English, and have pictures shown with them, so just point to the dish of your choice. It has the typical Thai dishes and Italian pastas. Many students from Silpakorn University have lunch together here, so expect it to be very crowded (and noisy) around noon.

Fisherman's Seafood

phone: +66 2 222-8082

address: 1/12 Maha Rat Rd

Fisherman's Seafood makes good use of its riverside location. Customers dine on an outdoors terrace, in a room built on top of the Chao Phraya River. Eating here can be described as tranquil, even when the tour buses kick in for lunch. The menu offers a fusion of Thai and Chinese seafood.

phone: +66 2 222-0081

address: 77 Maha Rat Rd

Tucked in a small alley, this restaurant is the only good restaurant close to the Grand Palace. Its odd location makes it often unnoticed by foreigner travellers, which is a shame as it has a great view over the Chao Phraya River. It's best to sit outside on the terrace, but you can also sit indoors if you want to cool down from the heat. On the menu is seafood, and some of the best the city has to offer. But beware: it's very spicy.

Mont Nomsod

phone: +66 2 224-1147

address: 160/1-3 Dinso Rd

This large bakery is specialised in toasted bread with all kinds of stuff on top of it, such as peanut butter, chocolate, yucca root or other sugary stuff (generally the toppings are very sweet). Don't expect any English to be spoken here as it is only frequented by the locals. But ordering is relatively straightforward, just point to the toppings you want to have.

Nai Uan Yen Ta Fo

phone: +66 2 222-9701

address: 41 Trok Nawa

This simple restaurant is specialised in yen ta fo, a Chinese seafood dish that is also known as rice noodles in red tofu soup. It includes delicacies such as coagulated blood, pickled squid and fishballs. It has a distinctive pink colour because of the fermented soybean paste that is added to the meal. This place is locally well known, so prices are a little higher than similar noodle restaurants.

Nang Loeng Market

address: Nakhon Sawan Rd

Far from the tourist's eye is the Nang Loeng Market, a market that has been going since 1899 until a fire destroyed it about ten years ago. It has been rebuilt since, and is a great visit for trying some Thai sweets. There is ample supply of sticky rice snacks or khanom bueang at the carts, or have some egg noodles at the surrounding noodle shops.

phone: +66 2 221-6280

address: 313 Maha Chai Rd

Due to the lack of splurge restaurants, street food is the big thing in Rattanakosin, and Thip Samai excels exactly at that. It's in business for longer than 50 years and known as the best place in Thailand to get pad thai (Thai fried noodles). You can choose between seven different types of pad thai, the cheapest one is only 30 baht. The best one is the 'pad thai song-kreung' with crabmeat, cuttlefish, shrimp roe, prawns and fried egg. Wash it down with some sliced coconut juice.
Drink
phone: +66 2 221-9158(-9)

address: 4F, Arun Residence, 36-38 Soi Pratu Nok Yung

Tourist flock to the rooftop bar Amorosa for its spectacular sunset views of Wat Arun. Get there early, as there are only 20 seats in the house and you can forget a seat after 18:00. The view comes at a price, expect to pay Western rates for alcoholic drinks. Downstairs is The Deck, a restaurant serving Thai and European food, also with a view of the temple. It is recommended to make a reservation if you want to have dinner here.

phone: +66 8 9497-8422

address: Ratchadamnoen Klang Rd

Club Culture was established in 2007 at Si Ayutthaya Road, but moved to its current location in 2010. Its placing is rather odd, far off from Khao San Road in a beautiful four-storey block of abandoned shop houses. It is one of Bangkok's leading clubbing venues, as its three to four separate music rooms serve a variety of music styles at the same time. Not all rooms are necessarily open, it depends on the amount of visitors. It caters to a diverse crowd, including the traditional Khao San indie crowd, but also to those into dance and house music.

Krisa

phone: +66 2 225-2680

address: Na Phra Lan Rd

This café with an old Western-style interior is in a good place to fresh up after a hike through the Grand Palace. Obviously you can get coffee and tea, but an iced chocolate might be a better choice. Also, it has air-conditioning. It is a family-run café with just five tables, but that gives the place its cosy and relaxed atmosphere. For around 70 baht, they also serve simple Thai dishes, but don't expect big portions.

Na Phra Lan Café

phone: +66 2 221-2312

address: 18 Na Phra Lan Rd

Popular café among art students from the nearby Silpakorn University. It's a nice place for a coffee, tea or hot chocolate. You can go upstairs if you want to have lunch, but don't expect too much of the food. They only have simple rice and noodle dishes that can be found everywhere. When dusk kicks in, many students come here to drink beer in large "beer towers".

Rub Aroon

phone: +66 2 622-2312

address: 310-312 Maha Rat Rd

Professional looking European-style café, but an English sign is missing. It is a nice place to fresh up after hiking through the temple grounds of Wat Pho. Its front opens directly onto the street with seats on the pavement. The atmosphere is relaxed and there are some simple Thai dishes on the menu. Try the panang curry.
Sleep
Rattanakosin is overflowing with sights, but finding accommodation is a challenge. Budget guest houses are clustered on nearby
Khao San Road
, while
Silom
,
Siam Square
and
Sukhumvit
have plenty of upscale hotels. Most travellers sleep in those districts as they have more variety in accommodation. If you insist on staying in Rattanakosin, choice is limited, but there are some boutique hotels available.
Connect
Getting online in Rattanakosin is not an easy task. There are not a lot of Wi-Fi hotspots or Internet cafés, but as
Khao San Road
is nearby, you might just want to go online there. The canteen of
Thammasat University
has an open Wi-Fi signal, but connection quality varies.
Niras Bankoc Hostel
is a nice place for sipping coffee, and also has free Wi-Fi available for customers.
If you want to send postcards, there is a close to the Grand Palace in the middle of Na Phra Lan Road.
Go next
Rattanakosin has Bangkok's principal tourist sights, but the surrounding districts offer plenty of activities, stores, restaurants and nightlife.
Wat Arun, at the other side of the river in Thonburi, is a stunning temple decorated with leftovers from broken Chinese ceramics. It is often visited together with Wat Pho, from where you can take the 3 baht ferry ride across the river.
Don't throw away your entry ticket to the Grand Palace. Use it to get a free entry into the leafy Dusit Palace in Dusit (valid for a week). Its prime sight is the Vimanmek Mansion, but you could spend your whole day there if you wish. The ride takes 15 minutes with bus 70 from Ratchadamnoen Klang Road (near Democracy Monument).
Just across a small canal in Phahurat is Pak Khlong Talat, a surprisingly fun flower market. It is open 24 hours, but is best visited in the very early morning (around 03:00) when the market is beautifully illuminated and new flower batches arrive.