Bangkok/Siam Square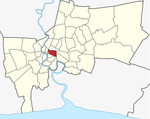 Siam Square area
(Thai: สยามสแควร์) is Bangkok's main shopping drag and its BTS Skytrain station is often considered as the centre of the city. This article expands the area to include Ratchaprasong, Phloen Chit Road and Chulalongkorn University.
Understand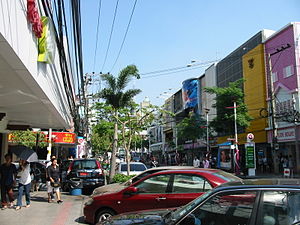 While
Rattanakosin
represents Thailand's history and culture,
Siam Square
represents Thailand as a newly industrializing economy. Siam Square's first buildings were only constructed in the 1970s, on land of
Chulalongkorn University
which tried to get some extra rental income for the university. It started with ordinary shops, but has since expanded to a shopping and entertainment mecca that has everything upper-class teenagers and college students could possibly want — luxury shopping malls and glitzy department stores filled with designer labels and hip fashion boutiques.
Despite the name, it is not a square in the traditional sense. It could better be described as a warren of small sois filled with hundreds of tiny boutiques, restaurants, cafés, record stores and bookshops, mostly catering to upper-class 20-something Thais, shopping-spree Malaysians, and working ex-pats. If you're not up for a trip to the Gap or a pink martini, it's still worth a visit just to see the Bangkok-of-the-future. The area north of Rama I Road does feature some kind of courtyard on the second floor, which functions as the entry point for the
Siam Center
,
Siam Discovery
and
Siam Paragon
shopping malls.
Going east on Rama I Road, the shopping experience continues at
Ratchaprasong
, an area that received worldwide fame when red shirt-wearing political protesters set up their camp here in May 2010. It is home to
CentralWorld
, the largest shopping mall in Thailand, which was set on fire during these protests, though it was restored within a few months. It gets more quiet as Rama I Road changes its name into
Phloen Chit Road
in the east. There are some shops and restaurants here, but the area is mostly home to foreign embassies and airline offices.
Get in
By public transit
Siam Square is the most central neighbourhood of Bangkok and can be reached by both the Sukhumvit Line and the Silom Line of the BTS Skytrain system. The easiest entry point is
Siam
station, right on top of Siam Square and in the middle of the Siam area. It acts as the exchange station between the lines, so expect a lot of commuters during rush hour. The Sukhumvit Line continues east and passes
Chit Lom
station, which is close to Ratchaprasong, and
Phloen Chit
which serves the road of the same name. One stop west of Siam on the Silom Line is
National Stadium
, a handy stop that's close to MBK Center, Siam Discovery, Jim Thompson's House and the cheap guest houses at Soi Kasemsan 1.
The Sukhumvit Line and the Silom Line provide direct connections with the districts of the same name. There is also a direct connection with
Phahonyothin
and the Chatuchak Weekend Market if you take the Sukhimvit Line to the north. If you're coming from
Rattanakosin
or
Khao San Road
, you'll first need to take the Chao Phraya Express Boat to
Sathorn
pier. From there, continue your way along the Silom Line to Siam station. The whole ride takes around 40 minutes (but is easier than trying to find the right bus!)
The quickest way to get to Siam from Suvarnabhumi Airport is by
Airport Rail Link
. Take the City Line to Phaya Thai station, a ride that takes 26 minutes. Then switch onto the BTS Sukhumvit Line towards Bearing and ride it to Siam station. As the systems are not integrated, you will have to buy a new ticket at Phaya Thai station.
By boat
If you're staying at
Khao San Road
, the
Saen Saep Express Boat
is your best bet to get to Siam Square. It is only a short walk to the Golden Mount in
Rattanakosin
, where you can get on the boat. The service operates every day from 05:30 to 20:30. The Golden Mount Line brings you to
Sapan Hua Chang
pier for Siam Square, and terminates at
Pratunam
pier (for Ratchaprasong intersection). You can switch to the NIDA Line at Pratunam pier, which brings you to
Chitlom
,
Wireless
and on to
Sukhumvit
and
Ramkhamhaeng
. A single trip from
Panfa Leelard
pier at the Golden Mount to
Sapan Hua Chang
takes about 25 minutes and costs around 9 baht.
By bus
Siam Square is among the most congested districts of Bangkok. Combine that with the complexity of the bus system, and it's obvious that you're better off using other ways of transport. However, if you're coming from or going to the
Grand Palace
area in
Rattanakosin
, the bus is the only way to get a direct connection. Bus
15
starts at Phra Athit Road and then drives over Ratchadamnoen Klang Road (for
Khao San Road
), Lan Luang Road, Chakkaphatdi Phong Road and Bamrung Muang Road before arriving at MBK Center, Siam Square and Ratchaprasong intersection. This bus then continues to
Silom Road
, so take it in the other direction if you're coming from there.
An alternative is bus
47
, which starts at Rama IV Road in Khlong Toei and then heads to Silom and over Phaya Thai Road. Get off at MBK Center. You can also take this bus from Tha Chang in
Rattanakosin
(near the Grand Palace) from which it goes through Ratchadamnoen Klang Road (for Khao San Road), Lan Luang Road, Chakkaphatdi Phong Road and Bamrung Muang Road. Get out at MBK Center as this bus won't continue its way further along Siam Square.
There is no reasonable bus connection from Suvarnabhumi Airport. You can take bus
552
to On Nut BTS station in
Sukhumvit
and continue with the Skytrain. It's a long bus ride and depending on traffic it could take 1-2 hours.
See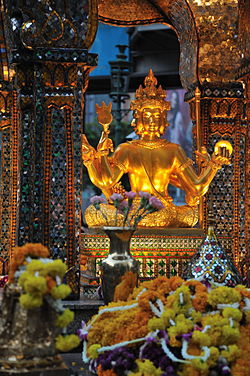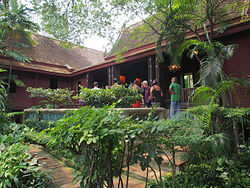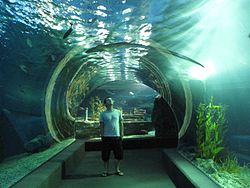 Do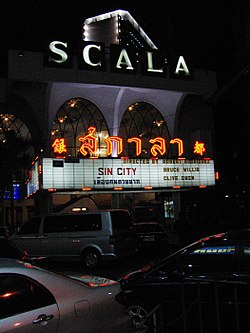 Buy
Siam Square
Siam Square is
the
place to shop in Bangkok, especially if you're looking for big shopping malls and small designer boutiques. The obvious point of entry is Siam BTS station, which is surrounded by
Siam Center
,
Siam Discovery
and
Siam Paragon
. At walking distance from Siam Square is
MBK Center
. With the exception of Siam Paragon, these malls are somewhat dated, but among the most popular as they are the most affordable. At least make a head for MBK, just to see where the local youth do their shopping.
Bonanza Mall

address: Phaya Thai Rd

Across the street from MBK Center and connected by walkway on the second floor is the perennially crowded Bonanza Mall. Its warren of stalls offers more of the same as MBK, thus it is popular among students and teenagers looking for hip clothes, accessories and cosmetics.

phone: +66 2 620-9000

address: 444 Phaya Thai Rd

MBK is a vast and always packed shopping centre full of tiny stalls (2,500 of them, to be exact) selling, well, everything. There's a heavy emphasis on clothing, especially the cheap and trendy teen type, but the fourth floor devoted to electronics is Bangkok's best place to buy mobile phones, MP3 players and digital cameras. Before buying a phone you have to be sure which band supports and which ones your country has. The fifth floor focuses on furniture in the rear, and electronics in the front, including a very large Canon store. Stuff on sale include gold, furniture, food, and a part of the sixth floor has been dedicated to handicrafts and souvenirs. Don't miss the dried fruits and Chinese-style snacks (like pork floss) at Champ on the fourth floor, near the central escalator. The top floor has film theatres and restaurants, and there's a large Tokyu department store bolted on the north side. It is possible to bargain for cheaper prices on some items at some independent shop stalls, especially if you are with a Thai friend or family member.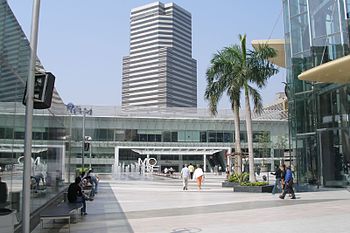 Ratchaprasong
Heading east is
Ratchaprasong
, an intersection filled with luxurious malls that cater to a more upmarket audience.
CentralWorld
, while built in 2002, was expanded in 2006 topping its nearby rival Siam Paragon as the largest shopping complex in Thailand (and among the largest in the world). Surrounding CentralWorld are the
Gaysorn
,
Isetan
,
Narai Phand
,
Peninsula Plaza
,
ZEN
, and others, which together make the largest shopping promenade in Bangkok. Bring a well-filled wallet though.
phone: +66 2 256-9111

address: 496-502 Phloen Chit Rd

This impressive colonial-style shopping centre has five floors of high-end stores, selling fashion, furniture, jewellery, electronics, books and handicrafts. The fourth floor has a good food court, and even a spa, health centre and yoga studio.

phone: +66 2 793-7777

address: 1027 Phloen Chit Rd

The flagship store of the Central department stores and thus it is much more luxurious and prices are higher. Catering to affluent Thais and Western expats, it has good selections of pricey watches, cosmetics and clothes. There are also numerous eating options.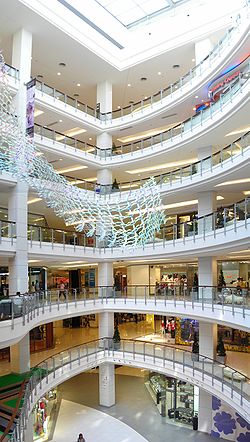 phone: +66 2 635-1111

address: 999/9 Rama I Rd

An enormous complex and the only shopping centre in Bangkok that can give the Paragon a run for the money in both style and size. It is the third largest shopping centre in the world by leasable floor space, and the second largest building in the world if you include the skyscraper on top of it. It's marketed as a middle-class shopping centre with prices cheaper than Siam Paragon. Lots of restaurants make this a good destination for lunch or dinner. The top floor has a supermarket and a multiplex. The large Isetan and ZEN department stores are also included in the complex, as are two book shops and plenty of photo and electronic stores.

phone: +66 2 250-7777

address: 494 Phloen Chit Rd

Linked by skybridges with the Amarin Plaza and Gaysorn, this is another luxurious shopping centre with boutiques. Chic clothes stores are distributed at all four levels. The second level has an excellent tea room. Go to the lower lobby for food.

phone: +66 2 656-1149

address: 999 Phloen Chit Rd

Gaysorn positions itself as Bangkok's premier luxury shopping mall: this is where you can get your fill of Armani, Gucci, Louis Vuitton and Tiffany. The top floors have a good selection of antiques and Thai handicrafts of high quality, but at fairly high prices too. Most Thais cannot afford these prices.

phone: +66 2 255-9898

address: CentralWorld, 4/1- 4/2 Ratchadamri Rd

An institution in Japan, Isetan's Bangkok branch is just as upper class as those found in the motherland. There is also a wide availability of international brands, such as Louis Vuitton and Kinokuniya is one of the better book shops. There's also a Lego section for children.

phone: +66 2 656-0398

address: President Tower Arcade, 973 Phloen Chit Rd

A Thai handicraft centre partly run by the government offering a wide array of traditional crafts, such as bronze objects, ceramics, lacquerware, silk and woodcarvings. Prices are fairly high and not negotiable, but clearly marked, so this is a good place to see what's on offer and find out baseline prices before hitting the markets. Narai Phand used to be on Ratchadamri Road, but this flagship store was unceremoniously demolished in 2008. Now it has relocated to a smaller location next to the Intercontinental Hotel.

Peninsula Plaza

phone: +66 2 539-6723

address: 153 Ratchadamri Rd

Yep, another exclusive shopping centre that caters for moneyed Thais, rich expats and business travellers. The whole exterior has a European feeling. On sale are gems, diamonds, silverware, fabrics, antiques and art. The fourth floor is home to the International Dance Academy.

phone: +66 2 100-9999

address: CentralWorld, 4 Ratchadamri Rd

ZEN is the hippest lifestyle department store of Bangkok. It is catering to affluent customers who care about design and don't mind to pay extra for it. The shop looks catchy, colourful and well-designed. Each of its six levels are based on a different theme and product category, such as cosmetics, fashion and sports wear.
Phloen Chit
phone: +66 2 654-3888

address: 87 Witthayu Rd (Wireless Rd)

Another elegant and large shopping centre. Four floors of the usual clothing boutiques, department stores, jewellers and antique shops. The food court on the second floor is good value

The Promenade

phone: +66 2 267-8850

address: 11F, Nai Lert Tower, 2/4 Witthayu Rd

The Promenade is one of many shopping areas in Bangkok where you can buy just about everything from clothing to handicrafts. It is a three-story shopping mall with a modern and luxury decor. The second floor has a walkway to Swissotel Nai Lert Park Hotel.
Eat
For Thai food with a twist, the hip district of Siam Square is the best place to go hunting. The shopping malls generally have a wide choice of chain stores where you can eat for mid-range prices. If you're on a budget, every mall that takes itself seriously at least has one food court.
Soi Ton Son
, a sidestreet of Phloen Chit Road, is known as Bangkok's
Little Italy
with plenty of nice Italian restaurants. The best are both very good and reasonably priced (at least by Western standards).
Food courts
If you want cheap food
and
air conditioning, head into the upper-floor food court of any mall or department store. Food courts come in many varieties, from basic snack places to eclectic cuisine. Most food courts use some variation of a coupon system; unused coupons are always refunded. Some of the better ones include: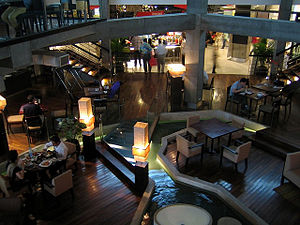 Budget
Mid-range
Splurge
Drink
Coffee
Branches of
Starbucks
and the more local
Black Canyon Coffee
can be found in all the malls and even at the largest BTS stations.
phone: +66 2 626-0407

address: 4F, MBK Center, 444 Phaya Thai Rd

This popular Japanese coffee chain has a branch at MBK, and is an excellent way to refresh after all the shopping. They have the usual coffee, tea, smoothies, fruit juices and soft drinks, as well as small snacks. Have Wi-Fi.
Bars
Siam Square is not that well known for its nightlife, as shops tend to close about 22:00 and the area gets pretty silent afterwards. Most visitors head off to
Sukhumvit
or
Silom
, but Siam Square does have some relaxing bars on offer.
In the winter time (recursively defined in Thailand as "beer garden season"), popular beer gardens pop up in front of
CentralWorld
, serving up cold beer, hot food and loud Thai pop.
Brown Sugar

phone: +66 2 250-1826

address: 231/19-20 Sarasin Rd

This place is known as one of Bangkok's better live jazz bars. The food and drinks are passable, but the people come here for the atmosphere, which is lively and relaxed. The interior is really chic, but expect to pay for it. Be careful to check the bill as the waiters are known to mess around with it.

phone: +66 2 251-0797

address: 424/3-6 Siam Square Soi 11

Everyone knows the Hard Rock Cafe, and this is just like the other ones around the globe: rock 'n' roll music all night long, the typical Hard Rock Cafe merchandise and live bands every night. But this is the only one that has a beautiful tuktuk coming out of the exterior.
Nightclubs
There are a couple of after hours clubs in Rong Muang Soi 1, in the backstreets of Siam Square (access via Rong Muang Soi 5, off Rama I Road):
phone: +66 2 209-8888

address: Novotel Bangkok Bldg, 392/44 Siam Square Soi 6

One of the few nightclubs in the Siam Square area, CM2 caters to foreigners and Thais alike with live pop and dance performances. It has been around for fourteen years, and in the meantime has become a good addition to the live music scene. There is a large dance floor complemented with trendy lighting.

Spicy

address: Rong Muang Soi 1

A typical (sleazy and grim) "after-hour" club that gets busy after 02:00 and stays open till the early morning. There is a variety of music playing, depending on the DJ, including house and hiphop. Expect a mixed crowd including badly dressed older western men on the prowl, young (mostly male) tourists, prostitutes and katoey. Taxis get commissions, so most know about it and you might get a free ride. If you're still up for more partying after 06:00, continue the night at Swing next-door.

Swing

address: Rong Muang Soi 1

This day club has free entry. It opens at 05:00 and gets quite crowded. Enter through a restaurant, go out the back past the bathrooms and take the lift to the second floor. Along with a bar and dance floor playing loud house music, there's a quieter area with several pool tables. Similar crowd to Spicy.
Sleep
Accommodation in almost all price ranges can be found within this area. Hotels in the Hualamphong Train Station area are covered in
Yaowarat and Phahurat
.
Budget
Soi Kasemsan 1
Just at the foot of the National Stadium station, directly across from the stadium itself, is
Soi Kasemsan 1
, a convenient and quiet lane filled with budget hotels. Most of the guest houses are along the left side of the street as you walk in from Rama I Road. The soi is close to Siam Square, and Jim Thompson's House is only one block away.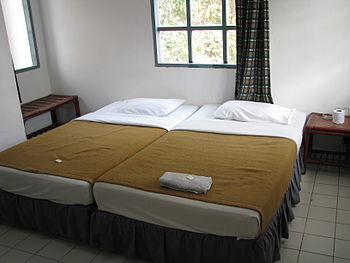 phone: +66 2 219-4445

address: 931/9 Soi Kasemsan 1

This guest house faces onto Rama I Road, but you have to enter from Soi Kasemsan 1. The ground floor has Internet terminals and a restaurant that is open 24 hours.

Reno Hotel

phone: +66 2 215-0026-(7)

address: 40 Soi Kasemsan 1

A clean, remodelled hotel that has breakfast included. There is a nice pool in the nothing-fancy patio area. The rooms on the front are dark and a bit noisy. Rooms by the back or pool are very pleasant. The friendly staff provide laundry, checked luggage and a travel desk.

White Lodge

phone: +66 2 216-8867

address: 36/8 Soi Kasemsan 1

Probably one of the cheapest guest houses in the soi, and suitable for backpackers who just need a cheap room and no frills. It is clean though, and the rooms are fairly large in size. Also the staff are welcoming.
Mid-range
Splurge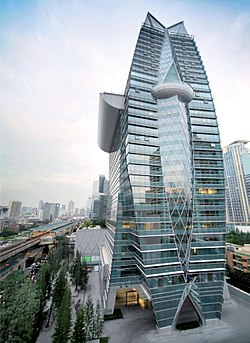 Connect
True Urban Park

phone: +66 2 610-8888

address: 3F, Siam Paragon, 991 Rama I Rd

Built by communication conglomerate TRUE at a cost of 30 million baht, this is not just an internet café, but a hip "lifestyle experience" that is also a flower shop and bookstore. It is complete with funky chairs, iPod listening stations, sonic bubbles hanging over your head and a live DJ playing. Try the iced café mocha.

phone: +66 2 658-1716

address: 1F, Siam Center, 989 Rama I Rd

Easily accessible at the ground floor of the Siam Center, this trendy and open café has free internet terminals available. On the menu are different varieties of coffee (including Japanese coffee) and deserts.
Go next
Pratunam is 600 metres north of Ratchaprasong intersection with plenty of shopping centres, malls and markets.
The shopping spree also continues east, when Phloen Chit Road changes its name into Sukhumvit Road.