Bangkok/Silom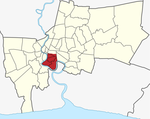 Silom
(Thai: สีลม) is the closest Bangkok gets to Wall Street, with glistening skyscrapers all boasting the names of financial institutions. However, the character of the area changes after nightfall: the small sois between Silom Road and Surawong Road come alive with people who are out for a good time, and Patpong's well-known "red light" district is often a sought-out location. The former trade quarter
Bang Rak
(บางรัก) is also included here and is home to many of Bangkok's top luxury hotels, such as the Oriental.
Understand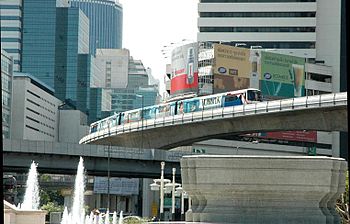 In the 19th century, daily life in Bangkok mostly took place on and around the canals. Silom was rural farmland with rice fields, orchards, and windmills criss-crossed by canals. During this era, most urban life happened on the riverside, which was a busy trading quarter welcoming European merchant ships and envoys. This area, known as
Bang Rak
, still has a kind of European atmosphere with many exclusive colonial-style hotels and old abandoned warehouses.
Silom
("windmills" in Thai) has changed immensely with in modern times.
Charoen Krung Road
(New Road) was the first paved road in Bangkok, built in 1861 during the reign of King Rama IV at the request of foreign consuls who wanted to ride their horses and carriages. Over time, most of the canals have disappeared and turned into roads.
With the rise of Thailand as a newly industrialised economy, Silom turned into Thailand's
major financial centre
filled with banking institutions, corporate high-rises and condominiums. Many banks, insurance companies, audit and law firms have congregated along
Sathorn Rd
(ถนนสาทร) as well. The district's importance as a business centre has been acknowledged by the recent construction of the Skytrain and the metro line right through the district. Their construction has not helped much as traffic congestion continues to be a serious problem in the area. Days, there's not that much to do here, except when white collar workers flock onto the streets for lunch. The fusion of peoples make this a great place for people-watching. Cigar-smoking Thai business men walk through masses of well-dressed secretaries, office workers, and Western expatriates. Many Indians and Muslims have taken up residence around the intersection with Charoen Krung Road.
At night, Silom turns into
the
place to be. It is a vibrant neighbourhood that is actually a little hard to describe because it becomes one of Bangkok's most cosmopolitan streets— as well as one of the sleaziest.
Soi Patpong
is the hedonistic playground all of Bangkok is generally stereotyped for, but it actually consists of just two small sois. The so-called "go-go bars" might as well be called "takeaway brothels", but a trip to Bangkok is not complete without a visit to this surreal environment. But if you fancy something more upmarket and refined, Silom is also the place to be. Some of the expensive hotels in the area cater to rich visitors who like to talk business over a glass of fine wine. Having a cocktail at the top of the
Banyan Tree Building
or the
State Tower
gives some of the best views in Southeast Asia.
Orientation
is fairly easy as most of the magic happens at Silom Road, especially where it intersects with Rama IV Road. The area starts to liven up again when you get closer to the river in the area known as Bang Rak. Parallel to Silom Road lies Sathorn Road to the south and Surawong Road to the north.
With the reinvigoration of Naradhiwas Rajanagarindra Road as creative and tourism hub with the addition of Mahankorn Pavilion and Cube, W Hotel , the reinvention of Empire Tower, the area around the Chong Nonsi BTS and BRT Station is increasingly known as SOLU, abbreviated from South of Lumphini.
Get in
By public transit
Skytrain
Silom Road and Sathorn Road can handily be reached using the BTS Skytrain's
Silom Line
. BTS station
Sala Daeng
is right in the middle of the action, close to pretty much all party venues. At the other side is
Saphan Taksin
station, which is close to Bang Rak's riverside hotels.
Surasak
and
Chong Nonsi
fill up the area in between.
There is a direct connection with
Siam Square
, which takes about five minutes, but if you're coming from another district, traveling will be more complex. From
Sukhumvit
, you'll need to take the Skytrain to Siam station and transfer onto the Silom Line. The same goes if you're coming from
Phahonyothin
.
Metro
The MRT metro system is a good way to reach Silom from
Yaowarat and Phahurat
,
Sukhumvit
and
Ratchadaphisek
. The central stop is MRT station
Si Lom
, that lies at the entrance of Lumphini Park. It can be used as an interchange station with Sala Daeng BTS station. Other stops include
Lumphini
,
Sam Yan
and
Hua Lamphong
. The metro ride from Sukhumvit or Hualamphong Train Station takes about 5 minutes, while the ride from Ratchadaphisek takes 5-15 minutes. Trains leave every five to ten minutes for a fare of 16-41 baht.
By boat
If you're coming from
Rattanakosin
,
Khao San Road
or some areas of
Yaowarat and Phahurat
, the fastest way to reach Silom is by Chao Phraya Express Boat. A single trip from Chang Pier in
Rattanakosin
to
Sathorn
takes about 25 minutes and costs around 18 baht. From here, you can transfer onto the Skytrain's Silom Line and get to many destinations in Silom.
The river boat is the best way to get to and around the Bang Rak area.
Si Phraya
in the north of Bang Rak and
Sathorn
in the south are served by fast yellow flag boats.
Oriental
is the most centrally located, but is only served by orange-flag and no-flag lines.
Wat Muang Kae
is slightly north of Oriental, but is kind of a sleepy pier only served by no-flag lines.
If you happen to be in Thonburi (the area around Khlong San), you can easily take a ferry across the river. There are ferries from Klongsan to Si Phraya, from Wat Suwan to Oriental and from Sathorn across the river to the pier of the same name. Every 15 minutes a ferry leaves and won't cost you more than a mere 3 baht.
By bus
Due to heavy congestion and the complexity of the bus system, getting to Silom by bus can only be advised if you have a lot of time or are on a stringent budget. Being a part of Bangkok's downtown, many lines run through Silom, but finding the right one is a challenge. Ordinary and air-conditioned bus
15
comes from Phra Athit Road and then passes Ratchadamnoen Klang Road (for
Khao San Road
), moves along Lan Luang Road, Chakkaphatdi Phong Road and Bamrung Muang to
Siam Square
. From there, it continues along Ratchadamri Road and then goes all the way over Silom Road to Charoen Krung Road, the Krung Thep Bridge and The Mall Tha Phra in
Thonburi
.
From
Yaowarat
, catch bus
4
from Charoen Krung Road which goes along Rama IV Road, passing Hualamphong Train Station and the Queen Saovabha Institute Snake Farm before reaching the intersection with Silom Road. In the opposite direction, this bus will skip Charoen Krung Road, passing Yaowarat Road instead (which is a one-way traffic road).
The first line of the new
Bus Rapid Transit
(BRT) system starts at the intersection of Sathorn Road and Naradhiwas Rajanagarindra Road. There is a pedestrian walkway from Chong Nonsi BTS station to Sathorn BRT station, the first stop. From there, the line heads south along Naradhiwas Rajanagarindra Road, then follows Rama III Road along the Chao Phraya River, with Ratchaphruek in
Thonburi
its final destination. As a commuter line, it is not of much use for foreign visitors, unless you're going to Mambo Cabaret, Tawandang Microbrewery or a distant hotel.
By train
Hualamphong Train Station
, whilst over the edge in
Yaowarat and Phahurat
, is very easy to reach from elsewhere in the district. Just take the metro to Hua Lamphong station and the station will be in front of you. From there you can get a train to
Ayutthaya
or
Chiang Mai
.
See
Traditional sightseeing attractions are rather rare on the ground in Silom. A popular attraction is to have a drink on one of the rooftop bars with an amazing view over Bangkok's skyline. You could also head for
Lumphini Park
or visit one of the twice-daily shows at the
Queen Saovabha Institute Snake Farm
.
Skyline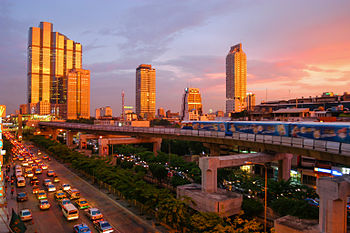 While Silom's skyline doesn't match Hong Kong's or New York's, the views are still worth it. A part of Bangkok's skyline, most of Silom's towers are financial institutions and office buildings. The best way to enjoy it is by taking a trip up the
Banyan Tree Hotel
or the
State Tower
. The 61st floor of the Banyan Tree Hotel has the
Vertigo and Moon Bar
, where you can dine or have a beer with one of the most spectacular views of Southeast Asia.
Sirocco and Moon Bar
on the State Tower is even a few metres higher up than Vertigo—making it the world's tallest rooftop bar/restaurant. Due to its slightly off-centre location, the views are arguably not quite as stunning, although it gives a great view of the Chao Phraya River. See the
Drink
section for more information about these rooftop bars.
Most of Silom's buildings are office buildings not meant to be visited. Heading out to take a look at these office buildings can only be recommended for those having a deeper interest in modern architecture and/or the financial sector. Some notable office buildings that dominate the skyline include the
CP Tower
,
Empire Tower
,
ITF Tower
and the
United Center Building
, but the
Robot Building
has to be the quirkiest of them all.
Robot Building

address: 191 Sathorn Tai Rd

Probably one of the few buildings that puts a smile on your face, the Robot Building, well, looks like a giant robot. It was designed by Sumet Jumsai in the mid-1980s and is meant to reflect the computerization of banking. It is an odd building, and Jumsai has stated that it could be regarded as a reaction against high-tech postmodern buildings common in that time. The antennas and eyes of the robot are not just for the looks, but all have practical functions. Now the building has a kind of retro feel. It is closed to the public, but you can best see it riding the Skytrain between Chong Nonsi and Sala Daeng BTS stations. So take a look from the window!
Parks and monuments
King Rama VI StatueLocated in front of Lumphini Park, the statue was sculpted by Professor Corado Feroci, an Italian sculptor that in Thailand is better known as Silpa Bhirasri. He and four Thai artists gave it the final touch on 7 June 1941, so it could be revealed on 27 March 1942. It is devoted to King Vajiravudh (Rama VI), who asked the Italian government for an artist to teach and promote art in Thailand (which at that time was seen as not able to cope with European standards). King Vajiravudh is displayed as standing in his ceremonial uniform and holding a sword. It's not a coincidence that Lumphini Park is its location: King Vajiravudh donated this large plot of land to the city's citizens by turning it into a public park.

Lumphini ParkA rare expanse of public greenery in the heart of the city, it was once property of King Rama VI, who issued a royal command to turn the area into a public park as a gift to Bangkok's residents. The park's symbol, a statue of its creator King Rama VI, stands at the main entrance at the southwestern corner, right opposite MRT Si Lom station. The park has a lake with boats for rent and with a cycle track around it, and is popular among early-morning fitness enthusiasts, but there's little reason to wander in during the daytime heat. The Bangkok Symphony Orchestra does, however, put on occasional performances in the winter. There are rather large lizards in the park — they are well worth a look. They tend to spend most of their time in the water of the lake. Do not get too close to one, as they can bite.

Queen Saovabha Memorial Institute Snake Farm

phone: +66 2 252-0161(-4)

address: 1874 Rama IV Rd

This institute contains a collection of poisonous snakes which are "milked" daily for their venom in order to produce invaluable anti-snakebite serum. Twice a day a venom extraction show is held, in which the announcer explains about the dangerous kinds of snakes living in Thailand and what to do when you run into one. The animals are treated professionally and the whole show is safe. If you want a picture with a dangerous snake curling around you — this is your chance.
Houses of worship
Silom lacks the impressive overload of Buddhist temples common in other districts. There are some interesting ones, but they are no must-visit by any means. Due to the presence of the historic trade quarter, there are some European-style churches and old shophouses that can be visited. Also, the current Hindu and Muslim population has chipped in with the most important Hindu temple of Thailand on Silom Road and several mosques.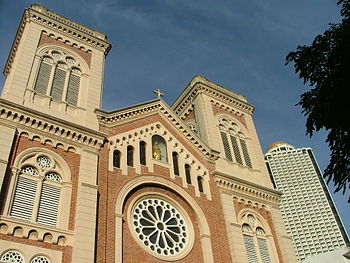 phone: +66 2 233-7120

address: 23 Soi Oriental

The Assumption Cathedral is the main Roman Catholic church of Bangkok. The original building at this place was the brainchild of French missionary Father Pascal in 1809, and completed in 1821. Throughout the second part of the 19th century, the area surrounding the church played an important role for French Christian missionaries arriving in Bangkok. It is near the Oriental Hotel and the French Embassy in an area that still captures somewhat of its French history. The current church dates from the 1910s, when the building was completely reconstructed in a Romanesque style. It was heavily damaged by bombing in World War II, but was restored after extensive repairs. Its rectangular structure and red brick exterior makes it stand out from the dull white surroundings. Its interior is spacious with a high ornate ceiling. Pope John Paul II visited the church in 1984, showing the prominence of the church in the Roman Catholic community of Thailand. The only religious service in English is held Sundays at 10:00.

phone: +66 2 234-3634

address: 11 Convent Rd

The English-speaking international church community residing in the church actually dates from the 19th century, when the first Protestant missionaries came to Bangkok. At first British Anglicans came over to spread their belief, but in the late 19th century, most of the Protestant missionaries arrived from the United States. In 1861, King Rama IV gave permission for the construction of the Protestant Union Chapel around Charoen Krung Road, which was commonly known as the English Church. As Protestantism grew, a larger church was required, and in 1904, King Rama V gave permission for the construction of the Christ Church on the condition that Protestants of all nationalities or sects could use it as their house of worship. You might not believe it now, but back then this area was a farming area with canals and orchards. Due to the economic growth of the Silom area, it is now right in the middle of office buildings and condominiums. Many Christian expats and locals gather here on Sundays for the religious service. It is a beautiful white church that is also interesting for the occasional visitor. Its interior has been completely renovated in 2008, restoring the amazing stained glass windows from 1905.

Sri Mariamman Hindu Temple

phone: +66 2 238-4007

address: 2 Pan Rd

One of only two Hindu temples in Bangkok, the Sri Mariamman Temple is actually a great experience. It was created in the 1860s by Tamil immigrants, and as with any temple found in India, it is unique, very colourful and ornately detailed. It generally is a busy temple with a constant stream of worshipers lighting incense sticks and plenty of ceremonies going on. Besides Indians, there are also Thai visitors as Buddha images stand side by side Hindu deities inside the temple. As it is the most sacred place for the Indian community in Bangkok, taking pictures inside the temple compound is not allowed.

Wat Hua Lamphong

address: Rama IV Rd

Rarely visited by foreigners, Wat Hua Lamphong is actually not that remarkable, but it is lively and thus gives a good insight in how the locals experience their religion. The temple has been extensively remodeled in 1996 to celebrate the 50th anniversary of the ascension to the throne of King Bhumibol Adulyadej (Rama IX). The decorations used throughout the temple consist of elephants and tiered umbrellas, which indicates that it is a royal temple. In the ordination hall, the viharn is unusual, as it is raised on a one-storey high platform. There are plenty of shrines inside the temple, one of them dedicated to King Chulalongkorn (Rama V) and another one to the Hindu god Ganesha.

Wat Maha Phruettharam

address: Maha Phruettharam Rd

You are far off the beaten path when visiting this old monastery, but it's definitely a sight for those interested in Buddhism. The exact origin of this temple is unknown, but it is believed to have originated from the early Rattanakosin era or late Ayutthaya period. It had several names, but got its permanent name during the reign of King Rama IV, who extensively renovated it and raised its status to a third-grade royal temple. The temple takes up a vast amount of space and has an extensive courtyard. The murals inside the ordination hall show a set of Buddhist pilgrims. The large reclining Buddha is worth seeing. Thai people come over to place small bills of money next to it as they believe it brings good luck.

Wat Yan Nawa

phone: +66 2 211-9317

address: 1648 Charoen Krung Rd

This temple originally dates from the Ayutthaya Period, when it was known as Wat Kok Khwai. It was completely reconstructed by King Rama III in the early nineteenth century, and he renamed the temple Wat Yan Nawa (Boat Temple). The main feature of this temple is the base of the temple, that is shaped like a Chinese junk with two pagodas functioning as its masts. King Rama III saw that steam ships were slowly replacing old junks, and wanted the people to remember how much wealth they had brought to Siam. In the early nineteenth century, Chinese people started moving to the area, and the temple is still popular among the Chinese community residing there.
Museums and art galleries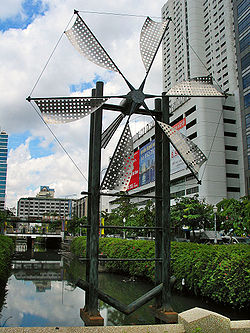 Bangkokian Museum

phone: +66 2 233-7027

address: 273 Charoen Krung Soi 43

This typical wooden Thai-style family house was built in 1937 and originally was the home of the Suravadee family. It was converted into a museum that gives an insight into the lifestyles of middle-class Bangkokians during World War II and the 1950s. On display are antiques, household items, a kitchen, sanitation and toilet facilities used during the war. Part of museum is devoted to maintaining the history of Bang Rak and Silom, showing the farms, canals and windmills that used to be characteristic for this area.

phone: +66 2 234-6700

address: 87 Pan Rd

Housed in an old (but beautifully restored) Portuguese shophouse, this is probably the only gallery in Bangkok totally devoted to the art of photography. Its owner, photographer Manit Sriwanichpoom, tried to resemble the photographers' shops of old, where visitors walked in and carefully chose one of the prints on sale. The gallery on the ground floor is all about the work of the owner, while the (tiny) upper floor has changing exhibitions. There's also a book corner for those more interested in photography.

phone: +66 2 286-8185

address: 19 Soi Phra Phinit

M.R. Kukrit Pramoj (1911-1995) was an important writer, lecturer and statesman and served as the prime minister of Thailand. His legacy is this complex of five teak houses that used to be his home. They are an astonishing example of traditional Thai architecture, with the oldest teak home more than one hundred years old. The surrounding garden plays an important role in the design of the property, as that's the glue holding the different houses together.

Neilson Hays Library and Galleries

phone: +66 2 233-1731

address: 195 Surawong Rd

A beautiful European-style building from the late 19th century with a library, two art galleries, creative workshops and a café. The library has the largest collection of English language books in Bangkok, catering to the many English-speaking expats in the area. The art galleries have paintings, photos, textiles and ceramics on show depending on the exhibition, and many artworks are available for sale. The café (09:00-18:00 daily) has free Wi-Fi.

Bangkok Seashell Museum

phone: +66 8 9681-3814

address: 1043 Silom Rd
Historic buildings
East Asiatic Company BuildingRight at the banks of the Chao Phraya River is this classical Venetian-style building from the Danish East Asiatic Company. It was built in 1901. A large share of foreign trade that came from the warehouses had to go through this building before heading for Europe. No public entry allowed.

Old Customs House

address: Charoen Krung Soi 36

This is where the 19th-century port of Bangkok used to be. Now it is a crumbling building that needs a lot of renovation to get back into a useful state, but its obvious that this grand colonial-style home was once the pride of the area. It was built in the 1880s and used to levy taxes on traders that moved in and out of Siam. It's not open to the public, but you can walk around and try to grasp the atmosphere of Bangkok in earlier times. It was used in Wong Kar-wai's In the Mood for Love, a great film worth the watch.
Do
Due to many rich business travellers visiting Silom, it is an excellent destination for high-class spas. Particularly well-regarded spas include
Devarana Spa
(at the Dusit Thani Hotel), and the eponymous operations at
Banyan Tree
and the legendary
Oriental
— the last of these probably being the most expensive in town, offering (among other things) a six-hour
Oriental Romance
package for two costing a whopping 16,000 baht.
Aerobic Dance Classes

address: Lumphini Park

Free outdoor aerobic dance sessions in Lumphini Park. All are welcome. During the session, music plays and the instructor leads the movements in front of the crowd. Each session lasts one hour. No Thai language skills required as the instructor rarely uses any verbal cues. In addition to the exercise, you get to meet locals and foreigners.

phone: +66 2 238-4377

address: 2F, Yada Bldg, 56 Silom Rd

Well-respected small chain offering excellent traditional Thai massages.

phone: +66 2 688 1415-(-7)

address: Asiatique The Riverfront, 2194 Charoen Krung Rd

The famous ladyboy show of the Calypso Cabaret. The performances takes place in two sessions every evening. The show consists of singing, dancing and remarkable costumes. At least make a reservation at their website three days before you want to attend the show.

phone: +66 2 200-9999

address: 9F, Dusit Thani Hotel Bldg, 946 Rama IV Rd

Easily the most luxurious spa of the city. They offer massage, body scrub, body wrap, water treatment, facial and others. There are 15 treatment rooms, including five spa suites. Expect a very professional service and a beautiful modern interior. If you need to ask the price, it means you probably cannot afford it.

Joe Louis Traditional Thai Puppet Theatre

phone: +66 2 108-4000

address: Asiatique The Riverfront, 2194 Charoen Krung Rd

The establishment of this theatre was inspired by Sakhon Yangkhieosot, or Joe Louis, who wished to preserve the art of operating Hun Lakhon Lek puppets. In operating the puppets, the puppeteers require basic skills of Khon performance as they will have to move their footsteps and hand gestures to coincide with those of the puppets. Each puppet is operated by three puppeteers, lending it lifelike movements. Hun Lakhon Lek usually performs the story of Ramakian, the Thai version of the Ramayana epic. Sakhon Nattasin is the only performing troupe of Hun Lakhon Lek in Thailand. The show is in Thai with translations into English, and there is a segment where the puppets interact with audience members that is popular with children. There is also a corner inside the theatre where Khon mask making is demonstrated, with a gallery of the Hun Lakhon Lek puppets and their background.

Mambo Cabaret

phone: +66 2 294-7381

address: 59/28 Rama III Rd

Touted as the "queen" of drag shows, this ladyboy show has three performances daily. A show takes one hour and has all the glitz and glamour you would expect. Before it was located at Washington Square along Sukhumvit Road, but now it has moved far off to the area around Rama III Road. You can take a picture with the performers when the show ends, but you will have to pay extra for it. Booking beforehand is recommended.

phone: +66 2 635-6313

address: 286/1 Silom Rd

In the evenings you can catch this authentic performance of various forms of traditional Thai dance. It is part of the Silom Village Trade Center complex. It might be a good idea to make a reservation by phone beforehand.
Learn
Blue Elephant Cooking School and Restaurant

phone: +66 2 673-9353

address: 233 Sathorn Tai Rd

Take classes from one of the most famous chains of Thai restaurants in the world. While the price is substantially higher than others in Bangkok, class takes place in the historic Blue Elephant restaurant, and while dining on your creations, wine, extra dishes and dessert are served. And they give you a Blue Elephant apron as well.

phone: +66 8 4726-5669

address: 68 Silom Soi 13

A quaint cooking school in an air-conditioned environment. It is very clean and the instructor will have you frequently washing your hands before preparing each dish. Cooking classes are given in the morning and afternoon. The setting is more like a dinner party rather than a classroom cooking school. Definitely worth a try.
Buy
At first, shopping around Silom might feel a little lacklustre compared to
Siam Square
. Its department stores and malls are bland at best, but if you're in need of something, they are not short on supply. If you're looking for antiques, arts, handicrafts, silk, and suits, however, Silom is
the
place to be. Especially the Bang Rak area is good, as that's where the rich potential buyers stay in expensive riverside hotels. Hundreds of jewellery and silver stores are lined up along Charoen Krung Road.
Antiques
Tailor-made clothes
Markets
Malls, department stores and supermarkets
Eat
Fancy restaurants, cafés, noodle shops and international chain stores line the streets around Silom Road.
Budget
As Silom is a popular neighborhood with the locals, there are enough places for cheap meals. For authentic Japanese food at reasonable prices, pop into one of the many eateries on Soi Thaniya. The
Lalai Sap Market
has some affordable seafood stalls (see
Buy
).
Bang Rak defines the melting pot of Bangkok's cuisine. There are various ethnic eateries in that area, including Thai, Chinese, Indian and Muslim cuisines. But you can also find plenty of noodle shops, stewed pork with rice (ข้าวขาหมู) stalls and roasted duck with rice (ข้าวหน้าเป็ด) eateries. As this is a poorer neighborhood, dishes are served for no more than 80 baht.
Momotarou Ramen House

phone: +66 2 235-0108

address: 9/19-21 Soi Thaniya

Simple budget eatery for some Japanese noodles. There are no English signs outside, only a white sign with red Japanese characters.

phone: +66 2 234-3755

address: 1415 Charoen Krung Rd

A very small restaurant that nevertheless managed to become famous by word of mouth. The owner is the fourth generation running this restaurant that is more than one hundred years old! No fancy banners, or even an English sign, just good food that is well known among the locals. Ordering is no problem as the menus have pictures shown. It is famous for its duck, but get there early before it runs out. They also serve some good pork and noodle soup.

Shin Emon

phone: +66 2 632-8180

address: 56 Soi Thaniya

This Japanese restaurant specialises in Japanese curry rice, which is really delicious. They also have other Japanese dishes, such as tamako udon and ramen. The restaurant is basically one lengthy bar where the guests sit next to each other waiting for their food to be done.

Tien Sin Vegetarian Food

phone: +66 2 234-8183

address: Si Wiang Rd

Great Thai/Chinese inspired vegetarian dishes. About ten different dishes, each cooked fresh every morning. Two mains and rice for 30 baht. You can also try their different imitation meats.
Mid-range
Bonita Cafe and Social Club

phone: +66 2 637-9541

address: 56/3 Pan Rd

An old American-style café with a vegan menu. They also have some raw, gluten-free and sugar-free dishes, and shakes for drinks. Portions are a bit small for the price, but made with fresh ingredients. It is run by friendly owners, in a homey atmosphere, and is already regarded as one of the better vegan restaurants in the area. It's also a social club for gathering. Free Wi-Fi.

phone: +66 2 679-8438

address: 27/39 Soi Sri Bamphen

A new restaurant serving both Western and Thai cuisine. The French chef/owner is particularly passionate about Western food and cooks an excellent breakfast, with homemade sausages, hash browns and good coffee. The prices are higher than the average street stall.

phone: +66 2 233-0232

address: 1F, Charn Issara Tower I Bldg, 942/51 Rama IV Rd

One of Bangkoks oldest and most reputable restaurants that has received visits from the Japanese Ambassador. A warm, friendly and traditional style.

phone: +66 8 5159-2811

address: 44/7 Soi Sri Bamphen

A Western/Thai B&B with seven rooms above an exquisitely designed eating area. It's a good place for a French-style breakfast (served all day). Decorated with Thai art and unique, earthy furniture. Good homemade bread and coffee. The French co-owner Jac is a lovely.

Ichimonji

phone: +66 2 235-7889

address: 9/34 Soi Thaniya

Buried in the depths of the soi, this is a typical Japanese-style bar and restaurant. Their set meals are decent value, and English menus are available.

Harmonique

phone: +66 2 237-8175

address: 22 Charoen Krung Soi 34

While much more well-known by tourists than in the past, it still has a unique atmosphere set in a courtyard with three quaint town houses on the background. The food is a mix between Thai and Chinese cuisine.

Khao Tom Pla Kimpo

phone: +66 2 675-2598

address: 1897 Soi Charoen Krung Soi 73

An eatery serving Teochew-style fish porridge, known as Khao Tom Pla in Thai, known for the freshness of its fish. Rather pricey by Thai standards, but still mostly serves a local clientele and not many tourists.

Queen of Curry

phone: +66 2 234-4321

address: 49 Charoen Krung Soi 50

Known as one of the best restaurants of Bangkok, don't expect grandeur or expensive bills. This modest restaurant lacks any appearance, you might even see children do their homework in the back. But the customers rave about the food. With great service for a small price, this is a gem.

phone: +66 2 632-9955

address: 78-80 Silom Soi 4

A tapas restaurant with kitchens both downstairs at the end of the bar and upstairs at the back of the main dining room. You can order a full meal, or have a quick snack to go with your drinks. They also have a dance floor and upstairs terrace bar.

Sushiko

phone: +66 2 255-9505(-4)

address: 9/11-12 Soi Thaniya

A decent mid-range restaurant in the middle of the Japanese Thaniya neighbourhood. The interior looks neat and modern and is in a typical Japanese style. No English sign outside.
Splurge
The Chao Phraya riverside hotels (see
Sleep
) have the usual splurge restaurants with overpriced menus, although
The Oriental'
s dinner buffet (2,000+ baht) is acclaimed.
phone: +66 2 675-4200(-1)

address: 69 Sathorn Tai Rd

The entrance lined with thousands of fairy lights sets a nice atmosphere for what is inside. There is an excellent menu of traditional Thai food that is either served inside or out in a small garden courtyard. They also have an excellent wine cellar.

phone: +66 2 238-0931

address: 1/6 Phiphat Soi 2

A bed supper club with a slick modern design. Their menu is eclectic with fusion dishes. They also have an extensive wine list, which comes at a price.

phone: +66 2 632-2811(-3)

address: 42 Convent Rd

A restaurant that has a traditional Thai atmosphere and beautiful decoration. The house once belonged to an aristocratic family and dates back to the era of King Rama V. They have modern Thai and Thai-inspired dishes, which you can eat either inside or in the garden. Extensive underground wine cellar, but the prices are high.

Zanotti

phone: +66 2 636-0002

address: 1F, Saladaeng Colonnade Condominium Bldg, 21/2 Sala Daeng Rd

A chique Italian restaurant. Its service and food are good, but it is a tad expensive compared to other comparable restaurants.

phone: +66 2 625-3388

address: 27 South Sathorn Road

One of the most acclaimed restaurants in all of Asia, and arguably the best restaurant in the world for Thai-style fine dining.
Drink
There's more to Silom's nightlife than just Patpong, but can a visitor say they've been to Bangkok without at least a quick peek into the 'Pong?
Soi Patpong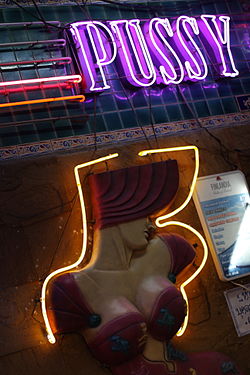 You might want to take a deep breath and down a few shots before heading into the insanity of
Patpong
(พัฒน์พงษ์), which in fact consists only of two small sois (Patpong 1 and Patpong 2). It's a short walk from BTS Sala Daeng station, deserted by day but jam-packed and overflowing in all directions by night. The throngs of middle age tourists shopping for sarongs and chopsticks just makes the
sex shows
going on in every open door seem that much more surreal.
Prepare to be harassed by touts armed with laminated 'menus' of acts you can order up. If you follow the touts, you might end up spending a ton of money on drinks to watch sad looking girls perform
unhygienic acts
with various garden-party accessories (lawn darts, ping pongs, etc.) in one of the upstairs bars. While seemingly cheap at first, be prepared to pay thousands of bahts when the girls flock to you with drinks in their hands, as you'd have to pay for them. The bill comes to you within minutes and the dispute could become violent.
If you instead try one of the bars on the lower level, you can safely watch girls dancing on stage, but will occasionally be asked by one of the girls if you could buy her a drink. She will get upwards of 50% of the drink price as a bonus and will join you at your table for some conversation in exchange. As a rule of thumb, only trust bars that already have a fair number of customers; a drink should not cost more than 130 baht or so. Note, all the go-go bars in Patpong close by 01:00.
It must be said that Patpong has changed remarkably over the years. While it used to be just a sleazy den of go-go bars, nowadays a lot of visitors come to the area just to see what the fuss is about. It is not unusual to see families with children walk through the area in the early evening. The locals found a way to make money from this new group of curious tourists: an enormous
night market
stocked with overpriced souvenirs that takes up the whole road and even spills over to the surrounding area (including Silom Road). See the
Buy
section for more information on the night market.
Soi Thaniya
Soi Thaniya is Patpong for the Japanese; you might be excused for thinking you've ended up in
Shinjuku
when you see the plethora of signs in Japanese and kimono-clad girls beckoning you in. Most bars and clubs are off-limits to Westerners (except for the occasional British pub), but some of the restaurants aren't bad for Japanese food and some beer or sake to wash it down.
Silom Soi 2 and 4
Sois 2 and 4 are the centre of
gay nightlife
in Bangkok, although these days Soi 4 packs in a mixed crowd with plenty of bars that aren't gay by any stretch of the imagination. On weekends Soi 4 is cordoned off and a
valid ID
is (theoretically) required to enter. Across Surawong Road is
Soi Twilight
, Bangkok's largest gay go-go bar strip.
Bars and pubs
Superhip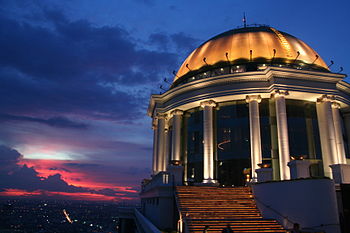 Note that fairly strictly applied
dress codes
apply to all of the following, so no flip-flops, shorts or sleeveless shirts.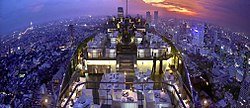 Sleep
Most of the hotels in Silom are four or five-star hotels catering to business travellers. Most splurge hotels can be found along Silom Road and Sathorn Road. The Bang Rak area at the Chao Phraya River has some of the world's best hotels, including
Mandarin Oriental
and
Shangri-La
(another contender for this title is
The Peninsula
, right at the other side of the river in
Thonburi
).
Due to high property values, dorm rooms, which are pretty much unheard of elsewhere in Thailand, are becoming the norm here for budget travellers. Ngam Duphli Road used to be the heart of Bangkok's backpacker scene, and was a lively area with dozens of guest houses. As
Khao San Road
took over, this road has gone significantly downhill and most guest houses there have turned creaky and dusty.
Budget
phone: +66 2235 5835

address: 5/8-9 Soi Silom 3 (Soi Pipat) Silom, Bangrak

Newly opened hostel with helpful staffs. It offers 4, 6, and 10 beds dormitories as well as private en suite, private shared, and triple rooms. All rooms include towel, high speed Wi-Fi, toiletries, locker for dorms and air-conditioning. There are pay per use laundry service, free luggage storage before/after stay and tours booking service. Counter bar on the ground floor offers free light breakfast and reasonable-priced beverages including Thai and local crafted beers.

Empo Hostel

phone: +66 2 045 6651

address: Sukhumvit Soi 22 Shophouse 627 Klong Toey

Air conditioned dorm with 10 beds per dorm. Free Wi-Fi.

phone: +66 22 869 429 89 520 8005

address: 5/3 soi Ngamduplee Rama Iv road

Air conditioned dorm with 12 beds per dorm. Outside hot water bathrooms. free internet and Wi-Fi. Rooftop view.

Freddys Guest House.

phone: +66 2 2867826

address: 27/40 Soi Sribumphen Rava Rd

Double fan rooms with outside bath. Air-con double rooms with outside bathrooms.

phone: +66 2 233-1598

address: 5/3-4 Silom Soi 3 (Phiphat Rd)

HQ Hostel Bangkok is a boutique accommodation for backpackers and budget travellers ideally located in the middle of Silom. It is within walking distance of all major attractions and the transport network. Rooms include air conditioning, and there is free Wi-Fi and Internet computers available.

phone: +66 2 6798116

address: 9 Sri Bumpen Alley Rama IV Road Sathon

single fan room with outside bathroom. Double fan room with private bathroom. Double fan room with balcony and own bathroom. Air-con double with own bathroom. a/c double with balcony and own bathroom. discount for long stay. Free Wi-Fi.

phone: +66 2 634 7999

address: 4 Decho Rd

This hostel was designed by famous hotel designers. It offers 8-bed dormitories, ladies-only dormitories, private rooms for 1-2 people and normal double bed hotel rooms with a private bathroom. All rooms are clean, comfortable and have air conditioning. There's a TV room, free Wi-Fi and free use of the nine internet terminals and luggage storage. There are do-it-yourself laundry services for around 60 baht. The colourful bar offers breakfast, snacks and beverages until midnight (2 beers for 100 baht). Booking is cheaper if done via the web compared to just walking in.

Mad Cow Hostel Silom

phone: +66 87 9720955

address: 9/6 Decho Road Suriyawong

Air-con 12 bed dorm. Free lockers. Free Wi-Fi.

phone: +66 2 679-7127(-36)

address: 54 Soi Ngam Duphli

The Malaysia Hotel used to be an institution in Bangkok. It was the city's most famous budget accommodation. Those days are long gone, as now it turned into a seedy gay pick-up hostel with massage parlour. Their 119 rooms are a decent value though, as they are fairly large and have air conditioning, hot-water baths, Internet access, and a swimming pool.

phone: +66 2 6306994(-8)

address: 1216/1 Charoen Krung Rd

A guest house with really nice dorms that are cheap for what you get. The desk staff is not amazing, they seem somewhat unsure of whether or not they have rooms/beds available a lot of the time. Ask twice if they aren't clear. It is in a fairly quiet area, but therefore, the closest street food is about 500 m down the road, and it's quite a walk to get anywhere. The nearest BTS station is about 1 kilometre away. Free Wi-Fi.

Sala Thai Daily Mansion

phone: +66 2 2871436

address: 15 Soi Saphan Khu

Probably the best guest house in the Soi Ngam Duphli area with 15 small, but clean, basic rooms. It is at the end of a very quiet soi. Rooms are private, but toilets and hot-water showers are shared. Nice rooftop terrace too.

phone: +66 2 2382322

address: 35 Surasak Rd

Saphai Pae is one of the biggest hostels in Bangkok. It is eight storeys high and can accommodate over 200 guests in a ladies dorm and a mixed dorm. The dorms have high quality mattresses, big lockers, air-conditioning, hot water, and free Wi-Fi in every room. There is also an Internet lounge, a laundry room, a television room, a café/bakery (06:00-20:00 daily) and restaurant (06:00-24:00 daily). Private double rooms are also available.

T.T. 2 Guest House

phone: +66 2 2362946

address: 516 Sawang Rd

It's pretty close to the train station, but somewhat tricky to find, hidden in a street with residential complexes and some abandoned burned down buildings. You'll feel like you can't be in the right place until you're right there. The staff is very helpful, but insistent that it is a "family" establishment. The building is closed from midnight to 05:00, so be sure you're in before, otherwise it will be a long night. They ask that you leave your key at the desk before you go out as well. It's a good option if you want a quiet place to sleep. Clean but very basic bathrooms, free and reasonably fast Wi-Fi. It seems to have a ton of rooms and not a lot of people in them, so it's good if your usual places are booked.

phone: +66 2 6370015

address: 920-926 Rama IV Rd

A clean and comfortable hostel or budget hotel. It lies along Rama IV Road, which can be noisy at night due to the massive amounts of traffic. It is not a party hostel, so stays quiet at night. Rooms have a modern bathroom with hot showers. Free Wi-Fi and free use of two Internet terminals is offered, as well as do-it-yourself laundry services (200 baht) and luggage storage.

Thrive The Hostel Patong by the Belle

phone: +66-2-2669400

address: 908 Rama 4 Rd Sirparaya Bangrak Silom

Air conditioned 4 bed dorm. Hot water. Free Wi-Fi
Mid-range
Splurge
phone: +66 2 210 9000

address: 36 , Narathiwat-Ratchanakarin Road

310 rooms and suites, Kasara Executive Lounge, Zoom Sky Bar, 100° East Restaurant serves Asian and Western cuisines. Crust Restaurant serves pizzas prepared with seasonal ingredients.

phone: +66 2 679-1200

address: 21/100 Sathorn Tai Rd

A spa resort in the middle of the city, worth visiting even if only for the Vertigo and Moon Bar up top. It has a reputation for being one of the most luxurious hotels in Bangkok.

Chatrium Hotel Riverside Bangkok

phone: +66 2307 8888

address: 28 Charoenkrung Road, Watprayakrai Bangkholame

The hotel is on the Chao Phraya River, room and suites are spacious and equipped with high speed Wi-Fi, satellite television, a kitchenette and a separate dining area. All rooms and suites have city or river views and the hotel has a spa, six restaurants and bars, a fitness centre, event facilities and a 35-metre infinity pool.

Chatrium Residence Riverside Bangkok

phone: +66 2307 8888

address: 26 Charoenkrung Soi 70, Bangkholame

Serviced apartments for one month or more. It is on the banks of Chao Phraya River. Amenities include a swimming pool, business centre, fitness centre, and a spa.

phone: +66 2 632-9000

address: 952 Rama IV Rd

For the price it costs, you get an incredible hotel and the service is better than some of the more expensive hotels. Breakfast is large and varied. Also, there's a gym on the 24th floor.

phone: +66 2 624-9999

address: State Tower, 1055/111 Silom Rd

This all-suite luxury accommodation gives you a glimpse of the most dramatic views of Bangkok. Rooms range from large (66 sq m) to huge (266 sq. m.). The Lebua Tower Club suites provide free in-room movies on demand, access to the Tower Club lounge (free drinks and snacks) and a free mini-bar (sodas only). This hotel also has free Wi-Fi. The Sky Bar, with a spectacular Dome rooftop, is the world's highest outdoor bar/restaurant, overlooking a panoramic view of Bangkok and the Chao Phraya River.

phone: +66 2 659-9000

address: 48 Oriental Rd

Ranked highly amongst the finest hotels in the world, it is known particularly for its superlative service. Prices are consequently on the steep side; even the cheapest online rates are rarely below 8,000 baht a night. Sumptuously decorated in old-school Colonial style. The hotel is on the east side of the river with Oriental Pier, its own Express Boat stop.

Le Méridien Bangkok

phone: +66 2 238-1991

address: 188 Silom Rd

This 38-storey property is on the lower reaches of Silom Road. Rooms have a safe deposit box, minibar, satellite/cable TV and in-room high-speed internet with a fantastic view of Bangkok from ceiling to floor window. The Scarlett Wine Bar inside the hotel is a great visit.

phone: +66 2 266-0123

address: 2 Charoen Krung Soi 30

This is a luxurious hotel on the banks of the mighty Chao Phraya River. It is close to River City shopping mall and the express boat.

phone: +66 2 236-7777

address: 89 Soi Wat Suan Phlu

Not quite as superlative as The Oriental or The Peninsula (across the river in Thonburi). The Shangri-La partly makes up for it with its excellent location next to both the Skytrain and the express boat.

phone: +66 2 627-2222

address: 222 Silom Rd

Boutique hotel with 75 rooms providing good, relaxed service. They also have conference rooms.

phone: +66 2 676 6868

address: No 7, South Sathorn Road, Yannawa, Sathorn

The serviced apartments offer studio, one and two bedroom apartments with an outdoor pool, gymnasium, and on-site spa. There is an indoor playroom for children.
Connect
Finding Wi-Fi in Silom is just as easy as finding a girl in Patpong. Nearly
every
hotel has free Wi-Fi for their customers (except, perversely, some of the more expensive ones, where you have to pay extra), or available for everyone in the lobby. Many of them also have Internet terminals available. If you're just visiting, many cafés and restaurants offer free Wi-Fi, such as the
Bonita Cafe
or
Molly Malone's
.
Bangkok General Post Office

address: 1160 Charoen Krung Rd

Poste restante can be collected here. Letters and parcels are at least kept for two months.
Go next
The superhip nightlife continues in Sukhumvit with trendy clubs and restaurants like Bed Supperclub and Long Table.
If you like the go-go bar scene at Patpong, you might want to check out Soi Cowboy and Nana Entertainment Plaza in Sukhumvit or the enormous "massage parlours" of Ratchadaphisek.
River City, just across the border in Yaowarat, is a colonial-style antiques mall similar to those found in Bang Rak.