Bangkok/Thonburi
Thonburi
(Thai: ธนบุรี) is a vast district that consists of the entire west bank of the Chao Phraya River in Bangkok. After the sack of
Ayutthaya
in 1767, General Phraya Taksin made Thonburi the new capital of Siam for a brief period of time. It is hard to believe this was once the country's capital, as the district is devoid of the grand structures seen in other former capitals. In fact, Thonburi stayed relatively isolated from Bangkok proper, and for centuries was an agricultural land filled with canals and fruit orchards. While Thonburi has quickly developed in recent decades, most visitors still come here for the cool and peaceful atmosphere. The traditional Thai way of life on the canals still exists here, as do the floating vendors and orchard farms.
Understand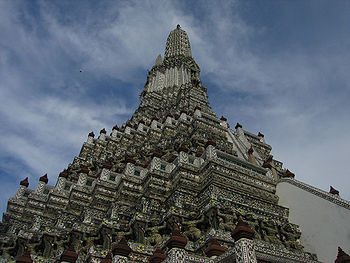 Originally, "Bangkok" referred to a village in the area that today roughly corresponds to the neighbourhoods of Bangkok Noi and Bangkok Yai. At that time, the Chao Phraya River had a completely different course than it does today. The Chao Phraya had a horseshoe shape that is similar to the current course of the Bangkok Noi and Bangkok Yai canals. One theory on the origin of the name is that Bangkok came from "Bang Ko", which means "island village" in Thai, referring to the village that was almost completely surrounded by the Chao Phraya River. Bangkok was the first part of Thonburi to be settled, as its location was a convenient storage point for trade ships that sailed north towards
Ayutthaya
. The horseshoe shape of the Chao Phraya River slowed down trading ships, and in 1542 a small canal was dug across the base of the meander to shorten sailing time. The strength of the current eroded the canal's banks, and over time the new canal became the main course of the river. Bangkok was on the east bank of the old course of the river, but on the west bank of the new course.
As sailing times quickened, Bangkok became a tax collection port and customs office for foreign traders sailing to Ayutthaya. In 1665, King Narai the Great ordered the construction of Vichaiyen Fort near the mouth of the Bangkok Yai canal to protect Ayutthaya from foreign invasions. This fort is now known as the
Vichaiprasit Fort
and can still be seen from the Chao Phraya Express Boat today. With it, the village got the status of fortified city and was renamed Thonburi. When the city of Ayutthaya was burnt to the ground by Burmese armies in 1767, General Taksin was in charge of the resistance. A capable military leader, he conquered back Siam within a year and took hold of large parts of Southeast Asia in the following decade. He became King of Siam and established Thonburi as the new capital of the country. He created his palace close to the fort, while the residence of General Phraya Chakri (who would later become King Rama I) was near the current location of Wat Rakhang.
In 1779, King Taksin had proclaimed himself a
sotapanna
(or divine figure), striking against the will of the powerful Buddhist monkhood. The state was in economic turmoil, there was rampant corruption and famine struck the country. King Taksin tried to maintain order with harsh punishment and purges. When General Phraya Chakri was fighting out a war with Cambodia, a rebellion took hold of Thonburi, forcing King Taksin to step down. Shortly after, he was secretly executed. When General Phraya Chakri returned, he was offered the throne and became King Rama I, the first King of the Chakri dynasty. He made
Rattanakosin
the new capital of Siam, as he believed that city would be easier to defend against foreign invasions. This was the end of a brief era now known as the Thonburi Period. It wasn't the end of "Bangkok"—foreigners never adapted to the changes and kept using the name, even for the eastern bank of the Chao Phraya River while that is technically incorrect.
Thonburi stayed relatively undeveloped compared to its neighbour across the river. The economy was mostly agriculture-based with fruit orchards criss-crossed by canals. Many durian species have originated in Thonburi, including mon thong, chanee and kan yao. Most of the fruit orchards have disappeared as Thonburi became more developed. It wasn't until 1932 that Thonburi became physically linked to the Rattanakosin side with the construction of the
Memorial Bridge
. Thonburi's distinct identity only held out for forty more years until 1971, when it was incorporated into the city of Krung Thep (Bangkok).
Get in
By boat
The easiest way to get into Thonburi is by boat. The
Chao Phraya Express Boat
goes up and down the river for 15 baht. Sometimes cashiers want you to buy the ticket before embarking the boat, but it is allowed to buy tickets on board. If going north from
Sathorn
pier (from
Silom
), the first pier on the Thonburi side is
Wang Lang
. It's the easiest point of entry as all lines stop there and the Wang Lang area is one of the more interesting ones in Thonburi. If you're heading south from
Phra Arthit
pier (from
Khao San Road
), Wang Lang is the second pier on the Thonburi side. When you're heading for the Royal Barge National Museum, disembark at the
Phra Pin Klao Bridge
pier.
There are also numerous ferries crossing the river from the
Rattanakosin
and
Silom
sides. Many commuters make use of these ferries, as they quickly cross the river for only 3 baht. If you're visiting
Wat Arun
, head for Tha Tien pier at the
Rattanakosin
side and take the Wat Arun ferry service. Other notable ferry services are from Tha Chang to Wang Lang and from Tha Phra Chan to Wang Lang.
By public transit
You can use Bangkok's public transport systems to get to Thonburi from
Siam Square
,
Sukhumvit
or
Silom
. After nearly ten years of delays, the BTS Silom Line connection to Thonburi finally opened in May 2009. The current terminus in
Bang Wa
opened in Dec 2013. From there you can take a taxi to Khlong Lat Mayom and Taling Chan floating markets without going through the downtown traffic.
Wongwian Yai
BTS station is near the railway station of the same name, but you'll still need a short taxi ride to get there. The best way to get to Thonburi from the city centre is by getting off the Skytrain at
Saphan Taksin
station and taking the Chao Phraya Express Boat up the river.
By bus
Getting into Thonburi by bus is very complicated, so only use city buses as a last resort. Bus travel is necessary to reach some destinations though, such as the Taling Chan Floating Market. If heading there, take ordinary and air-conditioned bus
79
from Ratchadamnoen Klang Road, which is near
Khao San Road
. Make sure you take the bus into the right direction (crossing the river) and ask local passengers when to get off or you might get lost.
Get around



Thonburi is a vast district, and getting around it is not easy. The area can hardly be explored on foot, as sights are spread far off throughout the district, most of the main roads are heavily congested with commuters and the area is lacking foot bridges over its numerous canals. This is why most travellers take a canal tour. But this doesn't mean the area cannot be experienced on your own at all—most of the roads can be walked on, and footbridges do exist, just don't say you haven't been warned.

See
Wat Arun
(วัดอรุณ), also known as the
Temple of Dawn
, is an iconic temple at the west bank of the Chao Phraya River, right next to the Navy Base. This is a royal temple in the highest rank and it is by far the most visited tourist attraction in Thonburi. It is easily accessible with the 3 baht ferry boat from Wat Pho in
Rattanakosin
. Ferries take off about every 10 to 15 minutes and operate daily from 06:00 till about 22:00. Walking around the temple gardens and looking at it from a distance is free, but if you want to enter the temple compound and climb the steep stairs, it costs 50 baht (for foreigners at least). Entering the complex can be recommended, as otherwise you won't see the small porcelain pieces it is decorated with. The temple grounds are opened from 07:30 till 17:30. Thousands of foreign tourists visit the temple everyday, many of them by canal tour early in the morning.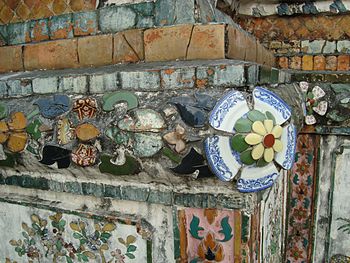 A temple has occupied this site since the Ayutthaya Period. It was first named
Wat Makok
, which means "Olive Temple", named after the many olive orchards in the area. After the fall of Ayutthaya, General Taksin was at war trying to conquer Siam back from Burmese armies. When he arrived in Thonburi in the morning, he reputedly saw this magnificent temple during sunrise. Since then, the temple got the name
Wat Chaeng
or
Wat Arun
, which means the Temple of Dawn. Wat Arun served as King Taksin's royal temple and was inside the Wang Derm Palace grounds, his personal residence. In the Thonburi Period, Wat Arun housed the recaptured Emerald Buddha for several years, before it was moved to the Grand Palace in Rattanakosin in 1785. In the Rattanakosin-era, Wat Arun lost its special status to Wat Phra Kaeo in the Grand Palace, but it remained one of the most iconic temples of Thailand. It is featured prominently on 10 baht coins and as the logo of the Tourist Authority of Thailand (TAT).
The magnificent main prang is in Thai called the
Phra Prang Wat Arun
. Overlooking the Chao Phraya river, it is not only the symbol of Thonburi, but a world-famous landmark and one of the most photographed icons of Thailand. The prang was originally built during the Ayutthaya Period and is in a classic Ayutthayan style. It was reconstructed and enlarged during the reign of King Rama II, and was completely finished in the reign of King Rama III. The height is reported by different sources to be between 66 and 86 metres. It was the tallest structure in Bangkok until the advent of the modern skyscraper. The main prang and its four satellite prangs are beautifully decorated with colourful broken Chinese porcelain pieces. It is believed that these broken porcelain pieces come from Chinese trade ships that were shipwrecked at sea.
Steep steps lead up to two terraces that surround the prang. From there, you have a nice view of the Chao Phraya River with the
Grand Palace
,
Wat Pho
and even downtown if you look far enough. Beside the famous central prang, be sure to take a look at the main chapel, the image hall, the Chinese style bell tower, and the open pavilions overlooking the river.
Houses of worship
Santa Cruz Church

phone: +66 2 466-0347

address: 112 Tesaban 1 Rd

The Santa Cruz Church is an interesting Catholic church right at the banks of the Chao Phraya River. After the fall of Ayutthaya by a Burmese invasion, King Taksin commanded that the peoples who escaped had to settle down in Thonburi, the new capital of Siam. The King dictated that the Chinese group had to settle down around the area of Wat Kalayanamit, while the Portuguese people would have their houses built along the bank of the Chao Phraya River. The Portuguese had given military support to King Taksin to help him drive out the Burmese from Siam. In recognition of their support, King Taksin granted the Portuguese a plot of land for the building of a church. The first Santa Cruz Church was a wooden church built in 1770. When that church got into a state of decay, a new Chinese-style church was built here, as it was nearby the Chinese community that stayed at Wat Kalayanamit. That church was called "Kudichin church" (Chinese church), and the Portuguese who settled here were called "Farang Kudichin", which means "Westerners at the Chinese shrine". In 1916, the third and current Santa Cruz Church was built during the reign of King Rama IV. The church has a magnificent Italian-style architecture. The community around it still feels authentic, and is the birthplace of a famous kind of cupcake, the "Khanom Farang Kudichin".

Wat Kanlayanamit

address: 656 Tesaban 1 Rd

Situated on the mouth of Bangkok Yai canal at the west bank of the Chao Phraya, this massive temple is popular among the Thai-Chinese community. It was founded in 1825 by a Chinese nobleman who donated his own residence and bought a piece of land to built a temple. This was during the reign of King Rama III, when trade with China was flourishing. The viharn is in a typical Thai style, but the two flanking buildings look Chinese. Inside the viharn is a large Buddha image named Phraputtatrirattananayok, which is 15.44 metres tall and 11.75 metres wide. It is so large that it almost entirely filled the interior of the hall. The image is called Sampokong by worshippers of Thai-Chinese descent. The inner courtyard is decorated with statues and gates imported from China. Every day during the Chinese New Year festival, this temple is crowded with thousands of Thai-Chinese visitors.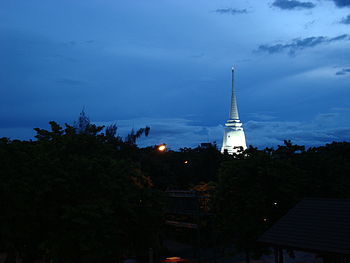 Wat Prayoon

phone: +66 2 465-5592

address: 24 Prachathipok Rd

This temple is close to the banks of the Chao Phraya River. The first thing you see is its large white chedi in Ayutthayan style; it is the only chedi of this style in Bangkok. King Rama II tried to create a similar chedi at the Golden Mount, but the ground could not support it and it collapsed. If you want a nice nightly picture of the chedi, walk on the Memorial Bridge at dusk when it is beautifully illuminated. However, most visitors come for the Khao Mor Cemetery, a large mound at the entrance of the temple. The mound is covered with many different shrines, chedis, spirit houses and even a doll house. There's a lot to take in, but its certainly a fun walk. The shallow pool has some turtles swimming around, which you can feed with food bought from the stalls outside. Another attraction is the small two-room museum with Khon masks, papier-mache pigs and other cultural objects.

Wat Rakhang

phone: +66 2 418-1079

address: 250 Trok Wat Rakhang

This temple was built during the Ayutthaya Period, later it was reconstructed and upgraded as a royal temple by King Taksin. The temple was named the "Temple of the Bells" due to the discovery of a huge bell at this temple in the reign of King Rama I. This significant temple was the residence of many supreme patriarchs of the Rattankosin Period, including Somdej Toah, a highly respected monk in the reign of King Rama V. Things of note are the beautiful mural paintings in the ordination hall, the image hall and the bell tower. Outside is a row of bells lined up. It is believed that ringing all of them in a row will bring good luck. The front of the building is right at the banks of the Chao Phraya River, and it is beautifully lit at nighttime.

Wat Suwannaram

address: 33 Charan Sanitwong Soi 32

This is a big royal temple on the banks of the Bangkok Noi Canal. It was built during the reign of King Rama I and renovated during the reign of King Rama III. Inside are exceptional murals depicting the Jutaku, deities and the Buddha in subduing Mara posture. These works of art of the early Rattanakosin Period (early 19th century) are considered some the best survived mural paintings in Bangkok. One particularly interesting mural is a Dutch person holding a telescope. At that time, the Dutch were associated with modern inventions that were very popular in Siam.
Museums
Bangkok Noi Museum

phone: +66 2 424 6873

address: Charan Sanitwong Soi 32

This museum is about the history of Bangkok Noi and of the village of "Bangkok" that used to be located here. Bangkok Noi was an important trading centre in the Ayutthaya Period, and briefly the capital of Siam in the Thonburi Period. The Rattanakosin Period has also been covered, when most of Bangkok Noi consisted of fruit orchards. Many people worked as craftsmen, including those making bronze bowls. These fruits and bowls are on display in the museum. Over time, Thonburi became more urbanised, but here you can still see what it used to be like.

House of Museums

phone: +66 8 9666-2008

address: Khlong Pho Land, 170/17 Moo 17, Khlong Pho Soi 2, Sala Thammasop Rd

The exhibition features a collection of old and modern items that were used every day by both townspeople and villagers. Items such as toys, books, stationery and kitchen and household utensils throughout the years are on display, forming a legacy of the past to be inherited by the present. The modern 3.5-storey building of 3 chambers covers a total area of 232 square metres. The first floor shows an old atmosphere of shop houses that date from before 1957, including a cafe, pharmacy, barber shop, and others. There are also rooms with changing exhibitions and various topics.

Princess Maha Chakri Sirindhorn Anthropology Centre

phone: +66 2 880-9429

address: 20 Borommarachachonnani Rd

This centre gathers anthropological data scattered throughout the country and brings the information together. More interesting for visitors are the variety of exhibitions taking place here, such as on social and cultural development in Thailand, ethno-archaeology and Thai ceramic collections. Also the biography of Princess Maha Chakri Sirindhorn can be viewed.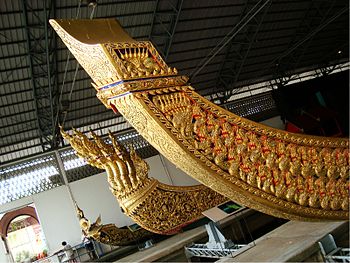 phone: +66 2 424-0004

address: Arun-Amarin Rd

On the mouth of the Bangkok Noi canal, this museum displays several Royal Barges used for state ceremonies on the Chao Phraya River. The ornately carved barges take the form of famous mythical creatures from the Ramayana epic. The most impressive is the Suphannahongse (or Golden Swan), which was built in 1911 during the reign of King Rama IV. This 46-metre craft was carved from a single piece of teakwood. The bow resembles a mythical swan and is adorned with gold lacquer and glass jewels. Most visit this museum as part of a canal tour, but it can also be visited on foot.

Siriraj Museums

phone: +66 2 419-7000(-6363)

address: Phran Nok Rd

These museums are old and dusty with many of them missing English signs. Most of the visitors are Thai students, who have to visit them for their studies, but some foreigners like to see them as well. The Forensic Medicine Museum is the most popular one for its collection of medical oddities similar to the Mütter Museum in Philadelphia. There are many other museums inside the complex, including the Congdon Anatomical Museum, Sood Sangvichien Prehistoric Museum, Songkran Niyomsane Forensic Medicine Museum, Parasitology Museum, Ellis Pathological Museum and the Veekit Veeranuvati Museum on traditional Thai medicine.

phone: +66 2 802-0863(-4)

address: 82/10 Sukhaphiban 1

This is a private museum operated by Mr Sunthorn Chunothaisawat. It houses invaluable antiques from different periods such as BMW Motorcycles from the interwar period, various types of old clocks, lamps, children toys made out of zinc, raios, irons, type writers, fans and sewing machines. All are well-maintained and in a good condition.
Parks and monuments
King Taksin the Great Monument

address: Prajadhipok Rd

This is an equestrian statue situated at the Wongwian Yai Circle near the railway station of the same name. The king is portrayed with his right hand holding a sword, measuring approximately 9 metres in height from his horse's feet to the spire of his hat. The statue rests on a reinforced concrete pedestal of about 9 by 2 metres with 3.90 metres in height. There are four frames of stucco relief on the two sides of the pedestal. The opening ceremony of this monument was held on April 17, 1954 and a homage-paying fair takes place annually at December 28.

phone: +66 2 437-7799

address: Somdet Chao Phraya Soi 3

This beautiful park is built near the Wat Anongkharam community where Somdej Phra Srinagarindra Boromarajajonani, HRH the Princess Mother (the mother of King Rama IX) had resided during her childhood. The park comprises a full scale model of the Princess Mother's house. The old buildings were renovated as exhibition halls, displaying the life story of HRH the Princess Mother and the history of the Wat Anongkharam community that lives here.
Do
Canal tour
Nineteenth-century Bangkok was laced with canals, giving the capital the designation "Venice of the East". As Bangkok turned into a bustling metropolis, Thonburi's surviving canals and the Chao Phraya River provide memorable vignettes of the traditional waterborne way-of-life that once was. No wonder then that most travellers visit the district by boat. Many of the tours and floating markets feel pretty set-up though, but in mornings you might still encounter an authentic floating vendor, paddling from house to house trying to sell some just-prepared food.
The most convenient option is to take a
fixed-price trip
, which is a package deal that usually includes a visit to Wat Arun, the Royal Barge Museum and a floating market. Such a tour can be booked through a travel agency, but it's easier to go to the pier yourself. There are two tour companies, one operating from Tha Chang pier in
Rattanakosin
, the other operating from Si Phraya pier in
Silom
(near River City shopping centre).
Mitchaophraya Travel Service

phone: +66 2 225-6179

Operating from Tha Chang pier, there offers plenty of tours on offer. All of them include Wat Arun, the Royal Barge National Museum and a floating market. At weekdays it will pass by the "Thonburi Floating Market", which is set-up for tourists and not worth it. Better take the tour at weekends, when it goes by the Taling Chan Floating Market (which is also not authentic, but at least feels more genuine and is a lot more lively). The one-hour tour goes through the Bangkok Noi and Mon canals for 800 baht. The 90-minute tour also takes in the Bangkok Yai canal for 1,000 baht. The complete tour takes two hours, costs 1,200 baht, and goes deeper into Thonburi, where you'll visit an orchid farm.

phone: +66 8 7109-8873

address: 780/488 Charoen Krung Rd, Bang Kho Laem

This company offers whole-day tours, which are slightly different whether you're taking them on weekdays or weekends. The weekday tour starts at the Wat Sai Morning Market and then takes you to an exotic orchid nursery, the Wat Pa Chang Lane or the "Jungle Temple", then onto a traditional wooden house of a local miniature boat making family and the "Artists' House" for a traditional Thai puppet show. The weekend tour takes you to the Artists House first and then brings you to the Lat Mayom Floating Market. The weekend tour is recommended as the Lat Mayom Floating Market is more authentic and more fun than the Wat Sai market. These tours use a Thai traditional teak boat, and life-vests are offered. Unlike other tours, you can ask the staff to stop anywhere along the canals. Call ahead for inquiries (ask for Tom, the Thai-American owner).

The Boat Tour CentreOperating from Si Phraya pier, they offer a one-hour tour for 800 baht and a two-hour for 1,500 baht. The one-hour tour is a quick tour of the Chao Phraya River. At the two-hour tour, you will either visit the Wat Sai Floating Market (if arriving around 08:00 on weekdays) or go up north to Wat Arun and the Royal Barge National Museum (at any other time).
Trips can also be arranged by
chartering a boat
along the canals at the east side of the river. The most convenient place to do this is Tha Chang pier or Tha Tien pier at the
Rattanakosin
side of the river. But it's also possible at Oriental pier in
Silom
and at the Bangkok Information Centre under Phra Pinklao Bridge (near
Khao San Road
). Major canals in Thonburi which tourists can take a boat trip through are the Bangkok Noi canal, Bangkok Yai canal, Daan canal and Chakphra canal. Be prepared to bargain, but don't pay more than around 1,000-1,500 baht for a two-hour trip (without any stops).
Another option is the
boat service
from Tha Chang pier. It operates every morning from 06:30 till 11:00 and departs every half hour (or when it has enough passengers). Boat fare is only 30 baht per person and you'll visit an orchard and a floating market.
phone: +66 2 476 0022

address: 257/1-3 Charoennakorn Road

Chao Phraya River cruise . They offer Private/shared cruises, two staterooms with private ensuite bathrooms , Departs on Mondays and Thursdays
Entertainment
phone: +66 2 433-8341

address: 554-554/12 Borommaratchachonnani Rd

A large and luxurious cinema, and compared to Western standards, an absolute bargain to watch a film here. All the newest Hollywood releases are on show, as are Thai films (most of which are subtitled in English). If you have to wait about one or two hours before the film starts, you can do some shopping or have some food in the attached shopping mall.
Buy
Floating markets
Khlong Lat Mayom Floating Market

address: 30/15 Moo 11, Bang Ramat Rd

This is a major attraction, with a pleasant and shaded atmosphere. The floating market corresponds to both sides of the Lat Mayom canal on Bang Ramat Road. This relatively new floating market dates from 2004, and is not frequently visited by boats. However, it does have many shop stalls, a small boat museum, several walking paths around the market, small toilet, a few outdoor restaurants and a variety of foods and merchandise for sale. Occasionally, it does feature live outdoor performances by local children or organisations. It is only open on weekends and easily accessible (and used as a prolonged stopover) on some tourist tour boats from Taling Chan Floating Market.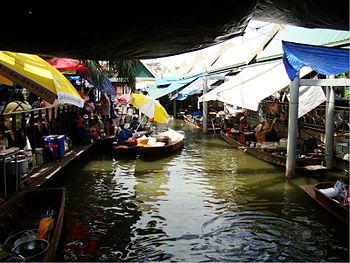 Taling Chan Floating Market

phone: +66 2 424-1742

address: Chak Phra Rd

This major attraction along Chak Phra canal is held every weekend. It is more convenient than taking a canal trip to Wat Sai and also feels more authentic and fun. It blends a rural market with the canal side way of life. The vendors, who are local farmers, take their products including plants, vegetables, fruits, fish and various kinds of food to this market. There are also floating food shops and a private-run canal tour service for visitors who enjoy the district's canal side way of life. It is accessible by car and bus, not too far from Bangkok's Southern Bus Terminal.

Wat Sai Floating Market

address: 11 Moo 2, Ekkachai Rd

This floating market along Sanam Chai Canal used to be a popular tourist site for visitors to admire the traditional canal side way of life. Unfortunately, construction of new roads within the area left the floating market abandoned in 1977. It was recently revived, though it does not feel as authentic as it used to. It is still interesting to book a canal tour along this historic waterway, and enjoy the floating market that is crowded with boats that have farm produced products for sale.
Land-based markets
Bang Ramat Market

address: Bang Ramat Rd

A local outdoor marketplace filled with food, refreshments, clothing, souvenirs and miscellaneous items by various independent local vendors. The market has a variety of clothes for sale, including new, used, Western and Eastern style clothes. Also for sale are CDs/DVDs/VCDs, children's toys, phone accessories, purses, weapons (handguns, hunting knives, ammunition), toiletries, ceremonial gifts, souvenirs and other small accessories. Children can go to the large inflatable playpen. It is popular and well-known by locals, but barely-known or visited by tourists. It is best to visit the market in the middle of the afternoon when it is most lively.

Bang Phrom MarketAnother local outdoor marketplace, similar to the one in Bang Ramat, but slightly larger, busier and more crowded.

Khlong San MarketLocated in a soi off Charoen Nakhon Road, the area offers items like ready-to-wear clothes for teenagers and shoes at relatively low prices. Best visited from lunch to dinner.

Thonburi Railway Market

address: Soi Nikhom Banphak Rotfai

This mostly fresh market spans 350 meters following the tracks at the railway station. It opens before sunrise and many fresh items are sold out by noon although the stalls selling other goods remain open. Worth checking out also for food if you arrive early for your train from Thonburi station.

Wang Lang Market

address: Soi Wang Lang, Phran Nok Rd

Wang Lang is a small street filled with shops and carts. It is often called the Ladies Market, because the many stores cater to women's clothes, shoes, bags and accessories. It becomes very crowded around 12:00, when the locals come in to have lunch. At that time it might be difficult to find your way around. Wednesdays is the best day to go, as the new second-hand products arrive that day, but the market is busy every day of the week.
Shopping malls
phone: +66 2 877-5000

address: 7/222 Borommaratchachonnani Rd

The largest shopping mall and office tower complex of Thonburi, it includes six floors (with a basement floor) with stores, stalls, restaurants, banks and a karaoke lounge. The Central Department Store is inside and takes up many floors. The other usual chain stores are present as well, as are stores selling books, electronics and clothes. The easiest way to get there is by taxi, but there are also buses and songthaews available.

phone: +66 2 487-1000

address: 275 Phetkasem Rd

A large shopping mall complex that has many floors of stores, stalls, restaurants and a cinema. It is located down the street from Kasemrad Hospital.

phone: +66 2 469-1000

address: 99 Ratchadapisek Rd

The easiest The Mall shopping mall to reach with Skytrain. Six floors with shops, a supermarket, outlets of all mobile operators, restaurants and a cinema.
Eat
If you want to eat like the locals, or if you are on a budget, head for
Wang Lang Market
. The main roads and their side streets are filled with plenty of unnamed restaurants and simple carts selling meals for less than 50 baht. It is known as one of the best places in Thailand to get food from
Southern Thailand
. The story goes that Southern Thais settled in this area as trains from the south used to arrive at the Thonburi Train Station nearby.
The Bang Ramat area has plenty of cheap budget restaurants as well, very convenient in case you're waiting at the Southern Bus Terminal. Just walk down Phuttamonthon Sai 1 Road and you will find plenty of restaurants, especially at the intersection with Ban Suan Phutthamonthon Road and the intersection with Wat Kaeo-Phutthamonthon Sai 1 Road. They offer traditional Thai cuisine, Thai and Western-style desserts and refreshments. Most delicacies cost 25 baht or less.
Central Plaza Pinklao is a good alternative if you're looking for mid-ranged chain restaurants, such as Yayoi and Sizzlers, or even the usual Western fast food chains. If you're elsewhere in Thonburi, hawker stalls are all over the district, as are 7-Eleven convenience stores.
Ruam Tai

phone: +66 2 411-0842

address: 375/4 Phran Nok Rd

This is a typical street restaurant that is good for trying some Southern Thai cooking. You might want to consider the gaeng som, a sour and thick vegetable soup. Diagonally across is Dao Tai, another Southern Thai restaurant. Both restaurants only have Thai signs and menus.

phone: +66 2 411-0305

address: 266 Soi Wat Rakhang

This luxurious restaurant is in the traditional Thai residence of Khunying Supatra Singholaga, a successful businesswoman who started the express boat service in Bangkok and a leading figure in women's rights. There is a small museum dedicated to her art collection inside the building. On the menu are Thai and seafood dishes, so you might want to try the fried river prawn with tamarind sauce. There is a great view of the Chao Phraya River, especially at night when the Grand Palace is beautifully lit. Thai dance shows are given on Saturday nights at 20:30. Make a reservation beforehand.

phone: +66 2 863-0565(-6)

address: 885 Somdet Chao Phraya Soi 17

You can sit at the open air terrace along the Chao Phraya River or inside with air-conditioning and live music. On the menu is seafood, including oysters, fish and shellfish. Most of the visitors are local Thais, at it is at the Thonburi bank, but more and more foreigners seem to get to know it. The only downside is the karaoke machine and loud TV, sometimes used by locals ruining the atmosphere.

ZOOM4ZOOM5

phone: +66 2 866-8745

address: 396/8 Phran Nok Rd

This cheap restaurant is highly recommended for its cheap prices and great view over the Chao Phraya River. When it is dark, Bangkok's highlights along the river are well-lit, such as the Grand Palace, Wat Arun and Wat Kalayanamit. Ordering goes by "self-service", which means you must walk to the counter yourself and order what you want to have. This is fairly straightforward as the menu is in English. You have to pick up the glasses from a shelve and fill them up with ice cubes (if desired). Some good dishes are the fried rice with maggie sauce or the fried rice with Thai chili paste and fried chicken. If you have a big appetite, also order the fried minced shrimp cakes.
Drink
Do not expect much of a nightlife scene in Thonburi—for that, the other districts in Bangkok do a better job. There are some dive bars spread over the area, but most of them aren't really interesting unless you want to experience how the locals go out.
Taling Bar

phone: +66 8 1984-6382

address: Wang Lang Rd

This is a simple chill-out bar and restaurant with views of the Chao Phraya River. At night, the Grand Palace is beautifully lit. It has recently undergone a significant reconstruction and became much larger in surface area. You can have a beer, cocktail or a dinner at this place before heading for Khao San Road. Apart from a great view, it is a good way to get a taste of Thonburi's local nightlife. Free fried peanuts are offered, and live music starts at 20:30 every night. You can also have dinner in the evening.

phone: +66 2 442-2000

address: 32F, Millennium Hilton, 123 Charoen Nakhon Rd

A lounge bar that offers spectacular 360 degrees views of the city and the Chao Phraya River. Usually there is a live jazz band playing. Cocktails cost 250 baht, which is a bit cheaper than in upscale venues in similar areas. Smoking is permitted in dedicated areas.
Sleep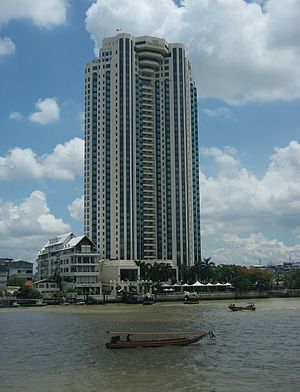 Budget
Baan Tipa Prannok

address: 225/1-2 Soi Itsaraphap 45

Private rooms with a/c, TV and Wi-Fi. Breakfast included.

Bangkok Station

address: 20 Soi Krungthonburi 4

Hostel with a/c rooms with shared bathrooms and free Wi-Fi about 200 m from BTS station.
Mid-range
Splurge
Connect
Finding a place to go online is not an easy task in Thonburi. It is mostly a residential neighbourhood and most Thais have an Internet connection at home. You might want to ask around with the locals. There are some Internet cafes along Phran Nok Road, such as The Corner CoffeeShop & Internet near the Wang Lang area.
The Corner CoffeeShop & Internet

phone: +66 2 411-2071

address: 203 Phran Nok Rd

Surf the web from one of the three terminals. You can also get a cup of coffee or iced chocolate—especially nice with some cream. A big downside is the noisy speedway outside ruining the atmosphere.
Go next
Take the train from Thonburi's
Wongwian Yai Station
to the fishing village of
Maha Chai
. Trains leave hourly and the trip takes about one hour. The train journey is an attraction in itself, with plenty of orchards, vegetable plantations and coconut groves to see. Maha Chai is a great destination for fresh seafood. If you wish, you can even continue your trip to
Samut Songkhram
from there.
Take the 3rd class train from
Thonburi Train Station
to
Kanchanaburi
. Trains depart twice a day. It is a fun ride and becomes quite scenic if you continue over River Kwai Bridge to the terminus at Nam Tok. You need to stay overnight for meaningful sightseeing. Some visitors do not return to Bangkok but continue by bus to
Chiang Mai
or via Ban Pong to
Hua Hin
.
Drive 15 kilometres west along Phetkasem Road for the
Rose Garden
in
Nakhon Pathom
. Get away from the hustle and bustle of Bangkok and experience the Thai rural way of life with beautiful gardens and orchards. It is a retreat into a peaceful environment, except at 14:00 when the tour buses and coaches arrive for the daily
Thai Village Cultural Show
.