Baviaans
The Baviaans
is located within the Cacadu District of the
Eastern Cape
.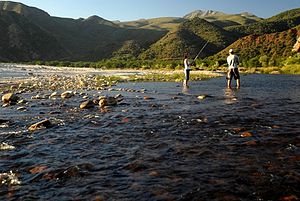 Understand
Experience the true meaning of hospitality and adventure in the
most beautiful of surroundings in the Baviaans and Gamtoos Valley.
The Baviaanskloof Mega Reserve, a World Heritage Site and South Africa's
largest protected area has seven biomes with an abundance of bird and
animal life, holds ample opportunity for outdoor recreation. The Baviaanskloof is a nature reserve synonymous with breathtaking scenery and wide open spaces. There is plenty of heritage sites just waiting to be discovered, as well as San Art
which adorns the pristine cliffs. While travelling through this area, you will be forgiven for feeling as if you are the first person to set foot on some of the rugged mountain paths. It is a sought after wilderness destination that offers camping, hiking and a serene refuge from the stress of daily life. Among the friendly and quaint towns situated in the Baviaans area is Willowmore and Steytlerville, each with colourful histories and surroundings which offer outdoor adventures, scenic routes and a variety of arts and crafts to appreciate. Willowmore is one of the only places in the Karoo with coastal fynbos, while Steytlerville is renowned for its variety of semi-desert vegetation. For clean skies, starry nights and sweet breezes, there is no better place than the Baviaans to spend your time.
Tourism Information Centres
Hankey Tourism

phone: +27 42 284-0543

phone: +27 44 923-1702
Get in
===By plane===
There are two airports located in close proximity to the Baviaans. The closest is the
Port Elizabeth
airport which is 163 km away. The
George
airport is 165 km away. There are regular flights from
Johannesburg
,
Cape Town
,
Durban
and other South African destinations to the airports in Port Elizabeth, George and East London.
By car
The Baviaans is easily accessible by motorways from Cape Town (691 km), Durban (869 km), East London (350 km) or Nelson Mandela Bay (75 km). You could also drive in from Johannesburg (1107 km). The road conditions are fairly good if you are coming from any of these cities.
By bus
All major South African coach companies offer regular schedules to and from destinations like the Baviaans.
See
Elands River ValleyFollow the trail through the mountains and enjoy the beauty of the area where wild fynbos, protea and purple heath abound or simply absorb the scenic Cockscomb Mountain and surrounding picturesque environment. 52 km from central Port Elizabeth, Elands River Valley offers various eco friendly accommodation camps and other activities.

Gamtoos Rivier ValleyThe Gamtoos Rivier Valley has numerous game reserves, farm activities, hiking trails and unspoilt nature on offer. The route through the Valley winds its way through purple mountains and grazing fields, back into Steytlerville, where good old Karoo hospitality is the order of the day.

Hankey

Tourism Information CentreHankey, the oldest town in the Valley, is home to the largest sundial in Africa (diameter: 36.4 m) as well as the remains of Sarah Bartmann. From the Toposcope in Hankey, onlookers will have the most magnificent views of the Gamtoos flood plains, while the 9-hole golf course offers the perfect opportunity to unwind.

LoerieThe little town of Loerie is named after a rather elusive species of bird, the Knysna Loerie, and is probably best known for its annual Naartjie Festival which takes place during the month of September. Loerie marks the start of the Gamtoos River Valley tourist route and is a fishing and birdwatching paradise. There's only a church, a fistful of houses and a local store, yet this beautiful and fertile valley is a blend of nature, agriculture and wilderness that makes it the perfect place in which to escape.

Patensie

Tourism Information CentrePatensie, guarded by the majestic Cockscomb Mountain, is situated at the doorway to the Baviaans wilderness area. This little town's activities primarily revolve around the citrus industry. Over time, it has become a very popular tourist destination with many B&Bs, self-catering establishments, fuel stops, banks and shops from which to choose. The impressive Kouga dam, which was built in 1967, is a must-see.

Steytlerville Tourism Information CentreThe little town of Steytlerville showcases a host of architectural gems and is home to several South African personalities in the past, a holiday in this town easily leads to relocation.

Willowmore

phone: +27 44 923-1702

On the western side of the Baviaanskloof lies Willowmore. Boasting a host of interesting nooks and crannies, Willowmore offers weary travelers a place to rejuvenate both body and soul. The town lends itself to cozy weekends spent next to the fire relating folklore and recalling stories of a bygone era, while also offering various options for hikers to choose from.

Baviaans Kloof (Valley of Baboon) Mega Reserve

phone: +27 43 742-4450

The Baviaanskloof Mega Reserve, nestled between the Baviaans Mountain range in the north and the Kouga Mountain Range in the south, boasts a warm, pleasant climate all year round and is free of tropical diseases such as malaria. The Reserve is the biggest wilderness area in South Africa with a 192 000 hectares conservation area. It is home to an amazing diversity of habitat types and species including seven of South Africa's 8 Biomes. From forests of Yellowoods to Karoo bossies, Spekboom Thicket to Fynbos and Proteas, the Kloof, as is affectionately referred to, is a nature lover's paradise.

Loerie Station

address: Loerie

Unlike other similar establishments, the Loerie Station features a turntable which enables two men to turn a locomotive weighing 60 tons in the other direction in order to travel to different destinations.

Loerie Dam

address: Patensie

The Loerie Dam situated on the Kouga River – Kouga meaning hippopotamus - was completed in 1976 with the wall being 365 m long and 94 m high. It is the first double-arched dam engineered in South Africa. It is a scenic spot ideal for bird watching and fishing.

Vergaderingskop

address: Hankey

Assembly Hill or Vergarderingskop, as the spot is fondly referred to, offers the perfect vantage point from which to observe the raging waters of the Gamtoos River sweep by during one of its numerous floods.

Sarah Bartman's Grave

address: Hankey

Sarah Bartman's grave, a National Heritage Site, houses the remains of the Khoi-san woman who was laid to rest upon a hill outside the town after spending a tragic and lonely life as an object of display in Europe during the early years of 1800. She was exhibited as the Hottentot Venus in both London and Paris. After she died at the age of 25, her remains became property of Musèe de I'Homme in Paris and in February 2002, precisely 213 years after her birth, Sarah Bartman finally returned home to the country of her birth.

The Sundial

address: Hankey

The Sundial, said to be the largest (diameter is 36.4 meter) of its kind in Southern Africa, was erected by the late Dirk Shleringhout in 1989 after his arrival in the Gamtoos valley from Holland after the Second World War.

Victoria Tree

address: Hankey

Stepping back in time, Hankey is home to a number of natural wonders of which the Victoria Tree is one. The tree, situated beside the railway crossing and only meters from the missionary graves, was planted on 22 July 1897 to commemorate the Jubilee of Queen Victoria's reign. Another remarkable gift from nature is the indigenous Kei-apple tree – Dovyalis affra – which is located on a corner in the main street of the tiny town. Once upon a time the tree was known as the 'slave tree', due to it possibly dating back to a time when slavery was still acceptable.

Doodsklip & RooihoekThe campsites of Doodsklip and Rooihoek are both located on the upper reaches of the Kouga Dam, in close proximity to pure white sandy beaches that fringe the deep river pools which are ideal for swimming.

Nuwekloof PassThe scenic Nuwe Kloof Pass provides unique views of the Willowmore cedar, Widdringtoniaschwarzii, which is widespread in the Baviaanskloof.
Sleep
Elandsheuwel Guest House & Camping

phone: +27 49 833-0018

address: Steytlerville

Elandsheuwel Guest Farm is ideally situated between Steytlerville and Willowmore. They offer 2 bedrooms with one bathroom in a separate wing of the main house. They also offer a self catering cottage on a camping site separate from the main house which sleeps 8 people.

Angora Mohair Cottage

phone: +27 44 923-1856

address: Willowmore

These cottages are private, spacious and comfortably furnished. The cottages have two bedrooms each with two three-quarter beds, both with en suit bathrooms. They also have a lounge and fully equipped kitchen with an indoor braai. The lounge also has a sleeper couch for children. There is also an out door braai.

Damsedrif Guest Farm

phone: +27 49 839-1026

address: Baviaanskloof

Damsedrif offers various accommodation options for your convenience. There are two restored farm houses, they sleep between 8-11 people and have two bathrooms as well as a lounge area, kitchen facilities. There are also single rooms available, sleeping two people with a bathroom and kitchenette.

Albertspark Guest Farm

phone: +27 44 923-1116

address: Baviaans Kloof

They offer self-catering, B&B or camping facilities. The flats are compleylt private and feature two double bedrooms, a bathroom, lounge area with a TV and DSTV and a kitchen and dining area.

Bruintjieskraal

phone: +27 84 515-0993

address: Baviaanskloof

10 spacious campsites situated next to Grootriver at south-eastern entrance to Baviaanskloof.

Glencoe chalets

phone: +27 84 515-0993

address: Baviaanskloof

Self-catering units sleeping 8 & 10 people respectively. Situated at the south-eastern entrance to Baviaanskloof, easy accessible with sedan motor vehicle.

phone: +27 44 771-1111

address: Paardekraal Farm, Uniondale

A private nature reserve on the western border of Baviaanskloof which offers a variety of accommodation options from camping to self-catering at very affordable prices.
Connect
Local telephone directory
: 1023
International telephone directory
: 10903
Important numbers
Ambulance: 10177 or +27 46 624-4240
Police: 10111 or +27 46 622-222
Fire Station: + 27 46 624-1111 or +27 46 624-1140
Go next