Beijing 2022
The Beijing article provides a more comprehensive guide to those visiting the city, and the China article provides a comprehensive guide to the wider region
The city of
Beijing
in
China
will be the host city of the Olympic Winter Games in 2022, which will make it the first city to have hosted both the summer and winter Olympics. Beijing will host the opening and closing ceremonies and the indoor ice events. The sliding events (bobsled, luge, skeleton) and some alpine skiing will be held at Xiaohaituo Mountain in
Yanqing District
, an outlying subdivision of Beijing located about 80 km (55 miles) northwest of the city center. Other skiing events will be at the Taizicheng ski area in
Zhangjiakou
, about 220 km (140 miles) from Beijing.
The games will be from 4 to 20 February 2022. The games will be followed by the Winter Paralympic Games, 4 to 13 March 2022.
Prepare
Tickets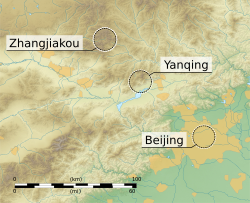 Tickets for Olympic Games are often heavily oversubscribed. There is usually a different application process for residents of the host country than for foreign visitors.
Ticket arrangements are likely to be announced 2-3 years before the games start, with the application process starting about 1 year before the start.
Accommodation
Get in
Beijing is the biggest transport hub in Northern China with suitable transportation links extending in all directions. The modern international airport and road and rail network ensures ease of access.
By plane
Most international flights will arrive at
Beijing Capital International Airport
. Other major international terminals in China are
Shanghai
and
Guangzhou
.
By rail
Beijing is the railway hub of the nation and a major station in the Far East, with the trains to most provincial capitals and all the neighboring cities. There are a number of stations in Beijing, the Beijing Railway Station, Beijing West Railway Station, and Beijing South Railway Station are the most important. The former is mainly for long-haul trips, such as Beijing to Shanghai or the international trains directly to Moscow, Ulan Bator and Pyongyang, etc. Beijing South is for fast EMU trains to Tianjin, Shanghai, Qingdao, Jinan and etc. Beijing West is for trains run on Jingguang and JingJiu lines. Tourists can attend the capitals of each province, the majority of large and medium-sized cities, autonomous regions in China. The other two stations offer short-haul trains to the neighbouring provinces.
By bus
Beijing is without doubt the largest intersection of the main roads in China, with twelve national highways in the north-east, south-east, south-west and south, and 8 major highways around the city, a total of 20,000 km.
Nineteen bus stations in Beijing service thousands of buses daily, to the neighboring cities such as Datong, Chengde, Tianjin, some departure every hour.
Visas and documentation
Most visitors require a visa to enter China - see
China#Visas
.
Get around
By rail
A high speed rail line to connect the three event clusters is under construction.

See

==Where==

Go next