Beirut
Beirut
(
Arabic
: بيروت‎
Bayrūt
,
French
:
Beyrouth
) is the capital city of
Lebanon
with a population of approximately 2.1 million people in its metropolitan area. The city is on a relatively small headland jutting into the east Mediterranean. It is by far the biggest city in Lebanon. Due to Lebanon's small size, the capital has always held the status as the only true cosmopolitan city in the country, and since independence, has been the commercial and financial hub of Lebanon.
Districts
Beirut is composed by many different neighborhoods, each own having its own distinctive atmosphere and character. Damascus Road, which connects the center with the National Museum, was known as the "Green Line" during the civil war era (1975–1990). At that time, it separated the mostly Muslim western sector of the city and the Christian eastern sector.
Martyrs' Square and the post-war development of Beirut Central District (BCD) are the geographical pivot of the city and serve quite well for orientation. The city sprawls over a peninsula with the sea to the north and the west, and the Mount Lebanon ridge to the east
Understand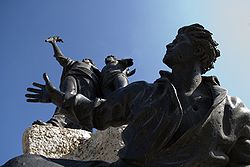 History
Beirut has survived a rough history, falling under the occupation of one empire after another. Originally named Bêrūt, "The Wells" by the Phoenicians, Beirut's history goes back more than 5000 years. Excavations in the downtown area have unearthed layers of Phoenician, Hellenistic, Roman, Arab and Ottoman civilizations.
Following World War II, Lebanon gained its independence from France and Beirut became its capital in 1943 - Bechara El-Khoury and Riad El-Solh, Lebanon's first president and prime minister respectively, are considered the founders of the modern Republic of Lebanon and national heroes. Beirut thrived as a major commercial and tourist center of the Middle East. It was a top destination among wealthy Arabs and European tourists, due to Beirut's unique geography, climate, diverse culture, and freedom. Beirut was seen as the "European gateway to the Middle East" and vice versa, and was often called the "Paris of the Middle East".
Beirut is home to more than 10 recognized religious sects. Religious tension between the Christian and Muslim factions sparked a brutal civil war in 1975. The conflict lasted nearly a decade and a half, ravaging the city. The central area of the city, previously the focus of much of the commercial and cultural activities, became a no-man's land. Throughout the war, the city was divided between the Muslim west part and the Christian east, and tensions between different sects remain to this day.
Since the end of the war in 1989, the people of Lebanon have been rebuilding Beirut. The city has undertaken an aggressive rebuilding policy. The city is working hard to regain its status as a tourist, cultural and intellectual center in the Middle East which it has lost to Cairo as well as a center for commerce, fashion and media which is dominated by Dubai and other rich Gulf states. However Beirut with the rest of the Middle East has gained momentum.
People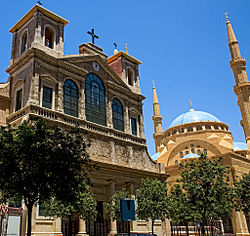 Some areas of Beirut have a friendly atmosphere, and some Beirutis have a reputation for being very sociable and outgoing. The locals are used to the sight of foreigners and would be happy to show you around the city, if you ask them.
Sectarianism is still prevalent in Lebanon, as a result of the French colonial legacy of divide and rule, which leads some Christian Lebanese to identify culturally with Europeans, particularly the French, and some denying Arab identity altogether; preferring to identify themselves as Phoenician (referring to their ancestral roots in ancient Phoenicia.) Many Muslim Lebanese identify culturally and ethnically with other Arabs and Muslims of the Middle East.
It is helpful to display some basic courtesies. A simple
Bonjour
when entering a cafe or shop can work wonders, and might even get you a special rate, or when hopping into a taxi, might just keep the driver from overcharging you. Say
Merci
when given or offered something, and if you'd rather not accept, then say
La'a merci
and smile; otherwise you might be taken as rude, even though you're not.
Most Beirutis love going out. If (and when) you go out at night, depending on the venue, dressing up well will most certainly get you some respect. The locals like to see that foreigners are doing what they can to fit in. Expect to be offered a drink or a cigarette. Alcohol is very cheap in shops and supermarkets, yet in night venues, prices can rise up to European standards (e.g. LL8,000/beer, LL15,000/cocktail))
Smoking is very common in Beirut, a large portion of the people smoke both outdoors and indoors. However, most restaurants and bars now abide by the law forbidding smoking indoors.
Climate
Beirut enjoys a Mediterranean climate. Come in April to June for warm, dry days and long, cool evenings (19–25 °C). Temperatures in July and August rise to around and humidity can be somewhat overwhelming – make sure your hotel has air conditioning. The wettest months are December to February so bring a good coat, rain boots, and umbrella because the rain often comes in torrential downpours. Streets have poor drainage and can quickly turn into rivers, so waterproof boots are highly recommended for the rainy season. Lebanon's ski season runs from December till early April.
Despite the diverse climate that changes noticeably per season, the weather is very predictable; the weather forecast, on radio and TV stations are normally very accurate, so you normally shouldn't find yourself caught in a sudden downpour in the winter months.
Public holidays
Due to Lebanon's diverse religions and sects, many public holidays are celebrated, some of which more than once:
New Year's Day, Epiphany and Armenian Christmas (6 Jan), Eid al-Adha – Feast of Sacrifice, celebrating the last day of Hajj, the Muslim pilgrimage to Mecca, Al Hijrah – Islamic New Year, Feast of St Maroun (9 Feb), Mwalid Al Nabawai – Prophet's Anniversary, Good Friday and Easter Monday (Apr), Labor Day (1 May), Liberation of the South (25 May), Assumption (15 Aug), Eid al-Fitr - Festival of the Breaking of the Fast, All Saints' Day (1 Nov), Independence Day (22 Nov), Christmas Day (25 Dec). Based on the lunar calendar, Islamic holidays move forward approximately 11 days every Western year.
Dress
Anything goes in Beirut. Shorts and T-shirts are perfect for the summer heat, for both men and women, while heavier clothing is necessary during the winter.
You should cover up if visiting religious sites, such as mosques and churches. Some neighborhoods are more conservative than others, so bear that in mind when exploring the city. Going out at night is a smart affair, so dress fashionably to fit in, although this does not mean dressing up in a suit; you will find many men in sporty T-shirts, dark jeans, and smart running shoes at even the trendiest nightclubs.
Talk
Beirut is very culturally diverse, and thus, multilingual. Lebanese Arabic is the native language but everyone speaks Standard Arabic, the official language, while English and French (especially the former) are also spoken by most people.
Shop signs are in both Standard Arabic, English and French. Most restaurant menus, event listings, and such are also in English alongside Standard Arabic and sometimes in French. Road signs, however, are in Standard Arabic and French.

Get in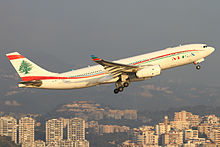 By plane
Beirut–Rafic Hariri International AirportIs the country's only international airport and the hub of Lebanon's national carrier, Middle East Airlines (MEA). Most international airlines have daily flights between Beirut and the major European capitals.
Car parking is available at the airport for around US$2.5 per hour. The parking time is rounded to the upper hour (i.e. 1.1 hours is rounded up to 2 hours).
Public transport
There are regular public minivans (usually every five-ten minutes) that go to the Downtown area and to the Charles Helou Station from the airport. They are run by private individuals but are distinguished from normal vehicles by a red number plate (indicating that it is a public transport vehicle). There is no set bus stand outside the terminal, but it is outside the departures terminal upstairs. Rides cost $1 or LL1,500 (
lira
). Both currencies are accepted. Wait outside the terminal and flag the vans down, as they may not stop. You pay when you leave. Tell the driver where you are going before entering and they will say yes or no.
Airport taxis
They are plentiful and comfortable taxis that are authorized by the airport are parked next to the terminal in the arrivals level and have an airport logo on the side (
official airport taxi fares
). Although these taxis claim to be regulated by the airport authorities, they are definitely not honest in their rates.
Regular taxis
They are also available and are located a little farther from the airport, but these are not guaranteed and are to be used at your own risk. The approximate rate Airport - Hamra street is LL25,000. However, the so-called regulated taxis' drivers, will ask you anywhere between US$30 to 50 for any downtown locations. So, start bargaining from $10 and stop at $15 as the upper limit, both ways to and from the Airport. Uber works in Lebanon, and as of February 2016 they had a $14 fixed rate to/from the airport. Considering this is only a 7 km long drive, and gas price is approx $1.5/litre in Beirut, this price is definitely a rip off that taxi drivers would not miss. Taxi types are wildly changing, so pick the best and newest looking ones to guarantee aircon, and collision safety in Beirut traffic.
Car rental
All major car rental companies have booking offices inside the airport.
More information can be obtained through the
airport's webpage on the topic
.
By car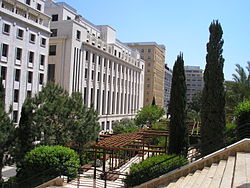 Beirut is linked with all coastal cities through the coastal road. Entrances/exists off this road connect it to districts adjacent to the coast such as Maten and Kesrwen (and others).
Beirut is linked to
Zahle
and
Baalbek
(and the rest of Bekaa) through Dahr Al-Baydar road (linked to Emile Lahoud highway at the entrance of Beirut].
There are four border crossing points between Lebanon and Syria:
Masnaa (on the Beirut-Damascus Highway)
Qaa (at the northern edge of the Békaa Valley)
Arida (north of Tripoli along the coast)
Aboudiyeh (northeast of Tripoli).
You can travel between Lebanon and Syria by private/rental car, bus, private taxi, or service taxi.
Stay updated with safety conditions in
Syria
if coming from there. There are no reports so far that border points were closed; however, check the news to stay up-to-date.
By bus
Charles Helou Station
lies approximately 1 km east of Nejmeh Square, on Charles Helou Avenue, facing the Beirut Port. From there you can take the city buses or hop onto the larger coaches that link Beirut with the neighboring cities.
Buses connecting Beirut with the south of Lebanon arrive at an intersection next to the Cola bridge. The bus stop is known as "Cola" among the locals. This place is in the southern part of Beirut - in area known as Mazraa.
Buses connecting Beirut with the North of Lebanon as well as Aleppo in Syria leave from the Charles Helou Bus Station just north of the city center.
As of April 2014 most buses to and from Damascus in Syria have been relocated to the Charles Helou station. Be sure to check the security situation in Syria before leaving.
By taxi
Taxis to
Damascus
, Syria are lined up at the Charles Helou bus station. The security situation between Beirut and Damascus has improved significantly in early 2014 (as of April 2014), but this does not mean that the trip can in any way be considered safe. If you must go, see
war zone safety
.
Taxis in Beirut will drive you to anywhere along the coastal road, but may be reluctant to drive to
Tripoli
given the security situation there. It is also possible to rent a taxi for the whole day for about the same prices at renting your own car.
Refer to the
Get Around
section for information on how to get to other parts of the city.
Get around
By taxi
There are two types of taxis in Beirut; the old (often) battered hail-taxis, and the prebooking taxis.
Hail-taxi - The most convenient form of transport in Beirut, as they are absolutely everywhere. Those taxis are predominantly Mercedes Benz cars (though recently, due to increasing petrol prices, taxi drivers are opting for more economic forms or transport) and can be quite easily identified by their yellow illuminated taxi sign on the roof and red number plate. Fixed meters aren't provided so it is recommended to ask how much your trip will cost before hopping in. The fare will be charged per destination and not per distance traveled (which is an advantage since traffic is a big problem in the city). A typical journey from one side of Beirut to the other (roughly 3 km) may cost LL10 000. Many taxi drivers speak at least a few words of English and French. Knowing the name of your destination in the local language may solve any misunderstanding.
Keep in mind the names of the landmarks around the city
, as they will come in handy when traveling by public transport (some drivers aren't that good at orienting!).
Prebook taxi - These require that you call them and book a ride, they generally cost more but are much more luxurious and are normally air conditioned. All hotels should provide you with a taxi directory, if you wish to use this type of service. Taxi prices are considered cheap if compared to US and European taxis. Major taxi companies are: Geryes Taxi (+961 1-332747), Taxi Premiere (Tel 1260 or +961 1-389222). Allo Taxi (Tel 1213 or +961 1-366661),
By service
The more common form of transport, especially with daily commuters, as they are cheaper than the taxis, but ironically, are in fact the same. Service are shared-taxis, the same taxis as above but shared between four or more people. The biggest advantage with the Service system is that the price of the ride is fixed at 2,000 L.L (€1). They come with drawbacks of course, and apart from having to share a small car with three other complete strangers (great for meeting new people actually), Service drivers may choose not to take you if you are not going in the same direction as them.
Hailing a service or taxi usually entails yelling your destination to the driver if he slows down, then chasing the name of your destination with either 'taxi' (for private taxi LL10,000 should you want one.)
It is important to remember that if you want a service, give the name of the general district you want and not a specific address. When you get close the driver will ask you where you want to get out. If you recognise the area you want to be in say just ask to stop.
After
you have paid you and the driver asks you, can give a more specific address like "Crowne Plaza" (a landmark on Hamra St.)and the driver will drop you as near to it as he is going, often pointing out where you have to walk to get there. When you get in to a service pay the LL2000 for each person right away. If you fail to do so, the driver will assume you asked for taxi, and will overcharge you at taxi-rate when you want to get out. However if the driver stops to ask for other fares or picks up another passenger only pay the Service rate of LL2,000.
Taxi drivers in Beirut are notorious for overcharging tourists much more so than neighboring Syria. Most will demand absurd fares and demanding 2-3 times the service rate is very common. If you're pressed for time paying 2 service may be a compromise (LL4000), otherwise you may have to wait a bit to find an honest cab driver willing to take you for LL2000. Always get a price
before
leaving otherwise the driver will most definitely rip you off. Also, virtually no one tips cab drivers unless some extraordinary service has been rendered, like a very long wait time while you run an errand or something. Some drivers will ask you for a tip particularly near holidays. Payment is usually at the end of the journey.
By bus
There are two public transport companies. The OCFTC that operates a fleet of blue and white city-buses, and the
LCC
with a fleet of red and white minibuses; Bus fares cost either LL500 (OCFTC bus 24) or LL1000. The service is very efficient and the buses come very often, to get onto a bus you must stand at the side of the road and signal with your hand as a bus approaches; the buses will stop anywhere.
By car
Driving in Beirut is not to be recommended for much of the day, particularly in the city center. Traffic is heavy, and impossible during rush hour. Walking around the city is much more of an experience, and is in fact necessary in the very center since that part of the city is a pedestrian area.
It can be difficult to find parking other than in multi-story and off-street car parks. On-street parking, if you are lucky enough to find one, is allowed for a short time of two hours. Tickets must be purchased through the parking meters usually located at either end of a street. They can be paid by either cash or card. Overstaying your time may get you a ticket. Enforcement of the parking limit isn't done very efficiently, but obviously the last thing anyone would want to find is a ticket that will ruin their day and set them back financially.
Renting a car is recommended if you're planing to visit neighboring towns and cities, or if you're planning to go out late at night when public transport isn't operating. Car rental prices range from economical LL40,000/day to luxury prices. Those can change according to season, so make sure you contact the car rental company beforehand to check prices as well as pickup/drop-off locations.
If you are traveling to the country during high season make sure to book your car rental in advance since it is normal to find that all rental companies are completely booked.
Driving in Beirut is on the right-hand side of the road. Driving can be hazardous because of crowded grid, lack of proper signing, and aggressive driving style. Only the central areas of Beirut have traffic lights operating, though plans have been made to cover all of the city.
By foot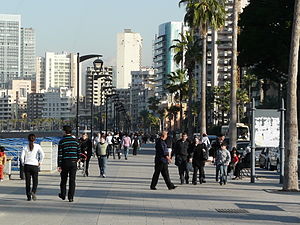 As the city is quite compact, walking is the best way of getting around, and perfect for getting off the beaten track to find unexpected surprises. Most people however will not walk throughout the city, rather they will walk within certain districts and take cars/taxis to get from one district to another. Streets are generally well signposted, but few Beiruti locals would know how to navigate according to their names, directions are usually given by building placement ("straight down the road until you reach building X, turn left there, then right..."), and many streets have local nicknames that wouldn't match the map. That said, if you find yourself lost in the streets, simply ask any passer-by for directions; no one will refuse to help! Otherwise you can stop at the nearest hotel or shop and ask. Hotel concierges and shop keepers will most definitely speak some limited English.
Some roads in Beirut are in poor condition. Not so much in the center, but the farther you get from downtown the more road works you will most probably find. So take care!
You can always check out a Beiruti-run walking tour called Walk Beirut. They offer weekly tours around the city.
By bicycle
Road blocks make
cycling
relatively safe the rest of the time as the result of reduced traffic.
See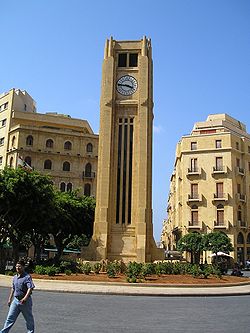 Beirut was once the self-proclaimed "Paris of the Middle East". It still has an outdoor cafe culture, and European architecture can be found everywhere. Many Beirutis (as well as other Lebanese) speak French and/or English, to varying degrees, along with Arabic.
Each district has its own sights and places to visit. The following listings are just some highlights of things that you really should see if you can during your visit to Beirut. The complete listings are found on each individual district page.
Landmarks
Pigeon Rocks (Rawcheh District) A monumental natural arch jutting up from the Mediterranean. Great place to sit at one of the roadside cafes and watch the sun set.
Place de l'Etoile (Nejmeh Square)(Downtown District), built by the French in the early 20th century in the very center of the Downtown district, it suffered a lot of war damage during the war but recently has been restored. It is under heavy security given that the Parliament sieges in the middle of it, and there are many army and police barrages to limit the access thereto.
Martyr's Statue Downtown Martyr's Square, east of Nejmeh Square towards Ashrafieh.
Museums and galleries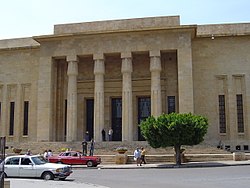 National Museum Of BeirutAbout 1,300 artifacts are exhibited, ranging in date from prehistoric times to the medieval Mamluk period mainly dealing with Lebanon's Archeology and History. This museum was on the front line of the Lebanese civil war, and it suffered near complete destruction; it was occupied by militiamen and sustained bullet holes. Although much was lost, many of its most valuable items were saved by its Director of Antiquities at the time, Emir Maurice Chehab and his wife. Smaller objects were hidden in the basement, and larger objects and the mural were encased in concrete. One of the key galleries was rededicated to him as the Maurice Chehab Hall.

address: Rue Sursock (street), Greek Orthodox Archbishopric Street, Ashrafieh

Contemporary Modern art. The building is a perfect example of the typical 18th-century Lebanese palace. Lebanese and International art is permanently displayed in the intricately preserved interior.
Beirut Art Center (Sin El-Fil District), Rue. 97 (street), Sin El-Fil, Beirut. (Contemporary Modern art), the first non-profit public space in Beirut, housing an exhibition space, screening and performance auditorium, bookstore, mediatheque, cafe and terrace. Designed by architect Raed Abi Lama. +591 1 397 018.

Matignon Gallery

phone: +961 1-500265, +961 1-484115

address: Sin El Fil, Greater Beirut

phone: +961 1 759 665

Archeology and History, the Middle East's oldest museum. Rue. Bliss (Rue. 33),

Musee Emmanuel Paul Guiragossian

phone: +961 3 711755

address: Emmanuel Guiragossian Art School, New Jdeideh, Greater Beirut

.
Parks and squares
Sanayeh Park, Emmile Eddé Road, Hamra, Beirut
Horsh Beirut (Beirut Pine Forest), (adjacent to the Beirut Hippodrome south of Ashrafieh)
Khalil Gebran Park Downtown District (between Amir Amine St. and Toufik Khaled St.)
Debbas Square Saifi village Downtown (between Charles Debbas St. and Dmascus St.)
Nejmeh Square Central Downtown
Herbal Garden Riad El Solh St. Downtown
American University of Beirut campus By far the biggest and greenest park in Beirut. Non-students are only allowed to enter through the main gate on Bliss Street in Hamra. Visiters are required to show ID.
Lebanese American University campus. While much smaller than AUB, the LAU campus in southern Hamra/Qoreitem is a cozy and quiet refuge from the busy streets of Beirut. ID is required to enter.
Festivals and events
Events
To stay up to date on Beirut's nightlife scene, visit any
Virgin Megastores
branch to ask about any upcoming events. Many live concerts are held throughout the year with international musicians and DJs. Beirut has hosted some of the world's biggest names in Dance music such as Armin Van Buuren, Tiesto, Above and Beyond, Bob Sinclar, Hernan Cattaneo, James Zabiela, Cosmic Gate, Paul Van Dyk, Ferry Corsten, Nick Warren, Anthony Pappa, Sasha, John Digweed, Danny Howells, Steve Lawler and others. Alternatively keep an ear out for the radio or on underground party websites:
Beirut International Film FestivalHeld annually in October, the Beirut Film Festival exhibits films from all over the middle east, usually in either Arabic or French. The films vary enormously and some can be intensely political.

Beirut International Jazz FestivalHeld annually during the month of July over a period of four days, some of the greatest international jazz artists as well as musicians from around Lebanon play some quality music near the Beirut marina.

Festival du cinéma francophone

phone: +961 1 293 212

Held between the month of March and April over a period of two weeks, films are in French. Cinéma Métropolis - Masrah Al Madina, Beirut.
One Big Sunday, Beach party with live DJs held every Sunday during the summer months in various resorts and beaches, organised by Mix FM .
Bacardi Night, Annual festival held during the summer with some of the hottest DJs and bands from around the world, organised by Mix FM .
Do
There are many things to do in Beirut. Check the different districts to find out what each has to offer. Meanwhile, here are a few
highlights:

Bet on an Arabian thoroughbred every Sunday in the Beirut Hippodrome, officially called Hippodrome Du Parc De Beyrouth. The hippodrome is home to popular horse races, attracting a dedicated betting crowd (often old taxi drivers). Foreigners should join the fun in the afternoon for free entrance (ID or passport required). Open on Sundays only.
Soak up the sun in one of the beach clubs on the Beirut coast. Very few actually have sandy beaches, and most unfortunately have been converted into spas with swimming pools and paved terraces, but despite all that, they all have access to the sea. A few of them are completely private and members-only, but can be accessed by paying for a guest ticket if going in with a member. The Saint George Yacht club in Ain El Mreisseh and the Riviera Beach and Yacht Club at the Riviera Hotel are two such popular clubs, where access to the beach club for non-members is US$20 per day. You can chill in one of the pools or have a drink at the bars and cafes while listening to music in the afternoons. Long Beach Club is another good place. The entrance is just to the left of the Ferris wheel on the Corniche right before the hill. Bring a beach towel.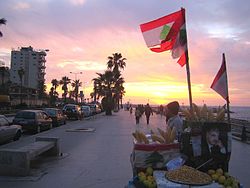 Test your golfing skills at

phone: +961 1 826335-6-7

address: Ouzai - Beer Hassan

Take a ride on the

Beirut Balloon

phone: +961 1 985901

address: Allenby St., Downtown Beirut

Walk, jog, skate, cycle, stroll (or whatever you consider exercise) along Paris Avenue which links up to General De Gaulle Avenue (both locally known simply as the corniche) which stretch around the entire Central Beirut perimeter (approx. 5 km). Start the walk, jog, skate etc... at the Beirut marina (Downtown Beirut District) about an hour or so before sunset and finish at the Pigeon Rocks in Rawcheh, in time to watch the sun go down while sipping on a drink at one of the outdoor cafés.
Scuba Dive:, With 300 sunny days a year, 36 shipwrecks, impressive walls, canyons, caves, Ray habitats and shark habitats, Beirut definitely has something to offer for a serious scuba diver. The French WWII submarine Le Souffleur, the British freighter Alice B which sank during the civil war in the 1980s, The Macedonia freighter which sank in 1962 and the National Star freighter in 1991, the Mediterranean flagship of Admiral Sir George Tryon HMS Victoria which sank in 1893, The British Lesbian which sank during WWII, make just a few of Beirut's shipwreck collection. Historical cities dot ancient Phoenicia's shore, providing us today with many interesting submerged historical sites, some littered with Phoenician and Roman marble stones, granite columns, pathways, old stone anchors, amphorae and bits of pottery. There are several Dive Centers around Beirut:
Learn
Buy
Clothes and fashion
- Beirut is the fashion capital of Lebanon and the region, with many prominent Lebanese designers located here, including (Elie Saab , Basil Soda , Pierre Katra and Robert AbiNader .)
Shopping streets
There are several shopping districts around the city.
Downtown Beirut - The renovated city center that boasts fancy and designer stores.
Hamra Street - An area featuring much revitalization over the last few years, with many international and upscale brands returning to the district.
Mar-Elias Street - A busy street towards the south of Beirut. Many of the shops are Lebanese brands which means this is the perfect place to find bargains as most brands are local and cheap.
Rue. Verdun - A shopping street with several high-end shopping malls and department stores.
Shopping centers
phone: +961 1 212888

address: Achrafieh Alfred Naccache Street, Mar Mitr

Many international brands are here along with great restaurants, cafés, and a movie theater all in a mixed indoor/outdoor setting.A second branch of this mall has also opened in Verdun Street.
Souks de Beirut is a mall in downtown with international brands in an outdoor setting.

phone: +961 1 385888

Tayouneh roundabout.
ABC Outlet, Hamra street, facing Cinema strand, +961 1 344740. Women's specialty store. Open M-Sa 9:45AM-7:45PM, closed Sunday.
City Mall, Dora highway roundabout, Greater Beirut, +961 1 905555. 100 stores, 15 cafés and restaurants, a Hypermarket, and 9 movie theaters.
Music, books, event tickets: Virgin Megastores has several branches in Beirut including: Beirut International Airport, City Mall (Dora roundabout), ABC department stores (Ashrafieh, Verdun, Dbayye), Beirut Souks.
Markets
Flea markets are surprisingly hard to find, occasional organized markets are held that are made to resemble flea markets.
Souk El Tayeb Held every Saturday near BIEL downtown 9AM-2PM, is Beirut's first organic farmer's market. Promoting traditional methods of farming and preserving, it's a great place to pick up local honey, cheese and breads, plus artisans' crafts. It also runs regular cookery classes, to learn how to make that perfect tabouleh (bulgur salad).
Sunday Market Get up early and join the locals for a rummage at the Sunday Market which is open 7AM-1PM, next to Beirut River in the east. You might find antique jewellery, clothing and beads, or maybe just bric-à-brac, but there's an eclectic selection of goodies on show. Remember to bargain hard.
Burj Hammoud Beirut's Armenian quarter, perfect place to shop for cheap bric-à-brac, artisan's' crafts, souvenirs, copper and brass ware and faus-brands. Don't forget to haggle. Burj Hammoud is located to the East of ashrafieh across the Beirut river.
Money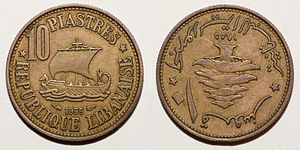 Cash: Lebanese pounds (LL) and US dollars are both accepted everywhere, except for tiny number of government offices. Payment and change for transactions may be given as a combination of the two. The exchange rate is fixed at LL1,500 to US$1.
Payment cards: Many shops, hotels, restaurants, bars, etc., accept international payment cards such as Visa, MasterCard, Maestro or American Express.
Automatic bank tellers: Withdrawal can be made from any automatic bank teller found in any region of the country. Withdrawals can be made in either Lebanese lira or the US dollar.
Traveler's checks: Lebanese banks can exchange them very easily.
Eat
Lebanese cuisine
Lebanese cuisine is a mix of Arab, Turkish and Mediterranean influences, and enjoys a worldwide reputation for its richness and variety as well as its Mediterranean health factor. Olive oil, herbs, spices, fresh fruits and vegetables are commonly used, as well as dairy products, cereals, fishes and various types of meat. A visit to Beirut includes the traditional
Lebanese Mezze
(Meza)
, an elaborate variety of thirty hot and cold dishes. A typical Mezze may consist of salads such as the
Tabboule
and
Fattouch
, together with the caviars:
Hommos
and
Moutabal
, and some patties such as the
Sambousseks
and finally, the stuffed grape leaves, with of course the Lebanese flat pita bread which is essential to every Lebanese Mezze.
Must try:
Mankoushé/Manakish: a Lebanese pizza, or at least that's what it looks like, the Mankoushé is a baked pizza-shaped dough with either a mixture of thyme (called za'atar) or local cheeses (or a mixture of both) on top, can be bought from all bakeries as well as special Forn Mankhoushé which specialize in this type of food, usually had for breakfast. cost between LL1,000 and LL3,000.
Ka'ek: a different version of bagels, about 30 cm in diameter and hollow, normally filled with thyme but you can ask for cheese spread as well. Commonly purchased from street vendors that ride bicycles or motorized scooters and honk a manual horn, but you can also find it at major bakeries. Although not of Lebanese origins, they're quite popular and are always found near Rawcheh area, they're worth a try. Cost about LL1,000.
Roastery Nuts: roasted nuts are them local favourite appetizers particularly with the older people. Local brands have dedicated roasteries where customers walk in and order fresh, they produce some of the best nuts in the region, and certainly the most varied. Pecans, cashews, macadamias, hazelnuts, almonds, pistachios, peanuts. Ask for Krikri in thyme, spice, or cheese flavour.
Sweets: every religious or national event sees stalls set up on pavements outside churches and in public squares, where traditional Lebanese sweets are sold such as: Maamoul, Ktaef, Halawet el Jibn, Halawet el Riz,and Ashta. If you're lucky enough to come across those be sure to give them all a try, otherwise visit any påtisserie where the same sweets can be purchased.
International cuisine
Beirut's different cultures brought different tastes for food, and restaurants of all different origins have opened all around the city. Restaurants have different price ranges, depending of course on the quality of the ingredients used; check the different districts for the listings.
Fast food
If you're on a tight budget, or if you simply miss the food that you can get back at home, fast food is your best option. All major international fast food restaurants have opened chains in Beirut (KFC, McDonald's, Burger King, Hardee's, Domino's Pizza, Pizza Hut, Dunkin' Donuts, Subway), but many local fast food restaurants have sprung up to compete with the major franchisers.
Drink
Nightlife:
Alcohol is readily available in Beirut. Many of Beirut's districts have their own fair amount of cafes, bars, and clubs, although many areas are "dry" or, while serving alocohol, do not have a vibrant nightlife. This said, two of the hotter nightspots, with the highest concentration of pubs and nightclubs, are Gemmayze (mostly pubs) and Monot St (mix of nightclubs and pubs), both located within close range in the
Ashrafieh
district.
Hamra
is also seeing a revival in its nightlife, with over a dozen new pubs and bars open there now. The best way to find out what's in and whats not is by checking the local press or simply going there and seeing for yourself. There is no curfew in Beirut, thought expect most pubs and bars to empty by 2AM, and most nightclubs to empty between 4AM and 4:40AM.
During the summer, Monot tends to be much less busy, as many open-air clubs outside of the area tend to dominate the nightlife in Beirut. Gemmayzeh remains popular year-round.
SkyBar in Biel, next to downtown, is an open-air nightclub. It may be the hottest nightclub in Beirut, and has a view overlooking the Sea. It is closed during the winter months.
Iris. A rooftop bar on top of the an-Nahar newspaper building, with an outdoor area overlooking the sea, downtown, and the mountains.
Locally brewed beer include
Almaza
and
Laziza
(non-alcoholic). There is also a microbrewery that started producing several styles of more flavorful beer in 2006, called
"961 Beer"
.
"LB Beer"
, which is brewed without the use of any corn or rice. it has gained a large following by the younger, independent minded crowd and is a regular staple at locally organized parties. All are worth a try when visiting.
Sleep
There are lots of hotels in Beirut's metropolitan area, ranging from cheap hostels to luxury suite hotels. Prices and quality vary across the spectrum, but if you look well enough, there's bound to be the perfect hotel inside whatever budget you set. Check the different
districts
to find places to sleep.
Stay safe

After 2009, Lebanon became a safer place and the number of tourists is dramatically increasing (more than 2 million in 2009), although the number has peaked since then.
The US government's warning to travelers visiting Lebanon was lifted in 2009 but was later renewed, in part because of the risk of spillover from the Syrian civil war. The violence in Naher al-Bared has ceased. If you choose to visit Lebanon, visit the touristic cities like Jounieh, Byblos, Tyr and Tripoli. Beirut itself is relatively safe.
Palestinian refugee camps in Beirut are approachable, but try to bring a local. She/he will be worth a lot when it comes to logistics and safety. Camps vary in size and appearance (the camps in Beirut are worse than some rural camps, which can resemble more open villages). Most refugees however are both civil and open in the encounter with foreigners. The key is of course openness on your part as well. Of course, Downtown Beirut will always be a more safe alternative, but for the most part you won't encounter any problems while in a refugee camp.
Photography of military personnel and installations is prohibited. You should also be careful in taking photographs in the Dahiyeh (the southern suburbs), if you don't want to get in contact with Hezbollah. The safest thing is to ask an official nearby for permission, although your request will very likely be turned down. Keep your camera in a purse just for safety. If a Hezbollah official approaches you, seeing your camera, he can't know if you've been taking pictures before that. Should you be taken in for questioning (because of taking pictures), remain calm. It might take a long time getting out of it, but it's highly unlikely that things should escalate or turn ugly. Bottom line: consider not bringing your camera at all. A trip to Dahiyeh is way too interesting and different to be spent getting questioned by the authorities.
Avoid any governmental or military convoys that may be passing by. Lebanese people have adapted to all those situations.

Cope
Crime
Beirut sees no more criminal activity than any other major city, if not less. Be aware of pickpockets and scams involving overpricing. The last is mostly a problem concerning taxi drivers, so be sure always to agree on a price before setting off.
Health
If you are unlucky enough to fall ill, head straight for the American University of Beirut Medical Center (AUBMC), also known as AUH, (near the AUB campus) - you will need to pay around US$40 upfront (cash or major credit card) and be reimbursed later by your insurer.
Pharmacies in Lebanon are able to prescribe drugs on-the-spot. While this is likely to be a boon for a minority of travelers, it can leave you even more ill than when you came in to begin with. Don't chance it - see a doctor first.
City stress
Escaping to the mountains near Beirut is a good option for those about to burn-out. Aley and Beit Mery are both near enough to the city (20–30 minutes) and are generally clean and green.
Embassies
phone: +961 5 929 010, +961 3 332 291 (emergencies)

address: St. Bechara Church Street, Baabda

phone: +961 4 726700

address: First Floor, Coolrite Building, 43 Jal El Dib Highway

phone: +961 1 859977

address: 4653, Dr. Muhammad El-Bethri Street beside Engineering Syndicate

phone: +961 1 420100

address: Espace des Lettres - Bâtiment A - Rue de Damas

phone: +961 4 935 000, +961 3 600 053 (emergencies)

address: B.P. 11-2820 Riad El-Solh (Maghzal Bldg)

phone: +961 4 521 700, +961 7071994 (emergencies)

address: Nouvelle Naccache, Rue des Ambassades, Immeuble Boukhater (P.O.Box 11-0309)

phone: +961 5 954955

address: Rue du Palais Presidentiel 2902 2633 - Baabda

phone: +961 1 1211150

address: Avenue Charles Malek 2073-0802 - Achrafieh

Philippines

phone: +961 1 212-001

address: Bldg No. 29 Plot No. 511 Charles Malik Ave Achrafieh

Romania

phone: +961 5-924848, +961 5-924849

address: Lebanon Route du Palais Présidentiel Baabda

Turkey

phone: +961 452 09 29, +961 452 09 39

address: Rabieh, Zone II, 1st Street, Metn

phone: +961 1 9608 00

address: Embassies Complex, Armies St, Zkak Al-Blat, Serail Hill

address: In Awkar facing the municipality
Radio stations
Radio in Beirut is quite popular, particularly with the younger people who listen to the English-spoken stations as all events and concerts are advertised through those. Arabic and French broadcasted stations are plentiful, and are worth a listen if you'd like to experience the traditional culture. Below are radio stations that are broadcasted in English:
Newspapers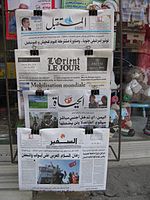 Official
Newsboxes
can be found throughout the commercial areas in the city, mainly in Sassine Square ashrafieh, Verdun st. Verdun, Concorde st. Hamra. All Minimarkets/Supermarkets/Hypermarkets distribute newspapers and magazines as well.
There is a huge variety of Arabic newspapers of all sorts, as well as ethnic newspapers such as the Armenianllanguage dailies
Aztag
,
Ararad
and
Zartonk
.
===Hospitals===
American University of Beirut Medical Center (AUBMC)

phone: +961 1 350-000

address: Makdissi Street, Hamra

phone: +961 1-615300, +961 1-615400

address: Adib Ishak Street, BVD. Alfred Naccache, Achrafieh,

Saint George Hospital University medical center:

phone: +961 1-585700, +961 1-525700

address: Rmeil, Youssef Sursock street, Achrafieh

phone: +961 1-200800, +961 1-328800

address: Zahar St., Achrafieh, P.O. Box: 11-3288, Beirut

phone: +961 1-646590

address: Ouzai St., Tarik Al-Jadida, P.O. Box: 6301, Beirut

Internal medicine, surgery, bone marrow transplant, maternity, pediatrics, intensive care unit, physiotherapy, blood bank, pharmacy, laboratory and emergency services.

Najjar Hospital:

phone: +961 1-340626, +961 3-669911

address: Maamari Street, Ras Beirut

Internal medicine, Surgery, Maternity, Pediatrics, Intensive care unit, Blood bank, Pharmacy, Laboratory and Emergency services.

phone: +961 1-858333

address: Airport Ave., Dergham Street, P.O.Box: 99/25, Ghobeiry

Internal medicine, general surgery, maternity, intensive care unit, physiotherapy, blood bank, pharmacy, laboratory and emergency services.

Trad Hospital and Medical Center:

phone: +961 1-341740, +961 1-369494, +961 1-369495

address: : Mexico Street, Fifth Floor, Clemenceau, Hamra

Internal medicine, surgery, maternity, pharmacy, and laboratory services.

phone: +961 1-742140, +961 1-348811

address: Maktabi Bldg., Abdelaziz Street, Hamra

Internal medicine, surgery, gynecology, blood bank, pharmacy, laboratory and emergency services.

Barbir Hospital:

phone: +961 1-652915, +961 1-652955

address: Fuad The First Street, Barbir

Internal medicine, surgery, maternity, pediatrics, intensive care unit, physiotherapy, blood bank, pharmacy, laboratory and emergency services.
Connect
Many cafes and restaurants provide free
WiFi
to customers.
Internet Cafés
are plentiful in Beirut, and they should all provide printing and copying services as well as web surfing. The inner-city internet cafés tend to be more expensive (approx US$2–3/hr) than those in the residential areas (approx $0.50/hr), but are also usually 'nicer' e.g.z providing a faster internet connection with new fast computers:
phone: +961 1-615578

address: Sodeco Square, ground floor Sodeco Street, Ashrafieh

GDSonline

phone: +961 1-970121

address: Downtown,Maarad street,287B. Beirut central district
Payphones
can be found on all main streets all around the city, however, they can only take smart cards called
Telecarte
which provide a specific amount of prepaid calling time and can be used from any payphone.
Telecarte
denominations come in LL10,000 and LL30,000.
Telecarte
can be purchase at OGERO Sales Offices and MoT offices (most Minimarkets/Supermarkets/Hypermarkets as well as Mobile phone stores sell them).
Telecarte:
allows you to save 10% on International Direct Calls.
allows you to make national calls to any regular line at 100 LL/min.
allows you to make national calls to any cellular line at 300 LL/min.
GSM Phones
can be used in Lebanon, either through roaming (beware of roaming charges from your home country operator), or by purchasing a local SIM card through one of the two telecom operators
Alfa
and
touch
. Prepaid SIM cards can be purchased for as little as US$25 and 3G mobile data plans can be purchased for as low as $10 for 150MB.
In order to use a local SIM card with your own phone in Lebanon, you should ensure that it is:
Not locked to your current carrier
Enabled for use in Lebanon. In order to do that, please visit the telco help desks at Beirut Airport upon arrival, follow the signs that will lead you to thoses desks.
Go next
Once you leave Beirut, visit any of the other cities in
Lebanon
. The country is relatively small, so no single journey to any other city should take more than two hours.
Archaeological sites and architectural heritage include
Baalbek
,
Byblos
,
Sidon
,
Tripoli
, and
Tyre
. Most of these cities are
UNESCO World Heritage Site
.
Other sites of notable interest are
Jeita caves
,
Qadisha valley with its monasteries
, and
Zahle
.
Depending on the season visiting, you can
go skiing
in one of the six mountain resorts, or go to the beaches in Tyr or one of the beach resorts in
Jounieh
.
Buses that head to the North city of Tripoli or to Syria and Jordan operate from the
Charles Helou bus station
, which is also the station for long-distance taxis that link Beirut to neighboring cities as well as Syria and Jordan. Charles Helou is located next to Port of Beirut. It can be difficult to understand the main bus routes at first but you can always ask, bus drivers are like everybody else in Lebanon, friendly and may be able to communicate in English or French.
Buses that head South—to Sidon or Tyre—leave from the Cola intersection.