Bendery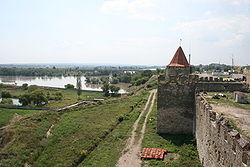 Bendery
(Russian: Бендеры; Moldovan:
Bender
or
Tighina
) is a city in the unrecognized republic of
Transnistria
, on the west or right bank of the Dniestr River.
Get in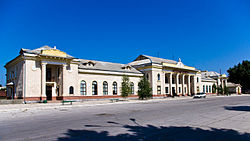 Frequent buses and marshrutkas stop here en route from
Chisinau
,
Causeni
and
Tiraspol
. Trolley bus
19
from Tiraspol costs , tickets are sold by the conductor. Trains run from Bender 2 station to
Chisinau
,
Odessa
and even
Moscow
.
Get around

You can explore the city easily on foot.

See
The town is pleasant to walk through. You'll notice a fortified Russian checkpoint on the bridge leading across the Dniestr, these are the local peacekeeping forces. Nearby is a monument to "independence" conflict. The bus terminal is a nice example of Soviet bus terminal design.
Bendery FortressA 16th-century Ottoman fortification overlooking the river, restored and open to the public. There is a terrifying collection of torture devices from the period. Outside is the newer Alexander Nevsky Church which is well worth a visit
In the nearby village of Varnita there is a monument in memory of the skirmishes (famous in Swedish history as
kalabaliken
) during which Charles XII, king of
Sweden
, was taken prisoner by Turkish forces (1713), after having been in the city as a refugee following the battle of
Poltava
.
Do
The main train station is worth seeing. It has some interesting architecture and the tracks can be explored, as the line has been closed since the conflict in Crimea.
To the left of the station (looking towards the front of it) is an old Soviet train which houses a free museum (closed on Sundays).
Visit Gorky's Cinema for its grand Soviet-era building, particularly the main lobby. Opposite in Scuarul Comsomolului Leninist Park is a statue of Lenin.
Eat
There's a nice Uzbek restaurant nearby the bus terminal. The owner also speaks some English. If you are looking for a western style food place then you can visit Andy's Pizza which is in the middle of Bendery one block away from Supermarket Sheriff.
Upstairs inside the Soviet-era bus station, CCCP is a Soviet-style canteen serving surprisingly tasty food for €2-5.

Drink
The local wine represents good value. The quality is higher than the price suggests, it's well worth trying.

Go next