Bertioga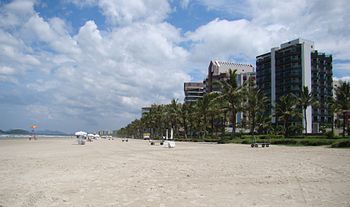 Bertioga
is a sea side town in
São Paulo State
. It is a former district of
Santos
and considered to be part of the
Baixada Santista
metro area, although it has no conurbation with other cities.
Although mainly a local tourism destination, Bertioga is an attractive day/weekend trip for international visitors to
São Paulo
, as it offers excellent beaches and has much less crime problems than the neighboring
Guarujá
.
Understand
Bertioga was initially populated by Native Brazilians of the
Tupinambá
and
Tupiniquim
tribes. The region is the scenario of the controversial book
True Story and Description of a Country of Wild, Naked, Grim, Man-eating People in the New World
written by the German mariner Hans Staden.
In 1532, Portuguese settlers founded there the oldest fortress of
Brazil
-
Forte São João de Bertioga
, which has been definitively completed only in 1702, and is until nowadays the most important landmark of the town.
Bertioga remained as a suburb and later as a district of Santos until 1991, when it became a separate municipality. Bertioga is obviously less famous than its neighboring coastal towns - Guarujá and
São Sebastião
, and despite being now a "city on its own", it retains the feel of a collection of coastal suburbs (even downtown looks like an ordinary suburb). However, Bertioga is still an important local tourism destination of the
São Paulo state
, with many
Paulistas
keeping summer vacation houses in the town.
Get in
By bus
From São Paulo, there are two buses that go to Bertioga. One, operated by
Viação Ultra
goes to Downtown (Enseada beach), takes 1:30 hour, and departs from the Jabaquara intercity bus terminal. The other one, operated by
Litorânea
, goes to Riviera (São Lourenço beach), takes 3:05 hours, and departs from the Tietê intercity bus terminal. Both cost about the same price.
By car
Coming from São Paulo, there are two routes of access.
Take SP-150 (Anchieta) or SP-160 (Imigrantes). At Cubatão, follow the signs to go to Bertioga, north via BR-101 (Rio-Santos).
Take SP-070 (Trabalhadores/Ayrton Senna) and go to Mogi das Cruzes, then take SP-098 (Mogi-Bertioga) to Bertioga. This path is somewhat more complicated as you need to find your way through Mogi das Cruzes.
Get around
By bus
Public buses are operated by
Viação Bertioga
and connect downtown (where the intercity bus terminal is located) with the Indaía, Riviera and Boracéia neighborhoods. Note that the Enseada beach is located at downtown and Indaiá, and the São Lourenço beach at Riviera. Since public buses are intended for locals, not for tourists, they are less frequent on weekends.
By car
A car is the most convenient way to access quieter beaches like Guaratuba and Itaguaré. It is easy to get around Bertioga by taking the
Rio-Santos
road (BR-101).
By bicycle
Av. Anchieta, that runs in parallel with the Enseada beach, has a cycleway on most of its extension, making it easy to go by bicycle from downtown to Indaiá, and even reach the west side of the São Lourenço beach.
See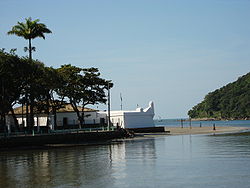 phone: +55 13 3317-3567

Rio Silveira is an indigenous village close to the Boracéia beach, an heritage of Bertioga's Native Brazilian past. The village is inhabited by about 400 Native Brazilians and can be visited under appointment.

Itatinga villageItatinga is a village built in the beginning of the XX century around the hydro-electrical power of the same name, which functions until nowadays. The ride to the village is an attraction by itself, as it includes a ferry boat crossing of the Itapanhaú river and a 7-km ride on an old tram. After seeing the historical houses, it is possible to take one of the trekking routes and enjoy the nature of Serra do Mar. Visiting is only possible through tourism agencies like Seivatur.

Forte São João de Bertioga

phone: +55 13 3317-4128

The oldest fortress of Brazil, constructed by Portuguese settlers to defend the Bertioga channel from both Native Brazilians and French pirates. Contains expositions of XVI century weapons and indigenous culture and artifacts, including drawings made by Hans Staden.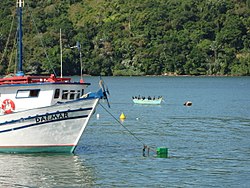 Beaches
The beaches of Bertioga are similar to each other, differing only by their surroundings. They are mostly long in extension and broad in width. They have flat and somewhat hard sands.
São Lourenço

address: Riviera neighborhood

Bertioga's most famous and affluent beach, surrounded by palm trees, upper class apartments (the Riviera neighborhood) and having good tourist infrastructure. Good for both surfing and swimming, but the sea can get violent sometimes. A bit like the more famous Maresias beach in São Sebastião, it attracts younger crowds and has expressive nightlife.

EnseadaLong beach with 12 km, it is polluted in the west side (at downtown) but clean in the east side (at Indaiá).

GuaratubaLong and quiet beach, with few houses and a lot of forest around. Not much infrastructure either.

BoracéiaMore crowded than Guaratuba due to the presence of a large gated community nearby. It contains some kiosks and camping facilities.

ItaguaréSemidesert beach completely surrounded by preserved rainforest. It attracts surfers due to its strong waves. It can be accessed by car or by walking from the east of the São Lourenço beach.
Do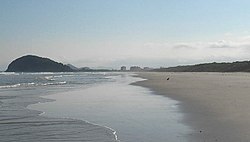 The flat sands of Bertioga's beaches make them perfect for jogging, playing football, and bringing small children to play close to the water
For surfing, Bertioga isn't on par with São Sebastião or Ubatuba, but it sometimes hosts regional competitions. The best waves can be found at Itaguaré and São Lourenço (close to the pier and on the left corner). For beginners, a number of surf schools can also be found in the town.
Buy
In Saturday morning street market (in the broad inland avenue) apart from local small farmers, you may see a couple of Guarani Indians selling hand made goods.
Just up the channel from the ferry jetty, local fishermen sell their shrimps and fresh fish.
Shopping Riviera

phone: +55 13 3316-6033

address: Av. da Riviera, 1256 - Riviera

It is considered to be the largest shopping mall of the São Paulo North Coast, although it has only about 50 shops. Heavily focused on "vacation stay needs", but it also hosts an entertainment area, and on weekends, expositions and musical concerts.
Eat
Apart from very fresh shrimps and fish everywhere, several Spanish owned simple restaurants serve quite good paellas
phone: +55 13 3316-7508

address: Largo dos Coqueiros, 15 - Riviera

Italian food.
Drink
phone: +55 11 3167-2067

address: Av. Marginal, 329 - Riviera

Club that hosts pre-arranged parties during weekends. Most parties will happen during high season.
Sleep
Bertioga has a relatively small range of lodging options, as most of its visitors have vacation houses in the town. If you plan to stay more than one weekend, it is definitely worth considering renting a house or apartment instead of staying in a hotel or B&B. Renting a house with a swimming pool in Bertioga may be cheaper than staying at a 4- or 5-star hotel in Guarujá!
phone: +55 13 3319-6000

address: Alameda das Conchas, 241 - Riviera

Hotel with flat-like rooms. Contains swimming pool, tennis court and sports court.

address: Rua Francisco Chaves, 236 - Vila Tupi

With apartments for groups of 2 to 6 people, most with kitchen and no air conditioning. Contains wifi, swimming pool, barbecue area.

Pousada Estalagem do Guerreiro

address: Rua Manoel Reis, 66 - Bairro Agaó
Stay safe

Bertioga has one of the lowest crime rates of the São Paulo coast, making it an excellent option for tourists who want to have a relief of the tension of São Paulo, Santos and Guarujá.