Binghamton
Binghamton
is a city in upstate
New York
, at the confluence of the Susquehanna and Chenango Rivers. It is the cultural and financial center of the Greater Binghamton Metropolitan Area and is the Broome County seat. Binghamton is part of the "Triple Cities" with
Endicott
and
Johnson City
.
Binghamton has many fantastic examples of Romanesque Revival Architecture in the city's center; for this, and for its collection of ornate mansions and nice homes, it's known as the Parlor City. The Binghamton area is also known as the Carousel Capital of America, home to 6 of the remaining 150 antique carousels in the nation. Other historic attractions are the Roberson Museum, Kopernik Space Center, and the Ross Park Zoo.
Rod Serling, the screenwriter and television producer, was born here, and the regional sandwich known as the "spiedie" was created here. They are celebrated at the annual Rod Serling Video Fest and the Spiedie Fest and Balloon Rally, respectively. Despite Binghamton's location as the urban core of the region, it has been named a Tree City by the National Arbor Day Foundation for many years, and has been ranked as the 9th best Green City by Better Homes and Gardens. The city has also achieved international recognition as a finalist for Philips Livable Cities Award for its Design Your Own Park program.
Neighboring Vestal is home to the
State University of New York at Binghamton (Binghamton University)
, which acts as an athletic, academic, and cultural center for the city.
Understand
Neighborhoods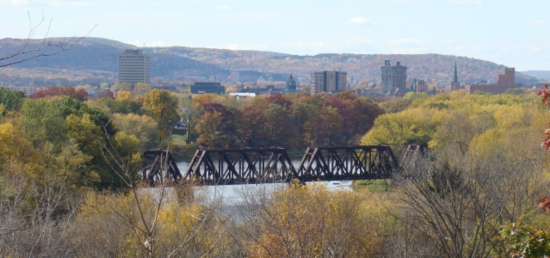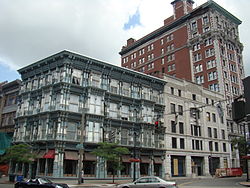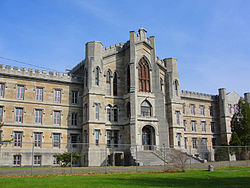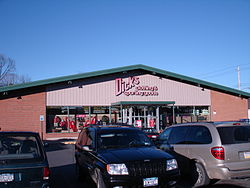 The City of Binghamton is divided into seven neighborhoods.
City Center:
This is the region's administrative, business, entertainment and transportation center. It is located at the confluence of the Susquehanna and Chenango Rivers south of the Norfolk Southern rail tracks and west of the Brandywine Highway. Generally, the city is characterized by commercial properties and several high-rise apartments towards the rivers with lower class single- and multifamily dwellings towards the highway. There are several areas of urban blight, most notably along the Brandywine industrial spine.
Downtown Binghamton is notable for its architecture and is the site of the Court Street Historic District. This district contains many historic buildings (89 in total) from the turn of the previous century, of which the Press Building and the Security Mutual Building are the most notable. A number of buildings on the National Register by famed architect Isaac G Perry are located here as well, including the Perry Block, the Broome County Courthouse, and the Phelps Mansion.
Westside:
Located across the Chenango River from Downtown. This area is largely residential and its character ranges from urban to suburban. In general, the area between Seminary Avenue and the Susquehanna River is inhabited by middle to upper-class residents, while the area north of Seminary Avenue to the First Ward is inhabited by working-class residents and students from the neighboring colleges. There is a commercial corridor along Main St with mostly light commercial facilities and a couple of large plazas. Binghamton High School, location of the Helen Foley Theater, is located here, just across the Court St bridge from Downtown. Lourdes Hospital can also be found here.
Despite its residential character a number of historic and architecturally significant buildings can be found on the Westside. The Roberson Museum, the Gen. Edward F. Jones House, and the Abel Bennett Tract can be found here.
Southside:
The Southside refers to the area of the city south of the Susquehanna River. It varies from upper-class homes in the western and southern portion to mostly middle class everywhere else. There is a small commercial center at the southern end of the S Washington St bridge including a variety of light commercial and restaurants and is also the site of Binghamton General Hospital. More light commercial and some light industrial can be found along parts of Conklin Ave, with more industry the further east one travels.
The Southside is also home to the Ross Park Zoo and the Discovery Center.
Eastside:
The Eastside lies east of the downtown area along the north bank of the Susquehanna River. It is mostly characterized by the Brandywine Industrial Spine, a region of heavy industry and urban blight that separates it from the rest of the city. Beyond this the neighborhood is largely working class, with various shops and restaurants concentrated on Robinson St. Rt 11, or Upper Court St as it is known once it passes under the Brandywine, is more commercial in nature, with several strip malls and home to most of the region's adult entertainment outlets.
The original Dick's Sporting Goods store is still in operation here, it can be found on Upper Court St a little past the Salvation Army. The area is also home to the New York State Inebriate Asylum, the first mental health facility to treat alcoholism as a disease. It too was designed by Isaac Perry and is listed on the State and National historic registers.
Northside:
The Northside is located just north of downtown across the Norfolk Southern rail tracks. It is characterized by large sections of commercial activity just north of downtown and along Chenango St. The rest of the area is residential, mostly working class single family homes.
First Ward:
The First Ward is largely a residential neighborhood. It occupies the area west of the Chenango River between the Norfolk Southern tracks I86/Rt 17. There are several notable Victorian style mansions along front street that have been transformed into multi-family dwellings, but beyond that the First Ward is mostly known for Antique Row, located along Clinton St. Many portions of this street are blight, particularly toward Front St, but what is left has been turned into numerous antique shops. The Tri-Cities Opera can also be found on Clinton St.
Ely Park:
Ely Park is the area west of the Chenango River and north of I86/Rt 17. It is generally residential and is primarily known for the municipal golf course and the government subsidized housing project of the same name located here.
Greater Binghamton
While the Binghamton Metropolitan Statistical area includes all Broome and Tioga Counties, the area referred to as Greater Binghamton is much less defined. Generally, it refers to the larger region of conurbation surrounding the city of Binghamton, from Kirkwood in the east to Endicott in the west and includes the following list of towns and villages. Most of these communities are considered to be small suburbs or bedroom communities with a couple of thousand residents, however, there is an exceptionally high level of integration between them, so much so that most outsiders will not realize they have crossed a municipal line. Many natives, even, will have trouble distinguishing where one community ends and another begins. These communities are only meaningful within the region, as the entire area is known as 'Binghamton' to the outside world.
Chenango Bridge:
A small suburb of Binghamton, it is located the furthest north along the Chenango River. It is notable for the Rt 12A bridge across the river.
Conklin:
Located just east of Binghamton along the Susquehanna River. Its industrial park is home to several major employers in the area including L-3 Communications, Universal Instruments, and Frito Lay. There is a small castle built as a residence by Alpheus Corby in 1900. It houses several of the town offices.
Endwell:
A generally upscale residential suburb sandwiched between Endicott and Johnson City and across the Susquehanna from Vestal. It is home to Highland Park and its well known Fourth of July fireworks display, and to several golf courses and the IBM Glen. Traditions at the Glen Spa and Resort can be found here.
Endicott
Hillcrest:
Located north of Binghamton on the east bank of the Chenango river; it is between Port Dickinson and Chenango Bridge. This is a small residential suburb.
Johnson City:
Part of the 'Triple Cities' (although, again just a village), Johnson City is one of the major communities in the region. The village immediately borders and is indistinguishable from Binghamton's west side. One of the region's main shopping centers, the Oakdale Mall can be found here, as can the Endicott-Johnson Industrial Spine, a 230-acre (92 ha) area of industrial ruins that is slowly being revitalized. There are many small shops along Main St in Johnson City's center.
Port Dickinson:
Located north of Binghamton on the opposite side of the river from Hillcrest. Broome Community College can be found here, as can Otseningo Park: home of the Spedie Fest and Balloon Rally. Port Dickinson (Port Dick) is largely residential in the immediate vicinity of BCC, however, further north is the Upper Front Street commercial district. This is a smaller version of the 'Parkway' in Vestal and contains many shops, restaurants, plazas, and strip malls. A few of the bigger chain stores can be found here such as Lowes and Regal Cinemas, one of the regions two multi-screen movie theaters. Port Dick is also home to Sam the Beer Man.
Vestal:
Vestal occupies all of the southern bank of the Susquehanna River west of Binghamton. This is the regions commercial center, with many large plazas, strip malls, shopping centers, and most of the regions big box stores built along the Vestal Parkway. There is also a lot of heavier industry and a sewage treatment plant located along Old Vestal Rd. Upper-class residential areas are built along the hillsides and hilltops to the south. The western part of Vestal, known as 'Four Corners' is home to the Vestal schools (ranked among the highest in the nation) and has more of a small town character, with small shops along Front St and middle-class neighborhoods. The Parkway is the area's busiest roadway and is best avoided unless you have a reason to be there.
West Corners:
Located just north of Endicott along Rt 26, this is generally considered the furthest westward extent of the Greater Binghamton region. There is a small shopping plaza surrounded by residential areas. West Corners is only notable for being home to the nationally recognized Phil's Chicken House.
Climate
Binghamton has a humid continental climate with 4 distinct seasons and is well known for its gloomy weather. On sunny days, it is common to hear locals remark on the absurdity of sunlight in Binghamton: "What is this crazy yellow orb and why does it hurt my eyes so?" This doesn't happen often though considering Binghamton averages only 52 sunny days a year. Binghamton also has a reputation as one of the rainiest cities in America. Its not, it only gets about 36 inches of rain (90 cm) a year, but it does average 161 days of precipitation so it can certainly seem like it.
Spring
weather in Binghamton is often very unsettled, especially early on. Snowstorms in late April, although uncommon, are not unheard of. Oftentimes, snow is preceded or followed by warm weather... sometimes in the same day! Spring flooding is common and the rivers are often elevated through the entire season as first snow melts and then heavy rains come. Rainy days are no more common than the rest of the year but are often heavier. However, once the unsettled weather of March and April is over, the weather is often fantastic with warm, pleasant days and the scent of myriad spring blooms filling the air.
Summer
is generally not too hot, with temperatures often in the low to mid 80s°F (27-30°C). However they tend to be very humid, often oppressively so, and are best described as 'swampy'. Humidity tends to be worse in August and in the afternoon when temperatures are highest. Frequently the humidity will stay elevated for days at a time with no break, and often gets worse at night, making sleep uncomfortable without air conditioning. Swarms of enormous mosquitoes patrol the city on these days and have been known to carry off cats and small dogs.
Fall
can be one of the most beautiful seasons in Binghamton and not just for the scenery. The humidity generally breaks in mid September and temperatures will usually remain pleasantly warm right up until it snows... usually on Halloween.
Winter
tends to be cold, snowy, and unpredictable. Some years are subject to repeated freeze/thaw cycles that leave the city covered in a thick layer of hard packed snow and ice. Other years, it starts snowing and never stops, with each new storm packing the snow underneath into a thick layer of hard packed snow and ice. See the trend here? The city is perfectly situated to take advantage of both lake-effect snows off the Great Lakes and Nor'Easters coming in off the Atlantic (a Nor'Easter is like a hurricane, only with snow instead of rain). However, the city's distance from the Lakes and the barrier formed by the Appalachian Mountains tends to limit these to only a foot or two at a time. The Public Works Department does a passable job of keeping the highways clear, but has done a terrible job on city streets, with some streets not getting plowed at all until days after the storm has passed.
Get in
By plane
phone: +1 607 763-4471

The only carrier serving the airport is Delta Connection with two daily round-trips from Detroit.
BGM Airport is not served by mass transit. Ground transportation options include:
On-site car rental from Avis, Budget, and Hertz.
Off-site car rental is available from Enterprise. They offer complementary pick-up and drop-off service if your flight arrives or departs during normal business hours.
Licensed taxis are available outside the terminal and will take you anywhere in Broome County for $25. It's a good idea to call as soon as your flight lands, although at peak arrival times cabs may already be lined up outside.
The closest larger airports are
Syracuse-Hancock International Airport
SYR
, roughly north of Binghamton, and Albany International Airport ALB, northeast. If you're originating from outside the East Coast, you may find these airports to have a better range of flight options, along with more competitive fares due to the presence of low cost carriers. Besides a wider range of mainline and regional service on American, Delta and United, Syracuse is also served by Allegiant and JetBlue, while Albany is served by Southwest Airlines. Another alternative is to fly into one of the three New York City airports (Newark, JFK, or LaGuardia) and reach Binghamton via frequent bus service from Port Authority (see below) - this may be the best option if you're arriving from the West Coast or abroad.
Another option is to fly into Elmira, which is about an hours drive (aprox 67 miles). Tickets tend to be a little cheaper and have more options available than direct flights in and out of BGM.

By bus
Intercity bus service is available from the Binghamton Bus Terminal in center city adjacent to BC Junction (the hub for local bus service.)

New York City
Greyhound/ Trailways: Scranton/Wilkes-Barre, New York City (Port Authority)
Coach USA : Monticello, Newark NJ, New York City (Port Authority)
Megabus sells tickets on its website between Manhattan and Binghamton. Megabus does not run its double decker buses to Binghamton; these tickets are discounted advance purchase fares for existing service to/from Port Authority on Coach USA (which owns Megabus). Tickets purchased through Megabus are only valid on a specific date and time. Unless you're booking the overnight departure or several weeks in advance, the Megabus fare may not be that much less (and occasionally are actually higher!) If you're not certain about your travel dates and times, consider purchasing a standard ticket directly from Coach USA - they are valid on any bus within 30 days (one-way) or 90 days (round trip) of purchase. You can only buy tickets to or from Manhattan through Megabus, tickets for Coach USA's other destinations (Ithaca, Monticello, etc.) must be purchased at the bus station.
Further Upstate and Canada
Greyhound/Trailways : Cortland, Syracuse, Rochester, Buffalo, Toronto
Greyhound/Trailways: Ithaca, Geneva, Rochester, Buffalo, Toronto
Coach USA: Owego, Ithaca
Coach USA: Deposit, Norwich
Eastern New York State and New England
Coach USA : Oneonta, Colbleskill, Albany
Greyhound/Trailways : Oneonta, Cobleskill, Albany, Worcester, Boston (South Station)
Southern Tier
Coach USA : Corning, Elmira, Big Flats, Olean, and Jamestown; and continuing service to Mayville-Chautauqua Institution (seasonal), Westfield, Dunkirk/Fredonia, and Buffalo on a Coach USA ErieLine connecting bus.
By train
The nearest Amtrak station is away in Syracuse, served by Empire Corridor/Maple Leaf trains and the Lakeshore Limited. While it is possible to take a train to Syracuse and a bus to Binghamton, unless you're arriving from west of Buffalo it's usually cheaper and faster to take a bus directly. New York City is well served by Greyhound/Trailways and CoachUSA (see above).

By car
Three highways service the Binghamton area.

Get around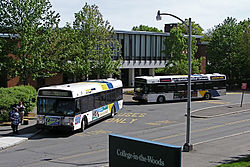 Public transit
Public transportation in Greater Binghamton and outlying areas is served by BC Transit, a service of the
Broome County Department of Transportation
. Buses run weekdays approximately 6AM-9PM, Saturdays 7AM-6PM, and Sundays 9:30AM-5PM. Some routes do not operate on weekends, service may be limited or suspended on public holidays. Cash fares are $2 per ride (includes one transfer ticket, if requested). If you'll be riding the bus more than twice in one day, an unlimited day pass can be purchased for $5 from the driver. Weekly ($25) and monthly ($70) passes are also available from the BC Transit office (at the junction) or Weis Market locations in Broome County.
Transit options are not limited to the local fixed-routes buses. BC Country provides transportation in outlying areas but must be arranged in advance.
Taxi
Taxis are plentiful in the city, during non-peak times plan on calling 20 minutes before you're ready to leave. Reserving a cab in advance is generally unnecessary and many operators in Binghamton discourage this practice unless you have a flight or bus to catch.
University Cab +1 607-797-5555
Yellow Taxi +1 607-722-2322
A-1 Courtesy Cab +1 607-723-2000
AAA City Cab +1 607-722-2422
There are also several smaller operators with fleets of less than five vehicles. BC Junction, the airport, the Binghamton University student union, and some downtown hotels have taxi stands but this is the exception rather than the rule. You may find yourself sharing your cab with other passengers when demand is high (although drivers will only pick up additional passengers who are going in the same general direction, and you'll generally be dropped off in the order you're picked up.) Fares are regulated by the county (although can vary by a dollar or two depending on the operator) and use a zone system, rather than a taximeter.
The base fare varies by operator, but is usually $6-8.
Fares increase by $1 per zone as you travel through each of the six city zones:
Central City
Westside and First Ward
Upper Front Street
Northside and Eastside
Southside
East Vestal (up to and including the Binghamton University campus)
As a rule of thumb, you're crossing into a new zone each time you cross a river, train tracks, or a town line.
Outside the zone system described above, the fare increases $2 by town:
West Vestal (beyond the BU campus)
Johnson City
Village of Endwell
Village of Endicott
Rural communities (e.g. Port Dickinson, Windsor, Kirkwood, etc.) are charged based on total mileage. The dispatch center will give you a fare before the driver picks you up.
Trips to the Binghamton Airport, regardless of origin are $25.
There is no rideshare service, such as Uber or Lyft operating in Broome County (or in anywhere in New York State except the
Five Boroughs
and portions of
Long Island
.)
Bicycle
Bicycle
routes exist but are limited. There are several streets with designated bike lanes, and several more with markings to warn drivers of possible bicycle traffic. However, bicycle transportation is not common, and many drivers, while not hostile, seem unsure of how to handle bike traffic.
Highways and roads
Interstate 81
Interstate 86/

New York State Route 17
NY 17 is an important route in the area, serving as the main east-west travel axis in the Greater Binghamton region. Traffic can be heavy during rush hours but generally moves along at speed without problems. The route connects Interstate 90 in Erie with Interstate 87 (New York State Thruway) in Harriman as a divided highway, and is known as the Southern Tier Expressway west of Binghamton.
I-86 is an upgrade of the existing NY 17 expressway between Erie and Harriman. As of 2014, the interstate designation is incomplete, with the section from Elmira to Erie and a section just east of Binghamton marked as I-86.
Interstate 88
The Senator Warren M. Anderson Expressway/Susquehanna Expressway. It is a direct link from Binghamton to Schenectady, with links to the New York State Thruway (I-87/I-90) providing access to Albany.

U.S. Route 11
US 11 parallels I-81 for most of its route, including through Binghamton. Like I-81, US 11 is a north-south route through the central and southeastern part of the city. However, US 11 goes right through the city rather than going around it. US 11 follows Court St through downtown, then turns north onto Front St after crossing the Court St bridge.

New York State Route 7
Parallels US 11 on the south bank of the Susquehanna River from the Pennsylvania border until it turns north at the Tompkins St bridge. Conklin Ave runs concurrently with NY 7 for much of its length. It is known as the Brandywine Highway from the Tompkins St bridge until it intersects I-88 (which it parallels to Schenectady).

New York State Route 12
Begins in the Greater Binghamton region, diverging from US 11 just north of Port Dickinson. NY 12 connects Binghamton with Utica. Upper Front St continues along NY 12 for a mile or two north. NY 12A diverges from here to the community of Chenango Bridge.

New York State Route 17C
NY 17C travels west to east into Greater Binghamton from Owego, and is known as Main St in most of the communities it passes through. It terminates at Front St in Binghamton, but the road continues as Court St (US 11) into downtown.

New York State Route 26
The major north-south route on the western end of the Greater Binghamton region. It starts at the Pennsylvania border in the south of Vestal, and travels north to Endicott, West Corners, Whitney Point, and beyond.

New York State Route 201
A short, north-south highway between the two major shopping districts, connecting Harry L Drive in Johnson City (including the Oakdale Mall) and the Vestal Parkway with I-86/NY 17 and NY 17C. This is one of the most heavily traveled bridges across the Susquehanna River, and traffic can occasionally grind to a halt on the southbound lanes during rush hours.

New York State Route 363
Known locally as North Shore Drive, it is a short, north-south limited-access highway that bypasses downtown Binghamton and links NY 434 to NY 7, and to I-81/NY 17 (Exit 4 S).

New York State Route 434
Generally called the Vestal Parkway between the Binghamton city line and Tioga County border, this road is heavily traveled and best avoided when at all possible. The section between Bunn Hill Rd and African Rd is mainly home to numerous plazas and strip malls, and is very congested throughout the day.
Important local roads
Chenango Street Main thoroughfare through Binghamton/Port Dickinson/Hillcrest on the east bank of the Chenango River.
Clinton Street Main thoroughfare through the First Ward in Binghamton. Home to Antique Row.
Conklin Ave Main thoroughfare through Binghamton/Conklin on the south bank of the Susquehanna River.
Court Street Main thoroughfare through Binghamton east of the Chenango River.
Floral Ave Largely residential. It connects Main Street in Binghamton to the Traffic Circle.
Front Street Main thoroughfare through Binghamton/Port Dickinson on the west bank of the Chenango River.
Hooper Road Main thoroughfare through Endwell.
Main Street Once was the major connecting road of the Triple Cities (Binghamton, Endicott, and Johnson City) and served as the commercial heart of each. Many unique small shops can still be found in each of their respective shopping districts.
Old Vestal Road Once was the main east/west thoroughfare through Vestal. It now serves as an alternative to the Vestal Parkway, but can become congested with other people seeking to do the same.
Riverside Drive Main thoroughfare through Binghamton/Johnson City along the north bank of the Susquehanna River. Notable for the number of large, historic residences along its length.
Other locations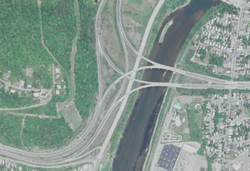 Johnson City Traffic Circle In Johnson City, connects Floral Ave, Riverside Drive, and NY 201.
Kamikaze Curve The I-81/NY 17 interchange. This dangerous interchange is a variant of the normal Directional-T form, with the interchange built as a three-level crossover directly over the Chenango River. The danger mostly comes from the sharp curve NY 17 makes around Prospect Mountain immediately preceding/following the interchange. In all directions, there is little warning about how sharp the curve is and, with I-81 intersecting on the curve, it can be difficult to merge. To further complicate the situation, the interchange is located at the bottom of the hill, around a very tight banked corner. As part of the upgrade of NY 17 to I-86, ongoing construction is working to rectify the situation, by moving the interchange merge points and reconfiguring several exits in the area. The project is expected to be finished in 2019.
River crossings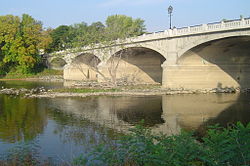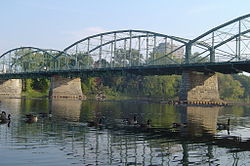 Chenango River
Moving from north to south:
NY 12A Chenango Bridge
I-88 Port Dickinson
I-81/I-86/ NY 17 Interchange Binghamton
Clinton St Bridge Binghamton
Court St Bridge Binghamton
Riverside Drive Binghamton
Susquehanna River
Moving from east to west:
Conklin-Kirkwood Rd Conklin
Tompkins St Bridge Binghamton
NY 434 Binghamton
South Washington Street Parabolic Bridge (Pedestrian Only, National Register of Historic Places) Binghamton
NY 201 Vestal-Johnson City
I-86/NY 17 Vestal-Endicott
NY 26 Vestal-Endicott
Bridge St Vestal-Endicott
Parking
Metered parking is available on most city streets around the city center, and a few blocks either side of Main Street on the West Side - a quarter gets you 15 minutes of parking, and the maximum a meter can hold at any one time is two hours. Street parking is free after 6PM Monday through Friday and all day on weekends. Take note that some of the spaces on Court Street are angled relative to the curb and as the signs clearly state, you must back your vehicle in. Park incorrectly and you will get a ticket.
Alternatively garages are also available on State Street near City Hall and the Courthouse, Exchange Street across from BC Junction and Water Street behind Boscovs Department Store. Paid lots exist on Stuart Street near the Holiday Inn and behind the Metrocenter. Garages charge by the hour and the paid lots charge a flat fee for the entire day, and fees are collected around the clock, every day.
Parking is free on other city streets in residential areas, be aware that from December through April the city requires alternate side parking to assist with snow removal. After 5PM, remember to park for tomorrow, meaning if the next day is an even day (2nd, 4th, 6th, etc. of the month) park on the even side of the street, likewise if tomorrow will be an odd day (1st, 3rd, 5th, etc. of the month), park on the odd side of the street after 5PM. Park on the wrong side overnight and you'll wind up with a ticket. Bear in mind that the alternate side rule still applies even if one side of the street is marked "no parking" (unless the block has a sign noting an exemption.) Prior to 5PM, vehicles are supposed to be parked on the side of the street that corresponds with that day's date, although in practice this is not enforced unless it's snowing and the plows are out. From May through November, you may park on either side of the street provided it isn't marked "no parking".
Binghamton University operates on a campus wide permit system. You may purchase a visitors parking pass for $6 from the information booth, park in a metered space (one set is near the library, the other next to the administration building), or the garage near fine arts for $1/hour. Parking can be difficult to find during the week while classes are in session, and the university encourages off campus students to use transit or walk.
New York State Law allows police to issue a parking ticket if the inspection sticker on your vehicle is out of date. In Binghamton, there is a higher than usual chance you'll be cited for this reason, even if no other parking violations have occurred. You should always drive with a current inspection sticker, but avoid street parking and stick to garages, private lots and driveways if yours happens to be expired.
Parking fines in Binghamton are expensive even by New York State standards. Most minor violations (e.g. overstayed meter, parked on the wrong side during winter) run $70, however if you pay the ticket within two business days, either in person at city hall, online, or through mail (the city uses the postmark determine the date of payment), the fine is reduced by 50%. Tis doesn't apply to more serious violations such as blocking a fire hydrant or using a disabled space without the appropriate permit.
See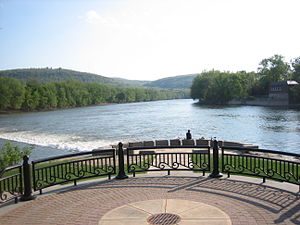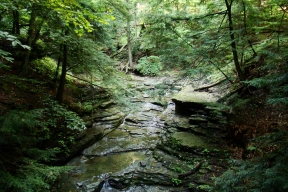 Confluence ParkA fairly new public park, this provides a scenic location to enjoy the meeting of the Susquehanna and Chenango Rivers along with the historic Washington Street bridge. Nearby cafes and bars are found at the south end of the bridge. It is easily accessible by canoe or kayak from the river, and kayakers are often seen surfing a standing wave on the Susquehanna nearby.

Cutler Botanic Garden

address: 840 Front St

A teaching and research garden of 3½ acres (1½ ha) maintained by the Cornell Cooperative Extension.

phone: +1 607 778-2193

This county park offers good recreational opportunities in all seasons. In winter, it offers affordable cross-country ski rentals and 5.5 miles (9km) of groomed trails with good options for beginners.

phone: +1 607 778-6541

address: 1 Otsiningo Park

Extending for about three miles along the west bank of the Chenango River, Otsiningo Park offers many recreational opportunities, including several miles of paved pedestrian/bicycle trails. There are several good locations for birdwatching. Restrooms and water fountains are available in several areas as well as soccer and baseball fields.

Recreation Park and Carousel

address: vicinity of Beethoven St and Seminary Ave

A neighborhood park built as part of local shoemaker George F. Johnson's "square deal" for his workers, "Rec Park" is a popular place year-round. It features public pools, playgrounds, and the second-largest of the six Herschell Carousels that Johnson donated to the community on the condition that they be maintained with free admission in perpetuity. When it works, the Wurlitzer music machine makes the ride around particularly fun. Rod Serling rode this carousel as a youngster, and he included it in the "Walking Distance" episode of The Twilight Zone.

Temple Concord/Kilmer Mansion

phone: +1 607 723-7355

address: 9 Riverside Dr

Built at a cost of $1 million in 1901, the Kilmer Mansion is easily the most elaborate single family home ever constructed in Binghamton history. The Kilmers played a prominent role in Binghamton history, and the estate formerly covered much of the town's West Side. The home has been owned and maintained for more than 50 years by Temple Concord, a Reform Jewish congregation which opens it up for a seasonal "Hanukkah House" exhibition during the winter holiday season. Even if you're not around when the exhibit is open, the building itself is something to behold from the outside.

IBM Glen
Do
Carousels
phone: +1 607 797-3031

address: 98 C.F.J. Boulevard, Johnson City, NY

George W. Johnson Park

phone: +1 607 757-0856

address: 201 Oak Hill Avenue, Endicott, NY

Highland Park

phone: +1 607 786-2970

address: 801 Hooper Road, Endwell, NY

phone: +1 607 722-9166 or +1 607 772-7017

address: 58-78 Beethoven St

Ross Park

phone: +1 607 722-9166 or +1 607 772-7017

address: 60 Morgan Rd

West Endicott Park

phone: +1 607 786-2970

address: 501 Maple Street (at Page Avenue), Endicott, NY
Movies
Cinema Saver

phone: +1 607 754-6588

address: 19 Madison Avenue, Endicott

AMC Town Square

address: 2425 Vestal Parkway, Vestal

8-screen, stadium seating with all digital/3-D capable projection.

Regal Cinemas

phone: +1 607 724-1230

address: 900 Front St

First run. 12 screens with surround sound.
Museums and education
Arts and culture
Anderson Center for the Performing Arts

phone: +1 607 777-6802

address: Binghamton University Campus, Vestal Pkwy

Consisting of three theaters (Osterhout Concert Theater, Chamber Hall, and Watters Theater), The Anderson Center provides a world-class venue for any size performance that may come to the region. The Center strives to bring in a variety of international performances in keeping with the university's multicultural perspective, however, it also hosts many local and national performances.

Binghamton Philharmonic Orchestra

phone: +1 607 723-3931

address: 31 Front St

Led by José-Luis Novo, the Binghamton Philharmonic produces a classical and chamber music series at the Anderson Center for Performing Arts and a popular music series at the Forum Theater downtown.

Blues on the Bridge

address: Washington Street Pedestrian Bridge

Blues festival held annually on the historic South Washington St Bridge in mid September. 180 (or so) bands will perform along with food and crafts vendors.

Broome County Veterans Memorial Arena and the Forum Theater

phone: +1 607 778-1528

address: 1 Stuart Street and 236 Washington St. respectively

Binghamton's two largest indoor venues are managed by the Broome County Department of Parks and Recreation. The Arena hosts numerous traveling productions and music concerts. It is also the home venue of the local professional ice hockey team, the Binghamton Senators. The Forum is a restored vaudeville house and hosts the Tri Cities Opera, popular music productions of the Binghamton Philharmonic, and Broadway Theater League shows.

phone: +1 607 723-8572

address: city-wide

Nationally recognized arts and culture celebration to bring in the new year. City buses provide transportation to events scattered around the city through-out the evening. At midnight a massive bonfire is lit outside The Arena.

phone: +1 607 772-2404

address: 67 Broad Street, Johnson City, NY 13790

Otsiningo Powwow

address: Otsiningo Park

A festival showcasing native peoples of the Americas, particularly the Haudenosaunee (Iroquois) heritage of upstate New York. The park was the site of an 18th century Haudenosaunee village.

phone: +1 607 762-8202

address: 31 Main St

State wide film contest for would-be directors in grades k-12. Film entries are screened at the Helen Foley Theatre in Binghamton, and aired publicly on WSKG Public Television Station

Spiedie Festival and Balloon Rally

phone: +1 607 765-6604

address: Otsiningo Park

The Spiedie Fest brings together about 100,000 people to celebrate local culture, launch a hot air balloon rally, and yes, serve up lots of spiedies. The name of the food is from the Italian word for "skewer", appropriate as the dish was invented/adapted by Italian immigrants who settled here in the early 20th century. There are also many arts, crafts, live music, and all the other sorts of things you'd expect at a big fair.

St. Patrick's Parade Day

address: Downtown/Westside Binghamton

By having its parade day early, Binghamton gets to showcase some of the best groups from New York City, Philadelphia, Scranton, and elsewhere.

phone: +1 607 772-0400

address: 236 Washington St

Founded in 1949, the Tri-Cities Opera delivers three major opera productions each year at the Forum Theater as well as a number of shorter productions at its Clinton Street location.
Sporting events and recreation
STOP-DWI Events
STOP-DWI (which stands for "Special Traffic Options Program for Driving While Intoxicated") sponsors sports competitions in Broome County as a way of reaching out to youth and the community about the dangers of drunk driving in addition to encouraging sports as a healthy alternative to drinking for teens.
STOP-DWI Chris Thater Memorial Races

phone: +1 607 778-2056

address: Recreation Park

Premier cycling and running event held in honor drunk driving victim, Chris Thater. Traditionally falls on the last weekend of August

phone: +1 607 778-2056

address: Broome County Veterans Memorial Arena

High school basketball tournament held during the Christmas season. Host some of the best teams from across the nation.

STOP-DWI Tournament of Champions

phone: +1 607 778-2056

address: BAGSAI Softball Complex

One of the top high school softball tournaments in the country. Heavily visited by college softball coaches.

STOP-DWI World Youth Classic

phone: +1 607 778-2056

American Legion youth baseball tournament cosponsored by STOP-DWI since 2006. Features world-class Legion baseball teams held annually in July
Buy
Big box stores
Oakdale Mall - anchored by JCPenney and Burlington Coat Factory, it is the only indoor super-regional mall in the Greater Binghamton area and within a 50-mile radius. Located in suburban Johnson City.
Vestal Parkway in suburban Vestal has most of the area's big box retail strip centers.
Downtown Binghamton has several shopping options including a Boscov's department store on Court Street.
Art galleries and craft shops
Anam Cara Art Gallery

phone: +1 607 722-2220

address: 204 State St

phone: +1 607 772-0485

address: 186 State St

Anthony Brunelli is known particular for his photorealist works, but his gallery features several other artists including Marla Olmstead whose early childhood was the subject of the 2007 documentary "My Kid Could Paint That".

Atomic Tom's Gallery

address: 196 State St

phone: +1 607 724-3462

address: 213 State St

A local artist cooperative with about two dozen members, Cooperative Gallery 213 has some work of each member on display at all times and a rotating feature exhibition for one of its members.

On Point Productions and Gallery

phone: +1 607 773-7850

address: 67 Court Street, 2nd floor

In addition to providing multimedia production services, On Point has gallery featuring one or two local artists at a time.

phone: +1 607 772-6725

address: 205 State Street, 2nd floor

Features paintings by various local artists, including a large rotating solo exhibition.

Tom's Coffee, Cards, and Gifts

phone: +1 607 773-8500

address: 184 Main St

Billing itself as Binghamton's premier craft gallery and gift shop, if you get hungry while you're looking expect a variety complementary gourmet treats: chutneys, salsas, biscuits.
Antiques
Mad Hatter Antiques

phone: +1 607 729-6036

address: 284 Clinton St

Stuffed with wonderful items old and older, the Mad Hatter is among the best of the shops on Clinton Street, which is also billed locally as "Antique Row". Leave yourself a good hour to explore the shop.
Eat
Binghamton has always been (and still is) a melting pot of ethnic flavors. The city's history has been strongly influenced by German, Italian, and Polish immigrants; with many today coming from Eastern Europe, Latin America, and India. The eateries in the city reflect this and provide that big city cultural and culinary experience largely missing in many small cities. Many of the national chains are present in the city as well, and are easily located.
General food and cafés
phone: +1 607 723-2456

address: 176 Main St

Don't let the name fool you! This cafe doesn't rent out computers and internet access by the hour but does feature live music at least four nights a week along with more than 22 beers on tap (emphasis on craft beer and local breweries from the Southern Tier), bottled beer and local wine - ask owner Jeff Kahn for his hilarious explanation as to why he won't serve liquor! Students and locals refer to this place as their "second home" in Binghamton, and indeed it has a very "homey" atmosphere with lots of couches and easy chairs to sprawl out on. Innovative and tasty sandwiches and wraps (many of which are vegetarian or vegan friendly) along with coffee, espresso, tea and soft drinks. Beer specials every Sunday and Wednesday. Team Trivia on Mondays, Open Mike or Karaoke on Tuesday, and live music Wednesday-Saturday evenings and occasionally Sunday afternoons. The owner's band jam band, which depending on the lineup that evening is called either "Thing 1", "Thing Two", or "Monkey's Typing" (the very original lineup which recorded studio albums and toured locally) performs on Thursdays and is excellent. Most shows are free although some larger bands on the weekends can attract a $5-10 cover charge, all ages venue. Free wi-fi.

Laveggio Roasteria and Espresso Bar

phone: +1 607 779-1100

address: 101 Court St

This local coffee house roasts coffee beans to order and emphasizes direct trade and sustainable practices.

Nezuntoz

address: 50 Pennsylvania Avenue #4

(pronounced "knees-and-toes"). Bagels and bagel sandwiches (both breakfast and lunch options), pastries, coffee, espresso drinks, tea, and soft drinks. Free wi-fi although seating is very limited. Located in the rear of the Weiss plaza on the corner of Vestal and Pennsylvania Avenues across from Walgreens.

Pat Mitchell's Ice Cream

address: 46 South Washington St

Sweet Frog is one of many frozen self-serve frozen yogurt shops in the Triple Cities, and has a second location on the Vestal Parkway near the AMC Movie Theater. Choose your favorite flavor(s), top it with fruit, candy, or sauces and pay by the ounce. A word of note - Sweet Frog is owned by born again Christians (according to signs in the store, FROG is an acronym for Fully Rely On God) and elements of this are visible throughout the store: many of the employees wear crosses, hymns or contemporary Christian music plays on the muzak, and most of the non-edible merchandise carried is of a religious nature (illustrated bible stories, for example) although there are no attempts at overt proselytization. If religious symbols make you uncomfortable, Binghamton is home to several other yogurt chains, including Hoopla on Upper Front Street (next to Moe's) and Simply Sweet on Washington Street in central city (right over the foot bridge).

phone: +1 607 771-6063

address: 222 Water St

This eclectic fusion restaurant serves great and generous dishes. Though they offer lunch, the place really heats up at night and often has live music. It can get busy, particularly when the university is in session so you may want to call ahead.

River Muse Café

phone: +1 607 235-3122

address: 7 South Washington St

Delicious, homemade baked goods and fine coffee await you at this South Side gem. It has a friendly owner, laid-back atmosphere, and often shows local artists' work on its walls. There are free tango (or salsa, can't remember) lessons every week that make you part of the entertainment!

phone: +1 607 723-0495

address: 36 Pine Street #1

French dining, downtown. Depending on the time and day, offers brunch, lunch, dinner, and nightlife.
Grocery and deli
Indian food
Curry's of India

address: 45 Court St # 2

A nice hole-in-the-wall with a very affordable lunch buffet.

Taj Restaurant

address: 59 Main St
Japanese
The Binghamton area has a relatively high number of traditional and not so traditional Japanese restaurants, possibly owing to the significant international student population from Asia (which may also explain why the majority of these restaurants are located within a mile or two of the Binghamton University campus on the Vestal Parkway.)
phone: +1 607-797-9888

address: 4105 Vestal Parkway East

Probably the best choice for authentic Japanese cuisine with an extensive menu, hibachi, and sushi bar.

phone: +1 607 798-7521

address: 108 North Jensen Road, Vestal

They advertise themselves as "three restaurants under one roof", and offer distinct sections for traditional Japanese dining, hibachi, and sushi. Very high quality, albeit pricey.

phone: +1 607-238-1771

address: 71 Court Street

Asian-American fusion with an extensive sushi selection that changes weekly.Mix and match traditional and some interesting but delicious fusion rolls - ever try a roll smoked salmon and pineapple before? How about tuna marinated in spiedie sauce in your sushi? Extensive menu with Japanese and American favorites. A little on the pricey side but they offer dollar sushi on Tuesdays and Thursdays which can bring the price down significantly.
Italian
Binghamton has some of the most authentic southern Italian and Sicilian food this side of Italy. Each of these restaurants also serves pizza but the focus is on fine Italian dinning.
address: 117 Robinson St

address: 1171 Vestal Ave

Grotta Azzurra

address: 52 Main St # 1

J Michaels Restaurant and Lounge

phone: +1 607 720-6453

address: 59 Court St

Don't let the façade fool you! This restaurant sits in the basement of one of Binghamton's oldest buildings. The winding stairwell that you follow down drops you at what used to be the ground floor when State Street was the Chenango Canal. The light fare is the best here, especially the thin crust pizza.

phone: +1 607 724-2513

address: 111 Chenango St

This charming little restaurant offers more than the outside suggests. Several pasta dishes are homemade, and the manicotti are especially good. The original owner was quite an art collector and you will find dozens of paintings to look at while you wait for your order, including several idyllic, impressionistic paintings of local landmarks by Armonodo Dellasanta.

Mama Giuseppa Restaurant

phone: +1 607 748-7200

address: 4 South Liberty Street, Endicott

Among the best Italian restaurants, location is a bit odd but the food is exceptional. Make sure to come hungry the servings are extremely generous and you'll want to leave room from dessert.
Pizzerias
Pizza in Binghamton is predominantly New York style. However, Binghamton is well known (and sometimes reviled) for its 'sheet' or square pizza. Those who enjoy New England (Greek) Style pizza, may want to check out Amici's (see above)
Bella Pizza

address: 1116 Chenango St

La Cucina Pizzeria

address: 62 Glenwood Ave

Leroy Pizza & Subs

address: 67 Leroy St

Nandos

address: 286 Conklin Ave

address: 33 W State St

address: 954 Front St

219 Main Street, and 166 Water St, Binghamton.

Pronto Cucina

address: 790 Conklin Rd
Eastern European
phone: +1 607-296-4213

address: 440 Court Street

A family-owned hole-in-the-wall on Court Street. Their speciality is authentic food from Ukraine and Russia, such as borscht and cabbage soup but the menu also includes favorites from Poland, the Baltic States and other Eastern European countries.
Pub food and diners
Park Diner

phone: +1 607 722-9840

address: 119 Conklin Ave

Traditional Greek diner on small hill above the Rockbottom Dam, across the river from downtown Binghamton. It has a fantastic view and the food is just as good. The Par is very popular with locals and weekend mornings (in particular Sunday) are generally very busy. there can be a wait.

The Spot

phone: +1 607 723-8149

address: 1062 Upper Front St

Open until 11PM, popular among local college scene, great French toast.

phone: +1 607 771-0660

address: 46 S Washington St

Down-to-earth experience, barn-like décor with rough wood floors, barrels for tables and stools for seats. Good beer, a burger-heavy menu, frequent local bands, banquet hall and catering.
Specialty and steakhouses
phone: +1 607-217-4513

address: 31 Lewis St

Grill and oyster bar

phone: +1 607 723-0555

address: 33 S Washington St

Upscale restaurant in old Fire Station #5 building (circa 1897).

phone: +1 607 722-5138

address: 43 S. Washington St

Pleasant Southside restaurant specializing in natural and wholesome meals.
Spiedies
The Spiedie is a regional dish born in Binghamton to Italian immigrants. It consists of marinated chunks of meat grilled over charcoal on metal skewers. It is served still on the skewer with a slice of Italian bread (almost always Felix Roma's) used to pull the meat off, usually with a little marinade drizzled on top. The original meat was lamb, but has come to include chicken, pork, and venison.
Sharkey's Restaurant

phone: +1 607 729-9201

address: 56 Glenwood Ave

Purported to be the birthplace of the spiedie, it is certainly the oldest remaining purveyor and one of the tastiest.

phone: +1 607 723-6106

address: 6 West State St

One of the two major spiedie sauce labels in the area (the other being Salamida's).

phone: +1 607 722-7628

address: 1268 Front St

A second location is 3908 Vestal Parkway East, Vestal, +1 607 729-2679.
Garbage plates
phone: +1 607 296-4687

address: 128 Washington St

Binghamton Hots is the only place in the Triple Cities where you can try Rochester's signature three layer "Hot Plate" or "Garbage Plate", with all the traditional fixings such as home fries, mac salad or baked beans topped with red hots (hot dogs) and Rochester style hot sauce. Alternatively, try a plate with Southern Tier favorites such as chicken spiedies and salt potatoes. Menu also includes other options such as wraps, spiedies, burgers, hot dogs, and salads. Being only a block away from State Street, BH gets very busy with the bar crowd, especially on weekends when the colleges are in session - be prepared for a line if you go late at night, or check them out during the afternoon or early evening when they tend to be quieter.
Drink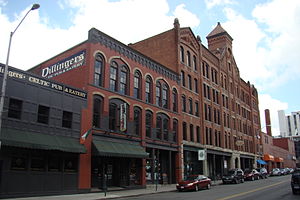 phone: +1 607 729-9053

address: 3744 Vestal Parkway East, Vestal 13850

36 beers on tap

The Belmar

phone: +1 607 724-5920

address: 95 Main St

Rough-edged town Irish pub, popular with students. Open mike every Monday, live music most weekends.

Mad Moose Saloon

phone: +1 607 723-3470

address: 53 Chenango St

Callahan's Sportsman Club

phone: +1 607 772-6313

address: 190 Main St

Irish themed sports bar with arguably the best wings in Binghamton. Be forewarned: if you plan on paying with a card or opening a tab, Callahan's strictly enforces a $25 minimum for credit or debit cards (which is surprisingly hard to hit for one or two people, their drink prices are very low). Unless you're going with a large group or plan to get food, hit the ATM first!

Mosquito Bar and Grill

phone: +1 607 798-0346

address: 4 West State St

On the Roxx

phone: +1 607 722-3606

address: 73 Court St

The Voodoo Lounge

phone: +1 607 644-9233

address: 15 Charlotte St
State Street
One of the most popular areas in Binghamton for the drinking crowd, particularly among BU students. The pub area of the street is generally closed town to vehicular traffic in the evenings on weekends. This is the epicenter of the annual 'Pub Crawl' among graduating BU seniors.
Dillingers Celtic Pub & Eatery

phone: +1 607 724-7779

address: 77 State St

JT's Tavern

phone: +1 607 722-5985

address: 98 State St

Paradigm Nightclub and Flashbacks

address: 93 State St

The Rathskeller Pub

phone: +1 607 722-0255

address: 92 State St

Locals will call it "The Rat".

The Scoreboard

phone: +1 607 723-0063

address: 85 State St

Tom and Marty's Town House

phone: +1 607 722-9823

address: 89 State Street, Binghamton, NY 13901-3384

phone: +1 607 723-4488

address: 79 State St
LGBT
Although not quite to the extent of rainbow filled
Ithaca
, Binghamton is a diverse and accepting city with a "live and let live" attitude. Nearly all the major bars and nightlife spots see both locals and college students who are openly lesbian, gay, bisexual or transgender on a regular basis, odds are nobody even gives it a second thought. (Bars where being openly LGBT
could
be problematic are well off the beaten path in the rural outskirts of the city and likely would not be of any interest to tourists. Even if you did happen to stumble into one by mistake, odds you would face outright hostility or violence are fairly low). Discrimination based on sexual orientation or (as of 2016) gender identity/ expression is a crime in New York State.
Binghamton's sole gay bar/club (Merlins) closed in 2015, although there are other spots that tend to attract a larger LGBT crowd:
Matty B's Bar

phone: +1 607 217-7067

address: Corner of Glenwood and Prospect St

Dive with a fun, diverse and primarily local crowd. Small food menu (wings, sliders, fries, etc.), Yuengling on tap, the usual suspects (Bud Lite, Labatt, Sam Adams, Heineken, etc.) in bottles, and a very respectable liquor selection. They are famous for their Irish Car Bombs and a couple very interesting speciality cocktails, typically one or two of which are drink specials on any given night. Regardless, pours are generous and prices extremely reasonable. Trivia on Thursdays, karaoke Fridays, live music some Saturdays, pool and darts every day. Not specifically a gay bar but owned and bartended by an adorable couple Marty and Sam, flies the pride flag outside and many of the regulars are either members of the LGBT community or strong allies.
Sleep
Binghamton has many places to stay, but if you will be visiting around Binghamton University's Commencement (late May, early June), be sure to book VERY early. Hotels have been known to fill up a year in advance.
Hotels and motels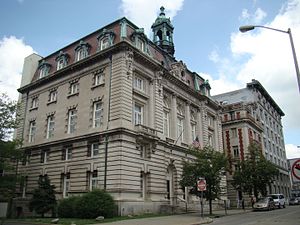 Bed and Breakfast
Bed & Breakfast at Endwell Greens

phone: +1 607 766-9973

address: 3701 Sally Piper Road, Endwell 13760

phone: +1 607 723-0259

address: 795 Chenango St

Well-kept and friendly B&B in a comfortable 19th century home, generous and wholesome breakfast.
Camping
phone: +1 607 648-5251

address: 153 State Park Road, Chenango Forks 13746

Pine Valley Campground

phone: +1 607 785-6868

address: 600 Boswell Hill Road, Endicott 13760

Salisbury's Chenango Shores Campground

phone: +1 607 648-9030

address: 109 Chenango Shores Lane, Route 12N, Chenango Forks 13746
Learn
Work
Binghamton (along with Upstate New York in general) has struggled economically over the second half of the 20th century. New York State has been trying to develop Binghamton as the state's "tech hub", encouraging startups and small businesses to relocate to the area with substantial tax and other incentives. While there has been some growth in the technology sector the past few years, so far this has been largely restricted to engineering, robotics, and aerospace and hasn't yet extended to software or web development. Companies such as IBM, Sanmina, BAE Systems, Universal Instruments, and Lockheed Martin all have a substantial presence in the Triple Cities and are among the largest employers in Broome County.
The other two major skilled fields are medicine and education. Both hospital systems in the area, United Health Service and Our Lady of Lourdes (Catholic Health) always have a demand for medical staff (especially nurses), along with IT, administrative, and support professionals. Binghamton University, being one of the flagship campuses of the SUNY system, employs a significant number of faculty members, researchers and support staff members. Although not to the same extent, Broome County Community College also employs a similar range of people.
High paying positions that do not require either professional licenses and/or a graduate degree are still relatively hard to come by. There are still a small number of manufacturing jobs available through Raymond Corporation, Felchar, and Frito-Lay. Several larger companies operate call centers in and around Binghamton, including Time Warner Cable and New York State Electric and Gas (NYSEG). Contract call centers (hired by a company to replace or augment their in-house customer service department) also exist. The largest of these is Nationwide Credit (NCI), a former collection agency in Endicott.
Being a college town, there are also a multitude of jobs available each year in restaurants, bars, and retail, although many of these positions are part-time without benefits. That said, these positions may help you get your foot in the door into the area if you're looking to relocate, and Binghamton is not a bad small city to relocate to or settle down in. Many believe that Binghamton is on the verge of its second renaissance with a multitude of natural and cultural resources, a relatively low cost of living, and extremely friendly and hard working people who would be more than happy to welcome you into the community.

Connect
Go next