Bonavista Peninsula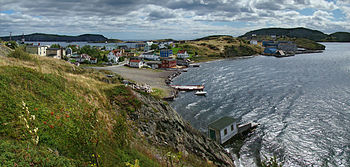 Bonavista Peninsula
is a large peninsula to the north of the
Avalon Peninsula
in
Newfoundland and Labrador
. It is named for and should not be confused with
Bonavista
town, its second largest urban centre, at the tip of the peninsula, which is covered in a separate article, and Bonavista Bay, the body of water immediately to its north. The water to its south is called Trinity Bay, with the term "Trinity" being used by a wide variety of towns and businesses.
Understand
The peninsula is approximately 85 km long and averages about 20 km in width, spanning from
Clarenville
in the south to historic
Bonavista
town in the north. The total population is roughly 20,000, spread between 10 incorporated towns (of which Clarenville and Bonavista are the largest by a substantial margin), and 17 registered communities, most of which contain several additional hamlets.
The peninsula is home to some of the oldest settlements on the island of Newfoundland, particularly the towns of Bonavista and Trinity. Italian explorer John Cabot is reported to have landed at Cape Bonavista in 1497 claiming this part of the New World for the King of England.
The communities and towns on the Bonavista Peninsula are in a slow decline as the importance of the fishing industry decreases. Geographically isolated from major population centres, the provincial government has been attempting to diversify the local economy; most notably in tourism where the region is blessed with spectacular landscapes adjacent to the ocean.
Get in
The Trans-Canada Highway (Hwy 1) passes through Clarenville, at the base of the peninsula, on its way from the provincial capital,
St. John's
, to the regional centre of
Gander.
From Clarenville, Regional highway 230 spans 45 km to the tiny community of Southern Bay, and then deviates along the southeast coast through Trinity North (the 3rd largest town on the peninsula) to Bonavista. At Southern Bay, a separate fork of the highway, labelled 235, follows the northwest coast to Bonavista. Nearly all other routes through the peninsula are unpaved.
DLR bus
runs once a day from the Memorial University Student Union Centre in St. John's to Port Blandford, at the base of the peninsula (3 hr 15 min, $44 as of June 2019).
Get around

Until the beginning of the 20th century, most of the towns on the peninsula were outports, accessible only by boat. A short-lived railway provided limited passenger service for a time, and was later usurped by the existing highway system. As such, transportation in the area is heavily dependent on cars. A few taxi and passenger van services provide limited and expensive service through the area. If you plan to travel by bus or by thumb, check with your hotel or host for advice.

See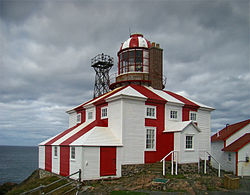 address: Cape Shore Road

The drive up to the lighthouse is along a beautiful road with ocean on one side, meadows with sheep, cows, and horses on the other. A statue of explorer Giovanni Caboto (who landed near here) stands just before the parking area. The cliff is home to seabirds (guillemot, auk, turre (murre), dovekie) nesting, flying, swimming, and feeding. You can continue up the path to the light (which has a gift shop selling homemade jams), and down to another cliff, and a view of a rock that is home to thousands of puffins (depending on the seaons, time of day and tides). There are chances to see whales and icebergs in season. There is a provincial museum, containing an exhibition about life in a lighthouse during the 1870s.

The Devil's FootprintsThese limestone depressions aren't necessarily a "must see", but they give you a good excuse to drive to the end of the road and wander around the beautiful scenery of out-of-the-way Keels, population 50.

The Archway

address: Tickle Cove
Do
Port Union Historic DistrictThe first (and possibly only) North America town built by a union, Port Union was the antidote to the predatory credit systems of regional commercial merchants. Sights include the town museum ($2, closed Mondays), factory ($7 guided tour), and founder William Coaker's beautiful bungalow ($5, tours every 30 minutes).

phone: +1 709 464-2173

This charming small aquarium catches a wide variety of local ocean critters in the spring, keeps them in tanks for visitors to see and touch, with a continuous supply of freshly pumped ocean water, and releases them in the fall.

phone: +1 709 464-2233

Perched on a rocky outcrop, this historical recreation of an early settler village was created as the set for a TV miniseries, and now hosts interpreters, activities, and exhibits.
English Harbour Arts Centre, English Harbour
Historic Trinity
Hiking
phone: +1 709 464-3553

Roughly 5 km of well cut gravel walking trails through pristine inland mossy woodlands. A relatively flat 3.4 km return trip goes out to and around Northwest Pond, while a 1.7 km loop climbs to a modest lookout. Bring bug spray. Hand-drawn maps at park.GPS trace online

Kings Cove Lighthouse Trail

Skerwink Trail

Murphy's Cove Trail

Fox Island Trail

Gun Hill Trail
Buy
Thanks to the inspiring scenery and seasonal stream of tourist traffic, the region is blessed with a large number of art and craft galleries. A traditional fishing centre, the seafood is top-notch, and decorative shellfish traps and sealskin products are also available for purchase.
address: 100 Discovery Trail (Hwy 230), Port Union

Handicrafts made by the members of the local Women's Institute, a non-profit service and advocacy organization.

address: 7 Dock Lane, Trinity

Small-batch high-quality hand-made Belgian and other style chocolates.
Eat
phone: +1 709 445-5556

address: Upper Amherst Cove

A destination unto itself, this restaurant and bakery sources food from local gardens and hosts a brick pizza oven. The setting is spectacular and food is excellent. Expect to wait for a table if visiting on a weekend.

phone: +1 709 445-2032

address: 1 Main St, Birchy Cove

Expensive dishes made with fresh crab, cheap everything else.
Angie's Old Style Country Diner, Little Catalina
Drink
Sleep
Budget
phone: +1 709 436-3033

address: Rocky Hill Road, Trinity East
Mid-range
There are B&Bs and vacation homes available throughout the peninsula.
Camping
phone: +1 709-464-3553

57 campsites each with fire pits and near to pit toilets. A service block at the far end offers showers and laundry. WiFi is available during limited hours near the centre of the campground. Onsite caretaker, advance online bookings available.
Connect
There are a few post offices. There is no cellular service on the Rogers network.

Go next