Boquete
Boquete
is a cozy mountain town in Chiriqui province, in the
Pacific West
of
Panama
. It is famous for its coffee planations and the world famous
geisha coffee
—so wake up and smell the coffee!
Understand
For some information, there is the
Official Authority of Tourism, Panama (ATP)
located a few minutes drive up the road back towards David, next to the Kotowa Coffee Shop, not in downtown Boquete. They have a small museum including some old photos of Boquete, as well as a beautiful view of the valley of Boquete.
The main features of Boquete include:
A year-round temperature in the low seventies Fahrenheit.
A significant North American expat community and tourist destination, which brings with it a wide range of amenities from which to choose, ranging from hostels to luxury, health spas, reliable infrastructure, with English very widely spoken.
Fresh mountain air.
A small town, with a small town atmosphere, surrounded by relatively untouched natural beauty.
The ability, if you choose to venture away from the town, to visit rural, traditional Panama.
An abundance of outdoor activities, including zip lining, bird watching, rafting (certain times of year), hiking, and limited golf.
World famous coffee plantations.
Up until the early 2000s, Boquete was a sleepy, almost completely unknown and unremarkable agriculture-based mountain village with almost zero tourism and very few people living in the area whose families hadn't been there for generations. That changed with a series of events starting with the creation of Valle Escondido, a large residential development aimed at expats. Right around the same time, several magazines devoted to people considering becoming expats began to flourish, with one of the most popular very regularly touting Boquete as "the land of eternal springtime".
As a result of the publicity and the natural beauty and temperate climate of Boquete, it became, arguably, the best-known North American expat destination in the world, as a large expat community developed. That community now dominates the town, which, depending on what you're looking for, could be good or bad. A most comprehensive, organized treatment of Boquete can be found in
Best Places in the World to Retire: Boquete
.
Because of its temperate climate, moderate prices and relaxed living, it has also become a favorite with expats and retirees.
Get in
By bus
By private shuttle
Also, from
Bocas del Toro
there is a twice-daily, $30-35 private shuttle (including water taxi to Almirante), 4 hr. The shuttle is way overpriced for Panama standards, and you are better off spending 1 hr more, just paying $15 and experience the real Panama.
By plane
From Panama City by airplane: AirPanama has daily flights from the Albrook Domestic Airport in Panama City to the David Airport. The flight takes about 40-50 min, prices range from $100 (retired discount) to $150 each way.
Get around
On foot
Boquete is a very cosy mountain village so you won't have problems exploring the city on foot. The central plaza, in the middle of town on Main Street, is where the David-Boquete bus drops off incoming visitors and locals.

By taxi or bus
In the surroundings you can also use taxi (one dollar brings you quite far) or the local area vans/buses which leave from the La Bruna Super Market 200 m up the main road from the bus stop. Each local van/bus has written on the front window the areas that they cover, which are normally large loops up in the mountains in areas of Bajo Mono, Alto Quiel, Arco Iris, or Volcancito.

By car
But if you want to rent a car and explore the area around Boquete, a four wheel drive may be safer, because the mountain roads do get washed out. Also be aware that there are no safe shoulders and no place for pedestrians to walk but the highway, so take caution traveling at night.

By organized tour
There are also many tour companies that offer guided trips through the mountains to see waterfalls, coffee plantations, the cloud forest, white water rafting, and the Volcan Baru National Park.

By scooter
For the smell and feel of the area there are scooter rentals at $25 for 4 hr as your means of transportation.

See
Boquete is known as the
Valley of the Flowers
. Nestled in the western highlands of Panama, near the border to Costa Rica, Boquete shares some of the same mountain ranges and some of the incredible wildlife and rain forests. However, because it is not as well known, and a 'road less traveled', prices are lower, and it is not as commercial.
You can hike for 1/2 a day, or all day, and still have a rare chance to see the resplendent
quetzal
, or a
howler monkey
in the wild.
Los LadrillosA beautiful huge wall with volcanic tubes. Great for some pictures and to actually understand that you are on top of a volcano.
Do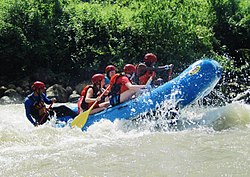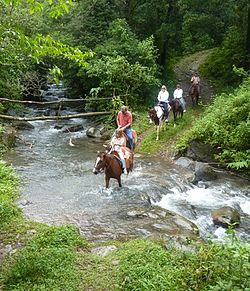 White-water RaftingThe Chiriquí (Viejo) River has the best white-water kayaking and rafting in the country. Luckily for enthusiasts, the spot is relatively undiscovered, so no fighting over space here. Several rafting companies in the area offer Class II-V tours with rides ranging from 2-6 hr. The river offers continuous rapids on a jungle run with warm water. A few companies offer full day rafting excursions or (when the conditions are right) whitewater kayaking and inflatable kayaking for all levels on several rivers around Boquete. The full day trip leaves in the morning and returns in the afternoon, with lunch and drinks usually included at the river. Because of the many rivers running off the volcano, the river kayaking can be very fast, Class V. But it also has beginner level, if you are trying it for the first time. As of June 2010 there are at least 11 hydroelectric projects being planned or in the process of bring built on the Chiriqui Viejo river.
Rock climbingThe best rock climbing is in the Chiriqui Province, in the highlands of Boquete. The Basaltic Rock was formed after the last volcano eruption. Cesar Melendez has developed over 30 routes, from beginner to advanced. He is also pioneering 'bouldering'; climbing rocks while suspended over the river. Check out Los Ladrillos (see above) for places to climb.
Coffee plantation toursPanama has become synonymous with some of the best coffee in the world. It has always been a coffee producing region. Boquete is known for the excellent coffee-growing conditions. You can visit a coffee estate for a tasting and explanation of the coffee process. You can visit a single estate or a tour of multiple estates, like a wine tour. Even if you aren't an avid coffee fan, a coffee tour is a great way to understand the culture and recent history of Boquete. Many small and large coffee producers in the region offer tours, just ask around or stop while driving by.
Boquete Tree TrekA zip line experience in the cloud forest with 12 lines of over 5 km in total. It is located on a coffee farm, with beautiful views of Boquete, and an adrenaline rush from soaring through the cloud forest. The office is located in the Kotowa Coffee Shop in Plaza Los Establos.
Horseback riding in the mountainsHorses are a way of life in Panama. It is not unusual to look out the window of your casita, and have a horse looking back. Horseback riding in Panama is mostly Western horses and Western saddles. Privately owned horses can vary from Quarter Horse to a mix of Columbian or Peruvian Paso. By breeding the two, you get a larger horse, than the traditional Paso Fino, with the smooth and lovely gait of the Paso. Most horseback riding tours are located in Caldera, 20 min drive back down toward David from Boquete. It is best for beginners up to experienced riders, and offers a nice trail ride with beautiful views of Volcan Baru. This tour is normally $35, but can usually be combined with the Caldera Hot Springs for a $55 half-day activity.
GolfTake advantage of the year-round spring-like weather and golf at the two golf courses at any time of the day. Lucero Golf and Country Club and Quebrada Grande Golf Course are open to the public.
Hiking
There are many hiking trails in Boquete; some in the National Parks, and some off the beaten path. Most are accessible and easy enough to traverse without a guide. However, due to the density of some of the rainforests, staying on the designated trail is recommended, if you don't have a guide. To increase your chance of actually seeing wildlife, birds, or Quetzal's, hiring a guide is recommended.
Boquete ViewpointA nice and not too long hike of 20-30 min for a good view of the town.
Pianista TrailTry this uncommercial trail if you fed up with paying for even a little trail. However, you should bring a proper map and GPS not to get lost.
The following three trails can be reached via minibus from Boquete to
Bajo Mono
, $1.50-2.50—tourist prices, bargain if you can.
The Quetzal TrailHike the Quetzal Trail, so named because it is one of the homes of the rare resplendent quetzal. You can hike from Boquete to Cerro Punta (4 hr one-way gradual elevation gain), or the reverse. Most hikers will hike from Boquete to the "Mirador Las Rocas" and then return to avoid the more than 3-hr return by bus from Cerro Punta back down through David, and then back to Boquete. It is about a 4-5 hr one way hike (8 hr out and back), so it can be completed in one day. Nevertheless, it is best to go from David to Cerro Punta, and from there hike to Boquete. Otherwise from Boquete to Cerro Punta you climb from 1,800 m to 2,500 m and back to 2,100 m (the range hut at the end). Also, walking from Cerro Punta, you might be even luckier, arriving late on the Boquete side when no guard is there anymore. The trail is perhaps the most famous hiking trail in all of Panama. Visitors come from all over the world to have an opportunity to see the Resplendent Quetzal. Although the trail is easy enough to hike by yourself, unless you are an experienced birder, it is difficult to spot a Quetzal, and a guide is almost necessary in helping to locate a nest. But between December and May you might be out of luck either way.
Pipeline TrailA nice and huge waterfall at the end of this trail, but only worth it during wet season.
The Lost Waterfalls TrailA little overpriced.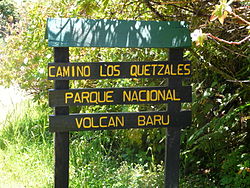 Volcan Baru National ParkPanama's highest point, is literally the easiest place in the world to see both of the world's great oceans, on a clear day. The park is 14,325 ha in size, and Panama's highest peak at 3,475 m. The Volcano has been dormant for over 600 years; but with the bubbling Hot Springs and frequent seismic activity, it might not be entirely extinct. You can climb the Baru from the Boquete side, which is an all day event; or you can camp overnight near the ranger station, and watch the sunrise. Dress in layers, as the higher you go, temperatures will change dramatically. It's a tough climb that can be done by hiking or jeep tour. The is a camping place near the park entrance.
Jeep tour to the top of Volcan Baru. There are a number of companies in the Boquete area capable of providing jeep transport to the top of the local volcano, including A1 Private Tours which provides a 4x4 driving tour to the top of the volcano for the sunrise, for $150 per adult, $75 per child. Levels of service vary from one to the next and so does their ideals about environmental impact. It is possible to book a jeep through tour operators in town.
Hiking to the top of the Volcan Baru. Though there are other options, but ANAM (Panama's Environmental Protection Organization) has encouraged local tour guides to recommend the more environmentally friendly method of hiking to the top of Panama's highest point. Expert guides can be found by stopping by the offices of many tour operators in town. If you prefer to go without a guide, Hola Panama Travel, located in the Mamallena Hostel has a cheap daily shuttle (minimum 3 people) to the Volcan Baru trailhead at around 11PM, so hikers can get to the top of the Volcano by the morning sunrise. The hike is around 6 hr, strenuous, one-way hike to the top up a steep dusty dirt road. Then 6 hr back down, which is challenging on the knees. The climb is very difficult because of the length and steepness of the trail. Take into consideration the dramatic change in climates as you summit and be prepared with warm clothes, food, and water. This is the only place in Panama that temperatures occasionally drop below freezing and two people have died on the top due to hypothermia. A guide is not necessary for hikers in groups as it is difficult to get lost on the road to the top, however Panama has been enforcing guided-only hikes in National Parks for the safety and prevention of lost tourists. At that time in the night no one will check or sell you a ticket. And back out, also no one will do so. Note, there is also a trail from the western side of the volcano, checkout OpenStreetMap (used with Osmand and MapsMe). Given the above mentioned time of transport, many people arrive two hours before sunset at the top. Considering the freezing temperature, be prepared—either walk slow, start late or bring enough warm cloths.
Around Boquete
Checkout the
other sights around the region
, which can be reached from Boquete or David.
Annual events
There are two fairs to celebrate Boquete's floral culture. The Festival of Flowers and Coffee is for 2 weeks between January 12th and the 22nd (the dates change sometimes by a few days) and the Expos Orchid Fair in March.
Buy
Market StallsA fairly new covered market is right next to the central square. Not all stalls are open yet. Most of the existing stalls sell vegetables and fruits.

Plaza Los EstablosA nice shopping area with lots of little stores to browse through. Boquete Outdoor Adventures, Kotowa Coffee Shop, Habla Ya Spanish School, and the Transport Company (to Bocas), as well as several small family shops with eclectic souvenirs and great deals are all located in the Plaza.
The Boquete Valley is rich with agriculture as well; strawberries, oranges, and coffee come from this region. Boquete is known as a prime coffee-growing region, with many farms exporting high-end coffee to Europe and Asia. The famous geisha coffee that was sold at auction for $130 a pound can be found growing on the rich volcanic slopes.
Eat
This is the bread basket of the country, so the food that is served in the restaurants is very fresh, and quite varied, reflecting its early European beginning and its gaining international popularity.
Bistro BoqueteThis bar and restaurant which is run by Panamanians has an excellent chef and gives great value. The tortilla soup, watercress salad, and pesto salad are nice starters (each for around $4), and the salads can be turned into a meal by adding an accompaniment of trout for less than $3. The flavors here are interesting but not overpowering.

Fonda de la Merry

phone: +507-6519-3209

For a real local experience, this bright green restaurant is the place. Don't be put off by the spartan atmosphere. The warmth of the owner/server Maria, and the quick serving of excellent local food capture one's focus. The hojaldres, deep-fried pancakes, are a nice accompaniment to the vegetarian scrambled eggs, and the papaya, pineapple, and banana fruit salad is enough for two people. As a bonus, Maria speaks Spanish slowly and clearly, and cheerfully helps those who are learning.

El Casona MexicanaVery good Mexican food and large portion sizes. Various Mexican folk tunes play in the background. Good value.

phone: +507-720-2516

address: Ave. 11 de Abril Palo Alto

Because of the climate and dedication of its producers, Boquete offers an incredible collection of fresh food products. With the use of these top quality products and contemporary technical knowledge, the Rock is a higher-priced restaurant with exquisite food including pastas and a very rich suckling pork dish. Stimulating your senses every day is fundamental to provide an incomparable experience at THE ROCK. International food.

address: Main Street

Home of Boquete's original grilled fish taco, Big Daddy's prides itself on serving only the freshest fish which was swimming yesterday, as well as a killer margarita, delicious buffalo wings, and organic salads. Good service. One of the favorite restaurants with both locals and tourists in Boquete.
Drink
ZanzibarThis chilled bar offers live music at weekends, and is extremely popular.
La Cabaña Late night bar, open Fridays and Saturdays only.

Madre Tierra Restaurant at Rancho de Caldera Eco-Resort

phone: +507 720-4225

address: Caldera, Boquete, Panama

Wine and beer are served, as well as delicious healthy beverages prepared with local fruits and herbs and sweetened with honey - instead of refined sugar.
Sleep
There are several inexpensive hostels around and within a few blocks the central park.
Hostal Palacio, right opposite the bus station and the central park. It is a bit noisy since it's right on the street, and it's important to mind your belongings. Be aware about the owners and the hostel as many tourists have had some troubles. 20 US for dorm. Across from the main plaza, but there are many much better places to stay. 8.50 US for dorm.

phone: +507 720-2864, +507 6497-5672

address: Primera calle oeste, arriba escuela Josefa Montero de Vazquez

Cheap, friendly micro-hostel just off the main street. Run by an extremely welcoming young couple. Poker nights, table football, and comfy hammocks in the common area. They also rent a full range of outdoor equipment for local expeditions, and organize a wide range of adventure tours in the region. WiFi, Free breakfast, backpacker bar with happy hour, two kitchens and 3 baths over just a few rooms. Adjacent is the office of Mirador Adventures

address: Caldera

A serene and gorgeous eco-resort (completely off the grid, on renewable energy year round) nestled in the mountains of Chiriqui; accommodations include large, spacious rooms, each with a glasswall overlooking the mountains to the east, A/C, iPod docking station, TV, mini-refrigerator and free Internet. Activities include horseback riding, hiking and swimming in a beautiful infinity-edge pool. Hot springs nearby. Rancho de Caldera's on-site Madre Tierra Gourmet Restaurant under the care of internationally acclaimed Chef Craig Miller is a popular new fine dining choice in western Panama. Rancho de Caldera, a leader in innovative, clean energy hospitality, has been recognized by Green Globe International, Rain Forest Alliance and Sustainable Travel International.

phone: +507 7201952

address: Boquete

Here at our hostel you will find a pleasant atmosphere, a fully equipped kitchen and a dining room, WiFi, camping area, and laundry facilities.

Boquete Paradise

phone: +507-720-2278

Next to a roaring mountain stream and walking out with a view of the 11,500 ft. Volcan Baru right out of your front door. Each unit has a two bedrooms suite with full kitchen, that sleeps eight people. Breakfast is served in the morning

phone: +507 720 1260

address: Parque Central

This new hostel (sister to the established Mamallena in Panama City) is already extremely popular with travellers.Free breakfast, WiFi internet, lounge, patio, laundry. Also has private rooms with private bathrooms.Information and tours are available.

phone: +507-720-1327

address: Ave 11 de Abril, Boquete

Famous for its gracious hospitality, charm and exquisite cuisine, The Panamonte is the true definition of a country inn: a warm and friendly place for travelers seeking a pleasurable ambiance and personalized attention, a home away from home. Located at the foot of Barú Volcano, the Panamonte is the perfect base for exploring the Chiriquí Highlands, and it is the only full-service lodging option in Boquete, offering a deluxe spa, fireside lounge, excursion planning, and a regionally renowned gourmet restaurant.

phone: +507 6674-5761

Offers bed-and-breakfast style accommodations in a tranquil atmosphere. Rooms are comfortable and include private entrance, private bathrooms with hot water, cable television and WiFi. Breakfast included. Ideal for families, though it becomes noisy around 8AM every morning, so do not expect to lie-in.

phone: +507 720-2533

address: Calle 5a Sure

Isla Verde offers six roundhouse cabins and four suites, all fully equipped, next to the river in a tropical garden with mountain views. Walking distance to town but peaceful. On-Site massage available.

Bambuda castlethe only castle in central america is open for lodging with terrific vista views and has a hot tub.
Go next
David – Even though David is not particular interesting, it is an excellent transport hub for trips to Boca Chica, the western side of the volcano, and other smaller but equally interesting destinations in the region. Take one of the frequent (hourly) buses to David from the Boquete Main Plaza, near the old train car and next to Baru Restaurant.
Boca Chica – Swimming, sport fishing, sea kayaking, and island snorkeling in the cool, aqua-marine clear waters of the Gulf of Chiriqui, a National Marine Park just an hour and a half drive away from Boquete. Go for a day trip or stay overnight in the charming fishing village of Boca Chica, or on one of the island resorts on Boca Brava or Isla Palenque.
Bocas del Toro – The biggest town on Isla Colon and party and tourist capital of the region. Bocas del Toro offers diving, beach horseback riding, starfish safari and lots of beaches on the other islands around.
Panama City – From the David bus station (see how to get to David above), there are buses hourly providing the 8 hr transport to Panama City for $15-20, with a 30-min meal and bathroom break in Santiago. The David Airport offers flights with Air Panama to Panama City for around $150+ one-way.
San Jose, Costa Rica – If you are at the end of your trip to Panama, there are a few buses a day for direct transport to San José. But you might just head to the border and start you trip of Costa Rica there, because there are already many interesting destinations directly beyond the border.