Boracay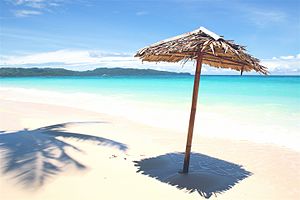 Boracay
is a tropical island about an hour's flight from
Metro Manila
in the
Philippines
. It has superb long white sand beaches, as good as any anywhere, and is one of the country's most developed tourist destinations.
Facilities are available to suit different levels of activity. Facilities for the usual water sports activities such as sailing, wind surfing, snorkelling, diving and jet skiing are also widely available for those in search of more active pursuits. The fun in Boracay also doesn't end when the sun sets. Boracay nightlife is pulsating with many bars and restaurants serving food, drink and fun until the very late evening.
Boracay is an excellent choice for anyone who wants a full range of facilities in a prime tropical location and can pay for it. However, it is not a good bet for bargain hunters; prices are relatively high by Philippines standards, though moderate by Japanese or Western standards and lower than many places in the
Mediterranean
,
Caribbean
or
South Pacific
.
Since reopening in October 2018, there are new rules and regulations, and a limit to the number of tourists allowed on the island. You must have a hotel pre-booked before they will let you get on the boat to Boracay. There is no eating or drinking on the beach, no smoking, no fire dancing, and no commercial sandcastles. In addition, no chairs, loungers or umbrellas are allowed on the beach, so think carefully about whether to visit if you are disabled, elderly or just want to avoid direct sunlight and sit on the beach. Be prepared to be offered a massage, boat ride, parasailing, kite surfing, sail boating, hair braiding, island hopping, and henna tattoo every 20 steps on the beach's "sidewalk" path.
Understand
Orientation
There are dozens of beaches on the island, and White Beach being the longest and the most popular of them, where all life goes on, it occupies roughly all western part of the island. On the opposite side of the island (eastern) there is a main kitesurfer's beach - Bulabog. Other beaches are much smaller and tranquil. All parts of Boracay are interconnected with the help of the Main Boracay road which runs from South to North through all island.
White Beach is several kilometers long and thus it's divided into three parts (from south to north): Station 1, Station 2, Station 3.
Climate
During the dry season (November-April; the northeast monsoon or
amihan
blows from December to March), White Beach is calm and very suitable for swimming, etc. The other side of the island has large winds and waves making it suitable for wind surfing, wave running, etc. During the rainy season (June-October), when the southwest monsoon (
habagat
) blows, this is reversed, with a risk of typhoons. White Beach often gets large winds and waves which sometimes makes it unsuitable for swimming. Current weather conditions can be found
online
.
Get in
Whether you go by plane or by boat, the port of entry for Boracay Island is the small town of Caticlan on the mainland. Outrigger boats (
bancaa
) leave every few minutes from . The short boat trip to costs . There are two jetty ports in Caticlan (Caticlan and Tabon) and two jetty ports on Boracay (Cagban and Tambisaan). Because of the wind during September (or low season months), the jetty port furthest from the airport (Tabon) will be used to take you to Tambisaan port. Tourists have to pay a terminal fee of and an environmental fee of . Tricycles are available at Cagban to bring passengers to their hotels. Tricycle fare is from per pax up to per trip depending where your resort is.
By plane
There are two airports located near Boracay.
Caticlan or Godofredo P. Ramos Airport
phone: +63 36 288 7111
Much smaller and closer airport, only a few kilometers away from Caticlan Jetty Port and Tabon Port. It now handles jet flights to
Manila
operated by
Cebu Pacific
,
Philippines airlines
, as well as turboprop aircraft from Cebu operated by Cebu Pacific, Philippine Airlines and
SkyJet
. The airline will drop you off at the east side of the airport. After exiting the airport on the east side, find the tricycle stand across the street, past the various resort offerings. A tricycle from Caticlan Airport to the Tabon jetty is ₱50 per person.
Ground transportation.
From the Caticlan airport, you can either take a tricycle () or walk (10 minutes) to Caticlan Jetty Port. Besides, Cebu Pacific airlines offers hotel transfer for per person.
By boat
Ferry from Batangas port to Caticlan port
. Operated by 2GO travel. Departs Batangas port at 9PM and gets to Caticlan port at 6AM. Departs Caticlan port at 8AM and gets to Batangas port at 6PM. One way fares from .
Ferry from Batangas port to Caticlan port
. Another option is to start your journey with Philtranco, Alps, Dimple, Ceres or Rodastco coaches which leave at regular intervals throughout the day from Cubao, serving the Manila-Caticlan route for . Rodastco also offers a door-to-door service with pick-ups anywhere in Metro Manila. The contact numbers for trip booking are +63 2-7326891 or +63 917-3820426, or +63 919-3820426.
The more challenging
do-it-yourself
version goes as follows: The easiest way would be to book a straight trip that allows you to purchase just one ticket from Cubao terminal to Caticlan Port. The cost is . But if you really want to save money, you can also commute from Cubao bus terminal station (near Alimall). There is really no difference except for the fact that you need to purchase tickets at every stop. Cubao-Batangas: best leave between 7-8PM so you arrive in Batangas Port before 10PM. Batangas-Calapan: the trip takes 2 hours via cargo ship or an hour to one hour and a half via supercat. Do not purchase tickets for the Calapan to Roxas van as this can either be a scam or you end up squeezed in one van along with several other passengers with tickets. Calapan-Roxas: takes about 4 hours. Make sure you leave early so you arrive before 4AM. In the morning, the ship to Caticlan usually leaves at 2AM and 4AM and the next trip won't be until 10AM. The 10AM trip usually leaves late. This is the best time to leave travel via Cubao to Roxas. You arrive in Caticlan at 8AM and you are left to enjoy the rest of your day in Boracay.
7107 Islands Cruise
offers a cruises from Boracay to Puerto Galera to Boracay, prices range from , children below than 3 years old are free to travel who is accompanied by 2 adults, children from 5 to 12 years old are given a 50% discount, who are accompanied also by 2 adults while senior citizens can avail a 20% discount. The cruise will tour around the Philippines in islands such as
Boracay
and
Coron
Island.
By road and ferry (RoRo)
The "Nautical Highway" is a combination of overland highways and roll-on, roll-off (RoRo) vessels that allow you to bring your vehicle up to
Panay
Island and visit key cities like
Kalibo
. Taking your car all the way to Boracay, though, is not possible. Public transport also operates on the same route, and is the most cost-effective way of traveling between Manila and Boracay. Assuming good connections, the total journey time is around 12 hours.
The easiest way of arranging this is to book a van in Manila by contacting private operators such as Angel Star (+63 2 783-0886 c/o Abner) and Gope (+63 2 732-6891 c/o Cesar). This will enable you to book a straight trip from
Metro Manila
to Caticlan at the cost of , more or less. Their group operates several passenger vans which can load 10-14 or 15-18 persons. You book the trip exclusively or share with fellow travellers. The van leaves at 9PM daily from Manila, travelling through Batangas-Calapan-
Roxas
(arrives Roxas at 5AM or 6AM) to catch the 8AM or 10AM ferry/boat to Caticlan, where you are expected to arrive between noon to 2PM. Before proceeding to Boracay Island though, be sure to get your return ticket (Roxas-Manila) at the Caticlan Ferry Terminal (inquire about the updated schedule from the staff of the van operators). Take an early dinner before boarding the van and bring water and something to eat while in transit. Riding a van gives you a more relaxed pace to Caticlan because you do not have to stop in many sub-destinations which lengthen your trip and therefore can be truly tiresome.
Get around
Most visitors opt for motorized tricycles, which act as the island's taxis and make up most of its traffic. Rides are inexpensive, usually no more than for individual (per tricycle, not shared with other people) ride to any point on the island, and can be found almost anywhere along the main road. As the tricycle seats are right above the vehicle exhausts, there can be a little pollution however - bring a handkerchief if you tend to be easily bothered by this sort of thing.
From Cagban Port to Station 1, the most that you should pay is per head. That is, if you don't mind sharing the tricycle with other tourists. If you don't want to rent the tricycle and allow the driver to pick up other passengers along the way, say you just want the "Individual" price and not "Special".
Short rides on busy routes, say from D'Mall to Station 3 or from Station 1 to Station 3, are a standard rate of per passenger, but expect the tricycle driver to ask for or more if you look like a foreigner. Long rides, like Puka beach to D'Mall, should cost around . Drivers waiting near beaches, hotels, etc., generally ask higher price like , even if you're alone. It may be worth
bargaining
if there are a few people with you and you want an individual ride - otherwise, better catch a passing tricycle on the main road.
From Tambisaan jetty port to Station 2 D'Mall, the most that you should pay is ₱20 per head on the solar bus.
Scooters provide the best flexibility at a reasonable price. The downside is having to deal with island traffic which can be unnerving for visitors unused to the aggressive tricycle drivers. Prices are exorbitant, starting at per day rental (2016).
Mountain bikes are also available for rent at several locations along White Beach, which is off limits to motorized vehicles.
To explore around the island, rent a native sailboat (paraw) or motorized outrigger (banca) and visit the many beaches of Boracay.
See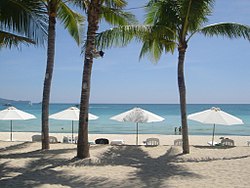 White BeachThis is what most people are here for, but there are environmental rules and the beach is a challenge for people with disabilities. It is a lovely stretch of powdery white sand against azure water, it's also the commercial center of the island. The long beach is divided into three sections, Station 1, Station 2, and Station 3. Station 1 is the northernmost and has the widest beachfront, where prime hotels and resorts are located. Accommodations are pricier, but quality is generally the best as well. Station 2 is the commercial and geographical center of white beach. This is the center of it all for shopping, eating, partying, and etc. That said, the beach here is also the most crowded, and the area the nosiest. Station 3 is the southernmost section; quieter than station 2, it is the least developed, and also the lowest priced. All of White Beach from the northernmost tip of Station 1 to the southernmost of Station 3 (~4 km) is open to the public, so one can relax and/or swim wherever they like, regardless of hotel location.

In every station, there are two lifeguards patrolling on foot equipped with whistle, life buoy and hand-held radio. The boat station 2 is the lifeguard and rescue command center.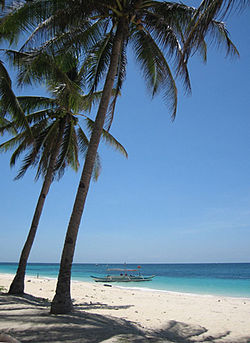 Puka BeachA quiet stretch of white sand along the northern tip of the island, Puka Beach is an image of what most people expect on a tropical island: white sand, azure water, and relatively empty. This is where locals gather the small puka shells for some of the jewelry that is sold on the island so expect the sand to be more coarse than on White Beach. The water tends to be a little rougher on this side of the island but it is much quieter. Similarly, there are fewer services—there are only a couple of restaurants, but you likely won't have a problem getting a cold drink or an ice cream as there are a few vendors that patrol the beach. The main road in Boracay terminates at Puka Beach therefore you'll be able to hire a tricycle to get there in less than 10–15 minutes from central White Beach. Make sure you arrange a pickup if it is a quiet day and no tricycles are hanging around the beach. Most people experience Puka as one of their sailboat or banca stops during a day trip. This is a good spot for a picnic, but be sure to bring your trash home with you.

Baling Hai BeachThis is a quiet little cove just north of Diniwid Beach, where you can enjoy swimming, snorkeling and dining in a relaxed, peaceful environment. There are some fantastic views from the clifftop restaurant. Baling Hai is often included as a stop-off on an island boat tour.

Bulabog BeachCome there on a windy days to see kiteboarders doing high jumps and crazy tricks.

The Bat CaveYou will see in several tour guides and maps of Boracay something called the Bat Cave, which houses many small insectivorous bats (the larger fruit bats roost in the trees on the hillside above Punta Bunga Beach), and locals will be more than happy to accompany you there for a fee, or "tip". The cave is on the western-end of the island and down several dirt roads. The guide will then take you on a short hike through the forest to the mouth of a cave, which drops down at a very steep angle. The mouth of the cave is littered with large boulders, and is extremely difficult to enter and walk down. There is no visible path, no handrail, and the stones are extremely slippery with slime and bat guano, as well as extremely dangerous, since the cave is at such an extreme angle. Also, the air inside the cave is very warm and humid, and in addition to the amount of guano, is very difficult to breathe. Additionally, several snakes live inside the cave. Caution should be taken by those visiting and entering the cave. There are bats in the cave, but down at the bottom of it in the dark, and unless you have a flashlight or are there at dusk, you won't see them. The ceiling of the cave is interesting, however, with multiple, small stalactites. Just nearby, you can find another cave, called "crystal" cave which has a lot of stalactites and a hole on the opposite site of the entrance, from which you can watch out to the sea if you dare to climb up to it. You will have to pay entry-fee to visit both caves for the family that owns the land, in addition to paying your guide. Visiting both caves can cost up to for the guide, but this is the "rich tourist price", so try to bargain if you like.
Do
Scuba diving
For those interested in
scuba diving
, there are literally dozens of dive centers along White Beach; it is a good place to learn or to improve your skills. Cost is typically per dive for certified divers which includes rental of all equipment. The dive centers, under the Boracay Business Administration of Scuba Schools (BBASS), have agreed on standard prices amongst themselves so prices will be the same at all centers. This is to ensure that dive centers could focus on quality and scuba diving safety rather than price wars. There are 25-30 dive sites within 10–20 minutes boat ride from the beach, suitable for beginners up to advanced level. Dives range from 'Angol Point' (10m), through 'Crocodile Island' (22-25m), a straightforward wall dive, up to 'Yapak'- a deep wall dive suitable for only the most experienced divers due to strong currents, although there is the possibility of seeing sharks and stingrays.
Boat tours
The best way to see the beauty of Boracay and its various beaches is by Paraw (native outrigger sailboat). You will be constantly asked if you want to take a boat trip, as there are literally dozens of companies offering this service. It is better to go with a reputable and established group such as Allen Fun Tours (motorized banca boat tours) or Red Pirates (paraw sailing) to ensure your safety and avoid being overcharged.
Kiteboarding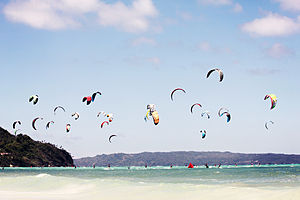 Boracay's Bulabog beach claims to be the best kitesurfing destination in Asia. The season runs from November through to April with onshore winds varying between 12-30 knots. A small lagoon (2 km wide) is protected from waves by a coral reef. The water becomes almost flat at low tide, making it easy to start learning kitesurfing and continue with freestyle tricks. Because of its nice conditions, the spot becomes overcrowded with riders in high season. A serious disadvantage is sewage pollution of the lagoon, so smell from water and infections from even small injuries are common.
Skimboarding
Skimboarding in Boracay has been a new fun sport for kids and entertainment for older for people for several years. It is a welcome new attraction and a pleasure to watch. Skimboards are available for rent at several places along White Beach. But be sure to hire an expert to teach you the skills; a one-hour lesson from a local rider is usually around .
Massage and spa
Budget
Along White Beach you will be approached frequently by women offering to give you a massage, which they will do on the spot or on a towel laid out on the beach - your choice.
A bit more organized, White Beach also has several "Massage Stations": collections of masseurs that have their mats set up. The stations are typically open as long as there are customers around but in general start to shut down just after sunset.
For Swedish, Accupressure, Shiatsu, etc., visit Abe (pronounced Abby) the blind masseur who operates outside Cocoloco restaurant in Angol (south of boat station 3). Only per hour.
There is a great outdoor massage station in the beach area of Nigi Nigi Beach Resort, where they have two tables set up. The booth is draped with curtains which they will close if you wish, or leave open if you want to watch the people on the beach. They offer every massage in the book, and charge for one hour.
Mid-range
Bella Isa Salon & SpaA little spot on the beach in Station 3 with upscale decor and professional staff. They provide a full range of services including massage, facials, foot spa, and hair services.

There are several smaller/mid-range spas in Boracay that offer a menu including massages, scrubs and facials but don't quite have the facilities to be considered a full spa. Most hotels in Boracay offer a limited spa menu that falls into this category.
Splurge
Caesar's, found along the main road near boat station 3, specializes in Thai massage and uses two masseurs simultaneously to deliver the service. A 90-minute massage is priced at US$50.

Tirta SPA— found in Sitio Malabunot, Manoc-Manoc, area. Indian treatments in a stunning environment. Friendly and helpful staff. It is a good idea to compare prices between Tirta Spa, Mandala Spa, and Shangri-La Boracay to find the best deal.
Other
Ariel's PointAriel's Point is an affordable eco-adventure destination for Boracay travellers who want to experience the natural splendor of the Philippines and meet fellow travellers. Located 30 minutes away from Station 1 by outrigger boat, Ariel's Point allows travelers to enjoy a wide array of adventurous activities such as cliff diving (the destination has five different platforms ranging in height from 3 meters to 15 meters), snorkeling, and paddling in an unspoiled setting with volcanic caves, mangrove forests, turquoise coves, and remote beaches. Visitors can reach Ariel's Point by purchasing tickets at Ariel's House (along the White Beach in front of the Boracay Beach Club) before 11AM on the day of departure.

ParasailingTake a parasailing tour around the island, to explore quiet beaches and snorkel sites. Ask your crew to organize a romantic BBQ on the beach with fresh grilled seafood, if you like. Cruise back at sunset to experience breathtaking views.

MotorbikingIt is worth hiring motorbikes or scooters out to explore the island, as there are other beautiful beaches on the other side of the island that are even better for snorkeling that will be completely deserted. Hire them for a couple of days and you should get a discount. The roads are a bit dodgy, and some are still being constructed, but it's a good laugh and better than plunking yourself on a patch of white sand and seeing nothing.

HorseridingHorse riding is a fun activity in Boracay. Get off the beaten path and experience villages and scenery most other visitors don't get to see. All levels of experience are catered to. Ask a tricycle to take you to the Boracay Horse Riding Stables.
Buy
Along White Beach, especially around Station 2, there is a wide variety of gift shops and boutiques along the beach path. In addition to the crowded stalls that you expect in Asia, Boracay also has several high-end stores including clothing, art and household items. Some places will permit you to
haggle
, others have a fixed pricing system with price tags. Shop around as prices vary. Outside of White Beach, the shopping becomes sparse or non-existent. D*Mall at Station 2 and D'talipapa at station 3, between the main road and White Beach, have many shops. D*Mall is larger but D'talipapa features a number of shops, vegetable merchants and a large meat market also selling a large selection of live seafood. Prices at D'talipapa (including those for basic necessities such as milk, vegetables and meat) are about 25% below those of D'Mall.
While walking or laying on the sand, anywhere on Boracay, you'll be approached to buy a variety of items including jewelry made of shells, fresh fruit, ice cream, sunglasses or a nice massage.
Shell jewelry — similar to what you can find elsewhere in the world, the jewelry made of shells is popular as for the most part it is made locally from shells found on Puka Beach.

phone: +63 36 288 3448

address: D'Mall,Bamboo Beach Resort,PC Main -Fish eye diving shop,Island Magic near cocomangas beach Resort

Variety of beach wear and other souvenir items.
Malls and supermarkets
address: Tambisaan Jetty Port road

A new shopping mall with a big Savemore supermarket and many fast food outlets.
ATMs
There are about 10 ATMs of the following banks: PNB Bank, Metro Bank, BPI bank, RCBC Bank, on the entire island for the 16,000 inhabitants plus tourists, and when they run out of cash, they are not refilled until the next business day. On weekends and holidays ATMs might go several days without being refilled. Almost all of them accept Visa, Mastercard, UnionPay cards. Maximum one time withdrawal is
with compulsory fee for overseas cards of .
Many establishments, including the tricycles, cannot break a bill over , so it pays to always have small bills.
Foreign money (US dollars, UK pounds, euros, Korean won, Japanese yen, etc.) can be exchanged at several locations around the island. It's worth checking around for the best exchange rate, as all places don't offer the same rate. You're best off heading away from the beach for better rates.
Eat
Because of its wide draw of international travelers, Boracay has a wide variety of places to eat, including a surprising number of bakeries. Majority of the restaurants are located on the White beach and a short pedestrian street called , nearly all of these places are quite expensive (average meal costing ). Cheaper options can be found near D'Talipapa Market, at the (street run parallel to D'Mall in 50 m of it), and perhaps about half of the restaurants along the Main road.
As a side note, don't miss the opportunity to enjoy one of the best mangoes in the world. Climate in Philippines is perfect for mangoes, so you always get them mellow and sweet.

Budget
Mid-range
Splurge
Coffee shops
Drink
If you like to party, there are plenty of places to choose from. The livelier bars are situated near boat stations 1 and 2. There are plenty of places to party all night! Boat station 3 has a more laid back and relaxed atmosphere, with small native bars and restaurants - popular with backpackers.
Expect to check your handgun with the security guard!
Bom Bom Bar

address: near D 'Mall

A native-style beach bar that often has live music. It's a popular hang out for artists and musicians.

Charlie's Steakhouse & Diner Restaurant

address: Station 2

This bar is a long-time favorite on Boracay with live bands that play covers. Customers are invited to sing with the bands.

Cocoloco Beach Resort

address: near boat station 3

An attractive beach bar and restaurant that also serves tasty food. You can enjoy your drink by the beach, under the coconut trees, and there's a pool table in the bar too. Several years ago it started offering bungalows for rent as well.

address: station 1

Famous for its "Still standing after 15" challenge. Drink 15 ferocious shots and win a t-shirt and a plaque on the wall. This bar is popular with the younger crowd but a few "working girls" are around for lonely men. Try the Jam Jar, a pineapple and vodka cocktail.

address: right between Boracay Regency and Boat Station 2

Offers top notch cocktails and a variety of "sneaky smoothies". with a wide open courtyard opening up to the beach it tends to fill up by around 11PM but still very comfortable. The crowd is a nice mix of locals and foreigners. Great staff and charming bartenders. There was a report in 2016 that it was closed.

address: station 3

Run by friendly Bavarian Kurt and his wife Mags. It's a very popular spot to meet and chat, and one of the few places on the island serving draft beer. Serve German and Filipino food.

address: between boat stations 2 and 3, three minutes walk north of the tourist center

A popular, centrally located spot to have a cool drink and enjoy a little people-watching. The manager is an expat. It is a hotel as well.

Red Pirates PubA native style beach bar (Angol, near boat station 3) with a relaxed and friendly atmosphere and good selection of fruity cocktails as well as affordable ice cold beer. It's a good place to meet other travelers and chat, and on weekends, selected weekdays and full moon nights there is live music and an all-you-can-eat beach BBQ and buffet (Fridays).

Rumbas Sports Bar & Restaurant

address: D' Mall Plaza

An English-style pub that attracts a friendly crowd. The menu is pretty good too, especially the sirloin steaks, pies and other English-style dishes. Enjoy curry, fish and chips and sausage sandwiches while watching live sports on big screens.

address: Station 3 at the pathway to Dave's Straw Hat Inn, Morenos, and Escurel

Revered, family-owned cantina on the beach with great value homemade food. The menu offers a bit of everything and the friendly staff will go out of their way to make you feel right at home. Has a popular Happy Hour from 2PM-8PM, offers one of the best beachside and sunset views on the island, and bumps a non-stop soundtrack of the best in electronic, hip-hop, R&B/soul, and reggae music.
Sleep
Accommodation varies from top-of-the-line hotels and resorts to a simple bed rented from a resident. Whatever your budget, you can easily find a suitable place to stay. During peak periods such as Holy Week, Christmas and New Year, rooms are more difficult to find and more expensive, so book in advance.
Staying along White Beach gets you closer to the bars, lounging and food, while staying closer to Bulabog beach gives you better access to the popular wind and kite-boarding areas.
Boracay is
notorious
for travel agents (many in Manila) passing themselves off as the resorts, often through websites. When you call them to get a room rate or make a reservation, you will be quoted much more than if you called the resort itself. The travel agents simply take your request, call the hotel and make reservations and charge you extra for the service, up to double the original rate. Meanwhile, the traveler has no idea he wasn't talking to the resort. This can often lead to frustration, as the traveler will show up at his hotel or resort and see he was charged double the rate that the hotel is listing, even though the hotel had nothing to do with it! So the advice is, try your best to ignore the many travel agencies and make your reservation with the resort or hotel directly.
Better yet, don't make advance reservations in the low season. Just go to White Beach or the region you want to stay and negotiate deals with the places you want to stay at. Many street touts will offer to show you the rooms first and then you can negotiate.
If you prefer peace and quiet, avoid accommodation at the centre of White Beach, as this is the most crowded area. Head further north or south instead. The area south of boat station 1 & 3 has a more relaxed and peaceful vibe - no pounding disco till 4AM. Accommodation is more reasonably priced, and there are some friendly little bars and restaurants where you can meet people and chat. North of station 1 you'll find many of the more luxurious (and expensive) establishments. The beach is at its widest here, and the area is usually relatively peaceful.
Budget
W Hostel Boracay

address: 2nd floor Gill & Park Bldg Zone 5 Bolabag Road

Backpackers' hostel with 4- to 6-bed dorms. Free breakfast and free Wifi.

Escurel Inn

phone: +63-36288-3611, +63-999-551-2335

address: Station 3

Amidst the vast complex of station 3 accommodations tucked behind the pathway next to Arwana's cafe, this is a friendly Filipino-owned establishment. Spacious, private rooms with fan, Hot and cold shower, cable TV, kitchenette, fridge, and unlimited free Wifi close to the beach access. All rooms have a nice balcony to lounge out and laze on; the fan-only huts also each have a nice hammock out front. Rooms are priced according to season; either peak or off-peak.

Little Corner of Italy

address: Station 3

Better known as "Da Mario's" as it is owned and run by an Italian businessman. The hotel offers budget common rooms which can be shared by a maximum of 4 persons which have a fan and common shower and toilet, while rooms with bungalows are slightly expensive and can be shared by a minimum of 2 persons and a maximum of 4 persons. Rooms are priced according to stay and per person. If you don't plan to sleep there, consider trying their lasagna.

Moreno's PlaceRun by a different owner of the same family as Escurel's, one will find similar accommodations and friendliness here. Prices are roughly similar to Escurel better publicized (read: Lonely Planet listed) accommodations. It's a 15-second walk to the beach.

phone: +63-36-2883809

address: Angol Station 3

Treffpunkt

address: Station 3

One of the best budget options on the island. Clean, simple, quiet rooms with television, A/C, private bathroom and shower, and patio. There is also a boarding house upstairs, a general store, a treehouse kitchen, and the cheapest breakfast and sandwiches in Boracay. Friendly, accommodating staff.

phone: +63 36 288 4421

address: Station 3, Manoc Manoc

Villa Romero Boracay is a 26-room hotel located just a few steps from the front beach of Boracay Island. The hotel also has a restaurant, guest lounge, coffee shop and a convenience store. It is far from the hustle and bustle of central Boracay but at the same time, close to the beachfront bars, souvenir shops, the market, restaurants, and dive shops.

phone: +63 36-2282198

Fan single/double rooms with own bathroom and cable TV. Has 20 rooms.
Mid-range
Alta Vista De BoracayBeautiful resort.

Baling Hai Beach ResortBaling Hai Beach Resort has a secluded beach surrounded by cliffs located on the northern part of Boracay, two coves away from the main White Beach.

phone: +63-36-2885220

address: Angol

Small resort with six rooms equipped with AC, hot water, minibar, modern bathroom, safe, cable TV, wifi.

phone: +63 36 506-3156

address: Main Road, Station 1, Bolabog Road, Barangay Balabag

The resort draws its ambiance from the past and contemporary art echoed in the 36 rooms.

phone: +63 36 288-1888

address: Beachfront, Station 3, Ambulong, Barangay Manoc-Manoc

This 41-unit resort has beautiful sunset views. It also has an infinity pool at the deck.

Crown Regency Resort & Convention Center

phone: +63 36 506-3111

address: Main Road, Station 2, Sitio Manggayad

It includes an impressive 1,800-m² wave swimming pool with kiddie pool and a country's first wave rider (a pool you can surf on); 479 elegant units; a 1,600-guest conference center; restaurants; an adventure park; and Pricelite Outlet Store, where you can find many US brand items at , from personal care items to liquors.

Blue MangoIn Angol, at the southern end of White Beach. A friendly, family run establishment. The location is peaceful - less crowded than at station 2.

phone: +63 36 288 5562

address: Station 2, D'Mall

phone: +63-36-2883406

address: Angol, Station 3

Nice resort right on the beach at the nicest part of Boracay with new rooms equipped with ac, hot water, fridge, modern bathroom, cable tv, wifi. Great restaurant on the beach. Austrian management.

Argonauta Boracay- Boutique Hotel with Villas and Apartments

phone: +63 36 288 2746

address: Hagdan, Yapak, 272 Balinghai Road

Boutique hotel situated on a 5,000-m² hillside property facing west (sunsets) over Punta Bunga Beach. Rooms are equipped with AC, hot water, mini-bar, cable TV, wifi. DVD Players and Ipod Doc ins are available on request. The Argonauta-Mobil brings guests to the White Beach and to Puka Beach.

phone: +63-36-288-6235

address: Diniwid Beach

address: Station 1

The rooms are in Filipino-inspired design with walls made of Banig and bamboo furniture.

address: Station 1

has its own swimming pool and offers deluxe accommodation and fully-furnished suites and apartelles. Activities like swimming, island hopping, snorkeling, diving and parasailing can be enjoyed.

phone: +63 36 288 1790

address: Sitio Cagban, Barangay Manoc-Manoc

It offers premier and executive suites, all of which have views of the sea, and is equipped with cable TV with DVD player, mini-bar, and NDD/IDD phone service. Some of its amenities include private shuttle speedboat and van, nanny & butler service, a fitness center, and Wi-fi internet services.

phone: +63 36 288 63 24

4000 m² of beachfront property. Offers various categories of rooms, ranging from aircon and hot water-equipped hotel rooms to basic fan-cooled cold-shower bungalows.

address: Station 1, Balabag

11-room resort across the road from the beachfront. Sun loungers on the beach, pool, roof deck, spa, complimentary breakfast.

phone: +63-36-288-3993

address: Near Boat Station 2, Manggayad, Balabag

Air-conditioned cottages.

Boracay Beach ClubModern 30-room resort featured in Travel + Leisure magazine. Amenities include a rooftop deck, swimming pool, and beachfront lounge. Special packages with discounts to Ariel's Point and complimentary breakfast included. Family-owned and managed.

address: Station 1

Beachfront rooms with private balconies.

address: Barangay Yapak, Station 1

Claims the largest swimming pool in Boracay.

phone: +63 36 288-3315

address: Station 3

phone: +63 2-752-7575

address: White Beach

address: Station 2

Villa Sunset is an 8-room apartment type hotel located at the heart of Boracay's White Beach at Station 2. The rooms are fully-furnished with their own balcony overlooking the swimming pool. The hotel offers day tour activities to those that would like to explore Boracay and its neighboring islands.

phone: +63 36 2884966

address: White Beach, Manoc-Manoc

It offers suites that are equipped with a DVD player, cable TV, Internet connection, refrigerator, IDD phone, writing desk and chair, safe, and hair dryer. Some of its facilities include a spa, swimming pool, restaurant and bar, café, and function rooms.

Erus Hotel and Restaurant Boracay Island

phone: +63-36-288-3441,

address: Balabag

A new hotel located right at the heart of station 2.

Fairways & Bluewater Newcoast Boracay

phone: +63 36 288 5587

address: Newcoast

Fairways & Bluewater Newcoast Boracay offers rooms equipped with air conditioning, cable television, minibar, refrigerator, safe, hairdryer and baby cot (subject to availability). Some of its facilities and services are clubhouse, restaurant, golf course on site, swimming pool, spa, parking, full service health spa, complimentary area shuttle and room service.

phone: +63 36 288 6200

Comfortable cottages.

phone: +63 36 288 5401

address: D' Mall D' Boracay Balabag

Jay Jays Club Boracay ResortA hilltop private resort above Boat Station 1 with incredible ocean and beach views. Apartments have aircon, hot water, kitchens, cable TV and wifi.

phone: +63 36 288 6119

One of the oldest family-run establishments on the island.

La Isla Bonita Resort Bar & Restaurant

phone: +63 36 288-6959

address: Boat Station No. 3 Manggayad, Manoc-Manoc

Nice, basic, aircon room with cable TV and private bathroom.

phone: +63 36 2883020

address: Station 1 Balabag

Elegant rooms, private balcony with garden views.

phone: +63 36 288 5734

address: manoc manoc

Located on a hillside, 22 apartments available, with views, a pool, and free shuttle service to and from the hotel.

Microtel Inn and Suites Boracay

phone: +63 36 288-6931

51-room beachfront hotel.

phone: +63 36 288 4800

address: manoc manoc

all-suite hotel, 40 apartments available, with ocean view, an infinity pool, and free shuttle service to and from the hotel.

phone: +63 36 288 6753

address: Diniwid Beach

A/C rooms equipped with cable television, minibar, coffee and tea maker, jacuzzi and king-size bed. Some of its facilities and services are restaurant and bar, water sports, airport and city transfers.

Nigi Nigi Nu NoosGood "traditional" cottages that look great. Food is good there too.

phone: +63 917 308 8262

address: North Station 1, White Beach, Balabag

A/C suites equipped with cable tv, private toilet and bath, deluxe bathroom amenities and free continental breakfast. Some of its facilities and services are wireless internet, safety deposit box, massage service, laundry and dry cleaning service and airport, land, and boat transfers.

phone: +63-3400303

address: Angol

resort right on the beach of Boracay with rooms equipped with AC, hot water, fridge, modern bathroom, cable tv, wifi. Hotel restaurant on the beach.

phone: +63 36 288-5429

address: Balabag

The resort is in Station 1 of Boracay Island, a two-minute walk to the powdery white sands and crystal-blue waters of White Beach. Each guestroom features a deck, dining area, kitchenette, microwave oven, refrigerator, private toilet and shower, mini-bar, and Internet access. It is also fitted with a DVD player, writing desk and chair, hair dryer, iron and ironing board, and safe.

phone: +63 36 288-5734

Right in the center of White Beach, near Boat Station 2. The resort as a whole has a nice ambiance, rooms are also brightly decorated. Lounging area available right on the beach front as you step out of the hotel. Breakfast is served a la carte and portions aren't that impressive so if your package doesn't come with breakfast, you might as well have it outside of the hotel.
One MGM Boracay Resort Village, +63 2 634 3581 – 83. 88 rooms, two outdoor pools, restaurant, and spa.

Panoly Resort Hotel45 bungalows and 55 veranda-equipped hotel rooms.

Paradise Garden Boracay Resort

phone: +63 2 524 9638

address: Manggayad

phone: +63 2 845 2222

address: Station 1

Formerly known as Pink Patio Resort. Facilities include a gym, pool and climbing wall. The 65 aircon rooms are adequate if a bit bland in decor. Breakfast is served buffet style though choices may be limited at times. Three-minute walk to White Beach.

Pearl of the Pacific - Beach Resort Boracay

phone: +63-36-2883220, +63-2-9260162

address: Pearl of the Pacific, Balabag

At Boat Station one with ocean view suites right on the beach.

phone: +63 6 288 6740

Northern end of White Beach. Breakfast included.

Sea Wind Boracay

phone: +63 2 4164010

address: 1 R&G Tirol Park, Station 1, Balabag

50-room luxury resort. Spacious, Filipino-style rooms with pseudo-antique furniture.

phone: +63 36 288 5411

address: Main Road, Balabag

Simple but tastefully-fitted aircon rooms with hot water and cable TV. Fan-cooled cottages, inspired by huts in the Philippine highlands, are also available. Additional features include a commercial arcade, a guest's lounge and landscaped gardens.

phone: +63 36 2884343, +633 6 5063172

A cozy hotel located at station 1, White Beach. All rooms air conditioned, with hot and cold shower, cable television, patios, minibar, 24-hour room service. Newer hotel.

phone: +63 6 288 4968,

address: Station 1

In station 1, across from the beach with their own private guests sun loungers on the beachfront.

phone: +63 36 288-6900

address: Sinagpa, Balabag

Small 13-room resort in a fusion Asian-Scandinavian style, one minute away from the beach. Salt-water pools.

phone: +63 36 288 6844, +63 928 781 1233

address: Balabag

One of the smaller but charming hotels in the Station 1 area.

phone: +63 36 288 4517

address: D'Mall

Boracay's most notable boutique hotel located at the heart of D'Mall.

Villa CamillaNice and quiet beachfront hotel with a swimming pool in Boat Station 3. Can be quite a bargain in low season.

phone: +63 36 288-5666

address: Manggayad, Balabag

Eight apartments with own terrace/balcony, cable TV, telephone, kitchenette, shower, air conditioning and a fully stocked fridge.

Willy's Beach Club Hotel Boracay

phone: +63 36 288-3395

address: Balabag

40 Mediterranean-style villas with aircon.
Splurge
address: Station 1

Swipers Inn has an amazing view of the white sandy beach. The suites have their own kitchen and dining area.
Bulabog Beach
Bulabog Beach runs parallel with White Beach and is on the east side of the island. It is approximately 1.5 km long and has white sand similar to that on White Beach. It is protected from strong seas by a coral reef located 500 meters offshore, and from late Oct. to April the Amihan wind (NE wind) makes this beach very popular with windsurfers and kiteboarders. Bulabog Beach has the "old" Boracay atmosphere, being less developed than the White Beach area, quieter, more laid back, with onshore breezes most of the year, and a number of foreign residents have made it their home. In addition, resorts are starting to appear and the various types of water-sports (para-sailing, banana boats, jetskis, water-skiing, etc.) are using this area during the White Beach off-season (May-Oct, when the Habagat wind blows). Access to the D'Mall Shopping Center is only a 5 minute walk and a couple of minutes later you are on White Beach with all the crowds, restaurants, bars, discos, etc.
Water on Bulabog is much polluted with sewage water of the whole island. You can see few pipes and "rivers" are emptying to sea. Since the lagoon is semi-closed and shallow, and water circulation is limited, you can feel smell from water. Color of it will block all your thoughts about swimming there and lot of kiters will simply not allow you to. If you plan to spend your time lying on the beach, swimming and getting a tan, Bulabog is certanly not the best choice.
Budget
phone: +63 36 288 4740

Offers spacious bungalows with loft bedroom, kitchenette and veranda.

address: Road 1A, Bulabog

Dorm beds and private rooms.

phone: +63 36 288 5352

Offers 9 nice fan rooms, private bathroom with hot shower, cable TV and free Wi-Fi. Perfectly located, right on the beach. Kitesurf as soon as you wake up. Good breakfast and free storage for the gear are included in the rate.
Mid-range
*Mall. The hotel is clean and newly built with comfortable rooms.
Splurge
Boracay Butterfly Garden Cottages

phone: +63 36 2886701

Cottages with kitchens, separate air conditioned bedrooms, hot showers, cable TVs, free Wi-Fi, and sea view patios. 10 min from beach, 7 min from D'Mall.

phone: +63 9155352625

A small luxury resort in a slightly elevated position at the north end of Bulabog Beach. The resort features a swimming pool with swim-up bar. Free wifi throughout. Stunning views over the swimming pool and ocean from all rooms. En-suite bathrooms feature modern fixtures and oversized shower-heads. They also include quiet split-system air-conditioning, cable TV, mini-bar and tea/coffee making facilities.

phone: +63 36-288-4792

Tel. Furnished villas intended for families staying a week or more, located on a cliff overlooking Bulabog Beach. Quiet split-system air-conditioning, cable TV, mini-bar.
Near White Beach
Some hotels and resorts are located along roads and footpaths off of White Beach, generally within just a few minutes walk from the beach. Room rates in these may be a bit lower than prices for comparable rooms located in resorts which have beach-front entrances, and the rooms may be a bit quieter than rooms located right on the beach.
Budget
Ocean Breeze InnOffers budget cottages or air conditioned guesthouse rooms (various room sizes for single travellers or families) at affordable rates. Guest kitchen also available. Ocean Breeze Inn is located at Station 3, around 2-3 minutes walk to White Beach.

Trafalgar Cottages

phone: +63-36-2883711

address: Station 3 Manggayad

Double fan rooms, shared bathroom. Nice garden.
Mid-range
Splurge
Balabag and other areas
Budget
phone: +63 36 288 5562

address: 0221, Station 2, Balabag

Fat Jimmy's Resort in Boracay, Philippines offers the best quality and friendly service with neat, clean and comfortable accommodations at a price everyone can afford and make the best Boracay experience in their life.

phone: +63 36 2885846

address: Station 1 near Cocomangas Bar of Boracay

It offers air-conditioned rooms, all of which are equipped with a cable TV, mini-fridge, and private shower and bathtub. Superb room service is also offered to guests.

phone: +63 36 288-6337

address: 27 Balabag

34 air-conditioned rooms, all of which have wireless Internet, cable television, and an in-room safe. Some of its amenities include flight bookings & reconfirmation, a spacious playground for kids, and an on call massage & beauty service.
Mid-range
Splurge
phone: +63 36 2883315

One of the most exclusive places to stay on Boracay Island. Located in the lush and hilly hammock of Bantud 10 minutes walk from the beach; free shuttle service available.

phone: +63 2 928-0719

At the southern tip of Boracay, 10-15 min to White Beach by free hotel shuttle. All rooms feature ocean view balconies. There is a pool and spa services on site, but beach access to a small stretch of sand is limited due to the resort being perched on a cliff.

phone: +63 36 288 5124, +63 36 288 5071

Tulubhan is popular with German travellers. It offers a middle range accommodation rate with a small pool, a free van-ride to anywhere on the island and a billiard table.

phone: +63 36 288 9063

address: Diniwid, Balabag

Serviced apartment built on top of a limestone cliff giving good view over Boracay Island.

phone: +63 36 288 5170

address: Tulubhan Beach

This is the south end of White Beach which is quieter, cleaner and less busy than station 1 or 2. The Inn has 4 standard rooms, 4 deluxe garden rooms, 3 ocean view suites and two large family rooms. The inn also has a highly regarded restaurant and dive center, and there is a designated area with lounge chairs. If you get the opportunity, spend some time with the owner, Vaughn, an exceedingly friendly and accommodating American expat. All the rooms also have air-conditioning, hot water, cable TV, wireless Internet connection and come with free bottled water, beach towels, and breakfast.

IsabelNewcoast. Villas on the Fairways & Bluewater Golf Course. Private beach and golf club access.

Balaihara

phone: +63 36 288 5587

A cluster of villas sprawled over the resort community of Fairways and Bluewater in the Newcoast area. Each villa has roomy and cozy rooms furnished with modern amenities. Recreational facilities include an 18-hole Graham Marsh-designed golf course and a swimming pool.

phone: +63 36 288 3444

address: Beachfront, Station 2, Balabag

Set in the heart of Boracay's vibrant culture and warm atmosphere is Boracay Mandarin Island Hotel, a AAA beachfront resort with 52 luxurious rooms and suites, an in-house restaurant by the sea, hotel spa, swimming pool, kiddie pool and convention center.

Argonauta Boracay - Boutique Hotel with Villas and Apartments

phone: +63 36 288 2746

address: Hagdan, Yapak, Overlooking quiet Punta Bunga

At a hillside near Punta Bunga Beach overlooking the ocean to the west, near Shangri La Resort. Available are Boutique Hotel Rooms, Apartments good for 4 guests and Villas good for 6 guests. 2 small swimming pools on site.
Stay safe
Sewage water pollution is one of the biggest problems of Boracay: lots of sewage pipes can be seen pouring water-carried waste directly into the sea. Some areas, like Bulabog beach, has been made completely unswimmable due to this problem. Other areas suffered less. However, it puts swimming safety of the entire island under the serious threat.
Power outages still happen pretty often (2016) and can last from several minutes to several hours. On a bright side however, substantial part of more expensive resorts have back-up generators which solve the problem almost entirely.

Connect
Internet connections are pretty slow anywhere on the island. Wi-Fi can be found everywhere from splurge hotels to small guesthouses but again it's pretty crappy. Small Internet cafes exist but not widespread.
3G/4G is provided by mobile operators Smart and Globe.

Cope
phone: +63 36 288 5267
address: Villa Camella, Boat Station 2, Main Road
Same-day visa extension is possible here. First 29-day extension costs . They require 2×2 cm photo and photocopies of several passport pages.
Tips:
# Paperwork submission and payment cut off time is 3PM, so get there at least an hour before that.
# Hold on to the paper receipt you are given - if you lose it, there is a fine.
# Pickup on date given after 3PM-5PM or up to 5 days after (anytime). After that, there is a passport hold fee per day.
# If you stay in the Philippines more than 6 months, you must get clearance to fly out.
# It takes 10 working days to get it - for free, or 3 days processing for , or 1 day processing (actually 5 minutes) for .
# Clearance is valid for 30 days but not exceeding last visa date (clearance is 1 month maximum if visa ends in 1 month from now).
# You cannot get clearance when doing extension - only one transaction at a time (as you need submit a copy of your last visa extension & your passport, but in this office essentially you can get both done in 30 min if you pay extra).
# You will need 3 photos - 2x2 inches - which can be done in marketing agency upstairs for pesos - includes DSLR shot and print of 8 photos. You also need copy front​+back of your ACR card. Copies can be done upstairs at each.
Go next