Boston/Downtown
Downtown
Boston
is really the heart of the city. Boston City Hall is here, and many powerful companies and agencies are headquartered in the area. Since urban planning was done here before the advent of the automobile, this area of town has secured a decidedly European flavor. Here you'll find pedestrian focused streets, large public green spaces, street performers, and historic sites all connected by an efficient public transit system. If you're looking for the adjacent Italian American neighborhood with great food, head on over to the
North End
. If you want nearby Boston Common and the State House instead, start exploring
Back Bay & Beacon Hill
.
Understand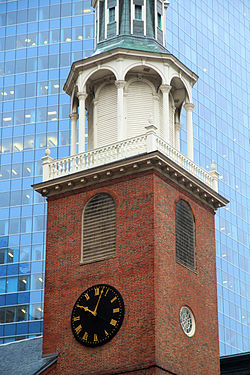 Boston's nickname as the "Hub" makes more sense once you visit downtown. The population balloons during the day as hundreds of thousands of office workers and tourists descend on the area. The Massachusetts State Government maintains its seat in nearby Beacon Hill, but most state employees work out of office buildings around Government Center, where City Hall is also located. Downtown is home to major shopping areas, many of Boston's most famous historic sites, and plenty of major private employers. The financial and legal industry in the city is still largely based here, although some have decamped to nicer and newer space in the Seaport.
The area now known as Downtown used to comprise most of the City of Boston, aside from the North End and Beacon Hill. Places like Charlestown and Dorchester were originally separate towns. Boston was founded in 1628 on a head of land sticking out into the harbor, connected to the mainland only by a thin strip of land which is today called Washington St. Other Boston neighborhoods were created through filling in marshland or annexing neighboring towns. Boston was a hotbed of the American Revolution, being home to now famous patriots like John Adams, Sam Adams, and John Hancock. Important pre-revolutionary events like the Boston Tea Party and Boston Massacre happened in what is now Downtown.
After the war, Boston continued to be an important seaport and trading center. Until the 1860s and 70s, Downtown was pretty much all there was to the city. During this period, it expanded dramatically and outgrew its old borders, but Downtown remained the hub, although it is one of the northernmost parts of the city. Much of Downtown burned down in the Great Fire of 1872, tragically taking some of the city's older buildings with it. This area is now the main financial district and is mostly modern skyscrapers. In the 1950s the Central Artery, an elevated highway, was built through downtown, cutting off the waterfront from the rest of downtown. At a cost of $15 billion, it was buried during the "Big Dig" in the 1990s and early 2000s and Downtown is now reunited with its waterfront.
Chinatown
Chinatown was built on a landfill, though this is no longer apparent; what now identifies this area is the truly mixed uses of land. Residential properties co-exist with family owned and operated businesses and local institutions.
Bay Village
One of the smallest neighborhoods in Boston, about 6 square blocks around Piedmont Street east of Arlington. After the original mud flats were drained in the early 1800s, many craftsmen involved in the construction of Beacon Hill's premier residences built their own modest but well-crafted houses here. Consequently, there are many architectural similarities between these two neighborhoods. It wasn't until the Prohibition years (1920s) that Bay Village got its bohemian ambiance. It has now become the center for Boston's gay community.
Leather District
Bounded by Chinatown to the west, South Station to the east, the Financial District to the north, and Kneeland Street to the south, this neighborhood was the home of leather production and sales during the 19th century. It consists of a series of buildings constructed in the Classic Revival and Romanesque styles, largely between 1880 and 1920. Visually similar to SoHo, New York, it has been used for numerous films and advertisements as a stand-in location. The Leather District is a mixed use community, home to loft apartments, ramen joints, and French bistros. The As South Station, a major bus, commuter rail, train, and subway terminal, defines its eastern boundary, it is often visited by people entering or exiting the city.
Get in
By foot
Walking is by far
the preferred way to get around
this area, as most everything you'd want to see is relatively packed in together. The train stations are usually only separated by a few minutes walk, and you'll find it's often faster to just walk directly to your destination without heading underground. Walking also affords the opportunity to explore the variety of urban parks, architecture, and quirky street patterns that have gracefully developed over time. Walking around downtown is in many ways what visitors come here to experience in the first place.
By public transit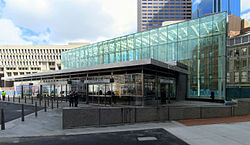 Downtown is easily the best connected area in the city. Boston operates on a "hub and spoke" philosophy, and this is clearly the hub for a variety of modes of transport. Amtrak makes two stops here, the massive
South Station
offers connections to NYC, Chicago, and beyond. Also featuring rail connections is
North Station
, serving coastal points within Maine and New Hampshire. See
Boston#By train
for details. These two stations are also the termini for all Commuter Rail travel within the region, see
Boston#By commuter rail
for more detailed descriptions.
By subway
The Green line is perhaps the most helpful for visitors, running close to much of the Freedom Trail and the North End. Stops include North Station,
Haymarket
,
Government Center
,
Park Street
, and
Boylston
. The Orange line is a great alternative, because it closely parallels the Green line while downtown. Stations include: North Station, Haymarket,
State
,
Downtown Crossing
,
Chinatown
, and
Tufts Medical Center
. The Red line is also quite popular, if you're near it, it can be great for getting across town. Red stops include:
Charles/MGH
, Park Street, Downtown Crossing and South Station along the way. The Blue line is good for getting to the Aquarium, but it is primarily used by residents and not tourists. This line begins at tiny
Bowdoin
, then visits Government Center, State, and
Aquarium
stations before diving under the harbor.
Almost every station downtown serves more than one line, and transferring between them is quick and painless. Walking between the Green, Orange, and Red lines is pretty easy, an underground walkway connects Park Street and Downtown Crossing stations. Much to the displeasure of Bostonians, there is no direct connection between North and South Station. It can take 20-30 minutes to transfer between the two, so take that (along with your luggage) into account. You'll also find the Blue and Red lines are similarly disconnected, and will need to use the Orange or Green lines to transfer between them.
By bus
There are a few options for buses downtown, but the narrow and congested streets render this option "not great". The Silver line
SL4
and
SL5
routes are the most popular as far as buses go. Think of the Silver line as a handy way to reach downtown, but it's not great for moving around within the area. Both lines visit Tufts Medical Center and Chinatown, while the SL4 continues on to South Station and the SL5 loops around Downtown Crossing.
The routes
#4
,
#7
, and
#11
all serve the area, but don't run frequently and have to compete with everyone else for what little space is available. Haymarket is the main terminal for local busses downtown. The
#92
,
#93
, and
#111
routes head into
Charlestown
and then keep going into
Somerville
and
Chelsea
. Another handful of busses:
#424
,
#426
,
#428
,
#434
, and
#450
, all leave Haymarket bound for various points along the North Shore. Still more buses depart from South Station; the
#448
,
#449
, and
#459
all roll towards either the Airport or other destinations along the North Shore.
By boat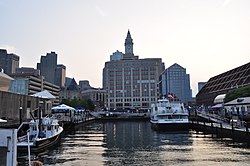 There are two main wharves that provide public transport by sea to key locations around town.
Long Wharf
is the most popular; offering MBTA connections to the
Charlestown
Navy Yard,
Logan Airport
,
Hingham
and
Hull
, as well as a seasonal ferry to
Salem
. Boston Harbor Cruises offers other seasonal ferries, decamping to the
Boston Harbor Islands
, or heading out to
Provincetown
. They also provide harbor cruises, whale watch tours, and others that all depart from Long Wharf.
Rowes Wharf
offers a few additional options. There is another ferry from here to Hingham, and a seasonal one to
Winthrop
. There are also more private boats and other pleasure craft available for rent that dock here.
Water taxis are plentiful all along the waterfront, servicing 28 different points between downtown,
South Boston
, East Boston, and Charlestown.
By car
You'll find a car to be more liability than boon here.
Do not drive downtown
unless you know exactly what you're doing, where you're going, and how you're parking. Traffic is horrendous, parking barely exists, and the streets aren't even designed for cars in the first place. There are a few garages in the area, most scattered between Government Center and the Aquarium. Garaged parking is expensive, it can be around $12-15/hour and $40-50/day (when it's available). Those figures could double or even triple in peak season or during special events.
See
Architecture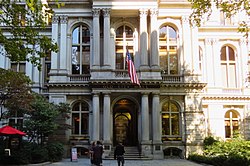 phone: +1 617 635-4500

address: 1 City Hall Square

This area used to be known as Scollay Square and was demolished in the 1960s to build a new city hall for the city of Boston. The Hall is a hulking Brutalist architecture and an expansive brick plaza, contrasting sharply with the Fanueil Hall facade directly behind it. Some people love the bold choice of color, form and materials. Everyone else hates it, and considers it to be an eyesore of the first degree. The windswept plaza was mostly deserted until the city began holding seasonal events, festivals, and sports viewings here. Life is slowly creeping back to the center after Government Center station was rebuilt, and plans to make the area more pedestrian friendly are ongoing.

phone: +1 617 973-5200

address: Central Wharf

Home of what was until recently the world's largest fish tank, according to the Guinness Book of World Records, the New England Aquarium offers a riveting museum experience which showcases an incredible variety of fish and other types of animals. After recent expansions, it now also has a humongous IMAX theatre, whale-watching tours operating from its pier, and a marine mammal arena out back. It also is known for its penguins, which are a fascinating experience even on their own. It's well worth a visit.

phone: +1 617 523-8678

address: 45 School St

Old City Hall, unlike the current city hall, is undeniably beautiful. This Second Empire style building was built in 1865 and served as Boston's City Hall until 1969. It has since been converted to office space and also houses an expensive steak house. The building was listed on the National Register of Historic Places in 1970 and is a much touted example of adaptive re-use in architecture.
Colonial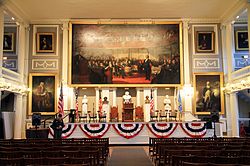 Landmarks
Boston Stone

address: 8 Marshall St

Imported from England in the 17th century by a painter, today you can see the Boston Stone embedded in the foundation of a building in the Historic Blackstone District. No one really knows its exact function, or why it was placed there. The current theory is that it's 18th-century advertising for the shops and stores along this historic street; or a sort of London Stone copycat.

Chinatown Gate

address: Beach St

Found at the corner of Beach Street and Surface Road this is the most visible symbol of Chinatown for tourists. The urban plaza on the east side of the gate was built as part of the Big Dig highway project.

Governor's Alley

address: Bosworth St

Walk up these oddly placed steps just as British Royal Governors would have done 300 years ago. At one time they led up to a sumptuous governor's mansion, although George Washington put a stop to that in 1775. Today you'll find the Marliave's al fresco dining patio awaiting you in summer, and an unsightly dumpster or two when it's cold. Check the plaques for more information.

Irish Famine Memorial

address: Washington and School St

Two statues commemorate the 1845 Irish Famine, depicting a starving Irish family on their knees, and a well fed family walking away. The natural rise of the land here is used to great effect by the sculptor. As you walk up or down from the statues, it's easy to empathize with the predicament of either family. The physical pain of starvation and the emotional pain of leaving loved ones behind are each masterfully rendered in bronze.

New England Holocaust Memorial

phone: +1 617 457-8755

address: 98 Union St

A glass memorial built in a small park near Fanueil Hall, inspired by survivors who resettled in Boston.

Spring LaneGet off the Freedom Trail for a second and spend a minute reading plaques in this narrow alley. Beneath your feet once flowed clean spring water used by the residents of Boston for hundreds of years. The lane runs parallel to Water Street so you know it's for real. Several other notes relating to Boston's history adorn adjacent building walls, if you're interested. Use caution during the evening, however, as the homeless sometimes use this semi-protected area as a campsite.
Parks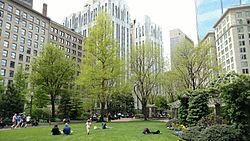 Quincy Market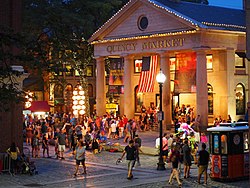 phone: +1 617 523-1300
address: 4 South Market Building
Dating from 1825, Quincy Market was built during a growing economy as a way to increase the number of shops and markets available to Bostonians. The market space available in Faneuil Hall just wasn't enough, so the small pier behind the building was filled in to create land for a larger new market. Quincy Market has been used as a marketplace for produce and foodstuffs throughout its life, and was beautifully restored in the 1970s. The original hall is today a glorified food court, while the North Market and South Market buildings hold a variety of little shops. Replete with performance artists, this is clearly the center of tourist activity in the city. Even if it's not your cup of tea, Quincy Market is still worth a visit just to soak up the history.
The central original brick and granite building contains two enormous hallways packed with food stalls, with a central atrium tying the wings together and providing two levels of seating. If you are eating here there is unfortunately little high quality fare to be found, but you do have a few options.
Gourmet India
is the spot to go for a quick Indian fix. Something called
Mmmac N' Cheese
is great if you're looking for something with a few more carbs. Also,
Boston Chowda Co
serves an acceptable clam chowder for a chain.
If you can splash out a little more or want to sit down, try the Japanese inspired
Wagamama
by the south entrance. Flagship of tourism
Cheers Boston
is here too, because well, where else would it be? This is the location where the interior looks like the TV show. Check out the original one on Beacon Hill for the exterior look. For something completely different visit
JJ Donovan's
. This old school Irish tavern is cash only and can be an oasis of calm for those looking to escape the crowded marketplace. Family owned, they routinely refuse million dollar buy out offers. It's not fancy, it's traditional, and the owners like it that way.
For shopping, you'll move to the North and South Market buildings. Check out
1630
for gifts made by artisans using techniques known to the first European colonists. You'll also find antiques and collectables, sourced from around New England so you can own a piece of the history. For all of your Boston sports paraphernalia needs investigate
Lucys League
to find officially licensed clothing for your favorite team. The usual suspects found in any respectable mall are here as well, like
Banana Republic
,
Urban Outfitters
, and
Yankee Candle
. Popular streetwear shop
Uniqlo
also occupies the second floor of Quincy Market.
Itineraries
The Freedom Trail — A major tourist draw of significant historical sites in Boston. These 17 locations spread over 2½ miles (4 km) are crucial to understanding revolutionary era America. Many are located here.
Do
Theatres
Tours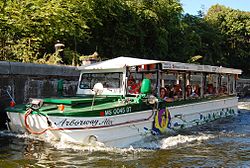 Events
Lantern Festival is celebrated during the Chinese New Year, which is first day of the first month on the Chinese calendar, and lasts until the 15th day. Throughout the celebration, there are more street and food vendors than usual, fireworks and firecrackers. There are also several performances including the Lion dance and or parade, students of the local schools, and musical performances. This event takes place in the main streets of Chinatown.
August Moon Festival, also called the Autumn Festival, takes place during 15th day of the 8th month of the Chinese calendar. It's the largest festival of the year. Performances, music, arts and crafts will sometimes be available. Every year varies. Also takes place in the main streets of Chinatown.

address: Christopher Columbus Waterfront Park

Art in the park during the beginning of September.
Buy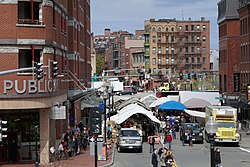 phone: +1 617 973-4909

address: 100 Hanover St

This year-round market features vendors of high quality goods and comestibles from across New England. It's a great place, but with this location and quality be prepared to pay a little extra. Some of the stalls here sell a fantastic assortment of old fashioned Yankee craftsmanship. American Stonecraft is an artisanal producer of dishes, coasters, food slates and such. All made from stones pulled from farm fields in the region. A producer of fine wood products, Peterman's Boards and Bowls are made from fallen or discarded timber. While Hopsters Alley features a selection of New England beer, wine and spirits. This store is run by a brewery of the same name, and offers growler fills here as well. Explore the rest of the Market for more local and organic produce, artisanal tea shops, noodle houses, chocolatiers, bakers, cheesemongers and butchers.

phone: +1 617 542-0210

address: 9 West St.

Three floor used and rare book store with an outdoor bargain area set up in a neighboring alley. Brattle Book Shop was founded in 1825 and is one of the oldest book shops in the country.

phone: +1 617 338-6328

address: 9 Spring Ln

Fantastic bookstore downtown selling antique, rare, used, and new tomes. Particular emphasis on subjects like: the arts, architecture, history, literature, philosophy, and religion. You can also find other exclusive treasures here, like old maps, engravings, and manuscripts. Even just walking down this street and looking around is an experience.

phone: +1 617 350-5232

address: 10 Summer Street

Come to America to buy cheap clothes from an Irish retailer who sells products made in Mauritius and Bangladesh! In all seriousness, these fast fashions are cheap. Like eerily cheap. You'll get a great deal, but don't expect these clothes to last for years.

Kenmore Army & Navy Stores

phone: +1 617 292-2769

address: 477 Washington St

Fulfill all your surplus military needs at this branch of the Army/Navy store. You'll find the usual run of pants, shirts, uniforms, boots and outerwear. What really makes this place special is the odder items, like flame retardant jumpsuits (including face mask!), army rations, various nettings, and empty ammo canisters.

phone: +1 617 426-4932

address: 387 Washington St

Classy jewelry, watches, crystal, and other high end items. A relative "newcomer" on the scene, this place offers a better selection than the storied E.B. Horn just down the street.

phone: +1 617 936-4980

address: 105 South St

Headquarters of an upscale menswear shop in the Leather District.

phone: +1 781 236-3559

address: 36 Bromfield St, Suite #204

Custom fitted bespoke menswear. Suits, jackets, vests, trenchcoats, you name it.
Eat
Downtown is not Boston's culinary epicenter. Truly exciting restaurants tend to be located in outlying neighborhoods due to the high costs of real estate downtown and the weird demographics (filled with office workers and tourists during the day, deserted at night). Because of this, visitors to the city who mostly stay Downtown may think that Boston is living up to the tired New England stereotype of bland cuisine. This couldn't be further from the truth, so leaving Downtown to eat is a must when visiting. While there are a lot of truly forgettable places to eat Downtown, it's not all bad. With a little research you should be able to find a quality meal at whatever price point you're seeking.
Downtown's budget restaurants tend to be geared towards the horde of office workers who descend on the city during the week so many of them are only open for weekday lunch. If you do happen to visit during a weekday, save some money and follow the be-suited crowds to a place that will have better food for much less than tourist-oriented spots.
For authentic Chinese cuisine, you can't do better than Chinatown. Also known for having a number of restaurants that stay open late on weekends (3 or 4AM). Many of these restaurants have been cutting back their late night hours, so call ahead to confirm closing times.
Budget
Chinatown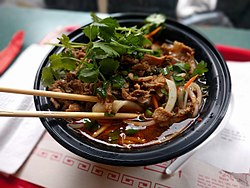 New Saigon Sandwich

phone: +1 617 542-6296

address: 696 Washington St

Dirt cheap bánh mì, i.e. Vietnamese submarine sandwiches on baguettes and boxed lunches. No tables, but you can walk over to the Boston Common and eat your lunch there.

Eldo Cake House

phone: +1 617 350-7977

address: 36 Harrison Ave

An assortment of Chinese styled cakes. Chinese styled cakes often incorporate fruit and aren't too sweet. Also, this shop offers some specialty drinks, i.e., milk teas. There's a small eat-in area.

Ho Yuen Bakery

phone: +1 617 426-8320

address: 54 Beach St

Another cheap, but delicious bakery stocked with pastries, buns, and tarts.

phone: +1 617 482-1888

address: 86 Bedford St

Hole-in-the-wall Chinese restaurant with a few curated dishes specializing in hand-pulled noodles. The doughy noodles and spicy lamb soup base is best exemplified by option #16. Get your face close to the bowl and don't wear white! Potentially the best dollar to flavor ratio in the city.

China Pearl

phone: +1 617 426-4338

address: 9 Tyler St

Great food, great value, has many loyal patrons. Particularly well known for its dim sum: some regard this as the best place for dim sum in Chinatown. If you come during peak time (Sundays from 11AM-1PM), expect at least a half hour wait.

phone: +1 617 818-7782

address: 42 Beach St

Chinatown Cafe

phone: +1 617 695-9888

address: 262 Harrison Ave

Chinatown pushes south, venture a little off the track to find large portions of cheap and tasty Chinese food. Everything comes in styrofoam containers whether you're dining in or not. People like the wonton soup and the crispy salt and pepper pork. Save room for desert and walk across the street to May's Cake House and their sweet selections.

phone: +1 617 451-2395

address: 3 Beach St, 2nd fl

A dream come true for vegetarians, as the entire menu is vegetarian here. Features fake meat dishes (e.g. "chicken", "pork") as well as arguably more authentic vegetarian creations. Also check out the acclaimed vegan sandwiches at Cuong's right next door.

Gourmet Dumpling House

phone: +1 617 338-6223

address: 52 Beach St

Another restaurant with well priced authentic comestibles. The "mini-steamed pork buns" are a notable specialty, and are similar to those at the Taiwan Cafe which was founded by ex-employees of the former.
Mid-range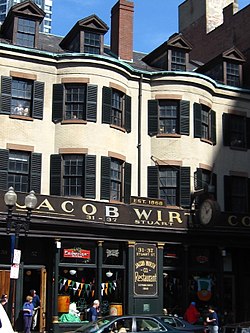 Splurge
Many of Boston's swankiest restaurants are located Downtown. Be sure to do some research before embarking on a Downtown fine dining adventure. There are some truly world-class restaurants here, but also a lot of overpriced places catering to tourists and expense account lunches.
Drink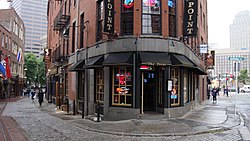 phone: +1 617 482-0301

address: 15 Bosworth St

phone: +1 617 227-2098

address: 45 Union St

Established in 1795, the bar (falsely) claims to be the oldest continuously operating tavern in the country. It also functions as far more of a club than a tavern. Downstairs is generally packed on weekends, upstairs is a multi-room club.

phone: +1 617 654-9944

address: 141 Pearl St

The last dive standing downtown.

phone: +1 617 542-7080

address: 162 Lincoln St

If you need to get away from the glitz and glamour, head over to this respectable bar near the bus station.

phone: +1 617 367-0055

address: 11 Marshall St

A relaxing place to stop in and take a break from the freedom trail. A replica of the original 1657 Green Dragon Tavern, where the Sons of Liberty met and discussed political revolution. British officers also frequented the original pub and were spied upon by American patriots. Modeled after the "Headquarters of the Revolution", the Green Dragon was rebuilt in the Blackstone Historic District after a major fire. Featuring lively entertainment and lovely food in an Irish pub atmosphere.

phone: +1 617 338-5656

address: 77 Broad St

phone: +1 617 423-7888

address: 9 Tyler St

phone: +1 617 426-0048

address: 48 Temple Pl

Stoddard's is also a restaurant, but it is better known as a place to drink. Has a respected take on the Moscow Mule and an extensive draft selection. The bar is a slightly modern spin on the late 19th century with lots of dark woods and brass fixtures.

The Tam

phone: +1 617 482-9182

address: 222 Tremont St

A good old fashioned faux-dive bar located downtown in the theatre district. It used to be a real dive, but that was decades ago. Friendly bartenders, cheap prices for beer, and an all around fantastic atmosphere complete with video games, karaoke, trivia, and old-style jukeboxes make for an enjoyable night for drinkers of all ages. Cash only.
Clubs
Coffee
When downtown, you're probably within sight of a Dunks' or a Starbucks, if not try turning around. But you didn't come here to drink national chain coffee did you? Try one of these (sort of) local options instead. They almost always offer free Wi-Fi too, if that sweetens the deal for you.
address: 260 Franklin St

address: 100 High St

address: 50 Broad St

address: 255 State St
Sleep
Go ahead and take a quick glance at the price points on offer here. Yeah. Sorry about that. Before you throw up your hands in total disgust, however, just know that a lot of these price points are only the quoted rack rates. For many of the spendier items here, try a hotel consolidator website or calling the hotel directly. You might see prices fall by 50% or more, especially if you can be flexible with your dates. Still, there's no way around the fact that you're looking at spending $300 and up for this area. Remember whatever rate you're quoted will be roughly 20%
higher
due to various taxes, fees, and surcharges. Try looking into the
Fenway
or
Allston
if you need to bring costs down.
Budget
Hostelling International Boston

phone: +1 617-536-9455

address: 19 Stuart St

Communal kitchen, common areas, laundry facilities, meeting rooms and luggage storage. There is a maximum stay of 14 nights per calendar year.

phone: +1 617 357-6900

address: 120 Milk St

A furnished apartment rental agency offering an alternative to a hotel room. These rentals are private homes, condos or apartments in residential buildings within the Back Bay, Beacon Hill, North End, South End, and Financial District neighborhoods. There are monthly, weekly and nightly rentals available. The homes range in size from smaller studios to one or two bedroom apartments, and all have fully equipped kitchens and private bathrooms. This is a unique way to experience the city like a Bostonian, in a brownstone home. Rental paperwork is required and most credit cards are accepted.
Mid-range
Splurge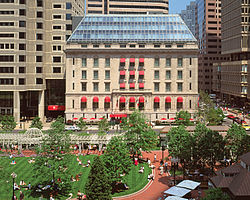 Go next
You're steps away from the North End, dripping with old world Italian charm.
Pay a visit to Charlestown and the USS Constitution, oldest commissioned warship still afloat.
Investigate more historic sites in Quincy at Adams National Historical Park, one time farmstead and home to two presidents.
Head down to the wharf and take a ferry out to the Boston Harbor Islands. It's a great way to beat the heat in summertime.
Storied Fenway Park is just a few stops away in Fenway. If the B's aren't playing today, try the Museum of Fine Arts instead.