Boston/Fenway-Kenmore
The
Fenway-Kenmore
neighborhood is named after Kenmore Square, and after the Fens, both of which it encompasses. Kenmore Square is the area's dynamic urban center. This is where trains arrive and shops light up in an effort to entice passing customers. High above, the Citgo sign (now a historical landmark) keeps a watchful eye on new arrivals as they make their way through these congested crossroads.
Understand
Neighborhoods
Kenmore: The area is quite urban, but all the green space makes it feel much more livable than you might think. Like many other areas of Boston, Kenmore is in the middle of a building boom. The closeness of the parks and gardens help to balance the city and nature experiences.
The Fens: Just south and away from the square lies the hushed Fens, a study in contrasts. The Muddy River meanders through rustling reeds and shady, sloping lawns and gardens. Rustic stone bridges and benches offer a place to linger, to admire the water and all its inhabitants. The Fens also work to separate Kenmore from the sprawling medical complex, Longwood Medical Area. Turkeys have even been known call the place home. If you see one, watch out, they can be mean!
Longwood: An extremely dense cluster of hospitals and schools.
Get in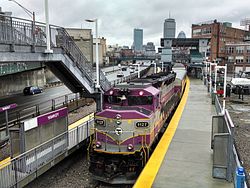 By public transit
In this part of town the Green line will usually be your best bet, and
Kenmore
is the station to know. The
B
,
C
, and
D
Green line branches all stop here, and a large glass bus depot hovers above. It's also the closest stop to the Fenway Park. From here the B line continues outbound to
Blandford Street
,
BU East
, and
BU Central
before entering
Allston
. While the D branch passes through
Fenway
before entering the independent town of
Brookline
. The
E
branch is great for visiting area museums, it stops at
Symphony
,
Museum of Fine Arts
,
Longwood
, and
Brigham Circle
stations.
The Orange line shares the
Ruggles
and
Massachusetts Avenue
stations with several other neighborhoods, but you won't find these stops quite as helpful. The E branch of the Green line is closer to top sights, however, the Orange line can be a good alternative if the E line is experiencing service issues. Ruggles also serves as a stop for Commuter Rail lines headed to
Providence/Stoughton
,
Franklin
, and
Needham
. Another Commuter Rail station (especially popular on game days) is
Yawkey
, which serves the
Framingham/Worcester
line. It's quite close to Fenway Park as well.
By far the most popular bus route is the
#57
. Running from Kenmore Square down Comm Ave, into Allston and eventually ending in
Watertown
. Also leaving from Kenmore, the
#60
and
#65
run less frequently into Brookline, while the
#8
and
#19
take you through the Longwood area and the
South End
via Ruggles. The
CT2
and
#47
busses can be picked up in Boston University, and take you over the BU bridge into Kendall and Central squares in
Cambridge
. The
#39
also runs constantly down Huntington Ave taking you to either inbound to
Back Bay
or outbound to
Mission Hill
. Ruggles is a also a major bus hub, fanning lines out citywide.
By car
For those with deep pockets and endless patience, take the Kenmore Square/Fenway exit from Storrow Drive and follow signs to your destination. Don't even look for on street parking, go right for a garage. You're looking at around $15-20 an hour to park, and on game days expect to be gouged $100 or more for parking, if it's even available in the first place. The twisting roads, congested traffic, and aggressive drivers should all be steering you towards forgoing your four wheels and taking the T instead.
See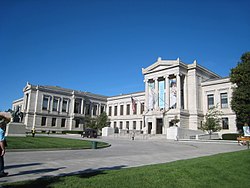 Do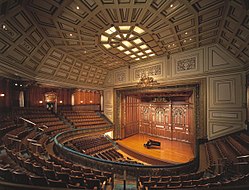 Fenway Park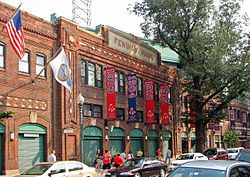 phone: +1 617-226-6000
address: 4 Jersey St
Watch the Boston Red Sox play at Fenway Park, the oldest
Major League Baseball
stadium still in use. Built in 1912 and one of only two classic ballparks remaining, the other being Wrigley Field in
Chicago
. This red brick and green steel structure is one of the best places in the world to take in a baseball game. As one of the smallest ballparks in the major leagues and given Boston's loyal fan base, seeing a game here is intimate, exciting and a part of living history. Few baseball teams can claim to represent their city to the extent of the Red Sox, and Fenway Park is nothing short of a baseball landmark.
Theoretically, single game tickets can be purchased directly from the Red Sox at face value. In practice single game tickets usually sell out for the entire season within hours of going on sale. If you'd like to catch a game, and didn't snag a ticket online right when they became available, you do have a few options:
Buy through a licensed broker, such as StubHub or ABC Ticket.
Try the game day window on Landsdowne Street. Line up starting five hours prior to game time. Any open seats go on sale 90 minutes before the first pitch. Tickets are sold on a first come first serve basis; if you're not one of the first 50 people or so in line, chances for a ticket are slim.
Patronize a scalper. Buying and selling tickets on the street is pretty common, but caveat emptor! The tickets you're buying may be fraudulent, and be aware scalping on public property is illegal in Massachusetts.
If you'd like to see Fenway without attending a game, try a behind the scenes
tour
on non-game days or show up early on game days. A must for any Red Sox fan even if you do manage to get game tickets!
Buy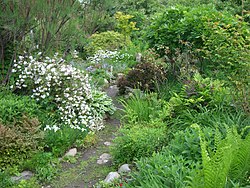 Eat
Owing to the
enormous
student presence here, dining out in Fenway-Kenmore doesn't have to break the bank. There are a variety of asian spots and Irish pubs to keep your stomach happy and full. The dollar signs will start to climb as you head towards Kenmore Square, and of course watch out for overcrowding and increased prices on game days.
Budget
Mid-range
Splurge
Drink
Coffee
phone: +1 617-982-6688

address: 333 Massachusetts Ave

This chain was launched in South Korea in 2008, modeled after the finest European cafes. Theres a bunch of these in New York, but this is the only one in New England for now. Offers the requisite coffee alongside light sandwiches and fancy Belgian waffles.

Pavement CoffeehouseThe bagels are homemade at this miniature chain with a handful of Boston only locations. The owner hails from Chicago, but was drawn here by the local universities and made bagels and coffee his passion.
phone: +1 617-277-8737

address: 736 Commonwealth Avenue

phone: +1 617-236-1500

address: 1096 Boylston St

phone: +1 617-859-7080

address: 44 Gainsborough St

phone: +1 857-263-7355

address: 1334 Boylston St
Sleep
Go next