Boston/North End
Known as "Little Italy" for over a hundred years, the
North End
proudly carries the torch of
Boston
's Italian heritage. Its narrow, dense streets consistently draw hordes of visitors looking to experience old world culture and first class dining. The
West End
was a sister neighborhood, until it was almost entirely demolished during the 1950s. Today it's the site of a huge sports arena and massive amounts of new construction.
Understand
North End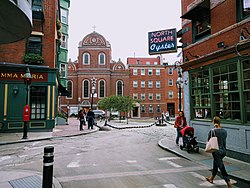 The draw of the North End was evident even to the first Puritan colonists, when powerful minister Increase Mather made this neighborhood his home. This area shared fortunes with Beacon Hill, and people from all walks of life came together to live and worship. The Old North Church was put up in 1723, the oldest church in Boston still standing. As the years wore on, the English and free Blacks living here would be pushed out by a wave of Irish immigrants who arrived in great numbers. Stately mansions were converted into tenements, and living conditions deteriorated. By the mid 19th century, the North End developed something of an unsavory reputation, a red-light district along what is today North Street being chiefly responsible.
By the 1880s the Irish had decamped, and the North End became dominated by Jewish and especially Italian immigrants. These families would barter trade skills to one another, slowly repairing and replacing the area's dilapidated housing stock with what you will see here today. A poorly considered expressway project constructed in 1950s cut this neighborhood off from the rest of Boston. Although this did have the beneficial effect of strengthening already close community connections, and family owned businesses continued to thrive.
When the ugly expressway was removed in 2007 by the Big Dig, a hulking metal barrier was replaced by a welcoming green garden, and the North End was united with the rest of the city once more. This connective parkland invites visitors from around the globe to explore the narrow brick streets, historical highlights, and unparalleled Italian dining that make the North End such a unique destination.
West End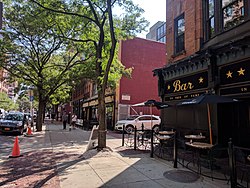 Once simply a small bay and mill pond to early colonists, the West End is another of Boston's neighborhoods built on reclaimed land. After the American revolution, the pond had turned into something of a convenient—although increasingly stinky—garbage dump. By the dawn of the 19th century it was decided to use the earth from one of Beacon Hill's three original hills to fill the pond in.
The creation of this new neighborhood quickly relieved pressure on the town's overcrowded housing stock. Some of the areas first residents would be African American, joining friends and family living nearby on Beacon Hill's north slope. This was one of the few places in the United States where African Americans had a political voice before the Civil War. In the coming years they would be joined by immigrants arriving from across Europe, Russia, and the Middle East.
By the 1950s the once overcrowded area was in the process of "de-slumming" along with the North End. It wasn't perfect, but small shops were still in business and many families still considered it a fine place to live. A city plan to "redevelop" the area was overwhelmingly opposed by residents during a meeting in late 1957. Their pleas fell on deaf ears, however, and eviction notices were handed out a few months later. The following year, a majority of the West End would be razed to the ground.
Today a vibrancy is slowly returning to the remaining pockets of what once was. It will never again feel like a sister to the North End, but as the tall buildings of glass and steel take the place of 50s era parking lots, the West End stands ready to turn the page and write its next chapter.
Get in
By foot
The North and West End are of similar size and can be traversed in around 15-20 minutes, so walking is usually going to be your best option. The easiest way to get to the North End is to follow the Freedom Trail from downtown Boston; follow the crowd across the Greenway and you're there. For the West End, turn left as the Greenway ends and the Charlestown bridge looms.
By public transit
By far the largest station in the area is
North Station
. Not only is this a major stop on the Orange and Green lines, four
Commuter Rail
lines and the Amtrak train to Maine depart from here as well. See
Boston by train
for more information. While covered more in depth in the
downtown
article,
Haymarket
on the Orange and Green lines can be a very useful station for the visitor. Accessible by Green line tracks;
Science Park
is the station you want if you're visiting the Science Museum. If you're going to be on the Blue line anyway,
Aquarium
or
Bowdoin
stations may also prove useful to you.
By car
Here are two more neighborhoods where driving is a terrible idea. The North End in particular has streets so narrow they barely accommodate pedestrians, much less automobiles. When visitors aren't clogging up the thoroughfares in summer, the snow picks up that slack in wintertime. There are a few (expensive) parking garages in the West End and downtown if you're determined to go that route. A few businesses in this area may provide valet parking, but call ahead to ensure a spot and don't expect it to come
gratis
.
See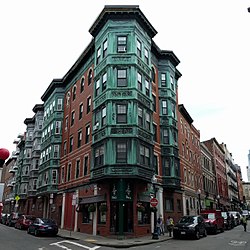 phone: +1 617 523-6676

address: 193 Salem St

Old North Church was Boston's second Anglican church. It is most famous for sending the message from Paul Revere that the British were coming by lighting the steeple with lanterns. "One if by land, two if by sea." Paul Revere had convinced congregant Robert Newman to alert the American militia in Concord, Massachusetts to British troop movements. Newman placed two lanterns in the church steeple and alerted the militia to the approaching British army as Paul Revere began his ride to warn John Handcock and Samuel Adams. By taking a more in-depth behind-the-scenes tour of the church, its history is revealed while exploring the bell tower, and its crypt.

phone: +1 617 523-2338

address: 19 North Sq

Paul Revere is known for his midnight ride from Boston to Lexington, warning all the people along the way that the British were coming. He owned this home for over three decades and it's downtown Boston's oldest building, dating from somewhere around the 1680s. The average visit is 30 minutes depending on the time of year.

Copp's Hill Burying Ground

address: Hull St & Snow Hill St

The city's second cemetery founded in 1659, Copp's Hill Burying Ground contains more than 1200 marked graves. The remains of notable early Bostonians are interred here, including much of the Mather family; Samuel, Increase, and Cotton. During the Revolutionary war occupying British forces would use the headstones of particularly hated patriots for target practice. Visitors can still see the impressions made by musket fire in the gravestones today.
Museums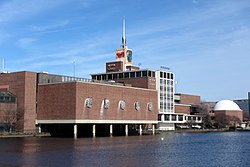 phone: +1 617 723-2500

address: 1 Science Park

The Museum of Science is colossal - easily one of the biggest in North America. It has IMAX theaters, 3D theaters, and a separate planetarium. The museum not only has an enormous permanent collection spanning several stories, but it has the largest Van de Graff generator in the world, which produces frequent electricity shows, a weather generator, many multimedia presentation areas, and at least 2 temporary exhibitions at any given time. A few exhibits remain that were designed by Charles and Ray Eames, but they are showing their age. The roster of events changes daily, and is distributed upon entry. It's worth a visit as long as you are all right with the possibility of getting a migraine.

phone: +1 617 994-5920

address: 141 Cambridge St

phone: +1 617 723-2125

address: 150 Staniford St
Itineraries
The Freedom Trail — A major tourist draw of significant historical sites in Boston. These 17 locations spread over two and a half miles are crucial to understanding revolutionary era America. A few are located here.
Do
phone: +1 617 263-6887

address: 216 Hanover St

Comedy club.

phone: +1 617 624-1050

address: 100 Legends Way
phone: +1 617 624-1234

address: inside TD Garden

If you love sports, check out The Sports Museum. A variety of memorabilia from Boston teams is on display.
Events
Throughout the summer there rarely is a dull moment in the North End. There is seemingly a different Italian festival every weekend, often thematically based on Catholic saints.
Buy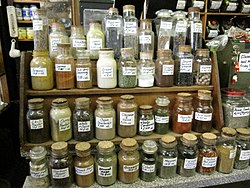 Remember, people still live in the North End, it hasn't gone full Epcot Center just yet. You can find a few stores with tacky tourist trinkets, but their presence is refreshingly limited. This is a neighborhood where residents walk to local fruit stores, butcher shops and corner markets for their groceries.
Eat
Many visitors travel to the North End specifically for the dining experience. There are a plethora of Italian restaurants here, and
almost
all of them are good. If you haven't decided exactly where to eat, all you need to do is walk down Hanover Street and you'll be presented with no shortage of quality choices. In the high season just stop to eat whenever you see a short line, as many North End restaurants don't do reservations. Don't browse too long however, as around suppertime the area can become awash with hundreds of your empty stomached competitors. If you're on a budget, the ATM is your friend. Many establishments here are cash only.
Budget
Mid-range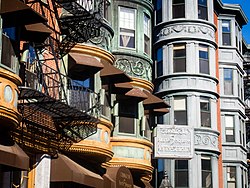 Splurge
Drink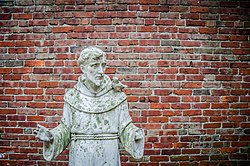 phone: +1 617 720-4455

address: 166 Canal St

The Fours is a sports bar that specializes in some great Irish pub dishes. All sorts of memorabilia litter the walls including jerseys and equipment signed by famous Boston athletes and athletes from all over the country.

phone: +1 617 823-4478

address: 90 N Washington St

phone: +1 617 227-1588

address: 138 Portland St
Coffee
phone: +1 617 227-7606

address: 296 Hanover St

In 2006 The Phantom Gourmet gave Caffé Vittoria a 'Great Ate' award. This place has many awards including 'City's Best Coffee House' from City Guide in 2005. Caffé Vittoria sells cannolis, tiramisu, éclairs, and over ten flavors of gelato. They have an extensive drink menu including their signature martinis and specialty drinks. The café has a cigar lounge and hookah bar in the basement with a casual laid-back atmosphere. Cash only.

phone: +1 857 233-5277

address: 236 Hanover St

North End outpost of this Boston mini-chain.

Caffe Paradiso

phone: +1 617 742-1768

address: 255 Hanover St

phone: +1 617 523-5063

address: 308 Hanover St
Sleep
Don't go looking for bargains in these neighborhoods. The North and West Ends are some of the most touristed and developed areas in the city. Expect gut rehabs of historical buildings, excellent service, and sky high prices.
Budget
BOS Hostel

phone: +1 857 317-4107

address: 232 Friend St

Internet terminals, free wifi, security lockers, luggage storage, 24 hour access. Single-sex and co-ed dorms available.

phone: +1 617 227-3979

address: 11 North Square

Built as a boarding house for sailors in 1847, it remains an inexpensive hotel only for active and retired members of the merchant marines and afloat military personnel.
Mid-range
Splurge
phone: +1 617 224-4000

address: 215 Charles St

Located in the Beacon Hill neighborhood by the Charles River and its Esplanade. On a bizarre side note, the hotel occupies a former prison that once held former mayor James Michael Curley (imprisoned in 1904 for fraud), Frank Abagnale, Jr. (portrayed by Leonardo DiCaprio in Catch Me If You Can) and a Nazi U-Boat captain captured in 1945 who later committed suicide.

The Boston Yachat Haven Inn & Marina

phone: +1 617-367-5050

address: 87 Commercial Wharf

If you like waking up to water views, this is the place for you!

phone: +1 617 459-1293

address: 241 Hanover St

Fully furnished extended stay luxury accommodations. So high end rooms even come with their own butler. Right on the main drag in the North End.
Connect
phone: +1 617 227-8135

address: 25 Parmenter St

phone: +1 617 523-3957

address: 151 Cambridge St
Go next