Boston/South Boston
Honor. Tradition. Loyalty. If you're familiar with
South Boston
as presented on the silver screen, these values might spring foremost to your mind. You wouldn't be wrong, but
a lot
has changed since mob boss Whitey Bulger controlled his criminal underworld from here during the 1970s. The identity of "Southie", as it's known to locals, is being reshaped.
Understand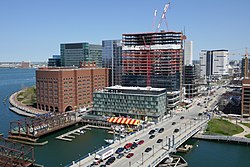 Originally, South Boston was known as "Dorchester Neck", a small isthmus in northern Dorchester. Once all but disconnected from downtown, acres of land were created throughout the 19th century physically bringing the two towns together. This was a burgeoning area for maritime industries, and was first annexed by Boston in 1804, and then again in 1870. Southie really distinguished itself with the arrival of the Irish after the Great Famine in the mid 19th century.
The quintessential triple decker homes and their occupants of Irish decent remain. Neighbors still greet one another on the street as they go about their daily routines. But things are different now. Money abounds in this area so close to downtown
Boston
. Real estate developers make million dollar offers to long time residents, sight unseen. What does it matter what the insides look like when you'll be tearing the whole thing down anyway.
These trends will continue into the foreseeable future, as more of Southie has been rezoned to resemble the Seaport. In spite of these challenges, pockets of the old-time community spirit persist. Some shops and restaurants have remained popular with new residents. The St. Patrick's Day Parade continues each year. The Neighborhood character evolves as ideas from newcomers mix with the best from the old guard.
Neighborhoods
The Seaport: No other neighborhood in Boston (and few in America) have undergone so much change in so little time. Back in 2004, the area was nothing more than acres of windswept parking lots. By 2014 those lots had been replaced by a convention center, an art gallery, scores of office and residential towers, and a mass transit system. Over a trillion dollars (yes with a t!) of new real estate washed onto the market during that decade, and continues to do so. Debate continues about whether the redevelopment of the Seaport is succeeding in turning the area into a real community. There are no grocery stores or public schools here yet, but the area and the idea is still new. Give it time to see what Boston's newest incarnation develops.
Fort Point: Nuzzled in below the Seaport, think of Fort Point as its older, smaller brother. When the manufacturing industry collapsed, many beautiful brick factories along the channel were simply too big and expensive to tear down. What was bad news at the time has turned out great for today's Bostonians, as many large industrial spaces were preserved and live on today as fantastic hotels and restaurants. Just check out the cluster of interesting points around Congress and A streets.
Get in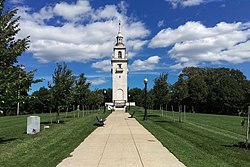 By public transit
Red Line stations in the area are
Broadway
and
Andrew
.
JFK/UMass
station is in neighboring
Dorchester
, but is very close as well.
Silver Line bus routes
SL1
and
SL2
run rapid transit service run between
South Station
and through the seaport district. The
Courthouse
,
World Trade Center
, and
Silver Line Way
stations are served by both routes. The SL2 route continues its loop through South Boston stopping at
Harbor St
,
Tide St
,
23 Dry Dock Ave
,
88 Black Falcon Ave
, and
Design Center
. While the SL1 branch veers off and heads away to
Logan
airport.
For those trying to get deeper into South Boston, you'll need to ride the bus. Routes
#5
,
#7
,
#9
,
#10
, and
#11
all start near City Point and connect to Red Line stops: South Station, Broadway, and Andrew. It's hard to overstate the impact of all the construction, and the neighborhood has been welcoming scores of new residents every month for years. While the number of commuters increases, the number of busses has not been able to keep pace with the demand. Beyond normal rush hour traffic, it can be quite difficult to board busses headed downtown in the morning, and leaving the city at night. The MBTA is working on addressing this issue, but for now plan on riding late, crowded busses.
By boat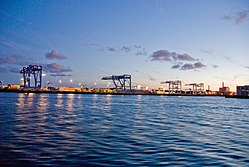 There are actually quite a few services available along the waterfront in Southie. One of the most popular and frequent are
Water Taxis
. These little boats run all year round and service points of interest like The Children's Museum, the ICA, World Trade Center, and more. You'll have to call ahead in less popular locations and times. Hop aboard a real ship and take the Bay State Cruise Company's
Provincetown Fast Ferry
, running from the pier with the Seaport Hotel during the summer months.
Additionally, over 20 cruise lines dock their mega ships at
Black Falcon Pier
. During the warmer months they may arrive from ports as far as Europe and the Caribbean. Local taxis know these schedules, so you should have no problem transporting yourself and your luggage to the hotel. Smaller boats can be found at the
EDIC Pier
and provide service to and from the
Boston Harbor Islands
. Keep your eyes peeled, because this pier can easily be overlooked. It's right next to the bridge, don't walk too far down towards the enormous Black Falcon area.
By car
Many parking lots have been replaced by luxury condos, so think before you drive, especially in the seaport. There is
some
on street parking in the remaining industrial-feeling areas towards the center of the neighborhood, but much of it isn't any more convenient than walking from a T station. Some two way roads were converted to one way during the "snowpocalypse" events of 2015, so know your GPS directions may be incorrect. Watch for cars coming to a stop in the middle of the road, as some residents feel entitled to double park wherever they please, especially on Broadway. Don't bother trying to find parking out at Castle Island during the summer, but you might luck out if you go at odd times. In wintertime you may find "space savers" placed in shoveled out parking spots. You are legally allowed to move these items and park, but by doing so you place your vehicle at risk of being vandalized. Exit 25 of
Interstate 90
and Exit 16 of
Interstate 93
serve the area and are found at the extreme western edge.
See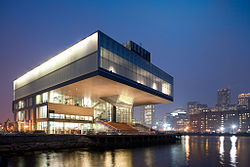 Itineraries
Boston Harborwalk — A public walkway that follows the edge of piers, wharves, beaches, and shoreline around Boston Harbor. When completed it will extend a distance of 47 miles (76 km) from East Boston to the Neponset River.
Do
--- broken file link not in Commons
Events
phone: +1 617 635-5104

address: 1163 Columbia Rd

Take the "plunge" with the L Street Brownies and 1000 of your closest friends. Splash around in the freezing cold harbor around 8AM January 1st. You could also just jump in a block down the street if you don't feel like dealing with the news crews. It kind of goes without saying, but make sure you have a way to get warm after. A towel will not be sufficient.

phone: +1 844 478-7287

The St. Patrick's Day parade in Southie is a longstanding Bostonian tradition. First celebrated in 1737, its current incarnation has been running every year since 1901. Held on the Sunday closest to Evacuation Day, or March 17th, the parade celebrates Irish history, veterans, and the expulsion of the British from the city of Boston in 1776. Attendance at the parade is very high due to so many Bostonians claiming Irish ancestry, combined with the fact that it's an official city holiday. Often, close to one million people will all cram into Southie to attend the event. Check ahead for the starting time, and plan to arrive hours in advance if you want to stake out a spot. Parking is a nightmare: taking the T is strongly recommended. There has been some controversy in recent years around the inclusion of LGBTQ groups in the parade, and attendance has suffered a bit as a result. Be aware that in America "St. Patrick's Day" is synonymous with "Legal Public Drinking". Expect to encounter incapacitated revelers not only along the route but throughout the city as well. This goes double if it's a nice day. The organizers plead with people to take it easy, and police try to keep order, but your best bet is to keep your wits about you. Remember to wear green and enjoy the spectacle, everyone is Irish on St. Patrick's Day!
Buy
Southie is not the city's premiere shopping destination. No matter what changes it has undergone, at its heart, the neighborhood exists to serve its residents. The missing tourist shops and places to find goofy t-shirts speak volumes about the character of this locale.
Eat
Due to the current state of gentrification, the amount and variety of price points in South Boston is immense. You will find the more expensive, trendier bistros in the seaport district to the north. As you get away from the T stations and further into the center of the neighborhood, prices begin to decrease.
Budget
Mid-range
Splurge
Drink
Sleep
Get your wallet out! South Boston is a desirable location to spend the night due to its closeness to downtown and the convention center located here. If an event is in town, hotel prices will be correspondingly astronomical. The city is aware of this issue and they are trying to reduce costs by increasing supply. There are a few hotels under construction (as of Nov 2016) with more on the drawing boards, but unfortunately for you they are not available yet. The best way of mitigating the damage is to book
far
in advance, and to coordinate your calendar with the convention center's. You can also look at hotels in other areas of the city or try booking online with popular room-rental services.
Mid-range
Splurge
Renaissance Boston Waterfront Hotel

phone: +1 617 338-4111

address: 606 Congress St

Perfectly located if arriving by air, and you want to hit up a brewery! Everything is accessible, and they also have an indoor lap pool and a jacuzzi to compliment the free Wi-Fi. Some rooms overlook the harbor.

phone: +1 617-532-4600

address: 425 Summer Street

This AAA Four Diamond-rated hotel is located in Boston's new waterfront district and is connected to the largest convention center in New England, the Boston Convention & Exhibition Center. The Westin Boston Waterfront also features 80,000 square feet of meeting space on-property and 793 guest rooms and 31 suites over looking Boston Harbor.

Seaport Hotel & World Trade Center

phone: +1 617 385-4000

address: 1 Seaport Ln

One of the new deluxe hotels that's sprung up around the South Boston waterfront area in the past couple years.
Connect
There are several chain coffee shops in Southie that offer free wi-fi facilities, they may restrict access during peak hours however.
phone: +1 617 268-0180

address: 646 E Broadway
Go next