Boston/South End
Possessing the largest Victorian row house district in the country, the
South End
is one of
Boston
's most popular places. After many homes underwent renovation in the 1960s, upscale restaurants and art galleries sprang up, and the area has attracted a diverse blend of families, young professionals, a gay and lesbian community and a thriving artistic center.
Understand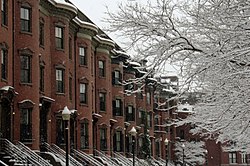 In response to the crowded conditions throughout the downtown and Beacon Hill neighborhoods, the city of Boston decided to fill in tidal marshes to the south. Beginning sometime around the 1830s, a new inner city residential neighborhood was envisioned, with a large and stable tax base to draw from. Architect Charles Bulfinch was hired, who oversaw the infill of land and created a series of residential parks. Inspired by English residential town squares, most greenspace is artfully landscaped and ringed with attractive cast iron fencing. The buildings here were designed to be uniform five-story bowfront structures. To further accentuate the visual unity of the area, Bullfinch called for a common palette of brick, slate, limestone, and cast iron elements to be used.
At first, a burgeoning middle class moved to the South End including business owners. As new housing developments opened up, however, the Back Bay and Roxbury soon became the "it" neighborhoods, and the South End would slide into a tenement district by the end of the 19th century. Close to good railroad jobs and now more affordable, the South End quickly began to attract African-American families, and became a center of black middle class Boston life and culture. Known as a "Jazz Mecca" for the first half of the 20th century, when musicians like Duke Ellington and Cab Calloway performed in a myriad of area clubs.
More and more buildings fell into disrepair, and by the 1960s absentee landlordism was rampant and the neighborhood was one of the poorest of the city. At this point, Boston's city planners once again stepped in, knocking down blocks of dilapidated structures and replacing them with housing projects and areas of light industry. It was an imperfect solution, but it mostly worked out, and set the groundwork for the beautiful and diverse community residing in the South End today.
Get in
By public transit
The Orange Line is going to be your best option for accessing most of the South End. The
Back Bay
and
Massachusetts Ave
stations bring you close to the action. While the
Ruggles
station is in the neighborhood, most of the attractions are further north. The Green Line roughly parallels the Orange in this area, but the stations are slightly further away. One stop on the Red Line,
Broadway
, is great for accessing SoWa market and all the new developments in the South End's northeastern corner.
If the suburbs and beyond are where you're leaving/arriving from, Back Bay Station is for you. On the Commuter Rail, the
Providence/Stoughton
,
Framinghham/Worcester
,
Needham
, and
Franklin
lines all stop here. This is also a main stop for Amtrak with
Acela Express
,
Northeast Regional
, and
Lake Shore Limited
trains all heading further afield. This station is also the first stop for the
#39
bus, which takes you south past the museums and into Jamaica Plain.
Another great option is the Silver Line, a bus rapid transit service running through the center of the neighborhood. From north to south the stops are:
Herald St
,
East Berkeley St
,
Union Park St
,
Newton St
,
Worcester Sq
,
Massachusetts Avenue
, and finally
Lenox St
. This bus can be helpful, as it passes by all the big commercial areas in the South End.
By foot
This is really the best way to see this minute neighborhood, barely over a mile across. As a point of reference, traversing the neighborhood would take the average person less than 30 minutes on foot. Walking from the Orange Line Mass Ave station, to the I-90 I-93 overpass next to downtown.
By car
Strongly not recommended. There are no parking garages in the South End, and virtually all on street parking is resident only. You'd have to park in a different neighborhood and walk in anyway, so what's the point of driving?
See
There's not much to see in the South End in particular. The neighborhood is quite small and beautiful, so your best bet may be to just go for a stroll. The area has some of the most wonderfully restored brownstones, they really pop offset against the dramatic backdrop of Back Bay's skyscrapers. You will find scores of gardens and small parks tucked between the warren of intimate (and occasionally cobblestoned) streets. Evenings here are great for walking as well, as gas lamps flicker to life and light your path across care-worn bricks.
Site of Boston town gateAt one time this route was the only way in or out of Boston. Still an isthmus in the early 17th century, the town was almost entirely surrounded by water. Here at the corner of Washington and E Berkeley streets Mayflower era colonists built gated earthworks to keep out natives and unwanted animals. A gallows stood outside the gate, where thieves and murderers would be executed. These defenses were constantly being improved, especially during the colonial era. As time went on, however, the water was filled in by earth and the gate lost its importance. Today there is no plaque or other signifier of this important spot, only a few signs at the nearby bus station. This noisy street corner could be easily skipped, or it could be a heady spot to contemplate the passage of time.
Galleries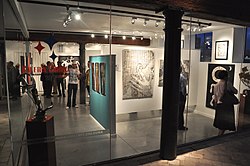 This is a smattering of the galleries the South End has on offer. They can be found throughout the neighborhood, with the greatest number being concentrated in the SoWa Market area. Naturally. Its best to visit on the weekends, and better still on market days.
Do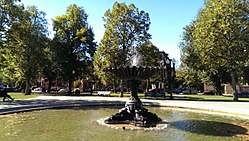 phone: +1 617 426-5000

address: 539 Tremont St

This non-profit coordinates multiple spaces in the South End, and is dedicated to hosting original events alongside visual and performing arts. Supports working artists by connecting them to the community, and patrons of the arts. Check the calendar daily for new performances, gallery openings, open studios, and more. The BCA has used the historic Cyclorama as its principal building since its inception in 1970. The city of Boston funded redevelopment costs in an effort to revitalize the South End area and the art scene.

phone: +1 617 373-2691

address: 238 St.Botolph Street

Today owned by Northeastern University, and was the original home of the Boston Bruins. Matthews Arena first opened in 1910 and is the oldest multi-purpose athletic building still in use in the world. It has undergone significant renovations over the years, so expect state of the art if you're catching a game here.

phone: +1 617 423-7847

address: 102 Waltham St

Part kitchen, part bookstore, part classroom. Pop in and browse, or reserve one of the 10 seats at Stir far in advance!
Events
Buy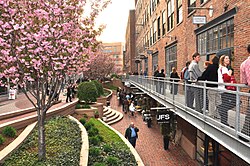 Due to the number of artists & galleries located in the neighborhood, SoWa has become a creative epicenter, attracting a wide range of art-enthused fans, creative minds, and unique events.
Eat
The South End has spent decades committed to increasing fine dining options, and it shows. Some of the best and most interesting cuisine in the city can be found right here, along with some of its most expensive! This list isn't exhaustive, there are many excellent restaurants in the neighborhood not listed here. Consider calling ahead for reservations for most any location, especially in the summertime and
especially
on Sundays when the SoWa Market is in full swing. Prices are generally spendy, but don't lose hope. Try some of the fancier places earlier in the day for brunch, you may find similar fare more affordably.
Budget
phone: +1 617 864-8534

address: 537 Columbus Ave

This cozy little pizzeria stands out for two reasons: Unique and sometimes bizarre topping combinations (like the house-smoked bacon pizza with roasted gold potatoes, cilantro and dried cranberries) will make you rethink what makes a pie. And, more importantly, the pizza here is actually good the crust is thin and crispy, the sauce is flavorful, and the cheeses are fresh and melt just right -- quite a feat considering what typically passes for pizza in the Boston area.

phone: +1 617 423-4083

address: 536 Tremont Street

Traditional Italian deli, great place to grab a sandwich or a slice. Basic pizza and Greek offerings for cheap eats in the upper South End.

phone: +1 617 482-9000

address: 492 Tremont St

phone: +1 617 267-9393

address: 1714 Washington St

phone: +1 857 239-8052

address: 517 Columbus Ave

Charlie's Sandwich Shoppe

phone: +1 617 536-7669

address: 429 Columbus Ave

Ali's Roti Restaurant

phone: +1 617 427-1079

address: 1035 Tremont St

phone: +1 617-426-872

address: 544 Tremont St

Cheap and tasty Ethiopian food.

phone: +1 617-859-8222

address: 123 Appleton St

A great place to have lunch. The menu has variety of imaginative and delicious sandwiches as well as several prepared dishes changing daily. Appleton also brews very good coffee and caries an eclectic selection of chocolates and snack foods. There is a moderate amount of seating.
Mid-range
Splurge
Drink
DeLux

phone: +1 617-338-5258

address: 100 Chandler St

A cute divey hangout right off of Clarendon St. The drinks are fairly cheap, the atmosphere is cozy and kitschy, and the food is delicious. Cash only.

phone: +1 617-338-7713

address: 117 E Berkeley St

Hard-drinking Irish bar with pub food.

Boston Eagle

phone: +1 617 542-4494

address: 520 Tremont St

Legendary gay bar, one of Boston's oldest.

phone: +1 617 482-0117

address: 3 Appleton St

Craft cocktails in a faux speakeasy.

phone: +1 617 424-1408

address: 427 Massachusetts Ave

South End institution for Jazz and other live music. There used to be scores of these tiny jazz joints all over the area many years ago. Wally's has stayed in business because they're the best. Berkeley students and longtime residents play to a friendly and diverse crowd. If you have a bad time here, that's on you!

phone: +1 617 266-5088

address: 433 Columbus Ave

phone: +1 617 936-3930

address: 535 Columbus Ave

Good mixed drinks and an extensive list of beers on tap.
Coffee
Sleep
Connect
There is one library here offering free wi-fi, although you'll probably pick up a few overlapping signals from all the competing cafes and shops in the area.
phone: +1 617 536-8241

address: 685 Tremont St
Go next