Brighton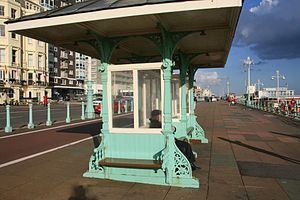 Brighton
is a famous seaside resort and charming city in
East Sussex
in southeastern
England
, south of
London
. In 2000, the neighbouring communities of Brighton and Hove joined to form the unitary authority of the
City of Brighton and Hove
.
Brighton is known for its grand Regency architecture, several landmarks in an oriental-inspired architectural style including the Grade-I Listed Pavillion, and for its large
LGBT community
.
Understand
Brighton was a sleepy little fishing village, then known as
Brighthelmstone
, until Dr Richard Russell of
Lewes
began to prescribe the use of seawater for his patients. He advocated the drinking of seawater and sea-bathing in 1750. In 1753 he erected a large house near the beach for himself and for his patients. A further factor in Brighton's growth came in the early 19th century when the Prince of Wales built the Royal Pavilion, an extravagant Regency building designed by John Nash. But it was only with the development of the railways, around 1840, that Brighton truly started to boom.
The city is close to London, and is increasingly popular with media and music types who don't want to live in the capital. It is sometimes called "London-by-the-Sea" for this reason. Brighton is typically referred to as the gay capital of Britain. There is a significant gay district in Kemp Town which adds to the Bohemian atmosphere of the city.
Whilst a day trip to Brighton, or even a long weekend, will offer activities and culture for the visitor all year round, it is in the springtime that the city really starts coming to life, and May sees the return of two of the most popular festivals, Brighton Festival and Festival Fringe (see the
events section
). In the summer Brighton truly flourishes, with residents and visitors enjoying lazy days and beautiful sunsets on what is perhaps the city's greatest asset, the more than 5-mile stretch of shingle beach, facing south onto the English Channel.
For those with working visas, Brighton is a good spot for seasonal and temporary work, due in part to its status as a student town and in part to it being on the sea.
Get in
By train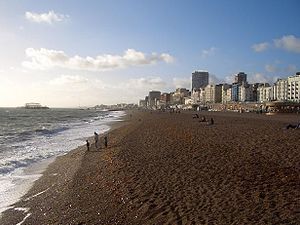 Wikivoyage has a guide to Rail travel in the United Kingdom.
Trains to Brighton run from Victoria and London Bridge stations in London, taking about an hour (faster for the Brighton Express services from Victoria, although expect to add another 20 minutes if travelling during peak commuting times). Trains also run along the coast from
Hastings
and
Lewes
in the east, and
Portsmouth
and
Chichester
in the west. Brighton is on a direct line to
Gatwick
and
Luton
airports (Gatwick is much closer, being to the south of London).
Brighton has 2 stations:
Brighton Terminus
and . All trains stopping in Brighton stop at Brighton Terminus, on Junction Road. Local trains to
Newhaven
via
Lewes
also stop at London Road station, on Shaftesbury Place, just off Ditchling Rise. This station is only really useful for the northeastern part of Brighton, and isn't too far from the main Brighton station. When travelling to Brighton, it would be easier to just plan to go to the main Brighton station, as it is also closer to the town centre.
Trains to Brighton are operated either by
Southern
, or
Thameslink
. Southern operates trains to
Eastbourne
,
Hastings
,
Ashford
,
Newhaven
,
Portsmouth
and
London Victoria
; while Thameslink operates trains to
Bedford
,
St Pancras
,
Luton
and
London Blackfriars
.
You may wish to research before a visit on a Saturday, whether Brighton & Hove Albion Football Club are playing at home; on these match days, expect trains towards Brighton around lunchtime to be busy, and trains towards London around late afternoon to be busy. Arriving a little earlier - and leaving a little later - than planned should be a consideration if you dislike very busy trains.
By car
Brighton is a congested city, and not easy to drive or park in at peak times. The principal route from London and Gatwick Airport to the north is the A23, which turns into the M23 just after
Crawley
. The A27 runs along the south coast from
Portsmouth
in the west to Pevensey (near Eastbourne) in the east, and is a dual-carriageway for the much of its length west of Brighton but is primarily a congested normal carriageway to the east of Brighton, the A27 turns into the M27 after Portsmouth and continues on into the New Forest National Park. There are several car parks in central Brighton - expect to pay about £1.50 per hour, even on Sundays, although they can get quite full at times, so don't count on finding somewhere to park.
The
Ethos Parking
website shows where available parking spaces are in some car parks with entry barriers around the city on a map. However, it doesn't show all car parks.
For a day at the beach, parking is available, though very limited, on the two roads parallel to the beach between the main pier and the marina, Madeira Drive and Marine Parade. As with many popular seaside resorts in England, the earlier you arrive on a warm, sunny day, the better your chances of getting yourself a space! Charges vary between seasons and the location premium, but generally in the height of summer expect to pay £15-20 per day closer to the pier, and £5-7 per day further east.
As an alternative to driving to the city centre, parking (charges apply) is available at
Worthing
, Hassocks or Lewes rail stations, both about 20 minutes by train from the city centre. Another alternative is to use the city's
Park and Ride service
, where you park at a free car park about a 45-minute walk away from the main train station, then get a bus to the city centre.
There are particular days in the year when it is
very
inadvisable to drive into Brighton:
The children's parade day at the start of Brighton Festival. Usually the first Saturday in May. Many roads in the centre of Brighton are closed.
The day of the annual London to Brighton Bike Ride. This is on a Sunday in June - tens of thousands of cyclists plus their support vehicles are in the city, so many roads will be blocked or difficult to get across.
The parade day of the Brighton and Hove Pride week. Around first Saturday of August. Many roads in the centre of Brighton and around the pier area are closed to all traffic, and diversionary routes are long and/or not built for heavy traffic. Gridlock often ensues on Pride Saturday.
The Brighton Marathon in early April (so much so that even the council has a whole webpage about parking during the marathon), where many roads in the city are closed.
The first Sunday of November when the London to Brighton Veteran Car Run is held (unless, of course, you own a veteran car!)
Any day with a significant amount of snow, as a storm may come suddenly or the roads may simply be unsafe.
Any summer's day when the sun is shining and the whole of London decides to head to the Brighton beach.
By bus
By plane
The city's proximity to London means Brighton is well served by airports. Brighton can be reached from
Gatwick
by train in as little as 25 minutes £8.50-10.50, Dec 2017).
phone: +44 1273 467373

address: Cecil Pashley Way, Shoreham-by-Sea, BN43 5FF

This airport () is 5 miles (8 km) to the west of Brighton. It is the nearest airport for light aircraft and also offers sightseeing flights. However, there are no scheduled flights from here. Air Alderney is planning to start flights between here and Alderney. This is the oldest licensed airport in the UK.
Get around
Brightonians often give directions relative to a prominent landmark, the
Clock Tower
, which stands due south of the rail station where Queen's Road meets Dyke Road (oh yes it does), West Street, North Street and Western Road.
The oldest part of the city is the
Lanes
, which is bounded by North Street, West Street and East Street, through which runs Middle Street - and Ship Street. Beware the spelling of the similar-named
North Laine
(meaning "north fields") which is a boutique and alternative shopping nirvana, to the north side of North Street.
Western Road, a major shopping street runs East-West from the Clock Tower, whilst Eastern Road runs up a hill towards the main hospital from the area known as the
Old Steine
(rhymes with clean) which has Brighton Pier at the seafront here.
Running north from the working Pier, you find the memorable
Royal Pavilion
, a run down church St Peter's, and The Level, which is being developed. Going north east from here is Lewes Road (pronounced "Lewis") which takes you out to the city boundary and both of the Universities.
Hove (actually) is found to the west of Brighton. To the east of the city, there is Brighton Marina.
By bike
Although the area is hilly. cycling is a growing form of transport in Brighton. The city is one of
Cycling England's
"
Cycling Demonstration Towns
". The
city council's website
has more details on cycling, including a map of routes.
By bus
Brighton and Hove Council have published a
journey planner
for local traffic.
There is an extensive bus network in Brighton and Hove. In the city centre, services are very frequent and many stops have 'real-time' bus information. The majority of buses are run by one company,
Brighton & Hove Buses
. The best option for a visitor is to get a £4.40 CitySAVER all-day ticket to avoid the £2.20 single fares.
Children travel at half price, and pensioners free after 9AM (with a suitable RFID card). If travelling by train, you can add a "plus bus" CitySaver option on your ticket for £2, or get a CitySaver for £3 at Brighton Station bus stops.
There are three routes on weekdays (route 52 on Saturdays too) between the City Centre and the universities with a bright yellow bus company called
the Big Lemon
, costing just £1.50 for a single and £2 for an all day pass.
On a few days a year, buses are disrupted by parades etc. - the same days as in the "
by car
" section above.
Many of Brighton & Hove Bus's vehicles are named after celebrities (some living, some deceased) and individuals who have made a contribution to Brighton & Hove city life in some significant manner. You can even suggest names for the buses to have at the bus company's website!
By train
Brighton Station is one of the most important rail terminals in the South East and from here the city of Brighton has a small suburban rail network with London Road station, , , , and serving the city (Moulsecoomb and Falmer for the universities in the city).
Southern and First Capital Connect services do
not
carry bicycles during peak hours (7AM-10AM and 4PM-7PM).
By taxi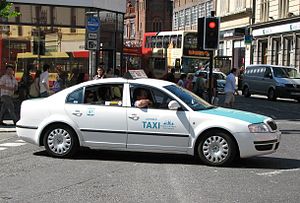 There are lots of blue and white taxis in Brighton, with the council logo on the door. They are, however, more expensive than most other towns and cities in England. In Friday and Saturday after midnight, the hire charge for a taxi is £4.10 before the journey starts.
The main taxi ranks are at Brighton train station and at East Street (near the Lanes). (Smaller ranks dotted around include: Queen Square (opposite Churchill Square), the north side of St. Peter's Church and the bottom of Montpelier Road.)
Some taxi companies are:
phone: +44 1273 74 74 74 (Brighton), +44 1273 20 20 20 (Hove)

phone: +44 1273 20 40 60
See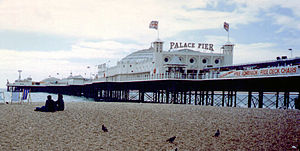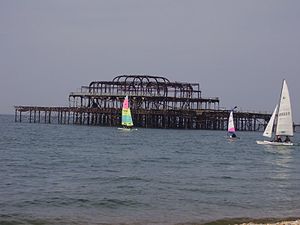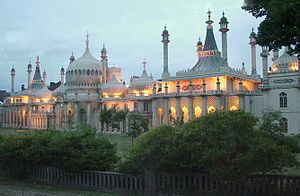 The
Brighton Attractions Combi-Saver Ticket
saves you up to 30% on tickets to the
Royal Pavilion
,
i360
tower, and
Sea Life Brighton
. Purchase at i360 (or online 3 days in advance): adult £27.70 (£26.10), child (5-15 years) £14.75 (£13.95), child (4 years – under 4s go free): £8.00 (£7.20) (Nov 2017).
phone: +44 1273 609361

address: Madeira Dr, BN2 1TW

Aka the Palace Pier, it has all the usual seafront arcade attractions. There is also the wreck of West Pier which was derelict for some time before burning down. Brighton Pier is all owned by the same company, so there's no real point shopping around for bargains on it (unlike other UK piers); but this does mean it has forced off threats to close it. The pier stands at the foot Grand Parade, south of the Old Steine.
Brighton Beach. In the summer, the pebble beach is covered in tourists and Brightonians. Poi twirlers strike a beautiful image against the sunsets, and flaming lanterns are launched into the air on summer evenings. To the east of Brighton there is a designated nudist beach. The pebble beach gives way to a flat sandy seabed just below mid tide line so time your swimming to the low tide and avoid the painful feet. Just beyond the Marina is an area for surfers. Fishermen cast their rods from the Marina or by the giant doughnut. For £16, you can fly the short zipline over the beach (2017).
The Lanes -an area of small shops, the tumbled street plan reflecting the layout of the original fishing village of Brighton which was here. Almost every shop in the Lanes is a jewellery shop, although there are also cafés, bars, record shops, a shop that sells vintage weapons, and a host of Italian restaurants.
North Laine (sometimes incorrectly called the North Lanes). A wild nest of alternativism, the North Laine area is walked by dreadlocked hippies, bright colours, punks, goths and oddballs. The shops sell everything from bongs to magic potions, from giant wooden hands to fairy wings and from bagels to fire staffs, and a full complement of cafés, bars, second-hand clothes stores and newsagents. The area is north of the Lanes on the other side of North Street.

phone: +44 1273 290900

address: 4/5 Pavilion Buildings, BN1 1EE

An interesting architectural attraction, transformed between 1815 and 1823 by the architect John Nash, at the direction of the then Prince Regent (later King George IV), into a sumptuous pleasure palace by the sea. The exterior has an Indian theme, whilst the interior was decorated with Chinese decor. Guided tours available and well worthwhile. Accessibility: two floors - only the ground floor is wheelchair accessible. Accessible toilets.

Brighton Museum and Art GalleryAn interesting museum and history, culture and art to do with Brighton and beyond. An excellent permanent collection and brilliant exhibitions from international artists. All areas of the Museum are accessible for wheelchair users.

phone: +44 3000 290900

address: Preston Drove, Brighton, BN1 6SD

A historic house, decorated and furnished in Edwardian style. Its elegant reception rooms and functional servants' quarters reveal the 'upstairs and downstairs' of life at the manor. Free parking onsite: enter the drive from Preston Drove.

phone: +44 871 423 2110

address: Marine Parade, Brighton, BN2 1TB

An aquarium with walk-through underwater tunnel, adjacent to Brighton Pier. This is the oldest working aquarium in the world. Accessibility: go from the promenade onto the seafront to access the ramp that leads to the beach. You will then see an underpass for Sea Life. Parking is limited and can be expensive.

The Old SteineThe centrepiece of Brighton's 'floral gateway', this features a rotating selection of flowerbeds, a fountain, and cafe. During the Brighton Fringe Festival (in May) there is often a large outdoor exhibition where performances take place.

St James's Street/Kemp Town - Brighton's gay village, lending the city the title of 'Gay Capital of Britain', is a short walk east of the city centre. It caters to the LGBT community, and is home to a wealth of restaurants and cafes. Continuing in the same direction you reach the rather more low-key and genteel area of Kemptown Village, with another clutch of antique shops.
Theatre Royal, Pavilion Theatre, Corn Exchange Theatre, Dome Concert Hall - Theatre and music venues are all in the 'Cultural Quarter' that encompasses New Road, Jubilee Street and parts of North Laine.

address: 52-55 Trafalgar St

A little, unknown museum hiding under the viaduct of Brighton Station, specialising in toys from the first half of the 20th century.
The Booth Museum of Natural History - A bit out of town up Dyke Road, this spectacular collection of taxidermy features over 300 bird specimens, a giant bear, a feejee mermaid and the infamous "Bone Room".
Komedia - Major comedy club in North Laine.
Brighton Marina with boats, pubs, restaurants, a supermarket and even a hotel, well to the east of the town centre.

Volks RailwayThe first public electric railway in the world, opened in 1883, runs a 12-min trip from the aquarium at Brighton Pier to Black Rock near the marina. The stations are all accessible by wheelchair. Wheelchairs must be folded to fit on the trains.

FabricaContemporary art gallery that specialises in new commissioned site specific work. As an artist led space this is a unique venue in the southeast that shows important new works by international artists. Fabrica is not a selling gallery but a place that offers access to exciting large scale work and media installations. It is housed in a renovated church on the corner of Ship St and Duke St in the city centre.

Lighthouse - Another contemporary art gallery in Kensington Street, North Laine. Like Fabrica it has no permanent collection and is purely artist-led. The gallery is at the site of a disused warehouse.
Grand Parade - An art gallery in Brighton's most central university campus. The gallery often has exhibitions of students work as well as a wealth of international artists. It is near St. Peter's Church just north of the Old Steine.
Phoenix - Another art gallery housing works from artists from all over the world. The gallery is in quite a central part of the city and is right next to Grand Parade.
Ink D - A small but trendy little space that exhibits obscure artists works and design. It is at the bottom of North Road, North Laine.
Jubilee Square - A modern redevelopment towards the south of Brighton's North Laine which includes the magnificent Jubilee Library, upmarket restaurants, and café culture.
Roedean School, Roedean Way, one of Britain's most famous and expensive girls' schools, the huge stone building looks out across the Channel.
University of Sussex - Spacious campus with notable architecture by Sir Basil Spence. (Three stops from Brighton Station on the line to Lewes.)
St Bartholomew's Church - One of Europe's tallest churches (from floor to ceiling). Towering over Brighton, this extraordinary church is not exactly the prettiest church in the world, however its gigantic structure and incredible decoration makes this church a must-see attraction. A real gem in Brighton's history which needs tourism and donations as it has threatened with closure.
Embassy Court: This famous 1930s art deco building was nearly demolished in the early 2000s, but has since been fully restored to its modernist reality. There are artists studios underneath. Tours of the building take place during the Festival.

phone: +44 1273 723064

address: 201 King's Road, The Lanes, Brighton and Hove, BN1 1NB

The Brighton Fishing Museum showcases the history and heritage of Brighton's fishing industry through a wealth of photographs, remarkable artefacts and restored traditional Sussex clinker fishing boats.

British Airways i360From the fully enclosed viewing pod, visitors experience 360-degree views across Brighton, the South Downs, the English Channel and on the clearest days it is possible to see Beachy Head 17 miles (27 km) to the east and the Isle of Wight 49 miles (79 km) to the west.
The area just west of
Regency Square
is one of the more interesting parts of Brighton to spend a day wandering (if a little less sanitised; the area has a high number of brothels and halfway houses. Still safe, but exercise more caution at night than elsewhere in Brighton). Wide range of stores-including a fabulous Chinese supermarket- and some stunning architecture.
Do
Brighton TheatresBrighton is a great place to see a theatre show or a gig. There are many many theatres and venues in and around Brighton.

Watch football (ie soccer) at Brighton & Hove Albion, who play in the Premier League, the top tier of English football. They play at the Falmer (or Amex) Stadium, Falmer BN1 9BL, off A27 five miles north of town next to Falmer railway station. The stadium has a capacity of 30,750. Their women's team play in the Women's Super League, with home games at Crawley Town.
Watch cricket at

address: Eaton Rd, Hove BN3 3AN

Sussex CCC play in Division Two of the County Championship.
Shop until you drop. Calling into many of the quirky shops in the Laines looking for that elusive deleted LP, leather bound book, one-off party dress, or organic beer, can be a highlight and a chance to uncover hidden gems.

address: Preston Circus

The Duke of York's Cinema is Brighton's art house cinema, and the oldest continually operating cinema in Europe. Opened in 1910, it still has a single screen, which shows a mix of art house and more mainstream films, with a Kid's Club on Saturday mornings. The building is recognisable by the giant fibreglass legs on the roof. The bar on the first floor is a good place for a drink before the film, with a balcony that has good views of the street below. The (screening-room) balcony at first floor level has two-seat sofas, the ground floor regular cinema seats.
phone: +44 1273 007799

address: Sussex House, Crowhurst Road, Hollingbury Industrial Estate, BN1 8AF

Phileas Foggs Attraction is a team game attraction set in the 1900s. You are guided around the world through 16 faraway lands to complete, with many challenges along the way. Includes smells, sounds and sights from the world of the 1900s, skill, mystery and mental games in up to 3 teams.
Events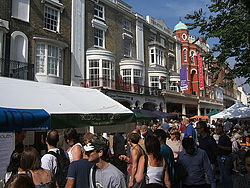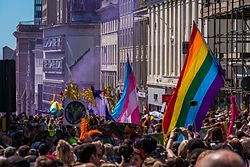 Learn
Brighton is home to two universities, the University of Sussex (situated on the edge of the city at Falmer), and the University of Brighton, which has campuses around the city, and in nearby towns.
phone: +44 1273 606755

address: Sussex House, BN1 9RH

phone: +44 1273 600900

address: Mithras House, Lewes Road, BN2 4AT

phone: +44 1273 667788

address: Pelham Street, BN1 4FA

This college offers part time courses in many areas, including computing, fashion, languages, hairdressing and sport. Fees may be required, and you may have to have a test and interview to get on the course.
Buy
Shopping is one of the main reasons to visit Brighton. But don't get stuck in the mainstream shopping area around Western Road. There are a huge array of shops catering for all tastes but the impressive assortment of independent shops and boutiques is something that differentiates Brighton from many other British cities. The atmosphere in the North Laine and in The Lanes is one of the intangible aspects of the city that leaves many wanting to return time and time again. Brighton is especially good for Music, Books and independent clothes shops.
Head towards Hove on Western Road and you'll find a haven of quality charity shops outside of the centre.
North Laine contains heaps of shops and market stalls to tempt everyone's quirky or vintage fancies without a chain shop in sight. There is a flea market with numerous stalls in Kensington Gardens and another, 'The North Laine Antiques & Fleamarket' in neaby Upper Gardner Street. Shops tend to get less mainstream, the further north into the North Laine area you go.
The Lanes are known for their independent shops, especially antique shops and jewellers. Can get somewhat repetitive but the indoor market Snooper's Paradise is always a joy to wander. The Lanes Armoury is world famous for selling antique war memorabilia and weapons. The confectionery shop Choccywoccydoodah (Duke St.) boasts its own TV show.
Brighton is packed full of independent record shops, most of which sell vinyl, including Resident (Kensington Gdns) which was voted "England's favourite indie record shop" in 2011, and Borderline (Gardner St) Across The Tracks, all in the North Laine area. The Record Album (8 Terminus Rd., just above the station) is a small shop specialising in vinyl soundtracks and other retro curiosities.
Churchill Square Shopping Centre and the surrounding area offer more mainstream goods, standard fare on UK high streets and in shopping centres.
London Road is an unglamorous "High Street" type shopping area with some genuine bargains, particularly at the Open Market. There is a concentration of electronics, photographic and hi-fi retailers towards the northern end, around Preston Circus.
Brighton Marina contains more up-market shops.
The pedestrianised George St. is Hove's main shopping area, but it is not really worth a detour if you are already in central Brighton.
Eat
Brighton has excellent food, especially for vegetarians. The most famous vegetarian restaurant (and, after a recent buy out, now fairly expensive) is Food for Friends situated in The Lanes. On the other end of the scale, there are many
takeaways in Brighton
catering for different kinds of tastes (pizza, Chinese, Mexican, Indian food). Prices are usually fairly cheap and most are open until late.
Budget
No seaside town is complete without seafood stalls. On the seafront, about 100 m west of the pier, are a clutch of stands offering snacks of cockles and mussels, crab sandwiches, fish soup and oysters, all for a few pounds. Daytime only.

The Small Batch Coffee CompanyHas locations including Brighton and Hove.

The Bombay AlooShip St. All-you-can-eat Indian vegetarian buffet, a tremendous bargain, particularly between 3:15PM and 5:15PM. Often gets crowded, but ask about the upstairs room before giving up. The Bombay Lounge in North Street, and Bombay Mix in St. James's St are similar.

address: 60 North Street, BN1 1RH

North Street, is another buffet restaurant, with a variety of vegetarian dishes and some carnivorous options.

address: 60-64 Kings Road, BN1 1NA

A Modern European restaurant on the Kings Road seafront offering high quality cuisine at the best value for money prices. The quirky theatrical decor makes for a romantic evening or a great location for the family. There is live entertainment 7 days-a-week ranging from their signature live opera through folk and jazz to cabaret.

address: 110 Church Street

A delightful, small, genuine Japanese cafe, selling a wide range of delicious dishes for a very reasonable price. (If you are eating alone or if there is space at your table, often other diners will be seated with you, which can make some people feel uncomfortable.) Take-away available.

address: Kings Rd

Good value fish and seafood restaurant that won't break the bank.

Burger Off

address: 52 Brunswick St W

Burgers. Family-run with a Five-Star Health inspectorate Rating, well worth a visit
Grubb Burgers (89 St James's St, Western Rd, London Rd, Lewes Road) are something of a local legend, renowned for their many sauces and toppings.

Market DinerA "greasy spoon" famed for its all-night opening hours and "gutbusters".

Pablos

address: 36 Ship Street

Brighton and Hove. Serves great Italian food, with pizzas and pasta dishes starting at £2.50. It is popular in the evening so expect to wait for a table unless you make a reservation, getting a table during the day is usually no problem.

Hell's KitchenIn Gardner St. Not a sit-down restaurant but rather a New York-style deli offering bagels, salt beef, etc.

Preston StreetOn the border of Hove and Brighton has a string of low to mid priced ethnic restaurants. For instance, China China at number 74 is a good value (around £6 per person) Chinese restaurant, with lots of seating, five minutes from the beach.
Mid-range
address: The Depot, 100 North Rd

consistently highly rated and reviewed, the café at Bills specialises in organic munchies of the best type.
Gar's (Meeting House Lane). Possibly the best Chinese restaurant in town.
The George pub, on Trafalgar Street near the train station, serves only the finest vegetarian meals and snacks. Wi-Fi available.

phone: +44 1273 725500

address: 34-35 Western Rd

Hove. Amazing wine and cheese platters that are constantly changing and very special. Great service.

address: 71 East St

Well-respected vegetarian restaurant, with a lively crowd and bright décor - voted 2nd best British restaurant in the Observer Food Monthly 2004.

address: 139 Kings Rd

Arches. Great food and location at this relative newcomer

The Eagle

address: 125 Gloucester Rd

Great vegan, vegetarian and carnivorous food

address: 105 Southover St

11th best pub in the UK in 2004. Famous for its food, and chef "Spats" (no child licence.)

The Open House

address: 146 Springfield Rd

20th best pub in UK in 2004. Large, child-friendly pub next to London Road train station. Good food and drink.

address: 22-23a Baker St

Fine fish and chip restaurants serving delicious fish and chips and some really excellent specials (roys shark steaks are amazing). The family run restaurant has fantastic reviews. It is very popular with locals.

Planet India

address: 4-5 Richmond Parade

Great Indian vegetarian restaurant that serves an authentic menu within a friendly atmosphere (barefoot waiter included!)
Moshimo. An unusual conveyor-belt sushi restaurant, unusually in a glass-sided building, the "opticon", in Bartholomew Square.
Gobi.(East St.) Concept restaurant where you select your own ingredients and have them cooked in front of you.
There is a stretch of Western road with several Middle Eastern and North African restaurants, for instance Kambi's,(Number 107) Mascara(Number 10) and Sahara (Number 103).
Giggiling Squid (11 Market St, 159 Church Rod) Good-value Thai restaurants noted for their lunchtime tapas.
Splurge
address: 30-31 East Street

Seafood restaurant: this place is not cheap at around £20 for a main course. Decor and clientele tend towards the old-school.

Havana

phone: +44 1273 773388

address: 32 Duke St

In the converted Theatre Royal opened in 1790, the enticing facade mirrors the exquisite international cuisine but expect a hefty bill as this is a popular with the Rich and Famous (Orlando Bloom is known to visit when in town).
The original Gingerman fine-dining restaurant (Norfolk Sq.) garnered numerous accolades and spawned three sister operations: the Ginger Fox (Muddleswood Rd), the Ginger Pig (Hove) and the Ginger Dog (Kemptown).

The Chilli PickleA high-concept Indian restaurant in Jubilee Square.
Drink
There are many, many pubs and bars catering for all tastes. Any list of reasonable length will be far from complete; if there's a street in central Brighton there is likely to be a pub on it. LGBT-orientated pubs, bars and clubs are mostly in the Kemp Town area of the city, in the vicinity of St James's Street and Marine Drive.
Station and Trafalgar Street
The Evening Star

phone: +44 1273 328931

address: 55-56 Surrey St

If you enjoy real ales this is a must. They have a wide selection of tap ales, ciders and bottled Headbangers too. Best of all, it's really cheap!

The Great Eastern

phone: +44 1273 685681

address: 103 Trafalgar Court

Offers a wide range of US bourbons and rye whiskeys.
The Prince Albert, Trafalgar Street. Boisterous indie kids' pub, with a selection of local ales and a mural of its patron saint, John Peel.

The Lord Nelson

address: 36 Trafalgar St

The "Nellie" is a thoroughly traditional, multi-roomed pub serving a range of ales from the 200-year-old brewery in nearby Lewes.
Trafalgar Wines, an off-licence with an amazing array of bottled beers from around the world.
North Laine
The Heart and Hand. (75 North Rd) This traditional pub, just off Queen's Rd., is an indie kids' favourite, famed for its jukebox.

Basketmakers Arms

address: 12 Gloucester Rd

Great traditional backstreet pub on a side street in the North Laine area. Excellent choice of English ales and excellent good value food. Often busy so arrive early to bag a seat.
The Eagle, directly opposite is also excellent.
The Office, Sydney Street, specialises in multitudinous varieties of gin.
Nine Green Bottles, Jubilee Street, is a wine bar and merchant.
The Lanes
The Cricketers (15 Black Lion St.) Brighton's oldest pub, with a plush Victorian interior. Pricey.
Hotel du Vin and Pub du Vin (Ship St.) Two excellent but very pricey operations in the Lanes.
The Victory (Duke Street). Old-fashioned green-tiled pub with fine ales and gigs going on upstairs.
The Black Lion (24 Black Lion St) One of the best all-round pubs in Brighton. Live music, good food, reasonably priced drinks and the whole place turns into a dancefloor late on weekends. Also close to everything and next door to another of Brighton's great boozy establishments, the Cricketers pub.
Pavilion
The Royal Pavilion Tavern, 7 Castle Sq. A cheap pub colloquially known as the 'Pav Tav'. Expect to see just about any type of person in here from Indie Kids and Goths to Old Men and Chavs who somehow all manage to co-exist harmoniously. There is also a nightclub above the pub.

The King and Queen

address: 13-17 Marlborough Pl

A faux traditional old pub that never loses its popularity! The decor is in a fake-medieval style, but the place is fun if you like a studenty atmosphere. Especially popular with students from the language school called St.Giles close to the pub always hang out here. It is a meeting point for them. As the name of the pub shows, there are portraits of former English kings and queens. The pub has a high ceiling and the space is large. Various forms of entertainment which include karaoke, televised sport and occasional live music.
Churchill Square and Seafront
The Quadrant.(12-13 North St.) Historic, precipitously multi-level pub by the Clocktower, with good beer and live performances.
Fortune of War. (157 Kings Road Arches). The most interesting beachside pub, designed to look like a galleon. Can heave as well!
Regency Tavern, 32-34 Russell Sq. Very welcoming if pricey pub, attracting a quiet, mixed clientelle. It is renowned for its kitsch decor, which becomes extra fabulous during Christmas and Valentine's Day.
Western Road area
Craft, (22 Upper North Road, behind Top Shop). Beer geek's heaven, with 9 cask ales, 30 draught beers and more yet in bottles.
Temple Bar (121 Western Road). Large pub in a shopping area, serving a good selection of Sussex ales and world beers. Somewhat pricey.

The Bee's Mouth

address: 10 Western Road

Hove. This self-described "jazz dive" serves a selection of potent and pricey world beers in faux-oriental ambience resembling one of Amsterdam's more smokily atmospheric venues.
The Farm Tavern (Farm Rd. Hove). Cosy, friendly pub with a small but well chosen selection of ales, in a side street off Western Road.
Lion and Lobster. (24 Sillwood St.) Large pub with cluttered, Victorian junk shop interior. There are screens for watching sport, but it is also possible to get away from it.
Molly Malones. (57 West Street) Irish pub with live music, good decor and fairly expensive drinks. Somehow infamous, nobody knows why. Best visited at the end of the night when it's filled with locals all similarly confused as to how and why they're there.
Hove
Sussex Cricketer (Eaton Road) is a large pub near the cricket ground, with a good menu and selection of ales.

address: 3 Stirling Place, BN3 3YU

Is a gastropub emphasising local and organic ingredients.

phone: +44 1273 272212

address: 33 Montgomery St, BN3 5BF

Hove's best Harvey's pub. Regular live music is offered, and the pub is home to a Folk club.

phone: +44 1273 323810

address: Kingsway Court, First Avenue

Bali Brasserie is one of the finest Brighton restaurants renowned for delicious Indonesian and Malaysian cuisines.
St James's Street and Kemptown
Bar56 (56 George St.) A modern and funky bar, offering a relaxing atmosphere during the day, before turning in to a pre-club bar at night. They offer regular cabaret nights and a weekly quiz night.
The Barley Mow (92 St George's St.) Perhaps the best of a good selection of pubs in Kemptown village, with Sussex ales and fresh cooked food.
The Black Dove 74 St. James' Street. Eclectic and interesting surroundings, very impressive beer and cider list, live music and performance arts in an intimate space. Worth a visit!

Bulldog

phone: +44 1273 696996

address: 31 St James's St

The oldest gay bar in Brighton. Mostly over-30 clientele. The lights are dark, the music loud, and the drinks are cheap. A real love-it-or-hate-it venue, but always memorable.

address: 8 Marine Parade

LGBT-orientatated bar. Half-price drinks (excluding sparkling wine and cocktails) M-F 5-9PM, Su 8:30PM-close. Small dance floor. Get there early to get a table. Outside smoking garden, sheltered but no heaters.
The Hand in Hand (33 Upper St. James's St.) Everything is quirky about this little pub from the eccentric regulars to the collection of Edwardian erotica on the ceiling. Live music on Sundays if you can squeeze in.

address: 2-3 High Street

Blues pub with regular gigs, real ale and a musical decor to match.
The Royal Oak A serious ale bar run by the Basketmakers team.

The St. James's Tavern

address: 16 Madeira Place

Laid-back pub offering over 70 rums, decent real ales, Thai food and an atmosphere all its own.

The Sidewinder

phone: +44 1273 679927

address: 65 Upper St James's Street

Cosy pub, live music some nights. Great beer garden with lots of tables and about ten heated booths; fantastic smokers' pub.
Hanover
The
Hanover
area of Brighton (north-east of the centre, walk north from St. James, or cross the Level from the bottom of Trafalgar St.) has numerous excellent pubs in close proximity (hence its nickname: "Hangover") to each other and is well worth the 15 minute walk from the city centre. The stand-out is the
Greys
at the bottom (mercifully) of Southover street. Brighton's best known pub crawl takes place in this area — up Southover St and down Islingword Rd (or vice-versa) — the hill is
very
steep! The atmosphere is more relaxed than the centre and the historic Victorian terraced streets with their brightly coloured houses are also notable. In Southover Street and you will find the Geese, Greys, Dover Castle, Sir Charles Napier and Pub With No Name, all of which are worth a visit. Islingword Road runs parallel to Southover Street and there you will find the Constant Service, Horse & Groom, London Unity and Cornerstone. There is also a small but good beer festival once a year in Hanover.
Northern Brighton
Well off the tourist trail, Brighton's relatively gritty northern sprawl is home to a number of boozers, some rough, others diamonds.
Mitre (Bond Street) Traditional Harvey's pub, just off the London Road shopping area, with quietly dotty regulars.
Druids Arms. (Ditchling Road) Strenuously eccentric pub (the landlord sports a fez!) with cheap beer and Thai food, where the Open Market backs onto the Level.
Cobbler's Thumb (New England Road) Scruffy, studenty and utterly laid-back.

Preston Park TavernGastropub with a good line in ales.
Clubs and musical venues
The Dome and Corn Exchange are large, neighbouring venues, both architecturally distinguished, being parts of the Royal Pavilion complex. Well known acts are interspersed with more avant garde choices.
The Brighton Centre, on the seafront, is the largest live performance venue in town, although far from the best loved as a building. The programme is mainstream.
Tru. Large West Street club, popular with stag and hen parties, distinctly less with the so-hip-it-hurts crowd.
Digital is a the new name for the Zap Club, a large seafront nightclub purveying cutting-edge sounds. Mostly DJ-based, but such acts as Frankmusic have appeared. The Honey Club and Brighton Coalition and Buddha Lounge are nearby.
Komedia in the heart of the North Laine area is a multi-room venue with a wide variety of comedy and music.
Audio / Above Audio, 10 Marine Parade. Audio is medium capacity nightclub catering for fairly specialist musical tastes through a particularly large sound system. Above Audio is an award-winning (National Theme Bar and Restaurant Awards) late night bar serving great cocktails and (when offered) good food. Wi-Fi available.
Concorde 2. A medium-sized venue with a busy schedule of live music, a stone's throw from the pier.
Casablanca (3 Middle St) Scruffy, studenty club offering Jazz, Funk Latin and Disco from DJs and live acts.
Volks (Madeira Drive) Small nightclub offering "underground" music — appropriately, it is built into a seafront archway.
Jazz Place (10 Ship Street) Small, basement club specialising in the funky rather than beard-stroking end of the jazz spectrum. The Loft, upstairs in the same building is a more typical club.
Funky Fish Club.(Madeira Hotel, 19-23 Marine Parade) A sweaty Soul and RnB club where the more mature need not feel uncomfortable.
Proud Cabaret Brighton (George St. Brighton)
Green Door Store club and live music venue in the arches beneath the station.
Latest Music Bar. A medium-sized live venue with a varied, generally trendy, bill of fare, just off the seafront.
The Verdict. (Edrward Street). A special-purpose Jazz venue and supper club, north of St James's Street.
The Brunswick in Holland Rd., Hove is a large pub venue hosting several performances a week of comedy, jazz, funk, soul and cabaret. Ticket prices are generally not much more than £5.
The Prince Albert 48 Trafalgar Street. One of Brighton's oldest pubs, and an Indie venue (music upstairs) instantly recognisable from its outside mural of the late John Peel, and invaluable early Banksy graffito.
The Ranelagh, St.James St/High St. This small pub is an intimate Blues music venue at night, with garden for watching the world pass by. Wi-Fi available.
The Greys (Southover Street) is a tiny pub venue which only hosts live music occasionally, but is nonetheless worth keeping an eye on because the (mostly acoustic) acts are so well chosen. Advance booking highly advisable. Also respected for its food and drink.
The Hope (Queen's Road), the Fiddler's Elbow (Boyce St.), The Cobbler's Thumb (New England Rd.) and The Neptune (Victoria Terrace, Kingsway, Hove) are other music pubs.
Sleep
Budget
A general note on hostels in Brighton- research the place you're booking into thoroughly before committing. Some are not meant for travellers although marketed as 'hostels'. Hostelpoint on the seafront in particular has a rough reputation, being overcrowded with junkies and generally unsafe. Spend a couple of quid extra and go for a friendlier place, it's worth it.
St Christopher's Brighton Hostel

phone: +44 1273 202035

address: 10-12 Grand Junction Rd

(bookings are taken via the central office, tel: +44 20 7407-1856) Directly next to the National Express coach station, on the seafront and with direct view of Brighton Pier; bed in a – albeit fairly cramped – mixed dorm from £16 a night, continental breakfast included; hotel rooms are also available; clean, no curfew, friendly staff. The hostel rooms are directly above a pub so if you are planning on getting some sleep this may not be the best choice for you!

Grapevine Seafront

address: 75 Middle St

address: 30 North Rd

On the North Laines with a great cafe, this place is a fantastic place to stay and eat. Mixed dorm Rooms start at around £12 per person per night depending on season and you are right in the action with great pubs, bars, restaurants and shops surrounding you.

Baggies Backpackers

phone: +44 1273 733740

address: 33 Oriental Pl

Probably the best hostel in Brighton. A gorgeous and clean backpackers with a warm and friendly vibe. Quite a party place on weekends but things rarely get out of hand within the hostel itself. It's just off the beach, two blocks west from the Old Pier. Look for the i360 eyesore, British Airways' towering (and inarguably phallic) contribution to the Brighton seafront. Accepts a limited number of long-term (2 weeks+) guests, at a reduced rate. Spread over 4-5 floors and not wheelchair accessible.

address: 12a New Steine

Right in the city centre, approximately 250 m from Brighton Pier. Double Rooms from £46.25pppn.

address: 76 Grand Parade

Close to Old Stein, Kipps is a pleasant place to stay with a variety of room sizes (10 share mixed dorm to private rooms). The staff are very helpful and welcoming.

Home Brighton Backpackers

phone: +44 1273 239649

address: 33 Richmond Pl,BN2 9NA

Basic hostel above a (rather nice) pub. Sometimes has a nice vibe, better than a lot of Brighton hostels. Surrounding area can be sketchy at night. Its main selling point is that it is almost never full, which many of the better nearby hostels are in high season. Dorms can get intolerably hot in the summer, insist on a bed opposite one of the small fans. Middle beds are like ovens.
Mid-range
Splurge
Stay safe

Although Brighton is generally a safe place, like every other big city it has its share of problems. The city centre can get quite rowdy at weekends, and West Street is best avoided after midnight. The sheer volume of people on weekends combined with alcohol consumption make Friday and Saturday nights on this street potentially volatile. However, it is still perfectly possible to have a civilised Friday or Saturday night at one of the venues favoured by locals and sensible tourists.
Brighton attracts quite a lot of homeless people, although most of these individuals are harmless. They will likely only ask you for money and, if you refuse, will simply go on to the next person. Drug-users often gather around London Road and the Level, although these places are perfectly safe before dark. Some areas on the outskirts, such as Whitehawk and Moulsecoomb, have a bad reputation, but most tourists would have little reason to visit them anyway, being far removed from the main attractions and cultural venues the city has to offer.
As with most LGBT-friendly towns and cities, caution should still be used for same-sex public displays of affection in certain areas, but by-and-large the diversity of Brighton & Hove is celebrated and welcomed. In Hove, The Lanes and North Laine areas of the city, same-sex displays of affection will generally go unnoticed and are seen by most residents as acceptable as the norm between men and women. In the Kemp Town and Kemp Town Village areas especially, any homophobic abuse towards LGBT visitors would likely be met by residents with outright hostility towards the perpetrator of such abuse.
Lifeguards patrol the city's beaches from the end of May until the first weekend in September; signposts on the beach show which areas are covered. In an emergency related to the sea, call 999 and ask for the Coastguard.

Connect
Internet
There are plenty of internet cafes around, prices are usually about £1/hour.
Wi-Fi
Free Wi-Fi is reasonably common in Brighton. Loose connection provides free Wi-Fi in a number of pubs around Brighton . The
City of Brighton
provides a list of free hotspots on their website.
;The Lanes
The Bath Arms, a pub in the heart of the Lanes. Provider is Loose Connection. No password required.
The Fiddler's Elbow, a pub near the Lanes, and off West Street. Password from the bar.
The Victory Inn, BN1 1AH. No password required.
The Hop Poles, 13 Middle Street, BN1 1AL. Network name: 2WIRE184. Password from the bar.
;In Kemptown
Bar56, A modern, funky bar on George St, Brighton. Password from the bar.
The Ranelagh, a pub half-way up St. James's Street. Password from the bar.
The Sidewinder, a pub in St. James' Street.
Bom-Bane's, a small café/restaurant/venue/bar (difficult to classify, actually) in George Street in Brighton (not the George Street in Hove!). Password from Jane.
Spinelli's, a café in College Road (off St. George's Road), with a second branch on St James's Street
;Near Brighton Station
The Grand Central, a pub immediately outside Brighton railway station. Provider is Loose Connection. No password required.
The Earth & Stars. A pub in Church Street down from Queens Road (which is the main road from Brighton Station to the seafront). Provider is Loose Connection. No password required.
The Three Jolly Butchers (a.k.a. 3jb). Pub in North Road (down from Queens Road). Provider is Loose Connection. No password required.
Moksha, a café in York Place (opposite St. Peter's Church)
Taylor Street Baristas on Queen's Road (the road that leads from the station to the sea) at the corner of North Road.
;Hanover
The Dover Castle on Southover Street (corner Islingword Street), a pub (from 11) which also serves coffee, pastries and food from 9AM.
;London Road
The Hare & Hounds. Pub at Preston Circus. BN1 4JF. Provider is Loose Connection. No password required.
;Western Road
The Norfolk Arms, a pub on the south side of Western Road close to the Brighton/Hove border. No password required.
The Robin Hood, a pub south of Western Road. Password from the bar.
;North Laine
The Brighton Tavern, a gay pub in Gloucester Road. No password required.
The Fountainhead, a Zelgrain pub in North Road. Provider is Loose Connection. No password required.
The Eagle, a pub in North Road. Password from the bar.
Riki Tik, a café/bar at 18a Bond Street,BN1 1RD. No password required.
The Mash Tun at the corner of Church Street and New Road. Says it has free Wi-Fi but connecting is difficult.
;Hove
The Red Lion, near to the King Alfred Leisure Centre and the seaside. Password from the bar.
Go next