Bruges
Bruges
(
Dutch
:
Brugge
) is a picturesque city in
Flanders
, the northern part of
Belgium
. Once Europe's richest city, now both cosmopolitan and bourgeois in its compact size, it is one of the best preserved pre-motorised cities in
Europe
and offers the kind of charms rarely available other than in
Europe
.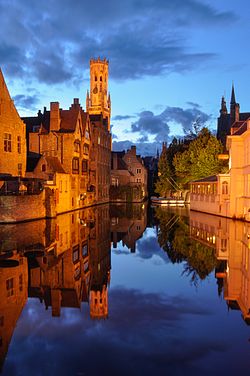 Understand
Climate
Even by Belgian standards, Bruges has a poor reputation for its weather. Compared to other western European cities like London and Paris, the weather in Bruges is colder and damper. Even in July and August, average daily maximum temperatures struggle to exceed 21°C (70°F) and rainfall averages 203 mm (8 in) a month. In autumn, temperatures drop off quite rapidly and winter months are damp and chilly.
The summer visitor should always be prepared for rain in Bruges and that warm and sunny weather is not constant during that season. The daily and monthly temperature variations are quite small - average highs and average lows don't exceed a range of 9°C (or 16°F).

Get in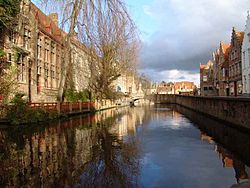 By plane
Bruges shares its airport with
Ostend
. The Ostend-Bruges International airport has a long runway and a seaside location providing for a picturesque approach, but unfortunately, it sees limited passenger traffic, pretty much limited to seasonal flights to holiday destinations. It is also a major hub for cargo airlines, so planespotters may find it of interest.
More viable as a point of entry is the
Brussels National Airport
, Belgium's largest, as well as
Charleroi
(Brussels South) and Lille, so getting to
Bruges
by train is by far the easiest way. Only one change at one of the three main stations is needed and the entire connection takes about 1.5h.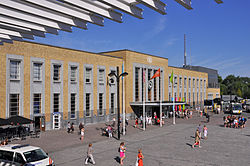 By train
From Brussels
Travelling to Bruges on
Belgium
's excellent rail system is a natural choice. Trains to and from
Brussels
leave every 30min to
Brugge station
during the day. The journey from Brussel-Zuid (Dutch) or Bruxelles-Midi (French) to Bruges takes about an hour. You can also travel from Brussels-Central or Brussels-North on the same line, and trains travelling to Bruges are travelling in the direction of any coastal station except
De Panne
(so any train to
Ostend
/ Oostende,
Knokke
or
Blankenberge
is fine). If you're travelling on the Eurostar that same day, this cost may be included in your ticket if it shows "Any Belgian Station". Otherwise, buy a ticket when you get to the station. Luggage lockers are available 06:00-22:00. For more information on schedules, prices, and services visit the website of the
NMBS/SNCB
. Note that there are first and second class seats. To identify them, look for a number next to a "no smoking" sign somewhere in the wagon. For groups of travellers under 25, a 10-rides card might be the cheapest, that offers 10 pre-paid rides between any Belgian train stations.
Be aware that trains are often full to and from Bruges, especially during rush hours, so if you or your colleagues have any problems with mobility you could be standing the whole trip or at best sitting in the entry area of the carriage. There isn't really any solution to this during the tourist season when Bruges is wall to wall people.
From Lille (France)
From the train station of Lille Flanders, there are hourly trains to Bruges. Though crossing the boundary might result in non-available reductions (s.a. the 10-rides card).
General info
All hotels are easily reachable on foot, it can also be done with a backpack. However, if you have a suitcase consider taking a taxi because the cobbled streets make the use of wheeled suitcases or carry-on bags very difficult. Also be sure to wear comfortable shoes, because of the cobblestones.
By car
If you are planning a bus tour: be aware buses and camping vehicles are not allowed within the city centre. There is a perfect parking place for them on the south side of the city with a newly designed gangway bringing you directly into the heart of the town. It is in general a bad idea to venture inside with a car, as parking is limited and finding your way difficult. There are multi-storey car parks a five-minute walk from the city centre. Nice city mini-buses cruise the town with high frequency, and in any case, the historical centre must be traversed on foot, by bicycle, by horse-drawn carriage or by boat to enjoy it.
By ferry
P&O Ferries
operate a daily sailing every evening from Hull to Zeebrugge taking 12.5 hr for the crossing. The fares do not include the bus from the ferry terminal to Bruges railway station, which is GBP6.75 per person (each way).
DFDS Seaways Ferries
operates ferries from Dover to Dunkirk every 2 hr. From Dunkirk, Bruges is 75 km away. This can only be done by driving as they do not take foot passengers. A
DFDS ferry to Holland from Newcastle
sails daily. From its port in IJmuiden, Amsterdam you can reach Bruges is less than 3 hr by car.
By cruise ship
Virtually all dock at the major harbour of Zeebrugge. In addition to ship's tours, most offer shuttles to Blankenberge, a nearby town offering economical, hourly train service to Bruges just 20 minutes or so away.
Get around
The historical centre is not so big and thus quite walkable (be sure to wear comfortable shoes). The only mode of public transport inside the city is bus. They are operated by the Flemish public transport company
De Lijn
. They frequent nearly all major points of interest plus the train station. Taxis on the market place and station cost about . Bicycles are easy to rent and make getting around the city very speedy, although the cobblestoned paths can make rides a little bumpy and uncomfortable.
See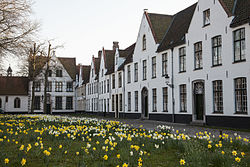 Bruges has been known as a "dead city" for many years. The sanding of the harbour and the difficulties to dig canals in the sand caused heavy economical burdens on the city between the Middle Ages and the 20th century. The population managed to survive but did not grow as there was no new industrial activity during that period.
As a result, once over the encircling canal and inside the city walls, Bruges closes in around you with street after street of charming historic houses and a canal always nearby. The newly cleaned houses and the small canals should however not confuse you; they are truly centuries old. And if you can get away from the chocolate shops, you can visit some more quiet areas such as St. Anna, and imagine what life in the late Middle Ages must have been like. The historic center of Bruges and its belfry are s.
The
Brugge City Card
provides free admission to most of the major attractions and can be picked up at any of the hostels around town or at the information office on the Markt. The reduced rate cannot be used in conjunction with a student rate (both student and city card rates are identical) and hence is most useful for older travellers.
Several Youth Hostels, and probably the train station and tourist information offer a useful map with some very interesting, 'non-tourist' places to see during the day and some unique places to visit at night. It provides a good way of getting an authentic feel for the town whilst avoiding the tourist hotspots and allows you to find some hidden gems.
Some highlights:
address: Dijver 12

Known as 'The city museum of Fine Arts', it houses a collection of artworks that span several centuries (14th-20th), focusing mainly on works by painters who lived and worked in Bruges.

Basilica of the Holy Blood (Heilige Bloed Basiliek)

address: Burg 13

A beautiful church on the Burg square. It houses a relic - a vial of blood that is said to be that of Jesus - and was built in the Gothic style. Try and get there early so you can view the chapel when it is quiet and not filled with tourists. And don't forget to visit the chapel underneath, in heavy Romanesque style - a contrast to the lovely light Gothic above.

phone: +32 50 332-697

address: Walplein 26

This brewery is the only remaining city brewery that's actually still brewing beer inside the city walls. It's also a beer museum and offers a tour of the beer making process. A history of the brewery is provided, as well as an overview of the city from its tower. The tour lasts for 45min and is a good way to get a feel for Belgian beer making. The tours start at the exact turn of the hour, be at least fifteen minutes early as there is a maximum number of people that can join. The entrance price includes one drink of Brugse Zot or Straffe Hendrik and is served after the tour at the outside terrace or indoor bar.

address: Wollestraat 53

On the court of a former major's house, "all Belgian beers" are exposed permanently. At the back of the wall, it's also possible to drink a lot of those beers.

Onze Lieve Vrouwkerk

address: Mariastraat

A fascinating church with architecture from the Romanesque and Gothic periods. In the east end of the church are very fine tombs of Charles the Bold and his daughter Mary of Burgundy - in contrasting Gothic and Renaissance styles, despite their superficial similarity. The church also houses one of the few Michelangelo sculptures outside of Italy, the "Madonna with child". To see the "Madonna with Child" an entrance fee of for 18 to 26, 26 to 64 is , over 65 is , and under 17 is free.

Simbolik - Open Studio and Expo of Nathalie Beelprez

phone: +32 495 307056

address: Katelijnestraat 139

A house, an open studio where thoughts and ideas are born, a place where Beelprez can mix these thoughts and feelings in a symbolic language of forms, her soul, her calligraphy, her world, her language. While she works in her studio, her expo is open for anyone who wants to let time go, read forms and see letters. An open immersion in texts and forms that excite your senses. Selection of handmade letterwork, wall objects, light objects, painted on canvas, letters in ceramics, writing on walls, also work on demand. Also, every first Sunday of the month at 15:00 is Poëziene: a place where poets, musicians or performers bring their own work to Simbolik.

Jerusalem churchIn a quiet area of the city, a highly unusual church with octagonal tower built by the Adornes brothers, merchants of Italian extraction. It includes a fine black Tournai marble tomb, late Gothic stained glass, and a tiny and rather spooky chapel containing an effigy of the dead Christ. The entrance fee also covers the Lace Museum in the former Adornes mansion, where you can see local women and girls learning this traditional craft.

The Beguinage (Begijnhof)In the history, many women couldn't find a man, as men were more likely to die in accidents or in a war. Those women could "marry God" and become a beguine. The beguinage, also known as the convent, offered protection for those single ladies. It lies between the centre of the city and the station, with white painted small houses and fine plane trees, is a quiet place to walk - groups are discouraged.

address: Mariastraat 38

Sint-Janshospitaal contains a museum of six paintings by Hans Memling, within the early medieval hospital buildings.

phone: +32 50 612237

address: Wijnzakstraat 2 (Sint-Jansplein)

This museum is a must see for chocolate enthusiasts as it describes chocolate's transition from cocoa into chocolate. Its low-cost tasty exhibits make it well worth the time (and Belcolade's gently overt marketing). Be sure to stay for the chocolate making exhibition to get some excellent samplers.

phone: +32 50 336326

address: Katelijnestraat 43

Diamond museum has a large range of exhibits ranging from mining all the way to polishing and all the history in between. Everyday at 12:15 there is a live polishing demonstration.
Bruges is visited by a huge number of tourists and it sometimes becomes quite annoying, especially around the Markt and Burg squares. The important thing to remember, however, is that very few tourists venture far away from the main shopping area, so if you want some peace and quiet you should simply explore the many small cobbled streets away from the main squares.
address: twijnstraat 6-8

An amazing (private) art gallery with a Gothic cemetery in a subtropical garden located in the old Freemasons temple (1756-1882). 1,000m² of art and mystery in Bruges' old city centre.
City gates
Kruispoort

address: Langestraat

Part of the second city ramparts of 1297. The current gate dates back to the beginning of the 15th century.

Smedenpoort

address: Smedenstraat

The first gate was built in 1297-1299 but was rebuilt in 1376-1378. After that there were several changes to the building. The gate is completely surrounded by water. A renovation in 2009 made the gate look shining again.

Ezelpoort

address: Ezelstraat

Just like the Smedenpoort this gate is completely surrounded by water. Nowadays the gate is only used by pedestrians and cyclists. The gate previously also was called the Oostendsche Poort (Ostend Gate) since the road through the gate lead to Ostend.

Gentpoort

address: Gentpoortstraat

One of the four remaining city gates of the second city ramparts of 1297. In the gate building is housed a museum.
Do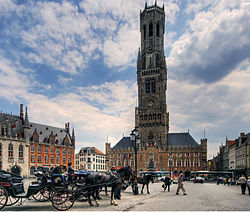 Grote Markt and Belfry Climb

address: Grote Markt

Climb the 366 steps to the top of the 83m high tower. Excellent views of the city, Grote Markt and hear the bells ring up close.

Canal TourIt's essential to take a ride on one of the tour boats around the canals - the multilingual guides provide a potted history of the city in just a few minutes - at only a few euros, it's the best introduction to Bruges. A boat tour will show you places which are otherwise unreachable, as not every canal runs next to a street. Advisable to get there at opening time to avoid the crowds.

Horse drawn carts

address: Grote Markt

Carriages can be hired for a romantic 30min trip around the old city of Bruge. Carts can carry up to 5 passengers.

Ambassadors of Bruges (Free) Walking Tours

phone: +31641743530

address: Markt

Passionate local storytellers offer tours in the medieval city center. No old-fashioned detail tour, but engaging stories to bring history to life.

phone: +32 47 597 2887

address: Markt

Daily hot air balloon flights over the historic centre and its surroundings. The best way to enjoy the romance of Bruges, and its stunning views, from a few hundred metres up in a balloon basket.

Cycle

address: Burg Square

There are many rental shops near the main square, shop around for the best prices. You can also rent right at the train station and get to the city centre quickly; remember to return them by 19:30. Cycle 5km to Damme, a picturesque village on the river with a windmill and excellent pancakes, and optionally follow on to the coast (another 15km).

RunningIf you are a runner, try running the 7-km circle around the old centre. Walk along the canal and see all of the medieval gates that used to control the traffic in and out of Bruges. Simply stunning!

Compare the real Bruges to the one depicted in the movie In Bruges.
Watch football ie soccer. The city has two teams playing in First Division A, the top tier of Belgian football, Club Brugge KV and newly promoted KSV Cercle Brugge. They share the Jan Breydel stadium, capacity 29,000, in Sint-Andries district 2 km west of the centre.
Buy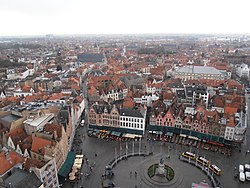 Chocolate shops
are plentiful and the standard is always high. A fairly cheap option is
Stef's
on Breidelstraat (between Markt and Burg). If you are willing to spend a little more, Chocolatier
Van Oost
on Wollestraat is a must for high-quality artisanal chocolate. Word on the street is, that you can get
anything
covered in chocolate and moulded. There is a particular vast number of chocolate shops at the Katelijnestraat.
For those who do not wish to buy chocolate in the chocolate shops, the local
supermarkets
also sell a good variety of mass-produced chocolate at fairly low prices. For the frugal, you can buy 100-200 g gourmet bars of chocolate for about each. Good brands to buy are Côte-d'Or and Jacques, both are Belgian. If you don't want anything more than a sampling of the most famous Belgian beers, supermarkets (not night shops!) are probably your best choice. They even have gift packs with glasses. There are also many boutique-style
beer shops
that sell high-quality gift packs of Belgian beer.
There are plenty of
arts and crafts shops
too, with some excellent local artists. The lacework is risky: if everything sold was produced locally, the entire town would be working in the lace industry! There is a school for lace though, where you can still get "the real thing".
Most European tourists come for the weekend, so shops are open Tuesday through Sunday, but many shops and museums are closed on Mondays. Be sure to plan ahead.
phone: +32 50 34 62 82

address: Eiermarkt 6

Excellent, very high-end chocolate creations. They also make chocolate drinks.

phone: +32 50 34 02 50

address: Wollestraat 15

Artisan chocolates. Place where you can buy the original chocolate breasts. Has a nice piece in their window on special occasions.

phone: +32 50 34 10 90

address: Simon Stevinplein 19

Almost always has original and funny chocolate-art in their window. Run by a (locally) famous chocolatier, Dominique Persoone
Eat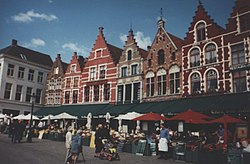 Restaurants are not always cheap or wonderful, although mussels and frites or fricadellen, frites with mayonnaise are outstanding here.
Stay away from the central market place ("Grote Markt") and the Burg Square when eating. Tourists are easy victims here. One tactic used by tourist traps is to present items (e.g. bread) as if they were free with your meal, then charge you exorbitantly for them. Even water may be charged at an exorbitant for a small bottle. Another scheme to bilk the voyager is to quote absurdly-high initial prices (such as for a single serving of fries), then claim to be offering "a 10% discount for locals".
You will, however, find great food if you wander off the beaten track. Find a street with more locals than tourists and ask somebody. The locals will be glad to help. Avoid Carillon in the Geldmunstraat however, they are overpriced and only offer mediocre food quality.
phone: +32 50 70 90 79

address: Garenmarkt 30

An ideal combo of second hand book store and a brunch/dessert-eatery (but you can just have a cup of coffee or a tea too).

address: Academiestraat 11

Nice and calm restaurant, good food, not too expensive. Good menu for vegetarians. Meal of the day (soup, main dish, dessert or coffee/tea) costs although this is the cheapest menu it has little choice.

De Drie Zintuigen

phone: +32 50 34 09 94

address: Westmeers 29

Off the beaten track but not far from all the bars, this lovely restaurant does more than moules et frites. Prices are about a head and the atmosphere is nice too.

address: Park 5

Good food, nice terrace, cool bartender. Try the renowned spaghetti for or the delicious croque monsieur.

La Romagna

address: Braambergstraat 8

Excellent family-run Italian restaurant and pizzeria. Inexpensive. Good menu for vegetarians.

phone: +32 50331280

address: Hooistraat 42

Belgian grill restaurant, well off the tourist track. Excellent steaks, reasonable prices.

De Bottelier

address: Ezelstraat

A favourite restaurant of many of Bruges' residents. Very reasonable prices and excellent food. Closed Sunday and Monday nights.

phone: +32 50 34 33 60

address: Mariastraat 17

Small but good restaurant that attracts the locals. Fixed menu for

address: West Gistelhof 23

Fantastic upmarket take on satisfying, home cooked food. Prices are reasonable, as well.

phone: +32 50 33 95 21

address: Ezelstraat 19/21

Memorable Kok au Vin (both the entrée and the restaurant); the prices are reasonable for the high quality. Family owned and run. Reservations recommended.

phone: +32 50 31 11 89

address: Maria van Bourgondiëlaan 1

With only 7 tables, small and cosy, with a personal touch.

Brasserie Medard

phone: +32 50 34 86 84

address: Sint-Amandsstraat 18

Huge deal for low budget just near the centre: a mountain of (tasty) spaghetti with tomato sauce, cheese, and mushrooms for . Two options on the menu: vegetarian, non-vegetarian - both at the same price. Double its size for just extra. Unbeatable. Very cheap beer too (kriek at ). Most tables order the spaghetti. Tourists aren't welcome until they sit - be sure to sit down and impose your presence to be served. Be warned that if you wait to be seated, you are likely to be sent away for no reason. Bring your own musical instruments.

phone: +32 5033 4709

address: Mallebergplaats 17

An excellent night restaurant. Small romantic restaurant east of the Burg with excellent food and reasonable prices.

phone: +32 5033 2328

address: Philipstockstraat 19

This is a very popular place, and for a reason. They have some of the best selection of Belgian beers, more than 440 in total. Some beers have really odd names like Satan, Lucifer, Nostradamus, or the Brunette. It's primarily a restaurant though, as all their hearty food are prepared with a special kind of beer. It's really delicious. Mains go for , but they also have the prix fixe "Menu van de Brouwer", which features several Trappist beers. Make a reservation in advance, as else they might not have any seats available.

phone: +32 50 34 29 21

address: Simon Stevinplein 15

A sandwich chain founded in Brussels but now found in the US, France and a number of other countries. Most of the food is organic, and the sandwiches (in particular the Tartine Bouef Basilic) are delicious. Somewhat expensive.

phone: +32 50 33 47 23

address: Wijngaardplein 16

Midrange restaurant offering plenty to eat including oysters and meat cooked several ways plus, of course, frites. There is not much for vegetarians.

phone: +32 5034 0232

address: Dweersstraat 26

Attached to the Passage hotel/hostel (see below) is the atmospheric Grand Café, serving traditional Belgian cuisine and beers. Prices are slightly lower than the tourist traps and well worth it. Try the beef stew (very tender) or the ribs.

phone: +32 50333060

address: Academiestraat 27

This is a great spot to have a nice dish of pasta or pizza and is fully Italian. They also sell olive oil, pasta sauces and other authentic products. The decor has a warm home feeling. Try out their antipasto and the excellent house wine. .

phone: +32 50337637

address: Groeninge 25

Gastronomic restaurant which offers three course meals at very reasonable prices.

Chocolaterie Spegelaere

phone: +32 50336052

address: Ezelstraat 92

Bruges best kept secret, a place for chocolate-lovers.

phone: +32 50 34 23 34

address: Vlamingstraat 22

A good place for a lunch as well as a beer.
Drink
De Garre

phone: +32 50 34 10 29

address: 1, De Garre

Hidden in a backyard, this pub offers a nice atmosphere and about 100 different kinds of beer, including home-brewed ones. The house beer is called 'Triple de Garre' and is 11% strong, a good way to start the night. The pub is very often full, but there's a limit of two drinks per person, which means that new places become available pretty quickly.

phone: +32 50 33 96 16

address: Kemelstraat

This excellent pub (recommended in the CAMRA guide to the Benelux region) has hundreds of different beers and an authentic beer-cafe atmosphere. Clientele is majority tourists. The front bar is crowded; what looks like the door through to the restrooms opens on another bar area. In 2005 it was closed for most of July - this might be an annual occurrence.

phone: +32 50 34 37 37

address: Blekersstraat 2

One of the less touristy bars, with a nice selection of draught and bottled beers. It's probably the oldest pub in Bruges dating from 1515.
The area just north of the performing arts centre has various cafes, most with sufficient beer selections, such as Café Leffe.

phone: +32 50614144

address: Sint-Amandsstraat 11/b

A very nice cosy place to drink a beer and listen to some good music. The bar is located underground and actually gives the impression of a cellar. Usually plays rock music. The bar has a wide selection of drinks, from simple beer to 16-year-old Bushmills whisky.

phone: +32 50 34 09 89

address: Jan van Eyckplein 7

Just a short walk from the Markt, this place undoubtably has some of the best coffee in Bruges. With a genuine espresso machine, the Conti, and a passion for good quality, the owner Sabine, is great for a chat and a good coffee for only .
Sleep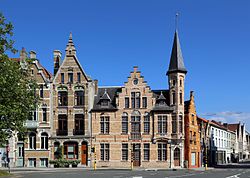 During the summer Bruges is a very popular tourist destination; reservations are probably preferable.
During the winter (Nov-Mar) a number of hotels offer a midweek promotion: 3 nights for the price of 2, if you arrive on Sunday, Monday or Tuesday. Bookings can only be made through
Bruges, Warm Winter Cheer.
Budget
Mid-range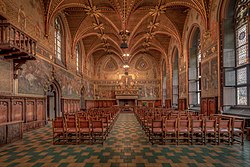 Splurge
phone: +32 50 49 00 49

address: Groeninge 4

The charm of a private home and the comfort of a deluxe hotel.

phone: +32 5034 0666

address: Pandreitje 16

Located in an 18th-century building.

phone: +32 50 977 900

address: Groeninge 16

Built in the 17th century as a gracious townhouse, it now provides the guests two luxurious suites with unrivalled panoramic view of the canal and the imposing church of Our Lady's.
Go next
The most popular day trips from Bruges: