Budapest/North Pest
North Pest
is in
Budapest
. It is formed by two districts. One of them is
Angyalföld
(German: Engelsfeld; literally: "Angel's Field"). In the early 20th century, this area was a slum. Until the 1950s it was a part of the 7th District. Then housing estates with mostly 11-floor buildings were built. The traditionally working class neighbourhood in the northern and eastern part went through a process of gentrification due to the shopping centre/office-building boom of the 1990s. Almost at same time starting an luxury estate boom, thousands of apartments were built along the Danube River. The other district is
Újpest
(German: Neu-Pest, English: New Pest), the 4th District in Budapest. The name Újpest means "new Pest" because the city was formed on the border of the city of Pest in 1838. Újpest was a village for six decades until 1907 when it became a town. In 1950, the town was unified with Budapest to form Greater Budapest. The main road #2 leading towards
Vác
. Northern tip of the 4th District is the newest Budapest bridge, the Megyeri bridge which give a short connection to Budakalász village just off from
Óbuda
. The next one is the 15th district, where
Rákospalota
and
Pestújhely
did not belong to Budapest until 1950. Rákospalota existed as Nyír-Palota in the 13th century.
Újpalota
was constructed in the 1960s-1970s as a large warren of the 15th district.
Neighborhoods
In Angyalföld
Angyalföld. The largest part of the district, which give the name the entire district 13th.
Erdőtelkek (Forest's plots). Until the 1900s it was used by military, a part was covered with small forests to now disappeared, sports grounds a couple of which are still there. Before World War II, the Angyalföldi mental asylum was built, which is now the Nyiro Gyula Hospital. In the 1910s, some 4- to 5-storey buildings with small apartments were built to house workers. In the 1989s in 4-5 storey buildings, after World War II, some housing estate were built. These 11-floor buildings were made of concrete blocks. It was the main urban housing type in the Socialist-era, which still dominates some part of the Hungarian cityscape.
Felsőbikarét (older name of its was Tripolis), before World War I it was nicknamed the 'Hungarian Chicago' because it was very unsafe. Mostly old houses destroyed in 1970s when new panel houses built in place. Even so you can see a couple 'Tripolis' era houses. The Roman Catholic church in Babér street (St. Michael's Parish) was also built then.
Kikötő-dűlő (here is the Duna Plaza, Hungary's first shopping mall).
Lőportárdűlő (gunpowder storage place, because until the beginning of the 20th century, it was used entirely for military purposes).
Újlipótváros (characterized by 5-6 floors, built mostly in the 1920s and 30s houses with internal courtyard).
Vizafogó (here is the Dagály bath, best known for housing estate but there are lot of apartment houses from the early 20th century).
Margit-sziget (Margaret Island, here does not live permanent population, a relaxing place. Public park, open air bath and swimming pool, hotel, small zoo mediaval church ruin and other tourist sights can be found).
Népsziget (see more at geography chapter).
Neighborhoods in Újpest
Újpest: the largest part of the district, which gave the name to the 4th District.
Megyer.
Káposztásmegyer.
Istvántelek: a train stop is here. A great agricultural charity institution with an educational model farm (for orphans) was founded here in 1887, by Count István Károlyi (who gave the name to this neighborhood).
Székesdűlő.
Népsziget island (the northern tip).
Neighbourhoods in 15th District
Rákospalota: The largest part of the district, and the oldest area in the district.
Pestújhely: It has some churches and small churches.
Újpalota: It is the largest warren of the district.
Geography sights
People's Island (Népsziget) was an island on Danube. Now, after created the Winter Harbor, it is a peninsula. The area of its is more than 28 hectares. Former was here a shipbuilding yard some remnant still can be see. Now there are boathouses, resorts of different companies was lined up. At the north end of the peninsula is the Northern Railways bridge. It is a paradise all whose like watersports. Also at weekend and holiday time lot of sport anglers try the luck here.
Winter Harbor (Téli Kikötő) created in the 1830s, linked the People's Island with Pest.
FOKA Bay (FOKA-öböl). This artificial bay in the 13th District south of the Újpest Bay. Made by the result of a gravel mining.
Rákos Creek (Rákos-patak), here (13th District) flows into the Danube River
Get in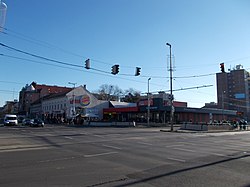 By bus
By rail
The
Esztergom
-Budapest railway line affected the northern border of the district 13th.
There are two smaller train stops. Újpest-Városkapu and Budapest-Angyalföld stations could be usefull for travel to
Óbuda
(via Újpest Rail Bridge) or exploring the Danube Bend western part and give some jumping off point to Pilis Mountain for some nice walking tours. Budapest–Vác–Szob and Budapest–Vácrátót–Vác railway lines passed the eastern side of the 4th District, here is two smaller train stops Istvántelek and Rákospalota-Újpest.
By public transport
In the 13th District
The main, north-south direction, route of the 13th District is the Váci út. Along this the Metro 3 suburban rail operates.
Surface public transport lines in Angyalföld:
Trolleybus lines: 75 and 79.
Tram lines: 1, 1A and 14.
Bus lines: 20E, 26, 30, 30A, 32, 34, 105, 106, 115, 120 and 133.
Night lines: 901, 914, 914A, 937, 950 and 950A.
The City Boats stopped at pier 'Jászai Mari tér (Margaret Bridge)', 'Margaret Island Centennial Memorial', 'Dráva utca', 'Margaret Island, hotels ', 'Népfürdő utca (Árpád bridge)' and 'Meder utca'.
In the 4th District
The North-South (No. 3, marked blue) metro line terminates at Újpest központ station.
Surface public transport lines in Újpest / Káposztásmegyer:
Tram 12 and 14.
Bus 20E, 25, 30, 30A, 96, 104, 104A, 120, 121, 122, 126, 126A, 147, 170, 196, 196A, 204, 220, 296, 296A
Night lines: 914, 914A, 930, 950, 950A, 996, 996A
Volánbusz lines (selected): #300 (to Vác), 317 (to Gödöllő passing Mogyoród, Formula Ona Race Track), 320 (Mogyoród), 872 ( Szentendre), 880 (via Szentendre to Esztergom), 882 (via Szentendre to Visegrád), 884 (via Szentendre to Dunabogdány), 889 (via Szentendre to Pilismarót), 890 (via Szentendre to Tahitótfalu, Váci fery boat pier), 893 (via Szentendre to Surány).
Bus 204, 296 use the Megyeri Bridge connecting north Pest with Békásmegyer (3rd District)
The City Boat #11 terminates at Port of Újpesti, near to Árpád út - Váci út intersection
In the 15th District
The main route of the 15th district is the Szentmihályi út, it is the busiest road there. The highway M3 passes through the district, at Szerencs utca intersection there is a bus stop for long distance buses (going to
Salgótarján
, Hatvan,
Gyöngyös
,
Eger
).
Surface public transport lines in Rákospalota / Újpalota / Pestújhely:
Tram lines: 12, 62, 69.
Bus lines: 5, 7, 7E, 8E, 25, 46, 96, 104, 104A, 108E, 124, 125, 130, 133E, 146, 170, 175, 196, 196A, 204, 224, 225, 231, 270, 277, 296, 296A.
Night lines: 950, 950A, 973, 979, 996, 996A.
Volánbusz lines(which are not going on the highway M3): 308-309(via Dunakeszi and Fót then back to Budapest), 310-311(reversed 308-309), 313(via Őrbottyán and Vácrátót to Püspökszilágy), 314(via Őrbottyán, Vácrátót and Vácduka to Vác), 315 (via Őrbottyán, Váchartyán to Püspökszilágy), 316(via Őrbottyán, Galgagyörk, Acsa to Bercel or to Nógrádkövesd), 317(from Gödöllő via Mogyoród, Fót to Budapest), 318-319(via Fót and Veresegyháza to Galgamácsa), 320 (via Fót to Mogyoród), 321 (via Hungaroring to Mogyoród)
Getting around
Dózsa György út and Róbert Károly körút functioning as outer and great circle roads. These two roads serving connection with
East Pest
and, via Árpád Bridge, with
Óbuda
.
Parking. Most of the 13th District on weekday daytime parking fees must be paid. Thera are also some parking garages.
The parking fee in public place in the 4th District is Ft175 per hour, in district 13th Ft265 and Ft440 per hour (2013). See zone map here.
Úpest parking IV. kerület Árpád út and Rózsa utca corner, 24/7 guarded.
Bicycle roads in 13th District are relatively well-established, albeit (some part) at a very dilapidated condition. Six main lines crossing the district. Three north-south and east-west directions. See on the map here.
Special transports
See
Angyalföld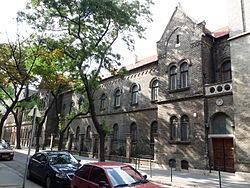 Angyalföld
(lit. Place of Angel) is traditional name of the 13th District. Since 2013 Margaret Island has been a part of Angyalföld. Its neighborhoods are Angyalföld, Újlipótváros, and Vizafogó. The southern part of Újlipótváros was built in around 1900, the architecture is a major tourist attraction in the area.
St. Augustine's Chapel

address: XIII. Pozsonyi út 14.

1950

Reformed Church at the Pozsonyi road

phone: +36 1 3294062

address: XIII. Pozsonyi út 58

This Protestant church was consecrated in 1940. Here, in Pozsonyi Road Cultural Centre, various events are held.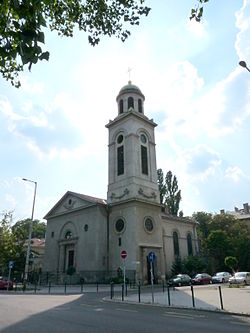 Kingdom Hall- A five-level religious complex. Built for the local Jehovah's Witnesses community

National Center of the Hungarian Islamic Community

address: XIII. Róbert Károly körút 104.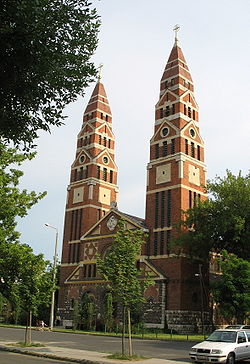 Danube Gallery

address: XIII. Pannónia utca 95

Contemporary art and design exhibitions

phone: +36 30 9006091

address: XIII. Radnóti Miklós utca 18

A museum of pinball machines with 130 playable machines new and old. All games are set to free mode, so no coins are required. Includes machines from the late 19th century until today.

phone: +36 1 3986290, +36 30 4221640 (Mobil)

address: XIII. Kárpát utca 23.

A famous samurai head T-shirt of Béla Radics, a number of guitar and drum set, "contemporary" and recorders, microphones, first and last guitars of Levente Szörényi, Omega band smoke machine, the studio of Radio Free Europe, as well as a significant figure in the local music scene for portraits and relics.

Angyalföldi Local History Collection

phone: +36 1 3203842

address: XIII. József Attila tér 4.

The nearly 20,000-piece collection of objects contents mainly furniture, everyday use items, pieces of clothing, home textiles, tools, memorabilia. Archival Material (7,000 items) consists certificates, passports, official documents, letters, working papers. Data Archives (600 archival units) are historical descriptions, manuscript entries, paper, studies. There are about 13,000 pieces tiny print. Mainly printed invitations, ads, flyers, handouts are there from various institutions of the district. Postcard collection consists about 4,000 pieces, but among these very few has district relevance. The Photo Gallery contains nearly 22,000 pieces in these B & W and color prints, photocopies, slides, negatives and reproductions from other Photo Archives. Significant the history of technology collection, especially the old radios. The numismatic collection includes about 1,400 pieces of badges, medals. In the 2,300-volume library collected books related to the district, historiography, Budapest's history manuals, bibliographies. Here collecting 14 kinds of newspaper, magazine (district newspapers, utility boards, as well as local history, museology, protected city-related magazines).

Town Hall Gallery (Városház Galéria), XIII. Béke tér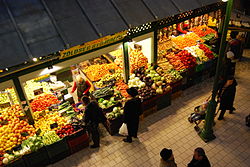 Margaret Bridge

phone: +36 1 2254800

address: Jászai Mari tér and Germanus Gyula park

Margaret Bridge is a three-way bridge connecting Óbuda and northern end of 'Grand Boulevard' of Pest across the Danube. It is the second northernmost public road bridge in Budapest. It was designed by French engineer and built also a French construction company between 1872–1876. Margaret Bridge is the second permanent bridge in Budapest after Széchenyi Chain Bridge. This bridge leads up to Margaret Island, its two parts enclosing 165 degrees with each other at the embranchment towards the island for the fact the small extension to connect to Margaret Island was hastily inserted into the original design

phone: +36 20 6185432

address: Visegrádi út 16

A Hungarian witch is the exhibition guide, who presents the exhibition devices, the history of witchcraft, and respond to questions. Interactive exhibition, some of the objects can hand-held and can be tested. About 1 hour long the program.
Margaret Island (Margitsziget)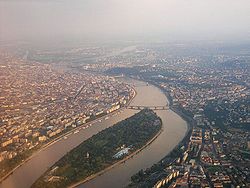 address: Margaret Island, Hajós Alfréd sétány

An aquatics complex. Built in 1930 according to plan Alfréd Hajós. as a free-standing, flat-roofed, reinforced concrete building. The open air swimming pool built in seven years later. The hall is include elliptical holders. The corners of the east and west facades of the main part decorated with semicirculared avant-corps. The most part of the facede covered with Clinker bricks and decorated with artificial stone's window sill. North from the buildings are pools with diving tower and grandstand for spectators. Under the grandstand can be found the changing rooms. - Both sides of the main facades located flagpoles with carved sedge leaf. There is an archway front of the west facade. Stairs lead to the grandstands from both end of the foyer. Under the gallery of the north side of the building is a small indoor pool. The European LC Championships 1958, 2006 and 2010 took place here.

phone: +36 1 329 3953

address: Margaret Island, Hajós Alfréd sétány 1

Built in 1991. A storage for rentable 'bringo' chariots, bicycles, electric toys, roller skates. Also there is a panorama snack bar, ice cream parlor, gift shop and information unit. Electric car and electric scooter renting also possible at Centennial Memorial or Thermal Hotel.
address: Margaret Island

Made in 1972 by by István Kiss. Commemorating the hundredth anniversary of the city's unification

Japanese Garden

address: Margaret Island

A small garden with a mildly thermal fish pond. More pics.

address: Margaret Island

A tiny zoo featuring a wide range of exotic waterfowl among other animals; area of its approximately 200 m². Domestic, forest and exotic animals livivng here.

Music Well

address: Margaret Island

A small pavilion, which was built for open-air concerts. A protected UNESCO site. This is traditionally know as "musical fountain" one of the main attraction of the island. There are hidden speakers. Typical 1900s background music can be heard at every hour on the hour.

Music Fountain

address: Margaret Island

This is a fountain. In nearby music is played and light shows are performed in summer. The water springs out according to music, so that the fountain seems to dance at the various classical themes reproduced. The last piece played is Con te partirò sung by Andrea Bocelli. This is Hungary's largest, in the summer, musical fountain. It has a diameter of 36 m, the central jetlope up in height over 25 m.

address: Margaret Island

An industrial monument building, octagonal Water Tower of 57 m (built in Art Nouveau style in 1911. It was the first reinforced concrete building in the country. Today functioning as a lookout tower with amazing view and an exhibition hall (called Kilátó Galéria, Outlook Gallery, the country's first visual exhibition hall). A protected UNESCO site. 360-degree panorama dome hall, unmatched Art Nouveau curved staircase, exhibitions of contemporary artists seven days a week. Saturday nights concerts: folk, jazz, swing, soul.

Rose Garden

address: Margaret Island

A nice place for sitting, sunbathing, relaxing.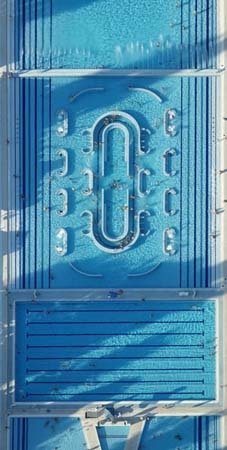 address: Margaret Island

Palatine Joseph ordered the construction of a grange in this place at the beginning of the 19th century. This complex include four buildings. In 1867 Miklos Ybl rebuilt these buildings for the Lower Island's big tavern (Alsószigeti Nagyvendéglő). In 1937 it became a casino. In World War II, it was heavily demaged, and renovated in 1947-48. Reopened in 1949. The last couple years ago it was abandoned. Planned to reopen after restored to its original form.

Margaret Island's Shooting Range

address: Margaret Island

A sport shooting range. The operator is the Faculty of Military Engineering of Miklos Bolyai College which is part of the Miklós Zrinyi National Defence University.

Remains of the Dominican Monastery and Church

phone: +36 1 2254800

address: Margaret Island, Művész sétány walkway

King Imre (1196-1204) on the highest part of eastern side of the island mansion built in around 1200, it was a castle-like building, later a church was built next to the Royal manor house. Here started to build a monastery for Margaret Princess ordered by his father, King Bela IV. This monastery was one of the most important nun's convent of th medieval Hungary. It was built between 1246 and 1255. The monastery almost three centuries long flourished. Used for Royal Cemetery here resting King Stephen V's wife, Elizabeth near to the tomb of King Stephen V. and Margaret (she was canonized seven hundred years later in 1944). Over next the two centuries, almost completely destroyed the peoples who lived here moved to Kőszeg. The layout of the complex followed by Cistercian form. The monastery stood on the south side, here was located the chapter room, the Dormitory, the refectory and the kitchen. West of the monastery was built the hospital and a chapel (made in the end of the 13th century), it was built for pilgrims. The guest house was the dwelling place to members of the royal family. Margaret's tomb was placed in the church sanctuary, in line of the triumphal arch and surrounded by walls. The tomb was built in 1271, Lombard sculptors made of red marble. In 1335 was the new white marble monument erected by an Italian sculptor. This was built behind the shrine, protecting from the pilgrims. A significant part of the monastery and its associated buildings are still undiscovered.

The ruins of a Margaret Island's Franciscan churchBuilt in 13th century. The remaining parts of the monastery is: Gothic facade of the church, one wall of its, the monastic cemetery and the cemetery chapel.
Újpest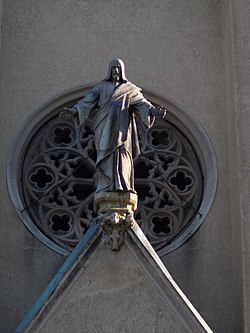 This is traditional name of the IV. district. The postal code is H-104X.
Loverseny Square Community House

phone: +36 1 380-6760

address: IV. Lóverseny tér 6.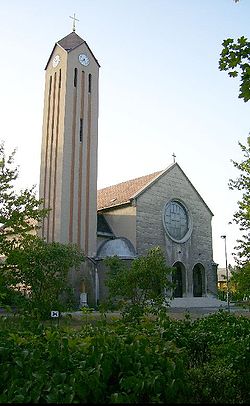 phone: +36 1 231-0603

address: IV. Aschner Lipót tér 10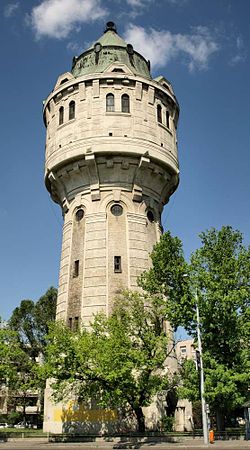 phone: +36 1 780-3269, +36 20 437-1564

address: IV. Szent László tér 7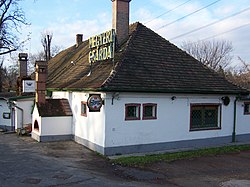 District 15
Churches in District 15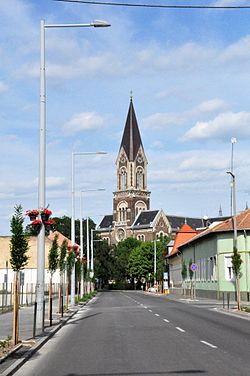 Synagogue of Rákospalota

address: XV.

Great lutheran church in Rákospalota

address: XV.

Reformed Church in Rákospalota-Óváros

address: XV.

Reformed church in MÁV-telep

address: XV.

Pestújhely-Újpalota Lutheran Church

address: XV. Templom tér 10.

Holy Trinity church in Rákospalota

address: XV.

Roman Catholic church

Our Lady of Hungary church in Budapest District XV

address: XV.

Monument #13946. - Roman Catholic church

Roman Catholic church in Pestújhely

address: XV.

Roman Catholic church

Church of the transfiguration of Jesus Christ

address: XV.

Roman Catholic church
Other sights in District 15
phone: +36 1 419-8216

address: XV. Pestújhelyi út 81

The museum was established in 1960 a protected monument school building. This includes an ethnographic collection and a gallery (include the legacy of the painter, Viktor Madarász). Here held, since 2006, the 'one-day exhibition garden' events, when local fine and applied artists show their works.

Town Hall

address: XV. Hubay Jenő tér

The 'skyscraper' of Újpalota

address: XV.

a 18 storey building

WW I memorial

address: XV.

Monument #16308

address: XV.Őrjárat u. 1-3.

Building complex of Girls' Educational Institute

address: XV. Pozsony utca 36

Monument #1243
Do
Athletics
Baths
Bicycling
See chapter getting around
Events
Pozsonyi picnic (Pozsonyi piknik). So called 'Újlipótvárosi village day'. Budai-Nagy Antal utca - At the begin of September.
Angyalföldi street party (Angyalföldi utcabál), Dagály utca. At the end of August. - Music and children's programs
Go-karting
phone: +36 1 239 0743

address: XIII.Róbert Károly körút 54-58

8.5 horsepower Hondas.
Parks
address: XIII. Szt. István park

Monument area. More than three hectares. Build between 1930-1938. A recreation park with playgrounds, sports space, chess tables, ping-pong tables. The site also provides place for different cultural events, as the summer evening concert series. Also here can be found a mulberry hedge from the 1930s

Öko Playground

address: Margaret Island

An environment friend place for kids.
Pinball
Pbal Gallery: The Hungarian Pinball Museum

phone: +36 30 900 6091

address: Radnóti Miklós utca 18.

A museum of pinball machines with 130 playable machines new and old. All games are set to free mode, so no coins are required.
Tennis
Ujpest Torna Egylet Tennis stadium

address: Margaret Island

Former owner was theÚjpesti Torna Egylet (UTE), a Hungarian sports society, based in Újpest. Some part of the place is dilapidated. Planned remodelling the all complex.
Theatres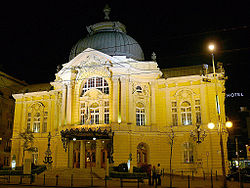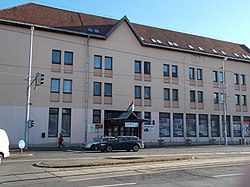 phone: +36 1-329-2340, +36 80-204-443

address: XIII. Szent István körút 14.

One of the most popular and longest history theater in Budapest. It has three playground places, the Big stage (Nagyszínpad), Studio and chamber named Home Stage (Házi Színpad nevű stúdió és kamarája), and the Pesti Theatre (Pesti Színház), more than 1,700 seats. Built in 1896, on the basis of a Viennese design agency, 'Fellner and Helmer'. Late historicism style. Baroque facade decoration with highlighted driveway. The large sizes, and the many decoration provide to the theater solemnity and elegance. From the ornate ground floor lobby decorated plenty of gold takes radial solution takes steps to the auditorium:to the first floor. Centrally located stairs with resting levels leads to the most important and most richly decorated box line.

phone: +36 1 340-4196

address: Margaret Island, Zielinski Szilárd sétány (walkway)

The accommodating an audience of 3300. Built in 1938, according to plan of Peter Kaffka. In World War II, it was heavily damaged, and rebuilt in 1951. Since 1991 named Open Space Theatre (Szabad Tér Színház). The programs: mainly opera, operetta, ballet and folklore music. One of the most popular outdoor playground in Hungary. Margaret Terrace built in the 'cloister' of open-air theatre, since 1993 here operates the Margaret Terrace Restaurant (Margit Terasz Étterem) which organizing musical clubnights.
Buy
Banks
Markets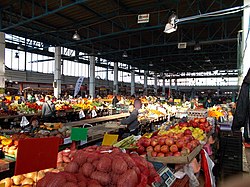 Malls and department stores
Shops
phone: +36 20 4147373

address: XIII. Tátra utca 26.

Traditional British foods, biscuits, confectionary, drinks, teas, second-hand products.

Mezzoforte Musical Instruments

phone: +36 1 788 7353

address: XIII. Radnóti Miklós utca 25,

Many type of musical instruments. English speaking staff.

phone: +36 1 239 6050

address: XIII. Váci út 19

Footwear, backpack bag. Hiking, camping goods. Climbing, sports and journey goods. Adventure, industrial alpin and boulder products. English speaking staff.
Supermarkets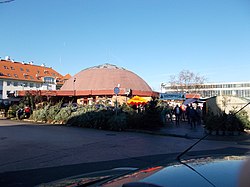 phone: +36 29 339345

address: XIII. Jász utca 101-105.

Discount store chain. More unit:IV. Váci Út 27-29. (M-Sa 07:00 - 20:00, Su 07:00-18:00)

phone: +36 29 339345

address: XV. Régi Fóti Út 66-68.

Discount store chain. More unit:X. Kőrösi Cs. Út 42. (M-Sa 07:00-21:00, Su 07:00-20:00, X. Sibrik Miklós út 23. (M-Sa 07:00-21:00, Su 07:00-20:00), XIV.Füredi Út 37. (M-Sa 07:00-22:00, Su 07:00-21:00), XVIII. Margó T. u. 31.(M-Sa 07:00-22:00, Su 07:00-21:00), XIX. Ady E. Út 32-40.(M-Sa 07:00-20:00, Su 07:00-20:00), XX. Topánka u. 170204/99 Hrsz (M-Sa 06:00-22:00, Su 07:00-20:00), XXI. Kossuth Lajos u. 69. (M-Sa 07:00-20:00, Su 07:00-20:00.
Other stores
address: IV. Váci út 60-62

Garden Centre, Paint Mixing Centre, Carpet Center, Building Material Centre more units- XVII. Pesti út 2 (M-Sa 07:00-20.00, Su 08.00-18.00), - XVIII. Üllői út 661. (M-Sa 07:00-20.00, Su 08.00-18.00), - XXI. Csepel, II. Rákóczi F. út 277. (M-Sa 07:00-20.00, Su 08.00-18.00)
Hypermarkets
Eat
Confectionaries
Restaurants
Fast food
As well as the usual McDonald and co.
Álompalacsinta

phone: +36 1 787 8228

address: XIII. Bulcsú utca 25a

A snack bar. Different pancakes and soft drinks.
Budget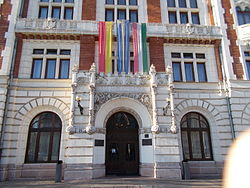 phone: +36 1 7874877

address: XIII. Radnóti Miklós utca 38

Traditional Hungarian cuisine, cosy atmosphere - friendly staff, cheap and excellent menu. It's a 15-minute walk from the Parliament. Only a few steps from Kiskakukk Restaurant. Large portions, only very hungry people can eat two courses here.
Mid-range
Splurge
phone: +36 1 4500-829

address: XIII. Pozsonyi út 12, next to Margaret bridge, between Katona Jozsef and Radnoti Miklos streets

Traditional Hungarian cuisine, wonderful ambience - very friendly staff, excellent menu, good English spoken, wireless internet. Warm old bookshop/library feel but patrons of all ages - highly recommended. It is only 2 minute walk from the eastern end of Margaret Bridge. Stuffed cabbage excellent as were the meat dishes. Large portions
Drink
Pozsonyi Pub

phone: +36 1 2393510

address: XIII. Pozsonyi út 48

Different type of beers.

phone: +36 30 5877079, +36 30 4497290

address: Margitsziget, Sirály Csónakház

Programs.
Sleep
Budget
Mid-range
phone: +36 1 340 5450

address: XIII., Szt. Istvan krt, 22, door code 96

3 star hotel. Big rooms, free breakfast, free Internet.
Was formerly 2night Hostel but this has moved to E of city.

phone: +36 1 370 4731

address: IV. Fóti út 75

3-star with 20 a/c, dbl. rooms. With restaurant & pizzeria.

phone: +36 1 239 7928

address: XIII. Victor Hugo utca 25-27

Clean rooms with kitchenettes. Secure parking, laundry, pets allowed, credit cards accepted
Splurge
Adina Apartment Hotel Budapest

phone: +36 1 236 8888

address: XIII. Hegedűs Gyula utca 52

5-star one & two-bedded apartments.

phone: +36 1 889 5800

address: XIII. Kárpát utca 62-64

4-star hotel & spa, with fitness centre, hot baths and (usefully) a salt cave.
Pharmacies
Szent István Park Pharmacy

phone: +36 1 329 5276

address: XIII. Szent István park 26
Connect
Internet
Stay safe
phone: +36 1 236 2800

address: XIII. Szabolcs utca 36