Cambridge (England)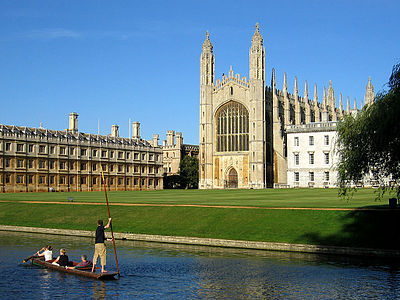 Cambridge
is a university city in
Cambridgeshire
in
England
. It is a city of crocuses and daffodils on the Backs, of green open spaces and cattle grazing only 500 yards (450 m) from the market square. Cows sometimes wander into the market area, since they are not fenced in. The Cambridge of Brooke, Byron, Newton and Rutherford, of the summer idyll of punts, 'bumps', cool willows and May Balls is worth seeing.
Understand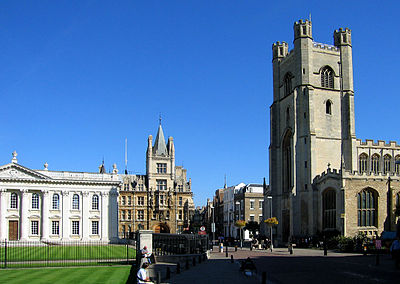 Cambridge brings many images to mind: the breathtaking view of King's College Chapel from across the river Cam, the rich intricacy of Gothic architecture, students cycling to lectures, and lazy summer punting on the River Cam.
Cambridge manages to combine its role as an historic city with a world-renowned university and, in more recent years, an internationally acknowledged centre of excellence for technology and science. The
University of Cambridge
was founded in the 13th century by scholars leaving
Oxford
after a dispute with townsfolk. They chose the quiet town of Cambridge as a suitable location for study. In the 17th century Cambridge University educated many of the founders of a (then) minor American university called Harvard, which is also in a place called
Cambridge
(named after the English university). Cambridge University has many famous alumni, including: mathematicians such as Sir Isaac Newton, philosophers such as Bertrand Russell and Ludwig Wittgenstein, and writers such as John Milton and Lord Byron. It was the site of Rutherford's pioneering work in nuclear physics as well as Crick and Watson's DNA work (see the Eagle pub below). Cambridge academics have won more Nobel Prizes than those of any other university in the world. The rumour that just one college, Trinity, had more Nobel prize winners than France, however, is false.
The city is surrounded on all sides by heritage villages, towns and ancient monuments (such as
Ely
and
Peterborough
), all within easy travelling distance. Like Oxford, Cambridge was spared from the German carpet bombing that devastated many other British cities during World War II, and is thus one of the best-preserved medieval cities in the UK
More than 3.5 million visitors come to Cambridge every year to savour the delights of the historic city, and to use it as an ideal base for exploring some of the gentlest (read flattest; good for leisurely walks, poor for hills with viewpoints) and most unspoiled countryside in England.
Get in
Cambridge is a mere 50 mi (80 km) north of
London
. With good rail services and road communication links, Cambridge is easily accessible, whether travelling by car, or by public transport.
By plane
Cambridge is within easy reach of some but not all of London's international airports.
London Stansted Airport
(
STN
) is 30 mi away and has regular bus and rail services into Cambridge. Direct rail services leave every hour (to Birmingham New Street) and take about 35 min with a return fare £16.00. For more frequent services take the Stansted Express to London from platform 1 and change at Bishops's Stortford or Stansted Mountfitchet, taking about 50 min. Rail services may be unavailable if your flight arrives Stansted very late or departs very early in the day, and while the airport likes to advertise hourly services, there are some strange gaps in the timetable so check the boards before you buy a ticket, and go to the bus terminal if there is nothing sensible on offer. National Express coaches run between Cambridge and Stansted (including late at night), taking about 50 minutes with prices from £12. Abacus Airport Cars Cambridge rides there from £47 one way.
Luton Airport (LTN) is best reached by National Express Coach, taking about 1 hr 40 minutes with prices from around £26, but these run only every 2 hours or so.
London Stansted and London Luton airports offer many of the cheapest international flights to be found in Europe, with many of the big low-cost European airlines such as Easyjet, Ryanair, Jet2 and TUIfly having a hub at one of these two airports.
London Gatwick Airport (LGW) now has an hourly direct Thameslink rail service to Cambridge and takes around 1 hr 55 minutes with a £35.50 single fare. Alternatively two further services an hour require a change between London St Pancras and the adjacent London King's Cross. Gatwick is the least convenient London airport by car, being on the opposite side of London, necessitates a tour of the M25 London ring road and takes around 3 hr. Abacus Airport Cars Cambridge rides there from £100 one way. There is a National Express bus service available, again around 3 hr (and that M25 again).
London Heathrow Airport (LHR) is 90-120 min away by car, depending on traffic.
National Express coaches to and from Heathrow central bus station take around 2½ hr with prices from £36 (Sep 2019).
By rail there are two options, both of which should take approximately 2 hours:
Take the Heathrow Express from Heathrow Railstation at Terminals 2 & 3 (there is no additional charge for transfer between Terminals 4 & 5 to Terminals 2 & 3) to London Paddington (PAD), this service departs approximately every 15 minutes. From London Paddington take the tube (Hammersmith and City line or Circle line) to London Kings Cross (LGX) and then take a train to Cambridge (CBG). The total cost when booking over 3 months in advance should be less than £20 one way and £30 return. If buying tickets for the Heathrow Express on board or at the airport, expect to pay £35 single and £55 return. This method of travel reduces the time spent on the tube to less than 15 minutes, which is advisable at peak tube times (7AM-9AM, 4PM-6PM).
Take the tube (Piccadilly line) from London Heathrow underground Terminals 2,3,4 or 5 to London Kings Cross (LGX) or (change at Holborn for Central line) to London Liverpool Street (LST). From there take a train to Cambridge (CBG). Fares from Kings Cross £25.10 single and £38.70 off-peak return; from Liverpool street £18.90 off-peak single and £27.50 off-peak return. The off-peak tube fare between Heathrow and central London is £3.10 with contactless This method of travel is the cheapest method by rail but involves approximately 1 hr of tube travel, which is not advisable at peak tube times (7AM-9AM, 4PM-6PM).

Abacus Airport Cars to Cambridge cost £85.00 one way.
London City Airport (LCY) is best reached by train to King's Cross or Liverpool Street as Heathrow, then Underground and Docklands Light Railway across London (tube/DLR fare £2.80 off-peak single with contactless). Abacus Airport Cars Cambridge rides there from £77 one way.
Cambridge has its own airport - Cambridge International Airport (CBG) - on the eastern outskirts of the city; it is 10 minutes from the historic centre. However it no longer has any scheduled flights.

By train

Wikivoyage has a guide to Rail travel in the United Kingdom.
Regular trains run from London (King's Cross and Liverpool Street) to Cambridge. The fastest "Cambridge Cruiser" services to and from King's Cross run non-stop and take under 50 min, generally departing at :15 and :45 minutes after the hour. "Semi-fast" services stop at a few intermediate stations and take about 65 min, slower stopping trains may take up to 90 min. Try to avoid taking a train with more than 8 stops between Cambridge and London King's Cross to avoid the slowest trains. Trains to and from London Liverpool Street all take about 75 min. If buying super off-peak tickets, these are the cheapest available, at £13 day return. Direct trains from Stansted airport to Cambridge take 35 min (catch trains from Stansted going in the direction of Birmingham). Because Cambridge is one of the main junctions of the East Anglia railway network, trains also run to and from Ipswich, Norwich, Peterborough and Birmingham. See National Rail for timetable and fare information.
You can buy an overnight Rail and Sail ticket from Cambridge to anywhere in the Netherlands for around £80, using the Harwich-Hook of Holland ferry route. Ensure that you choose the correct ticket, but you can find deals that cover the ferry (including a room and bed) and travel between Cambridge to any station in the Netherlands. Departures from Cambridge are at about 7PM; going the other way, you arrive a bit before 10AM. (There are daytime ferries too, but the train timetables mean you can make no train connection.)
Cambridge railway station is about 1.2 mi south of the city centre; there are regular buses to town and a taxi rank outside the station. The station has a staffed travel centre, self-service ticket machines (many take only European smartchip cards and do not accept cash) and automatic ticket barriers (you need your ticket to get both in and out of the station). Pay attention buying tickets as there is often a queue at the machines and none at the ticket windows. There are also ATMs, several cafes and a bookstore, on the platform accessible only to ticket holders, and a mini-supermarket in the station foyer. The station is very long, with several trains parked end-to-end on the main platform, so you may need to walk a long way between trains if you have a tight connection.
is located in the north-east of the city and served by trains to and from London, Kings Lynn and Norwich. This station is convenient for the Cambridge Science Park, but there are few tourist sights in this part of the city.

By cycle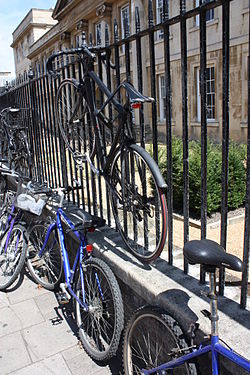 Cambridge is very accessible by cycle, and the local government encourages sustainable travel (such as walking and cycling). National Cycle Network routes 11 and 51 both pass through the city, and Cambridge is also served with a comprehensive local cycle network. Within the city, cycling is a common means of getting around. Cycles can be rented from a number of outlets, including Station Cycles (located just north of the railway station), Station Cycles' central branch (located on floor -1 of the Grand Arcade shopping centre) and from City Cycle Hire (on the western edge of the city centre, in the suburb of Newnham).
Some quick notes on cycling etiquette: cycling on the pavement (sidewalk) is not generally permitted unless there is a specifically signed shared-use cycle lane; cycling on the road is always allowed, even if a shared-use lane exists (but you may find this annoys car drivers). One-way streets apply to cycles unless there is a cycle lane for travelling in the opposite direction. Respect red traffic lights and always use cycle lights in the dark. If you are caught without lights, you are liable to an on-the-spot fine of £30. Obey the rules even if many others break them.

By car

Parking can be difficult in central Cambridge (the best parking, if you're prepared to pay, is in the Grand Arcade in the centre of town) and the one way street system is extremely confusing. The Council recommends the use of the "Park and Ride" scheme (£1 for parking and a £2.70 return bus fare).

Cambridge is connected to London primarily by the M11 or the A10.
From the north, come off the A1 onto the A14.
From West and North West London and Hertfordshire, the A1(M) and A505 via Letchworth and Hitchin is a fairly fast alternative route that avoids the M25 (especially during peak traffic).
The A421/A428 is also worth considering if driving from Milton Keynes and Bedford.
By bus

National Express provides bus links to major cities around the country, including direct services to London Victoria and Birmingham, as well as frequent airport coaches to Luton, Stansted, Heathrow, and Gatwick. National Express coaches depart from Parkside, next to Parker's Piece park, about half a mile from the City Centre. Many services also stop at the Trumpington and Madingley Road Park and Ride sites.
The bus station for shorter-distance buses is on Drummer Street, conveniently located for all the main sights. Stagecoach operate routes from Cambridge to Bedford, Ely, Peterborough (via a connection at Chatteris), Newmarket, Saffron Walden, Bury St Edmunds and Oxford.
Several different bus and coach companies (notably Stagecoach and Whippet Coaches) operate services within Cambridge and the surrounding area, and therefore tickets for one company may not be valid on buses routes operated by other companies. The service is notoriously irregular, and it is best to leave around half as much time again for a journey as the buses are often delayed/cancelled/slow, and if an urgent connection is to be made they are best avoided, especially the "citi" branded buses: walk or take a taxi.

Get around
Cambridge is mostly pedestrian-friendly: most sights can be easily reached
on foot
and much of the central area is traffic-free. Some of the pavements are shared use between pedestrians and cyclists; this can catch you out unless you watch out for it. Cambridge walking directions can be planned online with the
walkit.com
walking route planner. Students and locals often use bikes to get around and
hiring a bike
is a viable alternative to simply walking.
You can also opt for a hop-on, hop-off open-top
sightseeing bus
which provides commentary in several languages. The sightseeing bus passes the railway station, American Cemetery, and many of the historic colleges, but as the city centre is pedestrianised, it can approach the more central colleges on only Sundays.
There is little need to use the local
bus services
unless you are staying in a far-flung area of the city, but they are clean and efficient if you need to. Citi buses cost between £1 and £2 for individual cash fares within Cambridge City (change is given but drivers may refuse large denomination notes), but just tell the driver your destination as you board and take your ticket from the machine. An all-day pass costs £4.50 for Cambridge City and Park and Ride services or £7.00 for the surrounding area.
Cambridge City Council discourages car use. Parking charges are high and the city is home to a system of
rising bollards
that allow vehicles with appropriate transponders (e.g., taxis, buses, emergency vehicles) through but can cause severe damage to other vehicles tailgating, often to the point of writing them off.
Uber ride-hailing is available, and there are many taxi companies in Cambridge.
phone: +44 1223 715715

phone: +44 1223 313131

phone: +44 1223 704704
See
Colleges
Focus on Architecture
Cambridge, especially the various colleges and university buildings, is fascinating for people with an interest in architecture. The colleges have been built sporadically over the centuries and the result is a
mixture of styles
both ancient and modern. Although the modern architecture is sometimes controversial, especially in how the newer buildings (fail to) harmonise with adjacent older buildings, it is in its way as interesting as the older. A tour of the backs (see above) gives the visitor a good feel for the various styles and a few small diversions add to the experience. One obvious landmark is the tower of the
University Library
. The library was designed by Sir Giles Gilbert Scott, who also built the Bankside Power Station in London that is now the Tate Modern. It does have a very industrial feel to it perhaps because of this. On the far side of the library the curious can see
Robinson College
, the newest college and built in about 1980 and one of the few pieces of modern architecture in Cambridge that has no notable old buildings nearby. If you prefer to see a blend of old and new, it is worth making the way out to
Homerton College
, which is fifteen minutes walk on Hills Road. Homerton College is particularly interesting as there are examples of various styles of architecture on-site such as the neo-Georgian buildings at the front of the college and the gothic Victorian hall on the inside of the college. This is an excellent place to take a stroll through the grounds which encompass an old orchard, water features and even a small honey farm, in order to appreciate the architecture from afar.
St John's College
and
Magdalene College
also have a number of architectural treats. As well as the
Bridge of Sighs
, St John's has buildings in almost every style of architecture starting with the 16th-century hall in First Court and ending up with the extremely modern Cripps building. Near the Cripps building there is also the dramatic New Court built in the early 19th century and the
School of Pythagoras
, one of the oldest buildings in Cambridge which dates from the early 13th century.
Next door Magdalene College - cognoscenti know that Magdalene is accessible from the back of the Cripps building - is quite a contrast. Unlike St John's, which consists mainly of buildings designed originally as college accommodation, Magdalene has converted a number of old half-timbered inns as some of its accommodation. Magdalene also possesses the
Lutyens building
designed by Sir Edwin Lutyens and the
Pepys building
. The latter, which houses the Pepys library, has an imposing and almost symmetrical facade and looks completely different from the rear. The ugliest Magdalene building, the 1970s Buckingham Court, is fortunately well hidden, while across the river the Magdalene Quayside development (1990) is an excellent example of how the late century architects appear to have learned subtlety and harmony. Quayside is an excellent place to rent a punt.
The
Cambridge 2000
website has a list of
100 buildings
that have notable architecture for one reason or another.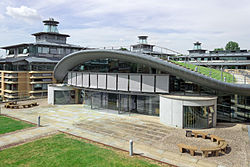 Cambridge University consists of a number of semi-independent colleges, many central, some up to 3 miles from the town centre (traditionally measured from Great St. Mary's church). The following are a good selection for sightseeing. Most of the colleges within the central area are worth a look, if you have the time.
Some colleges charge for entrance. It can be expensive, around £5 per person or more. If you're friends with a student, they're allowed to bring a visitor in for free. Colleges are typically closed to visitors during the University exam period, at the end of May and the first week of June.
Please remember to be respectful when visiting the colleges. They are students' homes for much of the year, and the workload and pressure at the University can be immense. Do not enter buildings you are not explicitly invited to, do not stare into people's windows, and be polite when taking photographs; be especially discreet in the libraries. Always remember that the colleges' role is first and foremost that of academic institutions; they are not there for tourists, and it is rude to do anything which impedes or inconveniences the people who live and work in them.
King's College and King's College Chapel

phone: +44 1223 331212

address: King's Parade

The most visited attraction in Cambridge, the architecture of King's College Chapel towers above the town and its world-famous choir have spread its reputation around the globe.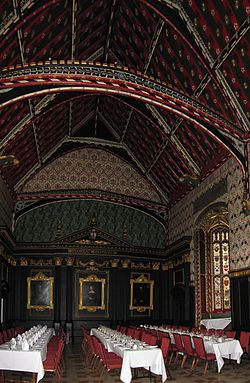 Parks and gardens
The BacksThe gardens by the river behind various colleges. Heading downstream from King's you can pass through the gardens of Clare, Trinity and St John's Colleges (which has the "Bridge of Sighs").

Botanic Garden of Cambridge University

phone: +44 1223 336265

address: Bateman St CB2 1JF

A relaxing way to spend a few hours, away from the hustle and bustle of the colleges and canals. Open to the public since 1846 this garden hosts some important botanic collections amongst its 10,000 or more species. Adult admission £6.00, children and Cambridge University students free.

Jesus GreenJesus Green was proposed as the site for Cambridge's main railway station, but is now a broad piece of parkland immediately adjacent to Midsummer Common. Provides a quiet retreat away from the city centre, and has grass and hard tennis courts, and an outdoor swimming pool. Plans are underway for redevelopment of this much-loved park in Cambridge.

Parker's PieceOne of the best known open spaces in Cambridge. In the centre of the city, it is bordered by Park Terrace, Regent Terrace, Parkside and Gonville Place.

Christ's PiecesIn the centre of the city, it is bordered by the bus station, Christ's College, Emmanuel Road and King Street. It is of typical Victorian park design with tree lined avenues. The formal seasonal bedding displays planted in the 'petal beds' near Emmanuel Road, provide all year round colour. There are also large ornamental shrub beds around the perimeter to add further year round colour and interest.

Coe FenA beautiful, semi-wild green near the centre of the city, but far enough out to be quiet. Less manicured than some of the college gardens and parks around Cambridge, but nonetheless a great space to be in the summer with cows roaming and the Cam running through.
Museums and galleries
Churches
The history of Cambridge is entwined with that of the Church of England. The colleges (see above) all have chapels which can be visited, but town churches also offer a rich insight into the history of the town and university, and are usually free. Even if you aren't interested in places of worship, they are well worth a few minutes attention and are peaceful places to enjoy.
Further afield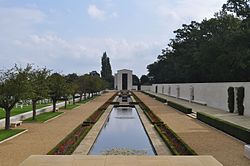 Further upstream from the Orchard, Grantchester is Byron's Pool, named after the (in)famous Lord Byron, of whom it is said to have swum there (at least, according to Brooke). The pool is now located below a modern weir at the junction of the Bourn Brook and the River Cam.
Do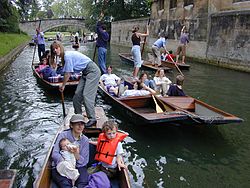 Walk along the backs. It's free, and gives you a real flavour of the city. You can walk through King's College, onto King's Parade, a beautiful row of exclusive shops.
Punting. 9:30AM-dusk daily. If anything is stereotypically 'Cambridge', this is it. Punting involves propelling a flat bottomed boat with a long wooden pole (quant) by pushing a pole against the shallow river bottom. For the full effect, take strawberries and Champagne to quaff as you glide effortlessly down the river. You can either travel along the famous College Backs or head out towards the village of Grantchester. Guided tours are also available from around £20.00 per person on the day. Save by booking online at (Rutherford's Punting Cambridge, Let's Go & Traditional Punting Website and Cambridge Chauffeur Punts. If you're up for more of an adventure, try it out for yourself on a self-hire boat Scudamore's Punting Company or Trinity College Hire. Pay per hour per punt for a quick trip along the College Backs, if you want longer it's cheaper to hire a punt for the day from Scudamore's for £120 - well worth it in summer when you head out towards Grantchester. A deposit (e.g. a credit card) is required. In fact if you turn up in the summer you'll find it hard not to go punting as touts assail you from all sides on the Quayside and Mill Pond streets. Punting to Grantchester (upriver) takes about an hour and a half for an experienced punter, and the complete journey would be difficult for first-timers. Along the Grantchester route there are riverbanks on the way for mooring up with meadowland suitable for picnics (Note that pranksters have been known to push unattended punts out into the river.)
Rowing. Cambridge is renowned for rowing on the Cam. All colleges and some schools have their own clubs, and there are over half a dozen large 'town' clubs. There are a number of regattas and head races on the river throughout the year, though the highlight in the rowing calendar on the Cam is the annual bumping races. For College crews, the 'May' bumps are in June, for the local clubs, this normally is the fourth week in July. Over four evenings of racing (Tuesday - Friday), eights attempt to gain higher position by catching the crew ahead of them before being 'bumped' by the crew behind. Races take place downstream (north) of the city, between the A-14 road bridge and the railway bridge at Stourbridge Common, and are best viewed from the towpath alongside the river, or from the Plough pub in Fen Ditton, both accessible by foot from the town centre - words of warning though - if on the towpath side, be careful for the massive number of bikes that accompany the crews racing, if in the pub, you may not get a seat, and beer prices are at a premium.
Cycling. Rent a bicycle and bike the mostly flat terrain around Cambridge. Popular destinations are Grantchester (3 km), American Cemetery (5 km), along River Cam towpath to Milton Country Park (5 km), Wicken Fen (12 km), Duxford Imperial War Museum especially during air-shows (15 km) and Ely (23 km). (More trips)
MP3 walking tour of Cambridge £5 for two downloadable 60-minute walks from Tourist Tracks or for hire for £7 from the Tourist Information Centre
Watch football ie soccer at

Cambridge UnitedThey play in League Two, the fourth tier of English football. Their home ground is the Abbey Stadium on Newmarket Road.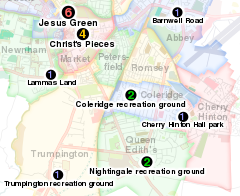 Arts
Events
Learn
Most lectures are only open to members of the university; however, a variety of public talks and lectures are organised:
There are a large number of summer schools, mostly English language, but also some offering tuition in a wide range of other subjects.
It is also possible for members of the public to attend residential summer schools within the University, such as
Lite Regal Education
Work
Cambridge University students aren't allowed to work during term-time, so there are often possibilities for punting, hotel services, bar or waitering work for foreign nationals. Those from outside the EU require a work permit, see the Work section of
United Kingdom
for more details.
There are also
Technology Parks
where lots of gaming, digital, technology and bio-tech companies opened their offices.
Buy
King's Parade has numerous
souvenir shops
and gift shops with Cambridge (and London) branded merchandise. Scour the
charity shops
down Burleigh Street, Regent Street and Mill Road for bargains. Book collectors will find many shops especially Trinity Street. The market square in the centre of town has a general market Monday to Saturday with fruit and vegetables, bread and cakes, books, bicycle repair, tea and coffee, fast food and clothes, and a more arts-and-crafts oriented market on Sunday with pottery, ceramics, prints, clothing, etc. The surrounding streets and the nearby
Grand Arcade
and
Lion Yard
shopping centres have most of the common retail names and many individual shops to cater for most needs. The
Grafton Centre
has all the usual high-street shops in a mall and surrounding streets.
M&S Food (part of the Marks and Spencer department store chain) have a mini-supermarket that sells high-quality sandwiches, prepared meals, snacks and other groceries - usually at a high price. The main supermarket in the city centre is Sainsbury's on Sidney St. which stocks a full range of groceries and everyday products as well as alcohol and cigarettes. There are many more supermarkets including large Tesco (Chedder's Lane & Yarrow Road), Asda, Sainsbury's, and Waitrose superstores as well as a large Aldi discounter on the edge of the city.
Eat
Cambridge has a good range of eateries, as well as a daily market next to Great St Mary's Church where there are maybe 10-15 food stalls. Many of these offer vegetarian, vegan and gluten-free options, all for reasonable prices (a falafel wrap, for example, is £4-5).
Budget
address: Trinity St

Beautiful cafe serving excellent sandwiches, salads, hot dishes, and soups. Desserts as well. Vegetarian options always available. Lunch served until 3PM.

CB2 Internet Bistro

address: 5-7 Norfolk Street

address: 11 Sussex Street

Busy cafe serving jacket potatoes and sandwiches. Very popular with students around lunch time.

address: 3 Emmanuel Street

Authentic Italian coffee bar. Best espresso and cappuccino in town.
Many pubs in Cambridge also serve good food at reasonable prices, for example;
The Eagle
,
Cambridge Blue
,
Kingston Arms
,
Portland Arms
and
The Mitre
among others.
Mid-range
Splurge
phone: +44 1223 302010

address: Gonville Hotel, Gonville Place CB1 1LY

The twice-Gold Medallist at the Chef's Olympics, Hans Schweitzer has amassed an impressive repertoire of culinary skills, including training as a Confiseur and Chocolatier in Switzerland and Paris. He is considered the best chef in Cambridge. A contemporary, restaurant, convenient if you are near Parker's Piece, Anglia Ruskin University or the Grafton Centre.

phone: +44 870 1416395

Midsummer Common. By far Cambridge's finest restaurant and one of only ten British restaurants to have earned two stars from the Michelin guide.
Drink
Pubs
Cambridge has a colossal number of pubs, over 110 at the last count.
address: 85 Gwydir Street

A friendly pub with a large garden and good range of real ale.

address: 38 Castle St

One of the best and busiest, traditional pubs in Cambridge. With an eclectic mix of locals and visitors, it can get impossibly busy of Friday and Saturday nights, however, the beer is excellent (the wine less so) and the food is home cooked and good value - the "Castle Burger" is a popular choice.

address: 68 King Street

Old style pub in the centre of town with a blazing fireplace in the winter. One of the few pubs to sell a local cider rather than the mass-produced stuff.

address: Devonshire Road

Good selection of Milton Brewery beers. Good menu. Friendly, and handy for the station.

address: 8 Benet Street

Watson and Crick were regulars here whilst in the process of unravelling the secrets of DNA. American airmen also burned their names into the roof of one of the bars during the Second World War.

address: Midsummer Common

Been there for hundreds of years, overlooks the Cam and Midsummer Common. Also one of the best places in town for a pub lunch! (Think Sunday roast.)

address: 7 Prospect Row

Mobile phone use is not allowed, making this a pleasant quiet pub. Pub terrace

address: Newnham Road

A large terrace looks out on the river and surrounding nature. Popular during the summer, this pub serves excellent food, and rents out punts and canoes.

The Kingston Arms

phone: +44 1223 319414

address: 33 Kingston St, Cambridge CB1 2NU

Freehouse! (meaning, more independent than most pubs, and slightly cheaper beers). Underrated old-fashioned pub, friendly atmosphere, open later than other Cambridge bars (2am weekends, drinking-up time generally half an hour).

address: Mawson Road

A small and very friendly place with an excellent selection of real ales.

address: Mill Lane

Cosy in the winter, bustling in the summer, this pub offers a refined selection of real ale.

phone: +44 1223 859 017

address: Cambridge Railway Station, CB1 2JWT

Friendly bar with outdoor seating just next to the station, mostly commuters. Very comfortable seats, live train times on screen. City Pub Co. bought and renovated the former ticket office in 2018 and it's been very successful, with a handful of regulars despite being on the outskirts of town. Wide range of craft beers (30+!) and gins (20+), wines and cocktails. Extensive hot food menu and takeaway pastries. No wheelchair-accessible loos.

address: Magdelene Street

Claims to be the oldest pub in Cambridge.

phone: +44 1223 352293

address: 10 Peas Hill, Cambridge, CB2 3PN

Known for their selection of craft beer on tap

address: St Andrews Street

Formerly a cinema, the Regal is the largest pub in the city and according to some, Europe. Offers a broad range of drinks including cheap ales you´d expect from a Wetherspoon´s chain pub, plus music and a rowdy dance floor in the evenings

address: Newmarket Road

A bit of a walk from the City Centre, but great real ales and some of the best Thai food in town.
Country pubs
Grantchester also contains four pubs - the Red Lion and the Green Man are closest to the river bank, and the Rupert Brooke and Blue Ball are to the right (Cambridge direction) along the main street of the village.
Clubs
Cafes
address: 8 St. Edward's Passage (central)

A tiny cheerful place with excellent coffee and bagels!

address: Emmanuel Street

Italian coffee bar. The best place in town where you can relax drinking a true and delicious Italian coffee or if you are hungry you can try a tasty Italian baguette with ingredients imported from Italy. While you are chilling out with your drink you can read Italian newspapers or listening to Italian music.
Café chains
You'll also find all the usual coffee chains:
Café Nero's, in five central locations on King's Parade, Market Street, Grand Arcade (next to John Lewis), Station Square and Fitzroy Street
Starbucks, inside the Grand Arcade on the first floor, Fitzroy Street and on Regent Street and on Christs Lane
Costa, inside the Grand Arcade on the ground floor, Sidney Street, Regent Street and Mill Road
Pret à Manager, on Petty Cury, Station Square and Market Passage.
Sleep
There is a range of options for accommodation in the city, although not so many for the budget traveller. In addition to guesthouses and hotels, there is a youth hostel and the option of staying in one of the rooms in a college. These rooms can be old with fantastic original features; they're a great base from which to explore the city. Outside of term, these will often be rooms which students have vacated for the holidays. Colleges can be contacted directly for information on accommodation in college, or they can be booked through UniversityRooms.
Budget
phone: +44 1223 354601

address: 97 Tenison Road

99 beds in this YHA hostel in a Victorian town house. Grubby but functional. 15 minute walk from centre.
Mid-range
There are a number of guesthouses on Tenison Road, about 10 minute walk from the train station towards town.
Splurge
Doubletree by Hilton Cambridge Garden House

phone: +44 1223 259988

address: Granta Place, Mill Lane

Business hotel with indoor swimming pool overlooking the river.

phone: +44 1223 366611

address: Gonville Place

Overlooks Parker's Piece.

Cambridge Lodge Hotel

phone: +44 1223 352833

address: 139 Huntingdon Road

Small hotel with a nice garden.

phone: +44 1223 351241

address: Regent St

Grand old hotel overlooking a park.

phone: +44 1223 207581

Fantastic B&B.

phone: +44 1223 464491

address: 20 Downing Street

Within walking distance from King's College.

phone: +44 1223 306030

address: Thompson's Lane, CB5 8AQ

Luxury riverside spa hotel in the centre. It is famous for its rooftop bar and terrace.
Stay safe

Although Cambridge is one of the safest cities in the UK, you should still use your common-sense at night and be careful in badly-lit areas outside the city centre; Parker's Piece has seen a few cases of mugging, but the situation has greatly improved. It is wise to be on your guard around Regent Street & St Andrew's Street after midnight with anti-social behaviour due to people leaving pubs and nightclubs. Local homeless people are known to be excessive consumers of alcohol so you might want to stay clear at them at night, although they are mainly harmless.
If you have a bike, keep it locked up to a solid object with a strong lock (preferably a D-lock), as cycle theft is big business. There are cycle parking places with cycle stands to lock you bike to, in several places around the city centre and at the railway station. "Secure" covered cycle parking with CCTV surveillance and cycle stands is available in the lower section of the Park Street car park and at the Grand Arcade cycle park.
The city's police station is on Parkside which is next door to the city's fire station. The opening times of the enquiry office is every day 8AM-10PM and bank holidays 9AM-5PM. There are a couple of smaller stations in the nearby villages of Histon and Sawston. The opening time of the enquiry office is for Histon, Mondays; 4PM-8PM, Wednesdays to Fridays; 8AM - midday, with Tuesdays, weekends and bank holidays closed. For Sawston, it is Wednesdays to Friday; 1PM-5PM, Mondays, weekends and bank holidays closed. The non-emergency contact number is 101, calls are fixed rate of £0.15 on landlines and mobiles.
The city's Accident and Emergency department (Casualty department) is located at Addenbrooke's Hospital on Hills Road, south of the city centre.

Connect
By telephone
The local telephone code for Cambridge is 01223.
By internet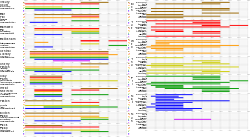 There are many
cybercafes
in Cambridge and free Wi-Fi is available in many cafes and pubs. The public library in
Grand Arcade
provides free internet access but you need to register as a library member, which requires
two
proofs of ID, one of your person such as a passport, ID card or photographical driving licence and one of your address such as a utility bill, bank statement or an official letter from a council.
address: 22 Mill Road

High quality internet access with a fast internet connection. Pleasant, comfortable seating available as well as fresh sandwiches, baguettes and a selection of cakes are also available.
The library at Anglia Ruskin University on East Rd. will provide a ticket for its wifi service on request. Ask at the library desk.
Cope
Laundry
Launderette, 12 Victoria Avenue
Monarch Launderette, 161 Mill Road
Shaw Service Laundry, 423 Newmarket Road
Gyms
Kelsey Kerridge is the public sports centre on the south side of Parker's Piece. Entry is possible without membership. Next door is the large Parkside public swimming pools.
In summer it's worth visiting Jesus Green Outdoor Swimming Pool, Britain's longest outdoor pool, on Jesus Green, Chesterton Rd CB4 3BD - +44 1223 302579
All other gyms are private members only, including:
The Glassworks Gym & Spa, Halfmoon Yard/Quayside - +44 1223 305060.
Nuffield Health Fitness and Wellbeing, 213 Cromwell Rd, CB1 3BA - +44 1223 859289.
David Lloyd Gym, Coldham's Business Park, Coldham's Lane, CB1 3LH - +44 1223 401200
Chesterton Sports Centre, Gilbert Road CB4 3NY - +44 1223 576110
Revolution Health & Fitness Club, 24 Science Park, CB4 OFN - +44 1223 395675
Hills Road Sports & Tennis Centre, Purbeck Road, CB2 2PF - +44 1223 500009
Places of worship
Anglican many churches, including college chapels and Great St Mary's next to the market square.
Lutheran Resurrection Lutheran Church, 25 Westfield Ln, CB4 3QS
Baptist Eden Baptist Church, 1 Fitzroy Street, CB1 1ER - +44 1223 361250
Roman Catholic Our Lady & The English Martyrs, Hills Rd, +44 1223 350787
Muslim Abu Bakr Mosque, Mawson Road CB1 2DZ, off Mill Road. +44 1223 350134
Jewish Synagogue, Thompson's Lane, +44 1223 354783
Buddhist Cambridge Buddhist Centre, 38 Newmarket Road, CB5 8DT - +44 1223 577553
Hindu Bharat Bhavan, Mill Road, CB1 2AZ.
Go next
Map of places with Wikivoyage articles nearby
Grantchester: Take a day trip to enjoy the countryside and have scones and tea at The Orchard. With a long history of famous patrons such as Rupert Brooke, Virginia Woolf, EM Forster and Bertrand Russell, taking tea in The Orchard is a well established tradition. This large garden planted with apple trees is perfect for lounging on a deck chair in the sun with a cup of tea and a scone for sustenance. Or head out by punt with a picnic hamper.
Great and Little Gransden Glimpse the real England! Take a bus (30 mins or so, bus no. 18, or 18A) from Drummer Street to the tiny ancient villages of Little and Great Gransden, which appear in the Magna Carta. Brimming with thatched cottage charm, horses and peaceful country walks, these villages offer escape into English village life. Pub food is available in both villages. Explore the ancient churchyards, the doll path in the meadow between them, and enjoy a leisurely hike around this tranquil village area. The Duncombe Arms in neighbouring Waresly serves excellent food, and offers BnB accommodation. Waresly is one or two hour walk from the riding stables at the bottom of Great Gransden. You could even join a horse trek. The undulating road offers wonderful views across farm land, and the ancient Waresly Wood, some of which is National Trust property. The 17th century open trestle post mill Windmill between The Gransden villages is unusually intact. It was last operational in 1912.
Ely: Market town, with impressive Cathedral towering above the Fens (Ely used to be an island): regular trains and buses (9, X9, 12), or about two hours by cycle via NCN 51 to NCN 11.
King's Lynn is well worth visiting for its wealth of architectural gems especially Nelson Street and Tuesday Market place. The explorer Vancouver came from here. Museums and churches and the largest brass in the country in St Mary's Church.
Newmarket: Market town (in Suffolk), with a famous horse-racing venue, and everything horsey related including the National Horseracing Museum. Tu-Su 11AM-4:30PM (22 March - 30 October). Hourly trains and regular buses (10, 11, 12), or about two hours by cycle on NCN 51.
Bury St Edmunds: Market town, with a brewery, cathedral and gardens. Hourly trains and regular buses (11)