Cameroon
Cameroon
(
French
:
Cameroun
) is a country in
Central Africa
. While not the largest country in Africa, in some ways Cameroon is as large as Africa itself. Known as "Africa in Miniature" it features French- and English-speaking portions, Muslim- and Christian-dominated regions, the tallest mountain in Central Africa and terrain that includes rain forest, desert plains, mountains and high plateau.
Regions
Cities
(French-speaking)
(French-speaking)
(English-speaking)
(English-speaking)
— the largest city and main centre of trade in Cameroon (French-speaking)
(French-speaking)
(English-speaking)
(French-speaking)
Other destinations
is on the UNESCO World Heritage List.
, the highest mountain in West Africa
in the North West Province is a bastion of culture and tradition
Lake Oku (Inside the Ring Road)
Oku Village
Kumbo (English speaking)
Tado Dairy Co-op
, is a UNESCO biosphere reserve, located in the Far North region of Cameroon.
Don i tison - a former German military post on a peak near Bafia
Understand
Cameroon is a diverse and multi-ethnic country. Western tourism is rare, though most of the country's tourists do come from Europe (predominantly Belgium).
History
The territory of present day Cameroon was first settled during the Neolithic period. Portuguese sailors reached the coast in 1472. Over the following few centuries, European interests regularised trade with the coastal peoples, and Christian missionaries pushed inland. In the early 19th century, Modibo Adama led Fulani soldiers on a jihad in the north against non-Muslim and partially Muslim peoples and established the Adamawa Emirate. Settled peoples who fled the Fulani caused a major redistribution of population.
The German Empire claimed the territory as the colony of Kamerun in 1884 and began a steady push inland. With the defeat of Germany in World War I, Kamerun became a League of Nations mandate territory and was split into French Cameroun and British Cameroons in 1919. The French carefully integrated the economy of Cameroun with that of France and improved the infrastructure with capital investments, skilled workers, and continued forced labour.
The British administered their territory from neighbouring Nigeria. Natives complained that this made them a neglected "colony of a colony". The League of Nations mandates were converted into United Nations Trusteeships in 1946, and the question of independence became a pressing issue in French Cameroun. France outlawed the most radical political party, the Union des Populations du Cameroun (UPC), on 13 July 1955. This prompted a long guerrilla war. In British Cameroons, the question was whether to reunify with French Cameroun or join Nigeria.
On 1 January 1960, French Cameroun gained independence from France under President Ahmadou Ahidjo, and on 1 October 1961, the formerly British Northern Cameroons became a part of Nigeria, while the formerly British Southern Cameroons united with its neighbour to form the Federal Republic of Cameroon.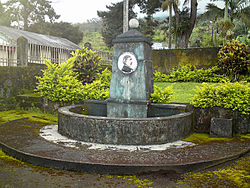 Climate
Varies with terrain, from tropical along the coast to semiarid and hot in the north. If you are going during the summer, plan on lots of rain every day. It might be cold up in the mountains, especially at nights.
Holidays
1 January: New Year's Day & also Independence Day
11 February: Youth Day
1 May: Labour Day
20 May: National Day
15 August: Assumption
1 October: Unification Day
25 December: Christmas Day
Get in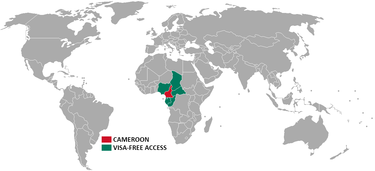 Visa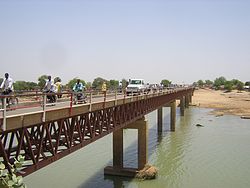 Most people will need a visa except citizens of
Mali
,
Chad
,
Central African Republic
and
Nigeria
, and it is
very
advisable to obtain one before arriving.
There any many types of visa:
airport transit visa
for airport transit;
visitor visa
for visiting friends and family in Cameroon;
business visas
for work-relating activity in Cameroon;
tourist visa
for tourism purposes;
student visa
for studying abroad and learning at the universities;
employment visa
for taking up work in Cameroon;
and
permanent residence visa
, which is issued if you a marry a Cameroonian.
What is needed to get the visa:
For all visas:
A yellow fever vaccination certificate, regardless of what country you're from. You must also show this to the authorities at the airport once arriving in Cameroon.
The application form and 2 passport-size photographs.
The application fee (e.g., in March 2018, this was US$141 for citizens of all countries except the visa waiver countries mentioned above).
Your passport with at least six months remaining before expiration.
Then, depending on whether you are requesting a Visitor Visa or a Tourist Visa, you will need:
For a Visitor Visa:
A letter of invitation (for a visitor's visa) and a reservation confirmation from your hotel (for a tourist's visa). If you need a visitor visa, the person you're visiting must create the letter invitation, and get it approved and stamped by the local authorities before sending it to you. The letter must state that you have a place to stay during your trip (e.g. the home of your hosts). If you're staying in a hotel, a hotel reservation will suffice.
For a Tourist Visa:
A consular letter from your bank stating your current balance. It must be signed by the bank for it to be valid.
A reservation confirmation from your hotel.
Check the Cameroon Embassy website in your country of residence (or closest) for more up to date info.
The Cameroon Embassy in London now asks £100 pounds for a tourist visa.
By plane
International airports are Douala International Airport (
DLA
) and Yaoundé Nsimalen International Airport (NSI)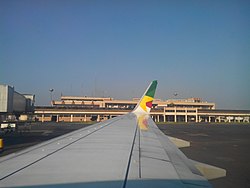 Cameroon can be reached via: Sometimes airport staff, or just hangers on, try to help with the luggage in order to get extra euros/dollars from travellers. They'll ask for around FCFA 1,000.

By train
By car
By bus
By boat
It is probably possible to travel by boat from the island of Bioko (Equatorial Guinea).

Get around
By plane
Camair-Co
operates as a national carrier and on domestic flights.
By train
Rail services operated by
Camrail
, run from the capital, Yaoundé, to the port city of Douala and the northern city of Ngaoundéré. While bus service is quicker and more reliable to Douala, the overnight train is the best mode of ground transport to the north. Check for current schedules and pricing.
By bus
Between the major cities you can get a ride on modern, comfortable buses, sometimes with air conditioning. Away from the larger centres you will most likely end up on the ever present Toyota bush taxis. These are slightly elongated Toyota minivans that can hold up to 20 people (or more if necessary) along with their luggage piled up on top. Safety can be a concern with dangerous roads, overworked/drunk/hungover drivers and poorly maintained vehicles the norm. However, other than extending your stay an extra day or two in bad weather your options are limited.
Buses rarely leave at a set time. Instead, they wait until they are full and then depart. For buses later in the day, sometimes they never fill up. When this happens, the operator will normally set you up with a bush taxi to take you to your destination. If you do not want to take the bush taxi and are persistent enough, the operator will normally refund your money. The point is that you should leave plenty of time to get to your destination, because sometimes the wait will take hours and you are never guaranteed a departure.
By car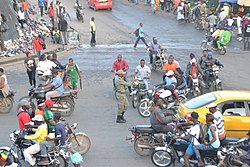 Rental cars are available although very expensive. As paved roads are rare away from the major cities of the west and northwest areas of the country, a 4 x 4 is a necessity when travelling to the east or central areas of Cameroon. The roads in the north are paved between cities and even the dirt roads tend to be in decent condition due to the lack of rain.
You can hire a private car and have its driver take you to places of your choice. Expect to pay around USD60 per day to the driver and foot the gas bill. The driver will also expect you to provide food and accommodation. But you can bargain.
These days, due to bad roads and congestion, motorcycles are a common form of transportation. The driver can take you wherever you want and they can be the only alternative to remote villages that do not have paved roads.
Talk
French and the Commonwealth version of English are the official languages in Cameroon, although there are over 276 recognized languages in the country.
The areas bordering Nigeria are anglophone although in many areas pidgin English is more common. The rest of the country is predominantly francophone although almost all areas will also have local languages.

See
Visit the Limbe Botanic Garden, Benedictine Museum of Mont Febe, National Museum of Yaounde and the Kribi. These are famous attractions in the city of Yaounde, meant for tourists.

Buy
Money
The currency of the country is the
Central African CFA franc
, denoted
FCFA
(ISO currency code:
XAF
). It's also used by five other Central African countries. It is interchangeable at par with the West African CFA franc (XOF), which is used by six countries. Both currencies are fixed at a rate of 1 euro = 655.957 CFA francs.
ATMs
Master Card and Visa ATM withdrawals are possible in many banks - for example, SGBC - which can be found in most major cities.
All
Ecobank ATMs
in Cameroon have cash withdrawal with Master Cards and Visa cards.
Shopping
Some good ways to spend your money include local handicrafts in Marche de Fleurs (Douala - Bonapriso quarter) and on fresh fish and prawns in Youppe village close to Douala (early morning).
Unless you are in stores and restaurants, you must
bargain
for everything. Demand 20-50% of the first price requested.
Eat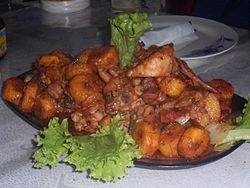 Signature dishes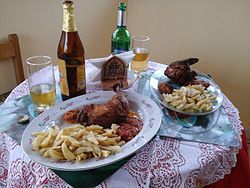 Poisson brézè: barbecue fish
Ndole: slightly bitter vegetables with peanuts, fish, prawns or beef. Often considered the national dish
Poulet DG: chicken with sauce
Tripes: tripe in tomato or peanut sauce
Sauce arachide: peanut sauce with rice and meat
Brochettes: barbecued skewers
Kilichi: dried beef
Mbol: black vegetable sauce served with kilichi, beef in some other form or prawns
Nkui: brown vegetable sauce eaten with corn couscous
Bush meat: from monkeys to snakes, perhaps a bit too exotic to visitors
Mielie meal: maize porridge
garnishes include: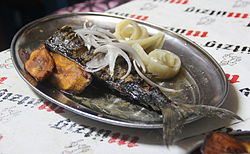 Koki: white bean dumplings
Banane plantain: grilled, steamed or deep fried plantains
Couscous maniok: cassava couscous
Couscous de mais: polenta-like corn-based couscous Polentaähnlicher Couscous auf Maisbasis
Frites de pommes: French fries
Pommes: fried potatoes
Bobolo: steamed cassava bars
Miondo: thinner version of the former
moreover:
Safou fruits, barbecued or boiled
Drink
Always check "best before" when buying a bottle - some drinks are way out of date.
Coca-Cola is available everywhere. For something different try one of the flavourful TOP sodas. They are much sweeter than most European or North American sodas but they are very tasty.
Cameroon is rich with choice when it comes to good beer due to its past as a German and later French colony. Bottled Guinness can be found everywhere although in the heat, try one of the excellent lighter beers such as Castel, Beaufort, Mützig, Isenbeck, Satzenbrau or 33. These are inexpensive and excellent in the heat. Castel Milk Stout is an excellent choice for those who like darker beer. Outside of the cities you will sometimes be hard pressed to find them chilled (due to a lack of electricity).

Sleep
Hotels in the major cities will range from FCFA 7,500 to FCFA 50,000. Clean and safe rooms can usually be found for under FCFA 11,000.
In more rural areas prices vary wildly depending on demand and local economy. It is not uncommon to find comfortable accommodations for FCFA 4,000-5,000 per night.

Camping
Unless you are with a guide on a trek it is not recommended that you camp due to security concerns.

Work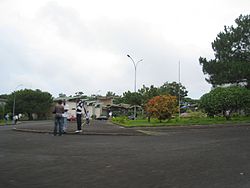 Stay safe
Violence is rare, but just be smart about wearing any jewellery or anything else that would make you stand apart from the rest. Take a taxi after dark if you're unsure of the area.
Be aware that Boko Haram, a Nigerian jihadist group, operates with other Islamists and Salafists in the north of Cameroon and they have kidnapped Europeans, Canadians, Americans and other westerners there. Boko Haram is a jihadist group and may implement very harsh forms of sharia law including amputation for theft. Church-goers should not proselytize to Muslims, form in groups which are too large due to suicide bombings, and alcohol consumption should not be done in public. They usually travel on motorbikes and pick-up trucks and more recently have linked up with the Islamic State in an effort to cement a worldwide caliphate. An offshoot linked to takfirism, the
Ansar Muslimeen fi Biladi Sudan
which translates as "Protection of Muslims in Black Lands", also carries out attacks and harsh punishments.
Highwaymen and other bandits also operate in some parts, particularly the north.
Even after 2017, the Anglophone Crisis still continues in the Northwest region. It is advised not to go there, as fighting can break out at any time.
Legal issues
Many laws in Cameroon are not the same as in 'Western' countries. Homosexuality is illegal, and can result in prison sentences.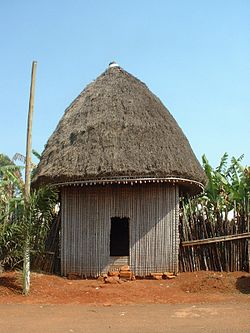 Identification
Legally, you must carry identification on you at all times. Normally this will be your passport. Other options include:
# getting a copy of your passport (front pages and visa pages) legalised at a police station (FCFA 1,000); or if you are staying for a longer amount of time
# a resident card (go to the local frontier police station), this should be less than FCFA 5,000 for everything (2013, according to a sign that could be old, in a police station). Don't pay a 'fixer' or anyone else to help you. Simply go when there isn't a long queue and talk to the person about getting a card. You'll need your passport and copies and other documentation.
Photography
Photographing sensitive areas is forbidden. This includes military places, and apparently embassies and diplomatic residences. If in doubt, it might be best to not take that picture, rather than risk having a soldier or policeman delete all your pictures, or confiscate your camera.
Stay healthy
Yellow fever
certificates are required for travel to Cameroon.
Malaria
is common, especially in the central and southern parts of the country. The risk is much lower in the mountains of the Northwest Province and the arid areas on the Extreme North. Prophylactics are recommended because of the severity of some strains of malaria in the country.
Other
tropical diseases
are also common, including dysentery, bilharzia, hepatitis, and giardia occur. There are occasional outbreaks of cholera in Yaounde and Douala, but rarely affect travellers.
There are several good quality hospitals in the country. Most are located in Douala or Yaounde, but Kumbo has two very good private hospitals as well.
Avoid drinking
tap water
, even in restaurants. Bottled water can be found most anywhere at reasonable prices. Expect to pay FCFA 400 for 1.5 L in the major cities, more in more remote areas.
Cameroon is generally safe of Ebola.
Respect

It is disrespectful to shake hands with your left hand. Use only your right. If you have something in your right hand or your right hand is dirty or wet, it is polite to extend your wrist for the person to shake with his right hand. Should both of your right hands be occupied, it is polite to touch wrists.

Connect
To make local and international calls you need to buy a pre-paid SIM card. Check if your cell phone has a compatible GSM standard (Africa/Europe) - if not, in addition to a SIM card you probably need to buy a new phone. "MTN" and "Orange" are two major telephone companies in Cameroon.
It had been possible to find Internet access all over the place, but the speed was often slow. In 2017, all Internet access has been shut down in the largely-anglophone western portion of the country; a move made for political reasons which has cost the local economy millions of dollars.
National post service is considered to be unreliable.