Campania
Campania
is a region of
Southern Italy
. With 5.8 million citizens it is Italy's third most populous, and the most densely populated.
The region has a rich heritage from
Ancient Greek colonies
, the
Roman Empire
and
the Renaissance
.
Provinces
Campania is divided into five provinces:
Cities
— Southern Italy's main city, largest historic centre in Europe with dozens of churches and monuments, delicious cuisine and birthplace of pizza
— remains of the Roman city of Abellinum and an interesting downtown surrounded by green mountains
— lots of Roman era remains and medieval Lombard age monuments
— biggest Royal Palace of the world by volume, and a medieval old town
— vibrant and dynamic city with impressive cathedral and promenade
Other destinations
— stunning stretch of coastline on the Gulf of Salerno, with enchanting towns such as Amalfi, Positano, Praiano, Ravello and others.
— upon the panoramic Irpinia hills, endowed with medieval sights, museums, and typical restaurants
— pictoresque town in the heart of Upper Irpinia, known for its characteristic cuisine
and — the famed islands in the Bay of Naples
— majestic Greek temples of 6th century BC and beach resort
and (Ercolano) — Roman archaeological sites
— lots of Roman archaeological sites in the wonderful area of the Phlegraean Fields
— beautiful village near Sorrento
— medieval small town surrounded by the green hills of Irpinia
— wonderful town overlooking the Bay of Naples, famous for its picturesque shops
— world-famous volcano 1.281 metres (4.203 ft) high
Get around
Within Campania the public transport has a unified ticket system called
Unico Campania
. Tickets are organised in zones which means that with one ticket you can travel within one or more zones. The zones radiate out from the centre of Napoli, and allow you to travel within a zone or between zones, with a maximum time limit for the journey. The idea is that you can purchase a single ticket to travel from a zone outside Napoli to the centre, or vice-versa. Included in this system are generally national trains (also to
Paestum
), the underground in
Naples
, the Funicolare in Naples, Sita buses along the
Amalfi Coast
, the Funicolare on
Capri
, Bus of
Ischia
the Circumvesuviana that goes also past
Pompeii
and
Herculaneum
but
not
ferries. The advantage is that you can get tickets for different kind of vehicles, and you can buy tickets in advance for areas where it is difficult to find a ticket office such as
Paestum
, as the tickets start to be valid once you
stamped
them. You should stamp the tickets each time you change vehicle, but the tickets are only valid for
one
train, Metro or Funicolare journey. It is possibly also cheaper to buy a bunch of 'one zone' tickets than each time a new one. But careful: some tickets are locally bound (only in Naples, for example). If in doubt, ask when you buy your tickets.
By train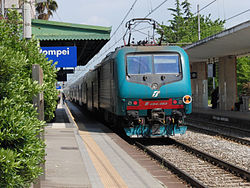 National train lines go from
Naples
to
Salerno
and further east and southwards. The
Circumvesuviana
is a local private train link serving the area around the Mount Vesuvius from Naples to Sorrento. The service has the appeal of typical metropolitan trains connecting to local suburbs (including the odd graffiti and cut open seat/window). For tourists this train service is particularly interesting because it is the only reasonable public transport link to Pompeii, Herculaneum and Vesuvius. There are several different lines but
only the blue line
goes to Pompeii, Herculaneum and Vesuvius. Pompeii is in Zone 3 of Campania, and an one way ticket to (and from) "Zone 3" is €2.80. On weekdays all day ticket is €8.40 and on weekends all day ticket is €4.50. You can use this ticket to get to Pompeii and to get back to Naples. When going to visit the ruins of Pompeii, get off the train at the Pompei Scavi stop. It's about a 40-minute ride from Naples. The entrance is approximately 50 m from the station.
By boat
By bus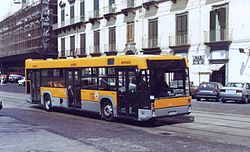 Buses run generally pretty efficiently, but can become full and a bit uncomfortable. Tickets are part of the Unico Campania system, which must be bought in advance. Once exception is the AliBus, which travels from the airport to the centre of town, where you can buy the tickets on the bus.
Along the
Amalfi
coastline, buses are the only option, with the exception of ferries. The roads are narrow and winding, but the drivers are exceptionally skilled, only usually being slowed down by the less experienced tour bus drivers.
By car
The Amalfi-Sorrento-Salerno road is narrow and full of hairpin turns. Cars pass fast and close. Take care.
See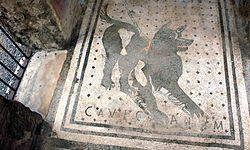 Do
The sea is one of the biggest lures to visitors of the Campania region.
The Amalfi coast presents a series of mountainside towns that seem to tumble into the sea. Also, not far from Naples are some of the most beautiful islands in the world: Capri, Ischia and Procida.
Visit two ancient villages
called
Ariano Irpino
and
Calitri
, located in the heart of Apennines - equidistant from Tyrrhenian and Adriatic seas. The area around these medieval towns is sprinkled with castles, aristocratic palaces and delightful locations soaked in history and tradition, ridged with hills and valleys and marked by the ancient trails along which Hannibal and his legions marched when setting off to attack ancient Rome 2,000 years ago. One thousand years later Ariano Irpino was the first Norman county in Southern Italy and there King Roger II summoned the
Assizes of Ariano
in 1140.
Eat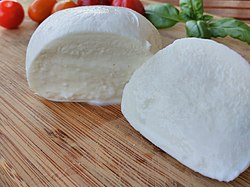 Perhaps the Campania product most widely known is
mozzarella di bufala
, with DOP awarded by the European Union. Due to vast market demand and the scarce number of water buffalo, it is also however a product at risk of a "bufala" (also Italian for scam). To avoid this, each wrapper carries the symbol of the protection consortium to guarantee its authenticity and geographic origin. The origin of the mozzarella – so called from the verb "mozzare" to cut – probably goes back to the 12th century, while the buffalo was already part of the Campanian landscape in the 7th century. The true characteristic of this fresh cheese with a delicate taste is its consistency, which should be firm, slightly elastic and chewy. When cut, the centre of a true mozzarella di bufala 'weeps': an interior still be slightly serous, protected by a thin skin and it should be smooth, but not viscous. It should be preserved in its liquid for no more than 48 hours, preferably not in the refrigerator but in a cool and airy place. As well as the characteristic round form it is produced in braids, knots, nuts and cherries and there is also a smoked version.
Astride green Campanian Apennines,
caciocavallo
(a type of durable cow's milk mountain cheese) is renowned both in
Irpinia
and in
Samnium
, whereas similar
caciocchiato
is from
Ariano Irpino
only.
It is not possible to talk about Campania's gastronomy without mentioning
pizza
, particularly
pizza margherita
. This palate's delight was born in Naples, and legend has it that it was created in honour of Italian Queen Margaret, though this is not true because the same toppings were used at least decades before Italian unification. From simple baked product it became a fanciful, rich, surprising and always appreciated food.
Drink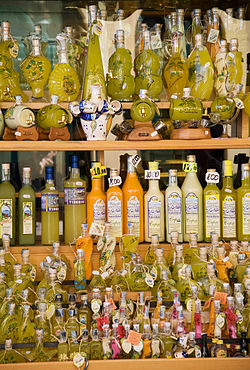 Local Campanian beverages include
limoncello
and crema di limone, both lemon-based. Limoncello has the highest alcohol content, is very strong in flavor, and is a very bright translucent yellow color. Crema di limone, as the name suggests, is cream-based. It is less strong than limoncello and is an opaque off-white.
Another beverage highly recommended for travelers to Italy is
coffee
- ask for caffe, espresso, cappuccino, or caffe latte. Especially for US travellers, the quality of the coffee and the drink preparation is vastly better than at home, and a coffee at a small cafe is the perfect way to wind down while in Italy. Coffee or espresso are also staple after-dinner drinks in Italy, but Italians drink cappuccino mainly as a morning drink, so you may get strange looks when ordering this after a meal.
Local Italian beer includes Nastro Azzurro, Moretti, and Peroni - all mild-tasting lagers similar to Heineken. Beer is extremely locally available in the cafes and ristorantes in Campania, though wine is more the local drink of choice with a meal.
True to Italy's image, wine is readily available in Campania (though at some stores it is less cheap than some travelers may be expecting). Prices in local groceries for a bottle of wine vary somewhere between EURO 4.50-100+. Some of the cities in Campania such as
Positano
,
Sorrento
, and cities on the islands of
Capri
and
Ischia
will be more expensive due to their high levels of tourism.
One local wine of Campania is
Lacryma Christi
, or "Tears of Christ". This wine is produced on the lower slopes of Mount Vesuvius and is available at many groceries in Campania. For travelers going to the Mount Vesuvius National Park, this wine is available from some of the giftshops at the top at a deeply reduced rate compared with other stores in the area. Terraced land for grape cultivation is frequently visible in countryside of Campania, and many other local wines exist.
Go next