Cancún
Situated on the northeast tip of Mexico's Yucatán Peninsula,
Cancún
is a popular Caribbean tourist destination. Next to 22 km (14 miles) of beaches, you'll find a wide variety of resorts, spas, clubs, and malls.
Peak season in Cancún tends to run from December to April. Airfare and hotel prices increase dramatically during these times, while dropping in the (northern hemisphere) summer and early autumn months. Late June is especially hot, so come prepared or try the off season. Hurricanes can be a major threat in late (northern hemisphere) summer and autumn.
Understand
Resting on the northeast corner of the Mexican Caribbean, Cancún, now a city of over 700,000 inhabitants, literally did not exist before the 1970s. It was a tourist project started at that time by the Mexican government in a sparsely inhabited, pristine area. Since then it has grown to become a big city and one of the premier beach resort destinations in the world.
It is composed of fourteen miles of pristine white beaches shaped like a number "7", home of the Mayan archaeological wonders, turquoise seas, a bountiful underwater world, and world-class vacation amenities. It is still considered the gateway to the Mayan World ("El Mundo Maya"). Mayan temples and ritual sites are everywhere, some smothered by lush jungle, others easily accessible.
Cancun consists of two very distinct and separated areas. One of these is the Hotel Zone, entirely built around the tourist industry. It abounds with all-inclusive mega hotels with stunning Caribbean beaches. Stay here only if you don't mind spending your vacation with many other tourists. This area is basically a Mexican clone of Florida, with not much of a difference, besides the water here being the Caribbean.
Downtown Cancún in contrast is a pure Mexican city, though it has very wide roads designed for cars, no real center to speak of, and overall quite unremarkable given its lack of any history before the 1970s. Do not expect to see Mexican historical culture here, instead it's modern Mexico with many restaurants, North American fast food chains, shopping centers, markets and clubs in the downtown area.
Unfortunately, the downtown area also has no beach access. Due to this, Cancun is very much a tourist town, with tourists and the beautiful beaches completely separated from real Cancunians. If you find this setup unappealing, you should probably skip Cancun altogether and go to
Playa del Carmen
or
Puerto Vallarta
instead, where locals and the beaches are in the same area.
Those mostly seeking beaches and scuba diving, or who are a bit adventurous, can easily find rooms on equally beautiful and less crowded beaches along the coast just an hour or two south of Cancún. Some Spanish language skills may aid in finding better deals. You can rent a car, or take the bus to Puerto Morelos (about 20 min) or Tulum (1 hr). Playa del Carmen (45 min, M$80 (
pesos
)) is between the two. Taxis are also available.
Those looking for a base of operations who want good or luxury hotels and the advantages of urban life but prefer more local flavor may wish to stay in the Yucatan's main city of
Mérida
. Many international flights in to Cancún continue on after a stop to Mérida's International Airport.
Climate
The climate in Cancún is tropical, with consistent hot and humid weather throughout the year, and very warm sea temperatures. You can expect a gentle breeze from the ocean to keep you comfortable. Temperatures reach their peak around May, and you may notice the extreme heat as you travel inland. Prepare for trips to archeological sites: wear light clothing, stay cool, and rest often.
Get in
By plane
Cancún International AirportIt is Mexico's second busiest airport. One of Cancún's best features is its transport links, as most major air carriers in North, Central, and South America, and Europe offer services to Cancún. There are some extremely cheap charter flight deals available such as from the UK (from around £100) as well as commercial flight deals from several carriers.
Airlines that fly to Cancún include:
Terminal 1 (Gates 1-7A in the Charter Terminal): Magnicharters, Viva Aerobús, TAR from Monterrey, Mexico City and other cities in Mexico. Chartered flights typically arrive to and depart from Terminal 1. They can also be at Terminals 2 or 3 instead. Check with the tour/travel agency or the airline as to where to check in for the return flight home. With Terminal 4 operational (see below) plans are underway to decide to either reconstruct or close Terminal 1 which would be more changes in the future.
Terminal 2:
Concourse A (Gates A1-A9 in the octagonal shaped satellite structure): Flights from Canada: Sunwing. Flights from Europe: Arkefly, Blue Panorama, EdelWeiss, Eurowings, Enerjet, JetAirFly, Neos, Orbest, Thomson, TUIfly. From South and Central America: Aerolíneas Argentinas, Avianca; LATAM (formerly LAN & TAM); Boliviana de Aviación and Copa Airlines
Concourse B (Gates B1-B22 in the main building): Domestic and international flights with: Volaris/Volaris Costa Rica, Aerotucán (to/from Cozumel); Aeromar and Cubana de la Aviacion (from Havana).
Terminal 3 (Gates C0-C26): flights from the USA & Canada: Air Canada, American Airlines, Alaska Airlines, Delta Air Lines, Dynamic Airways, JetBlue, Spirit, United Airlines and Apple Vacations charter flights. Flights from Europe & Russia: British Airways, Evelop, Pullmantur, Neos, Nordwind and Wamos
Terminal 4: Opened October 2017, which serves as a terminal for: Aeroméxico, Interjet, Air France, Lufthansa, Air Transat, WestJet, Condor, Southwest Airlines, Virgin Atlantic, Air Europa, Frontier Airlines and Sun Country Airlines
FBO Terminal: MAYAir (to/from Cozumel & Merida); Mayan Island Air, Tropic Air (Belize City); general aviation and private executive flights. The new FBO Terminal is now next to Terminal 3.
Note: Some of the above airlines operate seasonally, usually during the winter months in the northern hemisphere, or as charters while others operate more regularly year round. Chartered flights are typically booked through a tour operator or travel agency and not through the airline directly. The above can be subject to change and always mind the information given to you by the airline with your ticket and boarding pass, as well as the information provided by the airport online and via the information boards.
The hardest part of the journey to Cancún (aside from your airport check-in) is getting from the luggage carousel to your transportation. Make sure you know who your transport is (in case of prebooking) and find them on the outside, as that is where they will be. Unless you are looking for a timeshare, free meal or looking to burn hours of travel time and money on your vacation, do NOT stop to chit-chat with anyone about booking tours and such. There is plenty of time for that after you get settled in. After you clear customs inspection (the red or green light baggage inspection), do not give your bags to anybody offering to carry them.
To get away from the Cancun airport, walk to the far end of the main building past domestic arrivals. In the parking lot past there are buses to downtown
Cancún
bus station and to
Playa del Carmen
bus station. Buses will also drop people off at the crossroads for
Puerto Morelos
, where there will be taxis waiting.
There are many companies that provide the transfer service to the hotels in Cancún or the Riviera Maya. All of them have the option of prebooking online; some of them can be booked when arriving but this may represent another waiting time.
There are other transportation firms that provide service to and from the airport for a reasonable price as well. Beware of touts who will surround you when you come out of customs clearance. If you proceed straight, you will find the official information center where they can help you with the ground transportation options. If you purchased shuttle services through online reservation and you don't find your driver, call customer service yourself; do not trust local people who claim to be airport employees trying to "help" you (usually airport employees wait for you to come to them, and not the other way round). The legitimate drivers (and their reps) for these shuttle companies are outside the building, outside the exit glass doors, towards their vehicles.
The airport has constructed a metal fence right outside of international arrivals. Only airport staff and licensed shuttle and travel agent employees are allowed in (they have to swipe a badge). If you are meeting someone who will be arriving, ask them to leave that area and walk towards the airport to meet their party.
ADO
is the main long distance inter-city bus carrier in the Yucatan Peninsula. They offer regular bus service from all terminals to downtown Cancun and to Playa del Carmen. At Terminal 1, the bus stop is on your left when you exit the terminal. The "airport bus station" is in the bus parking lot outside the domestic arrivals doors at Terminal 2. For international arrivals you turn right, after coming out of the building and walk across to the other side of the building. At Terminal 3 it's a right turn from outside the arrivals doors and past 'Air Margaritaville' (formerly 'Coconuts Welcome Bar') hut.
Also if you want to travel directly from Cancún to Cozumel there is an airline called
MAYAir
and
AeroTucan
from the FBO terminal, next to Terminal 3 to allow you to fly directly through Cancún to Cozumel. Otherwise you can also use the ADO bus or a shared ride shuttle to
Playa del Carmen
and take the ferry to Cozumel, as the ferry terminal is next to the Playa del Carmen bus station.
Be sure to pass the customs before looking for money exchange - for example inside customs zone in Cancún they offer rates that are much lower than even greediest street vendors ask.
Beware of leaving Mexico with enough money. The Mexican Government charges a travel tax of around M$900 (US$45) to leave the country from the airport. Most major air carriers may already have the travel tax charged to the price of the ticket, though it is highly recommended that travelers check this before leaving to/from Cancún. The current collective travel experience (from TripAdvisor) shows that almost all airlines flying from the US have already included this tax in their airfare, so there is no need to pay again when leaving Cancún. It seems that only charter flights from the UK do not include this tax and UK travelers may need to pay upon leaving.
Also beware of going through security too early. Food and drink prices almost double (US$4 for 1/2 litre of water) and you can't easily go back out. There is no free Wifi. Terminal 1 is due to its mostly domestic connections more reasonably priced.
By car
Driving in Mexico can be an experience. For more information and tips refer to
driving in Mexico
.
The Carretera Cancun-Tulum/Av Tulum
(Fed Hwy 307)
is the main north-south highway which begins at the intersection with Av Lopez Portillo
(Fed Hwy 180)
, north of downtown. From here this highway connects Cancun to the airport, Puerto Morelos, Playa del Carmen, Tulum and eventually to Chetumal near the Belizean border. Fed Hwy 180/180D goes east and west as Av Lopez Portillo and goes across the Yucatan Peninsula to Merida and winds down towards Campeche and Villahermosa along the Gulf Coast.
Fed Hwy 180D
, west of town becomes a toll freeway between Cancun and Merida with limited access while
Fed Hwy 180
(the older two lane highway or 'carretera libre') runs parallel to Hwy 180D, connecting various towns with the speed bumps (topes) to slow traffic going through the town. Cars rented in Mexico cannot be legally driven into Central America.
There are also car rental and travel agencies lined up along Blvd Kukulcan in the Hotel Zone and in other areas downtown. They are in free standing buildings and within the malls for travelers planning to take a day trip, shopping for tours and activities or for booking an onward journey to the next destination. The cars rented from the Hotel Zone or downtown may be less expensive than from the airport and can be had for a shorter period of time when the car is needed. See "By car" under "Get around" for links to specific car rental companies and in regards to getting around locally by car.
By bus
Cancun's is centrally
located in downtown Cancun, northwest of the roundabout at Av Uxmal and Av Tulum. From here there are frequent buses to the Airport (30min),
Playa del Carmen
(1hr 20min),
Tulum
,
Merida
(4hr),
Valladolid
(2hr),
Campeche
(6hr 45min) and
Chetumal
(5-6hr) in the Yucatan Peninsula. Direct buses to
Chichen Itza
leave once or twice daily from Cancun so to get there take a more frequent bus to Valladolid and transfer to another bus to Chichen Itza. There are less frequent services (once or twice daily) to further away places such as
Palenque
(13hr),
Tuxtla Gutierrez
(18-20hr);
San Cristobal de las Casas
(18-19hr);
Villahermosa
(12-13hr), Mexico City (26hr) and elsewhere in the Republic.
The station is served by a taxi rank in front of the station along Pino. Local buses to the hotel zone pass regularly behind the station on the Tulum Avenue. The following bus lines offer services into and out of the Central Bus Terminal:
phone: +52 55 5133-5133

address: Calle Pino, SM23, MZ 1, Lt 1 y 2, Centro

They operate the ADO, ADO GL, OCC (Ómnibus Cristóbal Colón), Riviera and Platino bus lines, and the ClickBus.com booking site.
Second class buses with AU, Oriente, Mayab and Noroeste (subsidiaries of Grupo ADO) are available for more localized travel to Tulum, Playa del Carmen, Puerto Morelos, Polponah, Kantunilkin, Chiquila (location for Holbox ferry) and other nearby towns and villages in Quintana Roo, Yucatan and Campeche states. Second class buses typically takes longer to get across longer distances due to the multiple stops they make to pick up and drop off other passengers alongside the road and may require multiple transfers.

phone: +52 999 923 9962

operates second class bus service between Cancun's bus station & their own terminal in Merida via Tixpeual, Tixkokob, Euan, Cacalchen, Izamal, Tunkas, Dzitas, Valladolid, Chemax, Xcan and/or Leona on three different routes. These buses stop anywhere along the road to pick up and drop off people on request.

Playa Express

address: Pino 13, SM 23, Mz 1, Centro

Regularly scheduled shuttles to Puerto Morelos and Playa del Carmen in the Mercedes/Dodge Sprinter vans. They do not make stops at the airport.
Get around
Cancún is very easy to navigate. To the South is the airport, to the North is the city and in between on the stretch of land between the sea and the Nichupte lagoon are all the hotels, beaches and bars, referred to as the hotel zone or
Zona Hotelera
. Downtown is where most residents live and it stretches in on the mainland behind the lagoon.
By bus
Bus is the preferred way of getting around. Buses are cheap and come frequently. Most bus drivers are very courteous and will stop for you even if you are not waiting at a bus stop. Most routes head up and down the main thoroughfare, Blvd Kukulcan, named after the feather serpent which is the main Mayan deity, from the Mayan words
kukul
(bird) and
can
(snake). Buses pass constantly but be prepared for possibly cramped and rough ride.
After paying the fare, which is on a per person basis, the driver will hand you a ticket/receipt which are usually printed with advertisements this does not serve as a transfer to another bus. Fares are usually M$10 (2019) destinations within the city, while a ticket to anywhere in the Zona Hotelera costs M$12 (2019). The fare is per boarding, so you pay again if you have to board another bus to complete the journey. Do not expect buses to have amenities such as air conditioning and seat cushions. Many bus drivers speak enough English to help visitors get around.
When you are ready to get off, you can either push the button on top of the hand rail, or if you're not sure of your destination, tell the driver where you would like to get off or point to the destination using a bus map. Most bus drivers speak enough English to understand non-Spanish speakers.
Be careful when the bus is full as pick-pocketing is a concern.
The following companies operate buses locally:
or see:
The websites only provide of list of routes showing them on the map as to where they go. No schedules as they run quite frequently. Another great resource for finding your way around Cancún are the Can-Do Cancún maps & Guides by Perry & Laura McFarlin.
Companies serving the station include all attractions and towns along the coast: the
Riviera Express
for the Riviera Maya (Playa del Carmen, Tulum, Xel-Ha, etc.) and
ADO
for the major national destinations. For some Riviera Maya destinations, it's possible to stop the buses on the Tulum Avenue without having to go all the way to the station, however if you are unsure about where to catch the bus then it's best to go to the station.
By taxi
Taxis are plentiful, a bit expensive for the hotel zone and airport, but cheap in the downtown area. Fares for the hotel zone depend on how far along the Blvd Kukulcan you want to go (fares available at hotel receptions and shopping centres), while within the downtown there is a general fixed fare of about M$25 per trip within downtown and M$70-110 in another zone outside of downtown. The cab fare to the hotel zone from downtown is ~M$180. It is best to just ask the driver upon boarding to avoid misunderstandings. By far, the best mode of transportation for the hotel zone is by bus. The bus fare is cheap and getting from Point A to Point B doesn't take very long. However, taxi drivers do not give receipts even if you request them.
Be careful and clear with your taxista. They have set rates on paper for how much they should charge for the trip per kilometer (no meter). You can also obtain a discount about 10% if you ask. If you are splitting a cab with friends, be clear on the number of services, people, and price he will charge to your destination. If your friends get out before you he can charge you twice the amount you negotiated for just a few more kilometers. A "service" is considered to be from start point to a requested stop point. If your taxista is non-cooperative there are about 10 more taxis around every corner.
Private Airport Shuttle:
By car
Be very careful if you choose to drive in Cancún. The police seem to pull tourists over at the drop of a hat during spring break. When you pick up a rental, check that all the lights work. Also when you are pulled over for a light violation, do not be surprised if the police holds out an open palmed hand, while holding your driver's license hostage in the other. Most police officers are underpaid and will for the most part demand a small bribe to let you off the hook.
See the related travel article
driving in Mexico
for additional information.
Car rental companies available in Cancun:
See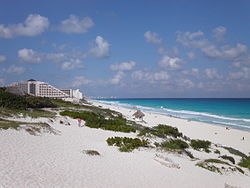 phone: +52 998 2063311

address: Blvd Kukulcan Km. 12.5 Hotel Zone

Right in the middle of the hotel zone, this small but modern aquarium lets you get up close and personal with aquatic life. You can pet rays, nurse sharks, touch starfish, etc. There is also a chance to swim with captive dolphins in a large pool.
Water and sand, Cancún is possibly best known for its beautiful turquoise waters and powdery white beaches.
Isla Contoy, is about 30 km (19 mi) north of Isla Mujeres and apart from its natural beauty it is considered to be the most important nesting place for sea birds in the Mexican Caribbean with more than 150 different species.
Do
Ocean and beaches, For the more advanced swimmers, the edge of the open ocean can make for a challenging and fun swimming experience. For less advanced swimmers, or those with little ones, pick a resort facing Isla Mujeres for a gentle and relaxing aquatic experience. Be aware that the island becomes extremely hot during day and there are few, if any opportunities to cool off. The sand found here is ground up coral and doesn't get hot like you might expect. The beaches are absolutely gorgeous and the water is crystal clear and warm. Spending the day on the beaches of Cancún is not only an opportunity to relax, but to shop as well. Many of the native people of Cancún make a living by selling different items to the tourists on the beach. There are a variety of items to be purchased from these vendors, items such as sarongs, jewelry, sea shells and more. However, as in the markets, you have to be willing to bargain to get the right prices.

Xcaret (ecopark)Xcaret is an eco-archaeological park located about 76 km (46 mi) south of Cancún and less than 7 km (4 mi) south of Playa del Carmen, in the Riviera Maya. Here you can admire tropical flora and fauna typical of the region as well as different expressions of the Mayan culture. In its facilities you can find an archaeological site, snorkeling in underground rivers, beach, butterfly pavilion, orchid greenhouse, regional fauna breeding farm, Mayan village, jaguar island, among others. For additional cost visitors can swim with captive dolphins; enjoy the Temascal and Spa services. At night you can admire the unique night show "Xcaret México Espectacular" which features a variety of performances from ancient Mayan culture to traditional Mexican music and dances. Admission US$80.

Bird watching at the airport, It may sound odd, but because the airport is basically carved out of a large block of forest, there are all kinds of birds and animals around, especially early in the morning. Look for the Mexican agoutis (large forest rodents) grazing on the lawns next to the forest.
Swim with Dolphins, . Wet'n'Wild also offers dolphin experiences. (Beware: no cameras are allowed, then they charge M$25 for the first photo, M$20 for each subsequent one). Other great places to swim with captive dolphins are Delphinus Dreams and Dolphin Discovery.

Jeep AdventuresExperience some of the most beautiful parts of Cancún in a self-drive jeep safari. Tour prices ususually include an experienced guide, and the chance to swim or snorkel in underground caves, explore Mayan ruins and visit a jungle reserve.

Aqua ToursExciting water tour. Choose either a jet ski or two person jet boat for a trip through the lagoon out to snorkel on the reef. Popular tours are the Jungle Tour and the Sailing Quest (Catamarans).

The Lobster Dinner CruiseTake a trip out on the calm lagoon on a beautiful boat with friends you have not met yet. The staff allow you to take part in the fun or settle back and watch the sunset. Steak and lobster is cooked on the boat and is extra tasty when eaten out on the high seas.

Football, New in Cancún with the First Division team "Potros de Hierro (Iron Colts) of Cancún". The Atlante team, now based in Cancún, has a brand new stadium downtown.

Hidden Worlds Cenote Adventure Park

address: Tulum

Situated on the most extensive system of underwater caves and caverns on Earth, the park is home to some of the most stunningly beautiful cenotes in the Yucatan Peninsula, as featured in the critically acclaimed 2001 IMAX movie, Journey Into Amazing Caves, the 2005 Hollywood movie, The Cave, and the award-winning 2007 BBC Planet Earth television series. Enjoy zip lines, the world's only SkyCycle, and snorkel tours in the most pristine cenotes in the area.

Punta Este MarinaDrive your own boat through the lagoon in the Jungle Tour and sknorkel on the reef. Diving lessons and dive trips to the best dive spots in Cancún such as underwater museum.

phone: +52 998 8495317

address: boulevardo kukulkan km. 5.8

Yacht rentals in Cancún. exclusives luxury yachts for rentals tours in all the Cancún areas , snorkeling, diving, swimming the most save water activities in yacht.

phone: +52 998 882 05 58

Driving experiences in some of the most exotic and luxurious cars in the world, race them on a private racetrack in Cancún.

Always DivingScuba dive with the most professional team in the area. Competitive prices and a wide catalog of diving programs.

phone: +52 (998) 148 7077

address: Boulevard Kukulcan, Km 3.2, Zona Hotelera, Marina Chac Chic

Professional PADI certified scuba diving company provides PADI Diving certifications.
Buy
When shopping in Cancún, you can either go into the downtown area or the hotel zone. Downtown is much cheaper, but the Hotel Zone has brand-name goods.
Markets
, Bring your
haggling
skills and get ready for a vast shopping experience in any of the city markets in downtown Cancun. Great buys can be found, so stick to your price resolve. The prices are fixed in the (American style) malls and in the shops selling the brand-name goods which are comparable to those in the U.S. and Europe for the similar products.
Market 28

address: Xel-ha m 2 13 SM 28, 28,

This is the local market in downtown Cancún. Great shopping for souvenirs. It also has some great Mexican outdoor restaurants. Very cheap and good shopping. Don't forget to bargain.

Market 23

address: Ciricote 15, SM 23

This is more of a 'locals' market as most products offered are like groceries, flowers, supplies, etc. Doesn't have the same range as Market 28, but is worth a visit.

Plaza Las Americas

address: Dialogo Norte-Sur, 7,

The Plaza de las Americas offers Cinepolis (movie) Theaters, Sears, Chedraui, Liverpool and numerous smaller shops and restaurants in the mall itself and in the immediate surrounding areas not part of the mall.

La Isla Cancún Shopping Village

phone: +52 998 883-5025

address: Blvd Kukulcan Km 12.5 Lt 18-10, Zona Hotelera

Shopping mall in the hotel zone. Features hundreds of stores ranging from American brands like Under Armour to Mexican brands like Senor Frogs. There are numerous restaurants including Chili's and McDonald's along with more local Mexican foods.

phone: +52 998 193-0160

address: Blvd Kukulcan Km 13, LOCAL 410 y 411A, Zona Hotelera

Another mall down the street from 'La Isla' mall in the hotel zone featuring American and Mexican brand names such as Forever 21, GNC and Señor Frog's among other stores and restaurants.

phone: +52 998 110 87 87

address: Blvd. Kukulkan km 11.5 local 100 Int. Plaza Flamingo, Zona Hotelera

You are likely to be offered a coupon for free jewelry at this store. Their website also offers a free gift for individuals who book a shuttle through their website. However, if you do not have any evidence of this, the offer will not be honored. A free shuttle service is offered to take you to the store from your hotel. However, the prices in the store are exorbitant (even at the "discounted" rates), and much of the same jewelry is sold by street vendors and hotel gift shops, as well as online. Be sure to investigate other vendors first to get an idea of how much you should pay. One rule of thumb is to buy at 20-30% of the quoted price. For example, if a Mayan calendar pendant is offered to you at the discounted rate of $75, it's actually probably worth about $20. The salespeople will insist that it's worth much more, but stand your ground. If a salesperson agrees to your offer too quickly, you're probably paying too much. In addition, a number of people have reported difficulty obtaining refunds.
Eat
phone: +52 998 881 2000

address: Blvd. Kukulcán, Retorno Chac L-41, Zona Hotelera

Japanese and Thai cuisine featuring teppanyaki tables.

phone: +52 998 881 2000

address: Blvd Kukulcán, Retorno Chac L-41, Zona Hotelera

Argentine steakhouse with a Mediterranean flair.

phone: +52 998 881 2000

address: Blvd Kukulcán, Retorno Chac L-41, Zona Hotelera

Stepped up bar food with all the games on over 40 screens.

phone: +52 998 848 9600 ext 6637

address: Blvd Kukulcán, Km 14.5, Lote 40-A, Zona Hotelera

Simply Seafood serves off the boat seafood in traditional Caribbean style.

phone: +52 998 848 9600 ext 6637

address: Blvd Kukulcán, Km 14.5, Lote 40-A, Zona Hotelera

Gustino has authentic Italian cuisine using the freshest Mediterranean ingredients.
Cambalache, Blvd Kukulcán Km 9, at Forum By the Sea Mall, +52 998 883 0902. This Argentine Steakhouse serves up one of the best menus in Cancún. The atmosphere inside the restaurant makes you feel you have travelled an extra 1000 miles. The staff's attention to detail and desire to please make you feel like you're the only one they are serving that night. Great place to have a dinner with the one you love or enjoy the company of friends. The food alone could give this place a 4-star rating, the rest is just an added bonus.

The Cove CancúnOn Playa Langosta (the lobster beach). One of the prettiest and calmest beaches of the Hotel Zone, The Cove offers an excellent variety of dishes. In the morning they have a delicious buffet with sweet bread, fresh fruit, juice, coffee, eggs cooked to order, and other Mexican delights. For lunch, a la carte service. Then at night, a romantic atmosphere with candles, to enjoy the nights of Cancún with a special selected menu with seafood and fish with Caribbean accent, as well as fine cuts, complemented with an ample wine carte.

phone: +52 998 884 3158

address: Margaritas 25

La Habichuela is a must-visit with its Mexican cuisine, Mayan setting and Caribbean seafood. This restaurant has been open since 1977 and is a legend in Cancún. The romantic, outside garden is a popular place to dine with the decoration of various native trees and plants that create a beautiful illusion of the Mayan ruins under the night sky. La Habicheula received the National Best Restaurant Award and has been a part of the Distinguished Restaurants of North America Organization since 2001.

Jimmy Buffett's Margaritaville Cancún

phone: +52 998 885 2375

Blvd Kukulcán. This establishment combines the atmosphere of a restaurant, bar, and a mini night club. During the daytime hours, Margaritaville is a restaurant and bar. At night, the place is a combination of the three. With an orange sailboat with images of a plane, shark, and the orange sun, Margaritaville attracts families of all ages as well as party goers.

phone: +52 998 885 0267

address: Blvd Kukulcán Km 16.5

This grill serves seafood, steak, and pasta with a contemporary flair. There is a lush tropical garden at the entrance, intricate handmade tile work on the floor and walls, a small flowing creek that traverses the restaurant, and elegantly-finished tables hewn from trunks of tropical trees. The large terrace is right on the water's edge. Elegant and comfortable, the next-door Lounge Bar Trágara offers a wide variety of wines and liquors, while you listen to soft background music and enjoy the charm of the lagoon.

Salt

address: Blvd Kukulcán Km 12

Mediterranean cuisine from a wood burning oven, show kitchen and an array of culinary displays. Restaurant overlooks ocean.
El Pabilo, Ave Yaxchilán # 31. Art exhibitions every 15 days. Good baguettes and wine.
Paloma Bonita. 18:30–23:30 daily for dinner. Mexican cuisine with live music in an authentic Mexican atmosphere which recreates different regional ambiances based on architectural, crafts, and folkloric traditions. Features include a traditional Mexican kitchen with coal "comales" where you can watch as tacos and snacks are prepared right in front of you. There is also a tequila bar featuring more than 100 kinds of tequila, and a romantic outside patio separated from the main area.
Roots Jazz Club Tulipanes and Parque de las Palapas. Live Jazz Music, the best place to hear live music in Cancún. Great food and drinks.
El Rincón del Vino, Alcatraces & Parque de las Palapas. Good baguettes, gourmet tapas and wine.

Las Tortugas

phone: +51 998 887 6209

Plaza Las Avenidas. Serving tortas, a kind of Mexican sandwich.
Tumbaburros, in Plaza Las Américas (Downtown) and another one across the street from the ADO bus terminal (also in Downtown). Genuine Mexican cuisine and a great atmosphere. Real Mexican good humor and hospitality along with your taco order.

phone: +51 998 885 1086, +51 998 885 1087

address: Bulevar Kukulcán Km 12.65, across from Kukulcán Plaza, Cancún Island

Combines some of the most authentic Mexican cuisine in the hotel zone with good service and medium price. Very good tequila.

Atotonilco

address: Mercado 28 downtown Cancún

An extremely good sampling of Mexican food from all around the country. Excellent value. Nothing fancy but a gastronomical delight. Try the "Huevos Motuleños".

Silk Asian BistroBlvd Kukulkan, km. 12. Sushi and sashimi, soy paper vegetarian rolls alongside bolder creations. Teppanyaki stations with theatrical chefs.
.
Pescaditos

address: Ave Yaxchilán 59

Really nice and laid back seafood restaurant where everything's deep fried. Try the chiles rellenos, possibly the best ones in Cancún.

Los de Pescados

address: Ave Tulum

Very simple Ttco (specialising in seafood) restaurant. Fish tacos- a few pieces of fried fish with some tortillas and you put your own sauces and condiments on. About M$22 for a taco and M$25 for an ice cold beer.

phone: +52 998 252 0776

address: Plaza Flamingos, Cancún Mexico Hotel zone

phone: +52 998 8830585

address: Boulevard Kukulcan km 9.5

Natura is the only healthy choice restaurant to be found in the hotel zone of Cancún. Fit for Vegetarians and non vegetarians. Over 20 choices of fresh made juices and salads. Service fast and friendly, very clean place and inexpensive. Highly recommended to anyone looking to eat or enjoy some drinks outside in Cancún.

phone: +52 998 892 3056

address: Calle Margaritas #25

One of the only restaurants to serve Yucatecan Mayan cuisine in Cancun. Prices are higher than most Mexican food in downtown Cancun, but it's much cheaper than tourist traps or anything in the hotel zone.

Los Tarascos

address: Av. Tulum 4

Classic Mexican taqueria specializing in tacos al pastor. Very popular with the locals, quite tasty and at a fair price.
Drink
Cancún's nightlife is unlike any other destination on Earth. For some, a day in Cancún doesn't start until tasks like an 11:00 breakfast, nap on the beach, and siesta are arduously completed. This is your place to shine.
The
legal drinking age
in Mexico is 18, but it is not strongly enforced.
Hotel Zone
The Hotel Zone is a huge venue and gets top entertainers and DJs. Don't be surprised to see Vegas like shows spontaneously erupt while you are sipping your piña colada. These clubs can charge large covers ranging from US$20–60 per person, though the cover can include an open bar.
You may find yourself dancing in a conga line, laughing your cares away and speaking whatever
Español
you managed to pickup. A must for the first timers, and always good fun for returners also. Coco Bongo's entertainment includes a show, complete with women swinging from the ceilings.
Most of the Zona Hotelera (Hotel Zone) venues listed below are located in Punta Cancun, between Km 9 and 10, in the area surrounding Hotel Krystal, Cancun Convention Center and the Grand Fiesta Americana.
phone: +52 998 883 3454

address: Blvd. Kukulkan Km. 9, Zona Hotelera

Señor Frog's is a restaurant by day and a dance club by night, and is one of the most popular spots for vacationers to visit. The restaurant opens up for lunch and serves international types of food such as pasta, chicken and pizza as well as Mexican cuisine all day until midnight. A cover charge of five dollars will get you into the party after 20:00 and includes a souvenir yard glass which you can then pay to get filled with your drink of choice. One of Señor Frog's famous attractions is the water slide that leads from the club out into the lagoon, just for a little bit of fun. As the evening progresses, Señor Frog's becomes less family friendly and more of a party establishment, waitresses will circulate, offering shots of tequila for a price. Waiters are also very "hands on", if you are not traveling in a family group, expect them to try to touch, hug, or kiss the female members of the party.

O' Ultra Lounge

address: Hotel Zone

is a very sleek New York City type club and can take some time getting in and out of, but has had some great acts like "Infected Mushroom" rock the crowd till the wee hours.

phone: +52 998 883-2180

address: Blvd. Kukulkan Km. 10.3, Zona Hotelera

The only nightclub over the lagoon with an amazing half-opened architecture which offers an extraordinary view and the best wet t-shirt and bikini contest of Cancún.

address: Blvd Kukulkan Km 9.5, Zona Hotelera

Dady'O has been known to host some of the world's top DJs, including Red Foo (LMFAO), Apl.De.App and Tiësto, features a casual atmosphere, laser shows, pole dancing go go girls and flashing dance floor opening shows.

address: Blvd Kukulkan Km 9.5 #30, Zona Hotelera

A nightclub featuring a show that has been compared with Las Vegas. More than 50 professionals in scenery. Tickets can be bought online for US$75. If you don't mind waiting to get in exchangeable tickets can be bought from Oxxo for M$1000.
Yaxchilan Avenue
Also try the clubs at
Yaxchilan Avenue
, located in downtown Cancún, where all the locals hang out.
Los 4 Elementos

address: Hotel Xbalamque (Ave Yaxchilan 31)

Try the live music bar Los 4 Elementos. They open and play live music from 23:00 until the last customer leaves. The music is great and prices are significantly lower than those found in the hotel zone clubs.

Pericos Restaurante - cantina

address: Ave Yaxchilan 61

Be prepared to join the waiters for some fun games. They also play live music until around 9PM. The atmosphere is fun and relaxing, and prices are reasonable (for example M$230 for a large delicious plate of fish or shrimp). Their dessert serving is quite a show.

77 Sports Bars

address: Ave Yaxchilan

La Taberna

address: Ave Yaxchilan

El Pabilo Cafe

address: Ave Yaxchilan
Sleep
Cancún has a large range of 3-5 star hotels in the "hotel zone" and some more economical hotels in the city center.
Note that several aging resorts located on and around Punta Cancún are now relying upon heavily discounted vacation packages or all-inclusive deals to fill rooms. They market themselves heavily as a great bargain to a wider audience. The result is that Punta Cancún is jam-packed with the revelers who can get rowdy and obnoxious. If you prefer to spend your vacations in a quieter and calmer setting, it may be worth it to splurge on a newer resort in the central or southern part of the Hotel Zone and further away from the "partying" crowds. Then you can save Punta for a brief day (or evening) trip for shopping, dining or entertainment.
Budget
Most of the "Budget" and some of the "mid-range" category hotels are located in and around downtown on the mainland. Many are also located within a reasonable walking distance or short taxi ride to the bus station on Av Uxmal and Av Tulum (Hwy 307) for those arriving late and/or leaving early. The area is reasonably safe at night. See "By bus" under "Get in" regarding getting in and out of Cancún by bus.
phone: +52 988 893 9821

address: Calle Orquideas 10, Mz 14, SM 22

A great hostel in downtown Cancún. Price includes dinner and breakfast. It is very social with everyone sitting down for dinner together every night. Close to Ave Tulum and ADO bus. They have dorms and private rooms. They also provide shuttle pick-up from the airport.

Villa Playa Blanca

phone: +52 19981098275

address: Carretera Puerto Juarez-PuntaSam Km 3.8 SM86M4L11 fracciones 1 y 2

10 min by bus from downtown (buses leaving every 5 minutes for 4,5 pesos). Very quiet and with a nice ambiance. Good rooms and free breakfast in bed every morning. Free wifi, swimming pool and views. Ask for the room "La Palma", it's M$400, but you have more than 50² m of space.

phone: +52 998 884 1199

address: Av Tulum 51

In the downtown area near the bus station. M$330 for a private, two-bed room for two people. M$440 if you want air conditioning. Free wifi Internet. Front desk help is very friendly. You can keep your bags at the hotel even after checking out. You can take the Rt. 1 bus to the hotel/beaches district for M$8.5.

Hostel Kankun

phone: +52 998-101-7399

address: Yaxchilan Ave/end of MaraÑon St #26

The cheapest hostel in Cancun and within walking distance of the ADO bus station. Includes 24hr reception, towels, free wifi, and fans in each room. Has private rooms and dorm beds available. Does not take credit cards. The is a very basic hostel, but their nightly rate is set accordingly. They take online reservations through most hostel sites.

address: Blvd. Kukulcan Km. 20.5 Lote. 64 2 Etapa Sección A, Zona Hotelera, 77500 Cancún, Q.R.
Mid-range
The economical way to stay in the hotels and resorts in some of the "mid range" and in the "spurge" categories is to consider an "all inclusive" on BookIt.com or another similar company which typically would include airfare (on chartered or regularly scheduled flights), airport transfers and hotel stay. Some of these all inclusive packages may also include two or three daily meals and/or an escorted tour or some other organized activity in the area. Checking in at the front desk without prebooking for a room or a pre-purchased all inclusive or packaged tour is the most expensive way to check in.
phone: +52 998 848 7900

address: Blvd Kukulkan Km 3.5

2-3 star with 3 restaurants. Reservations to be made from 10:00-11:00 the previous day. Internet is US$15 per 24 hr. Beach front is calm mainly for boat use.
Avalon Baccara Cancún, Blvd Kukulkan, Zona Hotelera. Small hotel but cozy. Central A/C, cable TV, and free Wi-Fi in the lobby. Swimming pool, and a restaurant that serves tasty food with ocean view. No jacuzzi, but you can use the jacuzzi and swimming pool at their sister hotel, Avalon Grande, that's nearby.

phone: +52 998 884 9696

address: Ave Tulum N°26, SM 5, MZA 5, Lote 1, Col Centro

A/C, cableTV, and internet connection. Swimming pool, fitness room/gym, and a restaurant, bar, and café.

address: Blvd Kukulkan Km 18.5

Features a water park for the kids with a pirate ship and 8 water slides, a la carte and buffet dining, adult only areas, mini golf, disco, nightly entertainment

phone: +52 998 881 7000

Blvd Kukulkan. Resort with a college-aged crowd. The rooms are clean and surprisingly spacious for the price. The pool is generally crowded during peak times but is large and features several swim-up bars. The bad part is that since the Oasis is all-inclusive you basically get what you pay for, the food and drinks are not the best quality. The buffet-style restaurants are bland and the food can get quite repetitive. An exception is the sushi restaurant. All bars also stop serving alcohol at midnight, which is unfortunate, but there is a 24 hr liquor store right across from the resort with prices somewhat expensive for Mexico. They also sell absinthe.
RIU Cancún, Blvd Kukulcan Km 8.5, Manzana 50, Lote 5, Zona Hotelera. Resort with views of the Caribbean Sea. Several restaurants and bars. Choice of activities and entertainment options, including a sports bar, night club and theatre with theme shows.
RIU Caribe, Blvd Kukulcan, Km 5.5, Lote 6-C. All inclusive resort with Mayan-style architecture overlooking the Caribbean. 506 sea view rooms with mini-bar and liquor dispenser. Several restaurants, bars and facilities including 24 hr snacks and beverages. Fun and relaxing atmosphere created by the large swimming pool and spectacular beach.

The Royal ResortsThe Royal Resorts have been around since 1974 and include a string of 4 hotels all in close vicinity of each other. The Royal Mayan, The Royal Caribbean and The Royal Islander are side by side whereas the newest hotel, The Royal Sands, is no more than a five minute ride by bus. The Royal Resorts offer beautiful villas that overlook the Gulf of Mexico. Each villa is equipped with a kitchen, two bathrooms, two bedrooms, one with two double beds, one with a queen sized bed, a living room with two murphy beds, three televisions, one in each room, and a terrace that overlooks the other two hotels as well as the Caribbean Sea. These hotels include free activities such as snorkeling and sailing in the ocean, tennis, and free beach towels. Also on the premises are a number of different restaurants and bars at which the vacationers may dine.

Sandos Cancun The Sandos Cancun is the jewel of the Sandos Resort chain here in Mexico. They are a 4 diamond AAA rated all inclusive resort. The resort is themed and offers unique entertainment called the Rhythm Experience. Located on the Cancun resort strip they offer an upscale all inclusive at a mid range price. Sandos has a vacation club called Royal Elite that sells a timeshare like membership. Membership gives above retail amenities like private access to bars including top shelf liquors, first access to restaurants and access to the private area on the beach.

Soberanis HotelThe rooms are all air-conditioned. They have cable television, a private toilet and bath, and safe. the rooms are further equipped with an IDD telephone, internet access, and a writing desk and chair. Rates include daily breakfast. Non-smoking rooms are available.

Sotavento Hotel and Yacht Club

phone: +52 998 849 4707

address: Blvd. Kukulcan Km 4 Zona Hotelera, Calle del Pescador, Lote D-8-4

In front of Nichupte Laguna and is within walking distance to sandy beaches and downtown area. Internet and cable TV. Non-smoking rooms can be requested.

phone: +52 998 884 4564

Refurbished with 78 rooms including dorms and private rooms.

address: Blvd. Kukulcan, Zona Hotelera, 77500 Cancún, Q.R.

address: Blvd. Kukulcan Km. 20.5. Lote. 64 bis 2da etapa Sección A, Zona Hotelera, 77500 Cancún, Q.R.
Splurge
You could also try out the growing vacation rental market as well. It's a chance to experience Cancún without having to share close spaces with thousands of tourists. They are an alternative if you are willing to go without the frills of room service or resort commodities.
Most resorts in the hotel zone have a travel agent on site during the daytime to assist you with making reservations around Cancún, including the Mayan ruins. It is often better to book activities through these travel agents as they are employed by the hotel and cannot easily cheat you. Activities are also sold at booths found in the busier areas. Prices for the same activities are cheaper in Cancún town than in the hotel zone.
Stay healthy

It is strongly recommended that you buy bottled water. Bottled water, depending on size, typically costs 30-50 pesos (US$2.75-4.55).
Otherwise, do not drink the water unless your hotel has a water purification system. Most of the resorts in Cancún have purified water at all of the facilities located inside the resorts including the bars and restaurants. The upper-scale restaurants usually have purified water as well, but the water outside of these areas is not safe to drink.
The sun's UV rays are extremely strong in Cancún, even on cloudy days, and will burn any exposed skin on most persons from northern climates within a few minutes. Sunscreens that may be adequate elsewhere may not be sufficient in Cancún.
Because Cancún has powerful waves (see below), do not assume your sunscreen layer will remain intact. Always apply a fresh layer of sunscreen after taking a dip in the ocean.

Stay safe
Timeshares
Expect to be inundated with offers to get free tickets, tours, or other items in exchange for viewing a timeshare presentation while in Cancún. While you will generally be given what is promised for viewing the presentation, expect a very high pressure sales pitch lasting from one to two hours during which you may be given incorrect information or promises that later turn out to be untrue. In particular, despite claims of agencies that can buyback your timeshare, most timeshares are a money-losing proposition for purchasers. As with any major purchase, take the time to research before buying - claims that you must buy something
right now
should always be treated with skepticism. See also
Common scams
.
Ocean currents
— The ocean currents in Cancún, depending on the season you visit, can be strong. While the currents may not be strong enough to pull you under, keep your guard up at all times. Look for the coloured flags that are planted on the beach as well as ask your hotel's concierge or a lifeguard (if one is available). As a rule of thumb, if you're not a strong swimmer (or a non-swimmer) it is best to stick to the hotel's pool for water fun. Remember, beaches in Mexico are Federal Zones with no life guards on duty, lifeguards may only be found within the beaches at the hotels.
Weather
— Cancún is a place where the weather can change in a matter of minutes rather than hours. As in most tropical places, rain storms will start quickly and leave as quickly as it came. When a storm lingers, use caution in the water; especially when lightning is present.
Timeshare and condos are a big business all over Yucatan, especially Cancún.
"Tourist information" is another word for sales representative. If someone is offering you an "free" tour to anyplace or at a discount this means a 90-minute or longer presentation about condos and time-shares. There are 20 reps waiting on the righthand side when you arrive at the Cancún airport. There are also reps in Mexico city attracting tourists with free Xe-Hal and Chichen Ha tours. These timeshare presentations are not always a waste of time. Some of these timeshare presentations offer coupons or other free offers which can total to several thousand dollars of savings during your trip if you are willing to endure the presentation.
Nothing is free
- Most important lesson. Someone comes up to you and says you want a shot of tequlia? Come on its fun. This means you have not negotiated the price.
Don't use ATMs out of the banks
- There are ATMs all over Cancún. Use only ones that are inside banks or your hotel. Pharmacies, stores, gas stations are to be avoided. You will become a victim of identity theft or you will find big charges for the commission of using them.
The Buddy System
- If you plan to have a long night out in the strip, take precautions and have a friend with you at all times (even walking to the bathroom). Unsuspecting tipsy tourists can be easy targets for petty robbery.
Cope
Consulates
phone: +52 998 887 4930

address: Avenida Carlos Nader 8 Mz 3, SM 5

phone: +52 998 881 1970

address: Edificio Atrium 410, Av. Nichupte, Lote 20, SM 19, Mza 2

phone: +52 998 892 2512

address: Pabellón Caribe, Local PH 6 y 7 – 3er piso, Av Nichupte, SM 19,

phone: +52 998 883 3360

address: Blvd Kukulkan Km 12 Oficina E7, Centro Empresarial, Zona Hotelera

or call +1 613 996-8885 for emergencies. See this link for more information

Cuba

phone: +52 998 843-243

address: Percari 17, SM 20

phone: +52 998 848-8900

address: Plaza Santa Fe, Blvd Luis Donaldo Colosio Km 12.5, SM 301

phone: +52 998 884 1598

address: Punta Conoco 36 SM 24,

phone: +52 998 500-1653

address: Hotel Ibis 3er Planta, Ave Acanceh Mz2, Lot 3, Planta 3B, SM 11

Portugal

phone: +52 998 8842735

address: Guanabana 40, SM 25, Manzana 13, Lote 11, 2do. Piso, Depto.2

Sweden (Honorary)

phone: +52 998 848-89-00, +52 998 275-20-01 (for emergencies only)

address: Omni Cancun Hotels & Villas, Blvd Kukulkan Km 16.5, Lote 48, MZA 53

United Kingdom (Honorary)

phone: +52 998 881 0100

address: The Royal Sands, Blvd Kulkukan Km 13.5, Zona Hotelera

United States (Consular Agency)

phone: +52 999 942-5700

address: Blvd Kukulcan Km 13 Zona Hotelera, Torre La Europea, Despacho 301

This consular agency part of the US Consulate General in Merida to handle emergency US citizen services, passport applications, birth certificates, and notarials in Cancun. Most services require an appointment. Visa services are not available here, but rather at the consulate in Mérida.
Go next
Chichén Itzá Archaeological Site— The largest Maya archaeological site in Yucatan, Chichen Itza is often visited on a day trip from Cancún, but is rather distant and only a small portion of the site and attractions can be seen this way. If you find the ancient Maya of interest, spend a night at one of the hotels at Chichen so you can avoid having a rushed incomplete visit. You can take a public bus or a private vehicle, about 2½ hours from Cancún by car. Also, close to the site is a cenote, which is a fresh water sinkhole, where you can swim. The Kukulcán Pyramid, one of the most impressive Maya structures and voted one of the World's New Seven Wonders, is now closed off to climbing to preserve it from wear.
Tulum— The only major Maya archaeological site to overlook the Caribbean Sea is only 128 km (80 mi) south of Cancún. Not one of the larger Maya sites, but the seaside location gives it a beautiful setting. Bus services from Cancún run around 2 hr and cost M$60. Tulum has over 60 different structures and is believed to be one of the most important ceremonial sites for the Maya people. This archaeological zone that date back more than 7 centuries show the remains of a huge walled city with roads, homes and businesses by the sea. The major highlight of Tulum is El Castillo which is a large pyramid that sits on a forty-foot cliff. El Castillo is thought to be a part of a series of lighthouses. The architecture is similar to Chichen Itza but on a much smaller scale and you are not allowed to go inside or climb on the pyramids.
Isla Mujeres— A great break from the Cancún tourist traps. This small island is a 20 minute ferry ride from the hotel zone or from Puerto Juárez Federal Dock, located 5 minutes from downtown Cancún. Rent a scooter to get around the island fast and cheap. There is a beautiful ecological water theme park, Garrafon, with splendid vistas on land and a magical underwater world.
Cozumel— A very pretty island and the most inhabited in all of Mexico, it is also an important Caribbean port of call. Chankanaab National Park is located here. Well known for its watersport activities such as diving, snorkeling, sailing, boating and fishing.
Coba— A beautiful site; it was one the largest Maya cities in ancient times, but much is still hidden under lush jungle. It boasts the tallest pyramid of the Yucatan Peninsula, the Nohoch Mul. Muyil boasts a lake surrounded by many Maya constructions.
Valladolid is a small city dating from the Spanish Colonial era with lots of period local charm, between Cancún and Chichen Itza. The selection of hotels and restaurants makes it a nice base for a night or two; it's a good deal closer to Chichen, and other impressive Maya ruins at Ek Balam are only about 15 minutes north of town.