Canoa
Canoa
is a pleasant, laid-back fishing village on the Pacific coast of
Ecuador
in the Manabi Province. Popular with travellers and yet not overrun by them, it's an excellent place to chill-out for a few days on the beach or practice your surfing skills.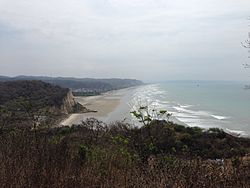 Get in
Every 30 minutes there is a bus connection with San Vicente or Bahia de Caraquez. From Bahia 4 busses daily leave to
Quito
(two in the morning (06:30, 09:00) and two in the evening).There are now direct buses to Quito and Guayaquil to and from Canoa.
There is also a bus route up the coast to
Pedernales
. The
Sundown Inn
has excellent maps of Canoa and the region.
There are direct buses between Canoa and
Puerto López
,
Montañita
and
Manta
.
Do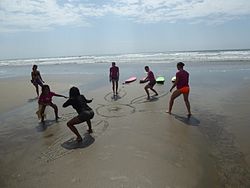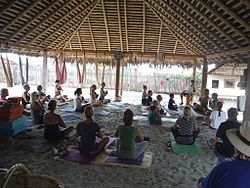 Learn
The Canoa Spanish School is a great place to learn Spanish while enjoying the beach. It is located at the Sundown Inn on the beach just south of town. You can get a 4-week program with private beachfront room, all meals and 80 hours of private tutoring for around USD800.
Buy
There are several tourist shops in Canoa.
There is no bank or ATM in Canoa. There is an ATM and bank in San Vicente.
Eat
Restaurante Genesis, Javier Santos #306 (main road), has cheap and decent fish dishes. They may try to get more money out of you by bringing more (or more expensive) dishes than what you ordered.
Jixsy (where the main road meets the beach) has good prices and food, including non-fish dishes. The staff is very friendly and will go out of their way to make the dish you want. Good vegy options.
Costa Azul (opposite Jixsy), is recommended against. The menu lacks variety, and they couldn't manage to cook edible rice. The staff and owners are also known for having an attitude.
The Surf Shak, on the malecon, is a great North American style restaurant that offers burgers, pizza, spaghetti, etc. The food is the best non-Ecuadorian in the area and the prices are quite reasonable.

address: 133250 Canoa

Vegan cafe open for tourist season each Dec - May. They have lots of healthy options like bean burritos, quinoa stir-fry, zucchini pasta with slow pressed veggie juices, great cafe, and even vegan ice cream and desserts.
Sleep
During the 2016 earthquake, many of the hotels were severly damaged. Some were not allowed to open most of their rooms for safety concerns and are being reconstructed.
Coconut HotelThe Coconut Hotel offers stand-up paddle board lessons along with Hatha and Vinyasa yoga lessons twice daily. Hostel and private rooms available from $10-25 a night. Food and drink service available, as well as board and bike rentals.

Green House Surf CanoaA long-term hostel that offers short and long term surf camps. Housing, meals, and surfing lessons are included in all packages. The hostel also offers touristic excursions, Spanish lessons, and volunteer opportunities as well.

Hostal Coco LocoOn the beach with great views from every room, comfortable cheery rooms, hot showers, and a communal kitchen. Friendly and helpful Alaskan owner. Stop by and ask the staff and enjoy a 2-for-1 cocktail during happy hour, 19:00-20:00.

Hosteria CanoaOr canoa@hosteriacanoa.com. Has hotel style rooms with A/C as well as individual cabins with three single beds and a seprate bedroom with a queen. The nice pool is in the center of this hosteria with the beautiful and somewhat secluded beach a short walk away. Good food, drinks and views from the upstairs restaurant.

Hotel BalooIs probably the quietest and most laid back place in town, away from all the obnoxious loud music that you will find on the beach closer to the busy end of the town. Great steaks on Saturday night, also pork ribs and langostinos (lobster). Free Wi-Fi and pool table as well as reasonably priced laundry service.

phone: +593 52588017

Is right on the beach. It rents out cabins or hotel rooms or you can pitch your own tent. Besides accommodation there is a busy restaurant and bar. If you fill one of their large (not small!) bags with trash from the beach you get a free cocktail. Furthermore there is a pool table, table tennis, free Wi-Fi, laundry service, and surfboard rental. The happy hour (17:00-18:30) is a good time to meet other travellers. The mood is very relaxed and during this time you get a "2 for 1" deal on cocktails.

Camping IguanaQuiet little campsite with kitchen, BBQ, hammocks, Wi-Fi. After the 2016 earthquakes, the dorms are not usable anymore. You are only allowed to pitch a tent or sleep in a hammock.

Mitad del Mundo SurfFormerly the most expensive hotel in town, only its bar is left after the 2016 earthquake. The bar has been repurposed as a dorm. Includes access to the minimalistic kitchen and most importantly the nice pool. No lockers.

Posada de DanielThe bus from Pedernales goes past the door and stops one block away. The bus to San Vicente also stops one block away. There is a pool table, Internet cafe, cable TV, small swimming pool, laundry service and surfboard rental. Rooms are private cabañas with private bathrooms, comfortable beds and air conditioners.

Sundown Beach HostelA great place to stay and relax outside the noise of main town. Nice beachfront rooms, some with balconies, for $5-8 per person. They also offer Spanish lessons.
Stay safe
Thefts are very common on the beach, especially at night. Do not leave valuables on the shore when you are in the water and be very careful if camping on the beach at night.