Cape Canaveral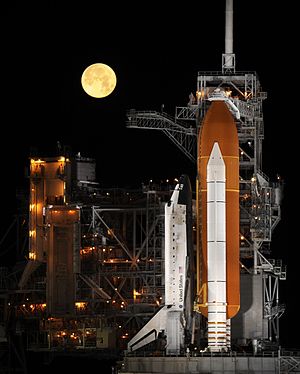 Cape Canaveral
is a city in
Brevard County
,
Florida
, most famous as the home of America's launch pad, Kennedy Space Center.
Cape Canaveral is part of a region known as the "Space Coast", since all of the manned United States spacecraft are launched from the Space Center on nearby Merritt Island.
The city of Cape Canaveral sits at the northern end of a barrier island on the Atlantic coast of Florida, south of the geographical Cape Canaveral.
Falcon 9 (pictured above), the first rocket to land its first stage, takes off from the Kennedy Space Center.
Get in
By plane
By train
The nearest Amtrak station is in
Orlando
, 50 miles west.
By car
Cape Canaveral is at the eastern end of Florida State Route 528 from Orlando. Interstate 95, a primary north-south route on the Atlantic Coast, intersects FL-528 near Cape Canaveral.
By bus
There appears to be no public transportation service to Kennedy Space Center.
However, many companies offer organized bus day tours from the Orlando area to KSC. For example:
By boat
Get around
By bus
Space Coast Area Transit is the name of the local Brevard County bus service. It is a cheap way to get around and is handicap accessible. The website provides maps and timetables. Buses travel to most sites and places of interest. $1.50 per ride, or $42 for a monthly pass.
See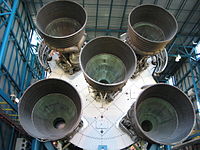 Kennedy Space Center Visitor ComplexThis busy tourist attraction offers museums, movies, a rocket garden and bus tours of former shuttle preparation and launch facilities. This is an official federal site — however, the visitor complex is run by contractors for a profit, so prices are comparable to private tourist attractions, not a typical national park. Basic admission (a 1 day pass) includes an excellent bus tour (including the complimentary bus tour of Launch Complex 39 and the Apollo/Saturn V Center), the museums (including the exhibit featuring the Space Shuttle Atlantis), and the IMAX movies. Additional special tours or programs should be booked in advance since they sell out quickly. NOTE: this facility may
*sometimes* be closed on launch days!
Air Force Space and Missile Museum

phone: +1 321 853-9171

The three-hour tour includes stops at the Air Force Space and Missile Museum, the Cape Canaveral Lighthouse and several historic launch complexes. Reservations are required and seating is limited. Adults must be able to present one form of official ID, such as a driver's license, military ID and/or passport, when checking in at the History Center. Bus and most facilities are NOT handicapped accessible. Note that these sites can be seen daily via a fee-based special KSC bus tour of Cape Canaveral.

Air Force Space and Missile History Center

phone: +1 321 853-9171

The History Center is an extension of the Air Force Space and Missile Museum. It is located outside of the gates of the Air Force Station and does not require entry onto the station.
Do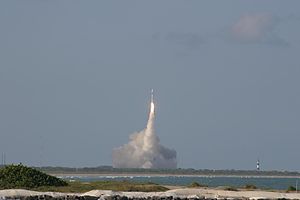 phone: +1 321-799-0021

address: 180 Christopher Columbus Dr

Relax and gamble for a night on the water. Ages 18+.
Buy
Kennedy Space Center's Gift shop is a treasure trove of
astronaut autographs
.
Eat
Drink
Causeway Diner

address: 3700 N. Courtenay parkway

diner serving breakfast, lunch and dinner all day long
Sleep
Go next
Disney World is 1-1/2 hours by car due west in Lake Buena Vista.
Baikonur - The Russian equivalent launch site.
Space - The launch facility is a gateway to low Earth orbit and beyond, although extremely expensive.