Cape Verde
Cape Verde
(Portuguese:
Cabo Verde
, Kriolu:
Kabu Verdi
) is a country in
West Africa
. It comprises a group of
islands of the Atlantic Ocean
, west of
Senegal
.
Regions
Cape Verde is formed by 10 main islands and about 8 islets. The main islands are (clockwise from northwest):
Cities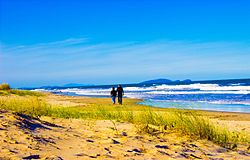 There are 24 cities in Cape Verde.
Other destinations
, the smallest island, is a botanist's paradise, home to many unique flora that live in its misty forests
- an active volcano on Fogo that has created a unique landscape best explored on foot or horseback
Understand
Cape Verde (pop. 506,000) is located 500 km from the west coast of Africa. The once uninhabited islands were discovered and colonized by the
Portuguese
in the 15th century; they subsequently became a trading center for African slaves and later an important coaling and re-supply stop for whaling and transatlantic shipping. Independence was achieved in 1975.
Most Cape Verdeans have both African and Portuguese ancestors.
The government declared in 2013 that the country's official name would not be translated into foreign languages and the country is now the
Republic of Cabo Verde
or simply
Cabo Verde
, although only time will tell if this change will enter common usage.
Climate
Cape Verde's climate is temperate, with a warm, dry summer. Precipitation is meagre and falls between the months of June to February, peaking in September.
Some islands see almost no rain: these are Sal, Boavista and Maio. The islands with most rainfall are Santiago, Fogo and Santo Antao.
Holidays
The national holiday is 5 July, Independence Day.
Get in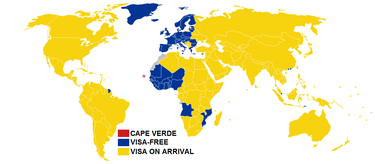 Entry requirements
Citizens of
Angola
,
Benin
,
Burkina Faso
,
Côte d'Ivoire
,
Gambia
,
Ghana
,
Guinea-Bissau
,
Guinea
,
Hong Kong
,
Liberia
,
Macau
,
Mali
,
Mauritania
,
Mozambique
,
Niger
,
Nigeria
,
Senegal
,
Sierra Leone
,
Singapore
,
Timor-Leste
and
Togo
do not require a visa to enter Cape Verde.
European Union
citizens are also visa exempt. Everybody else may obtain a
visa on arrival
at a cost of
30 Euros
.
By plane
Cape Verde has international airports on the islands of Sal, Santiago, Boa Vista and São Vicente. Connections to Europe, Africa, and the Americas.
Not all the connections are visible to travel booking websites, it is usually worth checking with a travel agent.
From Europe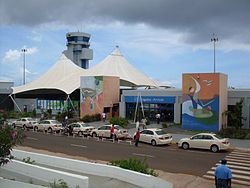 There are regular flights from
Amsterdam Schiphol
,
Lisbon
(daily),
Madrid Barajas
,
Milan
,
Munich Airport
, and
Oporto
operated by
TACV
.
TAP Portugal
fly from
Lisbon
.
Jetairfly
has cheap flight from
Brussels
to
Sal
and
Boa Vista
.
You can fly direct to Santa Maria on Sal from
London Gatwick
,
Glasgow
and
Manchester Airport
on Astraeus and also with Thomson Holidays from
Birmingham
, Manchester and
Gatwick
.
From the Americas
There are regular weekly flights from Boston and
Fortaleza (Brazil)
.
From Africa
West Africa is also served by the regional airline TACV Cabo Verde Airlines.
By boat
There are only infrequent, expensive connections to the mainland by ship. On the other hand the islands are commonly visited by yachts crossing the Atlantic (see
Hitchhiking boats
).
Get around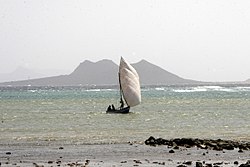 Timetables in Cape Verde are not to be taken too seriously - don't be too surprised if that boat departs
ahead
of schedule or if that flight suddenly gets postponed until tomorrow. This is important to consider if you decide to do some island-hopping. Due to weather and other conditions flights may be delayed or canceled. Carry your toothbrush with you and build in some buffer time to your planning especially if you need to meet an international connection.
By plane
TACV Cabo Verde
airlines has regular flights between the majority of the islands.
If you can afford to wait until you arrive, domestic tickets are cheaper if purchased in Cape Verde.
If your international flights are booked with TACV, you can purchase a Cabo Verde Air Pass for flights within 21-day period. Price start at €110 for two coupons and €60 for every extra coupon.
TACV flights can be rebooked for 2,000$ (
escudos
).
By boat
There are ferry services between the islands. Depending on the distance between the islands you are going from and to, flying can be significantly shorter but also significantly more expensive.
By taxi
Nice, new taxis are available in the major cities and are not metered.
Aluguers
, which are usually either open-back pickup trucks with bench seats or 15-passenger Toyota vans, tend to travel between more rural destinations, particularly on Santo Antão.
Talk
The official language is
Portuguese
, used in all official publications and announcements as well as in business, media and schools, but the local language is
Cape Verdean Creole
(
Kriolu kabuverdianu
), a Portuguese-based creole language with 90-95% of the words from Portuguese and the rest mainly from West African languages. It is divided into 9 dialects spoken on various parts of the country. Even though Kriolu is comprehensible to a skilled Portuguese-speaker almost all people can also
speak
Portuguese as a second language. French Creole is not the same as Cape Verdian creole, and a considerable number also speak English; basically, Kriolu is your first option, Portuguese second, English third.
It is a good idea to know some Kriolu or at least Portuguese, since even though young urban people are often quite proficient in English, this does not apply to old and rural people, and even those who can speak English will highly appreciate any attempt you do to speak Kriolu or Portuguese.
See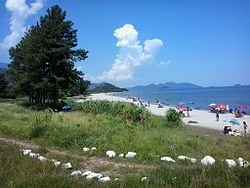 Do
Game fishing
Kite surfing & wind surfing
Diving
Jetskiing and other water sports
Canyoning in Santo Antao
Buy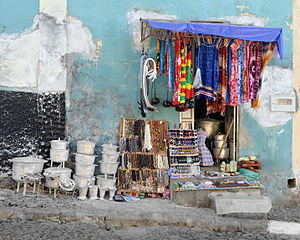 Money
The official currency of Cape Verde is the
escudo
, denoted by the symbol "

" (a
cifrão
, a symbol similar to the dollar sign, but with two vertical strokes instead of one) after the amount. Its ISO code is
CVE
. The currency is fixed against the euro at 110$ per euro.
In the resort islands of Sal and Boa Vista, euros are commonly accepted, although you might receive change in escudos.
Money can be changed from all major currencies at the international airports at Sal and Praia. Bank branches at larger towns will also change money. Larger towns also have ATMs that will take Visa, MasterCard and Maestro.
High-end hotels will accept credit cards. Other hotels will expect cash although many mid-range ones will accept euros at a reasonably exchange rate (slightly worse than the banks). For everything else, expect to pay in escudos.
Costs
Since most goods are imported, the cost of living is moderate to high. On the island resorts of Boa Vista and Sal, the cost of living oftentimes can be compared to their Caribbean counterparts. The island of Santiago is reasonably the least expensive.
Eat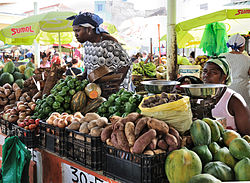 Cape Verde has fantastic fresh seafood. Tuna is common, as is Wahoo - a white fleshed fish with similar texture.
Lagostada – a lobster dish
Cachupa - the national dish made with maize and potato. Fish or chicken commonly added for flavor.
Tosta mista - common toasted ham and cheese sandwich.
European food is common on all the islands. Italian is especially popular on Sal. Vegetarians can ask for omelets or salads.
Drink
Local beer is a lager to drink ice cold, its name is Strela, but you can easily find international beers and other drinks, including some from Portugal.

Sleep

There are plenty of hotels and guest houses throughout the archipelago. Though the largest hotels are based on the islands of Sal (Riu Funana and Garopa hotels1000 rooms combined), and Boa Vista (Riu Touareg--881 rooms).

Learn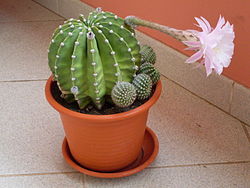 There are 10 universities including institutes in the country. The largest universities are: Jean Piaget University of Cape Verde and University of Cape Verde.
Work
The Cape Verdean economy is largely service-based, i.e., most Cape Verdeans work in industries, hospitals, transportation and tourism related activities.

Stay safe
Crime rates are relatively low. The emergency number is 132.
UK health authorities
have classified Cape Verde as having a risk of
Zika virus
transmission. There have also been sporadic cases of
malaria
reported in the capital city, Praia (Santiago Island). (Feb 2018)
Stay healthy
In the resorts, the
tap water
is usually desalinated and safe to drink. In other areas, bottled water is cheap and commonly available.
Respect
People are polite and friendly: they will try to sell you something and if you refuse, they will invent stories about the hardship of their families. It is good to buy something, but important to
bargain
.
Connect
The telephone system is effective and improving. There is mobile phone coverage in all cities and most towns. Check with your provider as to the roaming costs.
The country also has one Internet service provider.