Cedar Crest
Cedar Crest
is a small settlement in
Central New Mexico
, situated on the eastern side of the Sandia Mountains, opposite
Albuquerque
. Scattered along the base of the mountains alongside the village of
Tijeras
directly to the south and the tiny settlement of
Sandia Park
directly to the north, Cedar Crest serves as a primary gateway into the Sandia Mountains and to the Turquoise Trail scenic roadway north to
Santa Fe
.
Get in
The town is located a few miles east of Albuquerque, at the junction of I-40 and NM State Road 14 (the "Turquoise Trail", a scenic route heading north through the town of
Madrid
to Santa Fe). From Albuquerque, I-40 passes through the narrow Tijeras Canyon. Running alongside I-40 through the canyon is NM 333, a winding two-lane road that follows the route of old
Route 66
.
See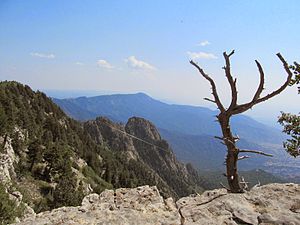 Cedar Crest serves as the primary gateway to the , the ridge that tops the Sandia Mountains. You can drive up to the crest for a spectacular view over Albuquerque and the surrounding countryside; just drive north on NM 14, turn left on NM 536, and follow the winding road up into the Sandia Mountains to the crest.

phone: +1 505 281-5233

address: NM 536, Sandia Park

A folk art museum featuring thousands of miniature, wood-carved creations including animated figures, instruments, animals and objects, miniature Western towns, carnivals, Old West memorabilia, old-fashioned arcade machines, dolls, antique tools and more.
Do
phone: +1 505 242-9052

address: NM 536

During the winter, you can ski or snowboard at Sandia Peak. The ski season is typically mid-December to mid-March, depending on the seasonal amount of snowfall. There are 30 trails with four chairlifts and two surface lifts, and a terrain park. Most of the facilities are at the bottom of the slope (which is accessible by road), including a cafeteria, ski school, the equipment rental shop, and a sports equipment shop. At the top of the hill is access to the Sandia Peak Tramway from Albuquerque (see the "See" section on that guide). Presuming there's enough snow at the top, you can take the tramway (skiers get a discount on tramway tickets, but you have to bring your own equipment); otherwise, you have to drive.
The Cibola National Forest, which encompasses the Sandia Mountains, offers plenty of opportunities for outdoor recreation. The is located just south of Cedar Crest in the village of Tijeras, at 11776 Highway 337 south of I-40, where you can purchase trail maps and get information about conditions in the forest. NM 536 above Cedar Crest is lined with trailheads and picnic areas, as well as a sledding hill at in the winter months; a daily amenity fee of $3 is required for all vehicles parking in designated areas.
Eat
phone: +1 505 281-4227

address: 12220 N. Hwy 14

One of the better ribs joints in the state.