Central New Mexico
Central New Mexico
is the region of
the state
containing
Albuquerque
and vicinity. Unusually for a United States city of significant size, Albuquerque has almost no true "suburbs" that have grown along with and after, rather than independent of, the city; about the only one of consequence is
Rio Rancho
. Several Native American pueblos also call this region home, some of them of interest to the traveler. Attractions in Albuquerque are covered in that city's guide; this page deals with attractions of the extended region.
Santa Fe
, the state capital, is generally considered part of the
North Central New Mexico
region.
Cities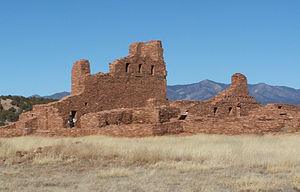 - The largest city in the state and its only major air hub, Albuquerque has plenty to offer the visitor: a historic Old Town where the city was founded over 300 years ago, a collection of excellent museums, the state's largest university, the pleasant scenery of the Rio Grande, the spectacular western face of the Sandia Mountains with its popular aerial tramway, and an annual balloon festival every October that never fails to amaze. Most traveler amenities in the area are to be found here, including a diverse range of restaurants as well as the only nightlife scene of note in this predominately rural region.
- The freight rail hub of the state, Belen is a small city about 30 miles south of Albuquerque with a couple of minor historical attractions as well as a few nice restaurants.
- A small town at the northern end of the Albuquerque metro area, home to the ruins of a pueblo at Coronado State Monument.
- A scattered settlement situated along I-40 on the eastern side of the Sandia Mountains, this town serves as a primary gateway for those driving into the mountains to hike, picnic, ski, or simply admire the view from Sandia Crest.
- A small town along I-40 further east of the Sandia Mountains.
- A cozy little town about 20 miles south of Albuquerque. There aren't really any tourist attractions here, but visitors passing through will find a couple of excellent restaurants.
- A town about 30 miles east of Albuquerque on I-40, where the mountains give way to the rolling plains of eastern New Mexico.
- A tiny settlement in the southeastern portion of the region, Mountainair sits on the eastern side of the smaller Manzano Mountains range and is primarily known as the home of Salinas Pueblo Missions National Monument, a set of three sites in the vicinity of the town which preserve the striking ruins of Spanish mission-era churches alongside the remnants of abandoned Native American pueblos.
Other destinations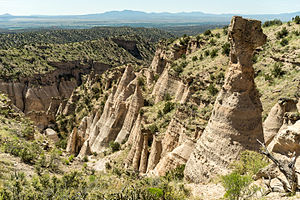 Central New Mexico is home to several Native American pueblos, most of which welcome visitors. Cochiti, Santo Domingo, and San Felipe Pueblos between Albuquerque and Santa Fe, as well as Isleta Pueblo south of Albuquerque, all have small, historic settlements which you can visit and where you can buy wares from local artists, with Santo Domingo and Cochiti being particularly noted for quality Native American arts and crafts that collectors of folk art will find rewarding. Note that photography, sketching, etc., will generally be restricted, with some pueblos going so far as to prohibit visitors from using cell phones; when in doubt, just don't pull out the camera.
Kasha-Katuwe Tent Rocks National Monument, near Cochiti Pueblo south of Santa Fe, is an under-appreciated little gem that was one of several national monuments created in the waning days of the Clinton administration and doesn't appear on even some recent maps. Trails (hiking boots recommended despite their brevity) take the visitor on a 1.5-mile loop past some of the eponymous rock formations, and on a 1.3-mile (each way, some rough spots) trip to an overlook that includes a short but spectacular section of slot canyon. From I-25, follow NM SR 16 or SR 22 to Cochiti Pueblo, then follow signs to the monument. Day use only, with no camping; fee $5/vehicle.
Expansive views of this region are available from the top of the Sandia Mountains, which are officially administered by the Cibola National Forest and the Sandia Mountain Wilderness. The ambitious traveler may choose to hike to the top on any number of trails from Albuquerque, but the less ambitious can either drive up on state roads 165 or 536 (from Bernalillo and Cedar Crest, respectively—both are winding and may intimidate the inexperienced) up to the Sandia Crest, where there's a marvelous overlook. Alternatively, you can ride the Sandia Peak Aerial Tramway, one of the world's longest and highest, up from Albuquerque. The Tramway is well worth doing, but the acrophobic may find it uncomfortable. However you get there, try to be atop the Sandias after sundown at least once on your visit; the view of Albuquerque at night is marvelous.
Understand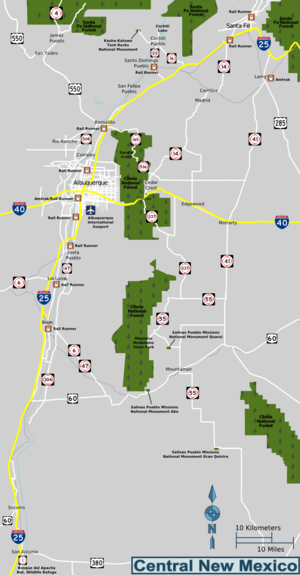 A New Mexican who hears "central New Mexico" automatically thinks "Albuquerque," but there is more to the region than just its largest city. Broadly, central New Mexico is bounded on the:
North, by Santa Fe and environs, although Santa Fe itself is usually considered part of the North Central region. Cochiti Lake and Cochiti Pueblo seem like a useful dividing line;
East, by the Sandia and Manzano Mountains and their foothills, although a few towns east of the range (Moriarty, Mountainair, perhaps Estancia) are usually considered part of this region;
South (and rather indistinctly), by the area around Socorro and US highway 60;
West (again amorphously), by the sparsely inhabited plains west of Albuquerque, out to about Laguna Pueblo.
Talk
English, but if you happen to be a speaker of Tewa or Keresan, you'll have opportunities to practice at the American Indian
pueblos
of the region. (Of course, if you're a speaker of those languages, chances are you're a member of one of the pueblos already!) There are many native speakers of Spanish, although the fraction is lower than in some other parts of the state. With several universities in the region with international faculties and student bodies, speakers of other major languages can be found to help the traveler who is not fluent in English or Spanish.
As in the north central region, it's recommended that, if you see a place name apparently of Spanish origin, you try to pronounce it
as
Spanish. "Anglicized" pronunciation of Spanish words (and, particularly, surnames) may be normal in some parts of the United States, but it's not here. It runs a real risk of antagonizing the person you're talking to, who may speak Spanish at home as his/her ancestors have for 400 years, and may consider failure to make an attempt at Spanish pronunciation discourteous. Pronunciation tips in the
Spanish phrasebook
are useful here; the most common things to watch for are words with "ñ" (e.g. the popular Garduño's restaurant chain), double "l" (e.g. the very common Gallegos surname), and double "r" (e.g. Rio Arriba County, which incidentally is a particularly good place in which to have your Spanish pronunciations in shape).
Get in
By plane
The state's only major airport, the Albuquerque International Sunport (
ABQ
), is serviced by most major United States carriers. The airport is not a hub or focus city status for any airline. The largest carrier in terms of flights is Southwest Airlines. With the exception of some regional flights in Santa Fe, Roswell, Farmington, Silver City, and Hobbs, the Sunport is virtually the only way to fly in and out of New Mexico. Another airport in Albuquerque is the Double Eagle II airport, which serves general aviation aircraft.

By train
Albuquerque is served by two rail services. Amtrak's Southwest Chief makes a daily stop in each direction, going on to Los Angeles and Chicago. This station is a layover stop, allowing for passengers to disembark and smoke, buy gifts from local artisans, and stretch their legs. For those closer to the central part of New Mexico, the New Mexico Rail Runner Express provides commuter rail service between Belen and Santa Fe. Service is aligned more for commuters, and less for tourists and travelers.

By car
Albuquerque is built at the intersection of Interstate highways 25 and 40, the latter generally following the route of historic Route 66. Most of the smaller towns of the region are either along one of the Interstates or on one of the lesser highways reached from them.

Get around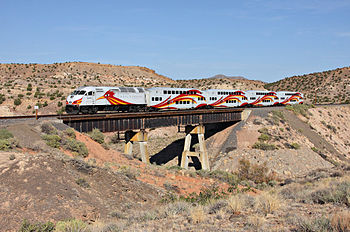 There are no unusual driving problems in most of this area under normal conditions; the mountains are not high enough, nor the arid valleys low and hot enough, for significant weather-related driving hazards. (Partial exception for I-25 north to Santa Fe, which gains considerable elevation and can be closed for hours at a time at "La Bajada Hill" north of Cochiti Pueblo due to snow and ice.) One minor warning: Albuquerque doesn't get much snow, and consequently, its residents aren't used to snowy roads. When the occasional snowstorm does blow through, driving conditions in town can range from mildly crazy to downright alarming, more because of the behavior of the motorists than due to objective road hazard.
Public transportation in this area is generally limited to Albuquerque. However, a commuter railroad, the
New Mexico Rail Runner Express
, links the train/bus depot in Downtown Albuquerque to Santa Fe as well as to some of the smaller communities along the Rio Grande: Belen, Los Lunas, and Bernalillo. It runs with limited service daily, with additional service for some special events. Fares are based on how far you ride, and a day pass will usually be in the range of $5–10. Tickets can be purchased online or from ticket agents on the train.
Do
Several of the American Indian pueblos of this region have taken advantage of changes in New Mexico and federal law to open large, glitzy casinos. Among the local options are Isleta Casino off I-25 south of Albuquerque, Sandia Casino off I-25 between Albuquerque and Bernalillo, San Felipe's Casino Hollywood off I-25 between Albuquerque and Santa Fe, and Santa Ana Star Casino on US 550 outside Bernalillo. Most of the casinos have live entertainment and some sort of dining, but be wary of prices, as some make you pay in chips!
Outdoor recreation in this area is not as spectacular or as diverse as in the north central region, but the Sandia Mountains offer hiking, mountain biking, skiing, etc. There is also hiking in the lower Manzano Mountains (a southward extension of the Sandias). Cochiti Lake, on the northern edge of the region, offers some water sports, including the curious opportunity to take a canoe or other boat directly to the base of a rock-climbing cliff and climb from the boat.
Stay safe
Albuquerque poses the usual urban safety issues, with the areas around the southwestern part of town having relatively high crime rates. Most crime in these areas involves property rather than violence, and is of less concern to the visitor than to residents. Violent crime is generally not an unusual problem in the rural areas of the region. As in too much of New Mexico, however, drunk driving is widespread, and motorists, cyclists and pedestrians on the roads should be alert, particularly at night.
The environmental safety issues of the area are also fairly conventional: in the mountains, watch the weather and check for signs of
altitude sickness
(although it's less of an issue than in the higher mountains to the north), while in the lowlands, carry plenty of water when hiking. Water in the few springs and streams should be considered not potable. Sun screen is always a good idea when outdoors here.
Go next
Santa Fe is one of the world's great travel destinations and is less than an hour's drive north of Albuquerque. If the weather is good, try going there via the Turquoise Trail (NM SR 14 on the east side of the Sandias) through Cedar Crest and Madrid for a little additional local color. Beyond Santa Fe lies the beautiful scenery and rich culture of North Central New Mexico.
Northwest New Mexico lies to the west, with its red rock scenery and rugged desolation. El Malpais National Monument and Acoma Pueblo are just beyond the western boundary of this region, off I-40 near the small, nondescript town of Grants.
The town of Socorro lies just beyond the southern boundary of this region in Southwest New Mexico and has a couple of interesting nearby attractions, namely the Bosque del Apache National Wildlife Refuge, wintering place for huge flocks of sandhill cranes, and the intriguing Very Large Array radio telescope.