Centralia (Washington)
Centralia
is a city in the
Southwest Washington
region of
Washington State
. Conveniently located between Seattle and Portland, this is a great place to stop for food and supplies.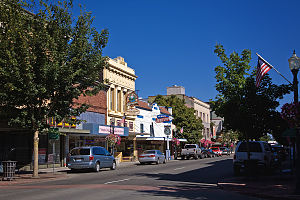 Understand
Tourist office
phone: +1 360

address: 360 NW North St, Chehalis, WA
Get in
By car
Interstate 5: Centralia is located just off of I-5 and is accessed from Exits #81 (Mellan St/City Center) & 82 (Harris Ave/Factory Outlet Way) from the northbound lanes. From the southbound lanes Centralia can be only be accessed from Exit #82. To get to Mellan St (where Exit/Mile Marker #81 is at) continue along the parallel lanes after exiting off at #82, follow the signs.
US Hwy 12: Goes east through the mountains, south of Mt Rainier, towards Yakima from Exit 68 of I-5 and west to Aberdeen through Tenino from Exit 88 of I-5. Between Exits 68 and 88, US Hwy 12 goes along I-5 through Centralia and Chehalis.
SR-507: Goes through town as Pearl St (SB) & Tower St (NB). At 6th St, north of downtown, Tower St joins Pearl where SR-507 continues north into the countryside towards Yelm. From the south end of the downtown core, SR-507 goes west as Cherry St which becomes Alder and then Mellan St and ends at its junction with I-5 (Exit #81). South of Cherry St, Pearl & Tower St merges and continues south as Kresky Ave towards Chehalis. On some parts of the way Kresky Ave splits with the southbound traffic going south as Gold St which becomes National Ave into Chehalis while northbound traffic remains on Kresky.
By train
is on 210 Railroad Ave in downtown Centralia and is served by:
Amtrak Cascades... runs 4x daily from Portland to Seattle; twice daily between Portland and Eugene, and twice daily from Seattle to Vancouver BC. Additional services from Seattle to Vancouver and from Portland to Eugene are by bus (Amtrak Thruway).
Amtrak Coast Starlight makes an once daily trip in each direction between Seattle, Portland and Los Angeles, along the same route with the same stops as the Amtrak Cascades between Seattle and Eugene (except Tukwila, Vancouver WA & Oregon City).
By bus
phone: +1 360 736-9811

address: (stop) Chevron at 1232 Mellen St

Travels primarily on Interstate 5 between Seattle, Tacoma, Olympia, Centralia, Kelso/Longview and Portland. Buses going in both directions take a break here for passengers to disembark to go into the store to buy something to eat/drink, use the restrooms and/or smoke. The store does sell tickets. Take the local Twin Cities bus going west on Mellen St to get into downtown.

phone: +1 360 532-2770

address: (bus stop) Amtrak station at 210 Railroad Ave

Route starts from the front of the Amtrak depot, goes to Aberdeen/Hoquiam via Rochester, Lucky Eagle Casino, Oakville, Elma and Montesano. Bus operates 4x on Mondays through Fridays only. Alternatively take the Greyhound bus up to downtown Olympia and transfer to the #40 bus.

phone: +1 253 472-7846

address: (bus stop) Amtrak station at 210 Railroad Ave

Rural Transit (rT) connects the communities of Rochester, Tenino, Bucoda, Rainier and Yelm, and the Confederated Tribes of the Chehalis Reservation to the greater tri-city area of Tumwater, Olympia, and Lacey in the north and Centralia in the south.
Rt #2 Goes from Tumwater Square along Old Hwy 99 SE to Tenino and east towards Rainier along Sussex Ave E
Rt #3 Goes from Tumwater Square along I-5 and Case Rd Sw to Grand Mound P&R (Exit #88 from I-5) and then west on US Hwy 12 to Rochester and the Chehalis Tribal Center on the Chehalis Indian Reservation.
Rt #4 goes from Centralia to Grand Mount P&R, to Tenino (Tenino Library), Bucoda and back to Centralia from Bucoda.
Get around
By car
By bus
phone: +1 360 330-2072

address: Front of Centralia Station at 210 N Railroad Ave

Twin Transit operates local city buses in/around Centralia (Rt #21, 22, 23) and to neighboring Chehalis (Rt #30 & 39) to the south from its central station in front of the train station.
See
RichArt's Art YardOutsider artist RichArt, aka Richard Tracy has made his own fantastical world out of everything from bike parts to doll heads and it is well worth the short trip off of I-5 to check it out.
Do
Buy
Shop in historic downtown. Enjoy a walk up and down Tower Ave, shopping in all the antiques. You'll find many antique shops, craft stores, jewelry, and furniture shops.
phone: +1 360 736-3900

address: 1301 Lum Rd

Centralia is also home to a discount outlet mall. It is home to Aéropostale, Gap Factory, T-Mobile Store, Nike Clearance Store, Polo Ralph Lauren, Under Armour, VF Outlet, etc. Some of the outlets are NW of the I-5/Harrison Ave junction while others are SE of the junction.
The

address: Harrison Ave & High St
Eat
phone: +1 360 736-5212

address: 818 Harrison Ave

Founded in 1961, the NW's own fast food chain with a decidedly NW flavor promoting sustainable practices and fresh, local ingredients. Great burgers and traditional fast food fare. Amazing seasonal items including sweet potato fries, asparagus, strawberries, blackberries, onion rings and more. The original Burgerville USA was established in Vancouver, WA.

Safeway

phone: +1 360 330-0884

address: 1129 Harrison Ave

There are a number of other restaurants around the surrounding area along Harrison Ave, west of I-5. Within the same shopping complex as Safeway there's a Papa's Murphy Pizza, Starbuck, Safeway Fuel pumps and Wells Fargo Bank.
Drink
phone: +1 360 736-5164

address: 112 N Tower Ave

One of the McMenamin's bar and hotels.
Sleep
Except the Olympic Club Hotel & Pepperidge Inn most of the listed hotels in the below are located 2 mi (3.2 km) NW of town at Harris Ave & I-5 (Exit #82) surrounding the Factory Outlet Mall:
phone: +1 360 736-1661

address: 1049 Eckerson Rd

phone: +1 360 330-2057

address: 1310 Belmont Ave

phone: +1 360 736-5164

address: 112 N Tower Ave

One of the McMenamin's bar and hotels.
phone: +1 360 330-9441

address: 1233 Alder St

Off of Exit #81 on Elsbury & Alder, behind Shell gas station.

phone: +1 360 330-8000

address: 1003 Eckerson Rd
Connect
phone: +1 360 736-0183

address: 110 S Silver

phone: +1 360 807-1169

address: 214 Centralia College Blvd, Centralia WA 98531

phone: +1 360 330-2234

address: 4810 Galvin Rd, Galvin WA 98544